If you haven't done so already, the time is now to start planning a trip. But not just idly thinking about it. It's time for real planning, as in nailing down some dates and booking accommodations. Cabins are just the detoxing escape we all need, but if you want to snag one of the coolests cabins available, you'll need to plan ahead. Months ahead.
These 20 cabins are remote, picturesque, secluded—and crazy popular. Book these cool cabins now and you'll have a shining light waiting for you at the end of the long dark tunnel that is winter. Heck, even if you aren't ready to click the "book now" button, window shopping through these listings offers an excellent mind vacation. It could even inspire you to start building a cabin of your own—with plenty of ideas on how to outfit it.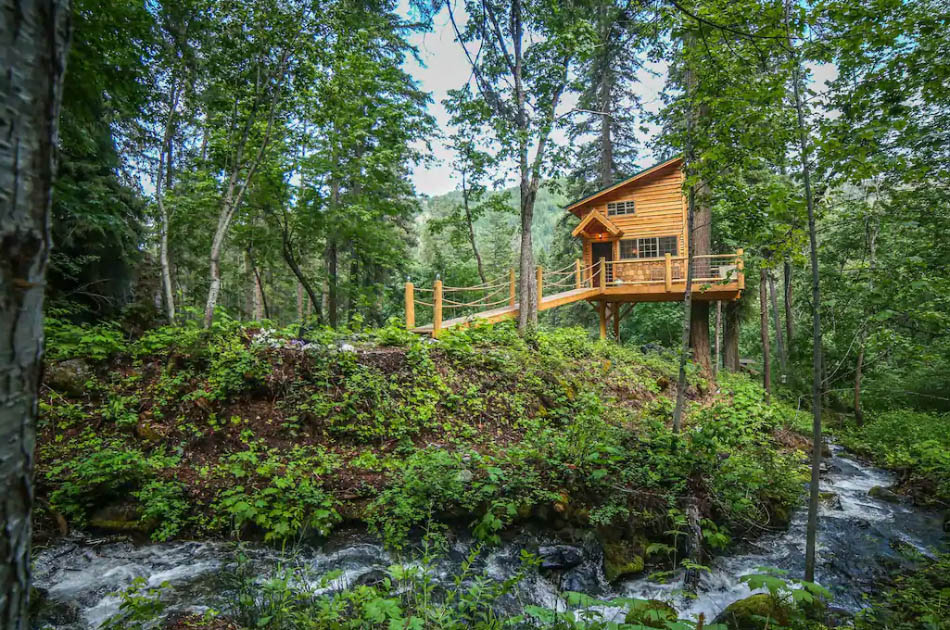 Hansel Creek Gust Tree House – Peshastin, Washington
Another treehouse outside of Seattle (this time two and a half hours east), the Hansel Creek Gust Tree House is as Instagrammable as it is secluded. The cabin was built from salvaged wood on the 150 acre property and is filled with log furniture made from the same. The eponymous creek runs right past the cabin, which you can enjoy from the elevated deck. The hot shower and restroom is separate but nearby and if roaming the enormous wooded property isn't enough, the Alpine Lakes Wilderness trail-head is walking distance away.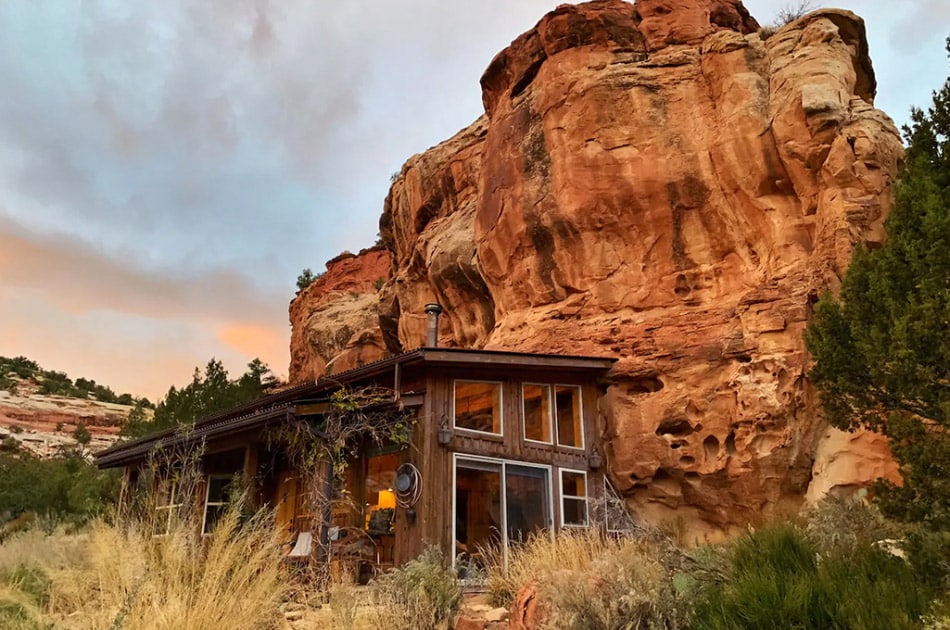 Cliff House – Cortez, Colorado
LIterally built into the side of a cliff, Cliff House is a one-bedroom cabin in southeastern Colorado, 40 minutes outside of Mesa Verde National Park. Desert views that span for miles, a fully stocked wood stove, and absence of a TV create the most immersive desert experience you could ask for. There's even a pull out sofa if you want to bring extra friends.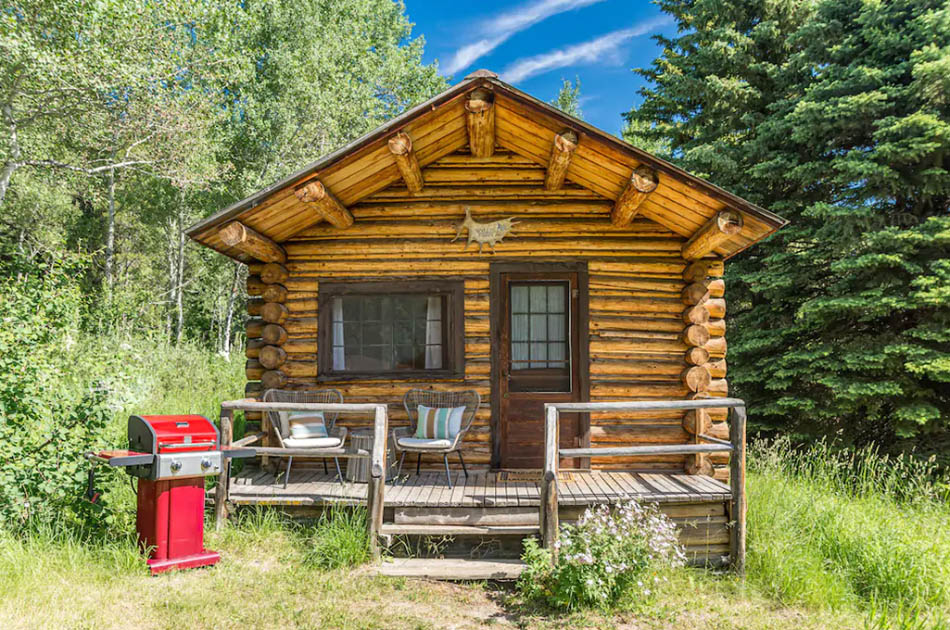 Cozy Log Cabin – Wilson, Wyoming
About 15 minutes from Grand Teton National Park, 90 miles from Yellowstone, and zero feet from hiking trails, the Cozy Log Cabin is just outside of Jackson Hole, Wyoming and the ideal home base for exploring some of the most beautiful wilderness this country has to offer. The two-bedroom historic cabin has one queen and two twin beds, plus there's a pool on the property.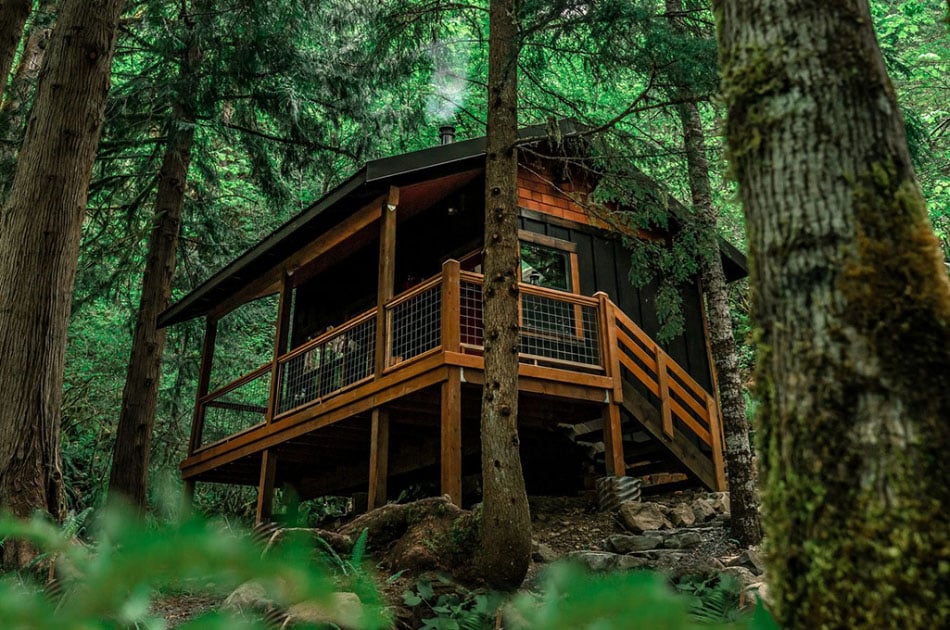 Rustic Cabin – Rhododendron, Oregon
"Rustic" is not a marketing term here. This two-bedroom cabin is for those who want the full off-grid experience. From the parking lot, a ten-minute hike gets you to the property. Once there, a composting outhouse and a river provide your bathroom amenities and candles and lanterns provide your light (there's a generator for lights and device charging if you just can't leave it all behind). It's only about an hour outside of Portland, but you'll feel like you've left civilization completely behind.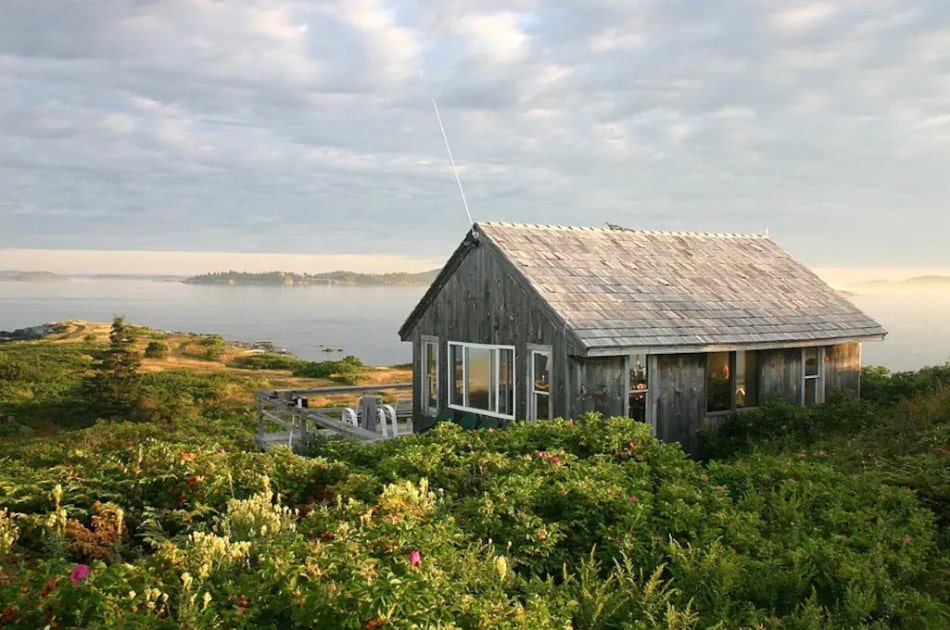 Oak Island Wildlife Preserve – Camden, Maine
This isn't just a cabin, it's an entire island. About 23 acres at low tide and 17 when the water's high, the Oak Island Wildlife Preserve has seven beaches and miles of trails. The main cabin sleeps four and the "Love Shack" sleeps two in a driftwood queen-sized bed. Solar power, a propane fridge, two outhouses, and an outdoor rain-barrel shower round out the amenities. Camden is an hour from Augusta but you'll need to charter a boat to get to your island getaway.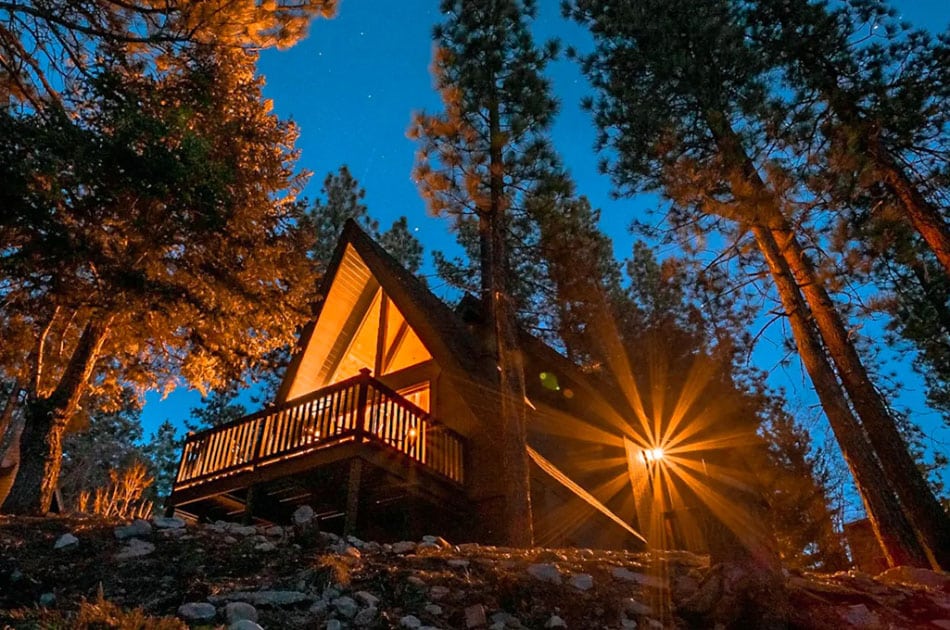 @WhiskeyRidgeChalet – Big Bear Lake, California
In the mountains above San Bernardino, Big Bear Lake is a Southern Californian Elysium with just the right ratio of civilization to wilderness. The Whiskey Ridge Chalet is an Insta-worthy A-frame, just a five minute drive from Big Bear ski resort and a five minute walk to hiking trails. Sleeping accommodations come courtesy of two bedrooms and four beds and every modern amenity is accounted for, including wifi and a washer and dryer.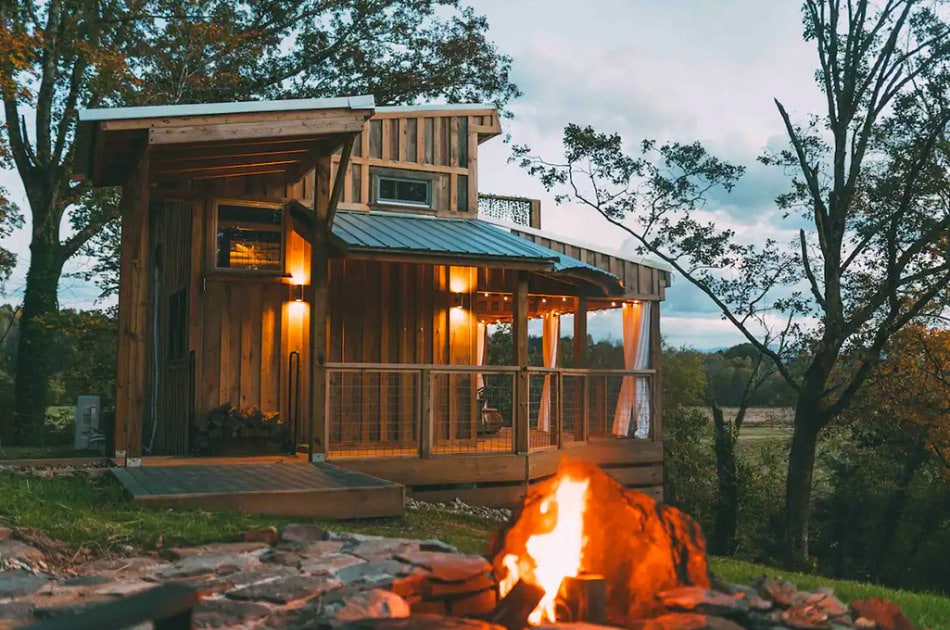 Little River Tiny House – Maryville, Tennessee
Before you sell seven-eighths of your belongings and move to a tiny house, try it first. And you won't find a better place to try it than this LIttle River Tiny House, just a half hour south of Knoxville. Like the name suggests, it's right on the Little River, complete with a fishing rock. The cabin was hand-built using local Tennessee wood and there's a fire pit, grill, porch, and rooftop mini deck to help you enjoy small-space living to the max.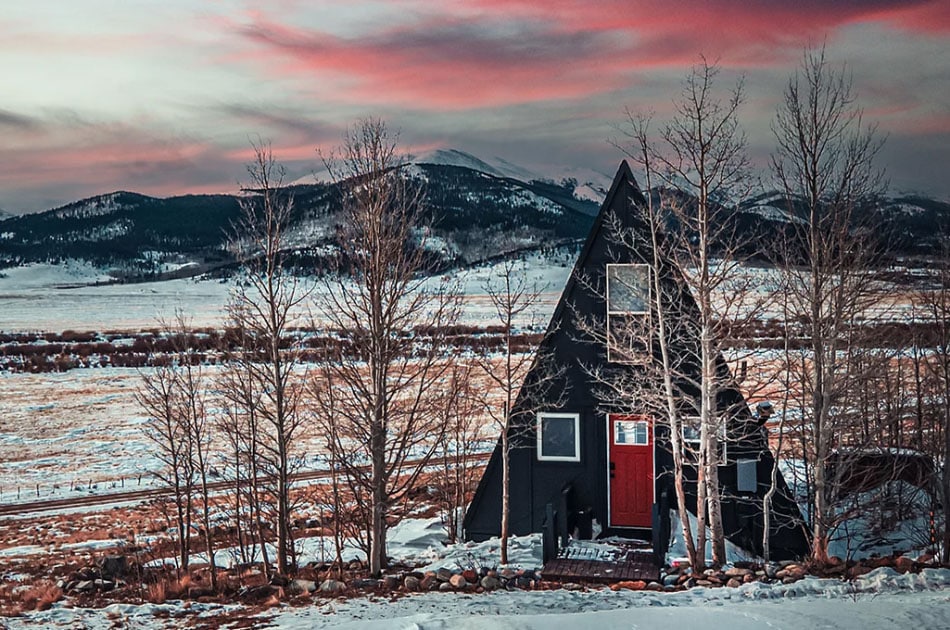 The Triangle Cabin – Jefferson, Colorado
Mountain views in every direction and just 90 minutes from Denver, the Triangle Cabin is a meticulously renovated A-frame on three acres with a sleeping loft and pull out sofa to sleep a total of four. A private hot tub, super modern kitchen and bath, and a large outdoor patio will make you pretty much never want to leave.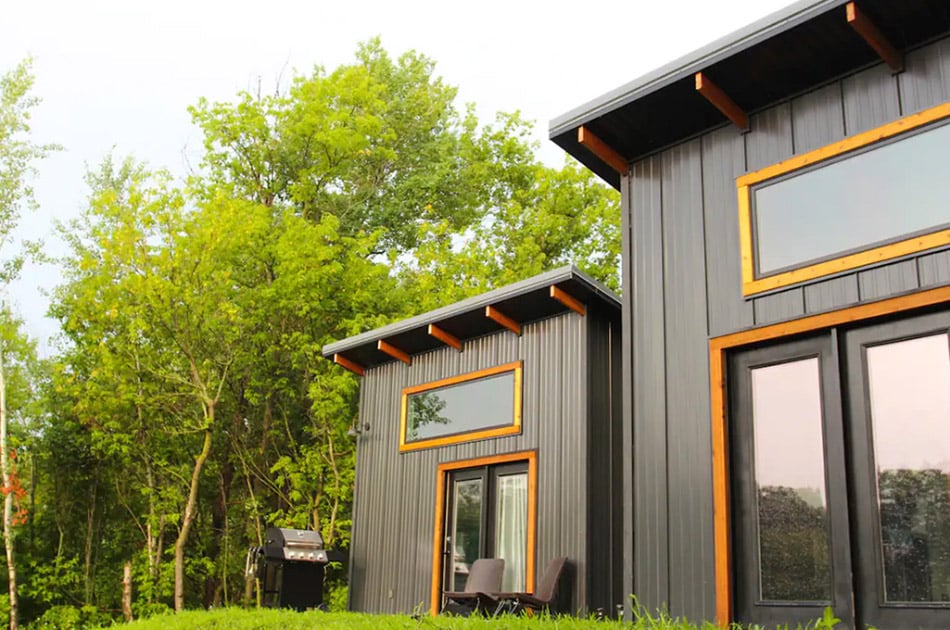 Lazy Loon – Merrifield, Minnesota
This hyper-modern, 320-square-foot cabin was specifically built for Airbnb rentals. Every inch was designed for efficiency with a single queen-bed bedroom and a bunk bed in the living area. Located about two and a half hours from Minneapolis, the Lazy Loon has its own pond and a couple of kayaks you can use. Perched on a hill, you get views of Merrifield's Bass Lake and plenty of wildlife. Bring your bike, because it's just two miles to the Paul Bunyan Trail.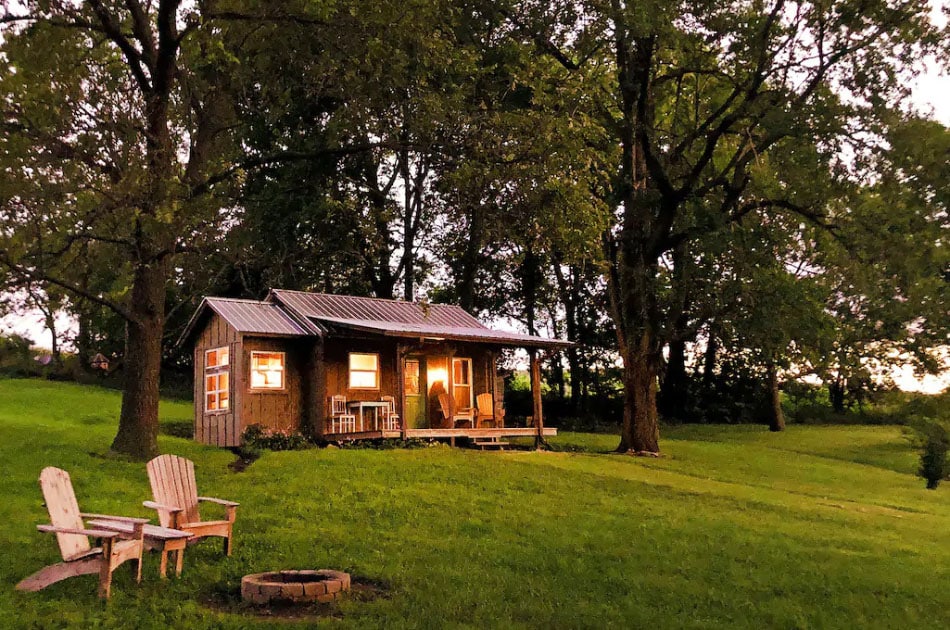 The Cabin at Honey Creek – Peru, Nebraska
Smack dab in the middle of the continental US, the Cabin at Honey Creek awaits with its simple, 1890s-style structure with covered porch and fire pit. You and your SO will sleep in the one bedroom in a double bed. There are chairs on the porch for lounging, a clawfoot tub for soaking, and a fire pit just outside for enjoying a nightcap. This isn't one of those faceless Airbnb experiences, Jerry loves hosting and he'll be there to greet you.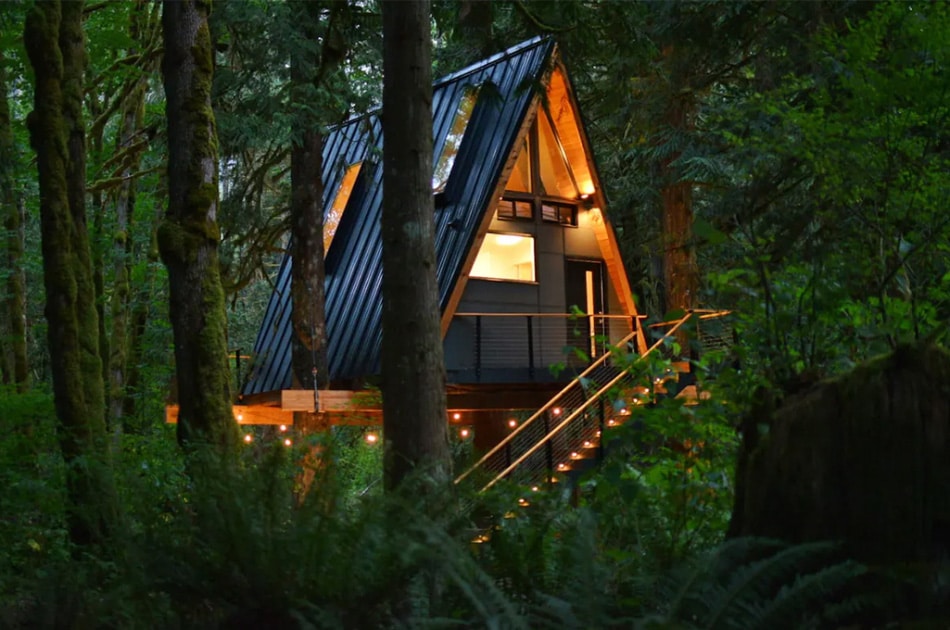 The Treeframe Cabin – Index, Washington
The only thing cooler than an A-frame cabin is an A-frame cabin in the dang trees. The aptly named Treeframe Cabin is in the forests of the Cascade Mountains in Washington state, about an hour east of Seattle. The cabin sleeps two in a king sized bed up in a loft overlooking the open floor plan and the lush forest just out the front door.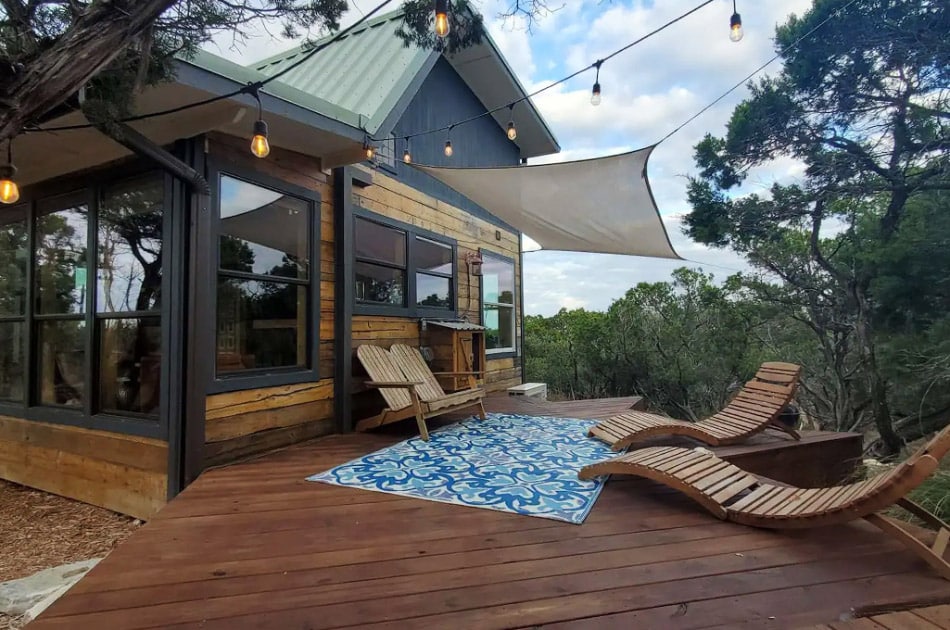 Mandala Hills Getaway Cabin – Austin, Texas
Cabins don't have to be far from the city to be considered an escape. The Mandala Hills Getaway Cabin is just 20 minutes from the bands, beers, and BBQ joints of downtown Austin. The cabin itself sits on a few acres of juniper trees and has a bevvy of dark wood decks for enjoying the desert and infinite nighttime stars. It sleeps four with a queen and two twins up in a loft. There's a fire pit outside and freestanding tub inside to complete the "I'm on vacation" vibe.
Kūono at Volcano – Volcano, Hawaii
If going to Hawaii isn't enough to quench your fiery wanderlust, staying in this cabin will ensure your travel dream-list is all checked off. The open plan studio sleeps four in a modern A-frame style cabin set amid a forest of Ohia trees. The private lanai has a hot tub and there's a switch-operated fire pit just off the covered front deck. Oh, and it's five minutes from Volcano National Park.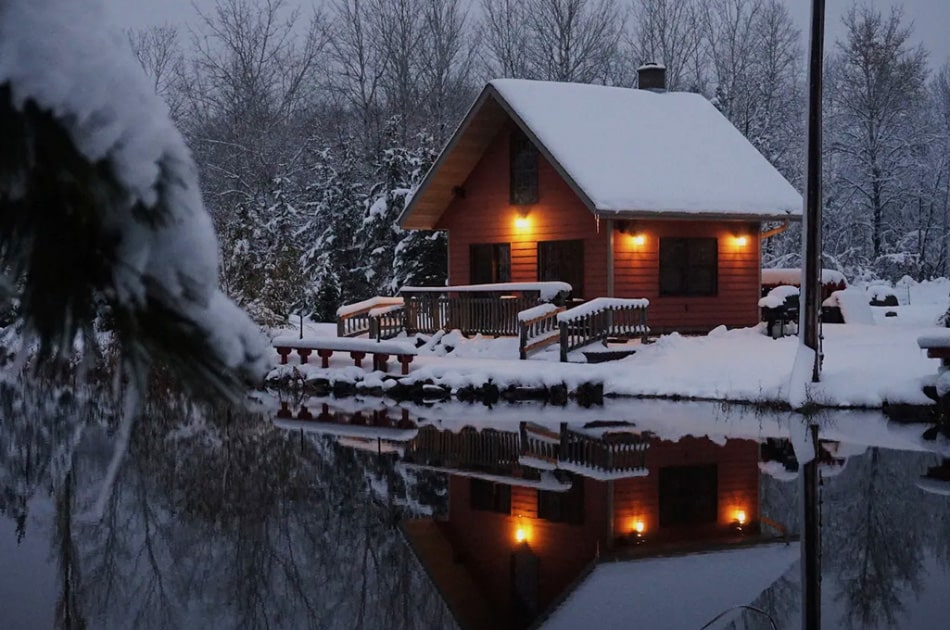 The Pondominium™ – Ironwood, Michigan
Not every cabin gets its own trademark, but not every cabin sits on its own pond with a swimraft and an ensuite wood-fired sauna. The Pondominium™ is on the far-western side of Michigan's UP, about two hours east of Duluth, Minnesota. The private tiny cabin sleeps up to three in a sleeping loft and fold out sofa, and there's a shower and kitchenette inside, with an outhouse just 50 feet from the cabin.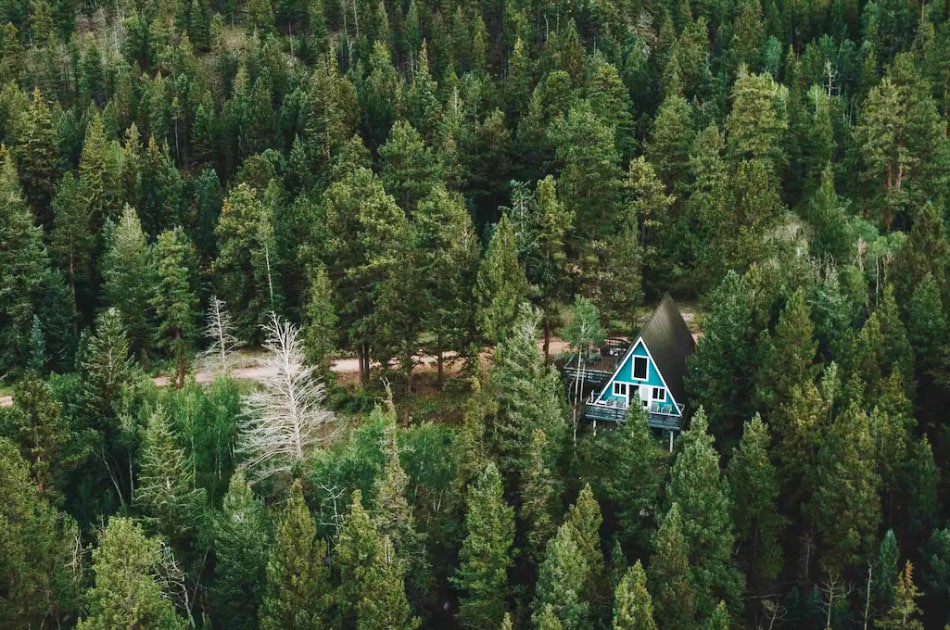 The Hygge Chalet – Grant, Colorado
Nine thousand feet above sea level, on three acres of forest in the Rocky Mountains, there's an A-frame cabin decked out in a level of Scandinavian style that would make an Ikea designer light-headed (though that could be the elevation). The Hygge Chalet sleeps four and a traditional Finnish barrel sauna is just outside the door. It's an hour from Denver and a private trail leads from the property straight into the beauty of the National Forest.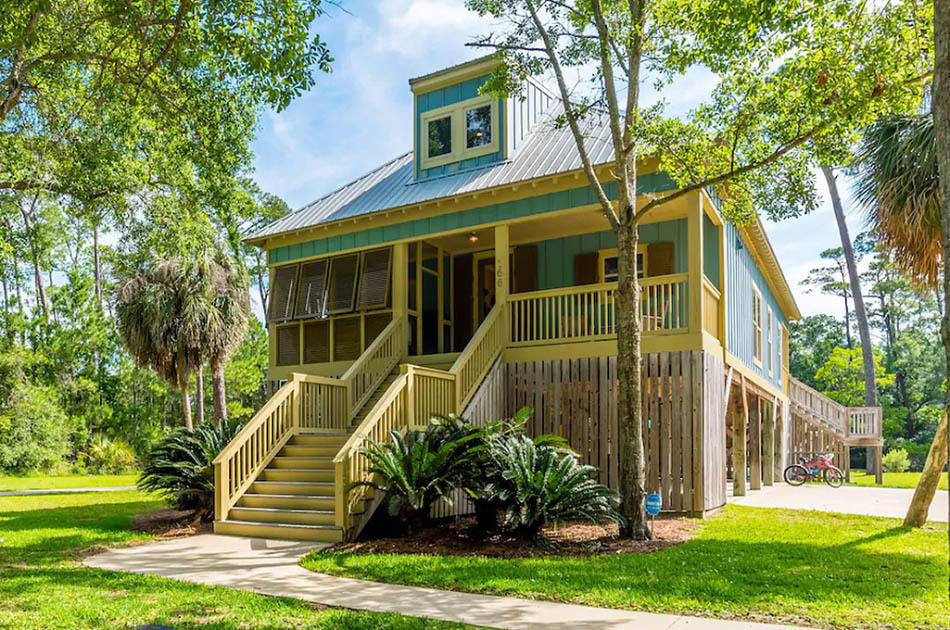 Charming Island Cottage – Dauphin Island, Alabama
Walk to the beach on Dauphin Island from the Charming Island Cottage, or just stroll around back and fish straight from the adjacent Salt Creek. With four bedrooms and sleeping accommodations for ten, you can invite the whole fam. A screened porch and private pool will assure everyone makes the most of island life.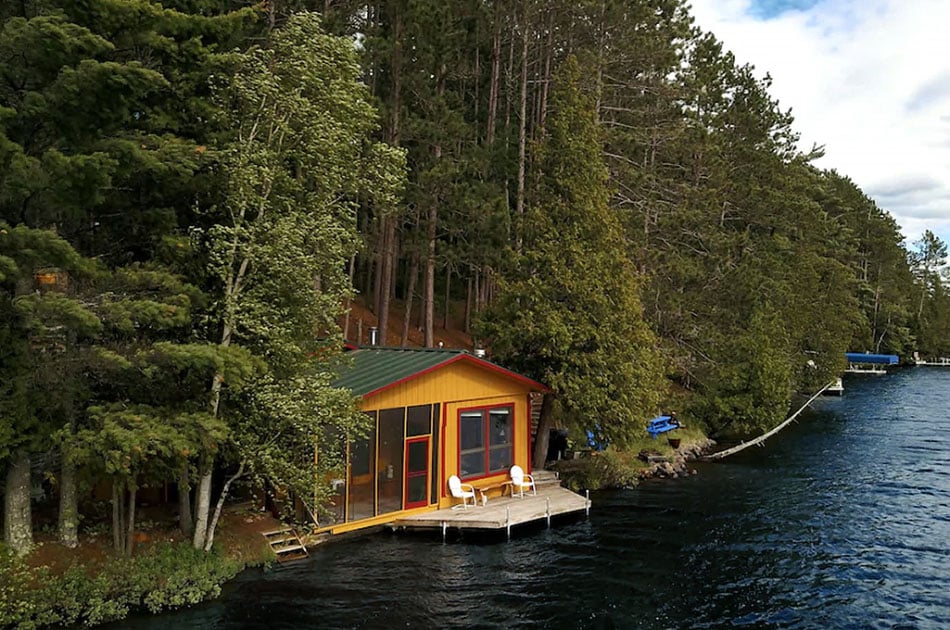 Modern Lakeshore Cabin – Isabella, Minnesota
This four-season, four-person cabin sits on the shore of Lake Mitawan in Superior National Forest, less than two hours from Duluth. The front porch doubles as the dock, to launch your canoe when it's warm, or snowshoe across the ice when it's cold. Either way, you'll come back to the comfort of a wood burning stove and a view of the sun setting over the water. It's secluded, but you do have neighbors—of the beaver, moose, bear, and eagle variety.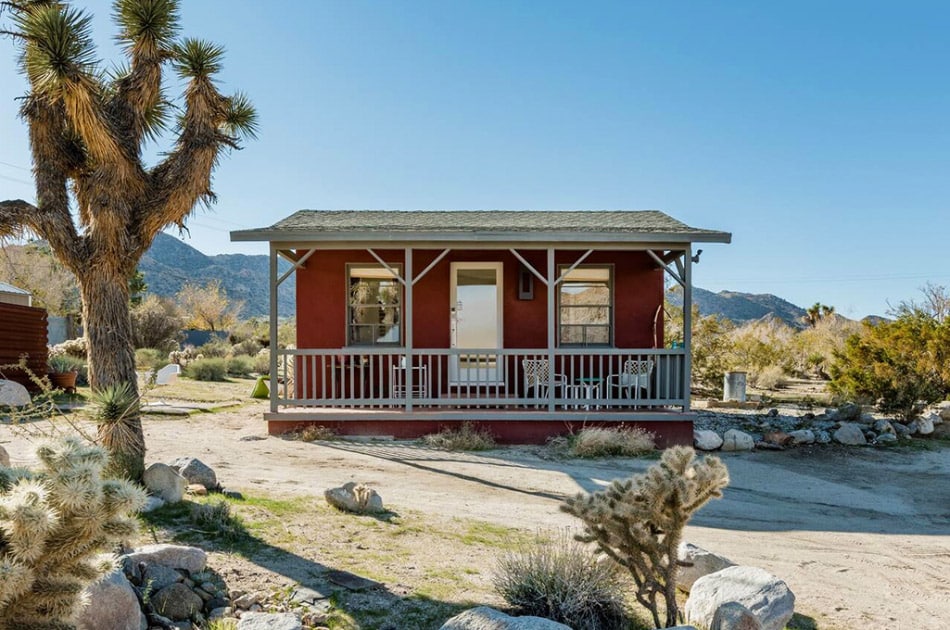 Jackrabbit Cabin – Joshua Tree, California
The whole concept of curated, destination living spaces for rent was born, in part at least, in the deserts in and around Joshua Tree. A studio for two, the Jackrabbit Cabin is a simple and rustic getaway offering all the vastness of the desert night sky and the tranquility of wide open spaces.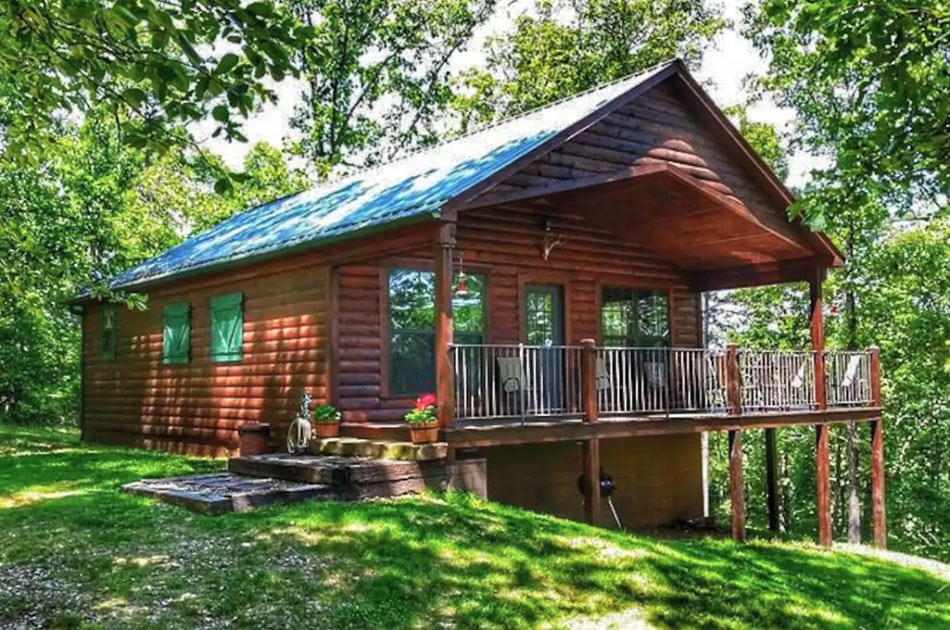 Foxcroft Buffalo River Cabin – Jasper, Arkansas
Drink your morning coffee on the giant covered porch with views of the Ozarks. The secluded, one-bedroom log cabin sits on ten acres bordering the Buffalo National River Park. Less than two hours east of Fayetteville, Foxcroft Buffalo River cabin sleeps four, has a firepit and grill, and offers the distinct impression that you've properly gotten away from it all.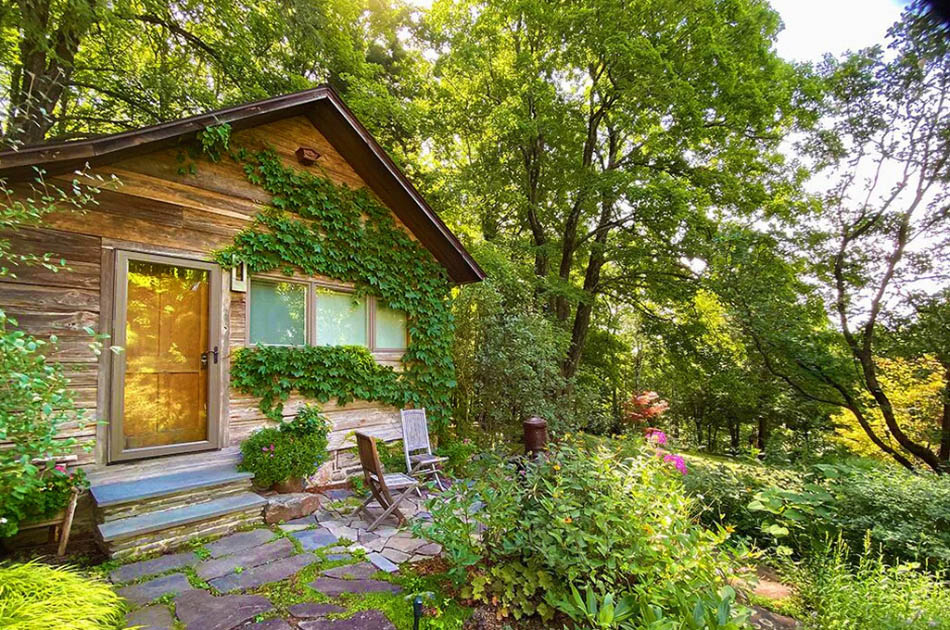 Wydeclove Artist Retreat – Woodstock, New York
More like a hidden hobbit glen than a cabin, the Wydeclove Artist Retreat sleeps two and sits behind the hosts' 1820s farmhouse on a densely wooded lot. There's a firepit in the garden and hiking trails stumbling distance from the front door. A microwave and fridge make up the kitchen, but it's just a mile from the town of Woodstock so you probably won't need to cook. Just two hours north of NYC.
Disclosure: Clicking on these links and making a purchase may earn us a small referral fee, at no extra cost to you. Learn more here.
freestar.config.enabled_slots.push({ placementName: "gearmoose_leaderboard_btf", slotId: "gearmoose_leaderboard_btf" });