Maybe you're not headed off on any world tours of the planet any time soon, but we all know the second best part of a vacation is the planning, the day dreaming, the anticipation. And since we've all got a lot of time for daydreaming these days, here is a good dose of fuel for your imaginings. These 20 coolest hotels include rainforest airplanes, fiberglass spheres, igloos made of glass, rooms made of ice, a castle, two underwater bedrooms, and also space — as in outer. Casual chain hotels will never have the same appeal again.
The people behind these hotels know that a vacation is sacred. And when the time comes to vacation, you know that something special will be waiting for you at the other end of your trip. Honestly "special" is a pretty weak word to describe these hotels. Spectacular? Miraculous? Fantabulous? We'll just stick with cool.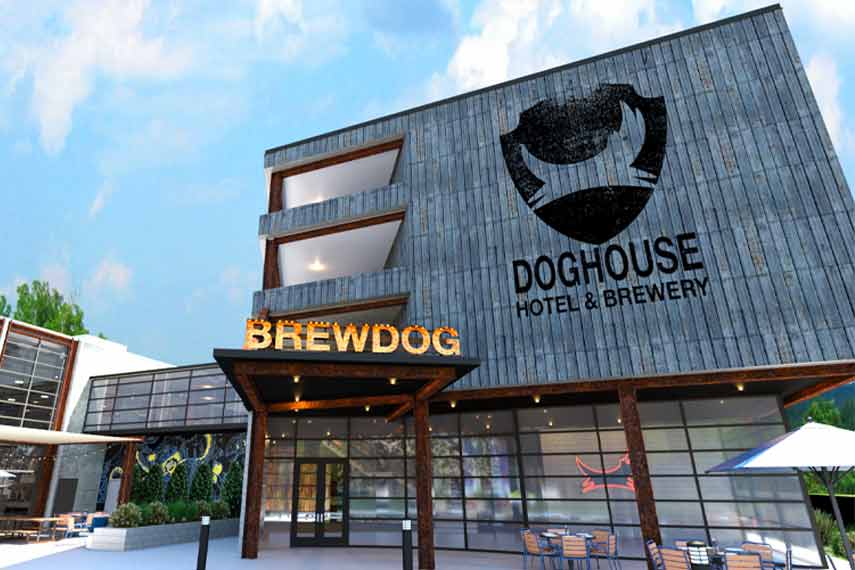 BrewDog's DogHouse Craft Beer Hotel
Columbus, Ohio
Minibars are whatever. Beer on tap AND a shower beer fridge inside your hotel room? That's more like it. BrewDog, the Scottish-born craft brewery, has expanded its reach into the US with a brewery in Columbus. Their DogHouse hotel is inside that brewery and all 32 rooms have views inside their sour beer facilities. If waking to the smell of beer brewing is somehow not enough for you, there's also a beer museum, a game-filled bar, and beer-paired continental breakfasts.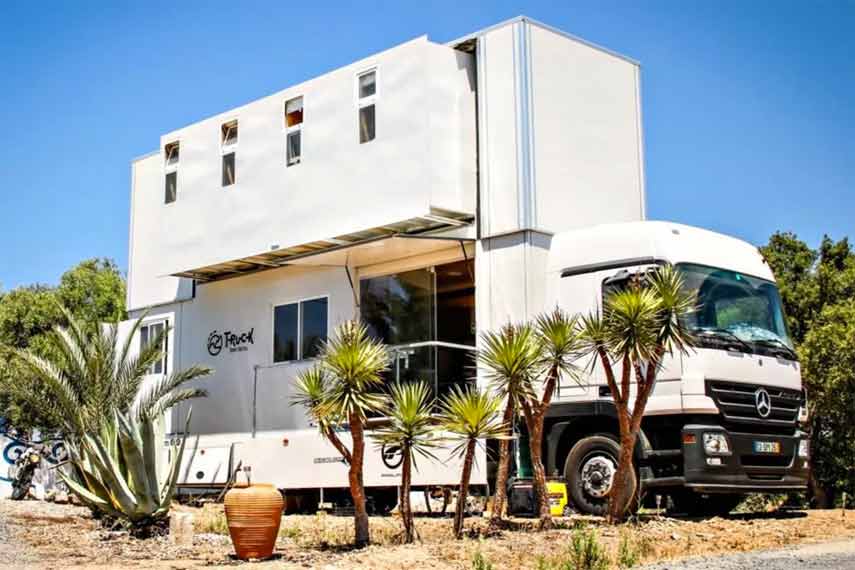 Truck Surf Hotel
Portugal and Morocco
This five-room hotel on wheels heads to the best surf locations in Portugal in summertime and Morocco in winter. Booking a trip gives you a week of chasing waves, sort of literally, as the truck drives from surf spot to surf spot (while you ride in the hotel van). Depending on the package, hotel guides will teach you to surf or point you at the best breaks. If you don't surf, pick the outdoor adventure package and hike, bike, and tour the coast.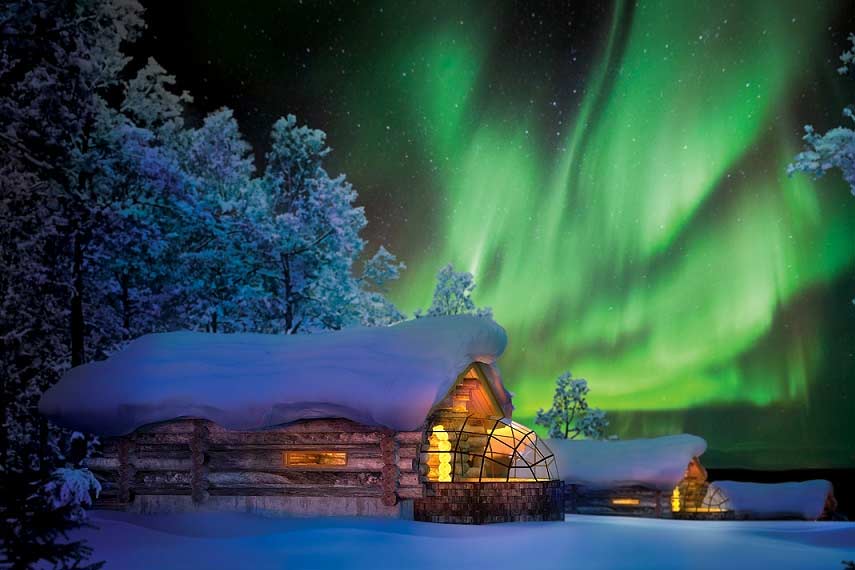 Kakslauttanen Arctic Resort
Lapland, Finland
What started in the 70s as a tiny chalet serving coffee to travelers on their way to Norway's North Cape is now a Finnish wonderland, 150 miles north of the Arctic Circle and complete with rooms inside glass igloos for viewing the Arctic Lights, as well as actual igloos made of snow (they stay a balmy 26°F even when it's negative 40°F outside). If igloos aren't your thing there are log cabins too — and since this is Finland, every room has access to a sauna.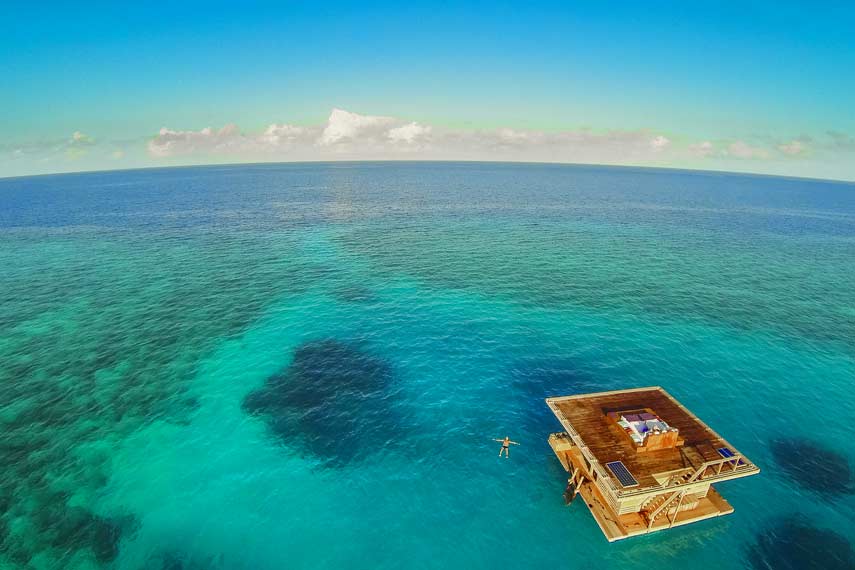 The Manta Resort
Pemba Island, Tanzania
On the northern tip of a remote island off the eastern coast of Africa the beach sand is white, the ocean is turquoise and the stars at night can be seen by the billions. The island itself has a population of 300,000 and the tourists don't usually number more than a few dozen. The Manta resort is all-inclusive, with meals, drinks, a daily spa treatment, snorkeling, and a service fundi (like a personal, local concierge) included. They've got seafront villas, thatched roof garden rooms, or go for the floating suite anchored 250 yards off shore with aquarium-style views in the bedroom beneath the water.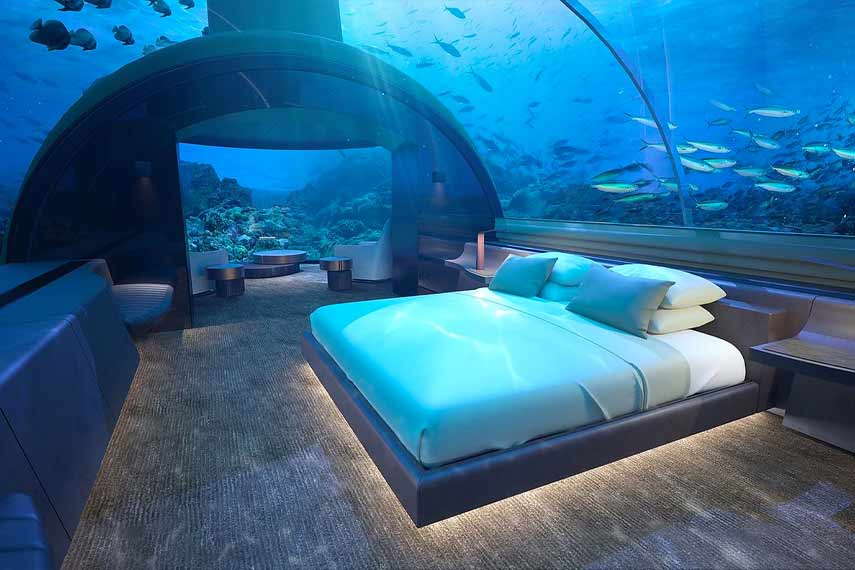 Muraka Underwater Residence
Rangali Island, Maldives
If you want your underwater room to come with a personal chef, 24-hour staff, and private gym, go for the Muraka. Part of Hilton's Conrad Hotels Maldives Resort on Rangali Island, the Muraka is a three bedroom, two level floating residence with one of the bedrooms 16 feet below the Indian ocean's surface. A night in the room will cost you an elementary school teacher's yearly salary but a stay comes with choose-your-own-adventure packages ranging from making an undersea documentary to meditation/spa experiences.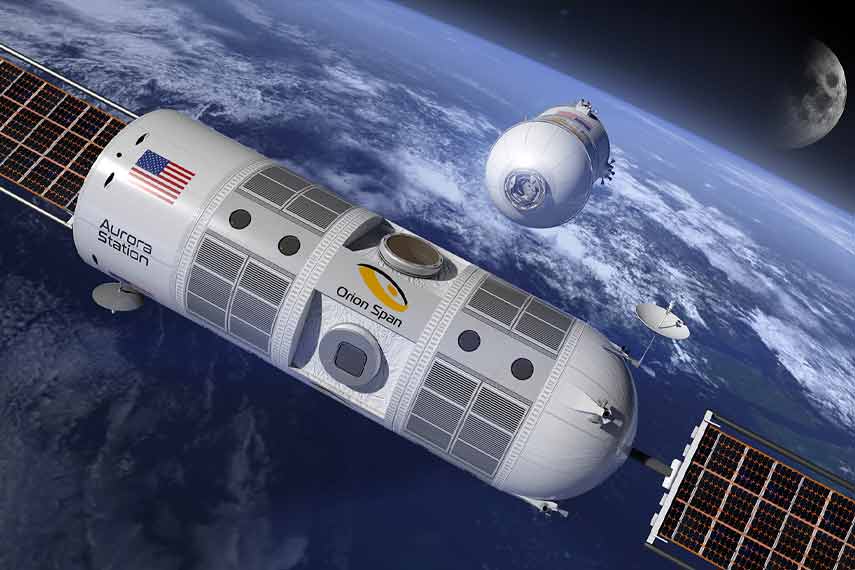 Aurora Station Space Hotel
Low-Earth Orbit, Space
It's not here yet, but it's coming. Orion Span is a commercial space-habitat company with an eye on the future of commercial space travel. They plan to offer their modular space station, the Aurora, not just to government research teams, but also to private citizens who would like to sleep among the stars. They'll train and launch up to six guests at a time to spend time on the space station for up to twelve days. You'll eat and sleep and look down on the planet from a thousand miles up. You'll also work as a team in the daily operations of the station and volunteer to work on science experiments while you're up there.
Subscribe to our Email List to have an awesome collection of gear sent straight to your inbox every Tuesday. If we post it, you'll get it. No need to ever miss a thing.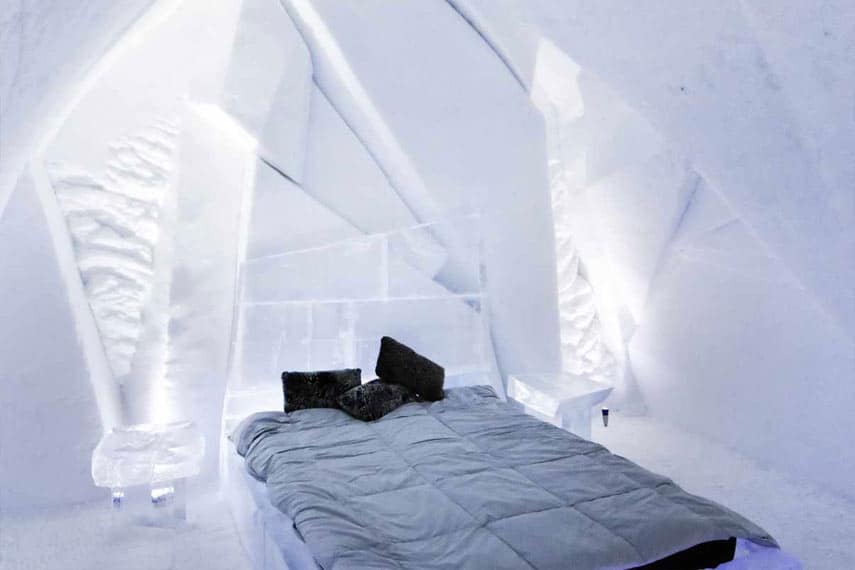 Quebec Ice Hotel
Valcartier, Quebec
The walls, the floor, the sculptures, and yes, your bed, are all made of ice. Rebuilt each year in December, the winter-only hotel has themed rooms, a chapel and an ice bar complete with cocktails served in ice glasses. Each ice room also includes a room at the main hotel on the same night, so you can shower, change your clothes, and escape to if you suddenly decide sleeping in a 25°F room feels insane. It's one of the few hotels on our list that requires a training session before your stay and the only one with a strict dress code: Dress warm, or don't stay here.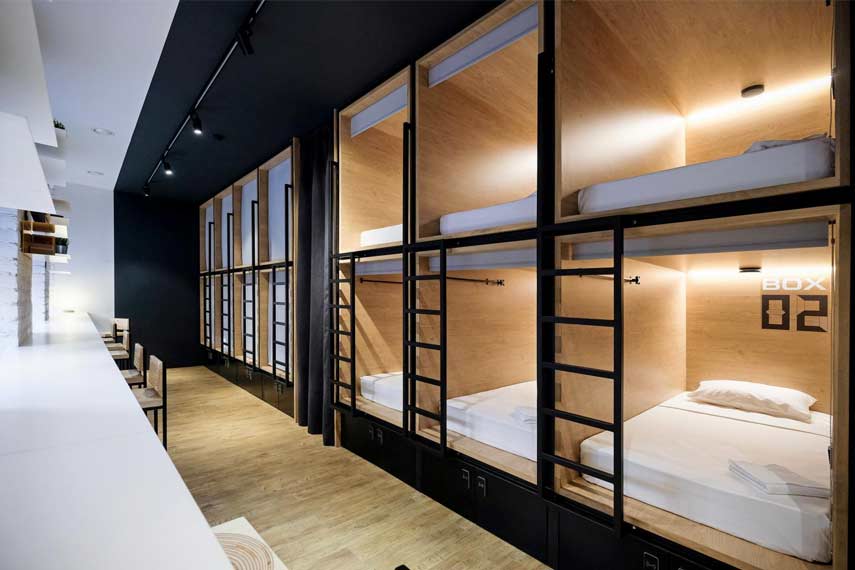 inBox Capsule Hotel
Saint Petersburg, Russia
It's true, you spend most of the time in your hotel room with your eyes closed. What does it matter how big it is? This capsule hotel in Russia's second largest city splits the difference between hostel and hotel, offering double stacked bed "boxes" with privacy roller shades and enough room to sit up and work, or lie down and sleep. They also have slightly larger rooms similar to a micro hotel and despite the diminutive sizes, the design is very top-of-the-line — something nice to look at when your eyes aren't closed.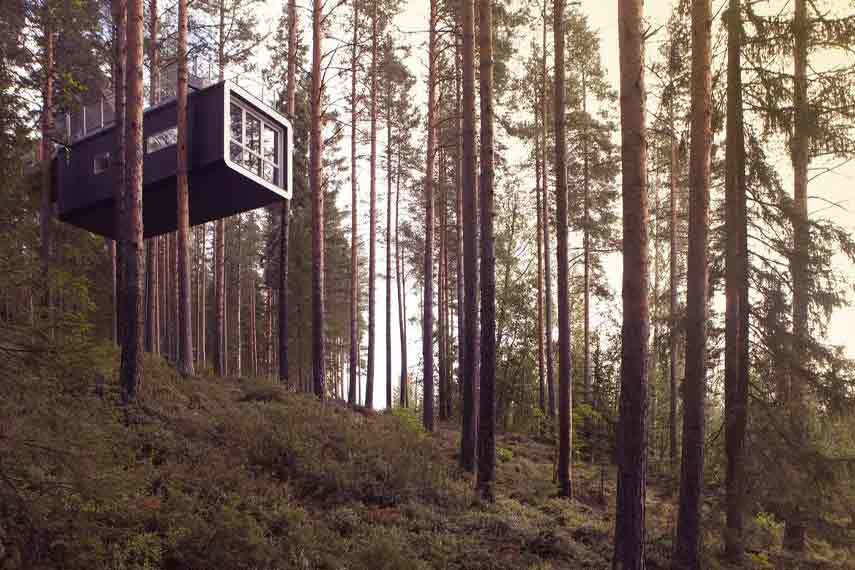 Treehotel
Harads, Sweden
Way up in northern Sweden the Lule River flows through a forest and past a tiny village of 600 people. Just outside of that village, built high into the trees, are seven architect-designed rooms, each with a different appeal. The Mirrorcube is a 13 foot cube completely covered in mirrored glass on the outside. The UFO looks like an alien ship marooned in the pines and The Cabin floats high in the trees on a steep hillside above the river, with possibly the best view a hotel room can offer. Check in at the Guesthouse where you'll eat your breakfast, lunch, and dinner, visit the bar, the lounge or the sauna then take a walk through the woods to reach your treehouse.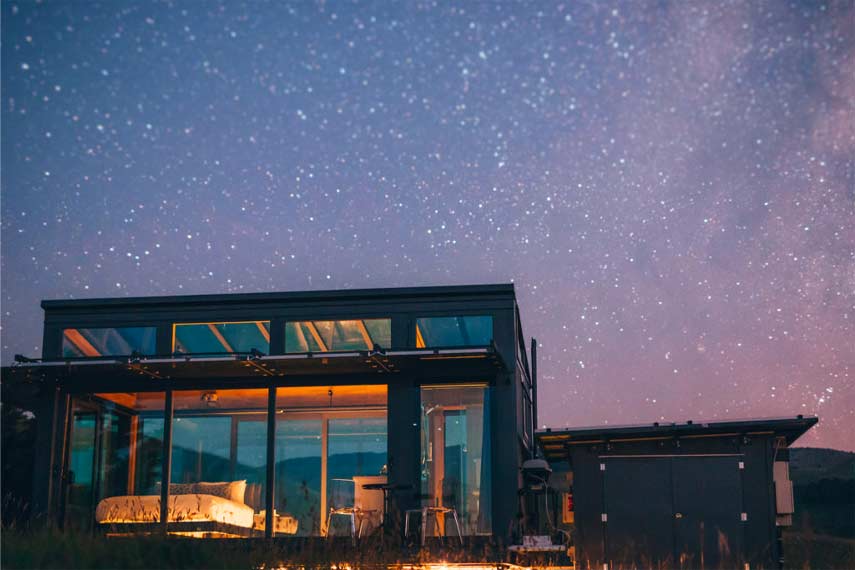 PurePods
Six Locations, New Zealand
For those who really, really want to get away from it all, stay in a PurePod. Each one of the fully off-grid cabins is smack dab in the middle of a natural landscape — and there's nothing else around. No other hotel guests, no front desk, no roads even. It's just you, the birds, and views of the ocean or bush. You'll walk a half mile to your PurePod from the parking spot (they'll tell you how to get there once you book). Once there you'll find an all class cabin with a purposeful lack of anything to "do." No wifi, no movies, just a couple of days to look at the sky, wander around in the wild and think or not think your thoughts.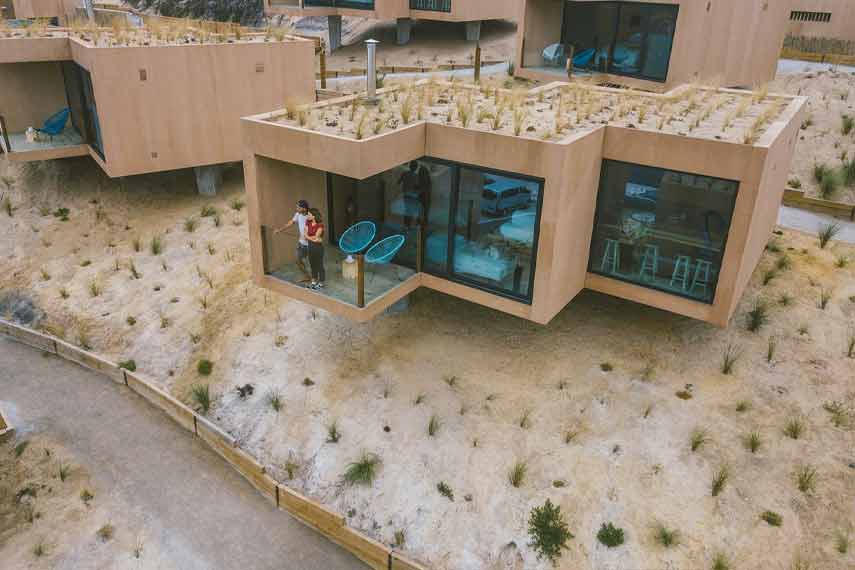 Noah Surf House Portugal
Santa Cruz, Portugal
Stay in one of Noah Surf House rooms or bungalows and you're just a two minute walk from the beach of Portugal's west coast and Noah's Beach House restaurant with local seafood. At the Surf House hotel, you have access to an infinity pool, a skatepark, outdoor jacuzzi, bikes to borrow, yoga classes, functional trainers, organic gardening, art workshops, Noah's Surf House restaurant, and chocolate muffin baking for kids. And of course surf lessons and surf equipment are readily available.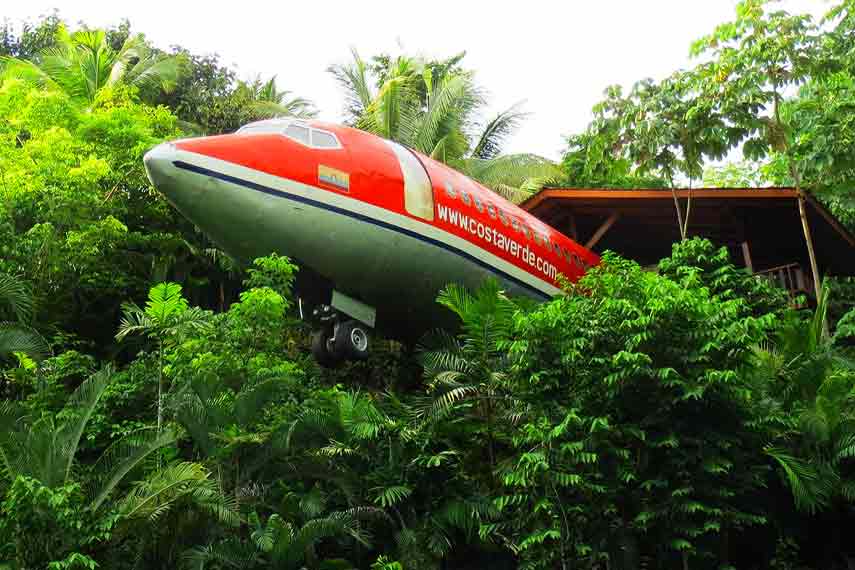 The 727 Fuselage Home
Quepos, Costa Rica
Even the "boring" rooms at Costa Verde Hotel are pretty amazing. Set on a bluff in the rainforest between one of the world's most beautiful national parks and the Pacific Ocean, this Costa Rican resort has four restaurants, three cliff-side pools, and "more monkeys than people." The coolest room on offer is the two-bedroom suite built into a refurbished 1965 Boeing 727 with a wooden deck sitting on its right wing. Take in the views (it's 50 feet up) then head to the beach, which is just 300 yards away.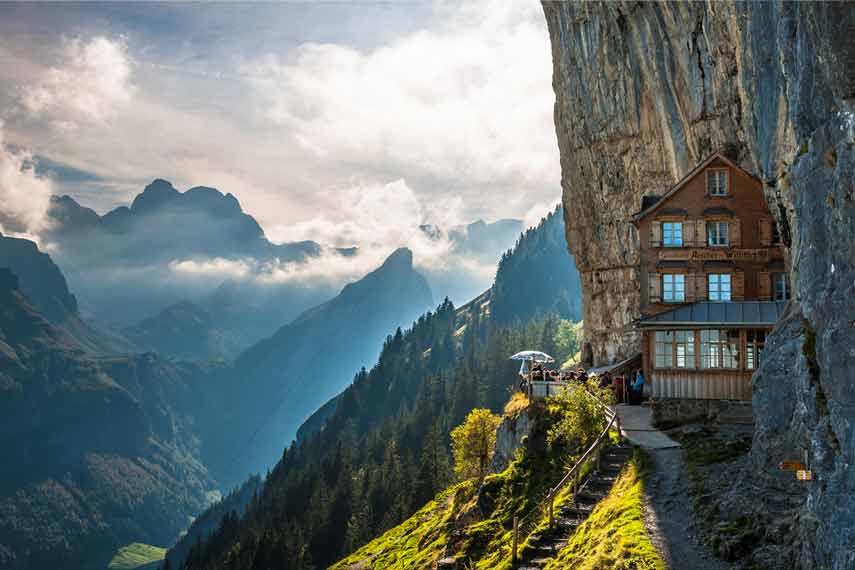 Aescher Cliff Hotel
Weissbad, Switzerland
Possibly the hardest accommodation to reach, the Guesthouse at Berggasthaus Aescher is built into a cliff and accessible by a cable car trip followed by a 15 minute walk, or a 2 hour 30 minute hike up the mountain. The Guesthouse has been around since 1884 and was originally used by shepherds. The main attraction nowadays is the restaurant that serves cuisine based on local produce, products, and traditions, which include things like goulash, dark breads, barley stew, and birewegge a traditional sweet bread with dried pears.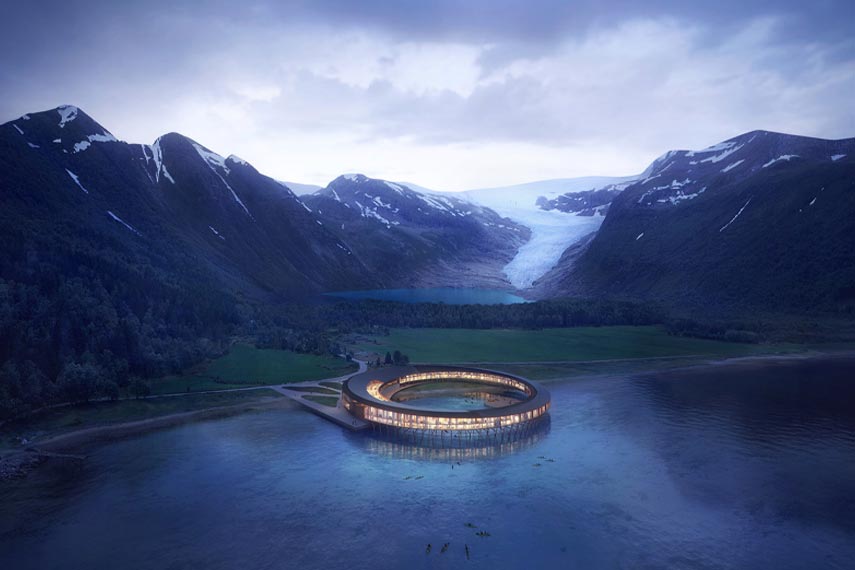 Svart Powerhouse Hotel
Svartisen, Norway
A powerhouse building generates more power than it consumes. But that's not even the coolest thing about the soon-to-be hotel in Norway. Situated just above the arctic circle at the foot of the Svartisen glacier, the Svart is a circle-shaped building with one edge of the circle jutting out into the fjords. It'll stand on wooden supports that will double as a boardwalk for guests to walk in summer, and a place to store boats in winter. It'll be an eco-friendly tourist destination with 360 degree views. The plan is to have it ready by 2021.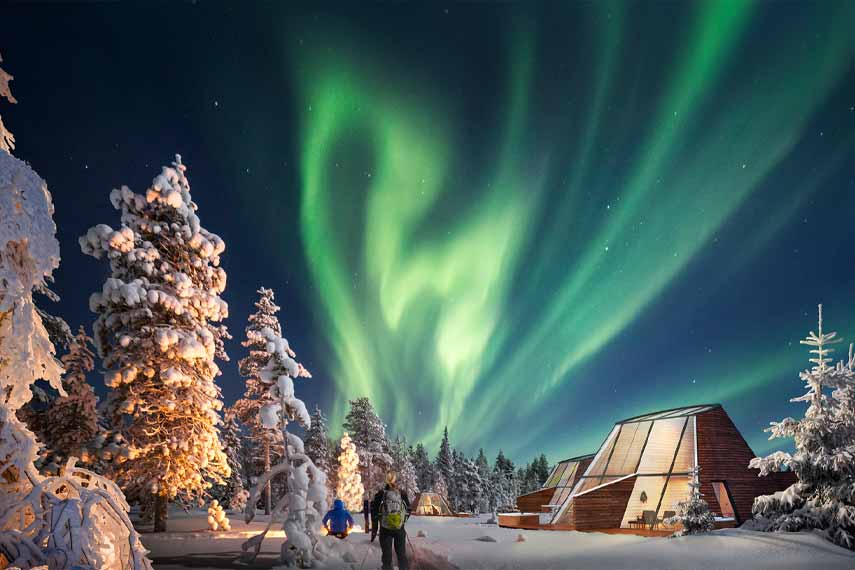 Glass Resort
Rovaniemi, Lapland, Finland
The glass apartments inside Snowman World (right next door to Santa Claus Village) are modeled after the kota huts Finland's indigenous reindeer herders used. But calling these a hut would be wrong. With glass ceilings and giant glass windows, the uber-modern apartments offer views of the Northern Lights and come with kitchenettes, lofts, and a private sauna and hot spring spa. Eat lunch and dinner inside the Ice Restaurant, or have a drink at the Ice Bar then go snow tubing in the Winter Zone.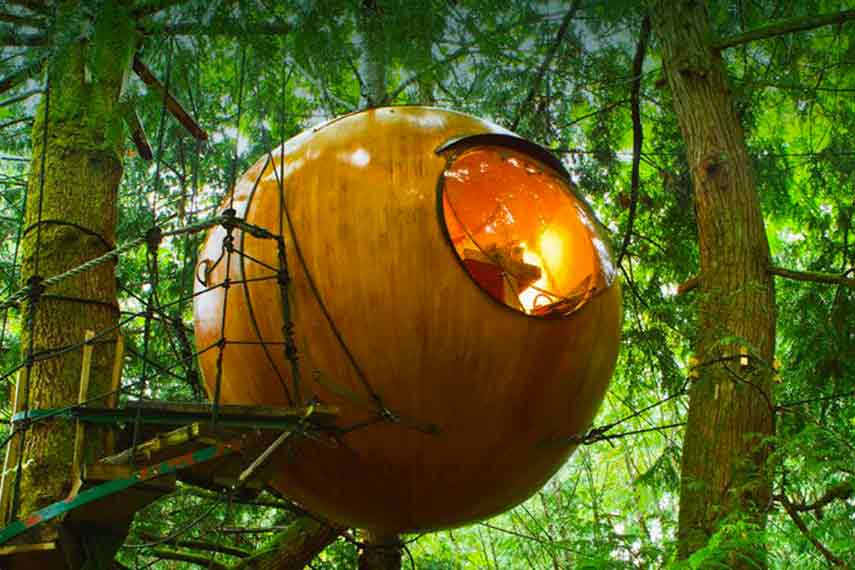 Free Spirit Spheres
Vancouver Island, British Columbia
Sleep up in the trees inside a perfectly spherical, suspended fiberglass ball. There are three spheres to choose from, and each one sleeps one or two people, with one sphere adding a loft that will sleep one more. Instead of being fixed to the trees, the spheres are suspended by ropes and tethers between a triangle of three trees. The hang is stable and the spheres gently sway as the breezes move in the trees — you'll also feel them sway as you move around inside. Bath facilities are located in a main area, with a compost toilet at the bottom of each sphere.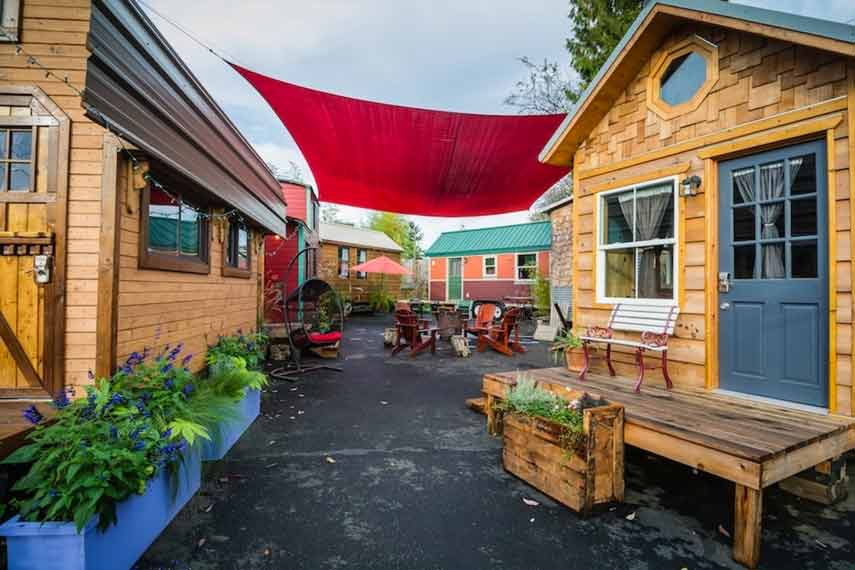 Caravan Tiny House Hotel
Portland, Oregon
Before you sell every possession you own and downsize into a tiny house, make sure you can hack the less-is-more living experience. One way to do so is at Portland's Caravan Hotel. There are six different tiny homes to choose from, ranging in size from 120 square feet to 170 and each one has sleeping and sitting areas along with kitchenettes, flush toilets and showers. It's on an urban lot smack dab in the middle of Portland's Alberta Arts District with restaurants, art, coffee and bars nearby. The six tiny homes are arranged around a courtyard where s'mores are perpetually available.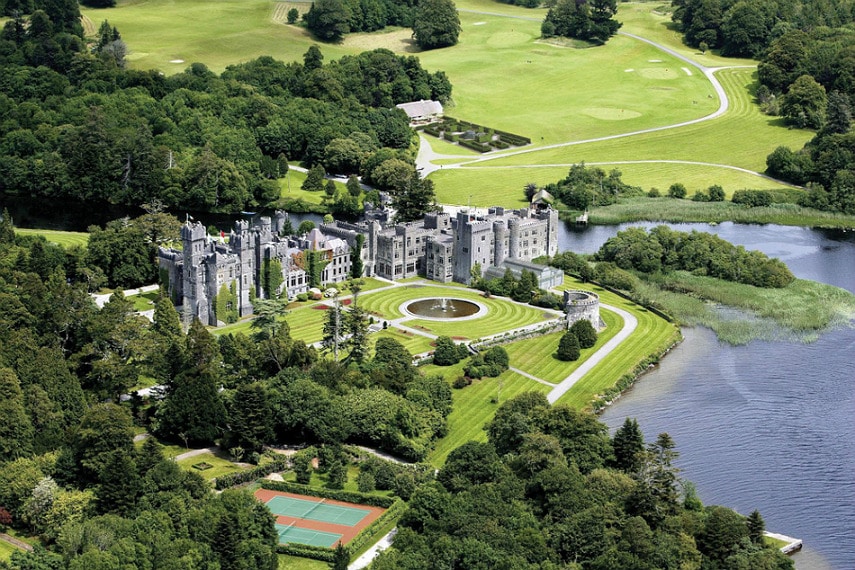 Ashford Castle
Cong, County Mayo, Ireland
If shows like Downton Abbey and the Crown have you yearning for some European ritz, why not stay in a castle? While this is in County Mayo, Ireland, not Yorkshire or London, England, it'll certainly satisfy any yearnings for opulence. The castle is 800 years old and sits on 350 acres. It has 83 rooms refurbished to combine original castle features with modern amenities, and there are four restaurants, a bar, wine cellar with wine tastings, and a billiards bar with Cuban tapas. Do stuff like climb trees, learn archery or falconry, or head to the spa for a little royal treatment.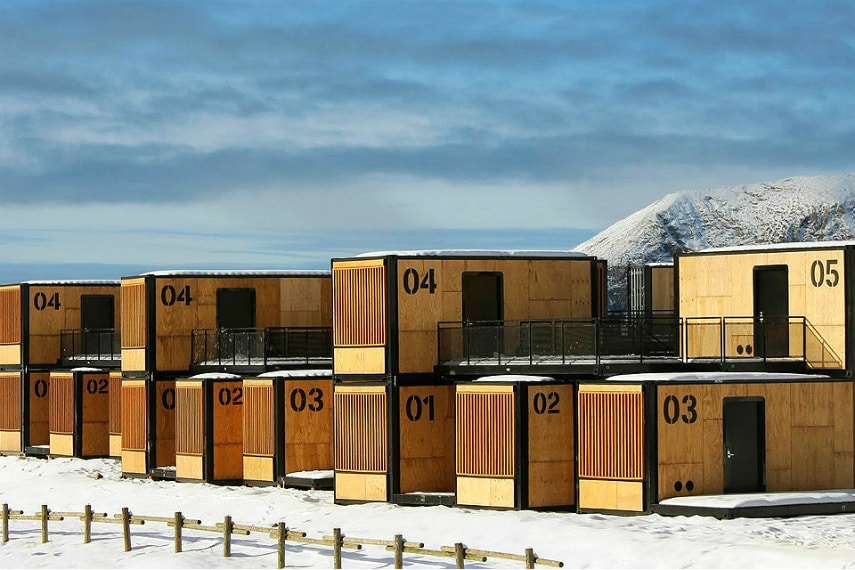 The Flying Nest Hotel Concept
Avoriaz, Portes du Soleil, France
As they're literally designed to be moved around, shipping containers make an ideal portable and nearly indestructible shell. Designer Ora-Ito decided to use them to make a super luxe hotel that can move anywhere around the world. Each suite has its own living space, bedroom, bathroom, and a terrace, plus there's a communal living space for eating and socializing. So far this hotel has been moved to places like the Le Mans endurance race, art festivals, and most recently spent the winter in the French car-free ski area, Avoriaz.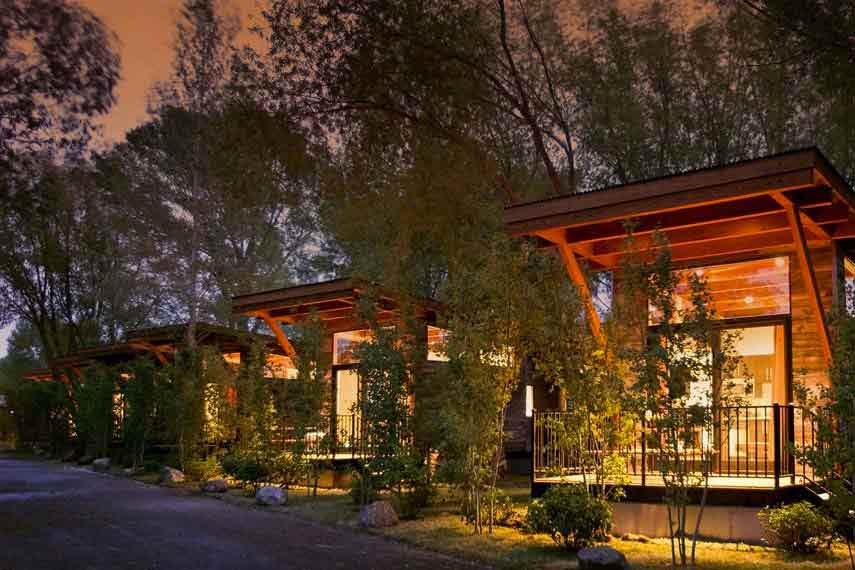 Fireside Resort
Wilson, Wyoming
In this Wyoming resort, modern meets rustic and luxury meets wilderness. Built inside the Grand Tetons, Fireside is made up of 25 tiny-house cabins, all of which look like little modern marvels set among the trees and natural awesomeness of the Tetons. They each have sleeping and living areas, plus kitchenettes, bathrooms, and decks. Use them as homebase as you explore the Grand Tetons, hiking , golfing, fishing, and biking in the summer and skiing, skiing, skiing (or snowboarding) all winter long.
Disclosure: Clicking on these links and making a purchase may earn us a small referral fee, at no extra cost to you. Learn more here.
freestar.config.enabled_slots.push({ placementName: "gearmoose_leaderboard_btf", slotId: "gearmoose_leaderboard_btf" });