Some days a glass of suds just won't cut it. Liquor is quicker, and which shot glass you imbibe from is almost as important as the whiskey itself. There are a lot of cool shot glasses out there, but we've managed to compile a list of the 16 coolest shot glasses deemed perfect for your next shot of Jack Daniels. After all, your journey to getting hammered should be one traveled in style.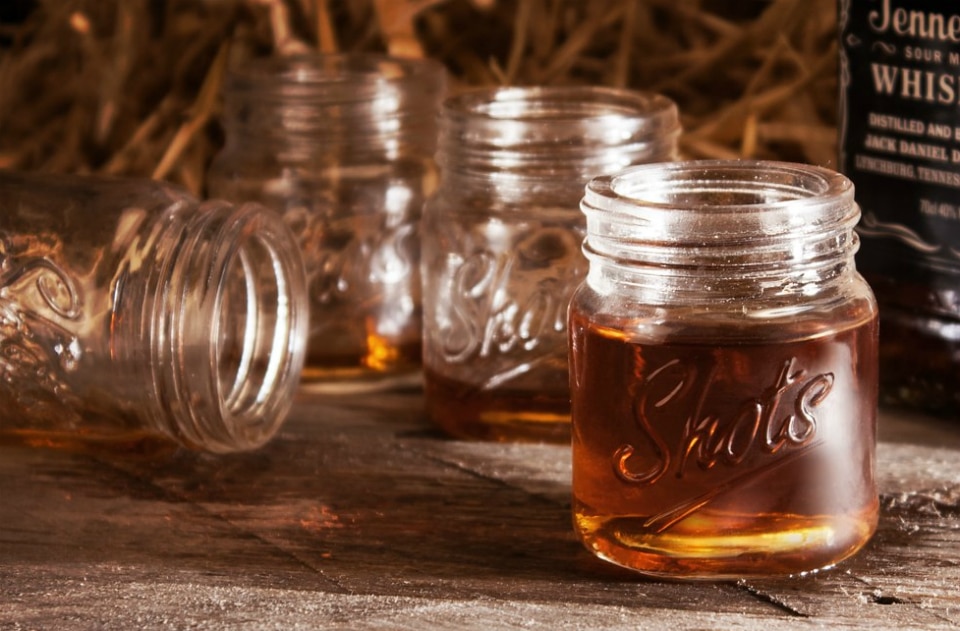 Mason Jar Shot Glasses
Now you can bring the same southern charm of your moonshine-toting mason jars to a shot of your favorite liquor thanks to the collection of cool Mason Jar Shot Glasses. Each of these shot glasses is a miniature replica of a classic mason jar and holds a hefty 2.4 ounces of fun juice—more than enough for a good start to Nascar Sunday. BUY IT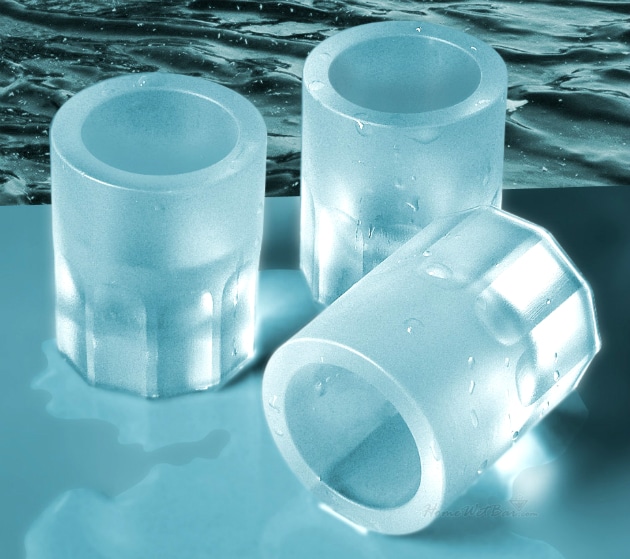 Cool Shooters Ice Shot Glasses
Literally the coolest shot glasses ever invented, the Cool Shooters Ice Shot Glasses are made from actual ice, an ingenious way to get loaded. Simply pour any liquid into the silicone molding, freeze, and you have a cool shot glass that will naturally keep your liquor of choice cold until ready to shoot. Its as easy as taking a shot. Best of all, there is no cleanup afterwards. Just eat the shot glass or let it melt away. BUY IT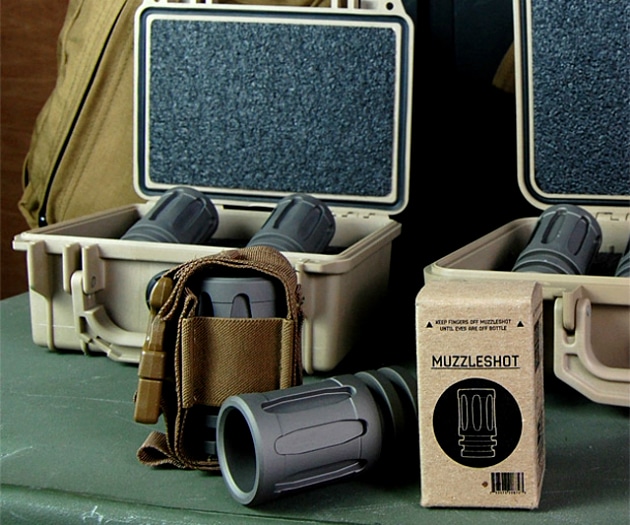 Muzzleshot Tactical Shot Glass
Probably the coolest shot glasses on this list, the Muzzleshot Tactical Shot Glasses were designed after the flash hider for M16A2 weapons, and just might just add a healthy dose of testosterone to any shot of liquor. It is machine-crafted from a single block of billet-heat treated and anodized aluminum right here in the USA by Leitner-Wise Manufacturing, and holds 1.5-ounces of your favorite shootin' whiskey. Drinking paraphernalia doesn't get any manlier than this. BUY IT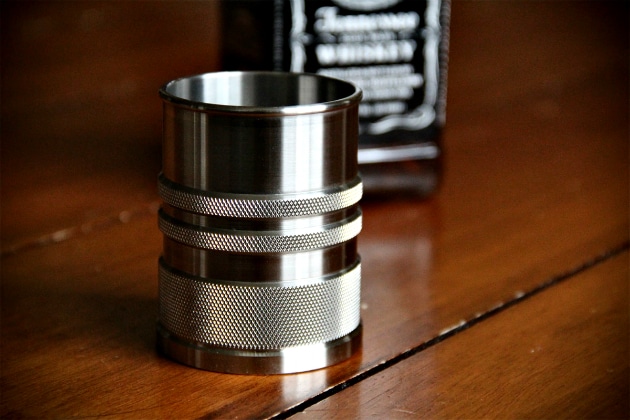 Shotshell XL Whiskey Shot Glass
There's no wrong way for a guy to enjoy whiskey, only a better way. The ShotShell XL Stainless Steel whiskey Glass is the way a tall order of your favorite Bourbon was intended to be enjoyed—In a heavy duty slab of steel. It is machined in the USA from solid stainless steel round bar, holds 4.5 ounces of your libation of choice, and is sure to stand up to even the toughest of shot glasses. BUY IT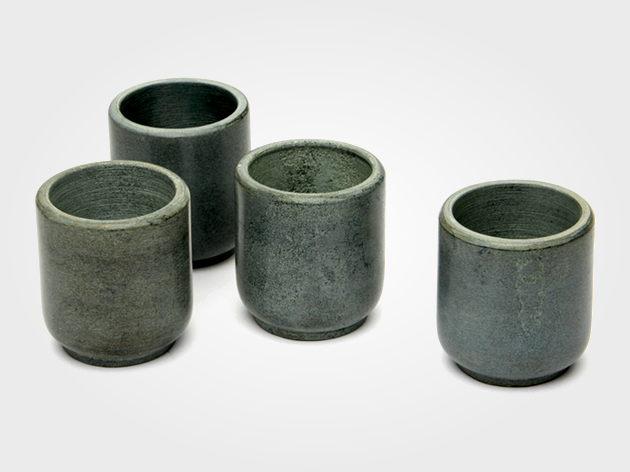 Whiskey Stone Shot Glasses
When we think of cool shot glasses, its hard to forget the Whiskey Stone shot glasses. If you store them in your freezer, these soapstone shot glasses will also keep your drink of choice cold without the need for ice. BUY IT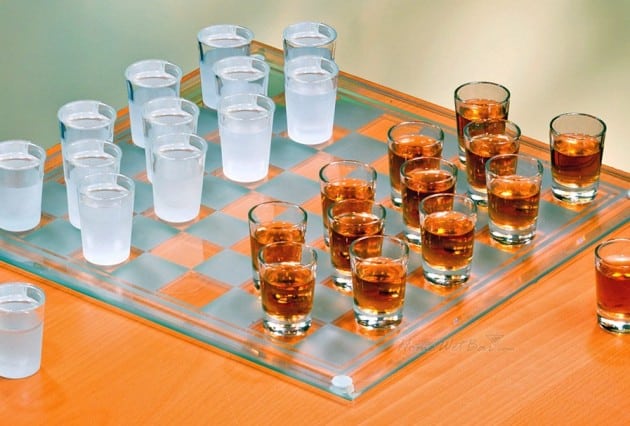 Shot Glass Checkers
Shot glasses make any game cooler, and what better way to get totally shnockered on a Tuesday night than over a game of checkers, Shot Glass Checkers that is. You can play whiskey versus vodka, or any other combination of your favorite liquors. This set includes a glass checker board with rubber feet, 13 clear one ounce shot glasses, and 13 frosted one ounce shot glasses. One thing is for sure, by the end of the game you won't care whether you won or lost. Technically, everybody wins at Shot Glass Checkers anyway. BUY IT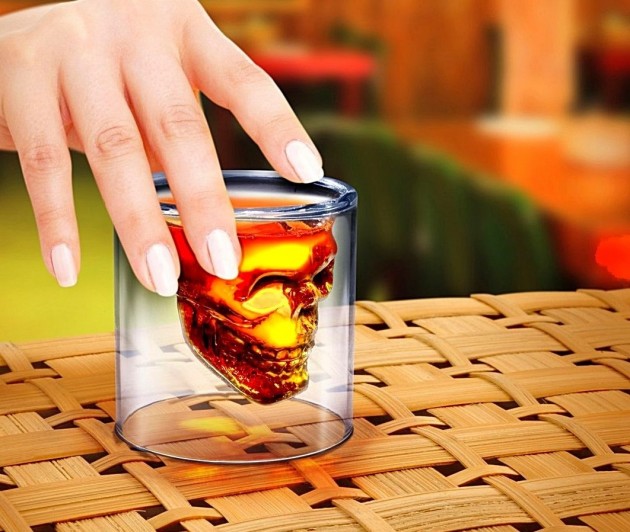 Crystal Skull Shot Glass
This awesome shot glass is perfect for boozers looking to add a little variety to their evening libation. The "Doomed" Crystal Skull Shot Glass features a double-wall skull on the inside of the glass where the liquid sits. Whatever drink you choose, that is what color the skull will be rendered. It holds 2.5 ounces of the drink of your choice, and will definitely add an eerie feeling to the evening's celebration. BUY IT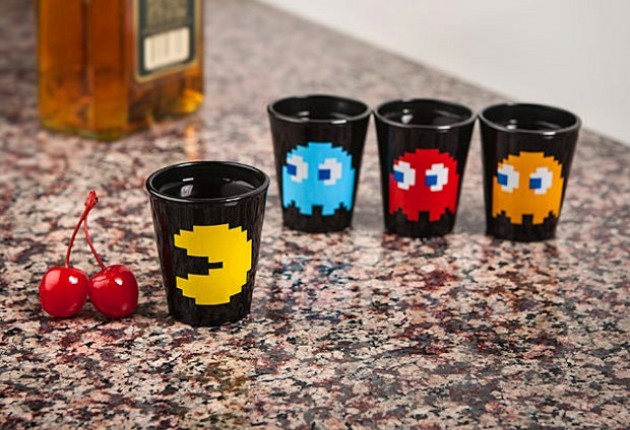 Pac Man Shot Glasses
Celebrate the 80′s coolest arcade game with the Pac Man Shot Glasses. This set of pre-gaming shot glasses includes the whole gang: Pac Man, Inky, Blinky, and Clyde. Shots of liquor from these cool shot glasses may just help you return to the gaming god you were 30 years ago. BUY IT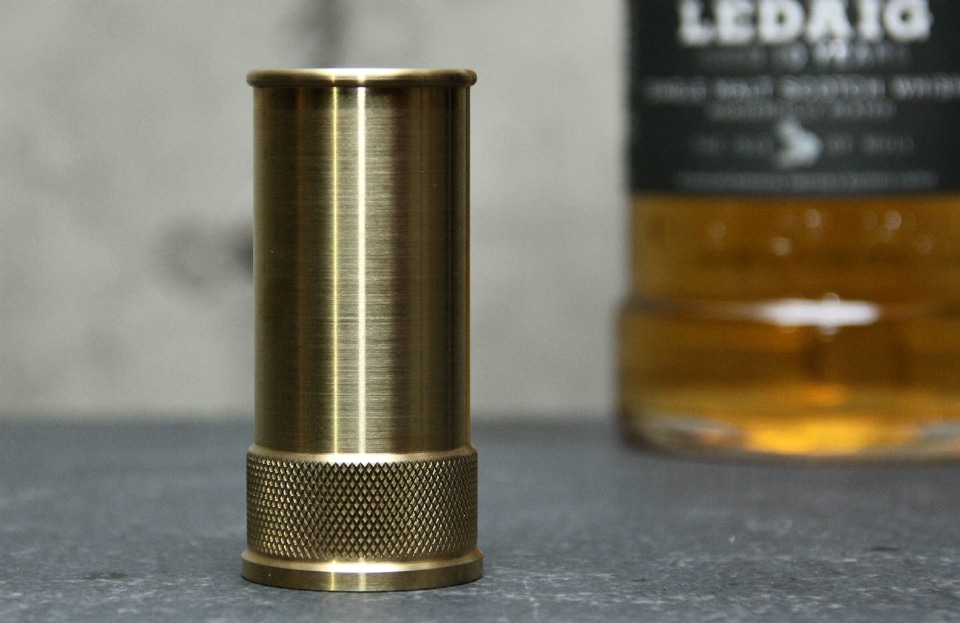 Shotshell Limited Edition Brass Shot Glass
Making the list twice, and for good reason, MadeByAmmo's newest Shotshell, the Limited Edition Brass Shot Glass, is just as cool as the original, and is crafted from 360-grade brass, individually numbered, and holds 1.5 fluid ounces of your favorite whiskey. BUY IT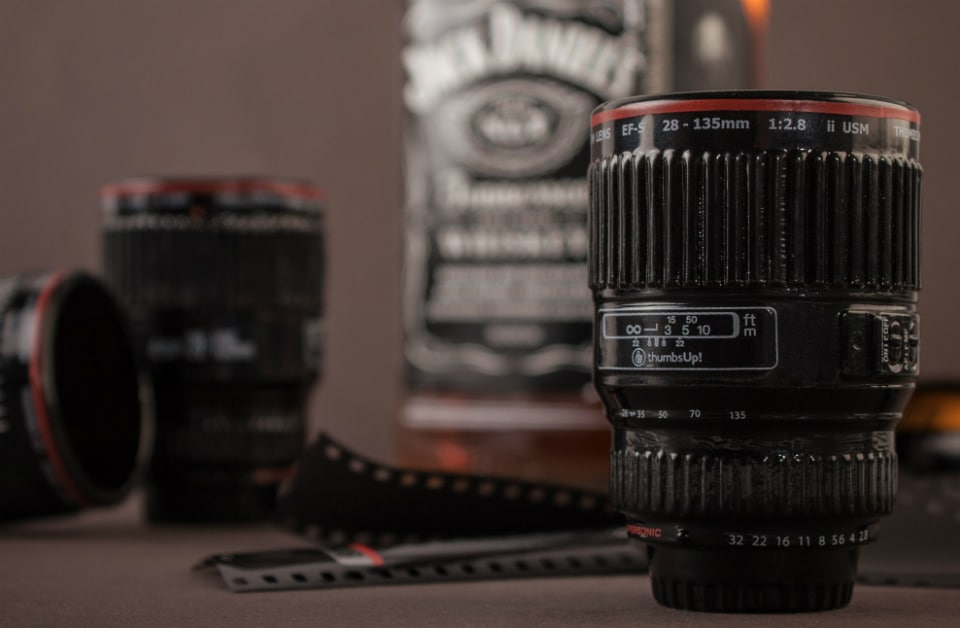 Camera Lens Shot Glasses
Whether it be from your old school Homer Simpson glass, straight from the Jack Daniels bottle, or from one of these cool Camera Lens Shot Glasses ($24), there's really no wrong way to shoot liquor in our opinion. Each Camera Lens Shot Glass is intricately detailed to look the part of the DSLR camera lens that you more than likely don't own. And at a generous 50 ML, you're sure to get the perfect shot every time—even if you don't actually own a camera. BUY IT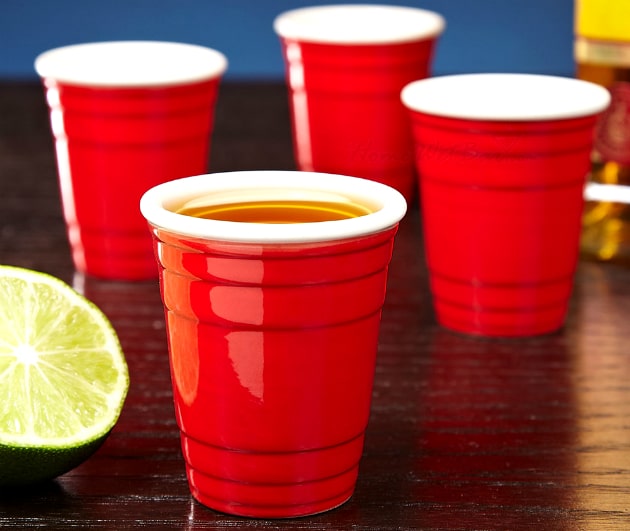 Red Solo Cup Shot Glasses
Every man has enjoyed his beer from a red solo cup at one time in his life. Well now you can enjoy your whiskey from the same great design thanks to these cool miniature-sized red solo cup shot glasses. Each shot glass is crafted form ceramic porcelain, holds 2-ounces of liquor, and comes in a set of four so three of your friends can also throw back shots. BUY IT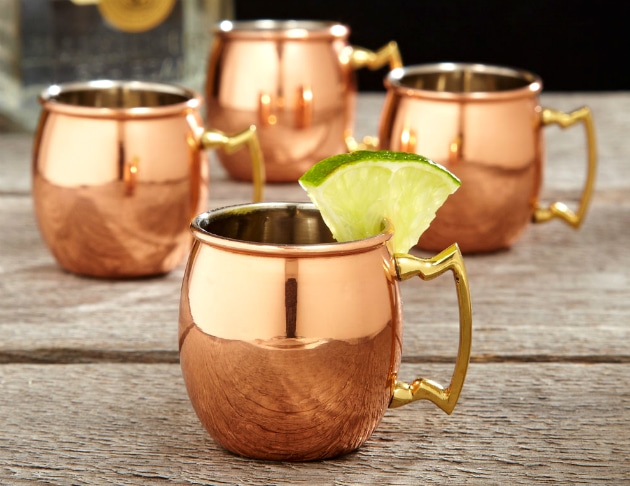 Copper Shot Glasses
Copper tankards have long been a customary beer drinking vessel, and for good reason. Copper is sturdy, stylish, and purifies liquids on contact. If that's not convincing enough, these cool shot glasses also hold 2-ounces of liquor, and feature a protective coating that prevents untimely tarnishing. BUY IT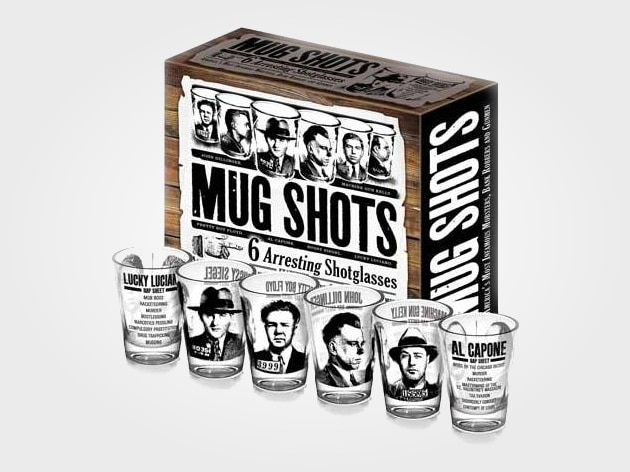 Mug Shots Shot Glasses
Mugshots shot glasses come in a set of six, with each shot glass featuring the mug shot and a short biography of a famous gangster—rendering each shot also a history lesson. BUY IT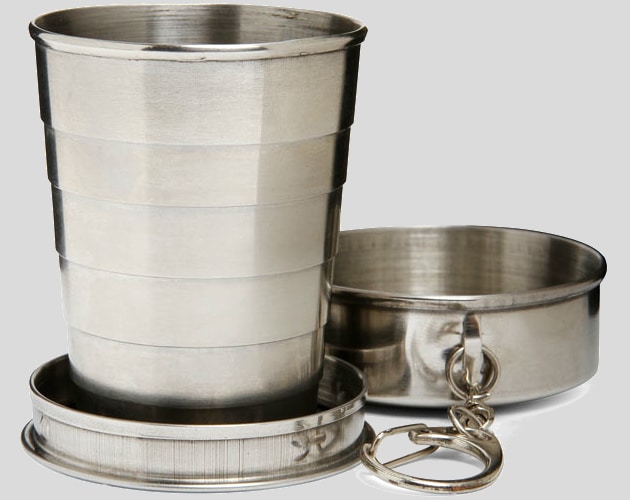 Collapsible Shot Glass Key Ring
Perfect for the boozer on the go, this cool stainless steel shot glass collapses flat and attaches to your keychain for easy transport, and opens up to a capacity of 50ml when the time comes to take a shot—Because you just never know when a reason to celebrate should arise. BUY IT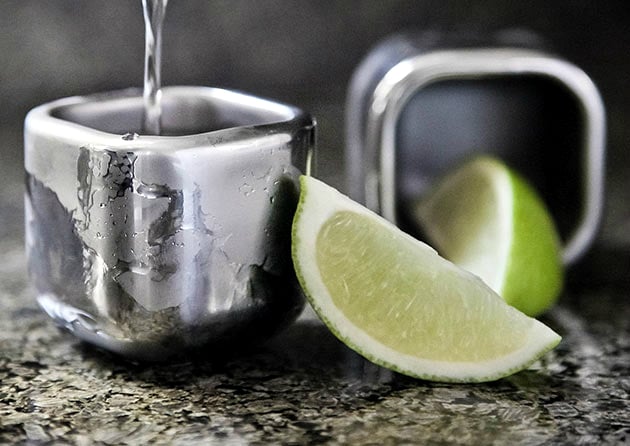 Stainless Steel Shot Glasses
These hand-polished, stainless steel shot glasses not only look the part, but are highly functional as well. Each one is filled with a reusable freeze gel that instantly cool your shot of liquor upon pouring. Simply store in your freezer for an hour or more, pour, and repeat until you're hammered. BUY IT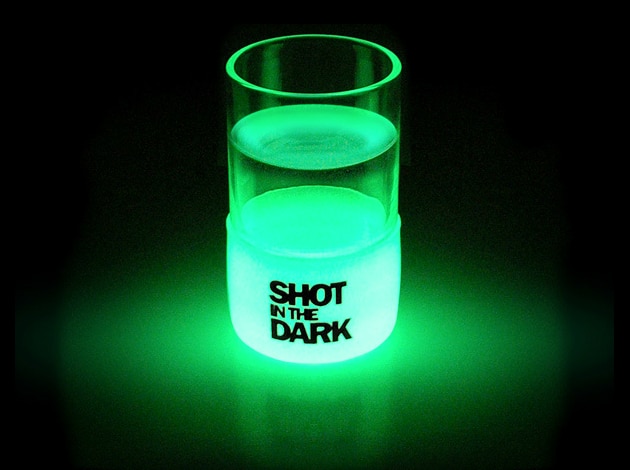 Shot In The Dark Shot Glasses
Sometimes, when faced with the decision, its just better to buy your Jack Daniels instead of paying the power bill. Because drunk in the dark is better than sober in the light when its friday night in the winter. And if you happen to to be sporting the Shot In The Dark Shot Glasses, you'll never take shots during the day again. BUY IT
Disclosure: Clicking on these links and making a purchase may earn us a small referral fee, at no extra cost to you. Learn more here.
freestar.config.enabled_slots.push({ placementName: "gearmoose_leaderboard_btf", slotId: "gearmoose_leaderboard_btf" });