HANDS-ON REVIEW
During the sweltering first week of August, I spent 72 hours in the Proof 72-Hour Merino Tee. Here were my findings.
I consider myself a t-shirt guy more than anything else, considering that I work from home and live in a state where the temperatures hover between 80 and 95 degrees fahrenheit eight months out of the year. And with some serious humidity to go along with those temps, a solid t-shirt makes for a comfortable existence.
My friends at Huckberry we're kind enough to send me two of their 72-Hour Merino Tees I had been eying for at least 12 months in exchange for an honest review. Proof is one of Huckberry's in-house brands that offers up technical performance apparel for wearing both in and out of the office. The 72-Hour Tee in particular is built from a merino wool blend and, in the words of Huckberry themselves, "has the comfort, durability, and odor-resistance to last three days of nonstop wear."
A bold claim by the brand, indeed. In the spirit of authenticity as the temperatures are still reaching highs of 95 degrees here in Tennessee, I wore the 72-Hour Merino Tee for 72 hours straight — through sleep, work, workouts, and even my 10 year old daughter's volleyball game. I took it off only to shower and for quick dips in the hot tub. Here are my journal entries.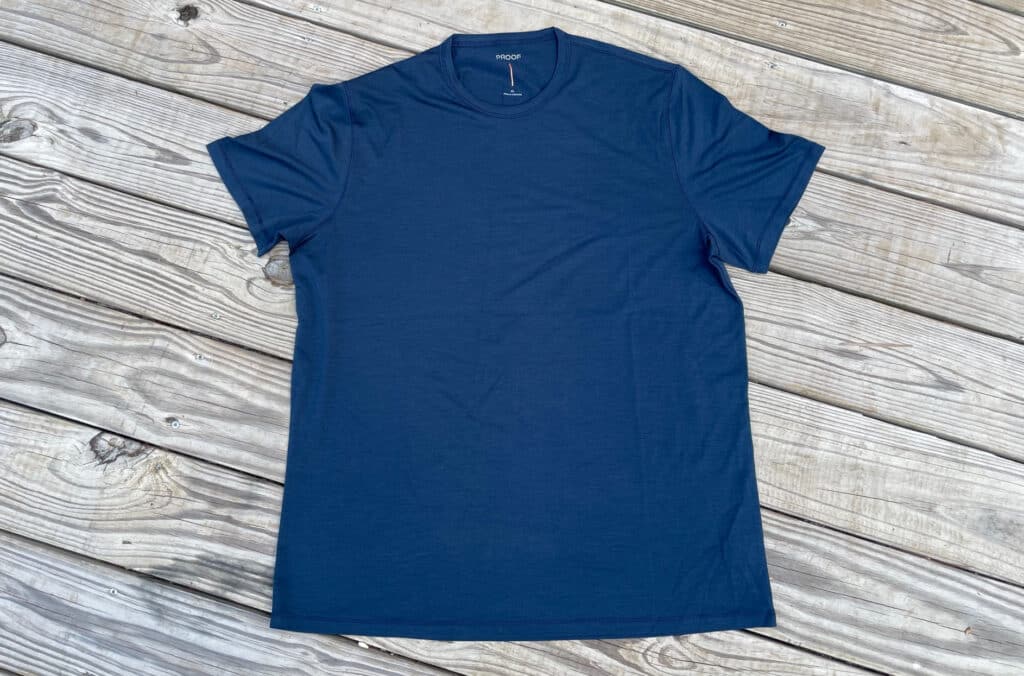 Day 1
08/04/22
The time reads 5:12am on my Tudor Black Bay Fifty-Eight, which i refused to take off anymore, even while sleeping or working out. This would be the case for the Proof 72 Hour Tee as well, at least for the next 3 days as I give it a fair chance to become my new everyday tee. Time would tell, as I hit the pavement on a 1 mile jog before tackling 8 sets of squats and 5 sets of heavy deadlifts. I finish the morning's workout with a very slow mile walk through my neighborhood.
It's So Damn Humid
The morning temperature is hovering around 70 degrees fahrenheit, however the unforgiving humidity has rendered the 72-Hour Tee completely drenched in my sweat, with nary a dry spot to be found.
Initial Thoughts: Compared to the other t-shirts in my dresser, the Proof 72-Hour Tee is really thin and lightweight, which renders it extremely comfortable to wear during hot weather or during a heavy workout. Also, the shirt seems to conform to my post-workout upper body without stretching out, which I consider a good thing.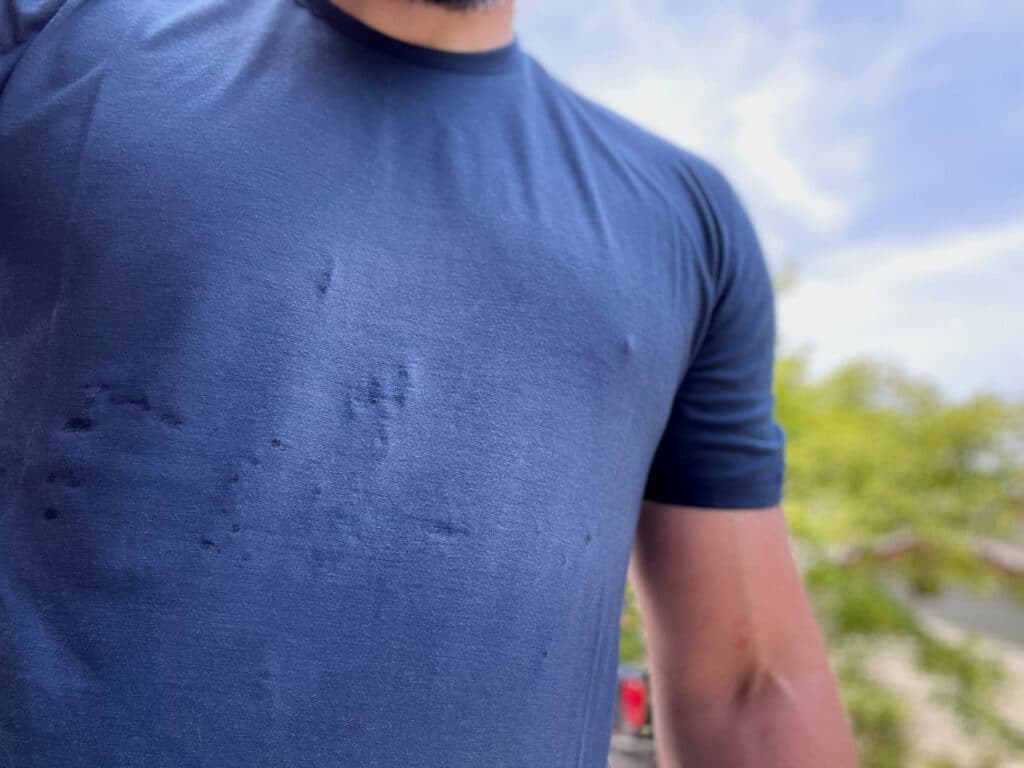 6:52am on the Tudor, 72 Hour Tee drenched in sweat. No matter, there are still 70 hours and some change to put this t-shirt through the paces, and a little sweat would not deter me. I throw the t-shirt into the dryer for 15 minutes to dry some of the sweat while I partake in a quick shower, Bud Lite in hand.
I'm a strong believer in drinking beer in the shower, and the earlier the better. After showering, I once again don the 72-Hour Tee. It's still a bit damp but I continue on with phase 2 of my day. The second part of my day includes assisting my wife with making school lunches for both of our children, writing some of this article you're reading, managing remote team members for a few more hours, two hours of Mario Cart with my children, and dinner. Part of the Spaghetti sauce from dinner landed on the 72-Hour Tee, but I do little to remove the stain aside from dabbing it with water. The mixture of dried sweat and Ragu tomato sauce that has now occupied the tee makes me doubt how well it will smell over the next 60 hours.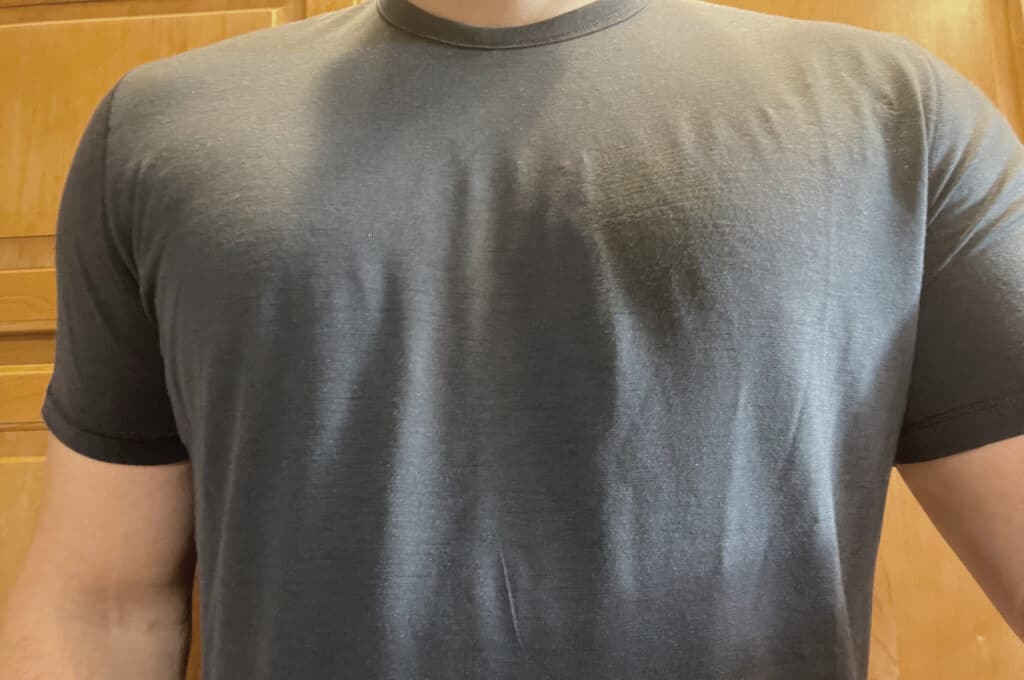 Sizing: Relaxed-fit, boxy t-shirts are a dime a dozen, which is why I really love the higher arm holes, fitted sleeves, and tighter neckline on the Proof 72-Hour Merino Tee. I am 6 feet tall, 215 pounds, and the XL provides a perfect, tailored fit without being too short or too tight.
It's 11:15pm and I finally land in bed after two pours of Jameson and another shower. I'm still wearing the 72-Hour tee, which smells like nothing at this point. Impressive to say the least, considering the morning it had.
Day 2
08/05/22
I awaken to the sound of the alarm on my iPhone. The time reads 5:05am, and I immediately smell the t-shirt i'm wearing and pick up the faint scent of spaghetti sauce, however no body odor of any kind is detected. After a quick dip in the hot tub (sans t-shirt) i head to the local high school track for some 400 meter split runs, covering a total of 2 miles.
The weather seems fair, hovering around 82 degrees. The humidity, however, makes for a sweaty ride home, during which I contemplate scrapping this article altogether for some clean clothes. The 72-Hour Tee is once again soaked completely and sticks to my skin like paint to the wall. Once I arrive home, I dry the shirt in the dryer on low heat, shower, and don the tee once again.
A Dash Of Bourbon
By 2pm on Day 2, the shirt is completely dry and devoid of any horrible smells. This really speaks to the odor-resistant qualities of Merino wool in general from which the shirt is constructed. Since it is Friday, I enjoy a long pour of knob Creek Bourbon in the early afternoon while I work, a few ounces of which ends up on the 72-Hour Tee thanks to a wiry beard and an unruly mustache.
Day 2 thoughts: There is still no odor to be detected from the shirt, save for the bourbon. The tailored fit hasn't stretched much considering how drenched in sweat it was for two straight mornings. I did notice that the shirt had shrunk ever so slightly when drying it on low heat after the morning workouts. I recommend air drying it.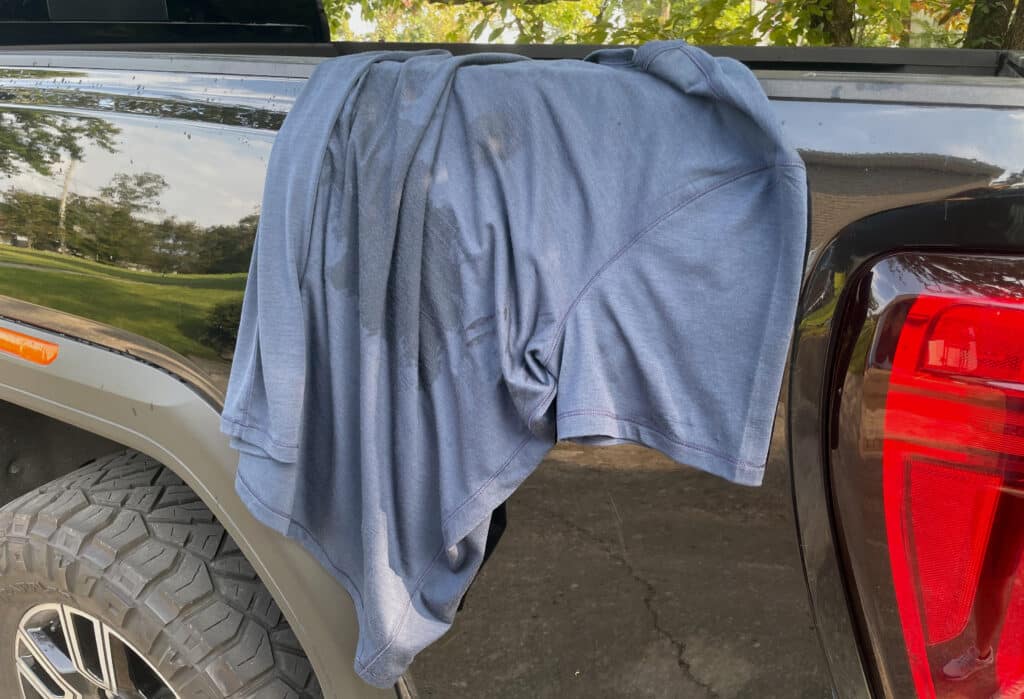 Day 3
08/06/22
Welcome to the weekend. I'm up at 6am this Saturday morning brewing coffee while I give the t-shirt i'm still wearing a quick examination. A few subtle food and whiskey stains are visible up close but no undesirable odors are present, and, save for a slight stretch of the sleeves from consistent wear without a wash, the shirt is intact and fits like a glove. My wife walks past and looks in a disapproving manner at what I again plan on wearing today, as coffee drips down my mustache and onto the t-shirt.
Game, Set, Match
By 9am, i'm at the local YMCA at my daughter's volleyball game. Running back and forth retrieving volleyballs during warmups results in the 72-Hour Tee taking on more sweat, but its lightweight design makes it extremely comfortable in the warm gymnasium. The gym is tight, with spectators standing shoulder to shoulder throughout. It was refreshing to know that the shirt I was wearing would not stink up the place considering the close quarters.
Day 3 Thoughts: The tee is beginning to feel lived in and conforming to my body like a seasoned pair of sneakers or dress boots would, and the more I wear it, the softer it becomes. After taking on multiple days of sweat, coffee, spaghetti sauce, and bourbon, the 72-Hour Tee has no odor. It doesn't smell new, but doesn't smell awful either. It could definitely use a wash though.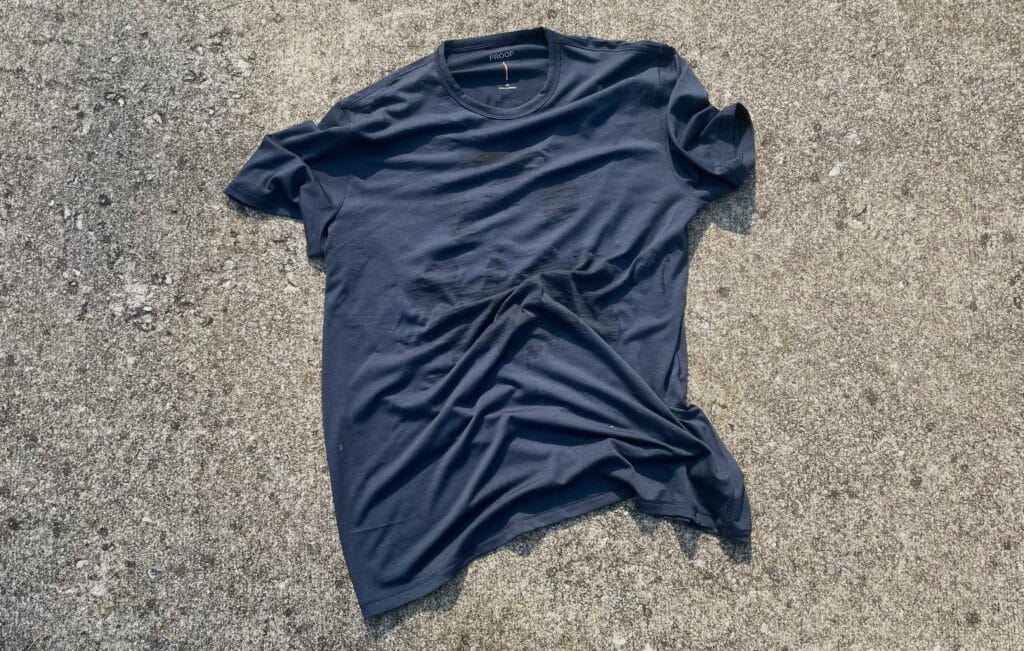 Final Thoughts
While I may not have been overlanding in Iceland or tent camping in Yellowstone, I feel I was able to put the 72-Hour Tee through the same paces as any other ordinary consumer interested in purchasing the t-shirt. It does an excellent job at repelling most liquids and foods. While it did take on a few stains, most of the bourbon and coffee dripped onto it rolled right off and landed on the floor or my desk.
The tailored fit, variety of available colors to choose from, and the odor resistance of the merino wool make it an excellent tee for working out, staying in, or layering under your favorite jacket this fall. Will it hold up after multiple washings and continued abuse? This review is for only three days, however lasting more than a few months would put it ahead of most other tees at this price point.
Air Dry, Please
The next day I inadvertently dried the t-shirt on medium heat after washing and it shrank down to the size of a youth large shirt. My mistake. The tee's product page clearly states "Tumble dry low or air dry to avoid any shrinkage." I recommend only air drying to avoid any shrinking at all. I'm happy to say that my 10 year old daughter now wears and loves her "broken-in" Proof 72-Hour Tee. Luckily, Huckberry sent me two. Now all I need to do is add bourbon and coffee to the second one, and it'll be good to go.
Price: $88
Disclosure: Clicking on these links and making a purchase may earn us a small referral fee, at no extra cost to you. Learn more here.