Achieving legendary status is difficult enough, but reaching iconic levels of recognition is the kind of prestige few cars ever experience. Accomplishing everything the 1964 Ford GT40 Prototype did only happens once in a lifetime, if that. Purpose-built with one burning desire, to beat Ferrari at Le Mans, the GT40 represents the cream of the crop.
With no expense spared, Henry Ford II hired the world's greatest engineers to compete with Enzo Ferrari's winning formula. The rest is motorsport racing history.
This historical feud even became a major Hollywood movie starring Matt Damon and Christian Bale. Anybody who is a fan of high-revving combustion engines will likely find themselves blasting this film at full volume during racing scenes.
How did Ford beat Ferrari at Le Mans? They began with a lightweight prototype known as Lola Mk6 for the chassis design. Why not slap the Ford 256 cubic-inch V8 Indy engine in the chassis and mate it to the Colotti T-37 4-speed gearbox? Everything always seems simple in hindsight.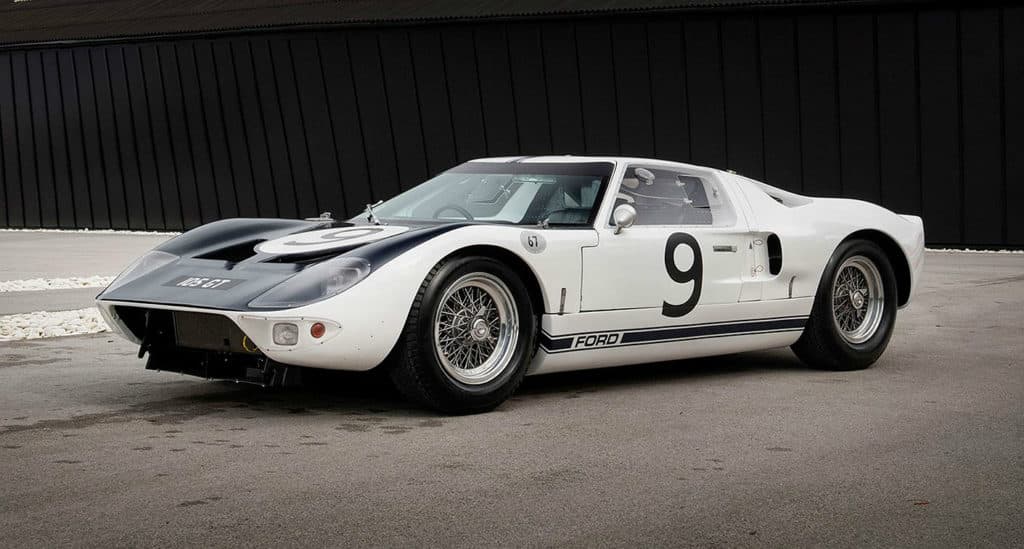 That recipe for success became known as the first GT40 car, Chassis GT/101. The GT40 "Ferrari Beater" was born. Chassis models GT/102, 103, 104, and 105 soon followed. Extensive testing and further development by racing guru Carroll Shelby led to even greater things for the GT40's potential.
It wasn't long before Ford crammed an even larger 289 cubic-inch V8 engine with a 5-speed ZF gearbox into the prototype. The old saying goes, there is no replacement for displacement. If that did not make Ferrari more nervous, adding an additional gear to the transmission certainly did. Acceleration was now tighter in-between shifting while extending the car's top speed potential.
The GT40 many people see and recognize today is widely the result of Shelby American's work on the car. Shelby wanted to go big or go home. He knew this car could handle even more power and he believed it with every breath of his existence. His persistence paid off.
After the success experienced with the 289 cubic-inch V8, it was time to graduate to bigger and better things. With the 24 Hour Le Mans race right around the corner in 1965, Ford gave in to Shelby's persistent demands about putting a 427 cubic-inch V8 engine in an experimental chassis known as Mk2.
Qualifying runs were promising, but reliability issues hobbled Ford across the finish line behind Ferrari. Back to the drawing board. The American spirit of persistence shall overcome all obstacles. Of course, backing that perseverance with Ford's seemingly unlimited resources certainly did not hurt their chances in 1966 either.
Ford's prestigious racing heritage is a testament to Henry Ford II's willingness to keep trying, no matter the cost. Thanks to his determination, 1966 was one for the record books. Ford finished in first, second and third place while enjoying continued success for years.
For enthusiasts and historians alike, the GT40 represents the pinnacle of human achievement within mechanical engineering. Thanks to Duncan Hamilton, now you can own a very important piece of the GT40's story.
Chassis GT/105 was ready in the early part of 1964. It features the legendary Ford 289 V8, and was the first GT40 to ever use that engine as well as the ZF gearbox. Without the GT/105 Chassis, Ford's eventual success at Le Mans may never have happened.
The GT/105 Chassis is also the first one to feature the recognizable GT40 bodywork. This is the style and look you expect when talking about the GT40. Chassis examples 103 and 104 are untouchable in a Shelby museum. 101 and 102 no longer exist. Chassis GT/105 is the only acquirable GT40 remaining from the prototype models.
Don't miss your chance to own one of the most important cars in racing history. This 1964 Ford GT40 Prototype GT/105 Chassis is available and looking for a new owner. Contact Duncan Hamilton to inquire about this prolific GT40 today.
Disclosure: Clicking on these links and making a purchase may earn us a small referral fee, at no extra cost to you. Learn more here.
freestar.config.enabled_slots.push({ placementName: "gearmoose_leaderboard_btf", slotId: "gearmoose_leaderboard_btf" });