When Chevy launched the fourth generation of the Corvette in 1984, it featured excellent handling ability for its era but was lacking power. A few years later, tuners all over were seeing what they could do to improve the C4's performance abilities. Cue the 1988 Chevrolet Corvette Callaway SledgeHammer. This Corvette never misses when it swings.
Flash it back to 1988 when Reeves Callaway himself placed the order for this particular 'Vette from the factory. His plans? Build Callaway's 51st Twin Turbo Corvette. That's two snails forcing induction on Chevy's proven 350 V8 engine block. Callaway's Project Sledgehammer was born.
Their goal? Only to break production car top speed records while maintaining its drivability as a street-legal car. Once the car was ready to go, they took it to the Transportation Research Center's 7.5-mile track in Ohio. With John Lingenfelter behind the wheel, the Callaway SledgeHammer Corvette reached a speed of 254.76 miles per hour.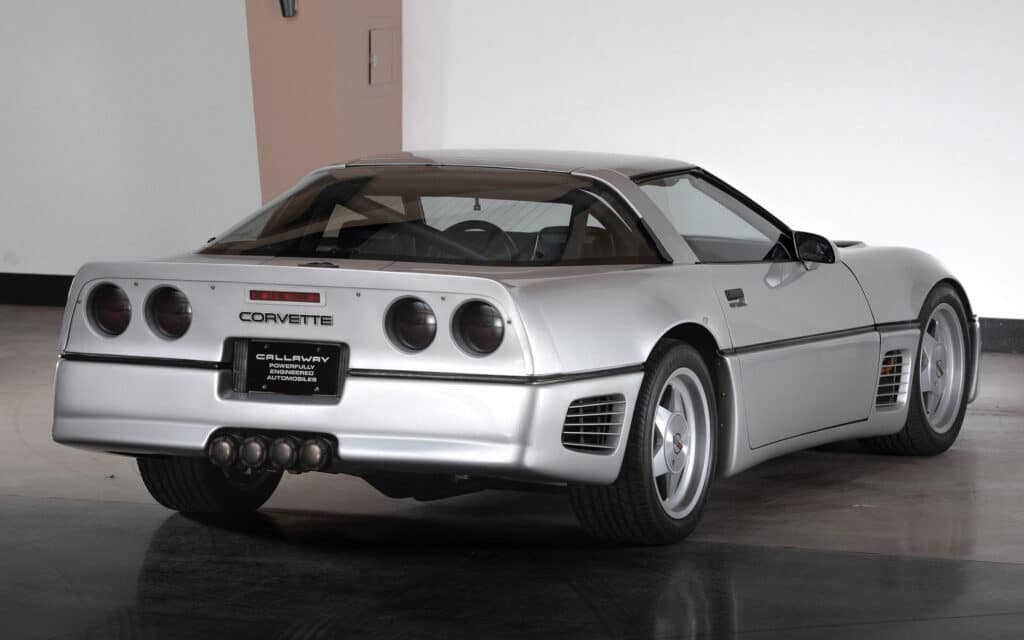 Now enthusiasts and collectors all over the world have a chance to acquire the SledgeHammer. That's right, this iconic Callaway twin-turbo Corvette could be yours. Imagine firing up the boosted V8 and wrapping your right hand around the six-speed manual transmission's shifter.
Everywhere you go people will see the Callaway AeroBody kit and know there is something very special about this Corvette. This record-breaking 'Vette only has 2,000 miles on the odometer, which is about as like-new as it gets for an '80s car.
From the meaty rear tires to the custom central exhaust pipes, this is no ordinary C4 Corvette. It even features electronically adjustable Bilstein shocks. There are disc brakes all around, a standard feature for fourth-generation Vettes. However, these brakes are bigger and better than the stock setup.
You may not need any more temptation to add the SledgeHammer to your garage but here it is anyway. With 880 horsepower and 772 pound-feet of torque, there is actually not a single reason to say no. What are you waiting for? The auction ends soon, place your bids before it's too late.
Disclosure: Clicking on these links and making a purchase may earn us a small referral fee, at no extra cost to you. Learn more here.