When it comes to supercars, McLaren has a legendary reputation. McLaren supercars are fast, exclusive, and sexy. Unfortunately, McLaren supercars are extremely rare and difficult to acquire. However, today is your lucky day because this 2015 McLaren P1 is up for auction. 
With only 305 miles showing on the odometer, this McLaren P1 is like-new, in pristine condition. This is a very desirable collector's car for that reason. McLaren only built a total of 375 P1 supercars, this particular example is number 348.
The carbon fiber body is finished in gorgeous Volcano Yellow while the interior features black Alcantara, carbon fiber, and leather upholstery. However, the real fun begins when you start the engine. It is a mid-mounted, twin-turbo 3.8L V8 engine which combines with an electric motor to send power to the rear wheels.
Altogether, the McLaren P1 produces 903 horsepower with 664 pound-feet of torque. It can go from zero to 60 miles per hour in only 2.7 seconds and reach a top speed of 217 mph. The P1 can run a quarter-mile in 9.8 seconds with a trap speed of 148.9 mph. This is a serious supercar and it does not mess around.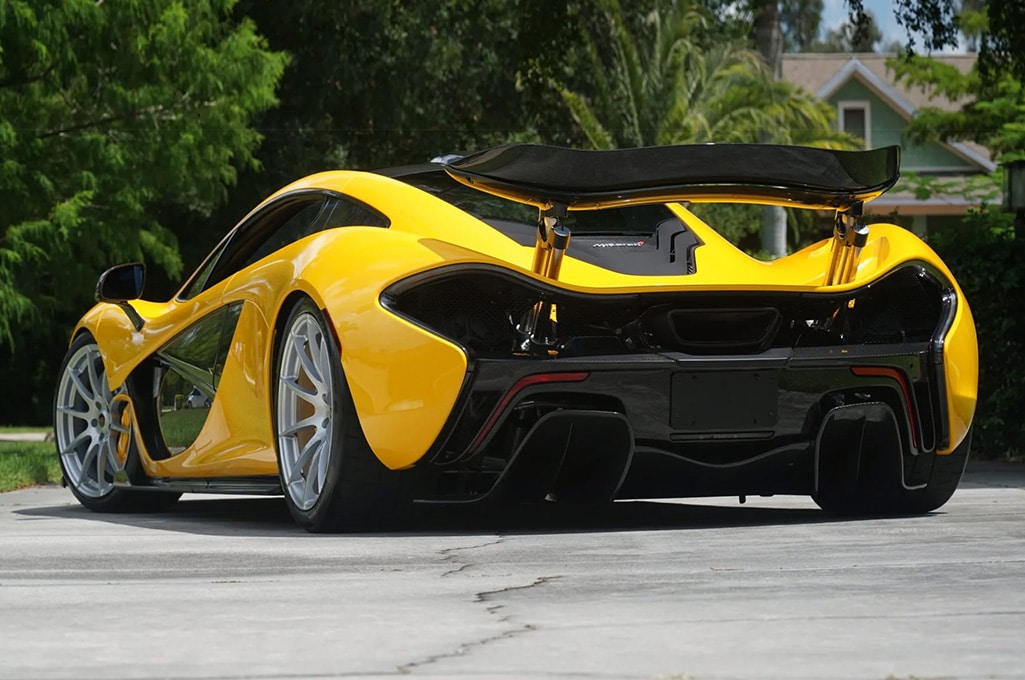 Other highlights include carbon-ceramic brakes because in a car this fast, stopping power is vital. A seven-speed, dual-clutch transmission takes care of the shifting. The twin-turbo V8 engine sounds incredible through the Inconel exhaust system. Active aerodynamics help you slip through the wind at any speed.
Only approximately 127 P1 examples were made for the US market. This is not the kind of supercar you see everyday stateside. When people see you open the dihedral doors, they usually want a closer look. Luckily, the P1 is plenty fast enough to make sure they do not get too close.
If you have your eye on this 2015 McLaren P1, it is safe to assume you will be facing stiff competition. There is plenty of interest in this car. May the highest bidder enjoy their P1 because it will only require one drive to realize how special this supercar truly is. That's what happens when you trust the racing heritage of McLaren for your smiles per mile.
Disclosure: Clicking on these links and making a purchase may earn us a small referral fee, at no extra cost to you. Learn more here.