Partnering with Disney, the 2021 Ford Bronco featured an epic reveal. Airing across Disney-network channels such as National Geographic, ESPN, and ABC, viewers watched the Bronco unveil before their eyes. Upon the announcement, Ford also offered the opportunity to reserve a 2021 Bronco with a $100 refundable deposit.
Who isn't excited about the 2021 Ford Bronco? With Ford's re-release of the Bronco, the new SUV aims to over-deliver on the hype. It looks great and is available in a variety of configurations to suit modern driving needs. This even includes a first-time-ever four-door model.
Ford's new marketing slogan nails it – Built Wild. The spirit of the original Bronco lives on with the kind of freedom 4×4 driving offers. Superior off-road performance is the very core of the Bronco's existence, the 2021 version promises to deliver confidence on any terrain in its way.
A segment-first 35-inch off-road tire option is available with every trim level of the two-door and four-door. Broncos always stray from the beaten path with pleasure and the factory-optional 35-inch tires will seek to carve their own trail.
Since inception in 1965, Ford's fine-tuning of off-road racing into performance perfection became an artform with the Bronco. A very strong following of innovative and creative Bronco enthusiasts quickly followed. Even though Ford stopped manufacturing the Bronco in 1996, its legacy lived on through collectors everywhere.
Now the Bronco is ready to buck again, and it looks better than ever. Retro-modern styling celebrates the soul and heritage of Bronco history, with clear inspiration dating back to first-generation models.
There are several configurations available for each trim level, but the options begin with the 2-Door, 4-Door and Sport base models. From there, you can tailor the available options to fit your specific needs, according to your budget. The slightly smaller Sport model offers a fresh twist with a squeeze of lime for the Bronco lineup.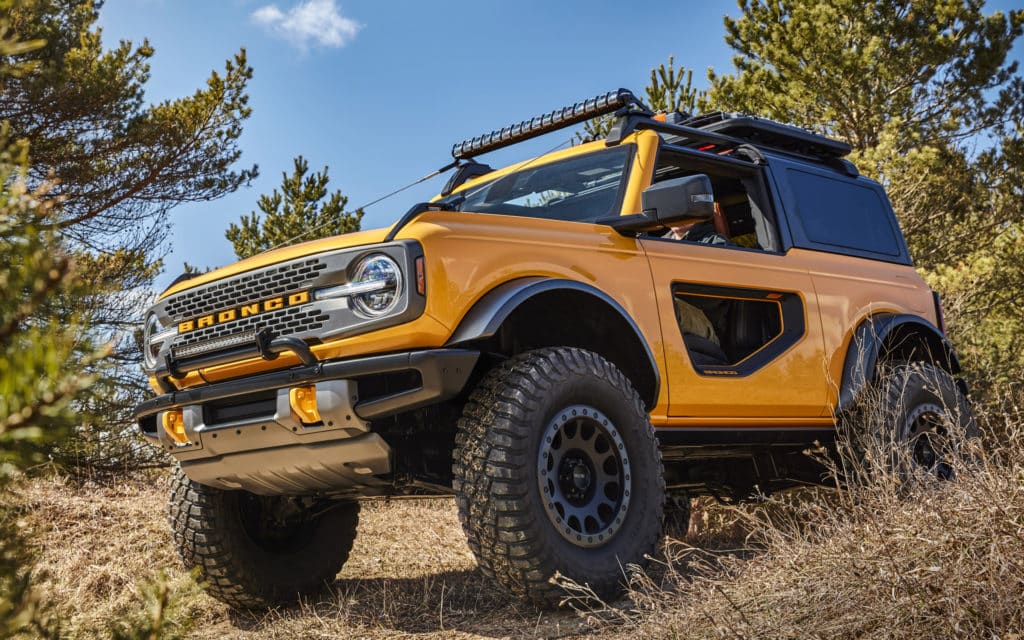 Initial Sport engine options are a 2.0L EcoBoost producing 245 horsepower with 275 pound-feet of torque or a 1.5L EcoBoost with 181 horsepower. Sport models feature an 8-speed automatic transmission.
Ford offers two different engine options for 2- and 4-Door models: A 2.3L EcoBoost four-cylinder with 270 horsepower and 310 pound-feet of torque or a 2.7L EcoBoost V6 producing 310 horsepower. A 7-speed manual transmission or a 10-speed automatic transmission are available for 2- or 4-Door models.
Although you love being out in the wild, you will need to spend some time inside the cockpit to get there. The optional grab handles might come in handy when feeling adventurous. Available seat-back mounted MOLLE hooks provide additional cargo storage and organization on the fly, very helpful over bumpy terrain.
An advanced modern interior has retro-inspired style, such as the multifunction color LCD instrument panel featuring first-gen Bronco influence. There are even bring-your-own-device attachment points built into the instrument panel with 12V power provided for cameras, navigational units, phones or other devices.
There are so many new features to highlight, it is impossible to cover them all. Ford did not need to re-think the wheel when they decided to dust the Bronco off, but they did. It even features a G.O.A.T. selectable driving mode to help navigate any type of terrain.
Any hardcore Bronco enthusiast knows that title rings true when it comes to off-road capability. Using G.O.A.T. as a selectable driving mode shows Ford's confidence in the new Bronco's ability to carry the segment's torch.
Starting at an MSRP of $29,995, it's ready to introduce itself to a new generation of fans. Get your saddles ready because Ford is already accepting reservations. Discover your next adventure in the 2021 Ford Bronco.
Disclosure: Clicking on these links and making a purchase may earn us a small referral fee, at no extra cost to you. Learn more here.