Fans of Chevy trucks have nothing but love for the ZR1 but this isn't your dad's Silverado. Times have changed and the 2022 Chevrolet Silverado ZR2 Truck is a prime example. Introducing the first ever Silverado ZR2 sends chills down the spine of anyone who holds a soft spot for off-roading with a bowtie.
With the ZR2, you get what you need, you get what you want. This is Chevy's flagship off-roading package, coming with a factory-installed lift kit. Here's how the numbers stack up:
Ground Clearance: 11.2″
Approach Angle: 31.8°
Departure Angle: 23.3°
Break Over Angle: 23.4°
You also have a 147.5-inch wheelbase to work with. Chevy has been using their multimatic DSSV dampers in the suspension system of select Camaro and Colorado configurations for a while now. The ZR2 brings this advanced suspension technology to the 2022 Silverado with 40mm dampers and a system designed specifically for aggressive off-road terrain.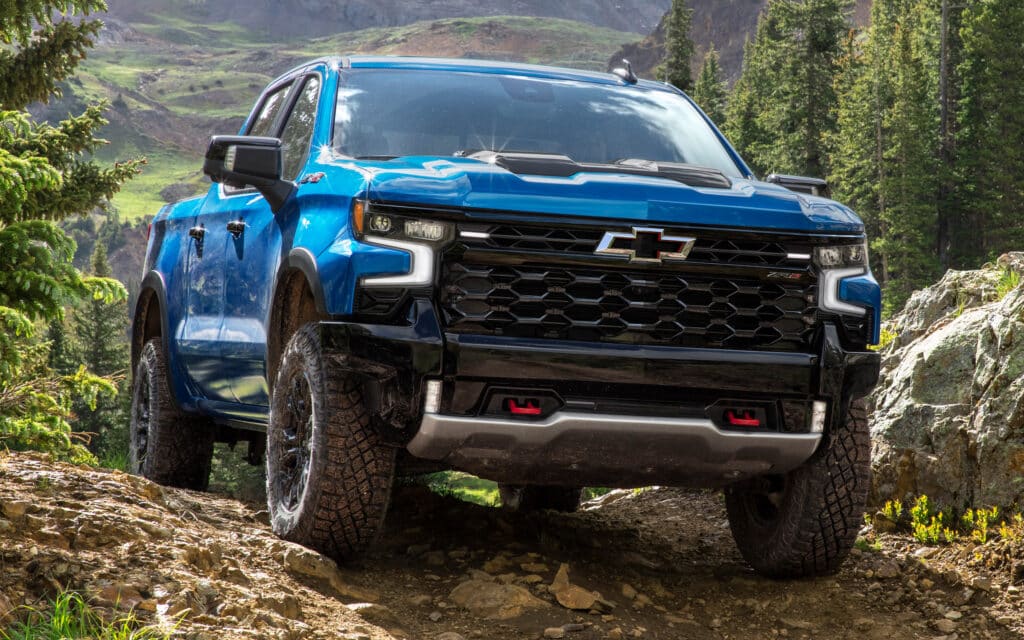 Imagine if your suspension could think and adapt on the fly, while making calculations and adjustments for driving surface changes on demand. That is the best way to explain how Chevy's advanced DSSV system works. Now, take a moment to let that sink in because it is a game-changer when it comes to driving over uneven terrain.
You'll have plenty of power at your disposal in the new ZR2 Silverado to plow through the wilderness. A 6.2L Ecotec3 V8 engine comes standard on the 2022 Chevrolet Silverado ZR2 Truck. It produces 420 horsepower with 460 pound-feet of torque, plenty of ponies to roam free.
Riding on 33-inch Goodyear tires, the Chevy ZR2 is ready to roll off the lot and into some mud. Why not? You gotta break it in eventually. The sharp styling of the all-new ZR2 should strike fear into any obstacle standing in its way.
From rock crawling to overlanding, the 2022 Chevrolet Silverado ZR2 Truck is eager to give it a go. If you're eager to sit behind the wheel, you should be able to in the Spring of 2022. Until then, stay tuned to Chevy for more details.
Disclosure: Clicking on these links and making a purchase may earn us a small referral fee, at no extra cost to you. Learn more here.