Weatherproof performance and classic good looks.
As temperatures dip and outdoor adventures become tinged with winter's chill, it's best to switch from your usual sneakers and trusty trail shoes to a reliable pair of boots.
Exactly which pair of boots, though? Well, if you like the sounds of footwear that can take you seamlessly from city streets to forests and lakes, then we may have a pair of boots that's just right for you.
Our friends at Huckberry sent us a pair of their super popular All-Weather Duckboots to review, and we quickly went about putting them through their paces on concrete, over mushy leaves, and on a trip down to the Ohio River. But before we get into the specifics of this pair of duckboots, let's take a closer look at where this boot style comes from in the first place.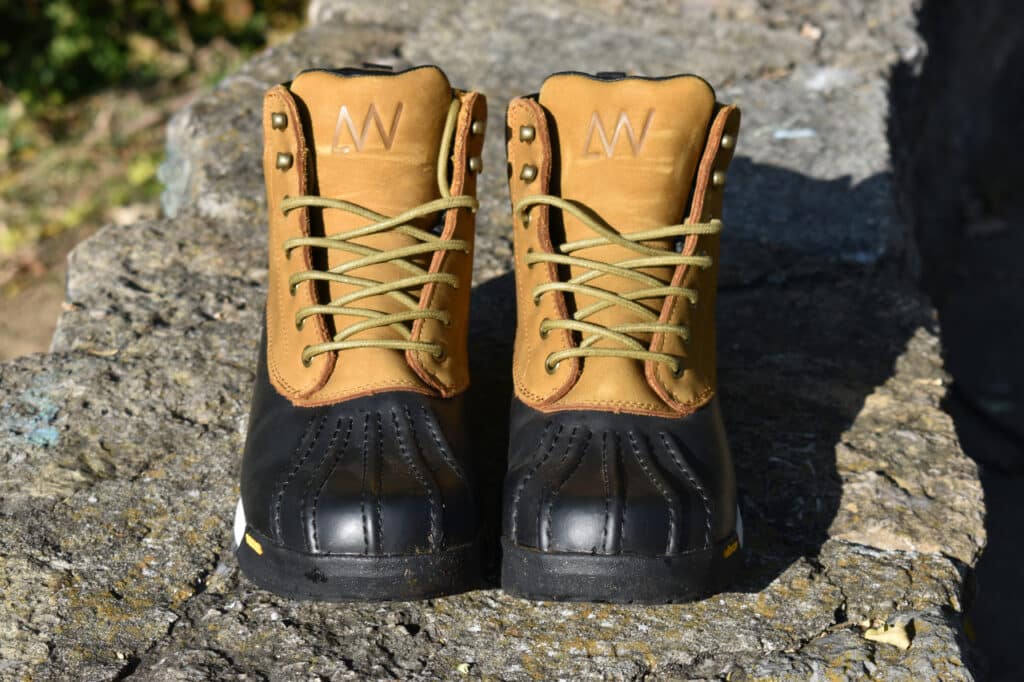 What Is A Duckboot, Anyway?
Before they were called duckboots, this style of footwear—with its rubber sole and vamp, and leather uppers—went by two other names: Maine Hunting Shoes, and then Bean Boots.
The second name comes from their original designer, L.L. Bean. First released in 1911, these hard-wearing multi-terrain boots were an immediate success. They were so popular, in fact, that the first 100 pairs sold out almost immediately, leading Bean to create his own company to sell the newly famous boots.
It didn't take long to find out that those first pairs had a serious defect, though: The connection between the rubber and leather was prone to falling apart with strenuous use. Bean quickly refunded his customers' money, promised them new and better pairs of boots, and went on to form a partnership with US Rubber to resolve the issue.
From there, the duckboot style really took off. It was even adopted as a part of the "preppy uniform" in New England private schools, a reputation it still enjoys today.
And thanks to that perennial popularity, other brands are taking their own stab at making duckboots that might even be better than the originals.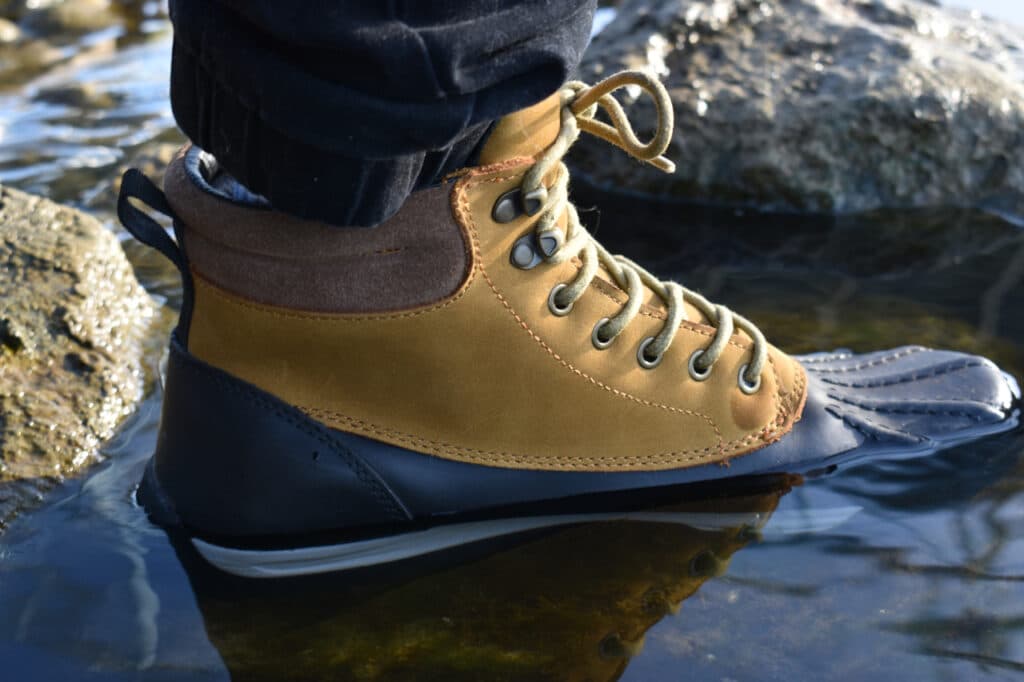 How the All-Weather Duckboot Is Different
At a glance, the All-Weather Duckboot looks remarkably similar to L.L. Bean's pioneering footwear. That's definitely a complement, seeing as the Bean boots have been such a go-to for classy casual fashion. The traditional duckboot vamp, toe cap, and rand are all present, as are waterproof full-grain leather uppers, handsome brass hardware, and durable waxed cotton laces.

The All-Weathers are just as waterproof and versatile as their progenitors, too. Sealed seams and waterproof cement glue on the uppers ensure that these boots will stay waterproof throughout their lifetimes. And a breathable, waterproof membrane inside the boots will keep your feet comfortable and dry in any weather conditions.
Under the hood, though, the All-Weather Duckboots distinguish themselves in two essential ways that we'd like to explore in more detail.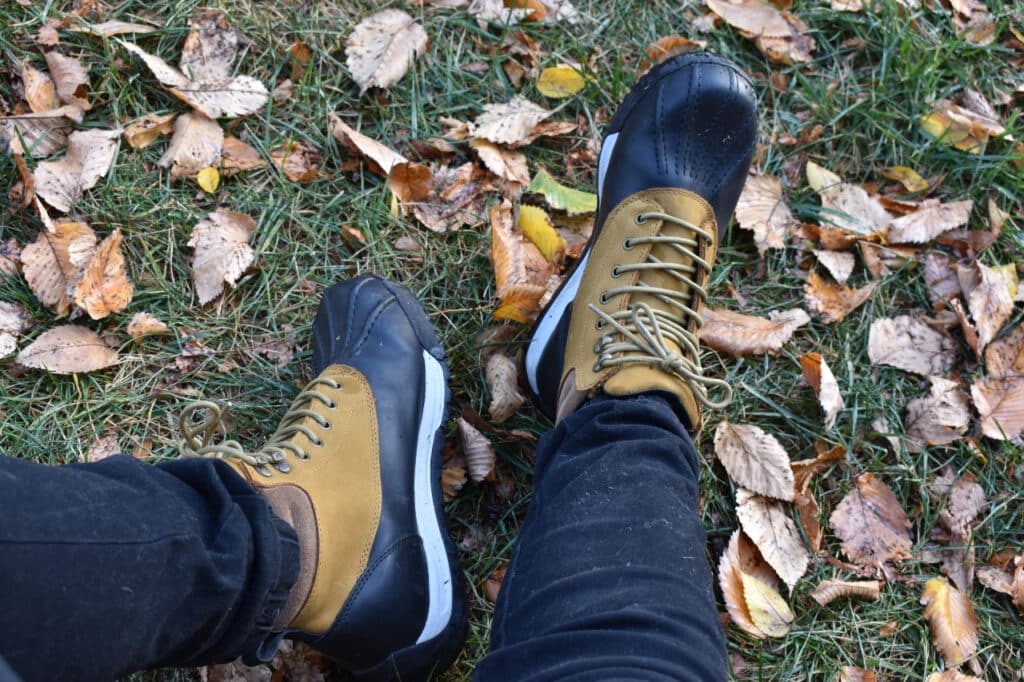 A Sneaker-Like Fit for Urban Adventures
First, these boots have a fit that's more akin to a sneaker than a standard outdoor boot. That means they're a bit wider, a bit roomier, and a whole lot more comfortable than other rugged boots we've worn. Paired with a cushioned sock-like collar and a springy EVA midsole, that means the All-Weathers are as pleasant to wear on city streets as they are trudging through the mud on your next camping trip.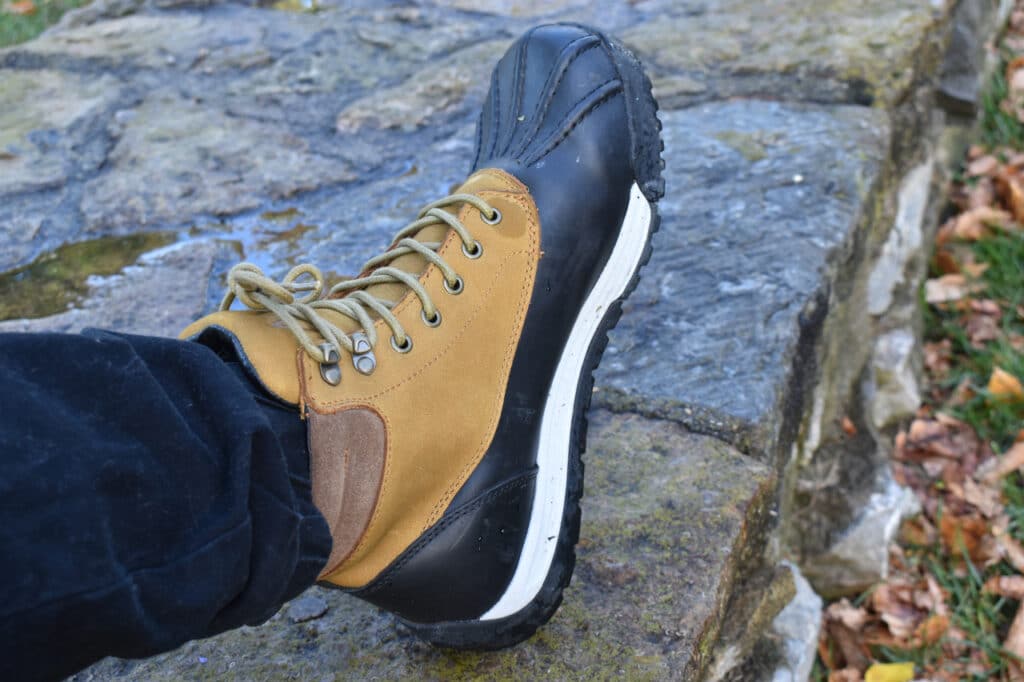 High-Traction Outsoles for Outdoor Expeditions
Crucially, that comfort and sneaker-like style is combined with an extremely high-traction Vibram outsole, too. Its complex and thoughtful tread pattern gives excellent traction in a huge range of weather and ground conditions, from ice-slick sidewalks to gravel-covered inclines and mossy river stones.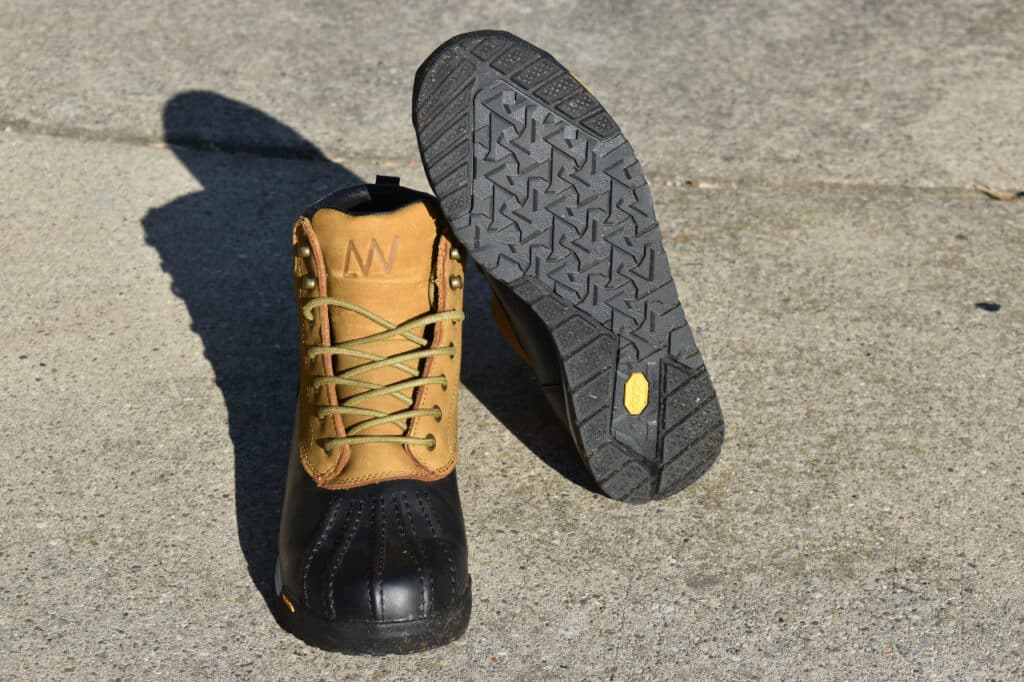 Our Testing
Personally, we tested these boots in all of the conditions described (all thanks to a rapidly changing week of Cincinnati weather).
At the first frost of the season, we took them out for a morning walk across the Roebling Bridge into Covington, Kentucky—but not before giving them a good dip in the river, wading among slippery stones while our feet stayed perfectly dry.
Earlier in the week, a sunny 70 degree trip to a local park proved out the All-Weathers' comfort and moisture wicking qualities. Racking up a total of 12 miles of walking right after taking these boots out of the box, we found them to be even more comfortable than advertised. Even the next day our feet were in great shape, which is a real testament to the design of the boots.
Even now, we're wearing the All-Weather Duckboots while writing at a fancy downtown cafe. And true to form, they don't look even a little bit out of place, even amongst the constant flow of business-clad workers getting their morning caffeine fixes.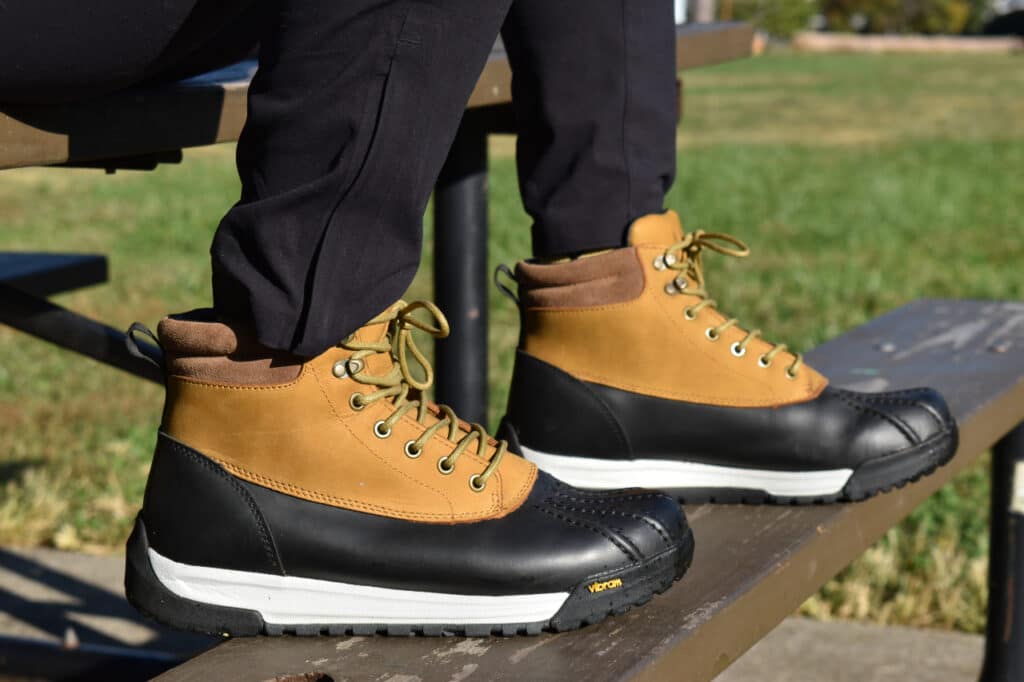 Should You Buy A Pair?
So with all that considered, should you buy a pair of All-Weather Duckboots?
Honestly, yeah. Yeah, you should. Because for as thoughtfully designed, handsomely attired, and durably made these boots are, they still come in at under 200 bucks.
We're going to be wearing them all fall and winter long, from cafe to countryside. And if you're in the market for a pair of boots, we know you won't be disappointed in these.
Price: $188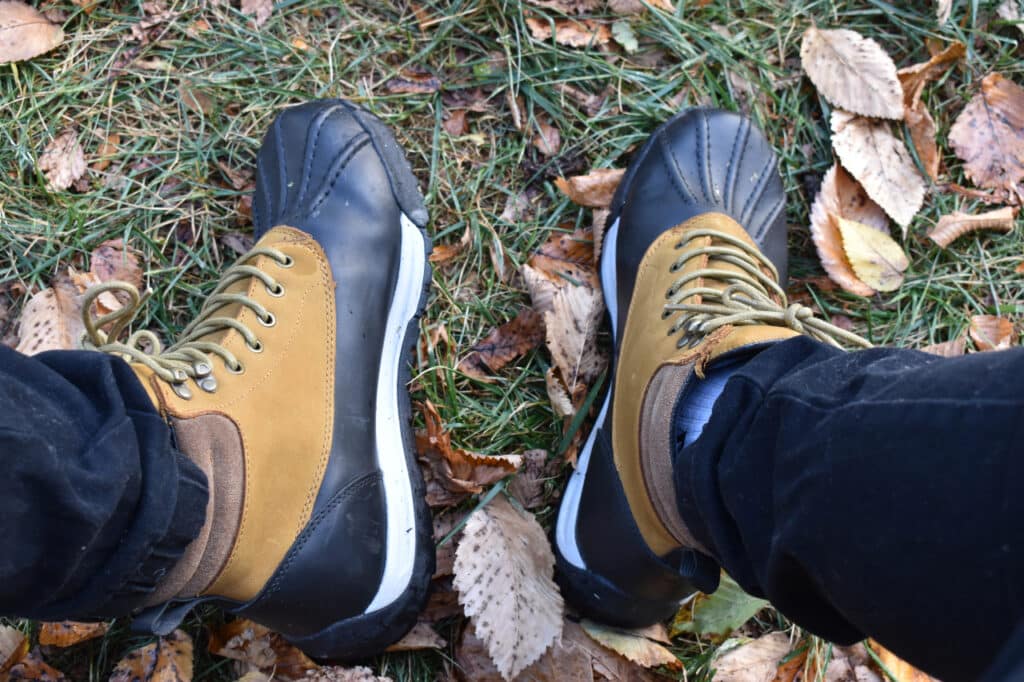 Disclosure: Clicking on these links and making a purchase may earn us a small referral fee, at no extra cost to you. Learn more here.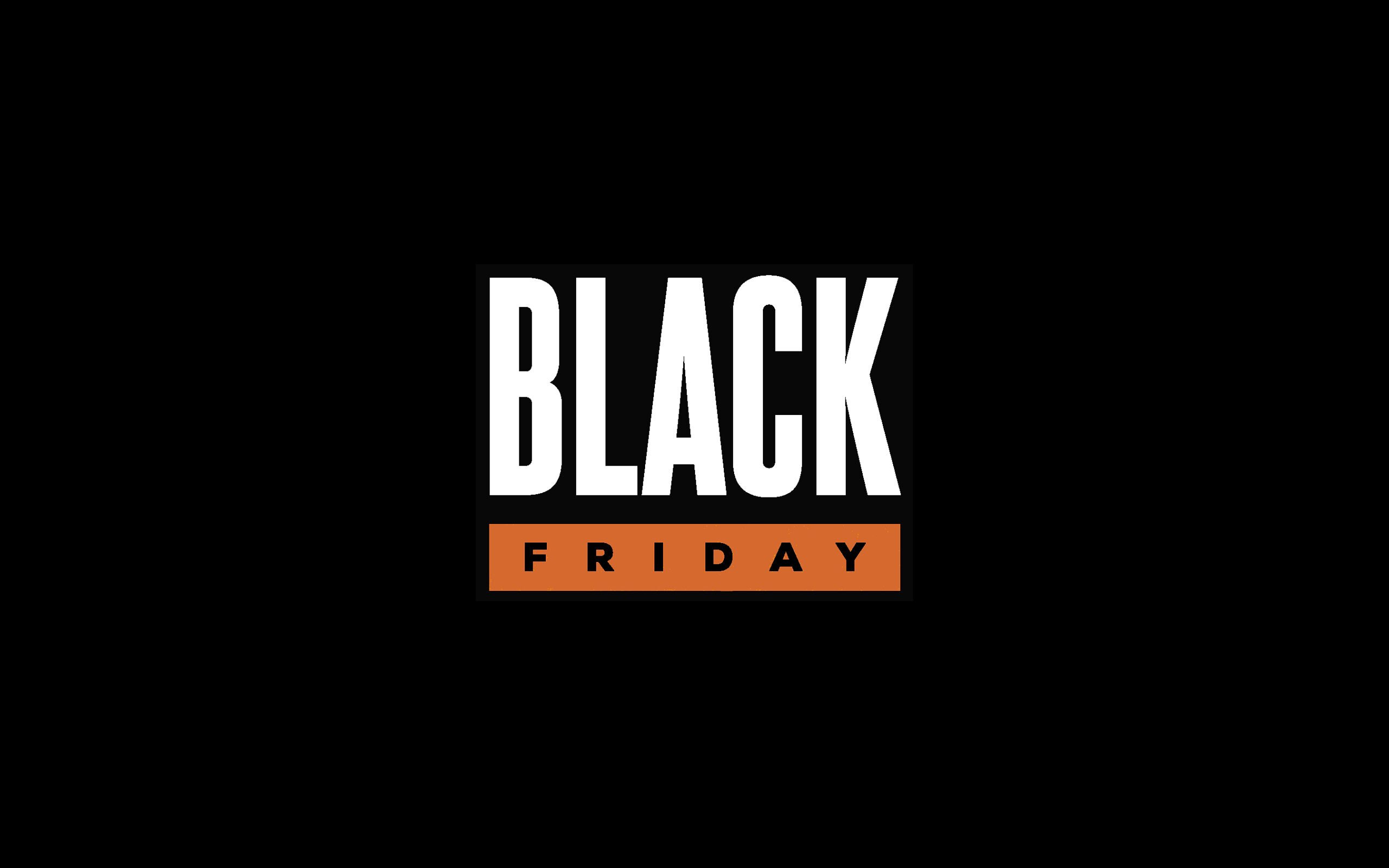 freestar.config.enabled_slots.push({ placementName: "gearmoose_leaderboard_btf", slotId: "gearmoose_leaderboard_btf" });