When shit hits the fan, you need a vehicle that can bring you to the ends of the earth without breaking a sweat. You need the Apocalypse Juggernaut 6×6. Not only does this 6×6 look badass, it comes fully loaded with everything you could possibly want.
Apocalypse says this is the largest cab ever produced and it will seat people who are seven feet tall. The Juggernaut features six 40-inch tires on 22-inch wheels rolling on Dana 60 axles. Not only do you have access to eight feet of truck bed with the Juggernaut, the bed provides water proof storage.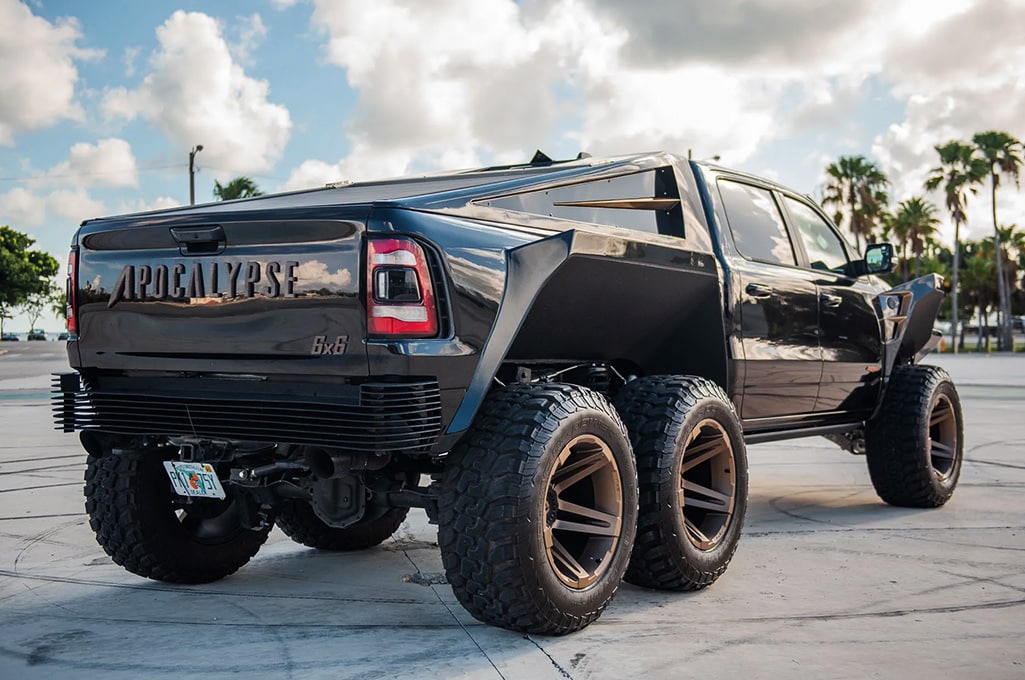 Powering the Juggernaut 6×6 is a supercharged 6.2L V8 engine. It produces 850 horsepower and it is better known as the Hellcat engine. Using a Mopar engine makes sense considering the Juggernaut began life as a RAM TRX. That massive power is sent to all six wheels for your off-roading pleasure and you have locking differentials all the way around.
You also have access to 20,000 pounds of towing capacity with the Juggernaut. Of course, you'll be riding comfortably on the luxurious leather seats while enjoying the Harmon Kardon audio system. Get cozy in the heated and cooled seats while enjoying the view from a full panoramic sunroof.
Apocalypse builds a lot of 6x6s, they know what they are doing. That's why they engineered a high performance cooling system for the Juggernaut that is capable of withstanding hot climates and desert use without overheating your 6×6.
There are five available driving modes for your convenience. Choose from Sport, Drag Race, Baja, Rocks, or Mud. You'll love the aggressive tone roaring from the dual exhaust system every time you open this baby up.
A vehicle this large is a lot easier to maneuver thanks to the rear mirror live cam, blind spot monitoring, and surround bird's eye camera. You can even bring your family and friends along for the ride thanks to the largest rear bench seat in the industry.
In the end, the Apocalypse Juggernaut 6×6 can be yours for just under $300,000. There is no adventure the Juggernaut will back down from. Instead, it is pretty much everything else that fears the Juggernaut. If that kind of intimidation is what you are looking for, you are in the right place.
Disclosure: Clicking on these links and making a purchase may earn us a small referral fee, at no extra cost to you. Learn more here.