On the right day, driving a roadster is the equivalent of kicking your shoes off after a long day or letting your hair down just because you can. Of course, driving around with the top off is not the same as cruising topless. Do not attempt the latter, there are other ways to rebel. Consider the Baltasar Revolt as an alternative, you will definitely get your kicks behind the wheel of this roadster.
At first glance, you see a combination of sleek design with seductive styling. The Revolt looks fast while standing still, that's always a good sign for thrill-seekers. Walk around to the back of this electric roadster and the rear end will grab your attention. From the rear valance to the exotic tail lights with surrounding accents, you begin wondering exactly how fast this sporty EV can go.
The answer is as electrifying as your eyes are leading you to believe. Your heart will race every time you smash the accelerator from 0 to 62 miles per hour in 2.5 seconds. Keep in mind, this is open-air driving. Think of it like speeding along on a roller coaster on a windy day but it feels even more liberating when you are at the helm. Bugs can fly across the highway at their own risk.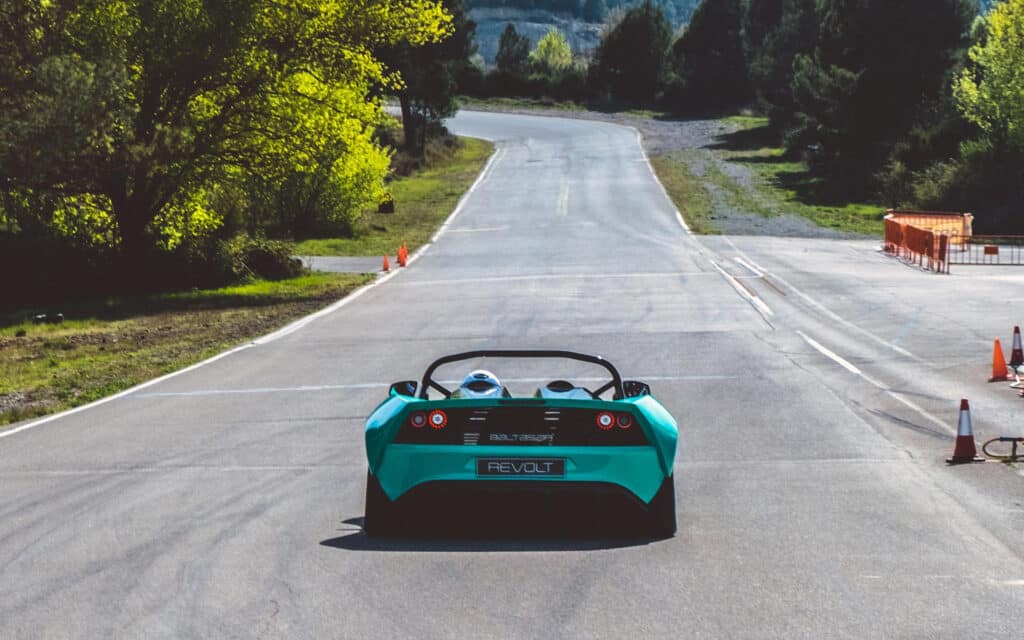 With 500 brake-horsepower and 1,000 Nm of torque available to you in the Revolt, there is no reason to hold back. That's close to 738 pound-feet of torque. It uses two electric motors to produce the power, one for each rear wheel.
This car is a featherweight too, cashing in at only 1,697 pounds or 770 kg. Throwing it around corners while accelerating out of the apex is not only mandatory, the temptation to do so is irresistible. A carbon fiber body compliments the lightweight aluminum and Kevlar suspension system to keep this roadster so light on its feet.
Baltasar spent plenty of time in the wind-tunnel fine-tuning the aerodynamics of this sculpted body. Some cars cut through the wind, others feel like a sailboat at sea when the weather turns fierce. The Revolt glides through the air with minimal drag, almost becoming one with the wind.
Coming from a country with such rich racing heritage only tells part of the story. The Spanish-built Revolt offers pure racing dynamics to drivers in a true rear-wheel-drive EV roadster. The best part? It is 100% street-legal.
You might as well take it to the track as well though. Heck, why not just drive the Revolt there? Baltasar engineered the Revolt to be an electric track toy that you can also drive around town. Inside the Revolt, carbon fiber accents are everywhere, reminding you this EV has the soul of a race car.
Whether you want to go from 0 to 60 as quickly as the Revolt can or if you just want some zero-emission thrills, this EV race car is getting ready to roll. The only question remaining is, will you be able to keep up with the Baltasar Revolt once it hits the streets? As the old saying goes, if you can't beat them, you might as well join them. Get ready to join the Revolt-lution soon.
Disclosure: Clicking on these links and making a purchase may earn us a small referral fee, at no extra cost to you. Learn more here.