The 10 Best Beer Growlers For Beer Lovers
Some people drink their beer from a can, others from a bottle.  However, the truly discerning aficionado prefers a beer growler. Okay, maybe you just like the cool name, or the fact that it holds a lot more of your favorite, local craft beer than the average receptacle.  It's also reusable, which is great for the environment…because that's definitely your main concern when it comes to beer.
Let's just agree that beer growlers offer a lot of benefits over smaller cans and bottles.  The question, then, is which growler is the best? With options in glass, ceramic, stainless steel, and even plastic, it can be hard to choose the right growler.  Here are ten of the best beer growlers in quality stainless steel to help you select the juice jug that's just right for you.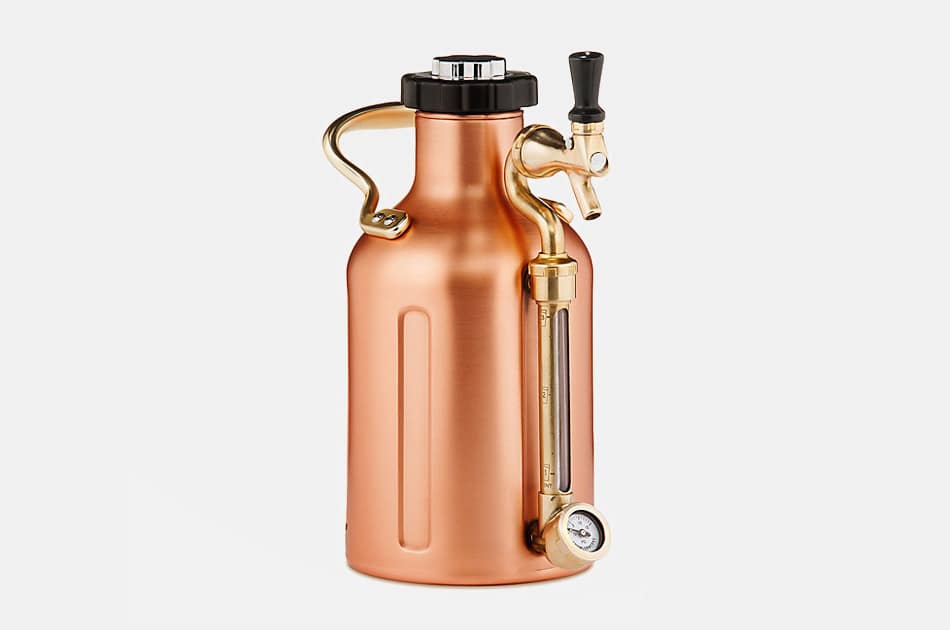 Growlerwerks uKeg Pressurized Growler
If you love the look of a cool, crafty keg, you're definitely going to be down to clown with this polished contraption in double-wall vacuum-insulated stainless steel (or copper finish), with brass detailing for the handle and spout.  It holds 64 ounces (4 pints) of your favorite brew with a VPR cap that auto regulates pressure for optimal carbonation (maintained with low-cost, food grade CO2 cartridges). An easy-to-use dispenser tap means you never have to pop the top, and you can even add your own tap handle to personalize your growler.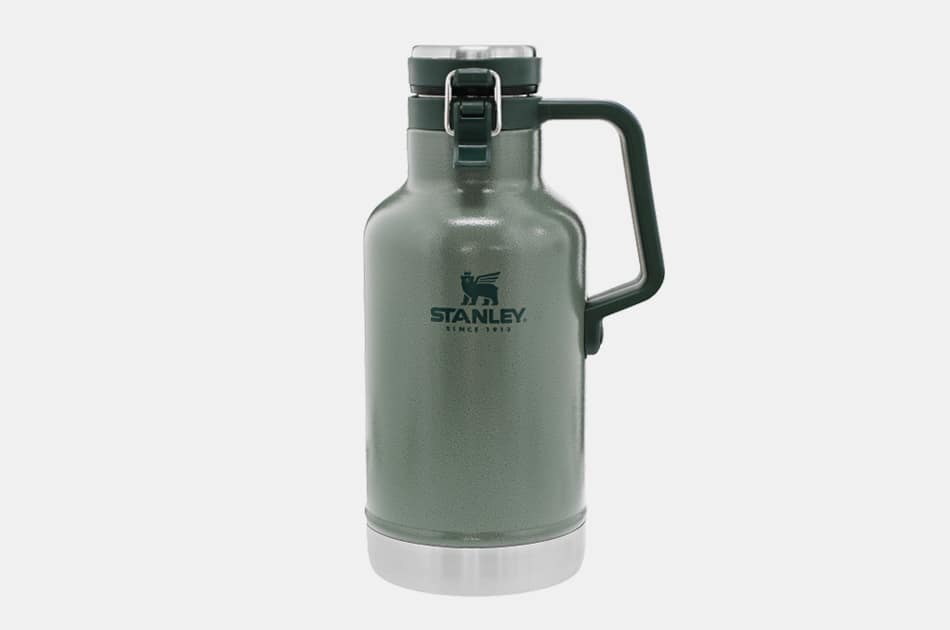 Stanley Classic Easy-Pour Beer Growler
It looks a lot like a thermos – no wonder, considering Stanley is renowned for their rugged vacuum bottles.  That said, this indestructible growler in stainless steel is designed specifically to stash 64 ounces of beer, with double-wall vacuum insulation and a steel-lined insulated lid.  It's BPA-free, leakproof, and dishwasher safe. What more could you ask for? How about a rugged handle, so you can take it with you anywhere? On top of all that, it comes with a lifetime warranty.  As the tagline touts, Stanley products are "built for life".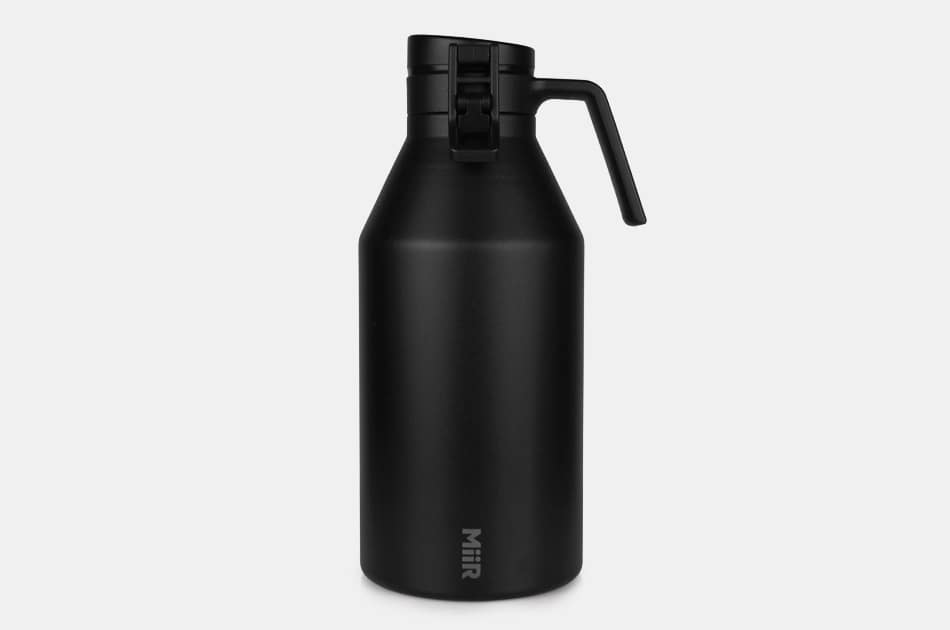 Miir 64oz Growler
In addition to clean lines and a handle that resembles the utilitarian design of a restaurant coffee pot, you're sure to love this 64-ounce, BPA-free growler that features medical grade stainless steel, eliminating the worry of a metallic aftertaste or flavor transfer from previous contents when you refill.  The Thermo3D Double Wall Vacuum Insulation technology not only maintains carbonation, but keeps beer chilly for 24+ hours (with no sweating, thanks to Hardshell Powder Coat) and preserves hot beverage temps for up to 12 hours. The threadless lid seal prevents leakage, and the buckle-top pops open for easy pour.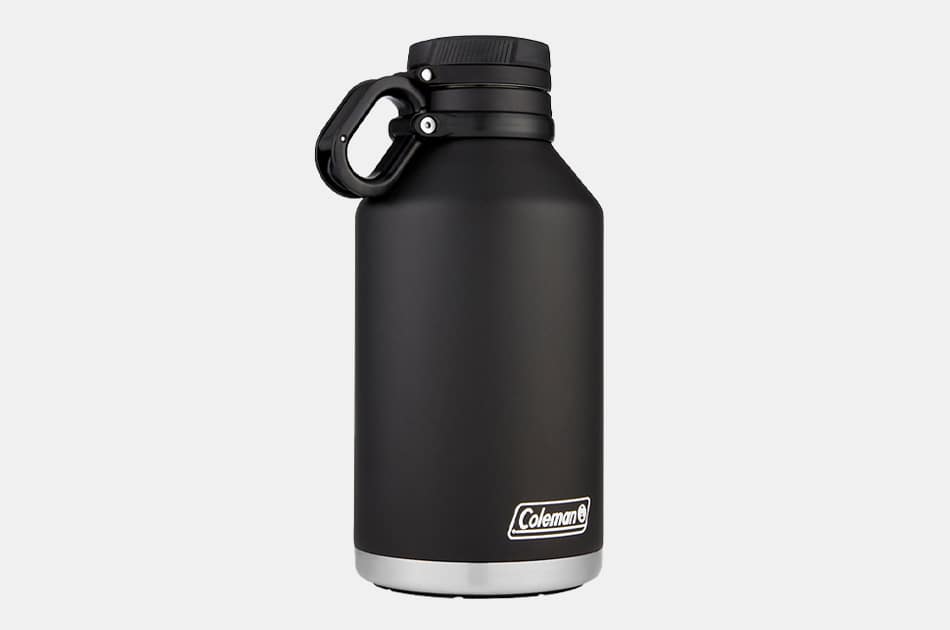 Coleman Vacuum Insulated Stainless Steel Growler
Coleman has long been an undisputed leader in tough, but lovely camping accessories (see portable stoves, coolers, and more).  It's no surprise, then, that they offer growlers just as attractive and functional as other essential camping gear. This simple beer growler holds 64 ounces of malty nectar in a double-walled vacuum insulated container designed in 18/8 stainless steel.  It keeps drinks hot for up to 41 hours or cold for up to 76, which means you can still knock back frosty beers after two days of hiking to reach your uber-remote campsite. By then, you'll surely need it.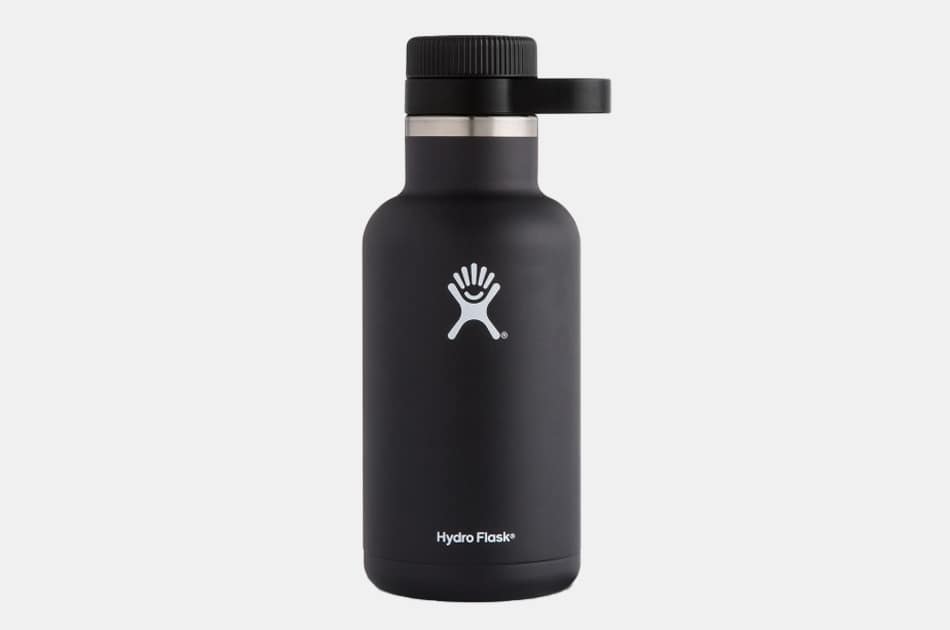 Hydro Flask 64oz Beer Growler
If you're into the hiking, biking, trail running, camping, and the general outdoorsy scene, you're probably familiar with this brand, which is known for high-end, performance water bottles.  This reputation carries over to their 64-ounce beer growler in professional grade stainless steel and BPA-free materials. Double-wall insulation maintains your beverage temp and a leakproof cap preserves carbonation.  What avid outdoorsmen (and women) are sure to appreciate, though, is the thoughtful, Fresh Carry System, featuring a long neck and adjustable handle to provide multiple ways to carry and pour.
OtterBox Elevation 64 Growler
Perhaps best known for their nearly indestructible smartphone cases, OtterBox has ventured into new territory with a line of coolers, drinkwear, dry bags, and other products specifically intended for outdoor use.  The 64-ounce Elevation growler is a rugged tumbler in 100% food grade stainless steel that keeps essential liquids like your favorite beer cool for up to seven days, thanks to an internal copper lining designed to maintain temperature. No sweating means no wetness on your coffee table or in your hiking pack, and the screw-on lid is leakproof, so you can savor every last drop.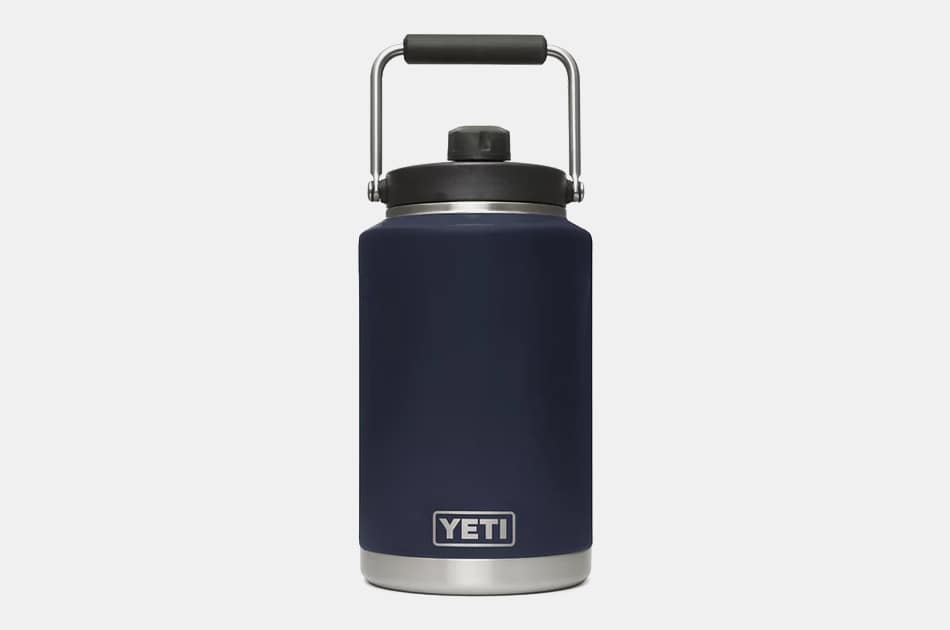 Yeti Rambler One Gallon Jug
It carries like a lantern and looks like one, too, but don't discount this simple jug when it comes to keeping your coffee piping hot or your beer chilly.  For starters, it's practically indestructible, thanks to kitchen grade stainless steel that's puncture- and rust-resistant. Double-wall vacuum insulation maintains temperature, as does an inch of Fatlid™ Insulation.  It also features a MagCap that you can stick on the jug while you're sipping beer, so it doesn't roll away or get lost. Incredibly, this jug is also dishwasher safe. Comes in stainless steel of DuraCoat finish in navy, black, or brick red.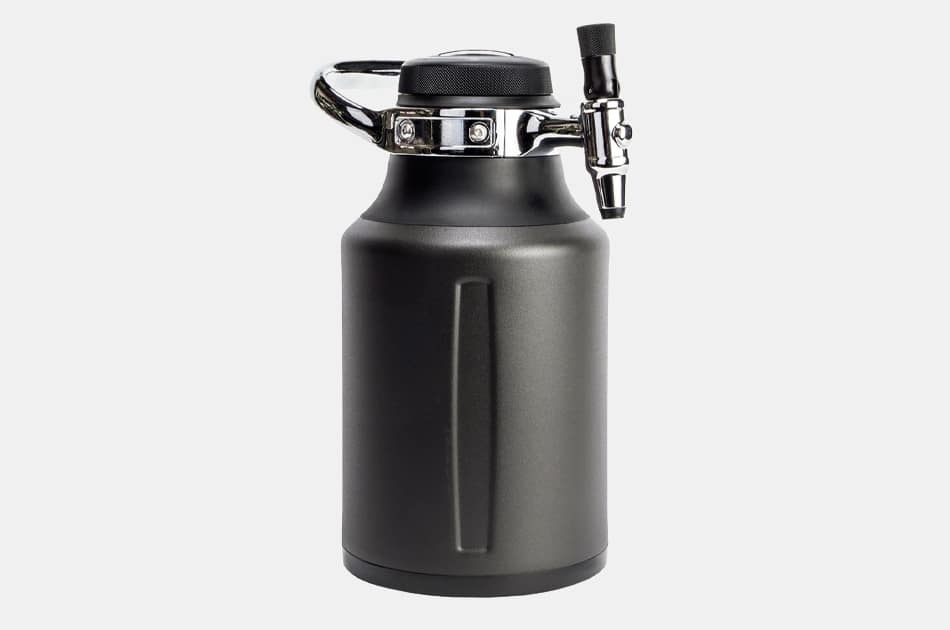 uKeg Go Pressurized Beer Growler
If you've ever thought, while sipping from your water bottle, that the experience would be a lot better if it just had a tap, you're in luck – that's pretty much exactly what you'll get with the uKeg Go Beer Growler.  Actually, you'll get a lot more, because most water bottles aren't designed to store 64 ounces of carbonated beer. This portable party for 1-2 people keeps four pints of your pilsner or porter in top form, thanks to a Carbonation Cap and dispenser tap that maintain carbonation for weeks (with the addition of food-grade CO2 cartridges) and let you choose high or low carbonation settings.  Double-wall stainless steel vacuum insulation maintains temperature, and powder coat finish and rubber footing add extra function and durability.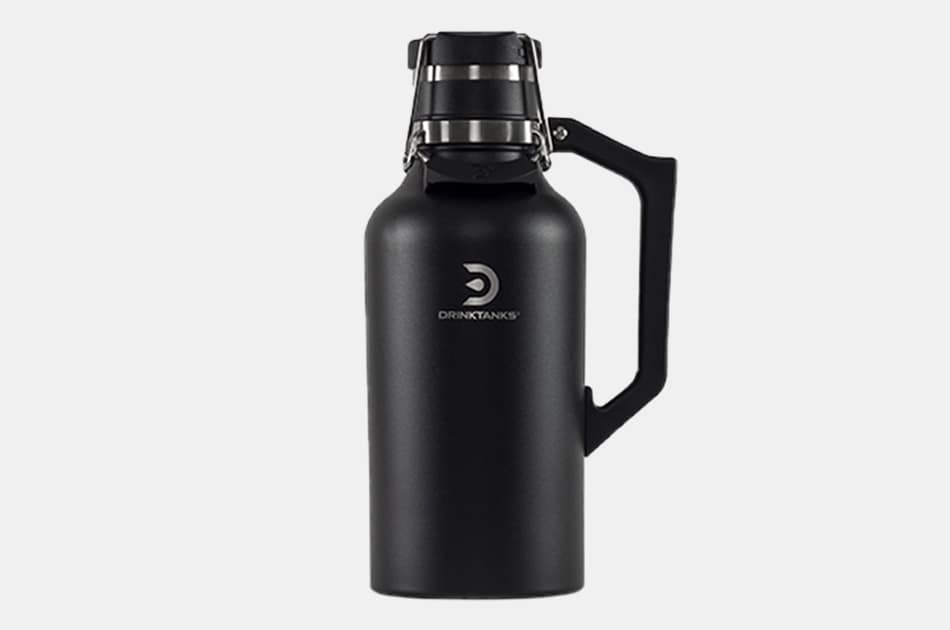 DrinkTanks 64 oz Insulated Beer Growler
This 64-ounce growler in 18/8 premium stainless steel is BPA-free, dishwasher safe, and designed to keep contents hot for 20+ hours or cold for more than 45 hours, thanks to double-wall insulation.  The cap (containing ¾" cork insulation) seals vacuum tight to prevent leakage and loss of carbonation, and it supports up to 60 PSI of pressure. Ounce markings inside the bottle ensure that you never accidentally overfill.  The styling is slick, and you're sure to appreciate the ergonomic, easy-pour handle when you've already sampled a pint or two of beer.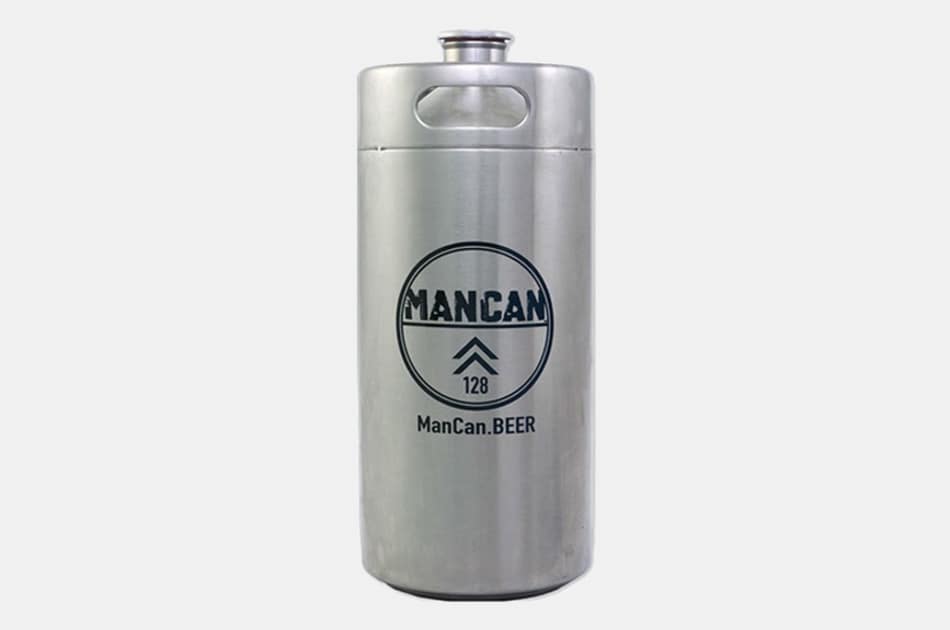 ManCan Stainless Steel Mini-Keg Growler
If you're looking for the aesthetic appeal of a commercial beer keg in a portable form, look no further than ManCan.  This stainless steel growler is made to look like a mini commercial keg (with gasket screw top lid), and while it sadly lacks an undetectable extension charm that would allow it to pump out the 15 gallons of brew you'll find in a full-size keg, it will hold 128 ounces (one gallon) of cold beer, which is double what most beer growlers offer.
Disclosure: Clicking on these links and making a purchase may earn us a small referral fee, at no extra cost to you. Learn more here.
freestar.config.enabled_slots.push({ placementName: "gearmoose_leaderboard_btf", slotId: "gearmoose_leaderboard_btf" });