There are a couple of good reasons for avid campers to buy themselves utensils designed with camping and outdoor excursions in mind.  While you could certainly toss a fork, spoon, and knife in your pack before heading out on your next camping trip, you hardly want to risk breaking up your good silverware set when you accidentally leave your utensils sitting on a rock, miles from civilization.  Most campers also eschew single-use plastic utensils that break easily and have to be carted out as trash.
Even aside from these excellent reasons, the main draw of utensils made specifically for camping is that they're designed with EDC function in mind.  They're lightweight and compact, so they're easy to stow and the addition to your carry weight is practically imperceptible.  They're tough and durable to withstand the abuses of camp cooking.  Finally, they're multi-functional, providing for myriad needs in one tiny tool.
Still on the fence?  Maybe you just haven't found that one-of-a-kind camping utensil that wins over your jaded heart.  The good news is, there are myriad options to explore, each one offering a variety of features and benefits to meet a diverse range of potential needs.  Here are just a few of the best camping utensils for your consideration.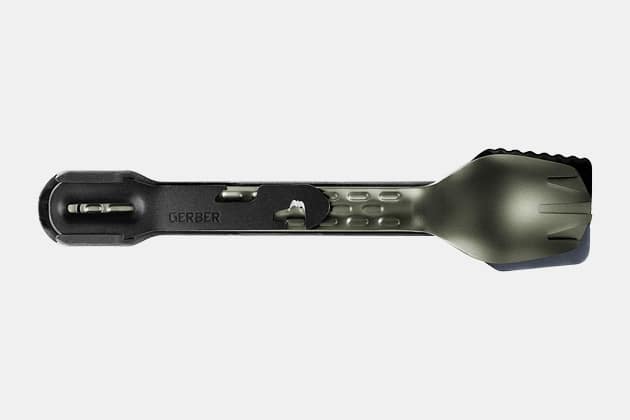 Gerber ComplEAT Tool
It's a fork!  It's a spoon!  It's a spatula and tongs!  Incredibly, this nesting set of convenient utensils is all of the above, with a lot of functionality built in for such a compact setup.  When separated, this tool breaks out into an independent fork, spoon, spatula, and multitool (with bottle opener, can opener, veggie peeler, and serrated package opener).  When nested, the tool snaps together flat and slim, or you can reverse snap it for functional tongs. – Shop Now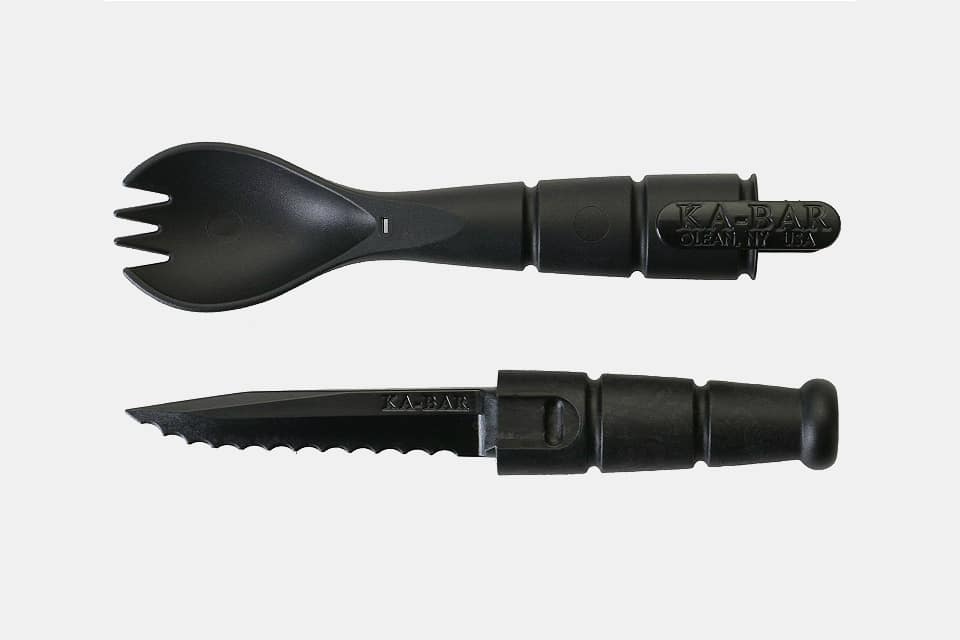 Ka-Bar Tactical Spork
The word "tactical" is often applied to weaponry and military apparel, but the term also applies to smart planning, and you're going to feel like one smart cookie when you tote a Tactical Spork on your next walkabout.  Made from food-safe Grilamid (a high-performance polyamide), there's more than meets the eye to this fork/spoon combo, which features a 2.5-inch blade concealed in the handle.  KA-BAR, known for military, hunting, and sport knives, does not disappoint on the spork front. – Shop Now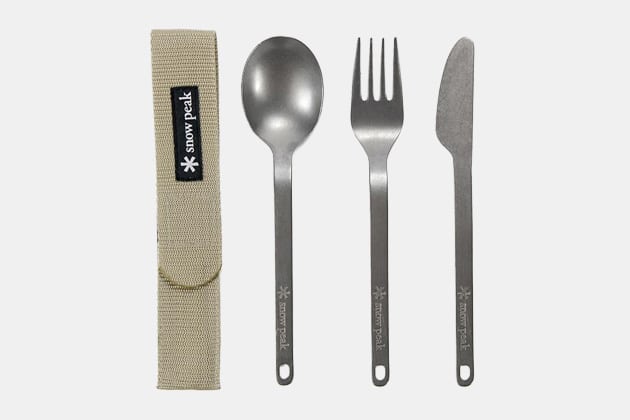 Snow Peak Titanium Utensil Set
Lightweight and insanely durable, titanium is used for more than just aerospace applications and manly wedding rings.  It's also a great for resilient camping utensils like this fork, spoon, and knife set, which comes with a slim, canvas case for easy storage and carry.  At 1.8 ounces total weight with dimension of 1.6"x6.5", this tiny set can really go with you anywhere in a pocket or a pack, and carrying cases come in five colors. – Shop Now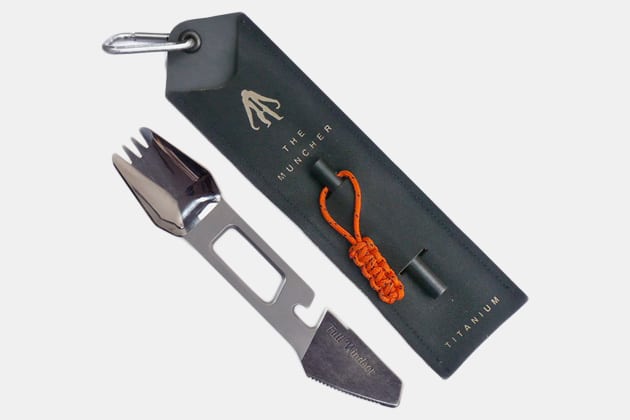 The Muncher Titanium Multi Utensil
Wouldn't it be nice to have a single, tiny tool that could act as a spoon, a fork, a knife, a bottle opener, a can opener, a veggie peeler, a screwdriver, and more?  Look no further – this multitool from Muncher does a lot more than shovel Fruit Loops into your waiting mouth.  It's just 1.4"x6.5" and weighs under an ounce, with lightweight titanium construction for strength and durability.  It also offers 10 different functions in one handy tool. – Shop Now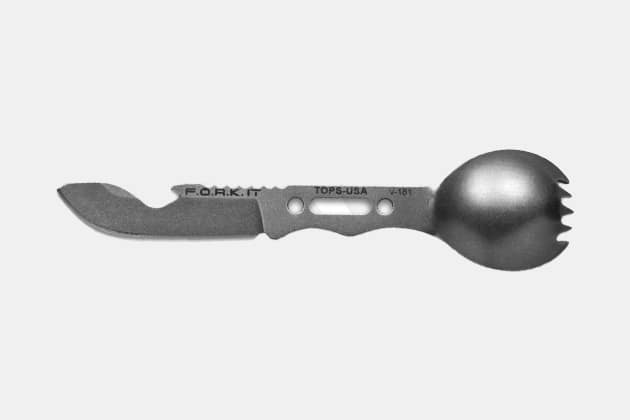 Tops Knives F.O.R.K. It
This fixed blade multitool has a spoon/fork end and a knife end, so pretty self-explanatory.  If you're looking for foolproof functionality, you'll get the cutting, scooping, and forking capability you need, along with a built-in bottle opener.  Lest you fear slicing your tender hand meat on the knife end during eating, it comes with a lightweight Kydex sheath that just happens to be attached to a chain so you can wear it around your neck and never lose another spork. – Shop Now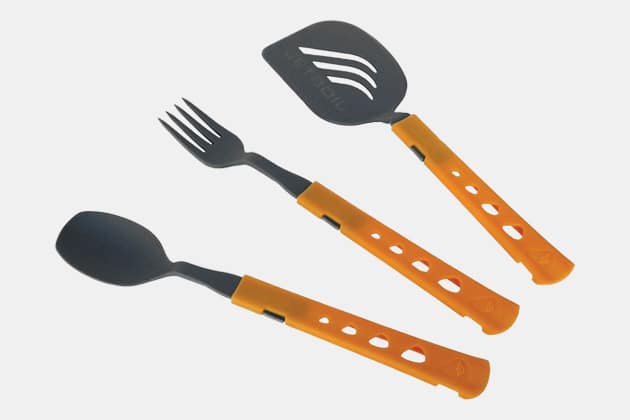 Jetboil Jetset Utensil Set
Sporks are certainly compact and convenient, but the experts at Jetboil believe there's a better way to get your needs met without sacrificing function in the process.  This concept was the basis for their Jetset Utensil set, including collapsible spoon, fork, and spatula in lightweight, high-temperature nylon.  Small and easy to stow, these utensils feature telescoping handles to ensure you reach the bottom of any soup bowl.  Cook with the spatula and enjoy the long tines and unbroken spoon surface you won't find in a spork. – Shop Now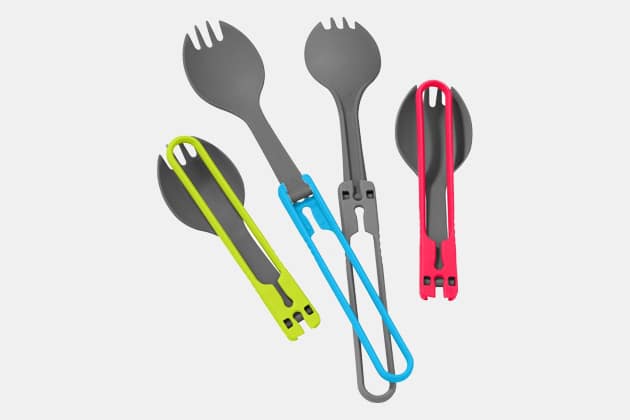 MSR Folding Utensil Kit
We all want choices in life, and sometimes a company comes up with innovative ways to provide them.  This is the case with MSR's Folding Utensil Kit, which starts by offering you the choice of two spoons and two forks, or alternately, four sporks, depending on the makeup of your camping party (a partner versus a family unit, for example).  From there you'll find that each utensil has a handle that collapses for easy transport or opens up for comfortable eating. – Shop Now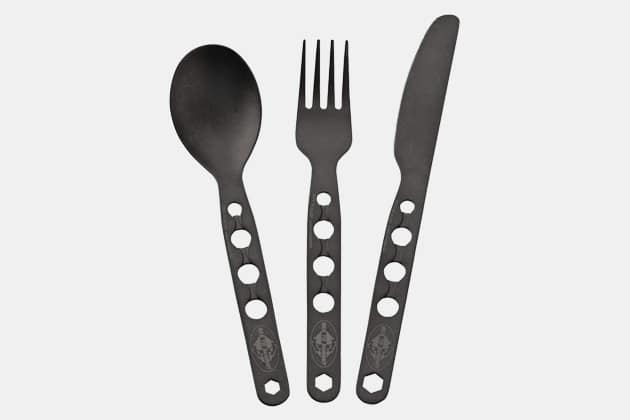 Sea To Summit Alpha Utensil Set
It's not always easy to differentiate between one rugged utensil set and the next.  Spoon, fork, knife – they're pretty much all the same, right?  Not so.  This set, for example, is made with aircraft-grade, anodized 7075-T6 aluminum alloy, and each utensil delivers integrated 3mm, 4mm, and 5mm hex tools in the handle.  The tools are held together with included carabiner and those who want to protect the planet will appreciate the fact that the packaging is completely recyclable. – Shop Now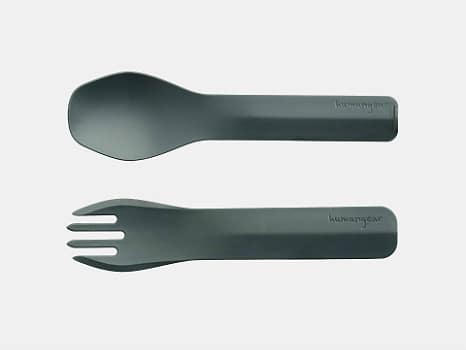 Humangear GoBites Duo
GoBites tools come in a variety of configurations, including the Uno, which features a spoon at one end and a fork at the other; the duo, with separate spoon and fork that nest or connect to create a two-ended tool; the Click, where the fork and spoon handles collapse to half the size; the Trio, with a fork, spoon, and knife blade; and the Quatro, with a fork, spoon, and travel chopsticks.  The Duo is great for anyone seeking separate tools that can come together for greater function. – Shop Now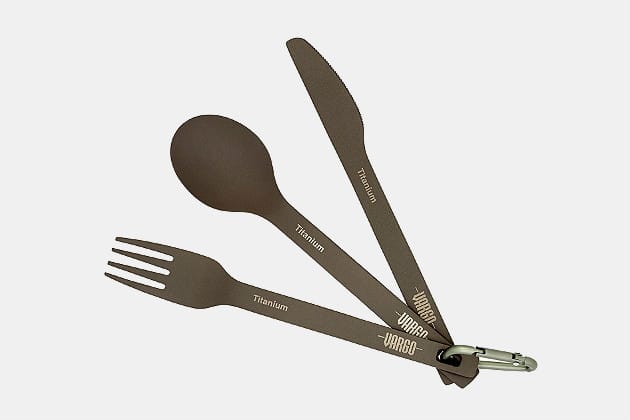 Vargo Titanium Spoon/Fork/Knife Set
The spoon, fork, and knife in this set sure do look pretty in matte finish titanium, with a total weight of just 1.35 ounces for the whole kit and caboodle (including a mini carabiner to keep your set connected).  Hardy doesn't begin to describe the utility and staying power of ultra-lightweight titanium, and the small, narrow design makes them easy to fit anywhere.  When every ounce and inch counts, this set is made to carry. – Shop Now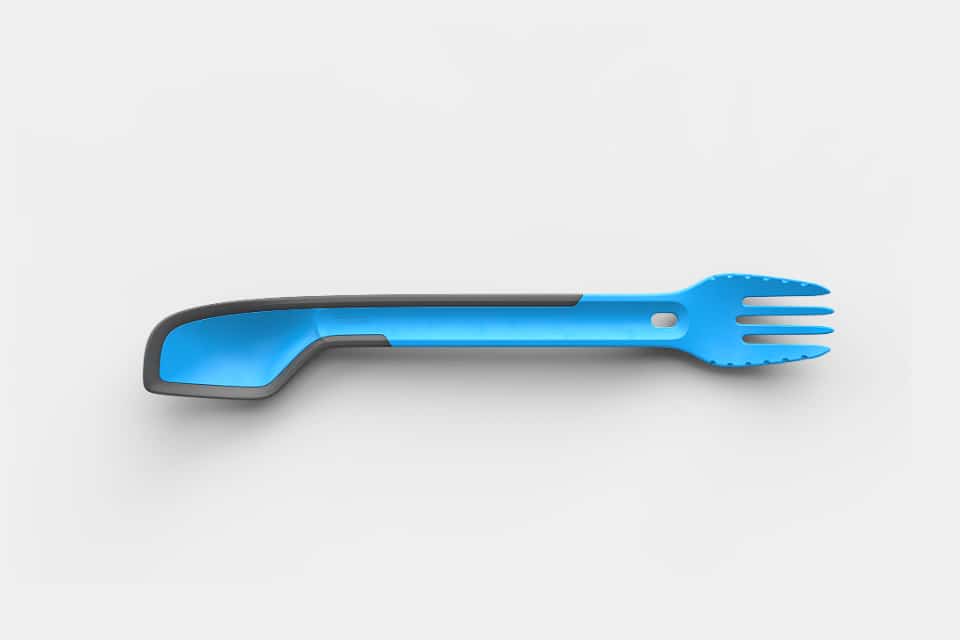 Morsel Spork
For the average desk jockey, "lunch gear" consists of a paper sack, or a Bento box, if you're feeling fancy.  The Morsel Spork, on the other hand, takes lunchtime accoutrements to a whole new level that cubicle monkeys and hardcore outdoorsmen alike will appreciate.  Features include a fork at one end with serrated cutting edges, a spoon at the other with rubber edges to act as a spatula, and an extra long handle in between for ease of use.  BPA-free and dishwasher safe. – Shop Now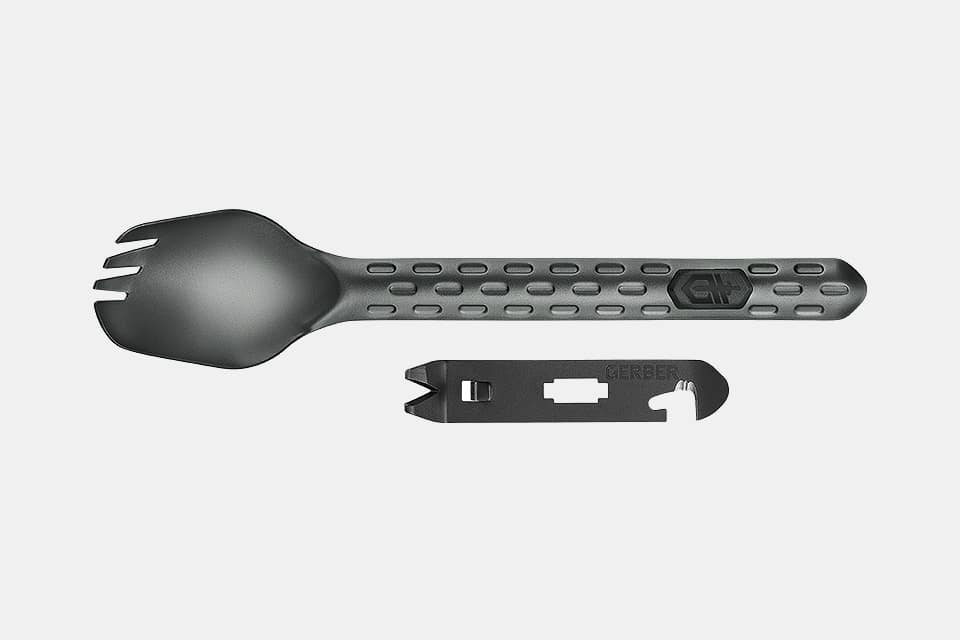 Gerber Devour Multi-Fork
You're sure to be surprised by the function you'll gain with this tool, which features just two pieces that snap together for easy transport.  The main utensil is your typical spork combo, with a spoon/fork head and a flat edge for cutting and scraping.  The attached multitool pops off to deliver a bottle and can opener, a pry bar, small and large flathead drivers, and a serrated package opener.  It also acts as a kickstand when attached to the spork. – Shop Now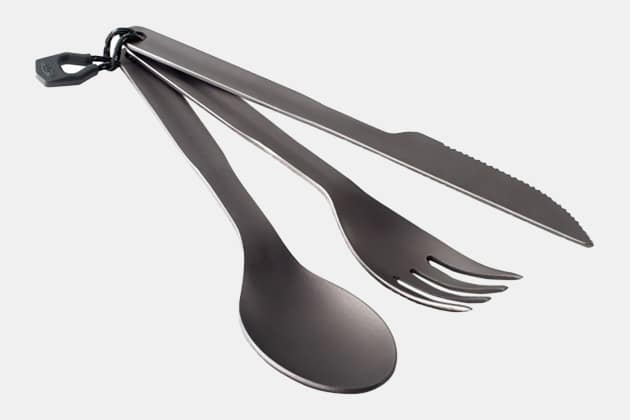 GSI Outdoors Halulite Ring Utensils
When you hear this utensil set is made from Halulite, you might expect some magical element that stands the test of time.  In truth, it's just a brand name for anodized aluminum, which is nonetheless lightweight, strong, and corrosion resistant, so yeah, it's pretty good, if not precisely magical.  Held together by a lanyard, this trio of tools is pretty basic, but it gets the job done.  Unfortunately, it's not dishwasher safe, but that's not really a problem for campers. – Shop Now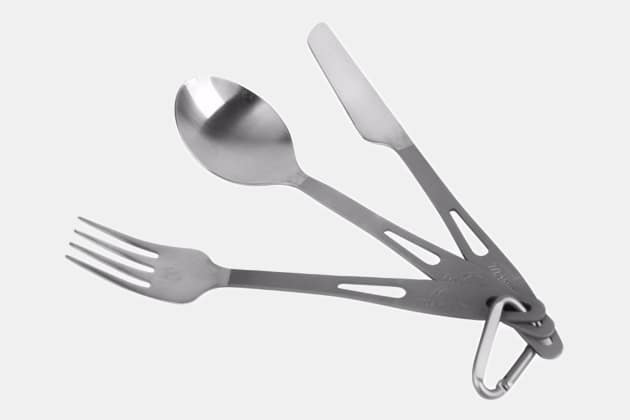 TOAKS Titanium 3-Piece Cutlery Set
Pure titanium is strong, lightweight, and resistant to corrosion and the effects of high temperatures.  When it comes to utensils, it also lacks the metallic aftertaste common to other metals like silver or steel, just for example.  This attractive set, including a spoon, fork, and knife, features polished heads and matte handles, along with a carabiner to keep them together.  This set is dishwasher safe and up to the task of serving up every meal when you're roughing it. – Shop Now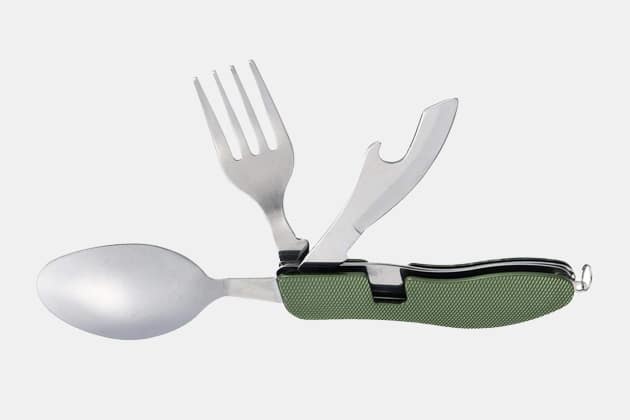 Hikenture Camping Utensil Multi-Tool
If you've ever thought to yourself, "Why hasn't anyone made a utensil set packaged like a Swiss army knife?", first of all, that's a pretty strange thing to think about.  Second, congratulations!  Apparently, you're not the only one with this bright idea.  Hikenture took the multitool idea to the next level with a spoon, fork, knife, and bottle opener that all fold into a knife-like casing for easy carry and easy use.  Utensils are detachable for eating and cleaning. – Shop Now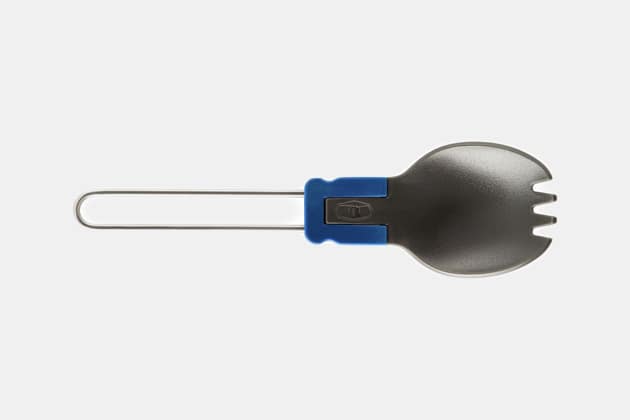 GSI Outdoors Folding Foon
This EDC camping spork is sure the catch the eye of every nature-loving minimalist.  It weighs in at just half an ounce and folds to a truly tiny 3.5"x1.7" inches when closed (5.9"x1.7" when open).  Stainless steel construction includes the spork head and a folding wire handle that locks into place for sturdiness while eating.  It's tiny, but utilitarian and durable, which is all any camper really wants in the perfect utensil for every excursion. – Shop Now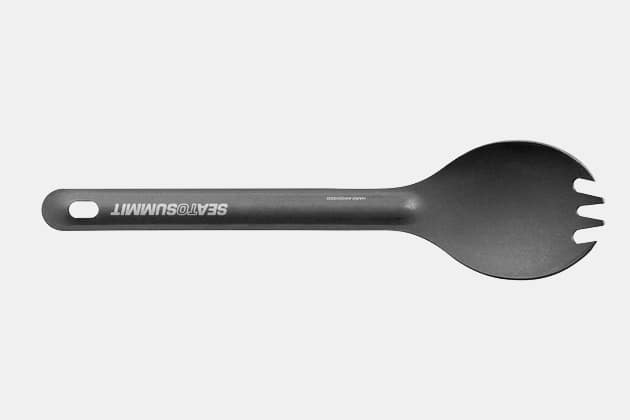 Sea To Summit Alpha Light Spork
Whenever you're talking about anodized aluminum, you know you're getting a product that's going to be extremely lightweight and incredibly resilient.  That's definitely the case with the Alphalight Spork in aircraft aluminum alloy.  The smooth, matte finish is nice, but what you'll really like is the fact that it conforms to FDA food safety standards.  Sadly, it's not dishwasher safe, but it does come with a handy carabiner so you can clip it to your pack. – Shop Now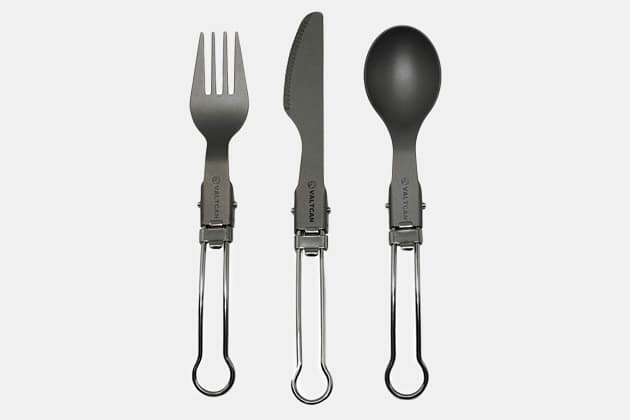 Valtcan Titanium Folding Utensil Set
This three-piece set (spoon, fork, and knife) comes in lightweight and durable titanium, like many others on this list.  What makes these utensils special?  The fact that the wire handles fold down to make each one approximately four inches in length so they can all stow easily in the included net pouch for compact transport.  The whole set is under two ounces, and the pouch doubles as a cleaning cloth when you're out in the wilds with no dishwasher in sight. – Shop Now
Disclosure: Clicking on these links and making a purchase may earn us a small referral fee, at no extra cost to you. Learn more here.
freestar.config.enabled_slots.push({ placementName: "gearmoose_leaderboard_btf", slotId: "gearmoose_leaderboard_btf" });