When you need to pack light, or just don't feel like switching between watches on the daily, you've got an easy solution. If you grab one of the best dive watches for men, you'll be set for every occasion from an important work meeting to a morning coffee run to a weekend barbecue — and beyond.
The style — usually featuring a stainless steel band, but built to last either way — has been favored by style icons like James Bond for years on end, and he pairs his with everything from a crisp suit to a tuxedo to a pair of premium swim trunks. And brands big and small are taking the approach that mixing rugged and refined designs is just the way to go when it comes to a stylish dive watch.
The great thing is, you needn't drop an arm and a leg in terms of price on a durable, dependable and style-forward dive watch — plenty are making them at affordable prices, yet with quality in mind. Grab one of the best dive watches on the market below, and be ready to hit the road — or just your morning commute — in versatile and classic style.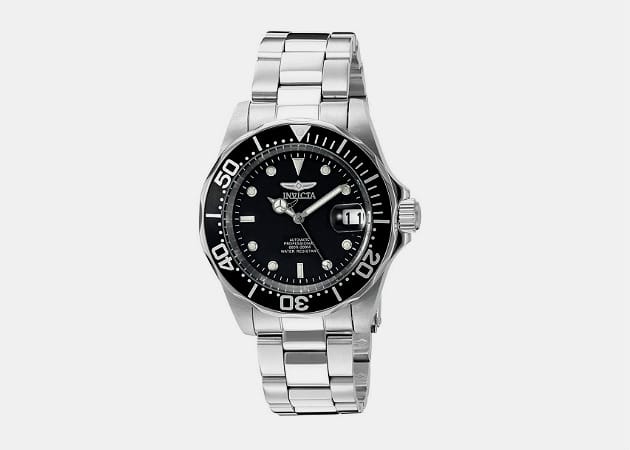 Invicta 8926 Pro Diver Automatic
Affordable yet sturdy dive watches can be very tough to find. While it's not the priciest timepiece on the market, the Invicta 8926 Pro Diver does just fine in terms of looks and quality for the price. It's a nice value, and it's the budget-conscious guy's answer to the Rolex Submariner (which we'll get to later in this piece). It's just as notable for the fact that it can be dressed down with a merino T-shirt and sneakers, or dressed up with a blazer and a classic blue Oxford during the work week. Plus, the stainless steel bracelet can be swapped out for a NATO or leather strap. – $85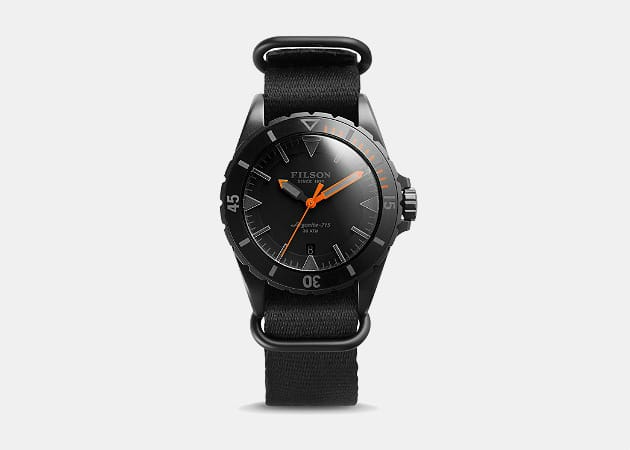 Filson Dutch Harbor Dive Watch
As well-known as Filson is for its mix of classic heritage styles, rugged bags and durable field coats, the brand should arguably be just as well-known for its dependable and unique assortment of watches built for the field in partnership with Shinola. The Dutch Harbour Watch is no exception, with a ridiculously sharp black-on-black combo on the dial and strap, plus a whopping 990 feet of water and pressure resistance. The SuperLuminova dial accents are quite handy for reaching deep depths, and the nylon watch strap is utilitarian and functional for all sorts of situations, from a deep sea dive to drinks afterward. – $800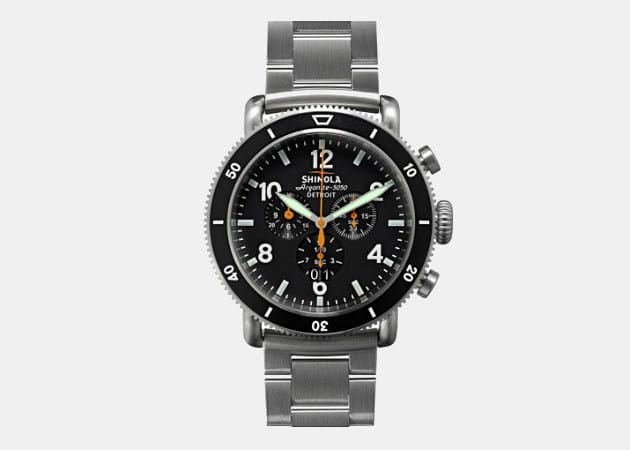 Shinola Black Blizzard 48mm
Shinola is a brand that's brought a unique mix of dependability, durability and style to the art of watchmaking, and that's especially true with its hard-wearing, exceptionally great-looking Black Blizzard watch. It features 200 meters of water resistance in a positively beastly package, one that features a sporty and stylish chronograph, a sharp black dial and a rugged 48mm diameter. It's a statement watch that's investment-worthy, and it'll last through any situation. That goes for whether you pair it with your best navy suit this fall or winter, or if you rock it with a pair of stylish swim trunks on your next beach outing. – $1,500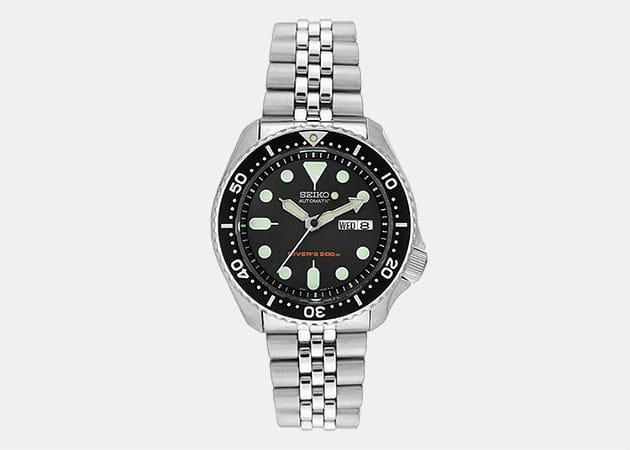 Seiko Automatic Dive Watch
If you want a dive watch that looks just as slim and refined as your best dress watch, reach for a timepiece from Seiko — specifically, this Automatic Diver's Watch. The functionality of this timepiece is right there in the title, with a 300-meter water resistance and a unidirectional elapsed time bezel. The Hardlex crystal is durable and can take a beating, and the crisp dial design keeps things toned down yet sharp and stylish. Wear it with a blazer for drinks, and wear it every time you go diving or swimming — it can more than stand up to it. – $200+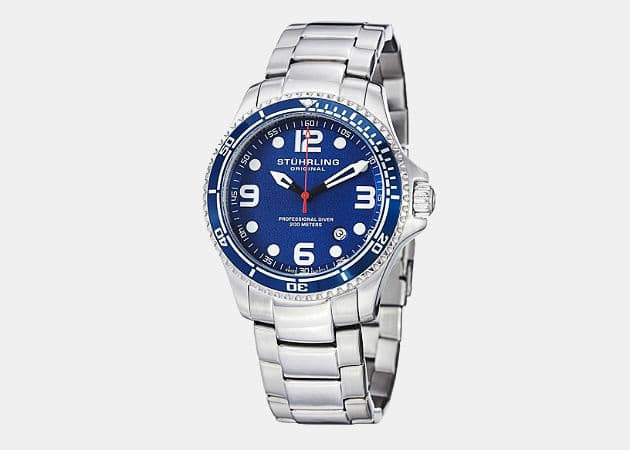 Stuhrling Original Grand Regatta Dive Watch
When value is the main objective yet you want style and durability, it's tough to beat something from the Stuhrling Original line — namely, the Grand Regatta Dive Watch has got you covered. For under $60, you're getting everything from a matte finish blue dial to a scratch-resistant Krysterna Crystal and a 200-meter water resistance that works for quick trips to the pool or a dip in the ocean. Plus, the unique blue dial should play nicely off a tan wool blazer this winter, and it's perfect to throw on when you need something long-lasting and sharp-yet-dependable for diving. – $59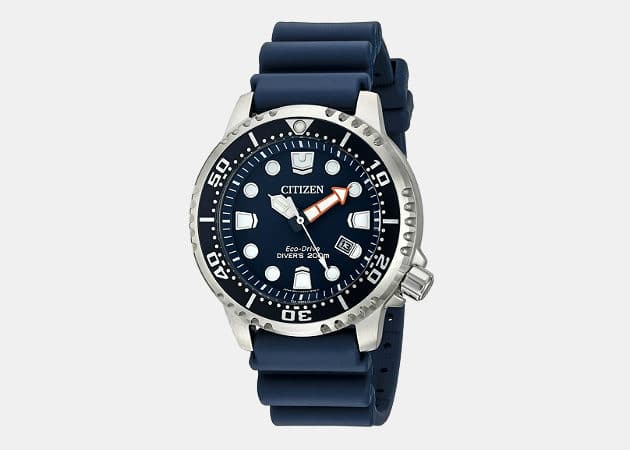 Citizen Eco-Drive Promaster Dive Watch
A stainless steel dive watch works perfectly for all sorts of deep-sea expeditions, yet a solid navy rubber strap is just as wearable and even more fitting for nautical expeditions. When it's combined with a 43mm case that's just the right size for those who prefer something rugged, you've got the ideal dive watch. The Eco-Drive also has something on other dive watches in the category — notably, it's fueled by light and never needs a battery. That all means it can last and last through the sun, rain and wind found on deep sea adventures. The extra touch of functionality should be a welcome addition for plenty of excursions. – $220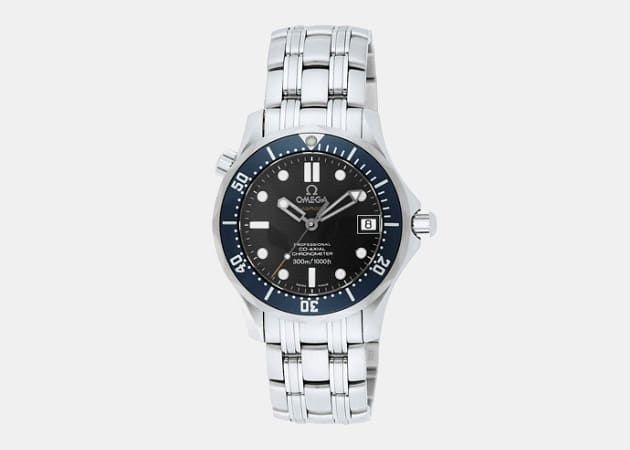 Omega Seamaster Chronometer
As far as exceptionally beautiful and well-designed dive watches, Omega practically wrote the book. Its Seamaster Chronometer is a sight to behold, with quality so dependable and style so sharp that the brand is the preferred watch provider for 007 himself. The price tag is certainly eye-popping, but then again, so is the performance and functionality. This watch is water-resistant to 300 meters, and features the precise Swiss movement one expects from a brand that's revered the world over for its blend of style, good looks and remarkable design. If you do buy this watch, know that you'll have a hard time taking it off — it's that special. – $2,700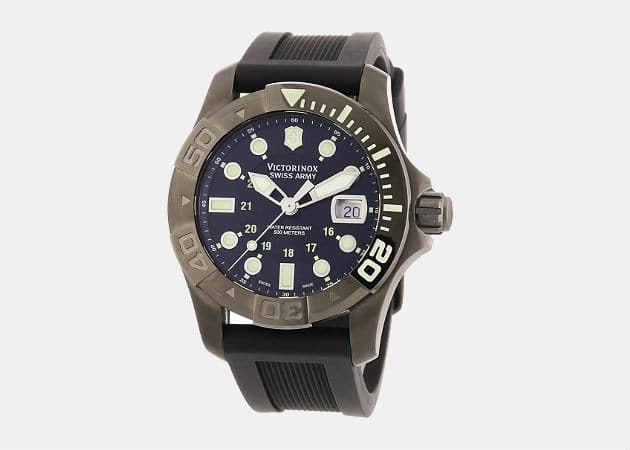 Victorinox Swiss Army Dive Master Watch
On the less style-oriented end of the spectrum, sometimes, you need a watch that just gets the job done. Victorinox has pursued that aim for years, and with a stainless steel 43mm case and a ridiculous 500-meter water resistance, they just might have achieved it. The term "Dive Master" is all too fitting in describing a timepiece that packs a punch. The durable rubber strap can handle a lot, whether it's the choppy waves of the sea or the sand of the beach — or just an afternoon at your backyard pool. Either way, it's built to last well beyond the average watch, and the price makes it a bargain. – $315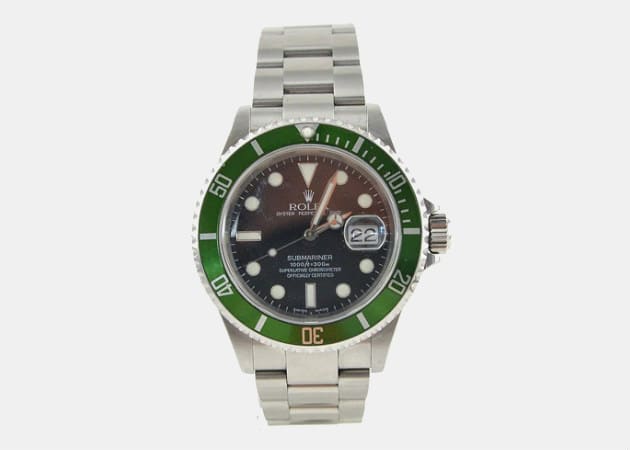 Rolex Oyster Precision Submariner
When you mention brands that wrote the book on dive watches — like Omega — it pays to mention Rolex. The cost is certainly extreme for some of us, but the fact that this timepiece can handle extreme conditions and look great doing it is just as much of a reason to pick it up. With a refined and subtle-yet-durable 40mm case diameter and a sapphire dial window, it features the touches you need to stand up to the elements. However, it can also pair with a crisp dress shirt and trousers the rest of the time. The unidirectional rotating bezel makes it the real deal, too. – $7,830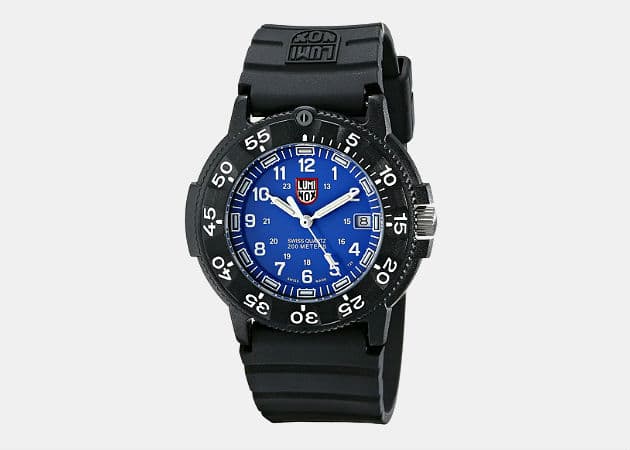 Luminox Original Navy SEAL Dive Watch
If a watch bills itself with the term "Navy SEAL" in the name, you know it's got a lot going for it. That's absolutely the case with this Luminox Original timepiece, with a rugged and rough 43mm case diameter and a sporty look that can also stand up to time in the water. Of note, this watch features an illumination system that glows 100 times brighter than other luminous watches — that's essential if you're looking to keep going on outdoor excursions no matter the time of day. Plus, a handy date calendar and 200-meter water resistance make it the preferred watch of plenty of SEALs themselves. – $178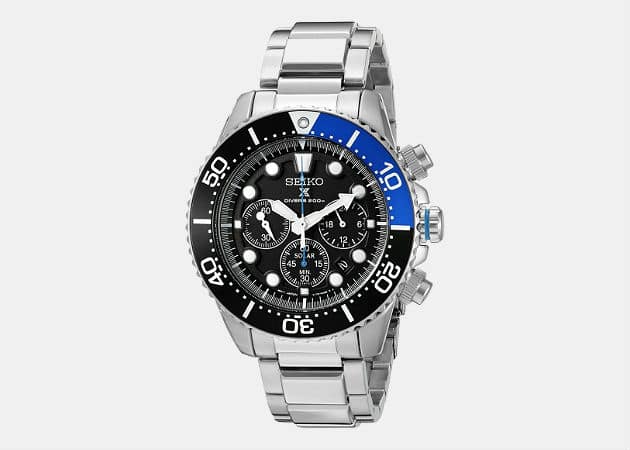 Seiko Prospex Stainless Steel Dive Watch
Seiko combines its penchant for style with performance in a package that looks just as great as it performs — just as any dive watch should do. It's a solar-powered watch complete with luminous hands and markers for reliable performance in adverse conditions, and the 43mm case diameter isn't too beefy for the average guy's wrist. In fact, the solid case diameter adds an added touch of rugged appeal when paired with a 200-meter water resistance and a reliable Japanese quartz movement. It's the type of watch you shouldn't be afraid to wear with a classic chambray shirt, or with a slim pocket tee on the weekends. – $190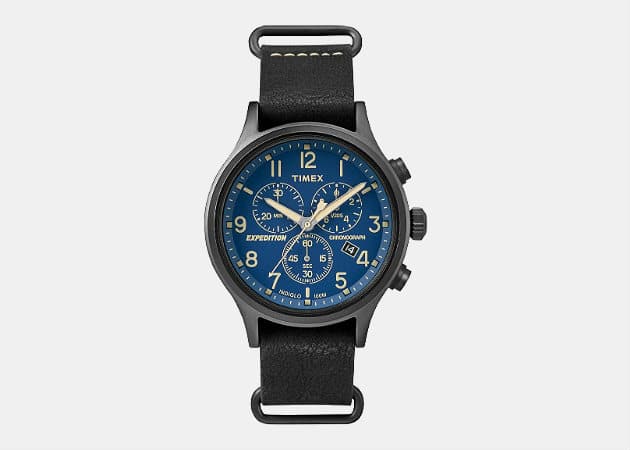 Timex Expedition Scout Chronograph
While there's something to be said for a high-quality (and high-priced) dive watch, there's just as much to be said for a watch that helps you save money and yet also offers quality styling potential and functionality. The Expedition Scout Chronograph is that watch, with a chronograph design that measures up to 30 minutes, and a sporty look. The genuine black leather strap can easily be swapped out for a NATO strap, and the 100-meter water resistance makes it handy for all kinds of aquatic adventures. Plus, the versatility you get from swapping out the leather strap for a striped NATO strap is vastly underrated. – $89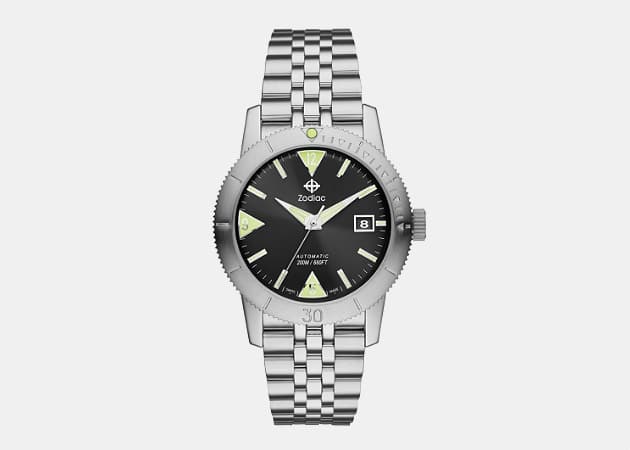 Zodiac Sea Wolf Watch
Dependable, durable and high-quality are phrases that come to mind with lots of dive watches, but perhaps none quite like the Zodiac Sea Wolf Watch. It's as solid and reliable as ever, featuring a crisp and refined 39mm face and the option to switch out the stainless steel links for a functional and versatile NATO strap. Plus, the unidirectional top ring is exactly what one needs for maximum functionality when diving, and the minimal design gives you the ability to wear it with everything from a classic Oxford to a durable henley this fall and beyond — with its durability, it'll be tough not to take it off. – $1,295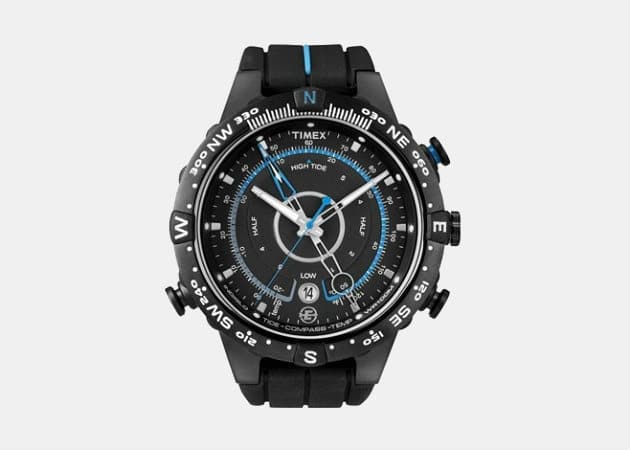 Timex Expedition Black Rubber Quartz Watch
If you need maximum durability in a dive watch, it's tough to go wrong with a Timex. Crucially, the brand builds watches that, despite their affordable prices, "keep on ticking" through all kinds of situations. The Expedition Black Rubber Quartz Watch is absolutely no exception, as its 48mm diameter underscores its rugged styling potential and durability. Complete with markings for high and low tides, plus a dependable quartz movement, it's the unexpected addition to your watch collection even if you already have a sturdy dive watch or two. And at that affordable price, you won't feel bad about picking up another for your watch case. – $100+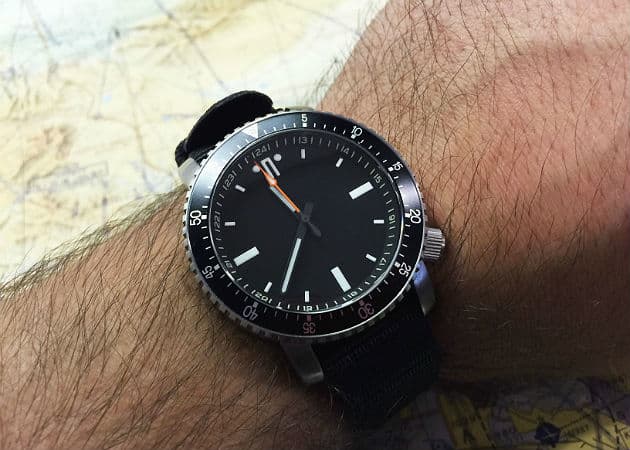 Maratac Mid Diver Automatic Watch
While it might look humble and understated at first, the Maratec Mid Diver Automatic is a beastly, rugged watch built with plain function over fashion — and if that's what interests you, that's a very good thing. The matte black dial is crisp, and the 40mm case diameter is an ideal size for those looking for a versatile watch. The nylon Maratac strap is something for which the company is known, and the Miyota automatic movement can't be beat when it comes to reliability. Feel free to swap out the NATO strap for a rubber strap, and you just might be looking at your favorite new dive watch. – $489
Disclosure: Clicking on these links and making a purchase may earn us a small referral fee, at no extra cost to you. Learn more here.
freestar.config.enabled_slots.push({ placementName: "gearmoose_leaderboard_btf", slotId: "gearmoose_leaderboard_btf" });