Your eyes have a pretty tough job. You use them to blink, smile, look for car keys, and read this article. Throughout each waking moment, your eyes—plus the surrounding muscles and skin—hardly get a minute's rest.
Thus, it's no surprise that our eyes get tired, or that the skin around our eyes needs extra TLC. (Think eyebags or dark circles.)
This is where eye creams come in. An eye cream brightens the eye area, reduces fine lines, and moisturizes the skin.
While the ingredients between facial creams and eye creams are similar, the concentration of ingredients differ. The delicate skin around the eyes is particularly sensitive, absorbing more quickly than facial skin. Eye creams offer just the right amount of active agents where facial moisturizers may be a bit too robust.
With those details in mind, here are 15 of our best eye creams for women.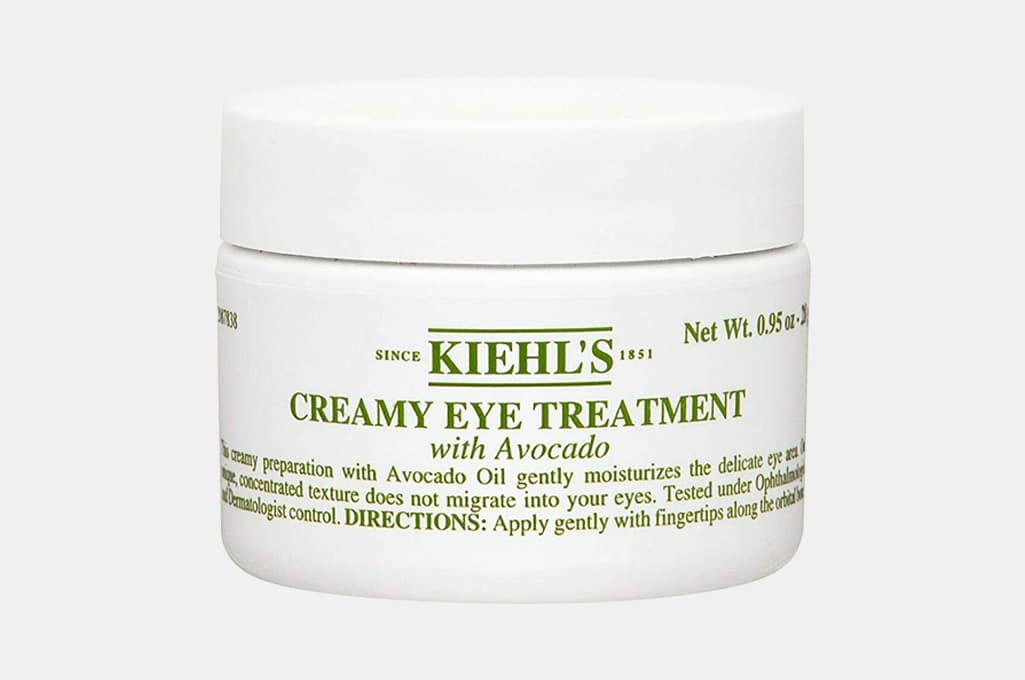 Kiehl's Avocado Eye Cream
Clinically demonstrated to de-puff baggy eyes and brighten morning looks, this hydrating cream is perfect for rushed workdays. The silicone-free and synthetic dye-free eye cream from Kiehl is made with soothing avocado oil, skin-rejuvenating beta-carotene (provitamin A), and soft shea butter, making it a good fit for all skin types, including sensitive skin. Providing instant and long-lasting hydration, this unique formula defends your eyes from digital fatigue—those headaches and sore eyes caused by blue light.
Price: $54.00
Notable Ingredients: Avocado Oil, Beta-Carotene, and Shea Butter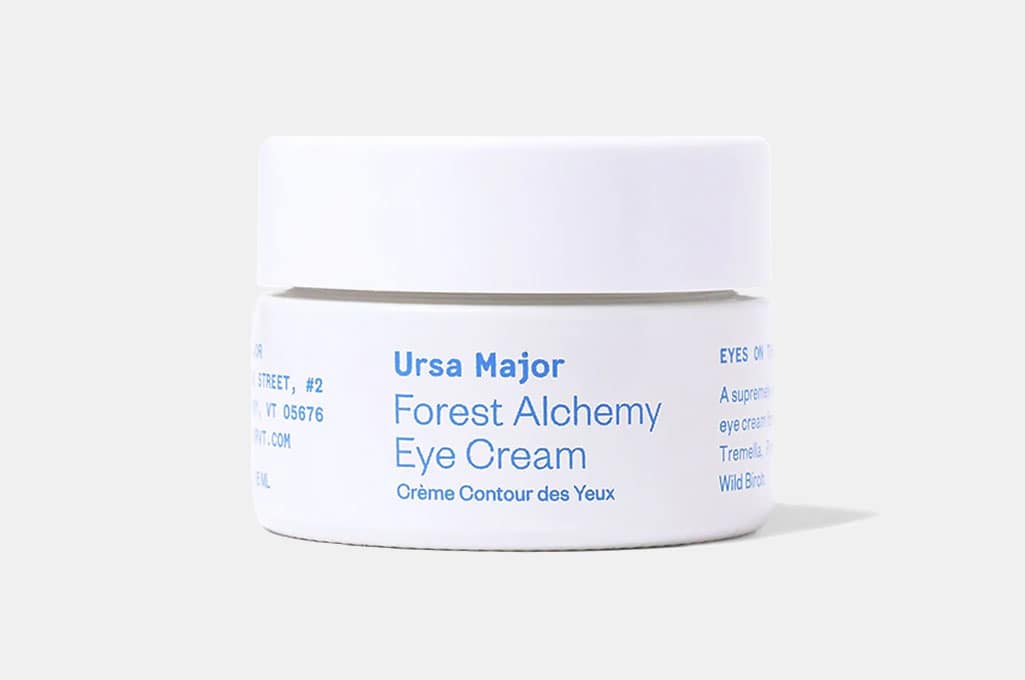 Ursa Major Forest Alchemy Eye Cream
Here's an eye cream that doesn't only make you look better, it makes your eyes and skin feel better. Made with a number of certified organic ingredients and void of any and all petrochemicals and synthetic fragrances or colors, you can gently smooth Ursa Major's Forest Alchemy Eye Cream around your eyes at any time of the day, and experience its anti-aging, hydrating, and nourishing benefits. With its velvety texture and powerful, forest-infused ingredients, this will become your favorite must-have for your facial cleansing routine.
Price: $56.00
Notable Ingredients: Green Tea Leaf Extract, Shea Butter, Cucumber Fruit Extract, Sunflower Seed Oil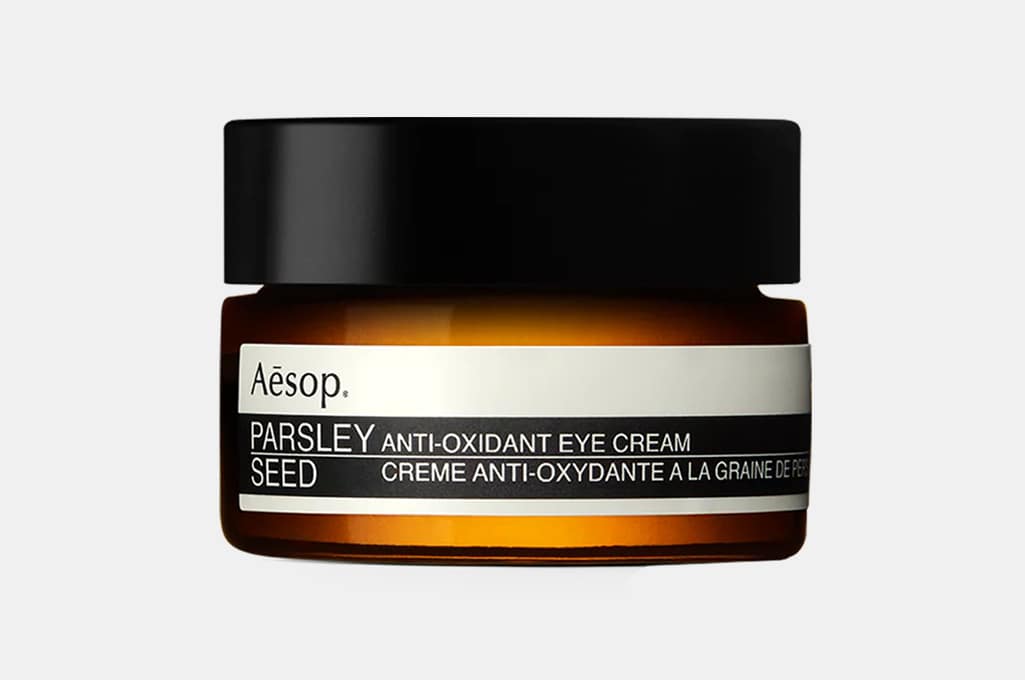 Aesop Parsley Seed Anti-Oxidant Eye Cream
Particularly suited for dry skin, Aesop's Parsley Seed Anti-Oxidant Eye Cream is a potent blend of vitamins C and E that nurture and hydrate the delicate skin around your eyes. This eye cream is made with vegan and sustainable ingredients, along with a generous amount of antioxidants, all to ward off those free radicals and keep you looking young. Simply dab the rich, buttery cream around your eyes and massage gently until absorbed. Ahh…smell that herbaceous, fresh aroma?
Price: $89.00
Notable Ingredients: Tocopherol (Vitamin E), Parsley Seed Oil, Cocoa Seed Butter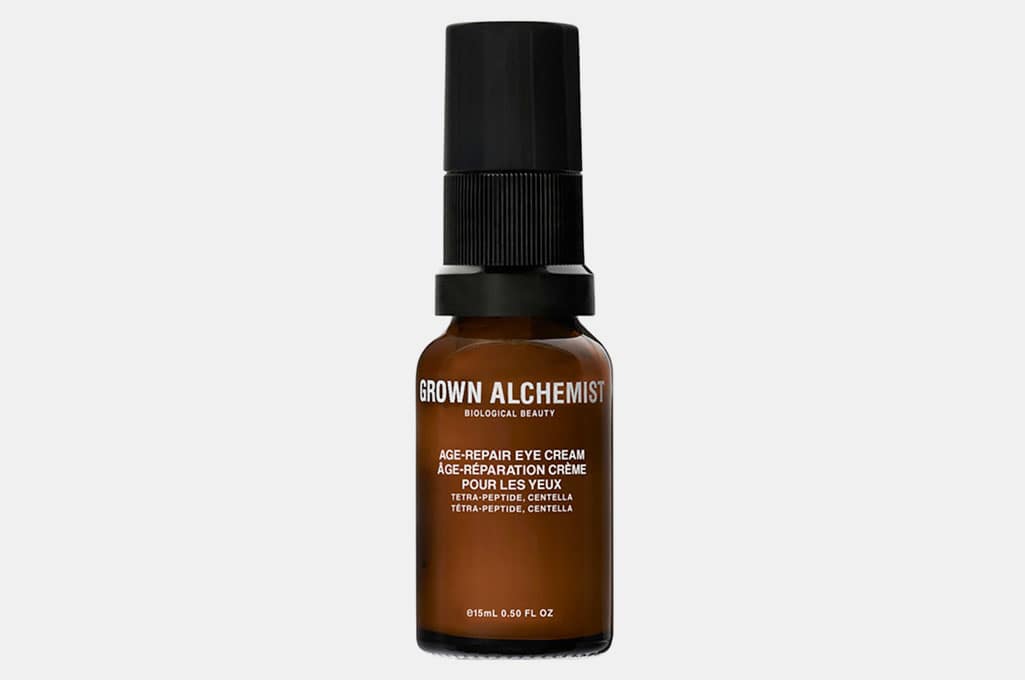 Grown Alchemist Age-Repair Eye Cream
Suitable for all skin types, the vitamin E and antioxidant essential fatty acids eliminate lines and wrinkles around your eyes, while Vitamins A and D take away dark circles and reduce puffiness in the eye area. The aloe extract and beeswax give the Grown Alchemist Age-Repair Eye Cream its name. By applying this cream, you'd be doing yourself a favor of making the skin around your eyes more firm and elastic. It doesn't hurt to pamper yourself.
Price: $69.00
Notable Ingredients: Grape Seed Oil, Polyglyceryl-3 Beeswax, Aloe Barbadensis Leaf Extract, Tocopherol (Vitamin E).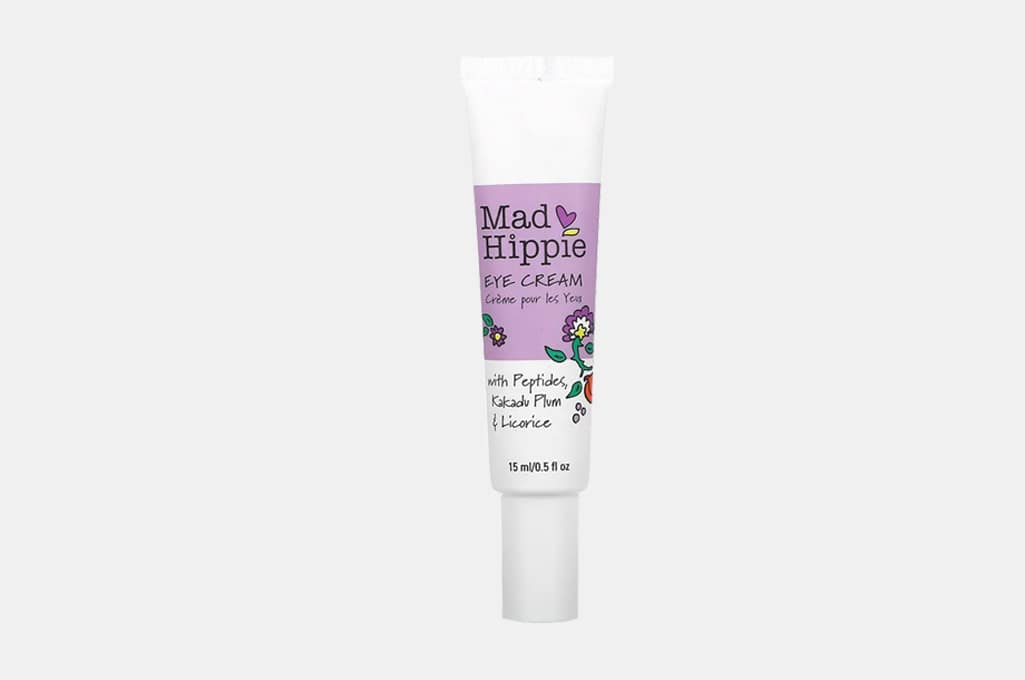 Mad Hippie Eye Cream
Your eyes are the windows to your soul…and sadly, often the first to show signs of age. Mad Hippie's Eye Cream unites the power of peptides, antioxidants, and vitamins to take out those eyebags, crow's feet, and dry skin once and for all. Comsopotalian calls it "the best eye creams dermatologists actually recommend"—and no wonder. Each dab of this smooth, rejuvenating cream contains a transformative formula of nourishing, potent, and hydrating ingredients such as Kakadu Plum and Niacinamide.
Price: $24.99
Notable Ingredients: Licorice Extract, Pomegranate, Vitamins C and B3, Argan Oil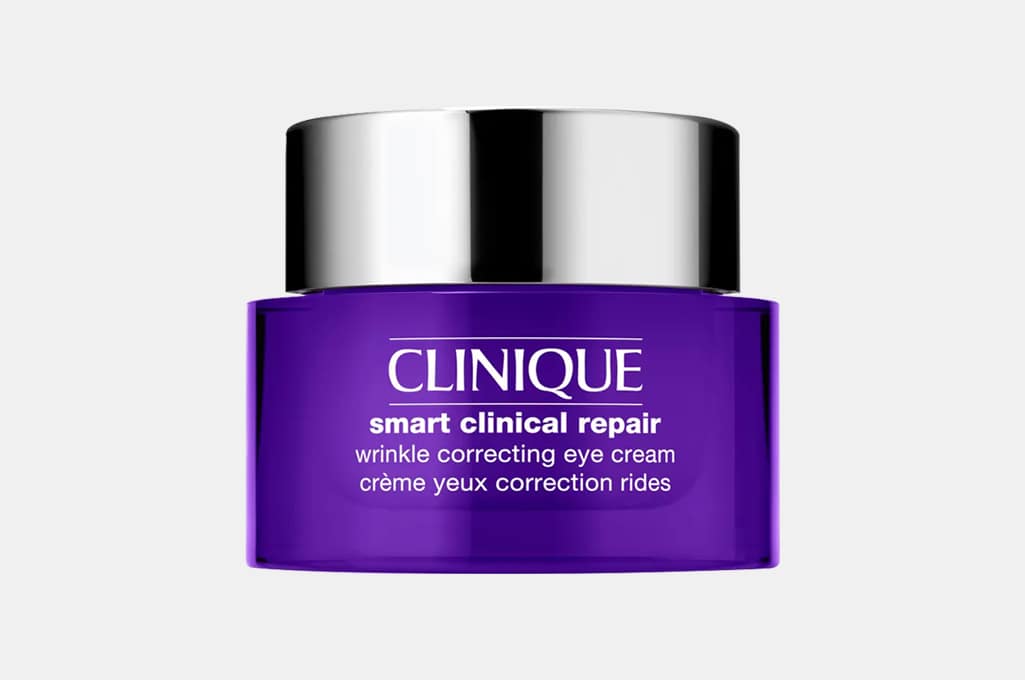 Clinique Smart Clinical Repair Wrinkle Correcting Eye Cream
Looking for an eye cream that fights wrinkles like it's nobody's business, while fortifying the delicate skin around your eyes? Look no further than Clinique's Smart Clinical Repair Wrinkle Correcting Eye Cream. Crafted for all skin types, this refreshing, air-light whipped eye cream has been scientifically tested 7,200 times for allergic reactions, and is completely fragrance-free. Apply this soothing cream to the eye area for smoother, stronger, and younger-looking skin.
Price: $55.00
Notable Ingredients: Sigesbeckia Extract, Hyaluronic Acid, CL 1870 Peptide Complex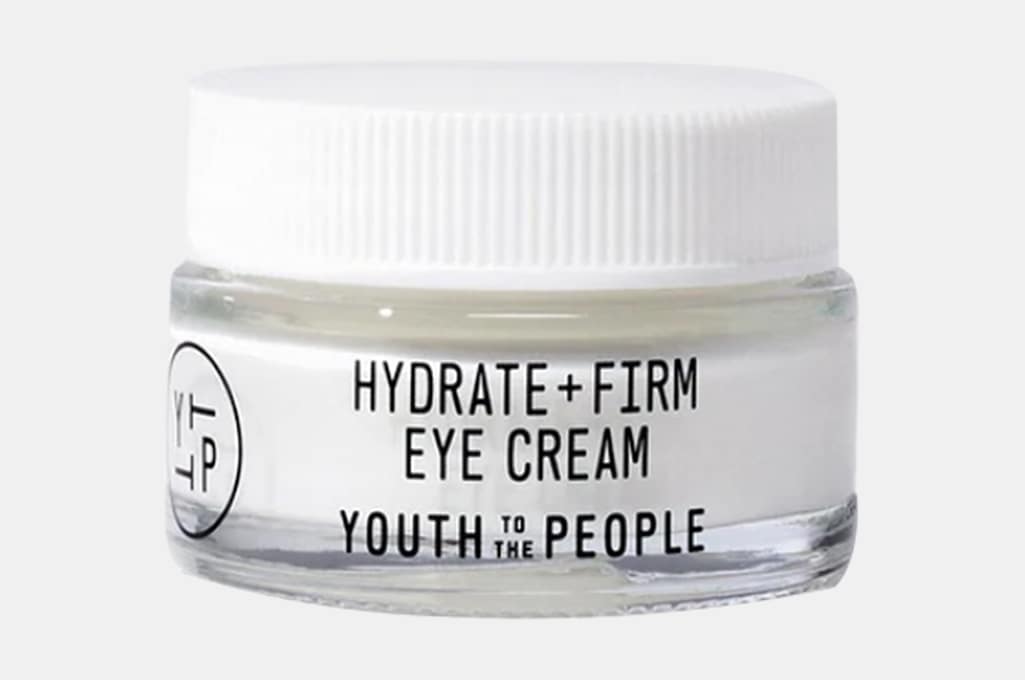 Youth to the People Superfood Hydrate + Firm Eye Cream
What sets this cream apart? Its custom superfoods blend, delivering vital nutrients to your skin while keeping it hydrated and happy. The army of vitamins and peptides in this small but mighty cream fights off signs of stress or aging around your eyes, restoring your skin on a daily basis. The aloe extract and sunflower seed oil help reduce inflammation (read: puffy eyes), moisturizing and cooling tired eyes. The smooth, rich texture, paired with a clean and herbaceous scent, is the perfect partner to your favorite concealer.
Price: $35.00
Notable Ingredients: Kale, Spinach, Green Tea, Alfalfa, Sunflower Oil, Aloe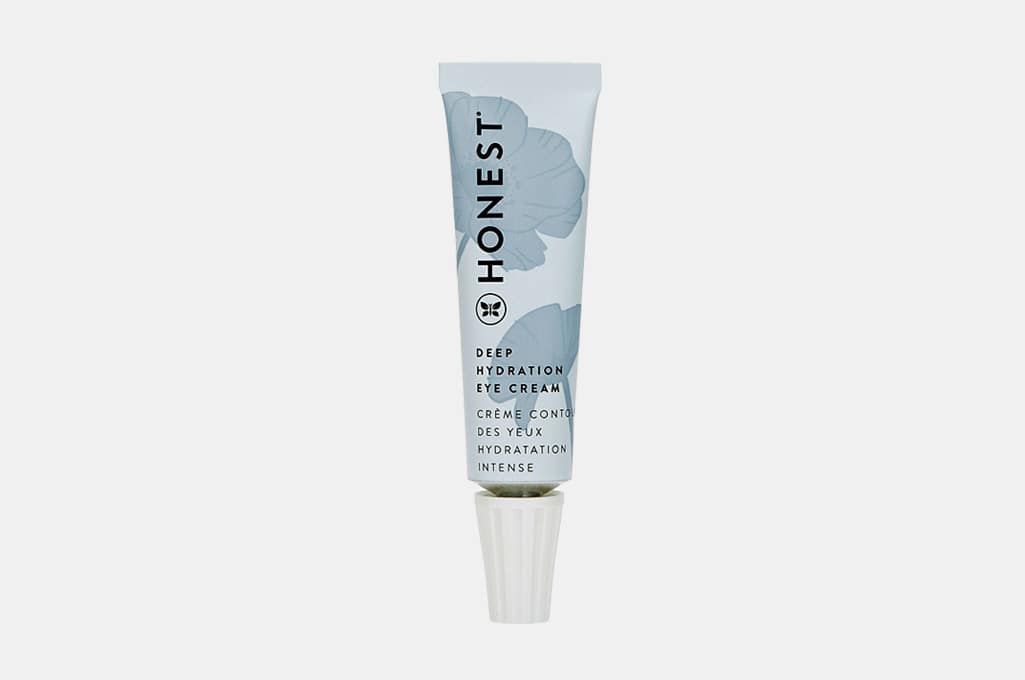 Honest Deep Hydration Eye Cream
Tested by dermatologists, Honest's Deep Hydration Eye Cream keeps moisture locked-in around your eyes for at least eight hours at a time. The Hyaluronic Acid binds water to your skin, keeping the delicate under-eye area hydrated. Soothing Chamomile and Calendula keep irritants at bay, while the Barbary Fig and Baobab Fruit come bearing fatty acids that make for happy and healthy-looking skin. This deeply hydrating eye cream works for all skin types.
Price: $23.99
Notable Ingredients: Hyaluronic Acid, Chamomile, Calendula, Barbary Fig, Baobab Fruit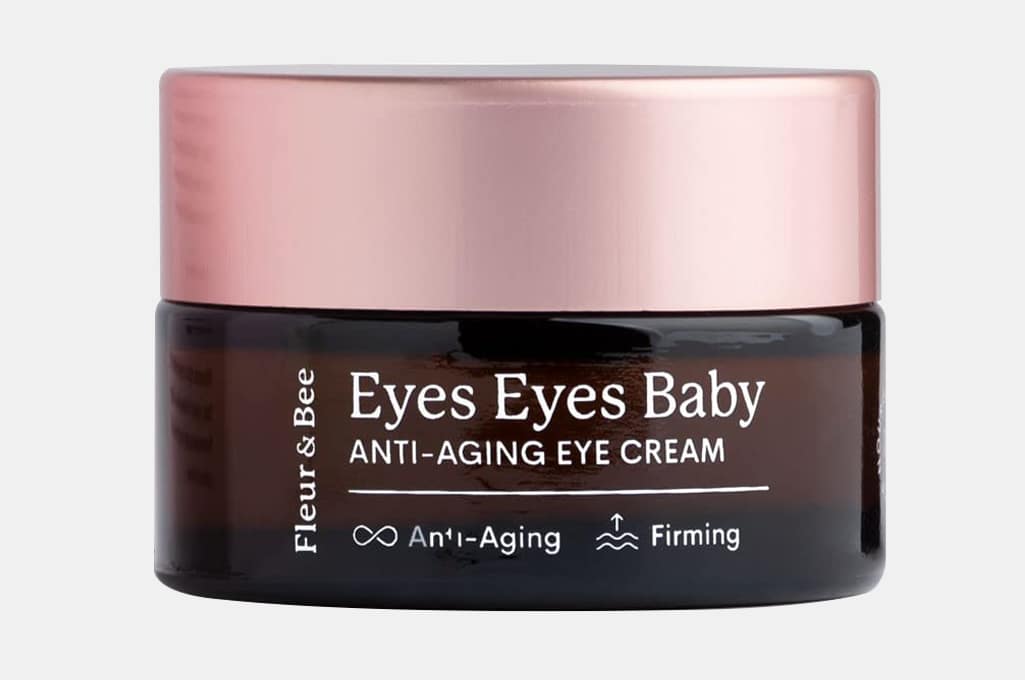 Fleur & Bee Eyes Eyes Baby
Rich and nourishing, this eye cream awakens the area around your eyes to firmness, strength, and youthfulness. The 18 nurturing active agents in the Fleur & Bee Eyes Eyes Baby eye cream ward off dark circles, smooth away wrinkles, and eliminate puffiness, offering beautifying results over the short- and long- term. Expect this silky-smooth, lavender-scented cream to transform your skin into something bright and nourished.
Price: $26.00
Notable Ingredients: Aloe Vera, Algae Extract, Sunflower Seed Oil, and Dandelion Extract.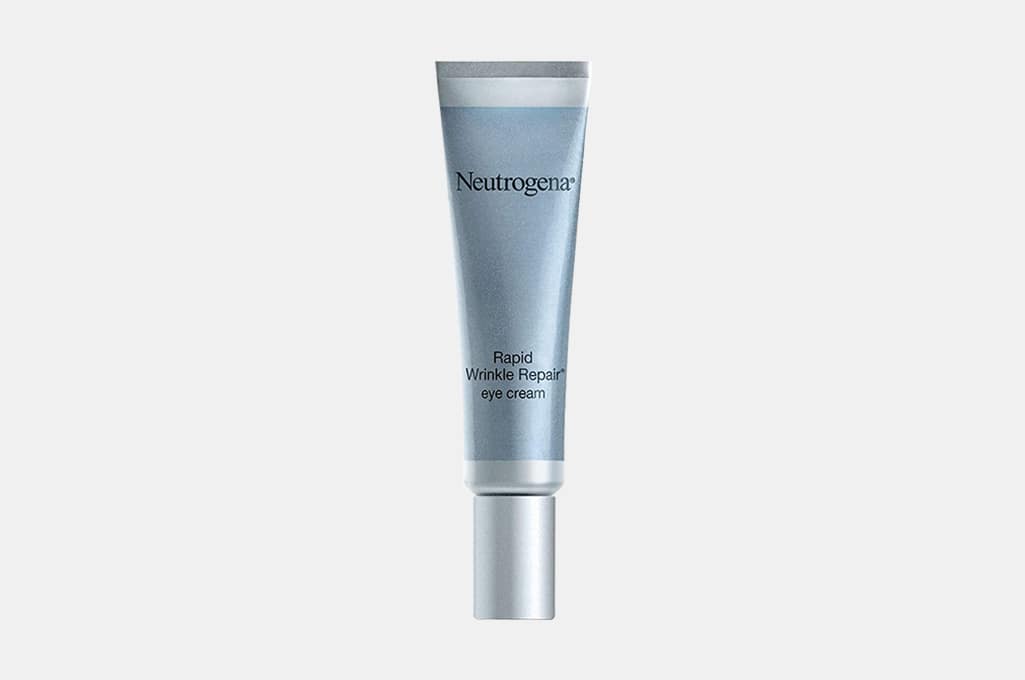 Neutrogena Rapid Wrinkle Repair Eye Cream
With its unique combination of moisturizers and nourishing agents, the Neutrogena Rapid Wrinkle Repair Eye Cream delivers visible results in just under a week. Dark circles, stubborn crow's feet, wrinkles, fine lines—you name it, this cream gets rid of it. After all, Neutrogena isn't about anti-aging. They're about anti-wrinkles and anti-dry-skin. This lightweight cream renews your skin all through the day, allowing you to celebrate each passing year with healthy, hydrated, happy-looking skin.
Price: $24.99
Notable Ingredients: Retinol SA, Glucose Complex, and Hyaluronic Acid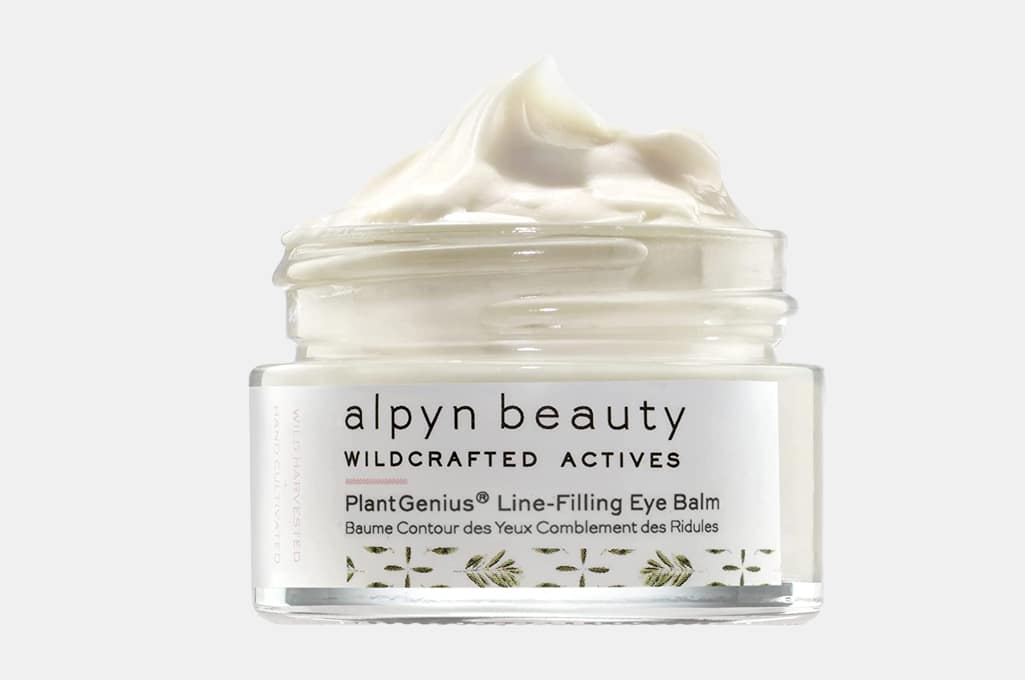 Alpyn beauty PlantGenius Line-Filling Eye Balm
Want to look well-rested? This PlantGenius Line-Filling Eye Balm from Alpyn Beauty applies like a cream but acts like a blam, with ultra-moisturizing nourishment filling in fine lines when applied. The presence of licorice root and bearberry leaf brighten up dark circles after those hard, sleepless nights. Bakuchiol smooths, strengthens, and firms tired, baggy skin. It's made without parabens, petrolatum, and everything else that might irritate your eyes, skin, or nose. It's a soothing and refreshing balm for your delicate skin.
Price: $62.00
Notable Ingredients: Vitamin C, Licorice Root, Bearberry Leaf, Bakuchiol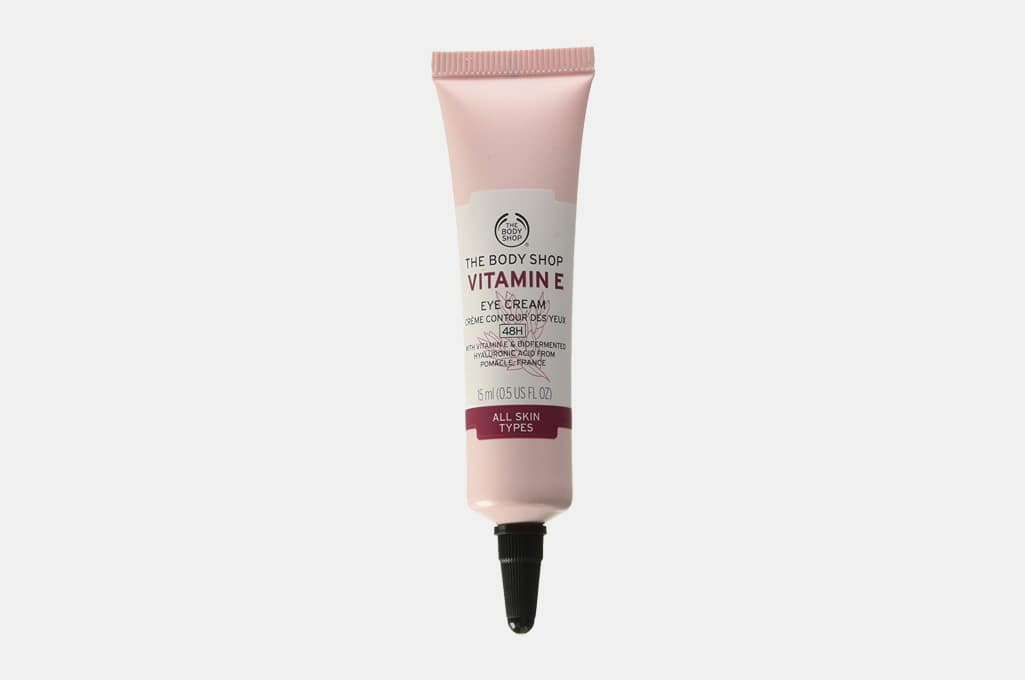 The Body Shop Vitamin E Eye Cream
The Body Shop's Vitamin E Eye Cream comes in a nourishing, hydrating tube that helps your eyes stay happy and your skin stay healthy. The luxurious formula is enriched with vitamin E and hyaluronic acid, guiding your eyes toward bright-eyed, youthful perfection. It's made for every skin type and every-day use. Your skin would feel smoother, more supple, and more elastic after each application. Make your peepers feel pampered by using the Vitamin E Eye Cream in your daily routine.
Price: $19.50
Notable Ingredients: Vitamin E, Hyaluronic Acid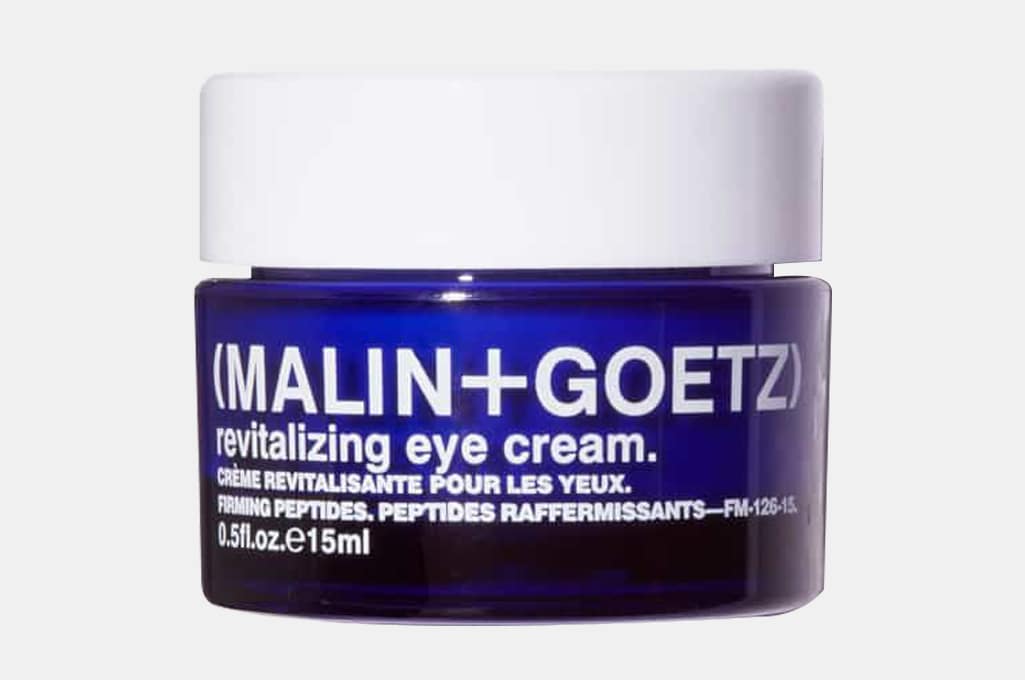 (MALIN+GOETZ) Revitalizing Eye Cream
This rich eye treatment nourishes the under-eye area and reduces signs of aging wherever it's applied. Made with a concentrated blend of nurturing fatty acids, hydrating peptides, and beneficial marine algae extract, the (MALIN+GOETZ) Revitalizing Eye Cream restores and brightens delicate eye areas. Like all fantastic eye creams, this revitalizing cream is quickly absorbed by your skin, leaving no residue. The natural fragrance and color makes this cream a pleasure to use, and is suitable for all skin types.
Price: $72.00
Notable Ingredients: Marine Algae Extract, Shea Butter, Grape Seed Oil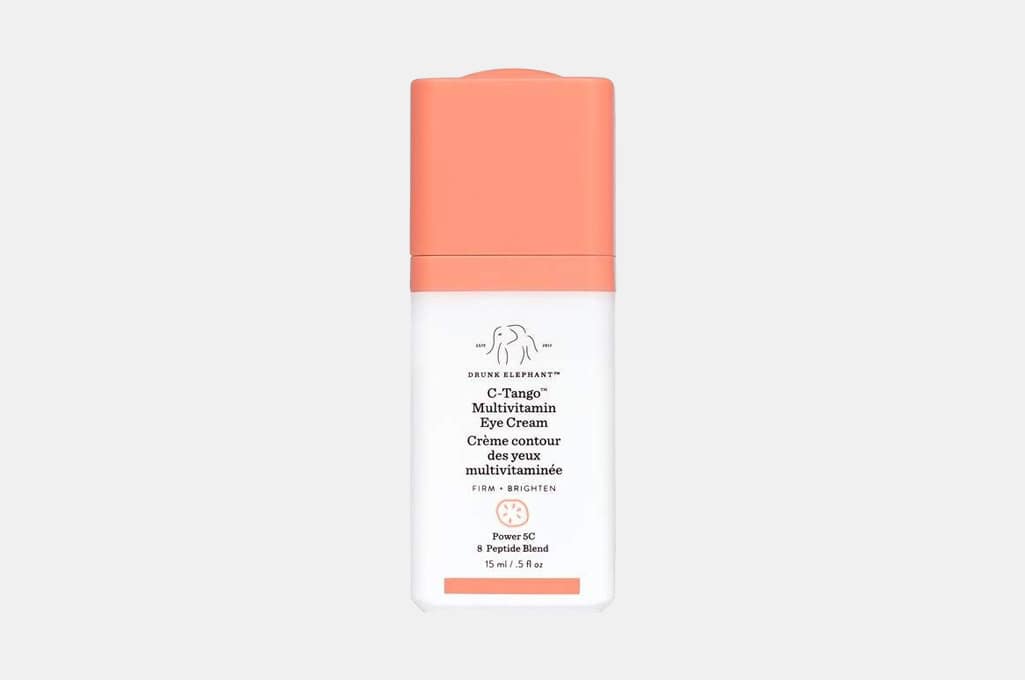 Drunk Elephant C-Tango Multivitamin Eye Cream
Rich. Restorative. Refreshing. Thanks to its eight peptides, five forms of vitamin C, and cucumber extract, the Drunk Elephant C-Tango Multivitamin Eye Cream is a dance of potent oils, antioxidante, and ceramides all working together to improve stubborn signs of time's passing. Gentle and soothing, it's perfect for use in both mornings and afternoons. This eye cream is completely free of silicones and fragrance, ensuring healthy and happier skin after each use.
Price: $64.00
Notable Ingredients: Cucumber, Vitamin E, Power 5C Vitamin Complex.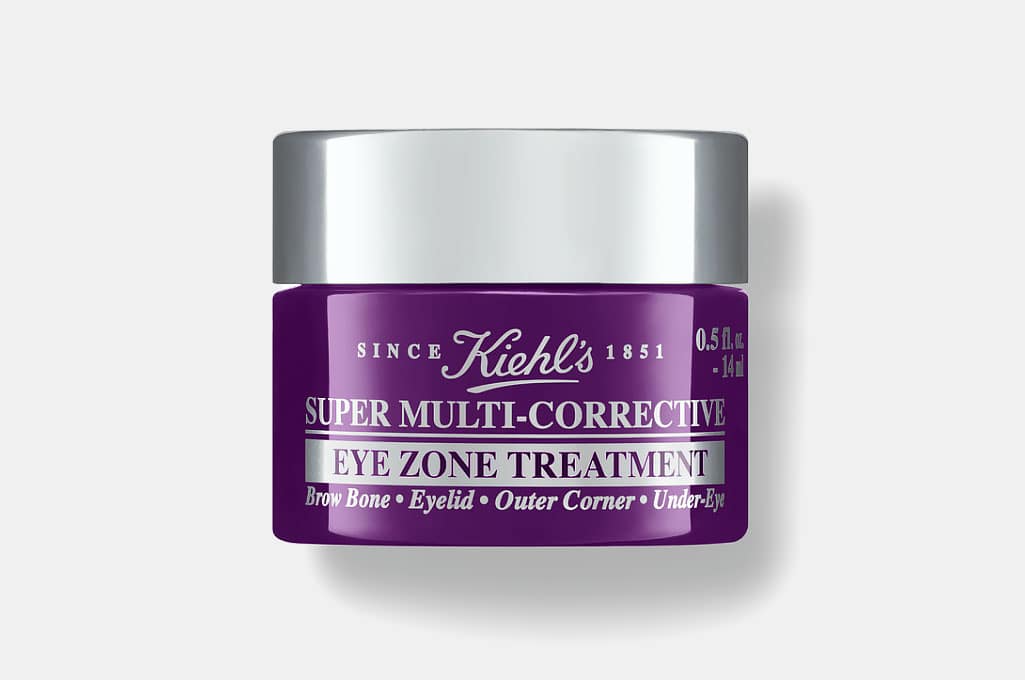 Kiehl's Super Multi-Corrective Anti-Aging Eye Cream
Supercharged and ready to treat all four zones of your eye—the eye brow bone area, the eyelids, the corners, and the under-eye—Kiehl's Super Multi-Corrective Anti-Aging Eye Cream is a lightweight, non-greasy gel that absorbs quickly into the skin for refreshed-looking eyes. Once applied, the cream stays put without migrating into the eyes. The niacinamide (or Vitamin B3) helps reduce fine lines and wrinkles, while the collagen peptides enhance the skin's natural collagen, erasing crow's foot and increasing firmness around the eye area.
Price: $55.00
Notable Ingredients: Niacinamide and Collagen Peptide
Disclosure: Clicking on these links and making a purchase may earn us a small referral fee, at no extra cost to you. Learn more here.
freestar.config.enabled_slots.push({ placementName: "gearmoose_leaderboard_btf", slotId: "gearmoose_leaderboard_btf" });