The 12 Best Filtered Water Bottles
Water – can't live without it…that's the end of the thought. You can't live without it. Unfortunately, most of us don't track how much water we consume, and as a result, are likely failing to get the requisite eight glasses (or 64 ounces) per day. That's just the baseline. If you're an active individual, you actually need even more water to remain healthy and hydrated, because you have to replenish any you lose through sweat.
Although single-use water bottles are convenient, they're not doing our environment any favors, so you may be understandably opposed to them. The good news is, there's no shortage of reusable options to help you improve hydration without harming the planet. The only real problem is choosing the best product.
Do you have to get a metal water bottle, or are some plastic options ok? What if you want to drink filtered water but you're not keen to cart your Brita pitcher hither and yon? You might be surprised to learn that there are water bottles designed to meet your needs on every front, with durable, BPA-free plastic materials and built-in filters to sanitize your agua. Here's the skinny on the best filtered water bottles on the market, and what sets them above the rest.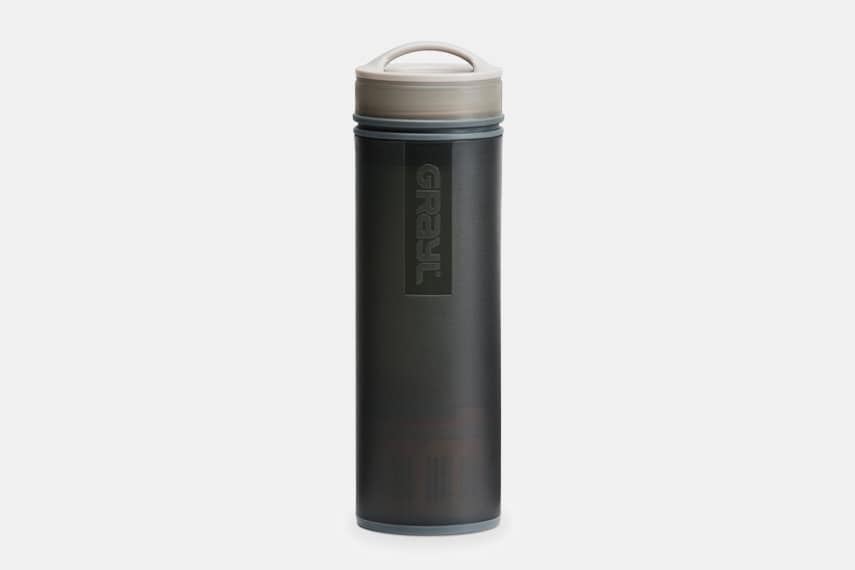 Grayl Ultralight Water Purifier Bottle
This weird water bottle is probably unlike any personal filtration system you've used in the past.  It comes in two parts: the cup and the filter.  To begin, you'll remove the filter and fill the cup with water from anywhere – a river, your kitchen tap, etc.  Then you insert the fitted filter and push down slowly, like you're making coffee with a French press.  Pathogens, chemicals, and heavy metals are filtered out and you get safe, clean water in as little as 15 seconds.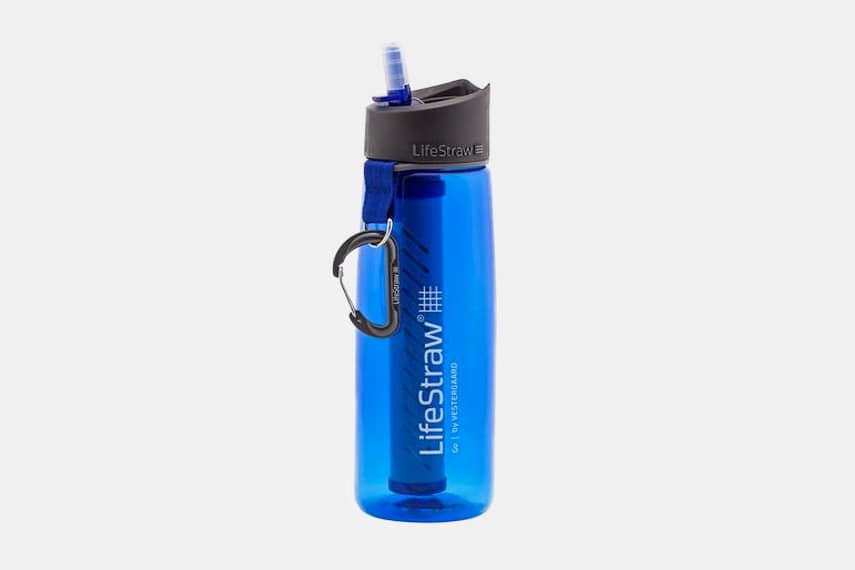 LifeStraw Go
This durable, BPA-free water bottle comes in a variety of hues and offers plenty of features you're sure to appreciate.  Let's just start with the fact that the filter is designed to last up to five years, providing you with safe drinking water courtesy of microbiological protections.  This intensive filter traps parasites, bacteria, and extras you might not expect, like chlorine, pesticides, and even microplastics that could be present.  Water tastes great and does less harm.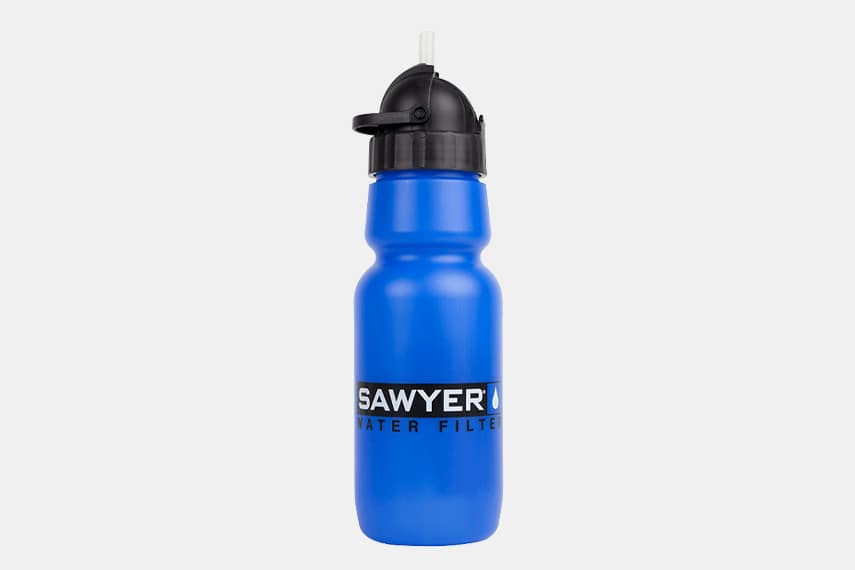 Sawyer Personal Water Filtration Bottle
You're sure to like this lightweight (5.5 ounces), flexible bottle that holds up to 34 ounces of water.  Like many others of its kind, the filter is attached to the lid, so you just fill 'er up, screw the lid on, and pop up the included straw to start sucking up filtered water that's over 99.9% percent free of bacteria, 100% free of microplastics, and more.  What you'll love about this one is how easy it is to filter water as you sip, with almost no resistance.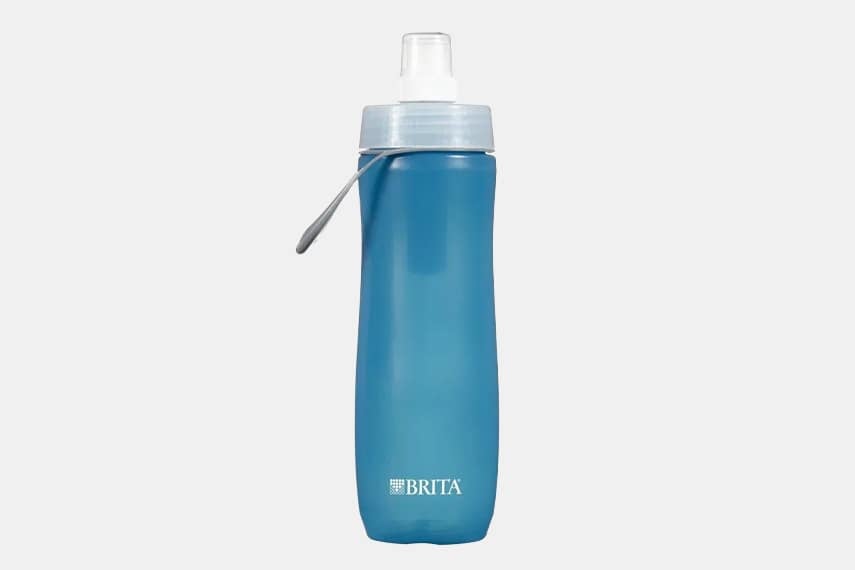 Brita Sport Water Bottle with Filter
This 20-ounce bottle is the portable Brita filter you've been hoping for, and it works much that same as the larger model you keep in the fridge. The filter fits into the lid, which is a nozzle instead of the standard straw. Activated carbon filters out chlorine for better tasting water and each filter lasts 40 gallons or two months. This smart water bottle will save you from tossing 300 disposable 16.9-ounce water bottles per filter.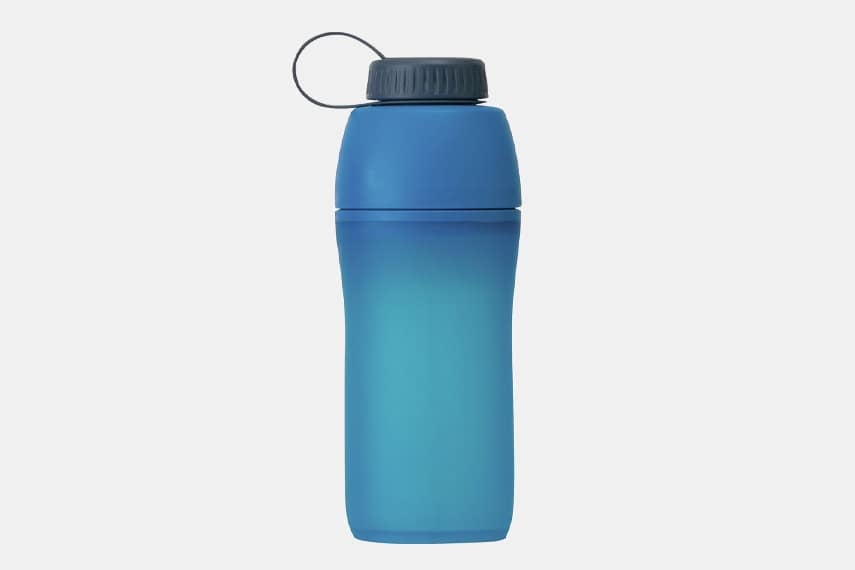 Platypus MetaBottle with Microfilter
If you like to travel light, this soft, flexible bottle won't give you any fuss during packing, and it will hold up to one liter of water when you need it. It filters out 99.9% of harmful bacteria and protozoa, along with cholera, cryptosporidium, E. coli, giardia, salmonella, and more. Drink from rivers, streams, or questionable taps without worry, up to 1,000 liters before filter replacement. Plus, the bottle is dishwasher safe (the filter is not).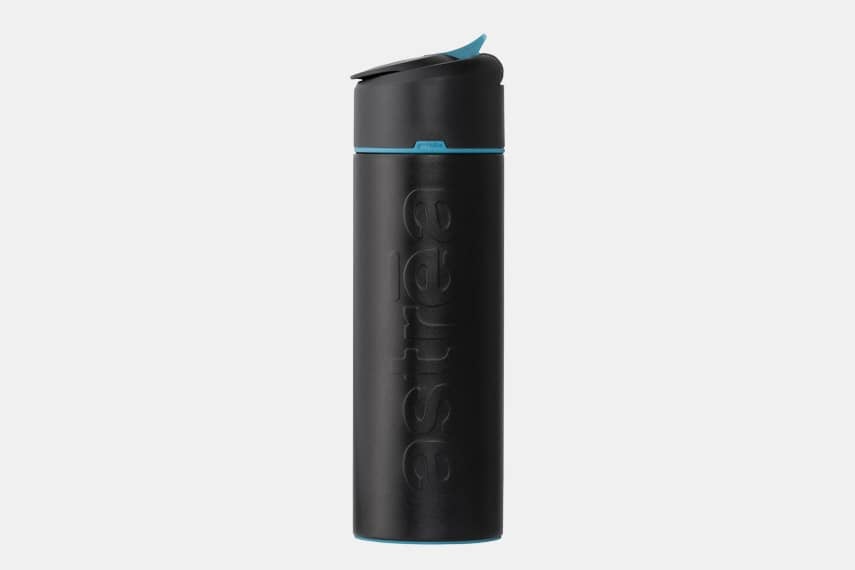 Astrea ONE Filtering Water Bottle
When most people start shopping for portable water filtration, they want something that removes the threat of bacteria and the taste of chlorine. Most don't spare a thought for the lead content of their water, even though high levels of this toxic heavy metal abound. Flint, MI may be the best-known example, but nearly 2,000 cities, including Chicago, Baltimore, and Milwaukee, are affected, as well, according to a study by USA Today. This is the only water bottled NSF53 certified for lead reduction.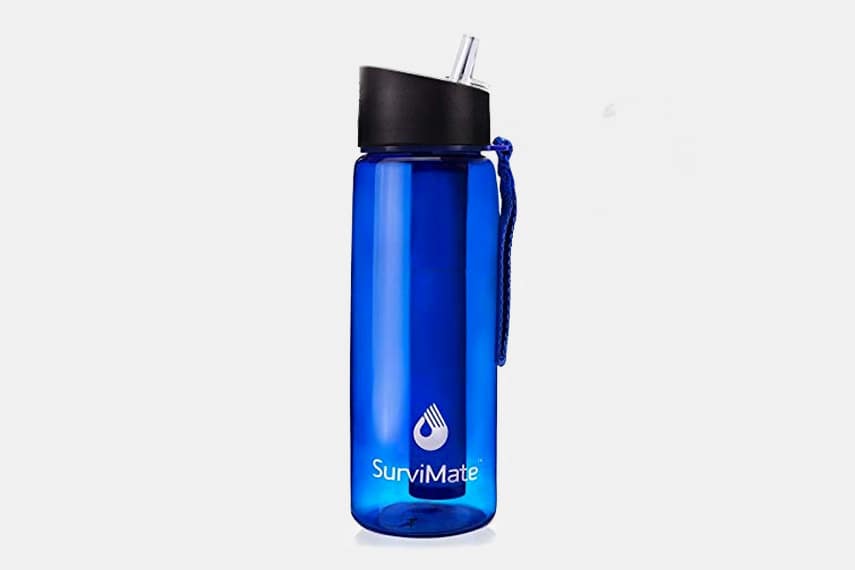 SurviMate Filtered Water Bottle
This transparent water bottle includes a 4-stage integrated filter straw in the lid that puts the kibosh on any bacteria larger than 0.01 microns, and more.  The four stages include a medical grade hollow fiber UF membrane, coconut shell activated carbon, beads, and medical grade PP cotton, all encased in an FDA-approved, BPA-free, food grade tritan coplyester bottle.  That's a lot of complex words that amount to a simple outcome: 1500 liters of clean drinking water per filter.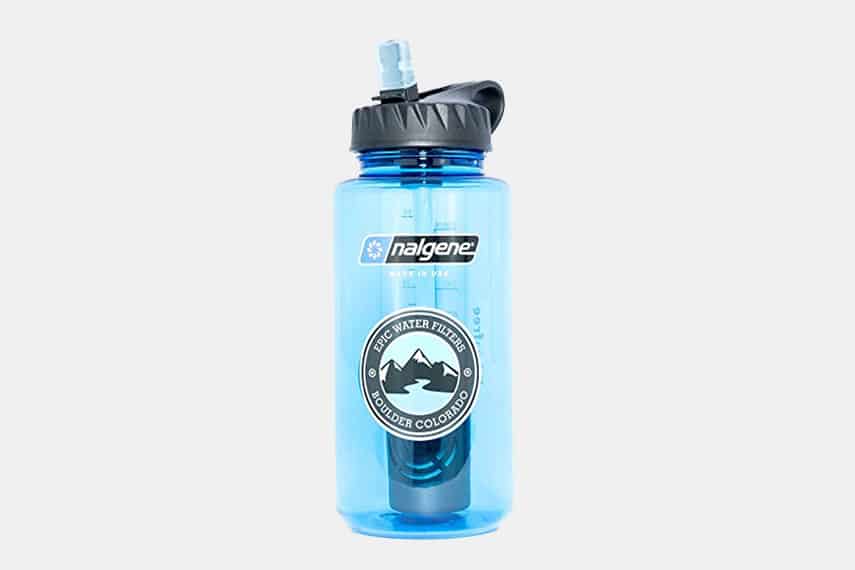 Epic Nalgene OG Water Filtration Bottle
This wide mouth, 32-ounce water bottle offers up a multi-stage filtration process thanks to millions of layers of coconut carbon fiber, with filtration that's 6mm in depth. The bottle and filters are American made, BPA- and BPS-free, and include food grade materials 100% approved by the FDA. They're also recyclable, gluten-free, and vegan, apparently appealing to a wide range of lifestyle choices. A 100% lifetime satisfaction guarantee is enough of a reason to try it, though.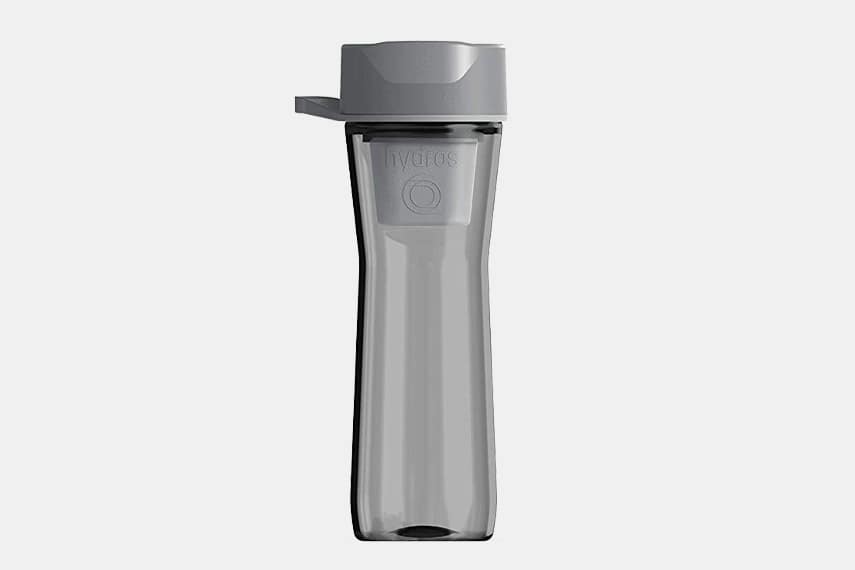 Hydros Water Bottle with Filter
The BPA-free bottle and 100% coconut shell carbon filtration are nothing new, but what you're sure to enjoy is the rocker cap for one-hand sipping and closing (great for cyclists and climbers), along with the fast-flow filter, which fills in about 20 seconds, or five times faster than most competitors. Plus, there's a two-finger carry loop sure to appeal to hikers, runners, and dog-walkers. Lightweight and ergonomic, this filtered water bottle was made for an active lifestyle.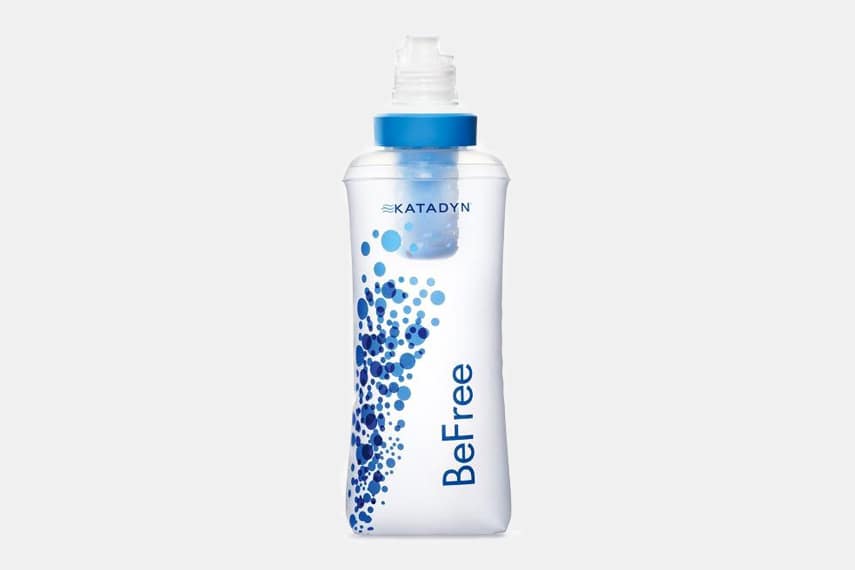 Katadyn BeFree Collapsible Water Filter Bottle
Storage can be an issue with some bulky, inflexible water bottles. Not so with this lightweight, collapsible, squeeze model that fills to 0.6L of water. Squish it into your pocket or pack for transport, then simply fill it up with water, wherever you are, to enjoy filtration of up to 2L per minute. The wide mouth makes for easy refill and a cap over the nozzle keeps detritus out. No wonder it won the Runner's World Gear of the Year Award.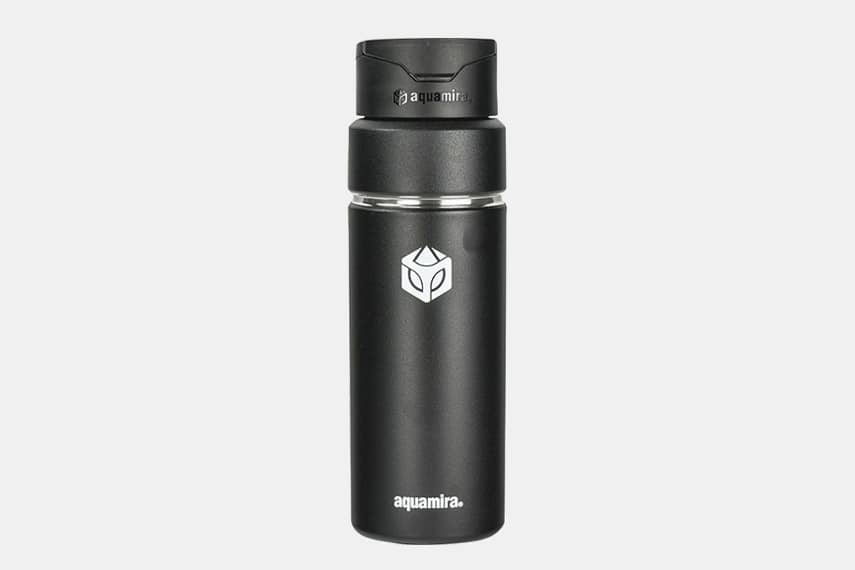 Aquamira Shift Vacuum Water Filter Bottle
This 24-fluid ounce water bottle is opaque and easy on the eyes, but there's a lot more to it. The screw-top filter offers up to three months (or 50 gallons) of continuous protection against everything from bacteria and protozoa, to chlorine, bio-toxins, VOCs, and heavy metals, not to mention PFOAs and PFOSs. You'll avoid toxins like BPA, phthalates, and iodine, as well, ensuring safe and delicious drinking. Plus, the high-flow, low-pressure design makes sipping your beverage easy.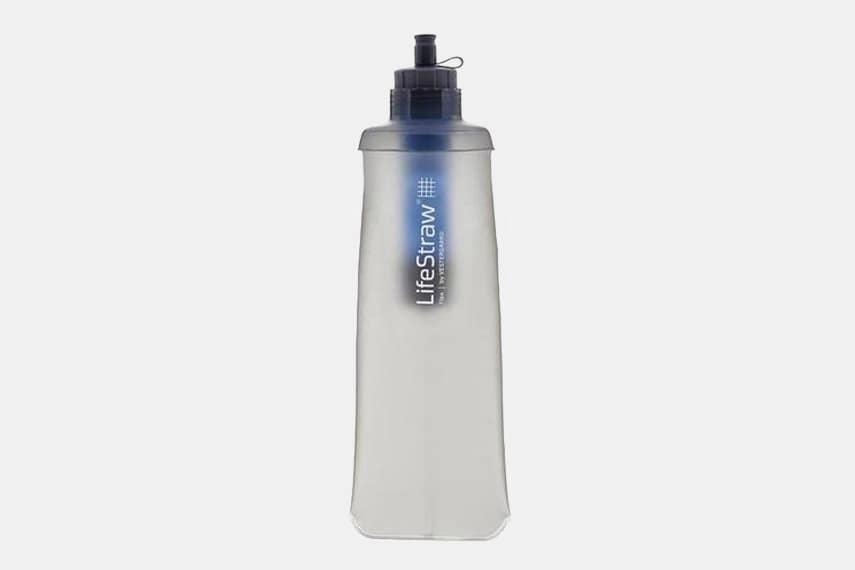 LifeStraw Flex with Collapsible Squeeze Bottle
Versatility is the name of the game with this filtration system, which can be converted for use in a number of scenarios. The lid/filter can go into the included 22-ounce soft bottle, it fits in standard size hydration bladders, it works with many gravity systems, or you can stick it atop a hard plastic water bottle, for example. It filters bacteria, parasites, chemicals, heavy metals, microplastics, and more for tasty drinking water at home or on the go.
Disclosure: Clicking on these links and making a purchase may earn us a small referral fee, at no extra cost to you. Learn more here.
freestar.config.enabled_slots.push({ placementName: "gearmoose_leaderboard_btf", slotId: "gearmoose_leaderboard_btf" });