The 25 Best Men's Flannel Shirts For Fall
While there are certain shirts that can be worn year-round, there's no shirt that exemplifies rugged fall and winter style quite like the perfect flannel shirt. The best men's flannel shirts harken back to the hearty, outdoor-oriented nature of this tough, yet comfortable fabric. And yet, brands are finding newer and better ways to update them for today's modern guy.
Whether you find yourself squarely in the outdoors set or are more inclined to stroll to Sunday brunch, there's definitely a place — or several — in your wardrobe for the flannel shirt. And you've got plenty of brands and options to pick from, as heritage brands are making flannels right alongside more familiar menswear labels. The durability and versatility of a flannel shirt is such that you can layer it over a henley or thermal shirt, you can style it atop — or beneath — a slim crewneck sweater, and you can certainly wear it on its own. The rest of the time, you should wear it exactly how you please — the best men's flannel shirts can handle anything you throw at 'em.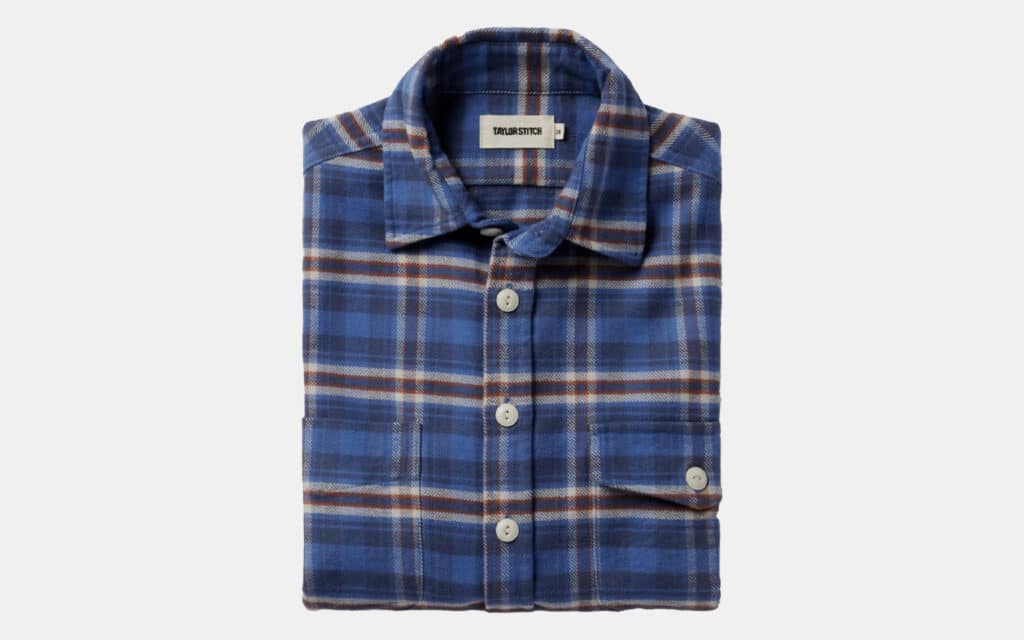 Taylor Stitch Crater Flannel Shirt
Good, straight-forward materials meet smart construction in the form of the Crater Flannel Shirt from Taylor Stitch. It's made purely out of cotton, which has also been brushed, creating a tough, unitchy, and mercifully static-impervious surface that'll provide you soft insulation when there's a chill in the air. Moreover, it flaunts a flatteringly fitted cut. This not only makes it look great, but serves up easy, non-bulky layering, whether you're putting a jacket on over the shirt or a long-sleeve thermal underneath.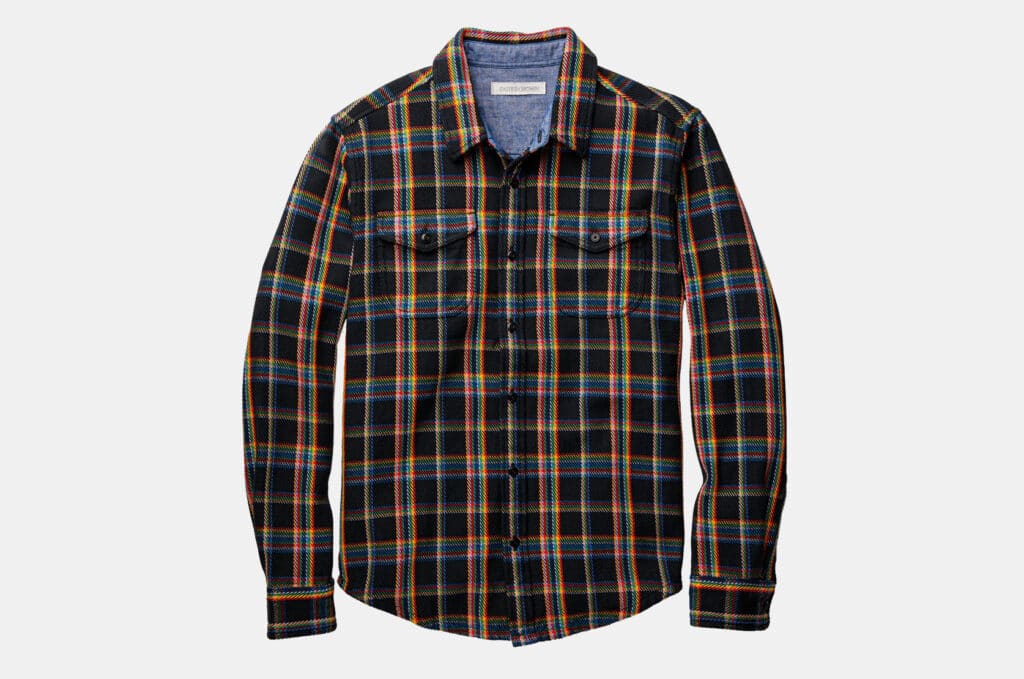 Outerknown Blanket Shirt
You show us a brand making one of the best flannel shirts on the market, and we'll tell you all about a brand we love. Let us know about a brand that makes flannel shirts while doing so sustainably, and you can color us very, very impressed indeed. Such is the case with Outerknown, the surf-inspired brand launched in part by ocean legend Kelly Slater. Pieces like the Outerknown Blanket Shirt bring the brand far beyond the beach and into your regular fall style rotation, easily.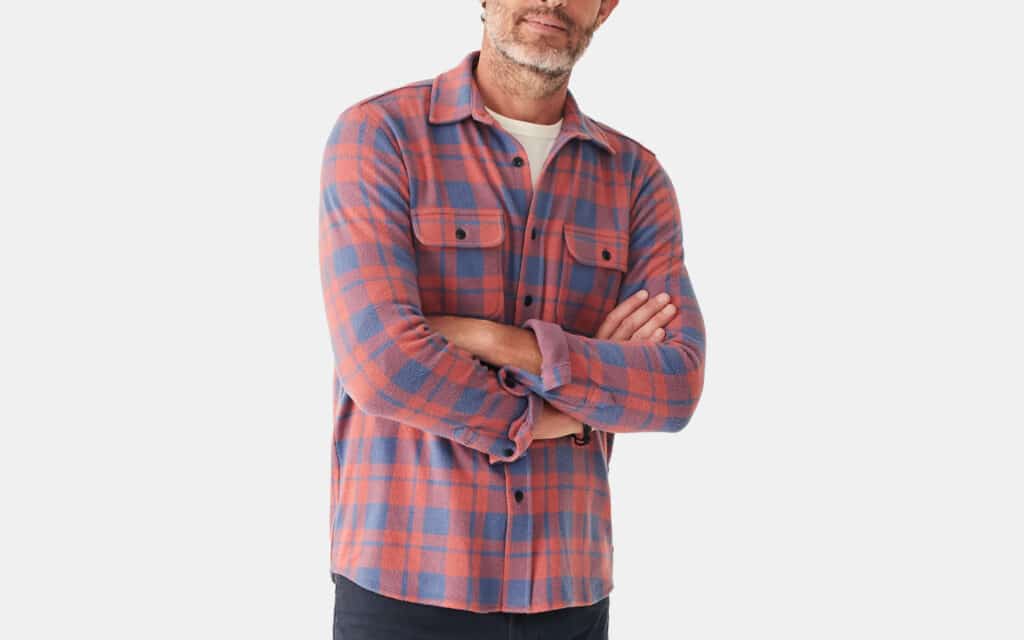 Faherty Legend Sweater Shirt
Comfort-focused flannels tend to pile on the thickness, which is cozy, but often as restricting as the snow outfit Ralphie's brother wore in A Christmas Story. The Faherty Legend Sweater Shirt is outrageously cushy thanks to the lightweight and luxurious viscose in its weave, but also provides all of the mobility, thanks to its stretchy elastane and clever fit. The body and sleeves are relaxed at the top, which gives you all the room you need to move, but then taper slightly, ensuring the flexible material moves with you as well. Plus, this sweater shirt comes in some vivid color combos, accommodating a wide range of personal styles.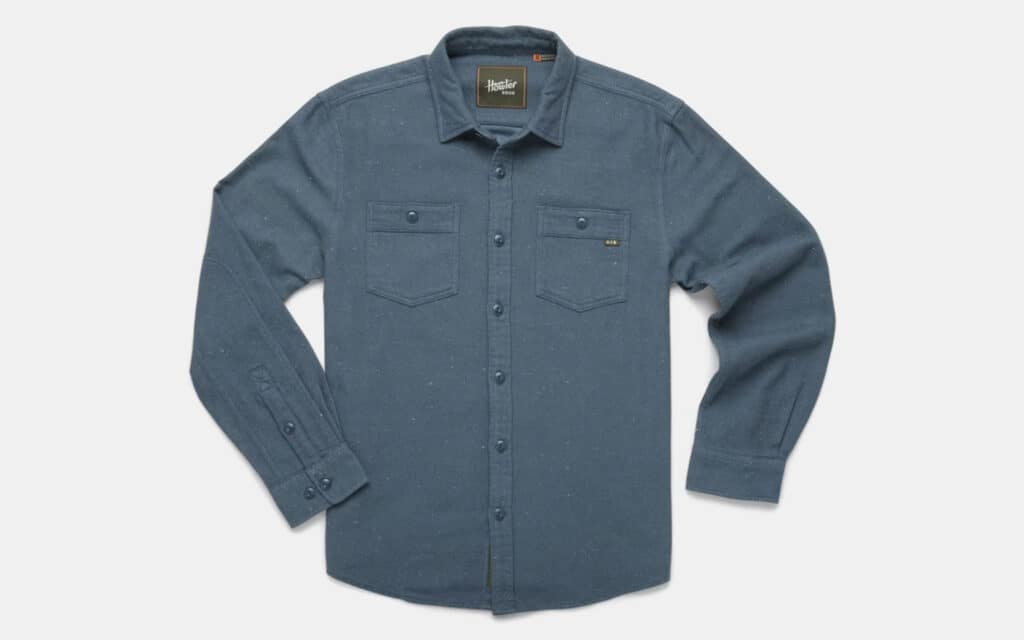 Howler Brothers Rodanthe Flannel Shirt
The Howler Brothers Rodanthe Flannel Shirt: Is it a jacket or is it a shirt? Regardless, this heavyweight flannel can be used as either, perfect for those brisk days when you can see your breath. Its fit is laid-back but architectural enough so it isn't sloppy, the polyester-cotton-combo keeps warmth in and cold out, and it just feels like a hug from your favorite blanket. Still, this skate and surf style top is built for mileage, with topnotch stitching throughout, reinforced elbow pads, and even enamel coated buttons.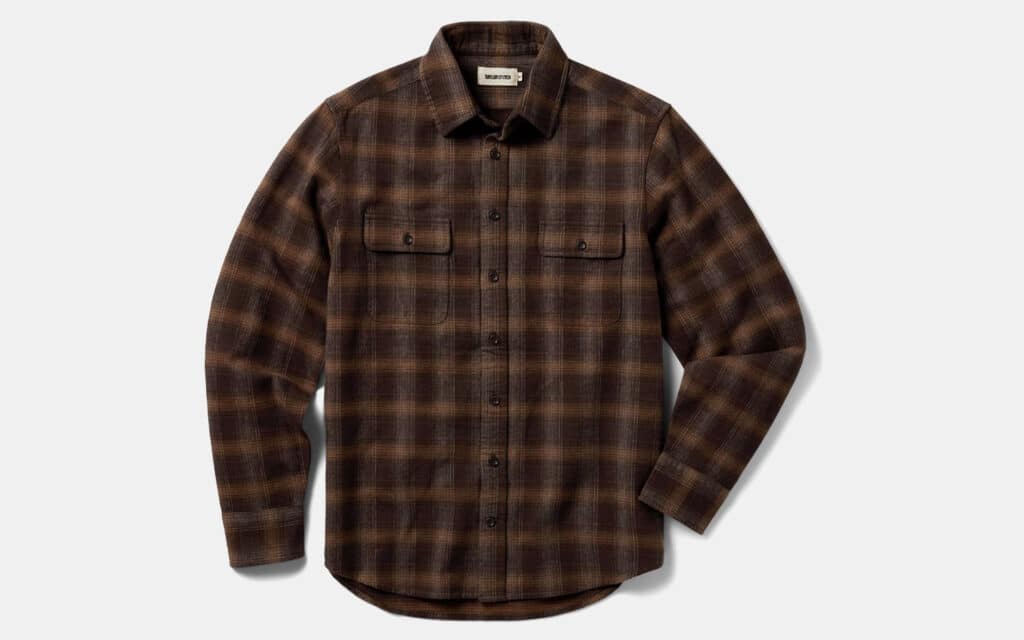 Taylor Stitch Yosemite Shirt
Taylor Stitch's Yosemite Shirt is designed and built with adventurers in mind—though we all can benefit from its construction, which wears in long before it wears out. This effortlessly cool, California-collar-clad shirt is made from 100% cotton flannel chamois, a non-abrasive, brawny, and still exceptionally soft material. It gets even softer the more it gets beat up with wear in the outdoors, and the more you roll it up into your rucksack. This uniquely delicate durability is further reinforced with lock-stitched buttons, and its non-shrinkable yarn structure. Style-wise, this fully organic material gives the plaid panels a fleecy structure and classic look that's simultaneously rugged and sleek.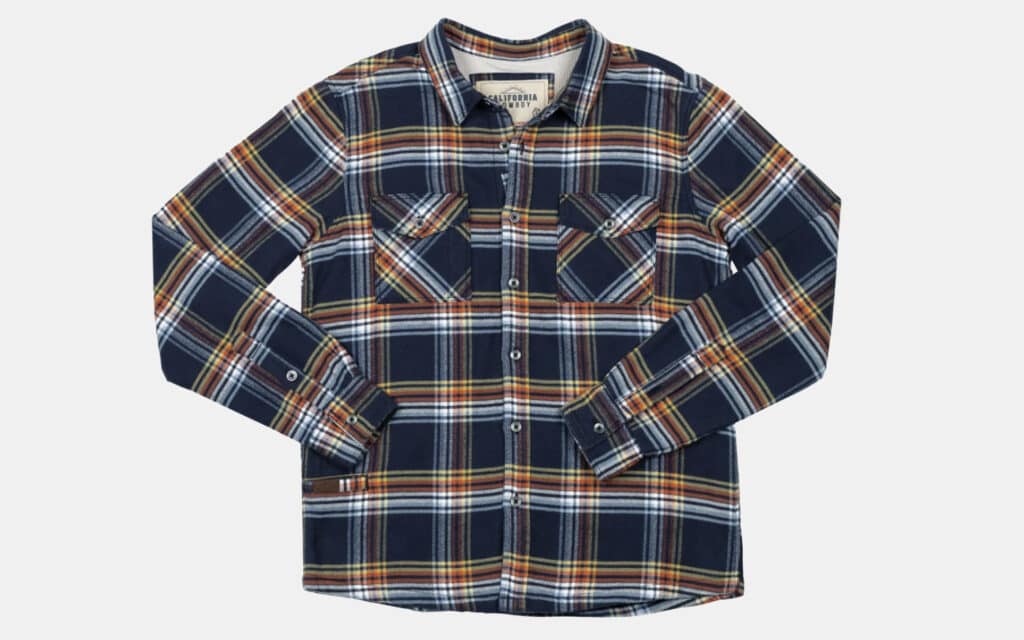 California Cowboy High Sierra Shirt
A modern twist on the quintessential flannel, California Cowboy makes some thrilling choices with the High Sierra Shirt, starting with a clever slim fit. This adds a touch of youthfulness without overdoing it since it's a moderate slim cut, far from skinny. Portuguese flannel, with which this shirt is made, is known for its soft, strong, and pill-resistant build thanks to its luxurious long-staple cotton.
Also, the colorways range from a distinct but neutral black with yellow accents to a spring mix of primary shades. If you're going to look this great, you have to be prepared to attract attention and do some socializing; all of the shirts come with a stack of conversation cards, plus a beer koozie and bottle opener.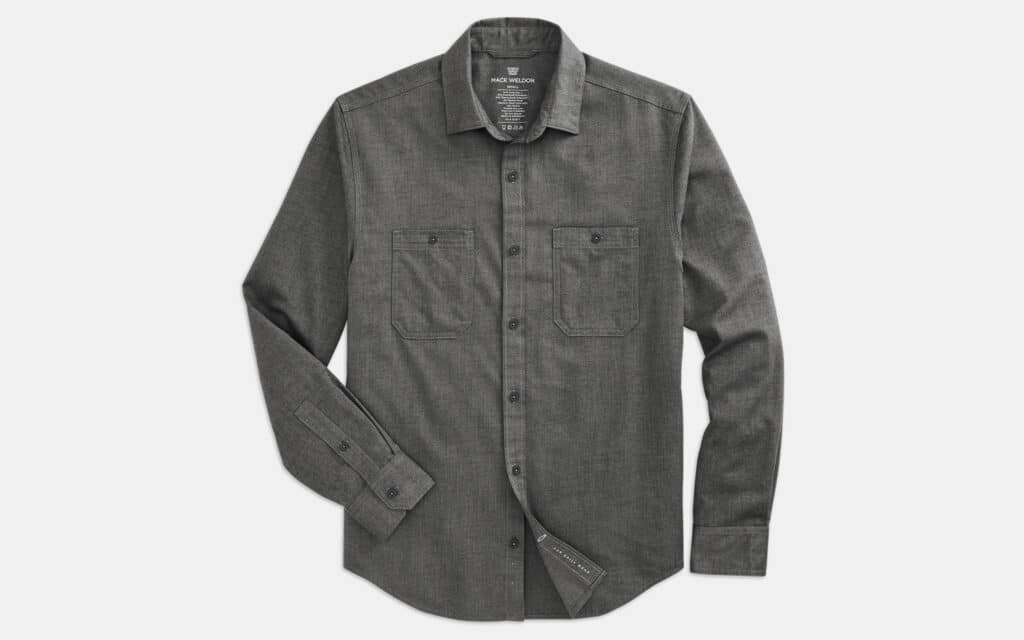 Mack Weldon WARMKNIT Flannel Shirt
With colorways and patterns like calmly-hued tattersalls and subtly heathered gray, the Mack Weldon WARMKNIT Flannel Shirt has the tiniest bit of formality to it that would partner harmoniously with chinos. The soft brush finish is almost velveteen. No worries though, as this clean-lined style doesn't compromise the comfort factor, especially with the relaxed drape and ThermoLite insulation. ThermoLite offers real insulation, minus the bulk, and releases moisture too. After all, you want your flannel to keep you warm, not make you sweat.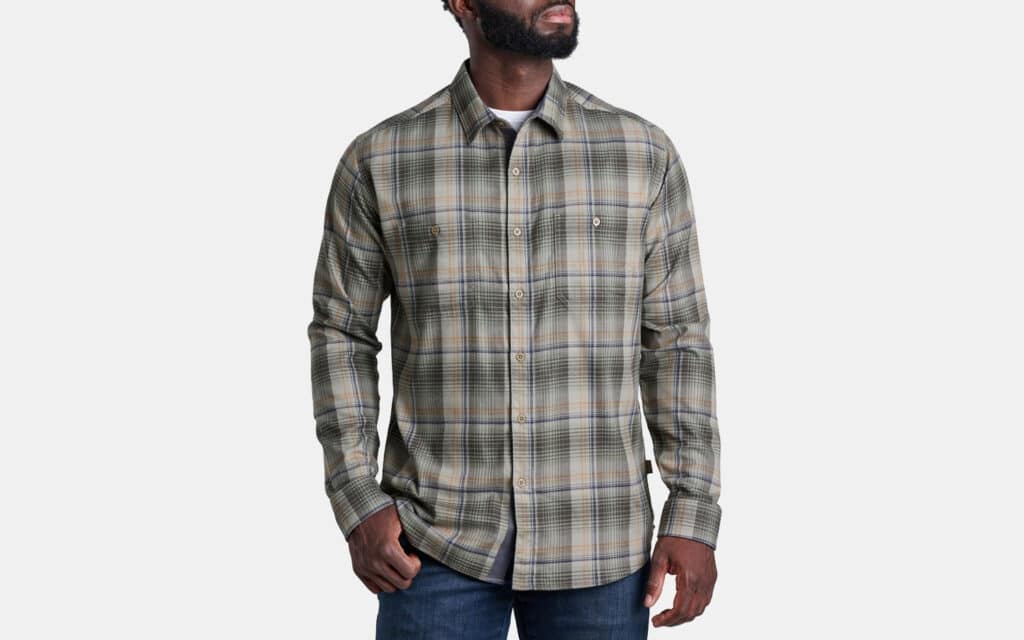 Kuhl Fugitive Flannel
A skosh smoother than your typically super-napped flannel, the Kuhl Fugitive also brings all-day comfort and some premium accents. The metal buttons, for example, add subtle shine under certain lights but also provide durability and ease-of-use. Meanwhile, the midweight plaid body is woven in with a magical ingredient called Tencel, which makes the shirt breathable, stretchy, and highly absorbent. It's the same material used in sheets made for hot sleepers, but works just as well when you're awake.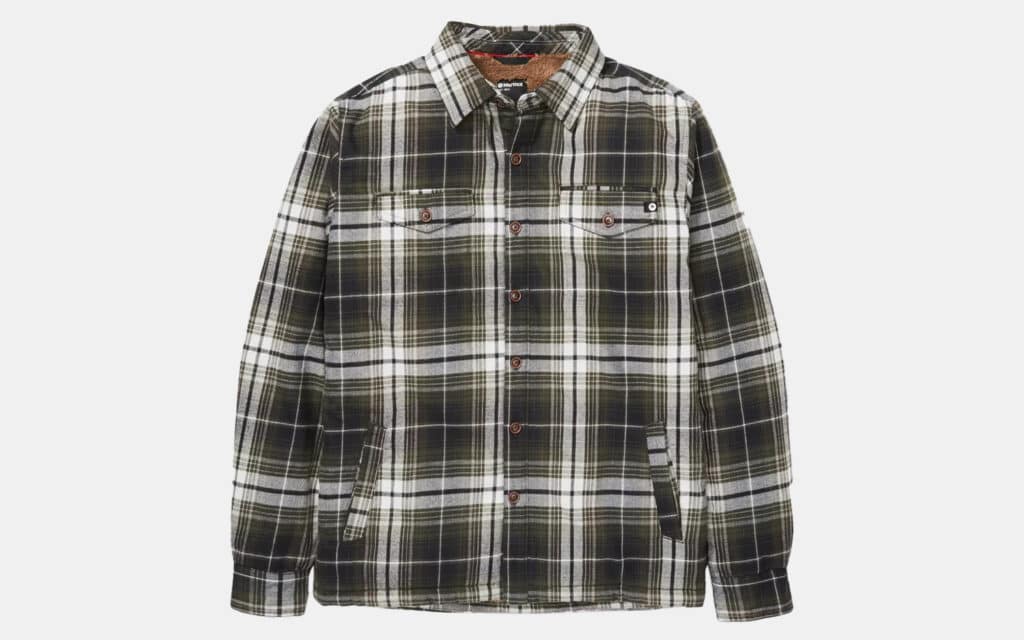 Marmot Men's Ridgefield Heavyweight Flannel Long-Sleeve Shirt
If you're looking for a heavyweight flannel that'll make you stand a little taller, the Ridgefield Long-Sleeve Flannel Shirt from Marmot has the firm architecture to do just that. The strong shoulders and durable polyester construction wears like a structured jacket, but the sherpa lining and extra brushing also makes it as comfortable as a traditional flannel. It also boasts a sophisticated moisture management system, handwarmer pockets (in addition to the convenient chest pockets), and thermal insulation.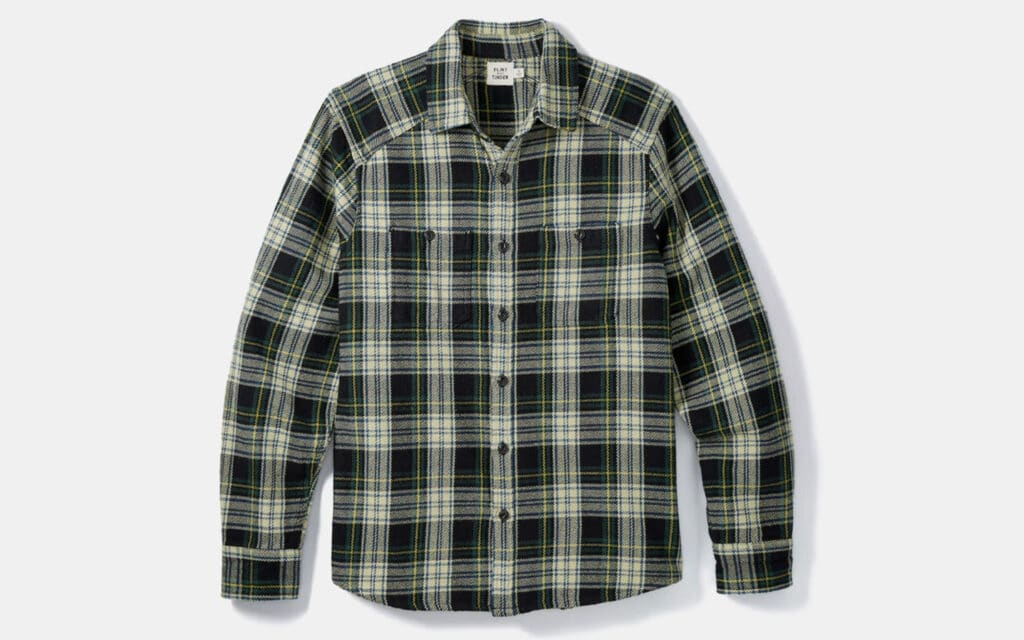 Flint and Tinder Crossback Workshirt
For their Crossback Workshirt, Flint and Tinder employed a custom-developed fabric, unique to the brand, made of 100% loose-weave cotton. The result is a distinguished composition—workwear meets classy Scottish plaid, with an intriguing, almost-pixelated look. The purposefully large fisheye buttons, made of extra-strong organic urea, brandish the detail that went into designing this simple but unique flannel. The twill build is as soft and heavy as your favorite winter comforter. Finally, that crossback construction brilliantly fortifies the fabric that drapes over your shoulders, which makes sure you have a comfortable full range of motion.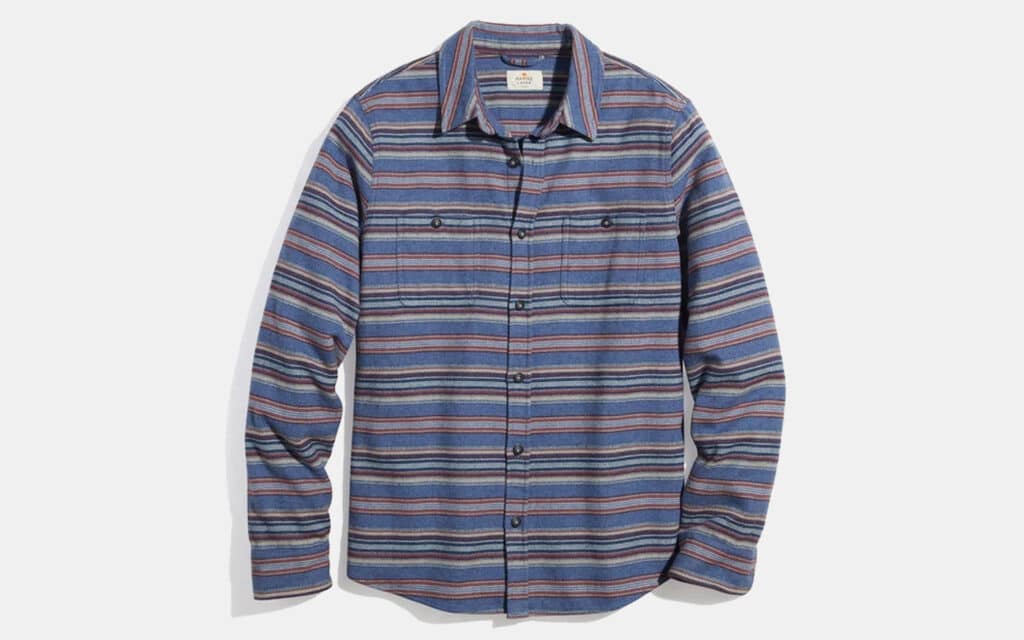 Marine Layer Heavy Flannel Overshirt in Blue Baja Stripe
The Baja Blue Stripe on Marine Layer's Heavy Flannel Overshirt showcases expressive color, with a cool background and warm accents and complements. It gives the same vibes as desert and summer nights, or sunny winter days—so basically all of the times you'll want to wear it. There's a tad more room in this shirt compared to classic fits, making it breathable yet cozy. It also makes it perfect as an outer layer whether you button it up, keep it open, or anything in between. The slightly oversized look is tempered with a well-built collar and neat, clean button-stays.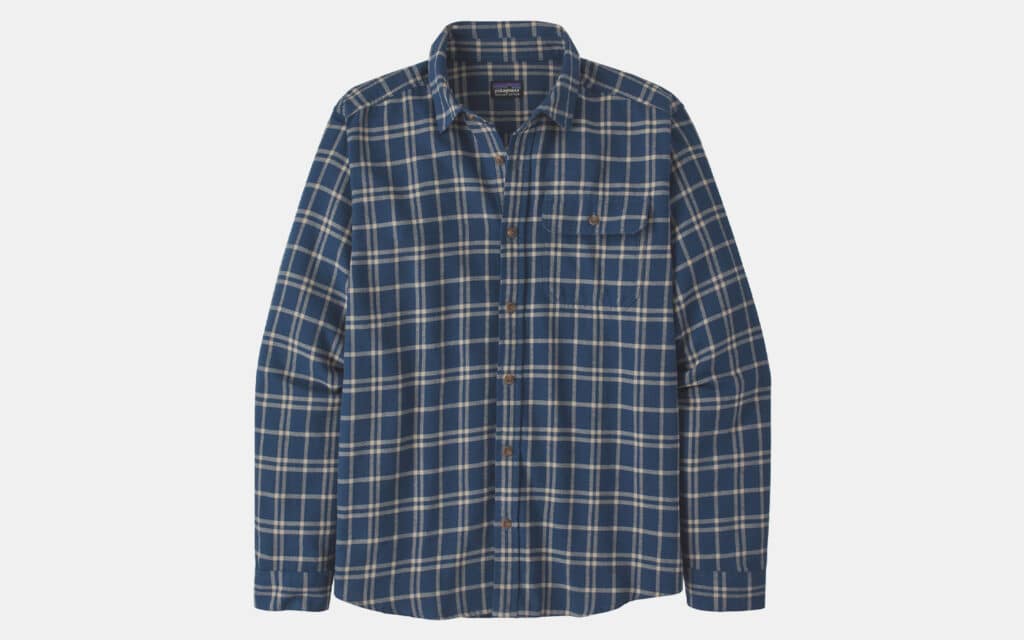 Patagonia Fjord Flannel Shirt
The Patagonia Fjord Flannel Shirt is a menswear essential, encapsulating the easy style of the outdoorsy, every cool dad ever, and the tool shed set. While the aesthetic is stylishly neutral, even if you're going for one of their brighter colorways (like the lively orange), the build is sophisticated. This shirt is made of 100% in-conversion cotton. This combines lightness in weight with long-lasting endurance, while also being eco-forward. The process of making it improves soil and reduces toxic output.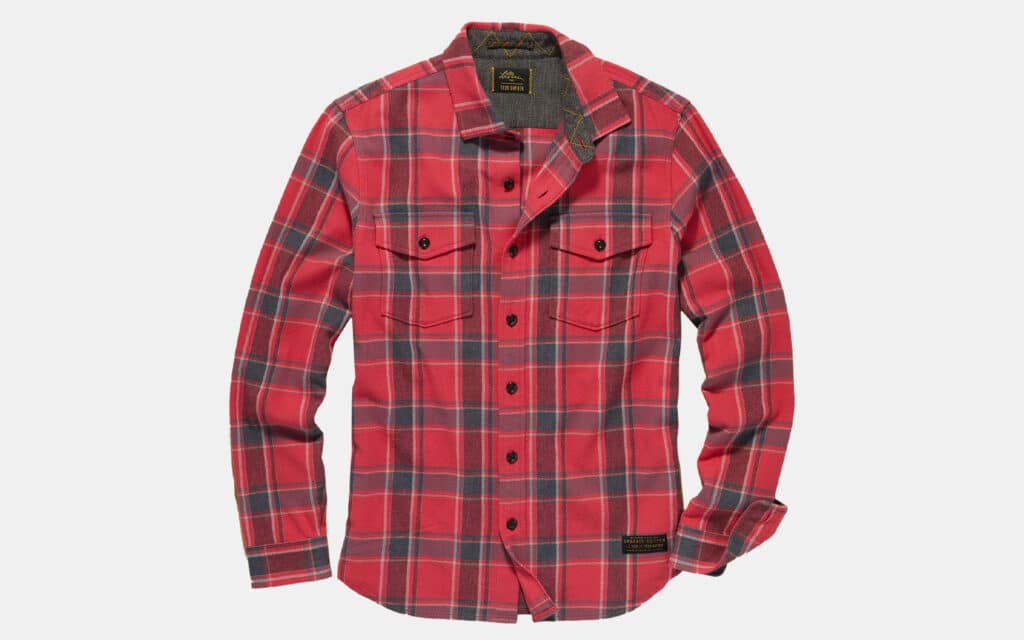 L.L.Bean x Todd Snyder Organic Stretch Flannel Shirt
What do you get when New England adventure brand L.L. Bean teams up with Todd Snyder, the man that taught American men how to dress? An Organic Stretch Flannel Shirt that makes you feel classy when you wear it in the great Maine outdoors, and makes you look capable when you sport it on the streets of Manhattan, Charleston, and Boston's Beacon Hill. It's flatteringly slim in the chest and waist, and adorned with straightforwardly thick plaid stripes that go with casual or smart casual outfits. The extra spandex and twill elbow patches ensure the shirt is flexible and strong.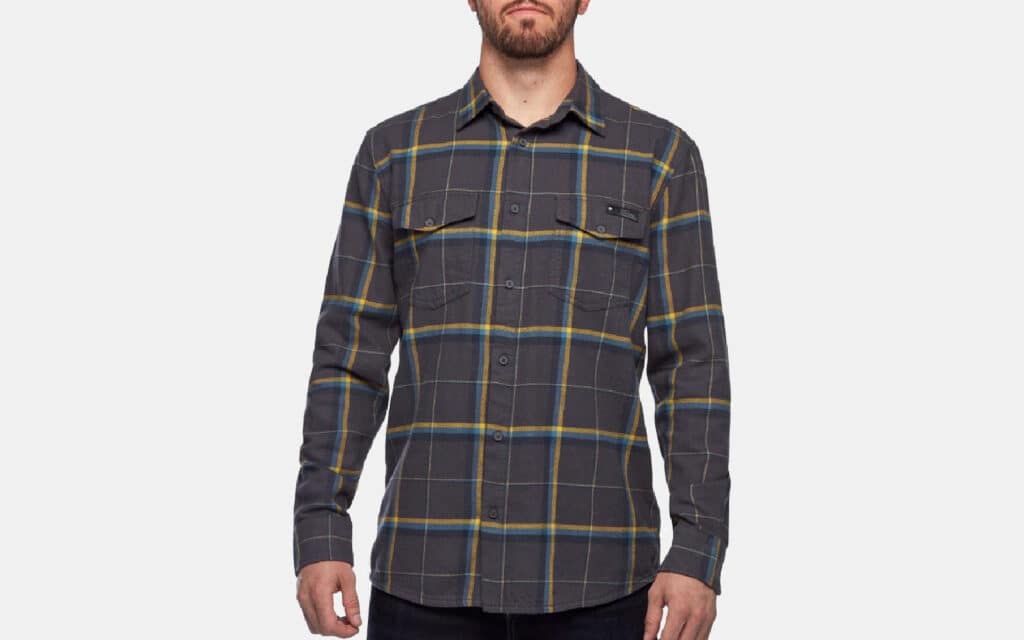 Black Diamond Valley Flannel Shirt – Men's
The Black Diamond Valley Flannel Shirt is made from organic cotton and hemp, which makes it a superb insulator and moisture manager. On top of that, it features an overall classic style, made a touch more exciting with its creative plaid design, decked with simple but fuzzily-rendered three-tier linework throughout. It fully matches the shirt's textured build. It's a good-looking and practical shirt that can take you from the woods to the airport to casual Friday.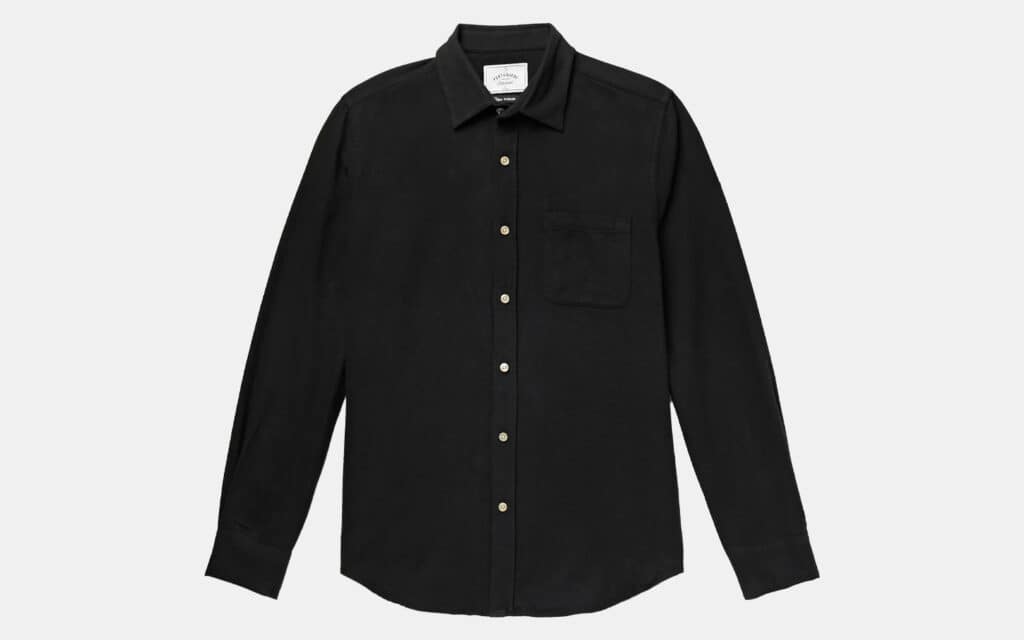 Portuguese Flannel Teca Cotton-Flannel Shirt
A flannel for the fashion-forward, the street style crowd, and men who just like refined lines, this Portuguese Flannel Teca Cotton-Flannel Shirt is as classy as it gets. Not only does it boast an elegant but unstuffy aesthetic that could actually be paired with dressier pants as well as jeans, but it's a true piece of craftsmanship. It's built by artisans in Portugal using their local long-staple cotton to be super soft but pill-resistant, and most importantly, long-lasting.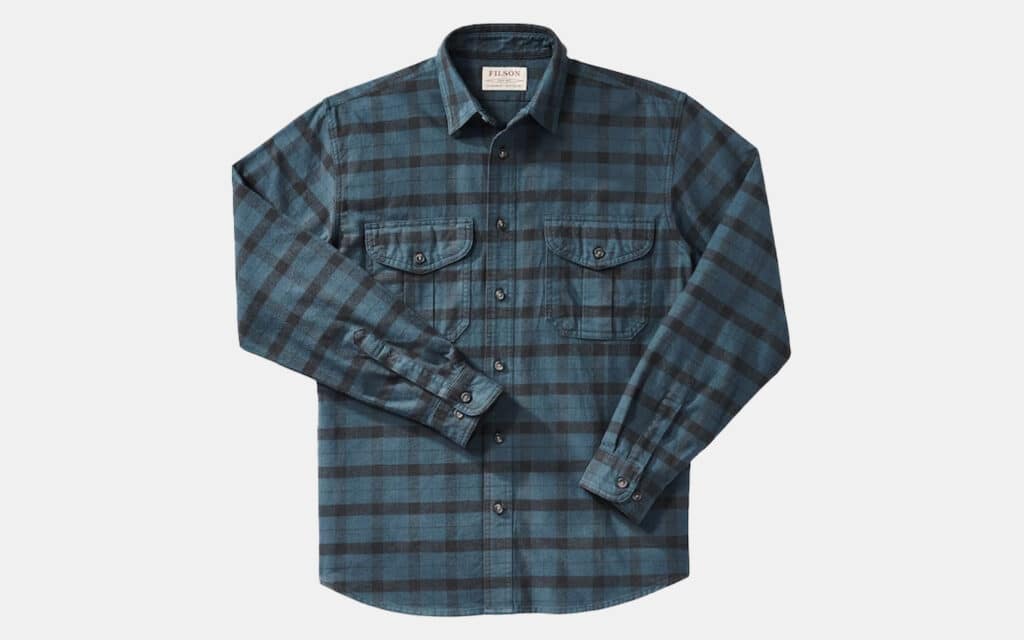 Filson Alaskan Guide Shirt
The Filson Alaskan Guide Shirt has that tradesmen-cool aesthetic that never goes out of style, and that all guys look great in. It's actually a go-to flannel for genuine sportsmen, ranchers, and other OG flannel wearers. The twill is tightly-woven from brushed cotton, which ensures effective warmth and durability. Meanwhile, the pleated shoulders make it easy for you to make big movements, in case you need to lasso a horse. Moreover, the relaxed fit mercifully suits and flatters a wide range of body types.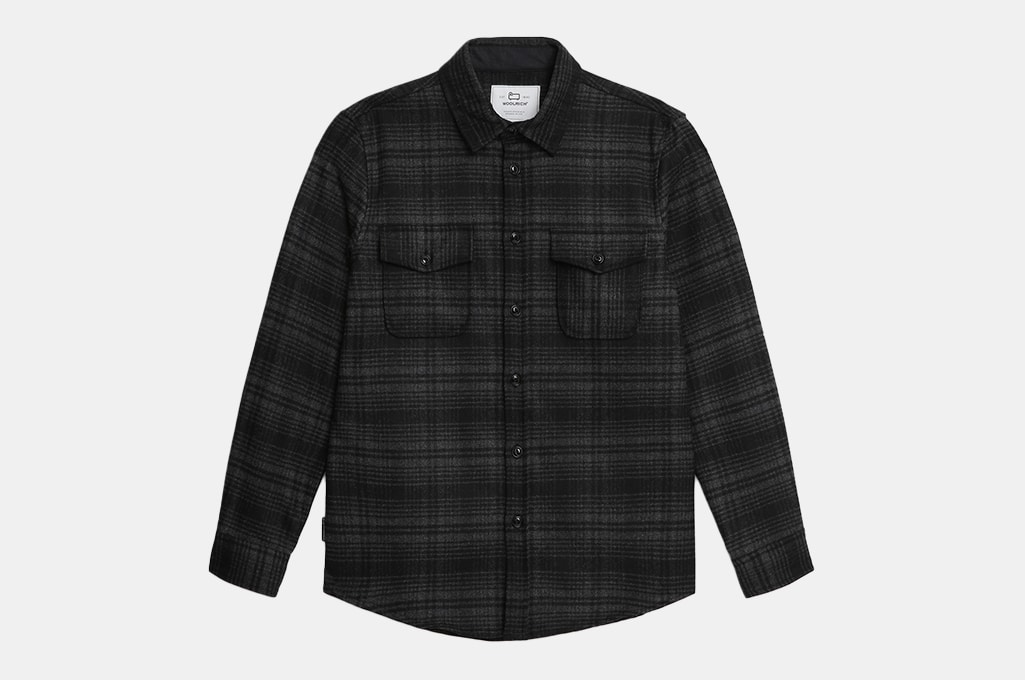 Woolrich Alaskan Melton Shirt In Recycled Italian Wool
Woolrich delivers a truly stylish, understated work of art in the Alaskan Melton Shirt In Recycled Italian Wool. As the name suggests, the flannel shirt is made using recycled Italian yarn, which produces a thick Melton fabric that is durable enough to stand up to any worksite and super cozy in the chill. The clean lines and dark checkered pattern is eye-catching without being overt, and with the enhancements of the snap button pockets and cuffs and classic sharp-pointed collar, you'll be leveling up your style while wearing this shirt.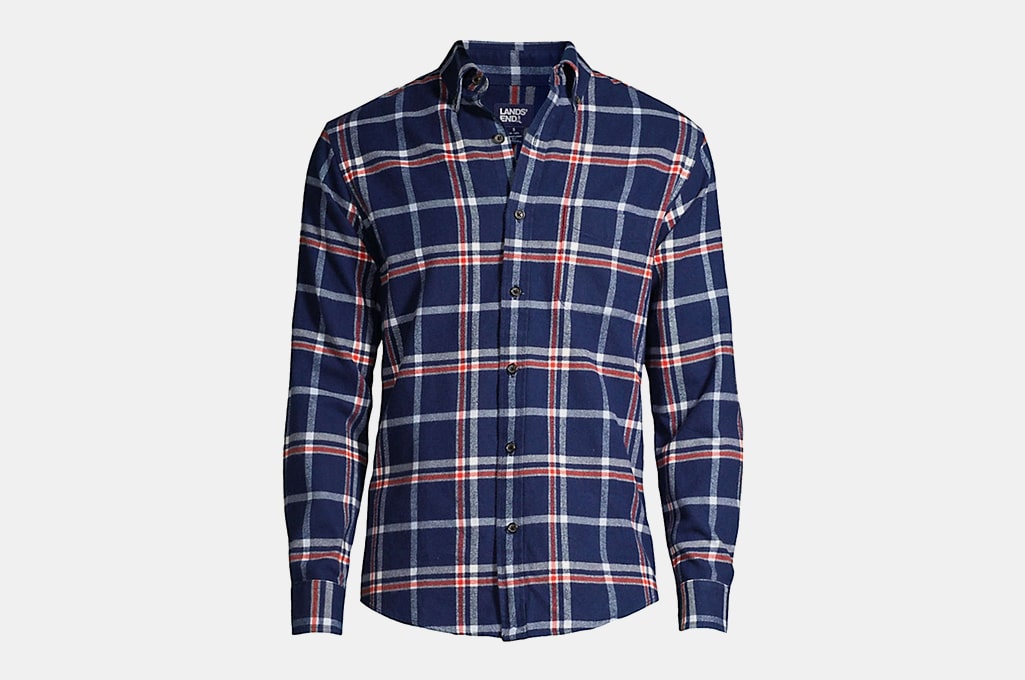 Land's End Men's Slim Fit Pattern Flagship Flannel Shirt
Stand out from the crowd and be bold with this brightly-colored flannel shirt. The Land's End Men's Slim Fit Pattern Flagship Flannel Shirt steps up the color scheme to go for more "edge," combining deep blues with trendy whites and just a hint of orange to really make the shirt pop. Pair it with your favorite brown work pants or jeans, and you'll be the most stylish man in the cabin or lodge. It's a truly comfortable shirt, thanks to the soft, carefully brushed flannel fabric. Best of all, the shirt comes in three fit options: Traditional for a relaxed fit, Tailored for a closer fit, and Slim for when you really want to accentuate your musculature.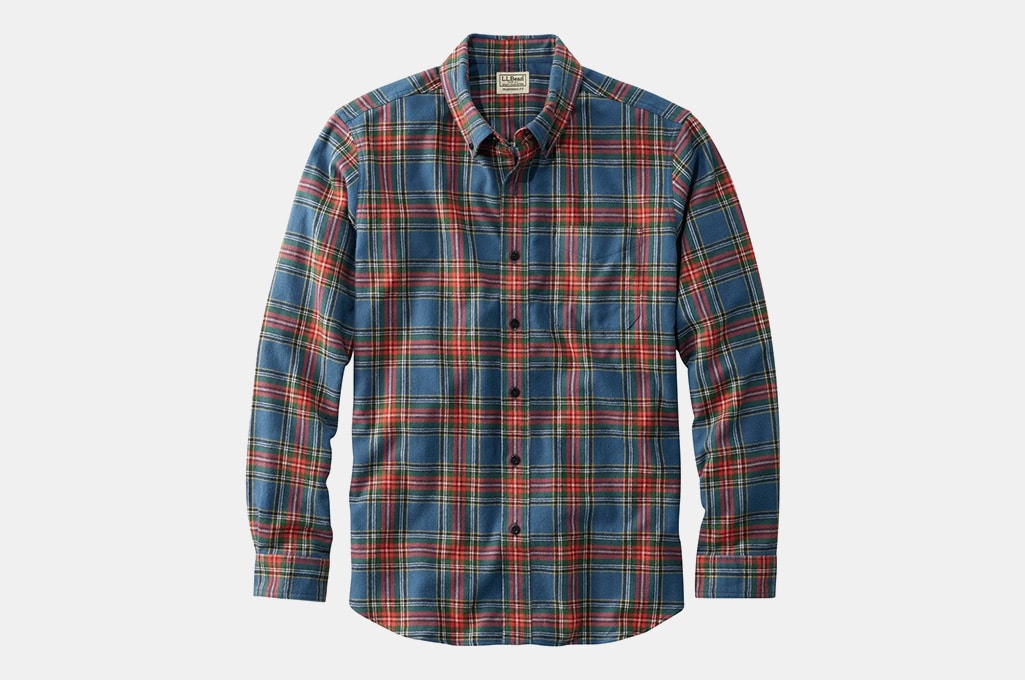 L.L. Bean Men's Scotch Plaid Flannel Shirt
Tap into your Scottish heritage and wear the tartan colors proudly with the L.L. Bean Men's Scotch Plaid Flannel Shirt. Made from the same fabric as Scottish tartans, this flannel shirt is silky smooth on your skin but still holds up to heavy sweating, hiking, or working. The flannel fabric is woven together with longer-staple cotton to enhance both durability and comfort. With its bold colors and patterns, it will immediately stand out from every other flannel shirt around you.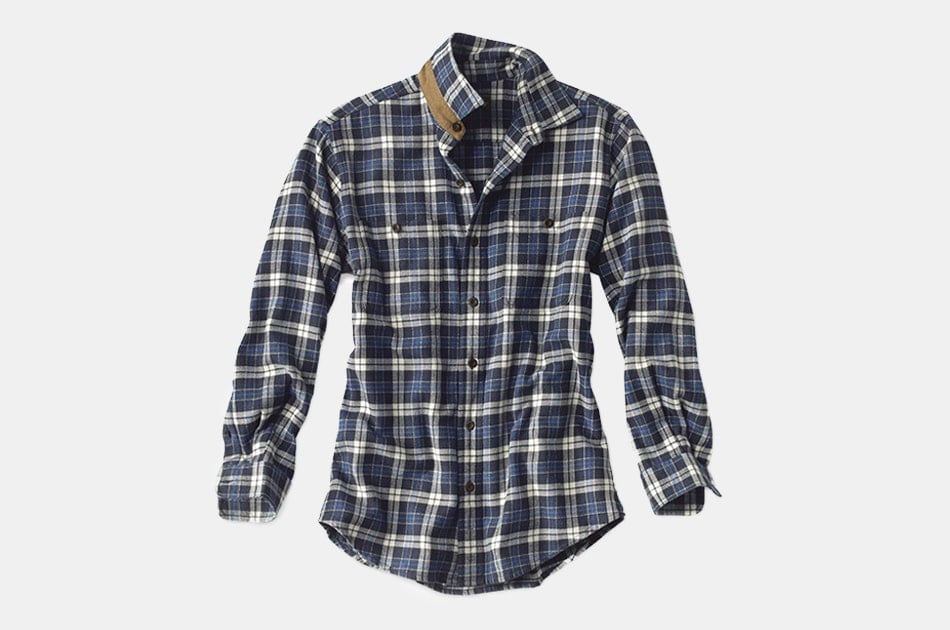 The Perfect Flannel Shirt
When we want uncompromising outdoor gear with strong heritage and extremely high quality, we look toward Orvis — and that's perhaps why we were so drawn to the Orvis Perfect Flannel Shirt (hey, we said flannel is the "perfect fall shirt," did we not?).The cotton flannel in question here is available in a stylish array of classic colors, all the better for mixing and matching with rugged chore pants or faded blue denim alike. And the double-brushed fabric treatment only makes this flannel shirt even more likely to be one of the best flannel shirts you'll own.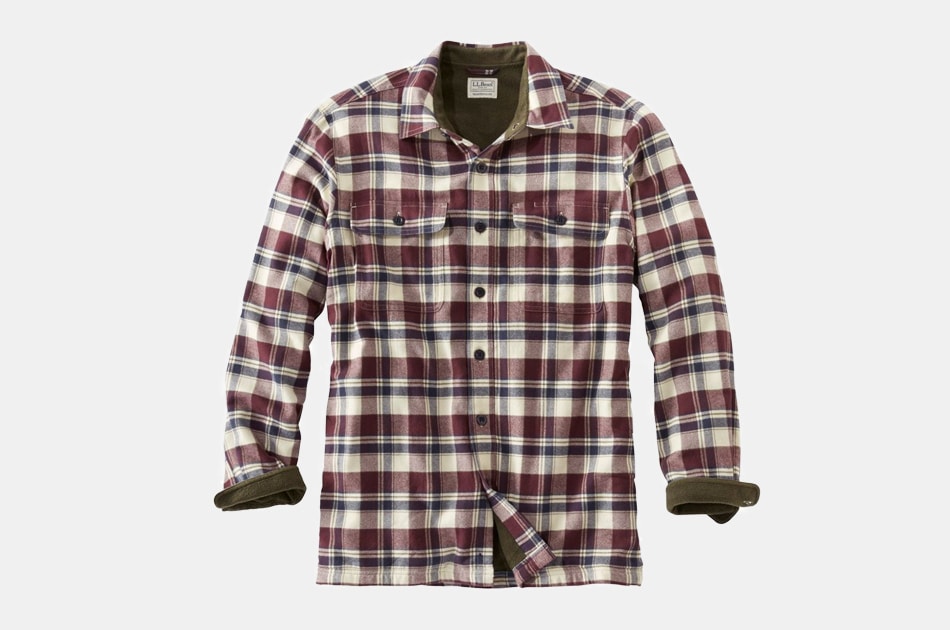 L.L. Bean Fleece-Lined Flannel Shirt
L.L. Bean is likely one of the first brands that pops to mind when you think of classic, New England-style pieces. That ethos starts with the brand's lauded "Duck Boots," and it carries just as much weight when it comes to warm, easily layered pieces like its Fleece-Lined Flannel Shirt. Made with garment-dyed and brushed flannel for extra comfort, this classic shirt is going to feel right at home this holiday season and into the cold winter, especially with a plethora of color options and a reliably affordable price point.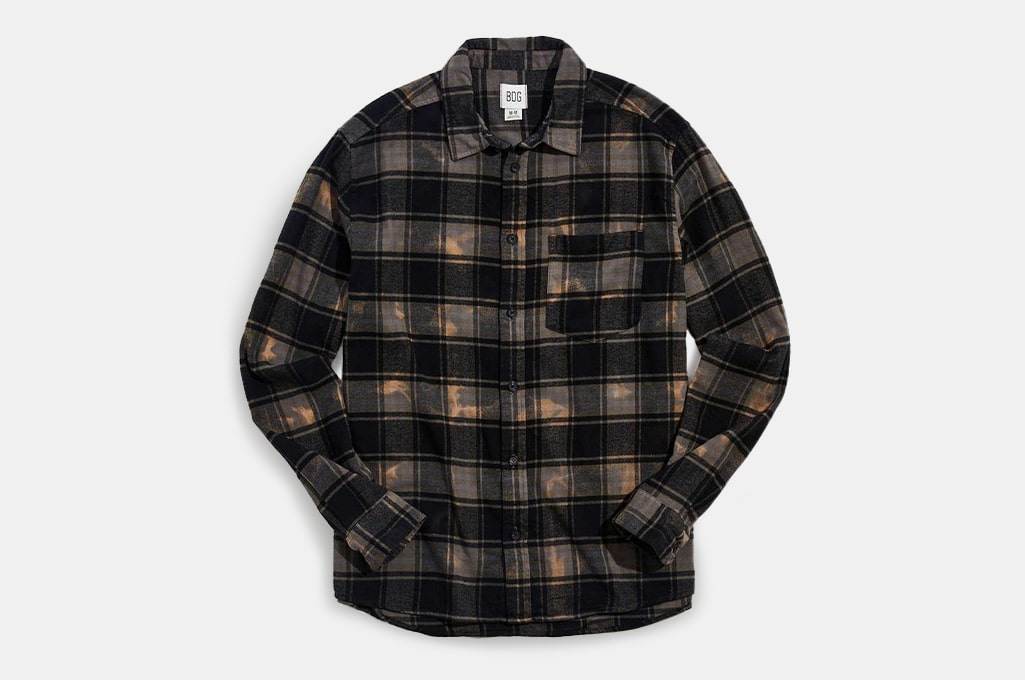 Urban Outfitters BDG Vintage Wash Flannel Shirt
Outfitters brings a throwback flair to the typical flannel style, with the BDG Vintage Wash Flannel Shirt offering a mix of classic flannel patterns with just a hint of vintage washing to freshen up the old-school look. The darker color scheme means the washed vibes stand out even more, and the shirt exudes style from the moment you slip it on. And oh, boy, is it one of the most comfortable flannel shirts you'll ever wear.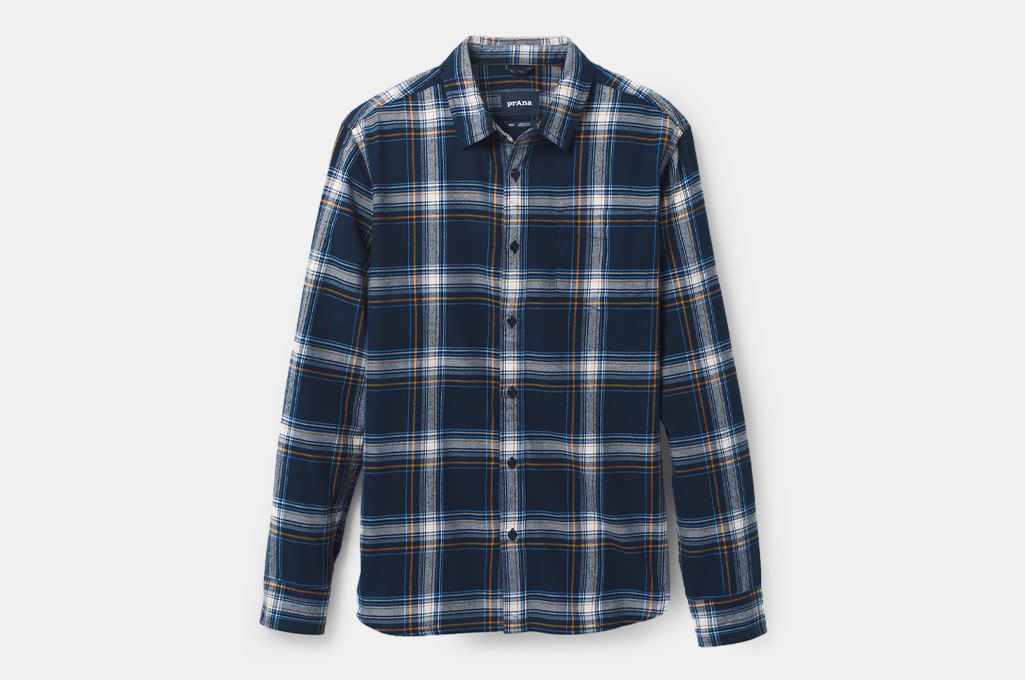 prAna Los Feliz Flannel Shirt
Never get weighed down or slowed down by a warm flannel shirt again. The prAna Los Feliz Flannel Shirt is designed for guys who want to move free and easy. Made from a super-light fabric that combines recycled polyester with organic cotton, it's a great way to up your style and comfort game at the same time. It keeps the iconic flannel style that you love, but is made using sustainable materials that just last longer and feel better. With the standard relaxed fit, you'll find it's the perfect shirt to stay warm outdoors when skateboarding, running, walking, or socializing.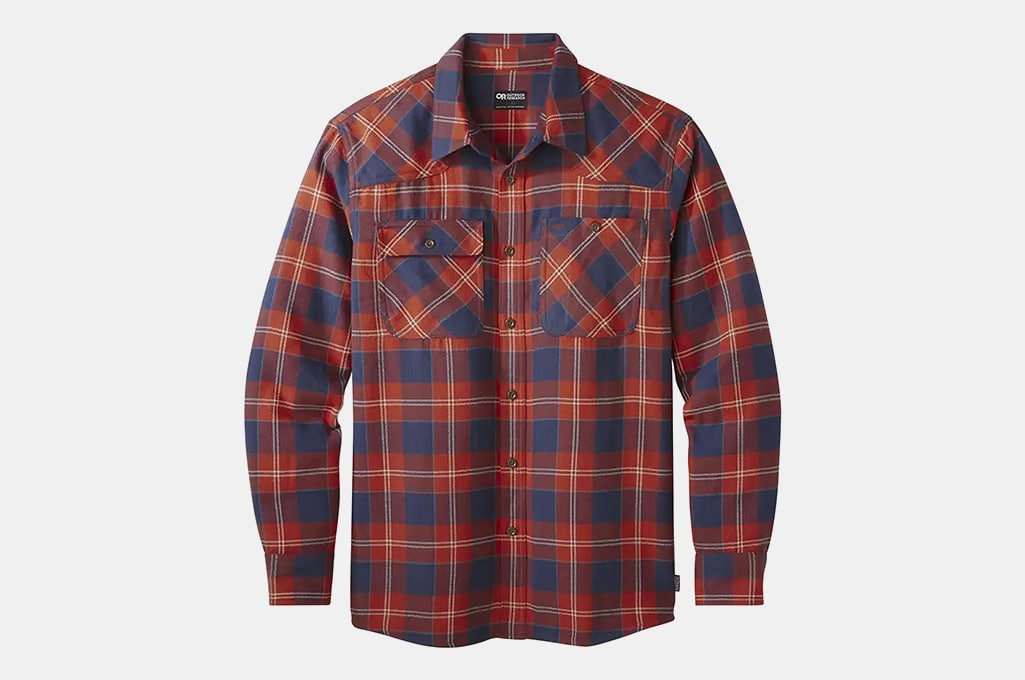 Outdoor Research Men's Feedback Flannel Shirt
You'll always be both warm and cool in this flannel shirt. Yes, it sounds oxymoronic, but once you wear the Outdoor Research Men's Feedback Flannel Shirt around for a few hours, you'll get it. The shirt is made using hollow-core yarn that provides top-notch insulation in the cold weather, but the fabric is also moisture-wicking and quick-drying to prevent sweat build-up from overheating you. It even offers UV protection to shield your skin from solar radiation while out on the ski slopes or job site. It's an indoors-outdoors shirt that you can always wear everywhere you go, anything you're doing.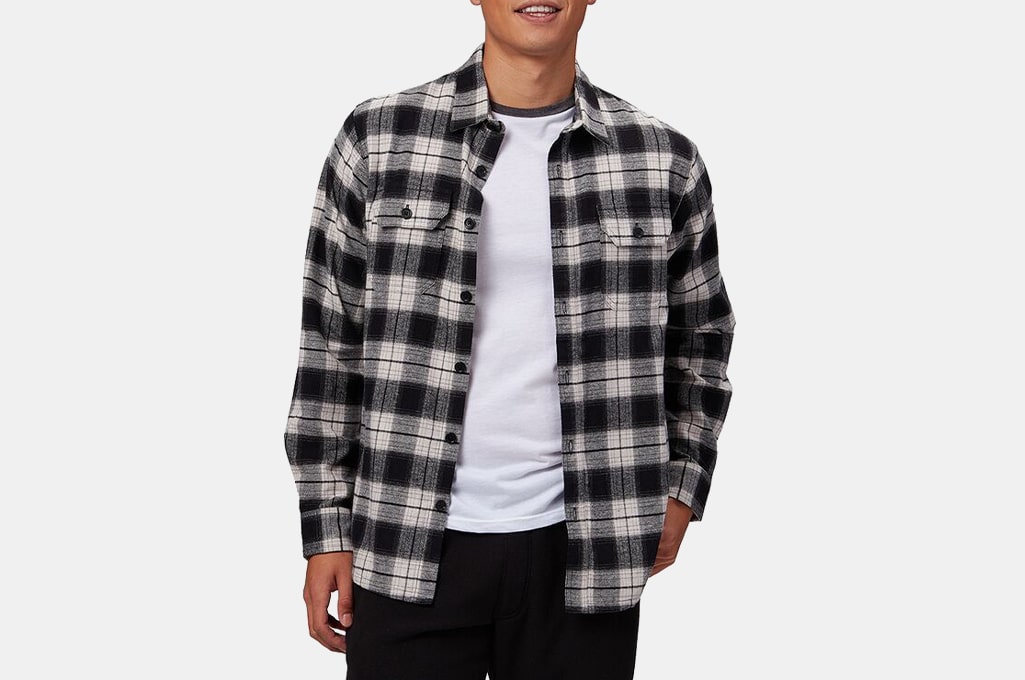 Stoic Button-Up Flannel Shirt – Men's
Guys who want to dress in subtle styles and colors will love the Stoic Button-Up Flannel Shirt. It's cut a classic style and colored a simple blend of black, grays, and off-whites, with the button-down design that makes it both warm and multi-functional. The dual chest pockets give you extra storage space, and you'll find the sleeves are roomy enough to be comfortable while hauling lumber, chopping wood, or building a deck. Made from super-soft cotton, it's an everyday shirt you're guaranteed to love.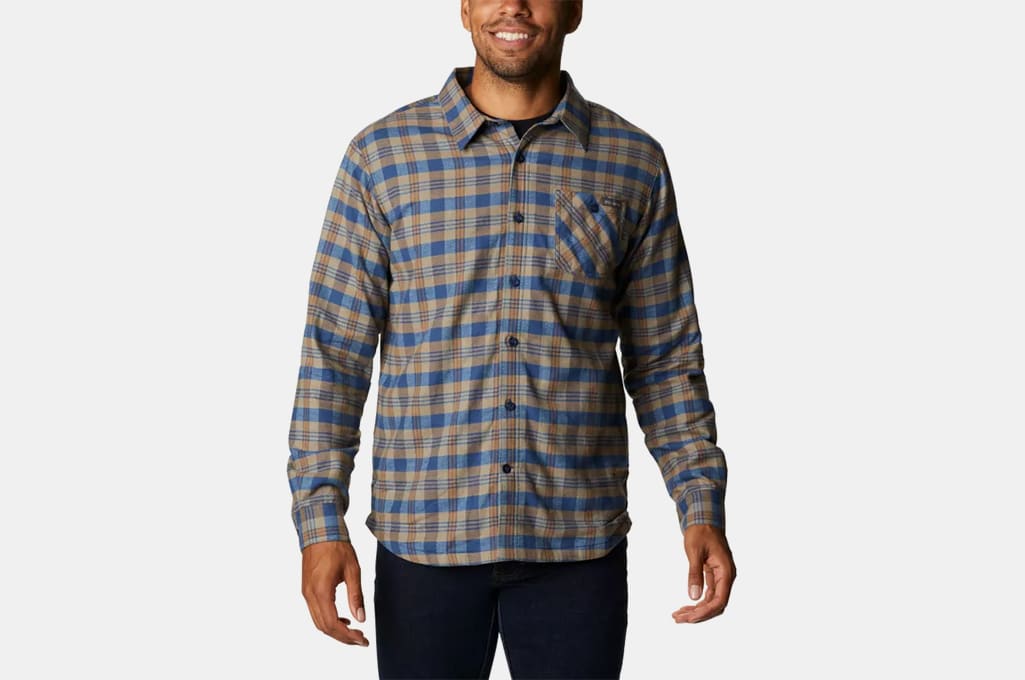 Columbia Men's Cornell Woods Fleece Lined Flannel Shirt
You know when Columbia makes a flannel shirt, that shirt is going to be super cozy and warm but also ideal for active outdoor adventure. The Cornell Woods Fleece Lined Flannel Shirt is made with a cotton-blend fabric that mixes in just a hint of elastane to give you freedom of mobility and excellent breathability. But that's not all. It also features a pure polyester microfleece inner lining that adds an extra layer of insulation between you and the cold. Wear this beneath your favorite Columbia winter jacket, and there's no way the winter chill can touch you.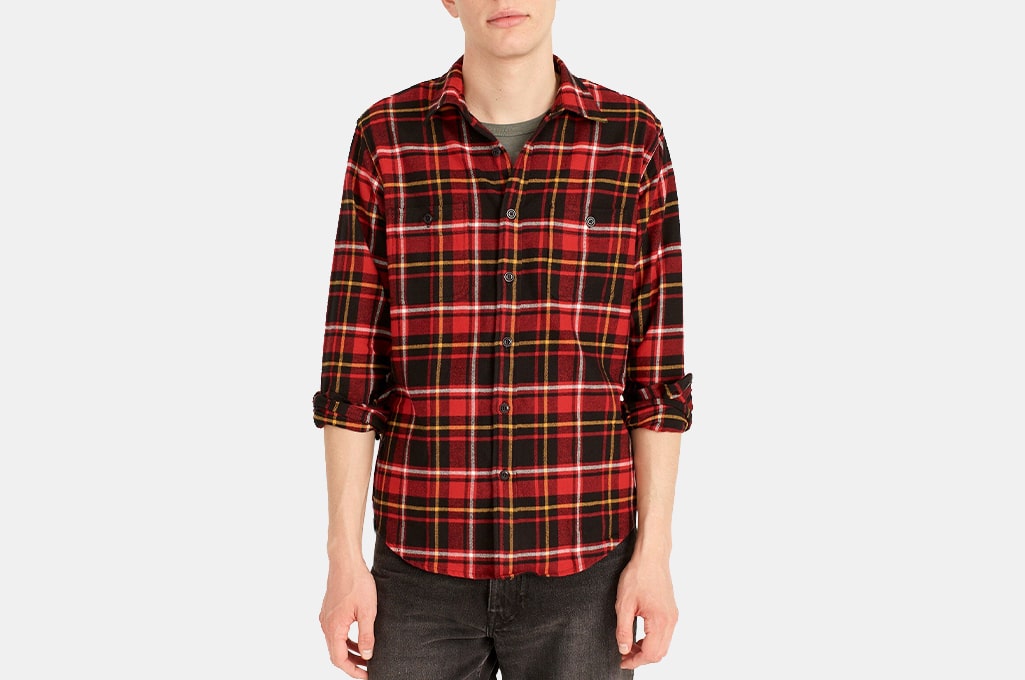 J.Crew Midweight Flannel Workshirt
When you want to dress in style on a budget, dress in J. Crew. This Midweight Flannel Workshirt retails at a price point you'll love, but brings just the right amount of fashion to your wardrobe, giving your winter wardrobe a classy update. The cotton flannel chosen strikes just the right balance between warmth and versatility, giving you a shirt you can wear around town, on the job site, or out on a hike. It's a shirt destined for work and play in equal measure.
Disclosure: Clicking on these links and making a purchase may earn us a small referral fee, at no extra cost to you. Learn more here.
freestar.config.enabled_slots.push({ placementName: "gearmoose_leaderboard_btf", slotId: "gearmoose_leaderboard_btf" });