The 20 Best Men's Flannel Shirts
While there are certain shirts that can be worn year-round, there's no shirt that exemplifies rugged fall and winter style quite like the perfect flannel shirt. The best men's flannel shirts harken back to the hearty, outdoor-oriented nature of this tough, yet comfortable fabric. And yet, brands are finding newer and better ways to update them for today's modern guy.
Whether you find yourself squarely in the outdoors set or are more inclined to stroll to Sunday brunch, there's definitely a place — or several — in your wardrobe for the flannel shirt. And you've got plenty of brands and options to pick from, as heritage brands are making flannels right alongside more familiar menswear labels. The durability and versatility of a flannel shirt is such that you can layer it over a henley or thermal shirt, you can style it atop — or beneath — a slim crewneck sweater, and you can certainly wear it on its own. The rest of the time, you should wear it exactly how you please — the best men's flannel shirts can handle anything you throw at 'em.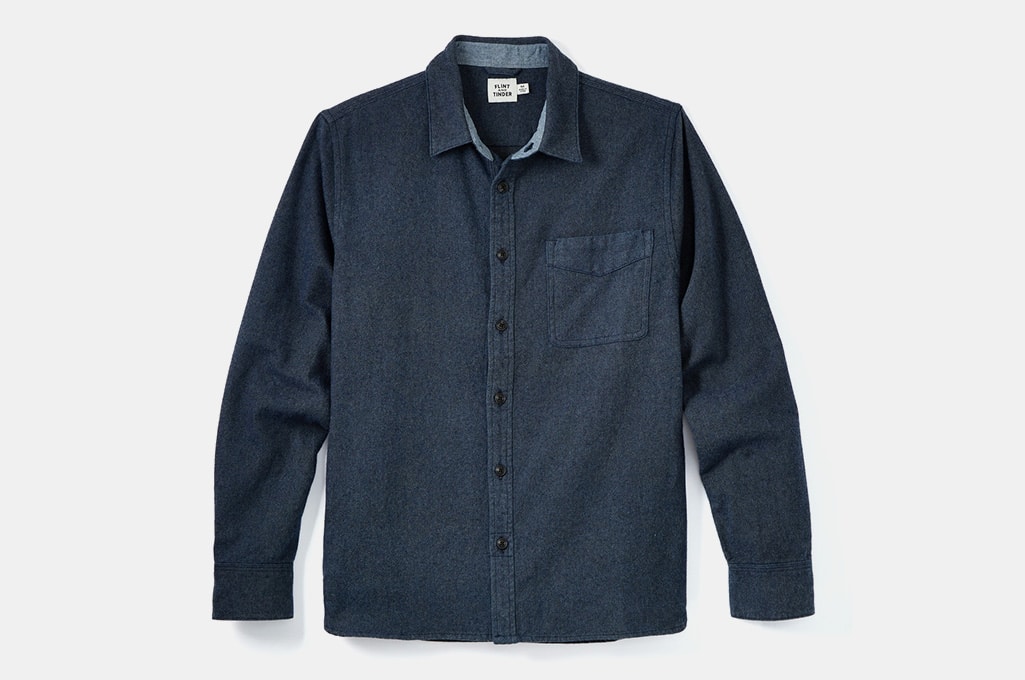 Flint and Tinder Jackson Flannel Shirt
For the ideal cold-weather flannel shirt, look no further than the Flint and Tinder Jackson Flannel. This mid-weight shirt feels silky soft on your skin but offers amazing warmth on even the coldest day. Weighing in at just six ounces, you'll find the fabric is thick enough to serve as a solid defense against the chill but won't constrict you or slow you down. The double brushed cotton flannel and jumbo twill makes this the perfect everyday flannel shirt, great for hiking, lounging, camping, or enjoying that cozy cabin life. Pairs best with a well-aged whiskey.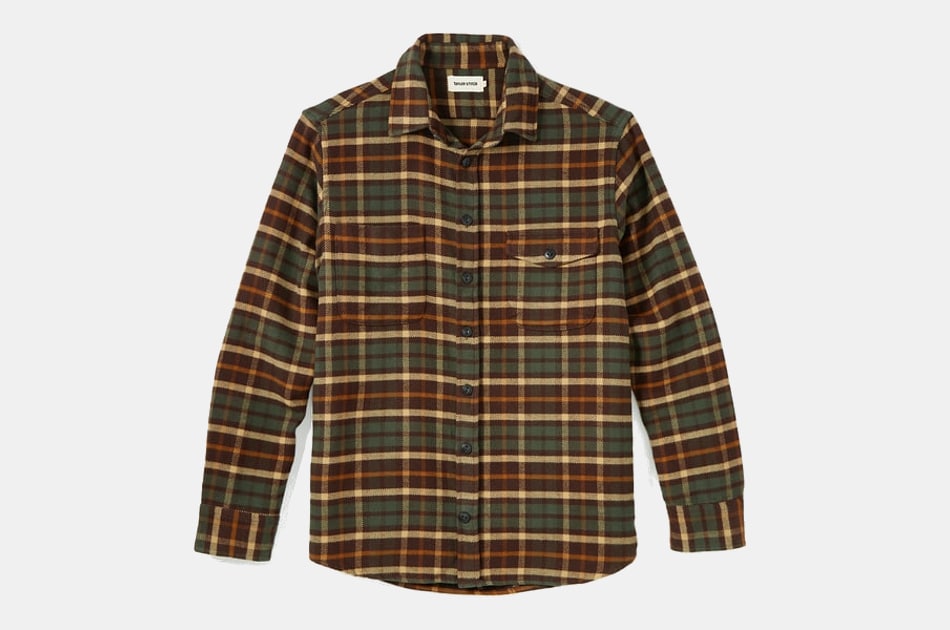 Taylor Stitch Crater Shirt
It's clear to us — and hopefully, to you — that Taylor Stitch can make a heck of a flannel shirt. The Crater Shirt is another much-loved style that would work handsomely with dark indigo denim and brown leather moc toe boots — it's got "outdoor weekend adventure" written all over it, to say the very least. Available in a handsome and essential Espresso colorway exclusive to Huckberry, it's fitting that the Crater Shirt would work exceptionally well with rugged chore pants or tan chinos in equal measure — both style staples at which Taylor Stitch excels, naturally. What's stopping you from picking up the Crater Shirt and wearing the heck out of it this fall? Only you.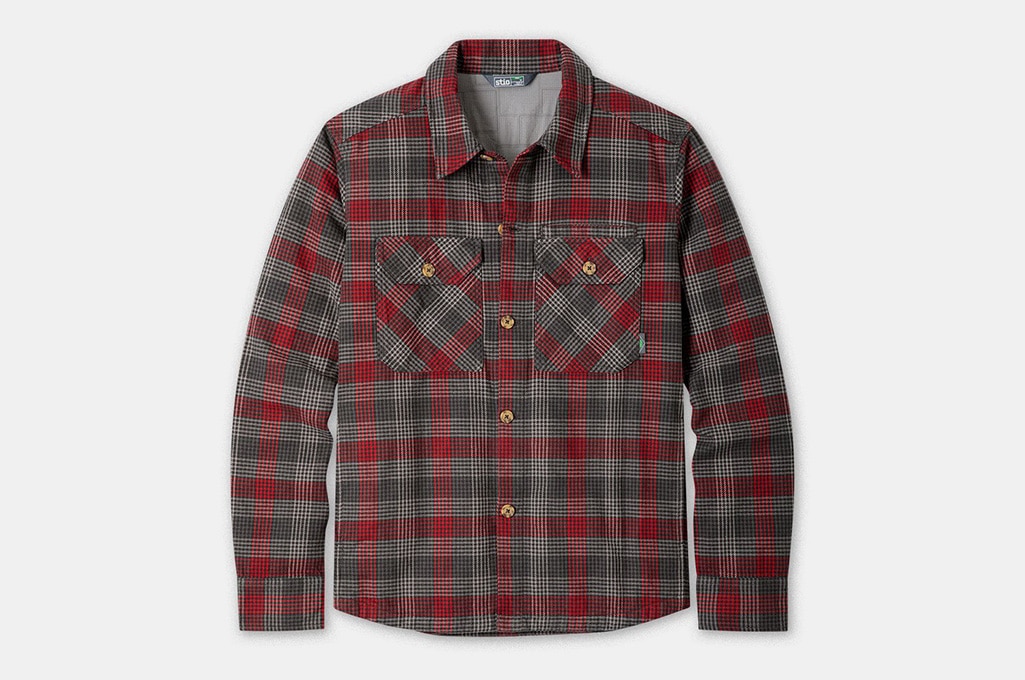 Stio Men's Hutkeeper Flannel Shirt
Let out your inner backwoodsman with this bad boy. Made from 300-gram organic cotton flannel, the shirt is as burly and beefy as you want from a proper work shirt, and durable to boot. The adjustable cuffs are designed for easy rolling, so you can get those sleeves rolled up and ready for hard work. With three built-in pockets—including two on the chest and one welt pocket on the left side—it's got storage space for all your important items. Thanks to the double-brushed flannel, it's a shirt as soft and stylish as it is warm.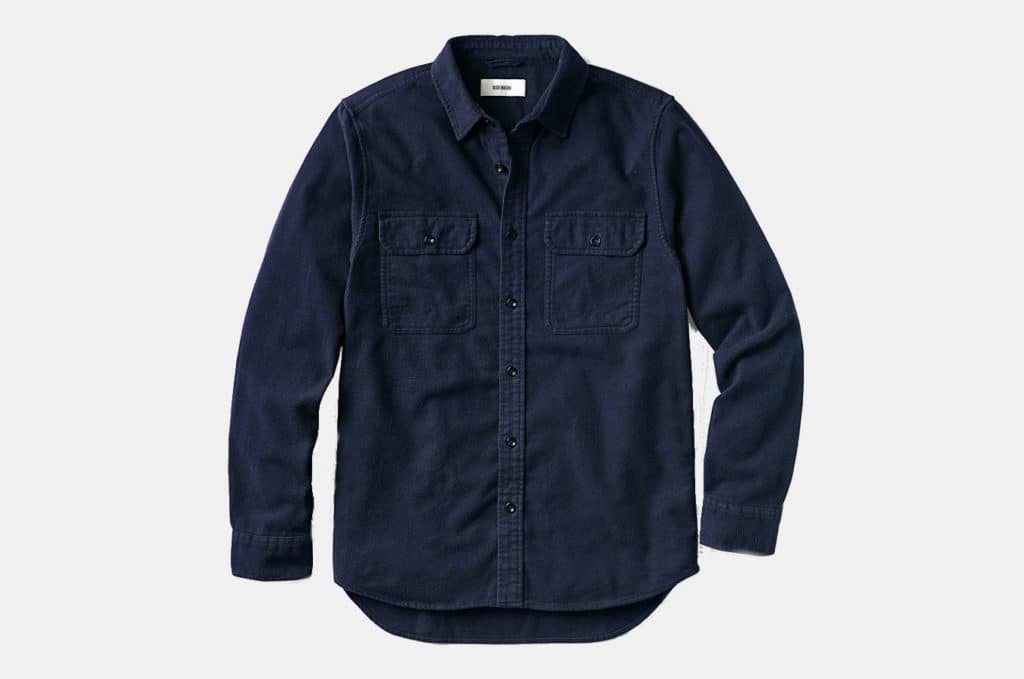 Buck Mason Brushed Flannel Two Pocket Shirt
If there's one thing we love about Buck Mason — and believe us, there are actually several — it's that the brand has a knack for making rugged menswear staples that call back to the past and yet look great in modern times, too.That's certainly the case with the Brushed Flannel Two-Pocket Shirt, the kind of rugged flannel shirt that looks at home in front of the fire or layered up out on the trail this season.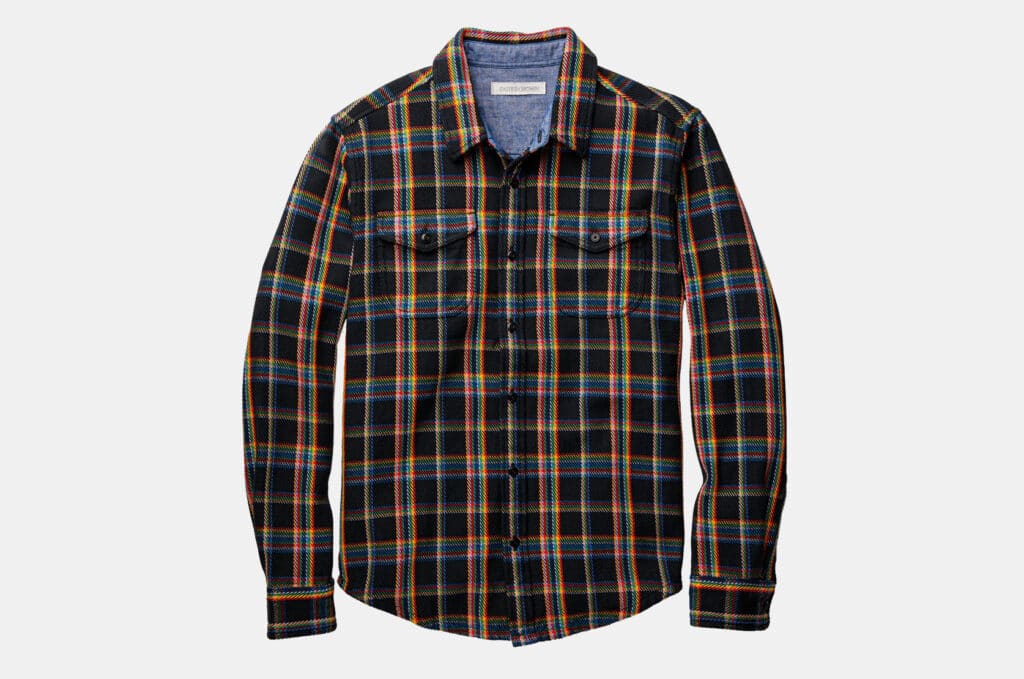 Outerknown Blanket Shirt
You show us a brand making one of the best flannel shirts on the market, and we'll tell you all about a brand we love. Let us know about a brand that makes one of the best flannel shirts on the planet while doing so sustainably, and you can color us very, very impressed indeed. Such is the case with Outerknown, the surf-inspired brand launched in part by ocean legend Kelly Slater. Pieces like the Outerknown Blanket Shirt bring the brand far beyond the beach and into your regular fall style rotation, easily.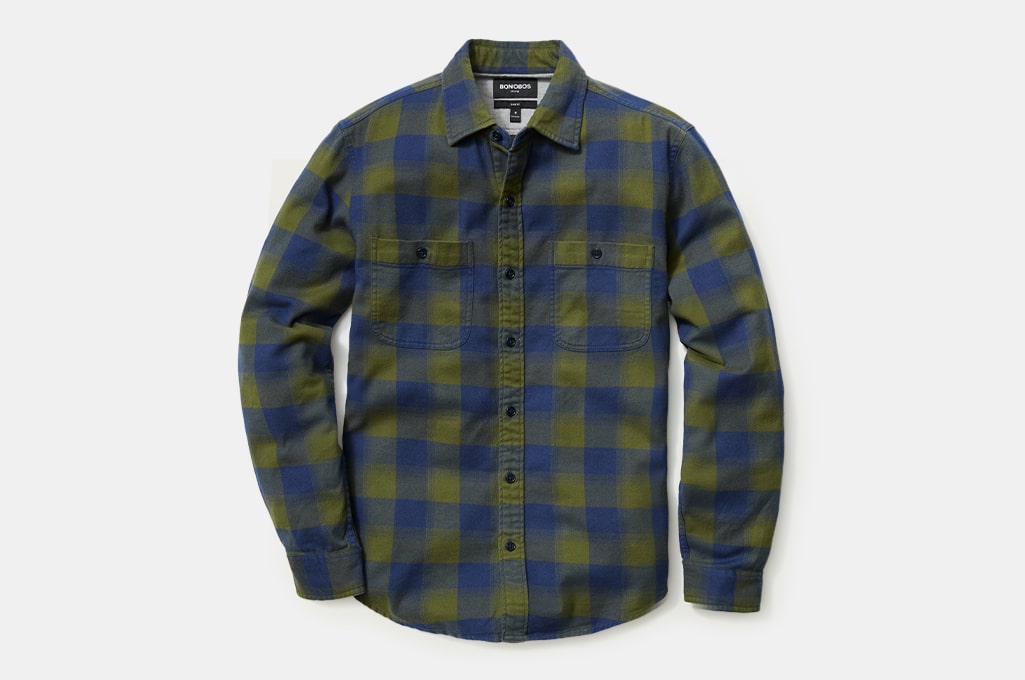 Bonobos Stretch Flannel Shirt
Sometimes, you just need a bit more stretch and flex—like when you're swinging an ax, stacking firewood, or hauling feed from the store. With the Bonobos Stretch Flannel Shirt, you get all the stretch you need. The shirt is made using super-soft cotton flannel fabric with just a hint of Spandex to give you more elasticity and versatility. The deep green color scheme immediately stands out from the crowd and, thanks to the heavier-weight fabric, you know you'll always be warm in the winter.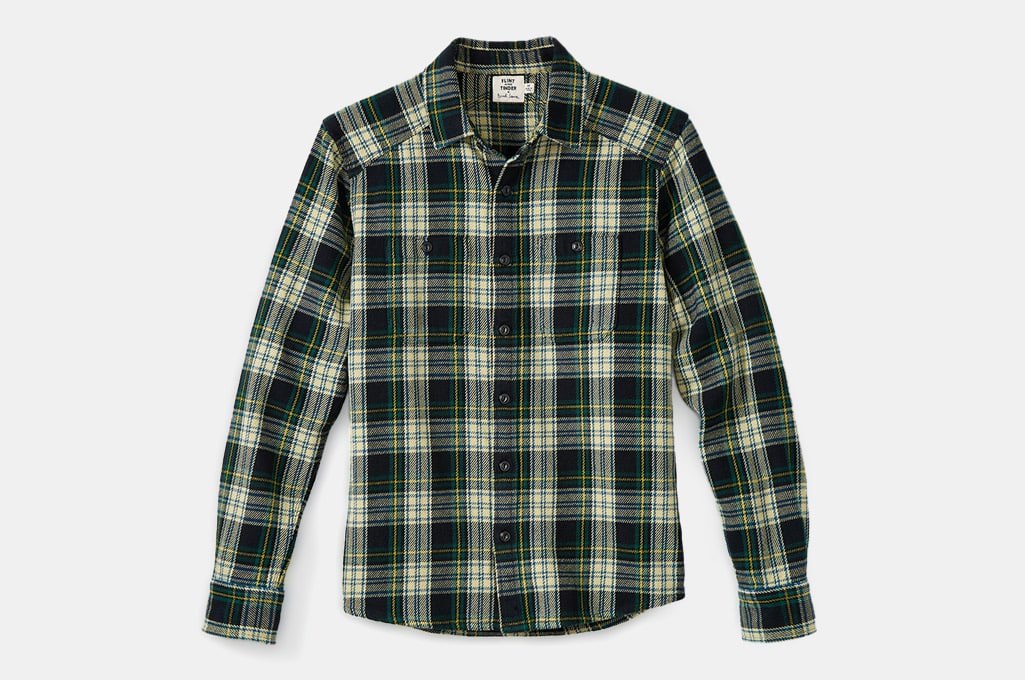 Flint and Tinder Brad Leone Crossback Flannel Workshirt
Look your absolute best in the Flint and Tinder Brad Leone Crossback Flannel Workshirt, that's the promise. This flannel shirt is built for daily work use, and it's as hardy a garment as you could ask for, made from loose-weave blanket-thick flannel. The limited edition shirt is designed by Brad Leone, and it's the perfect way to up your style game while still being dressed for work.
Whether you need to haul around pens or slide your EDC knife into your pocket, the dual-patch pockets with button closures will keep everything securely in place. And, best of all, all of the side seams are triple-reinforced so you never have to worry about the shirt giving out on you.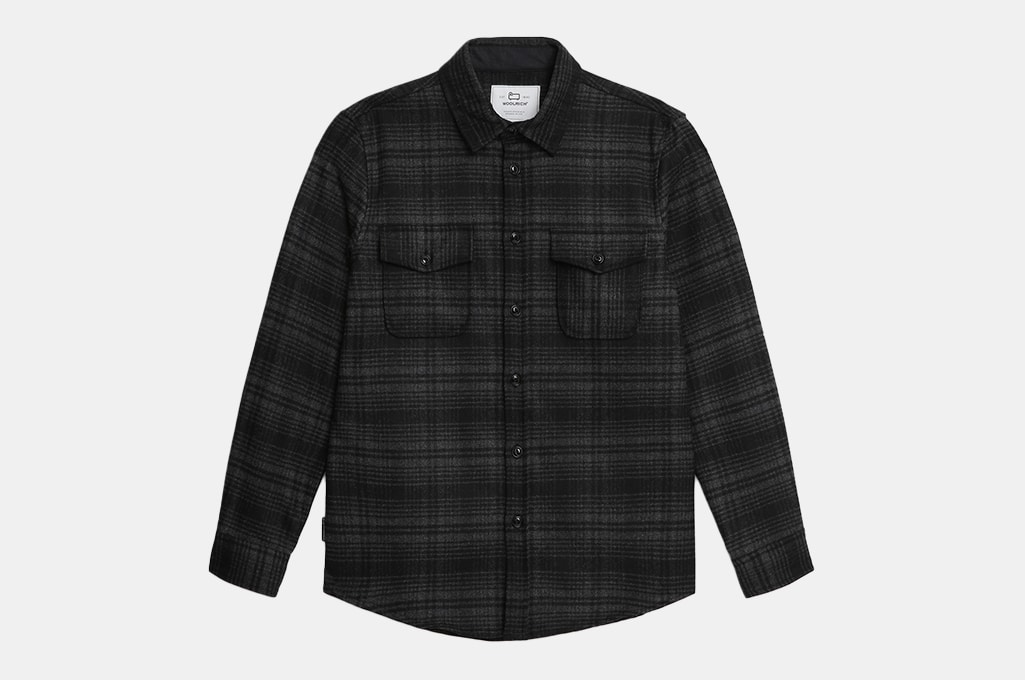 Woolrich Alaskan Melton Shirt In Recycled Italian Wool
Woolrich delivers a truly stylish, understated work of art in the Alaskan Melton Shirt In Recycled Italian Wool. As the name suggests, the flannel shirt is made using recycled Italian yarn, which produces a thick Melton fabric that is durable enough to stand up to any worksite and super cozy in the chill. The clean lines and dark checkered pattern is eye-catching without being overt, and with the enhancements of the snap button pockets and cuffs and classic sharp-pointed collar, you'll be leveling up your style while wearing this shirt.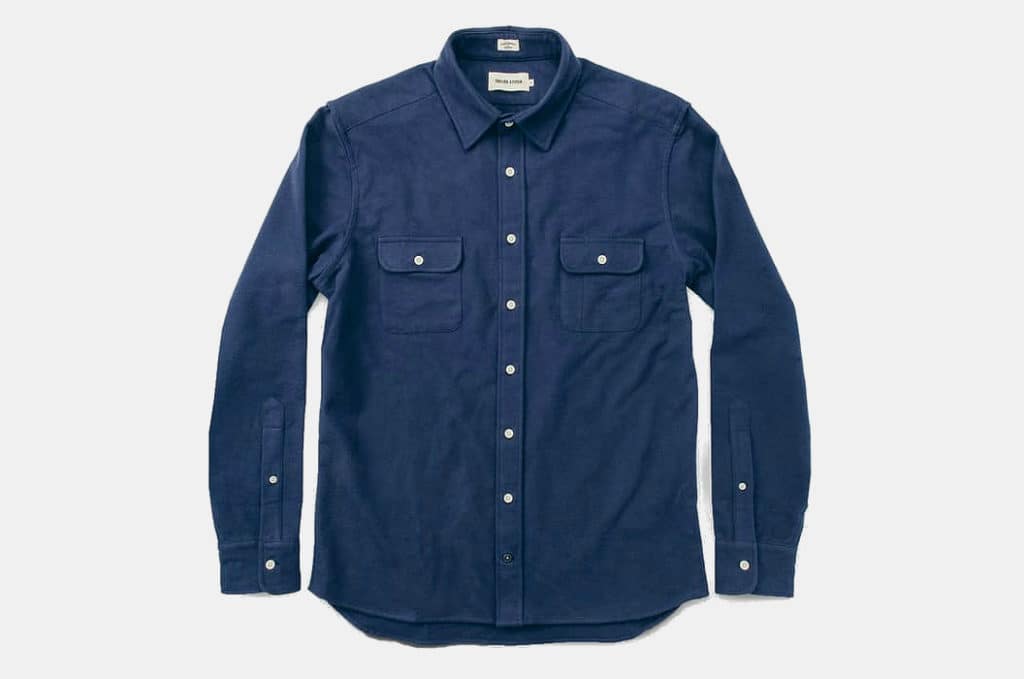 Taylor Stitch Yosemite Shirt
Perhaps the finest example of a flannel shirt being made today comes at you from the great team at Taylor Stitch. With an eye for harnessing heritage design inspiration, beautiful materials and unique silhouettes, the Yosemite Shirt is part shirt, part jacket and oft-coveted. It's ridiculously soft, modeled after classic chamois shirts and featuring the type of durable style details — like unbreakable Japanese urea buttons and flap chest pockets — that you've come to expect from the brand. Wear this over a henley, style it atop a cable crewneck sweater and button it up to take a weekend stroll.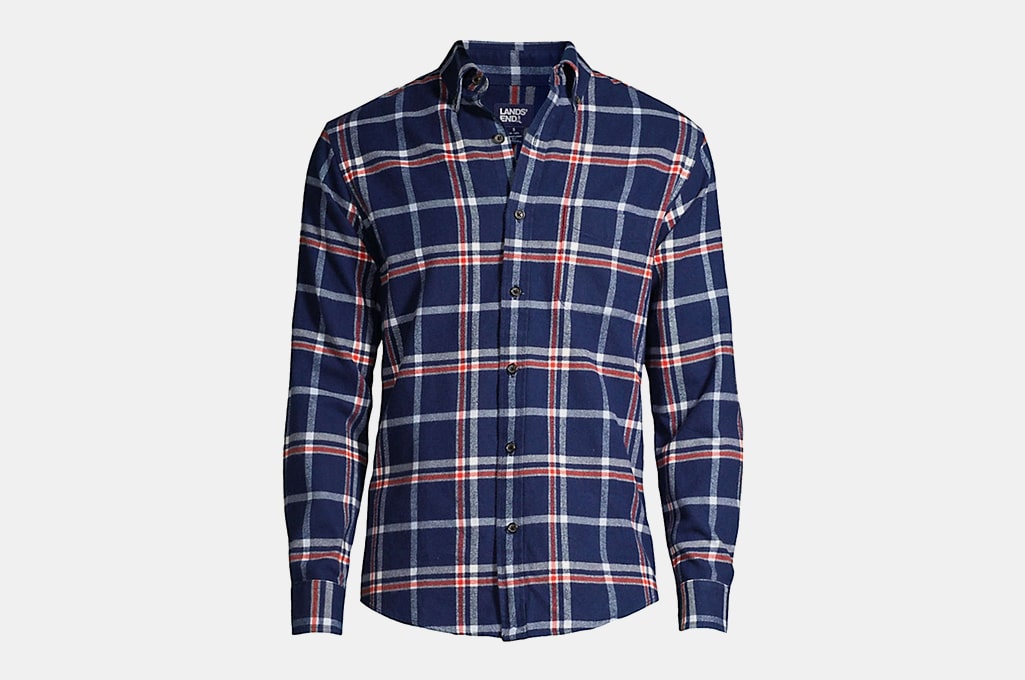 Land's End Men's Slim Fit Pattern Flagship Flannel Shirt
Stand out from the crowd and be bold with this brightly-colored flannel shirt. The Land's End Men's Slim Fit Pattern Flagship Flannel Shirt steps up the color scheme to go for more "edge," combining deep blues with trendy whites and just a hint of orange to really make the shirt pop. Pair it with your favorite brown work pants or jeans, and you'll be the most stylish man in the cabin or lodge. It's a truly comfortable shirt, thanks to the soft, carefully brushed flannel fabric. Best of all, the shirt comes in three fit options: Traditional for a relaxed fit, Tailored for a closer fit, and Slim for when you really want to accentuate your musculature.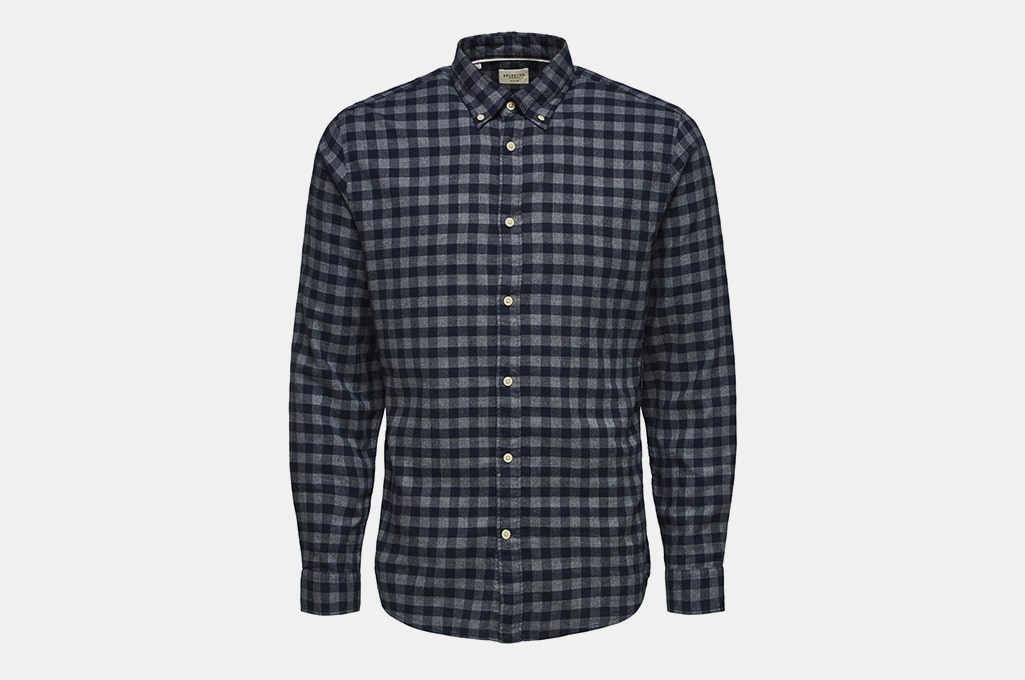 Selected Homme Slim Fit Plaid Flannel Button-Down Shirt
For guys who want a slim-fit long-sleeved flannel shirt to call attention to their gym bodies, the Selected Homme Slim Fit Plaid Flannel Button-Down Shirt has got your back. This shirt is fitted through the chest, armholes, and sides, giving you a close-to-the-body shirt that just feels right on you. Made from pure cotton, it's soft and stylish without sacrificing durability. That's right: it's a shirt that can stand up to any outdoor and winter use while also being classy enough to wear on a first date or a guys' night out.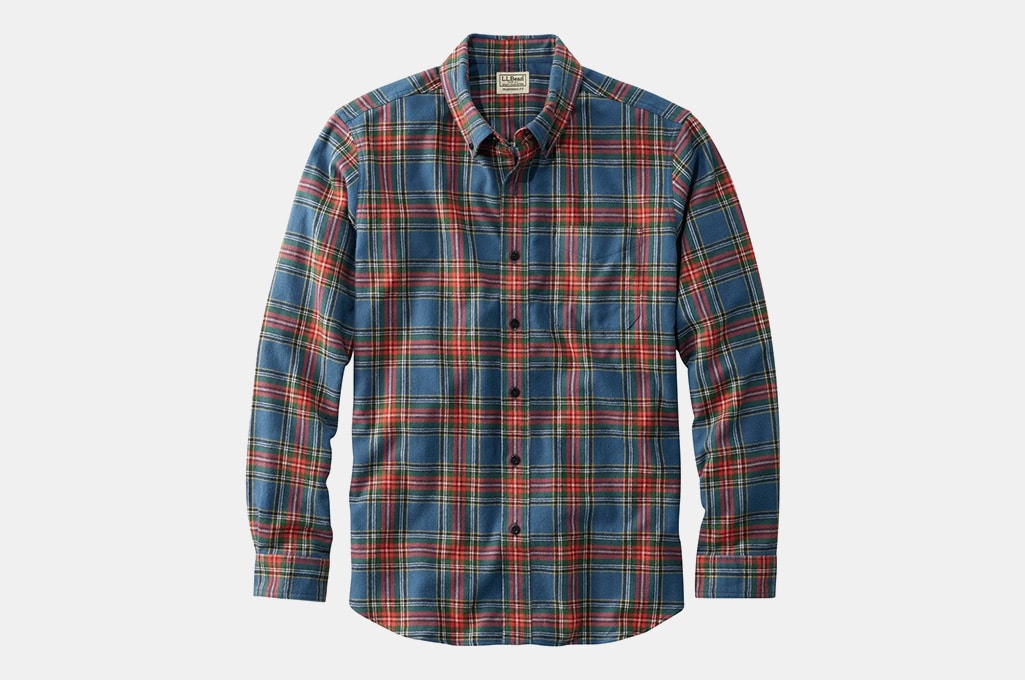 L.L. Bean Men's Scotch Plaid Flannel Shirt
Tap into your Scottish heritage and wear the tartan colors proudly with the L.L. Bean Men's Scotch Plaid Flannel Shirt. Made from the same fabric as Scottish tartans, this flannel shirt is silky smooth on your skin but still holds up to heavy sweating, hiking, or working. The flannel fabric is woven together with longer-staple cotton to enhance both durability and comfort. With its bold colors and patterns, it will immediately stand out from every other flannel shirt around you.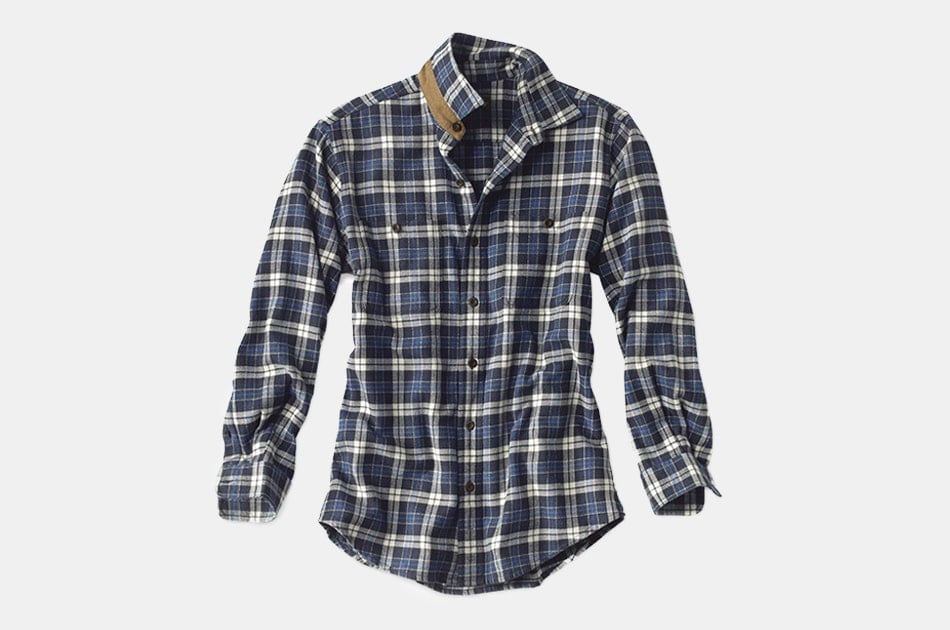 The Perfect Flannel Shirt
When we want uncompromising outdoor gear with strong heritage and extremely high quality, we look toward Orvis — and that's perhaps why we were so drawn to the Orvis Perfect Flannel Shirt (hey, we said flannel is the "perfect fall shirt," did we not?).The cotton flannel in question here is available in a stylish array of classic colors, all the better for mixing and matching with rugged chore pants or faded blue denim alike. And the double-brushed fabric treatment only makes this flannel shirt even more likely to be one of the best flannel shirts you'll own.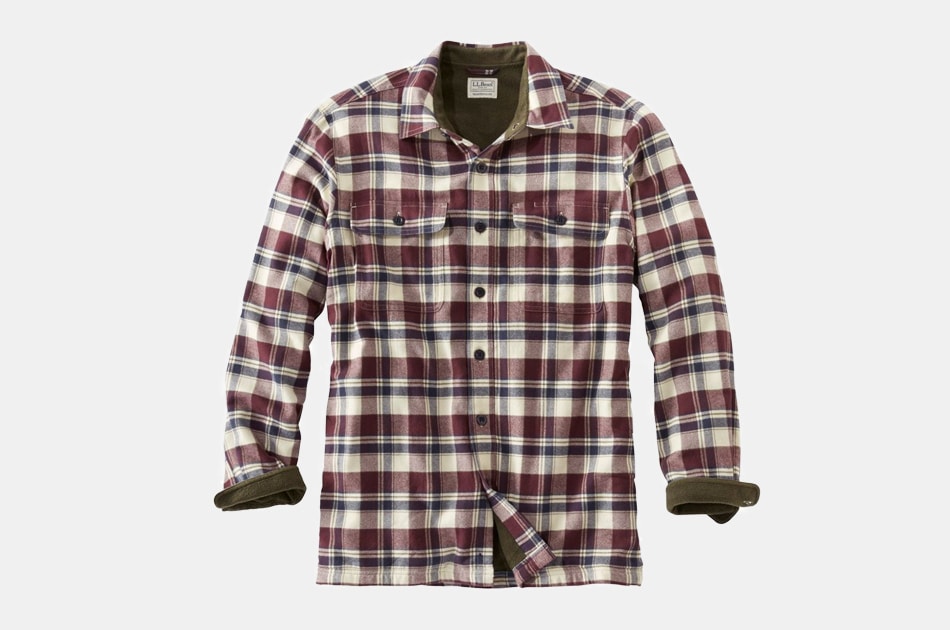 L.L. Bean Fleece-Lined Flannel Shirt
L.L. Bean is likely one of the first brands that pops to mind when you think of classic, New England-style pieces. That ethos starts with the brand's lauded "Duck Boots," and it carries just as much weight when it comes to warm, easily layered pieces like its Fleece-Lined Flannel Shirt. Made with garment-dyed and brushed flannel for extra comfort, this classic shirt is going to feel right at home this holiday season and into the cold winter, especially with a plethora of color options and a reliably affordable price point.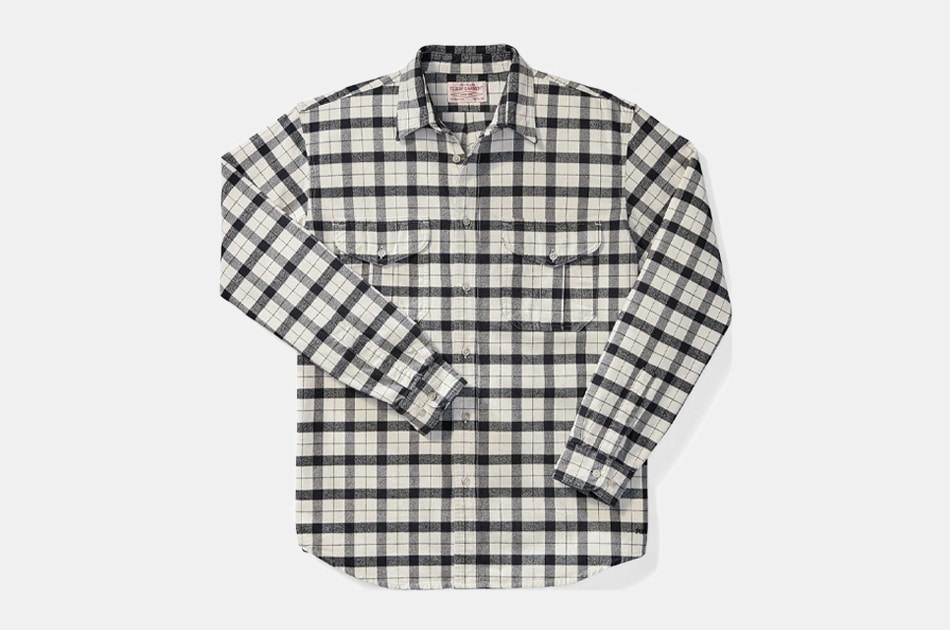 Filson Alaskan Guide Shirt
When only rugged, durable gear will do, why not reach for a flannel shirt from Filson? There are few brands who do tough outdoor shirting better, and the Alaskan Guide Shirt definitely exemplifies that. It's built from a medium-weight cotton flannel that features built-in wind resistance — definitely rare among flannel shirts. The pleated back offers ease of movement, while the fabric itself is also abrasion-resistant; again, this is definitely a flannel shirt that can stand up to your toughest test this season. Pair it with your toughest denim, and you'll be set for cold weather to come.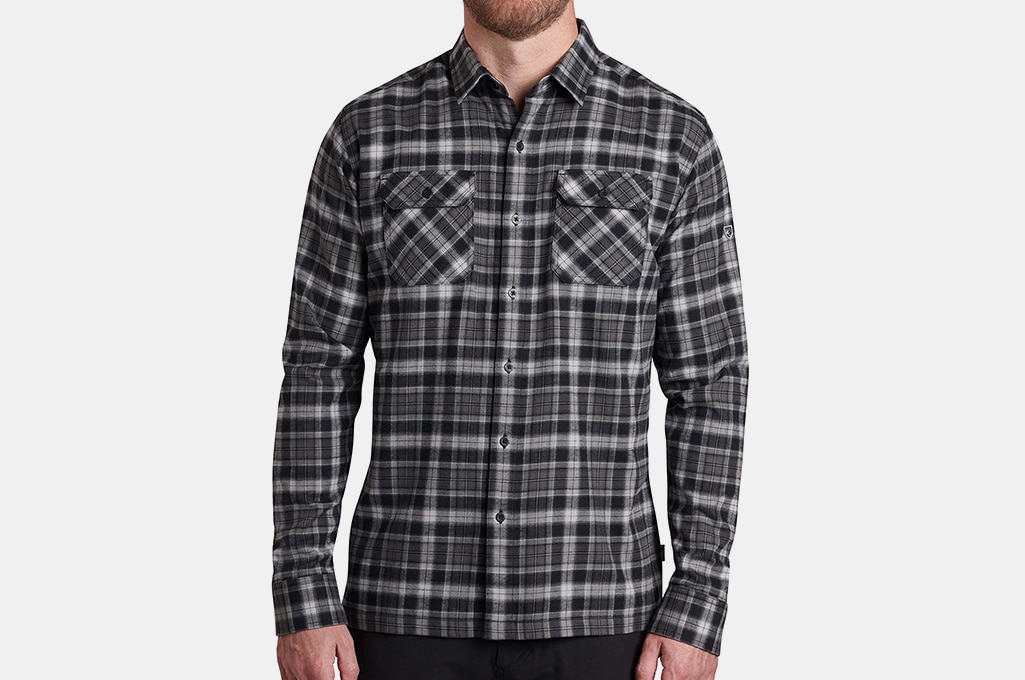 Kuhl Dillinger Flannel Shirt
Bring on the cold, because the Kuhl Dillinger Flannel Shirt can handle even the worst winter extremes. The fabric is a blend of cotton and synthetic tencel, which makes it both lighter than your average pure cotton shirt but also significantly warmer. It's a shirt made for comfort, with super-soft fabric and an even softer inner lining around the collar, cuffs, and yoke stand.
The fabric itself just feels like a cut above the rest, insanely silky to the touch with the luxurious texture that makes flannel a truly wondrous material. And, thanks to the classy, dark grey-white-black color palette, it's a shirt you can wear for any occasion.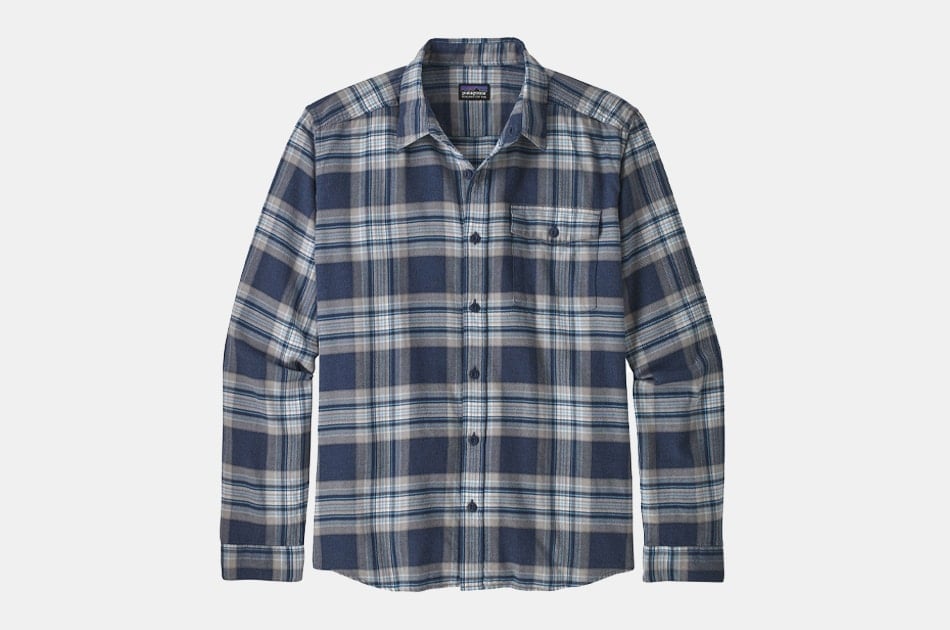 Patagonia Lightweight Fjord Flannel Shirt
When you need to get out and explore in precisely the right gear for the occasion, no questions asked, you need to turn toward a brand like Patagonia. And although they know how to make one heck of a durable outdoor vest or puffer jacket, that know-how also extends to products like its Lightweight Fjord Flannel Shirt, one of the best flannel shirts we've seen in some time. It'll pair perfectly with rugged Patagonia chore pants, too.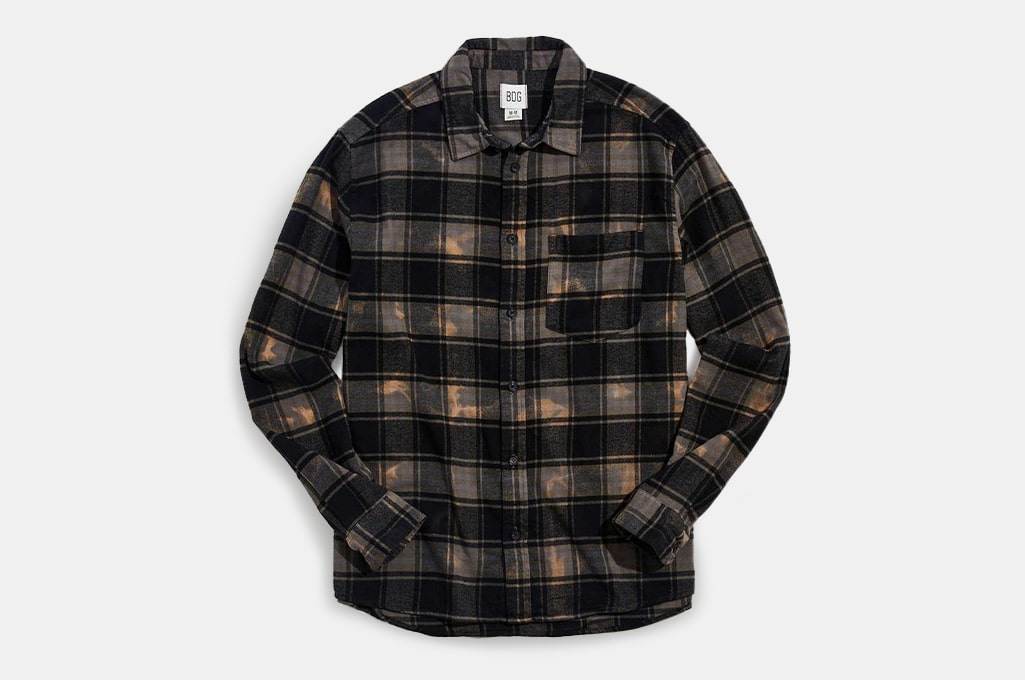 Urban Outfitters BDG Vintage Wash Flannel Shirt
Outfitters brings a throwback flair to the typical flannel style, with the BDG Vintage Wash Flannel Shirt offering a mix of classic flannel patterns with just a hint of vintage washing to freshen up the old-school look. The darker color scheme means the washed vibes stand out even more, and the shirt exudes style from the moment you slip it on. And oh, boy, is it one of the most comfortable flannel shirts you'll ever wear.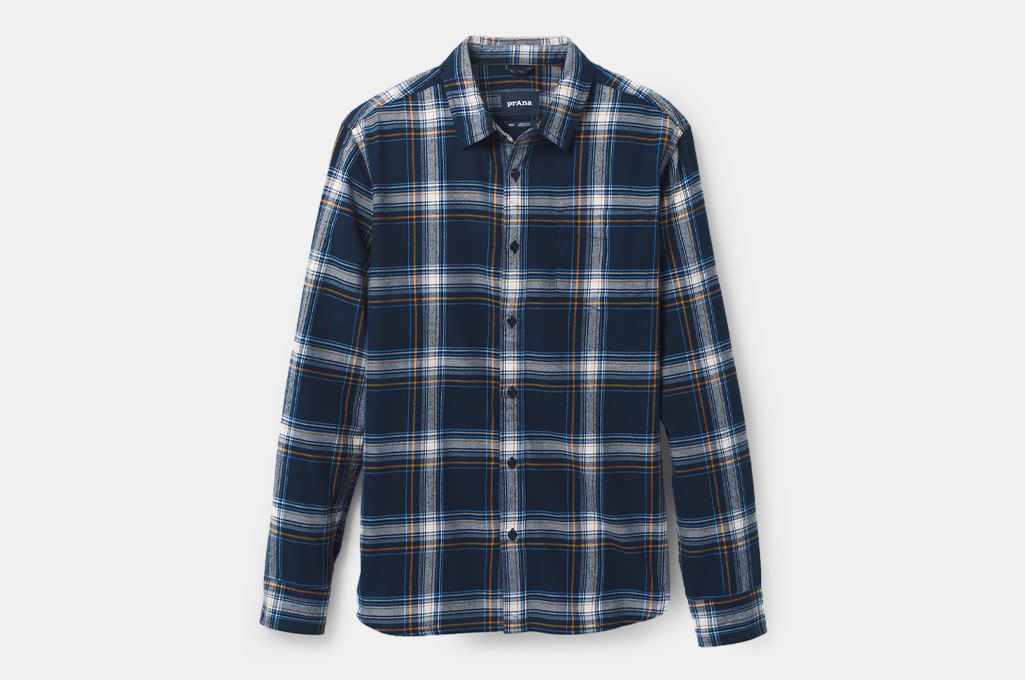 prAna Los Feliz Flannel Shirt
Never get weighed down or slowed down by a warm flannel shirt again. The prAna Los Feliz Flannel Shirt is designed for guys who want to move free and easy. Made from a super-light fabric that combines recycled polyester with organic cotton, it's a great way to up your style and comfort game at the same time. It keeps the iconic flannel style that you love, but is made using sustainable materials that just last longer and feel better. With the standard relaxed fit, you'll find it's the perfect shirt to stay warm outdoors when skateboarding, running, walking, or socializing.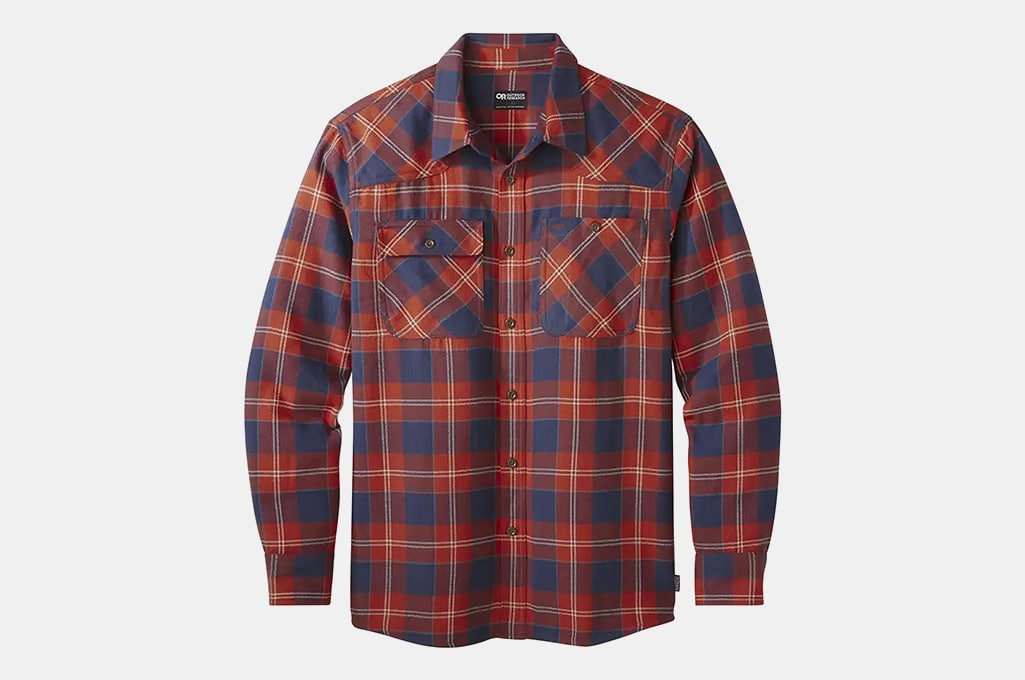 Outdoor Research Men's Feedback Flannel Shirt
You'll always be both warm and cool in this flannel shirt. Yes, it sounds oxymoronic, but once you wear the Outdoor Research Men's Feedback Flannel Shirt around for a few hours, you'll get it. The shirt is made using hollow-core yarn that provides top-notch insulation in the cold weather, but the fabric is also moisture-wicking and quick-drying to prevent sweat build-up from overheating you. It even offers UV protection to shield your skin from solar radiation while out on the ski slopes or job site. It's an indoors-outdoors shirt that you can always wear everywhere you go, anything you're doing.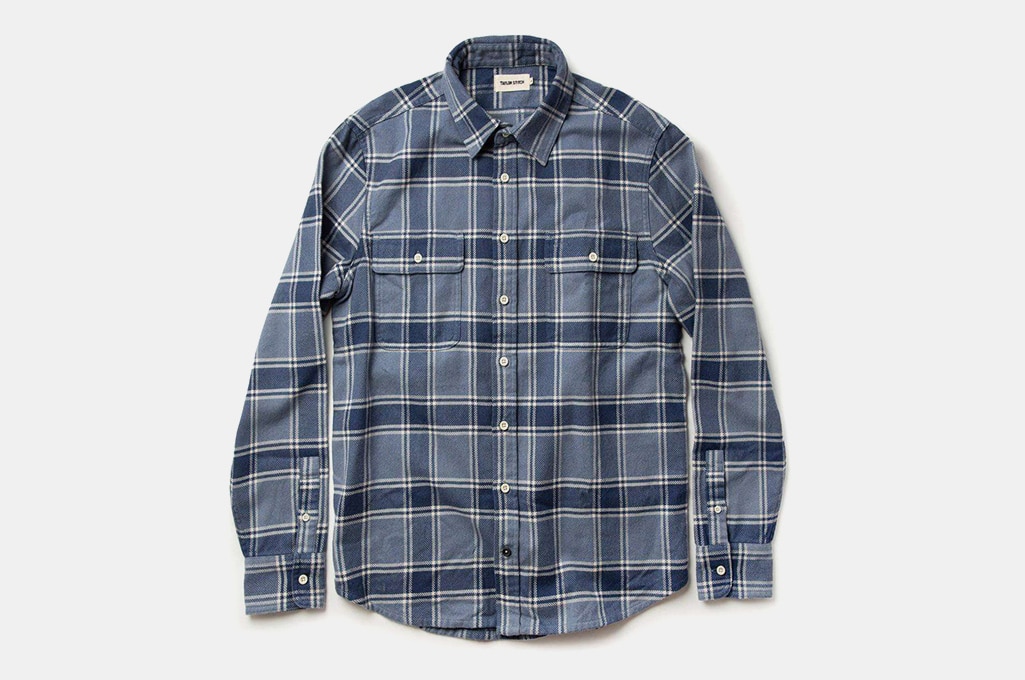 Taylor Stitch Ledge Shirt
Take a piece of California with you always, wherever you are. The Taylor Stitch Ledge Shirt is designed with that classic California collar and soft color palette that makes you think of sun-drenched days of winter in NorCal. Made from seven-ounce organic cotton, the shirt just feels "right" from the moment you slip it on—never worry about starched or too-stiff fabric again. You'll love how solid it feels without being excessively heavy, and the lock-stitched buttons and buttonholes won't break on you no matter where you take the shirt.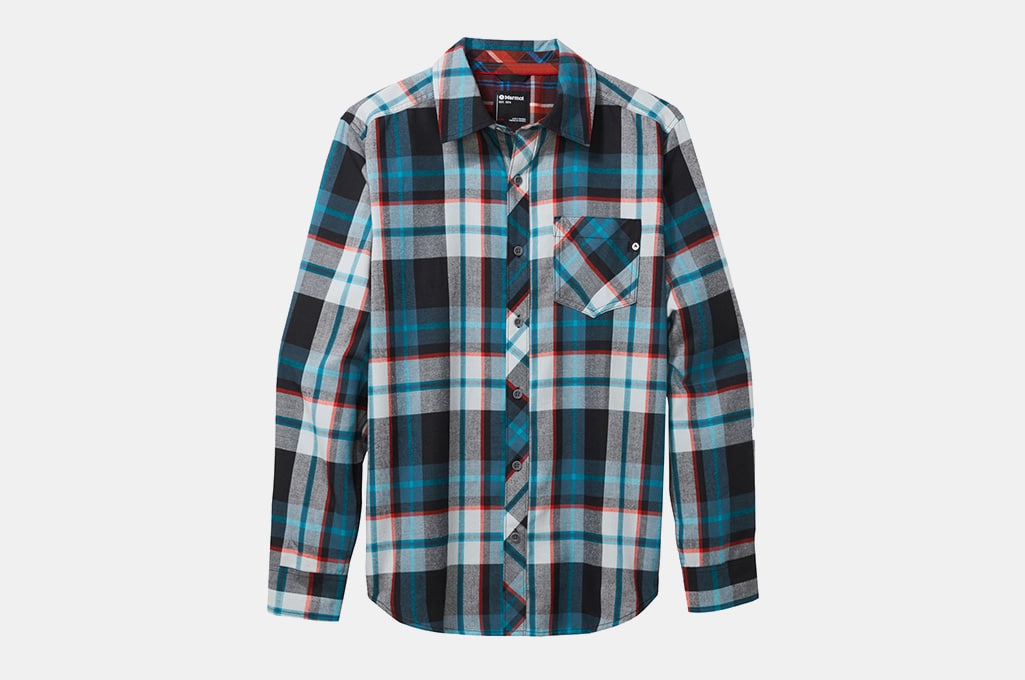 Marmot Men's Anderson Lightweight Flannel Long-Sleeve Shirt
If you care about sustainability, you'll be glad to know Marmot does too. The Anderson Lightweight Flannel Long-Sleeve Shirt is made using BlueSign approved fabric, which is up-cycled polyester from post-consumer plastic bottles. It's eco-friendly while also being YOU-friendly—thanks to its synthetic fibers, the shirt provides moisture-wicking and quick-drying properties, as well as UV protection for your skin on bright, sunny days. You'll never overheat or over-sweat in this shirt, and you'll definitely look your absolute best thanks to the bold color choices.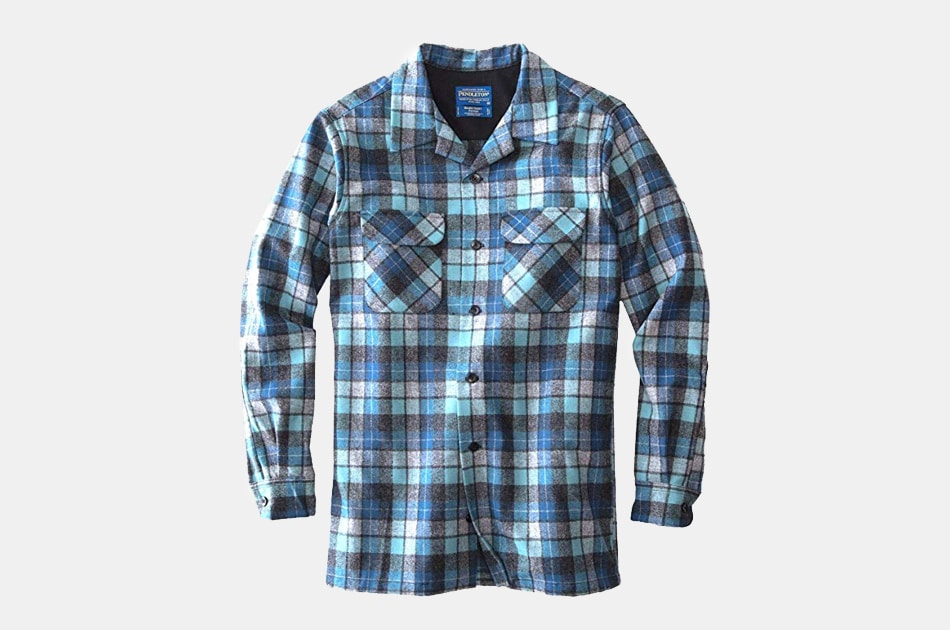 Pendleton Fitted Board Shirt
Pendleton definitely delivers on yet another classic iteration of its Fitted Board Shirt — still the brand's top-selling shirt today. Made from the brand's one-of-a-kind machine-washable wool sourced near the Pendleton mill, it doesn't get much better for a modern-fitting, durable shirt. The midweight fabric is crafted to resist water and stains. It's also available in a range of colors, so if you like your flannel shirts well-crafted and easy to wear no matter the situation, you should definitely go right out and buy the Board Shirt. While you're at it, wear it as much as you can.
Disclosure: Clicking on these links and making a purchase may earn us a small referral fee, at no extra cost to you. Learn more here.
freestar.config.enabled_slots.push({ placementName: "gearmoose_leaderboard_btf", slotId: "gearmoose_leaderboard_btf" });