The 20 Best Men's Flannel Shirts
While there are certain shirts that can be worn year-round, there's no shirt that exemplifies rugged fall and winter style quite like the perfect flannel shirt. The best men's flannel shirts harken back to the hearty, outdoor-oriented nature of this tough, yet comfortable fabric. And yet, brands are finding newer and better ways to update them for today's modern guy.
Whether you find yourself squarely in the outdoors set or are more inclined to stroll to Sunday brunch, there's definitely a place — or several — in your wardrobe for the flannel shirt. And you've got plenty of brands and options to pick from, as heritage brands are making flannels right alongside more familiar menswear labels. The durability and versatility of a flannel shirt is such that you can layer it over a henley or thermal shirt, you can style it atop — or beneath — a slim crewneck sweater, and you can certainly wear it on its own. The rest of the time, you should wear it exactly how you please — the best men's flannel shirts can handle anything you throw at 'em.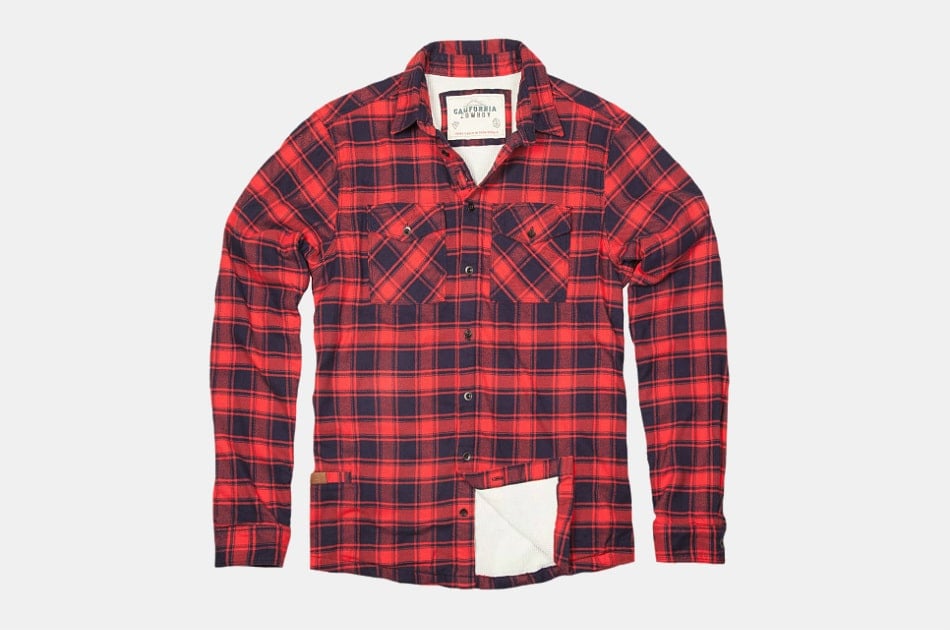 California Cowboy High Sierra Flannel
We're constantly on the hunt for the type of flannel shirt that separates itself from the crowd — especially as winter sets in early around most of the country. The rugged California Cowboy High Sierra Flannel Shirt is our latest find and it couldn't have come at a better time of year. The shirt itself is technically two shirts in one — a premium blend of both flannel shirt and shirt jacket made from a Japanese-Portuguese flannel blend that will not only feel at home in sub-freezing temperatures this week, but also inside your favorite pub at happy hour.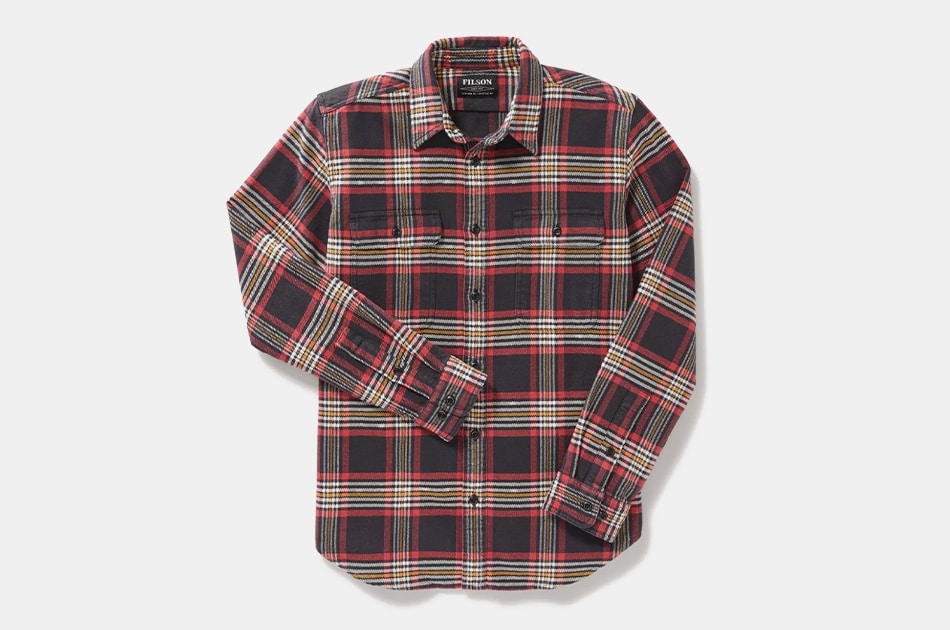 Filson Vintage Flannel Work Shirt
When Filson says that they've built garments for the gold rush, well, you can be darn sure the brand's heritage gear lives up to its billing and rises to the occasion for the modern man. That's how we feel about the Vintage Flannel Workshirt, and that's why we can't recommend this rugged, stylish shirt enough.
The details are exceptional, from the front chest flap pockets to the melamine button closures. The pattern? Perfectly rugged and ready to wear to your favorite brewery or on a weekend hike. The fit and the cotton twill fabric? Hard-wearing and easy to layer over a henley or a warm thermal shirt. And the versatility? It's top-notch, well-suited to pairing up with rugged denim and leather hiking boots as easily as it wears with slim chinos, chukka boots and an indigo shirt jacket at the office.
This shirt is also wind-resistant and made with double-felled construction for the ultimate in long-lasting toughness. You don't have a shirt like this in your closet, and if you do … it's not as essential as this workshirt from Filson.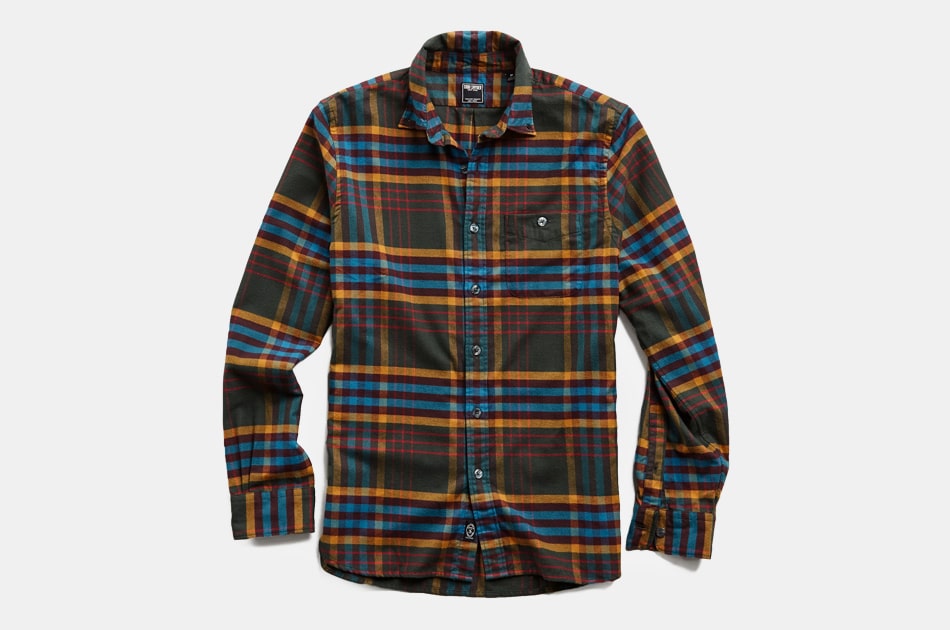 Todd Snyder Campfire Plaid Flannel Shirt
Todd Snyder, one of our favorite designers in the game today, continues to nail that tricky balance between rugged and refined that's so critical during the fall season. Whether it's Snyder's Midwest background or his knowledge of what guys love to wear (or both!), it's pieces like the Campfire Plaid Flannel Shirt that drive home this point nicely. In a rich, fall-ready color, it's one of the best flannel shirts we've laid eyes on this season — we think you'll agree wholeheartedly. Wear it with charcoal trousers and brown suede Chelsea boots to the office for some high-low style.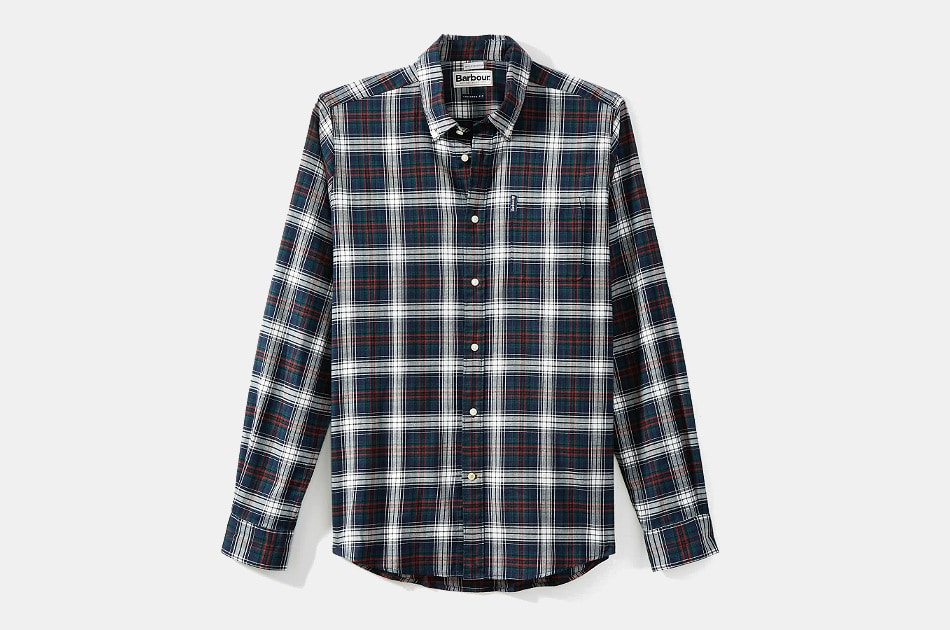 Barbour Flannel Shirt
Barbour is no beginner when it comes to functional, common sense menswear. The brand has been putting out field-ready jackets, shirts, and other style staples for over 125 years, making them somewhat of an authority on the matter.
Barbour's fifth generation of family-owned garment manufacturing is no different from previous generations thanks to timeless staples like the Flannel Shirt above. Its rugged construction is both reliable in the field yet handsome enough to wear to the office 5 days a week. Pair it with a Barbour waxed jacket and be prepared to turn a few heads.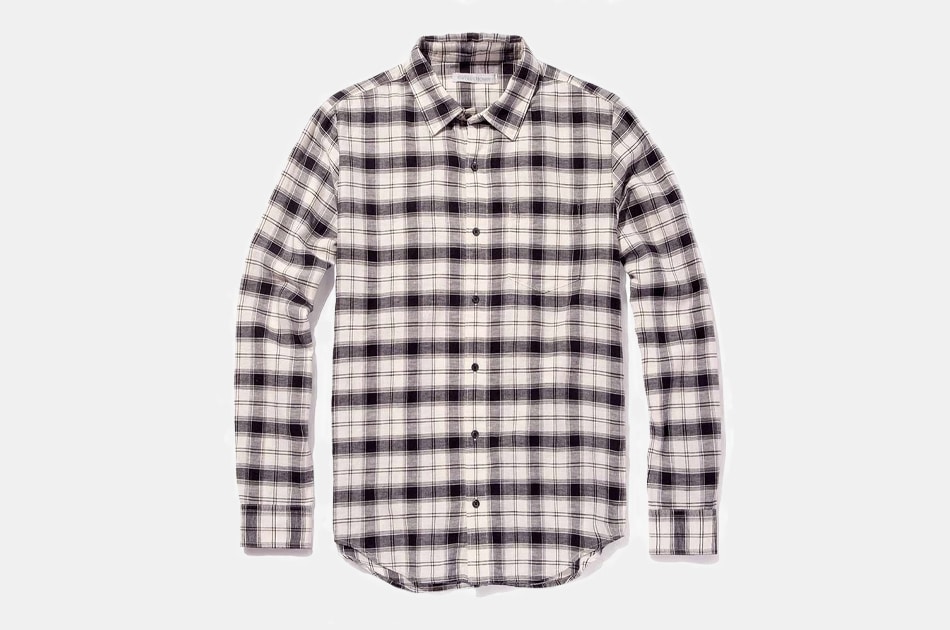 Outerknown Highline Shirt
For sustainable and seriously durable, rugged style, it's tough to beat Outerknown — the brand churns out laidback essentials that deserve a spot in your wardrobe, none moreso than the Highline Shirt. Made from a blend of organic and regular cotton, plus linen, this shirt features the type of easy-going styling that only comes from years of wear — maybe that's why we like it so much, especially when worn with broken-in denim and suede chukka boots. It's the rare lightweight flannel you can layer with ease — atop a slub T-shirt, then under a premium hoodie for a fall bonfire.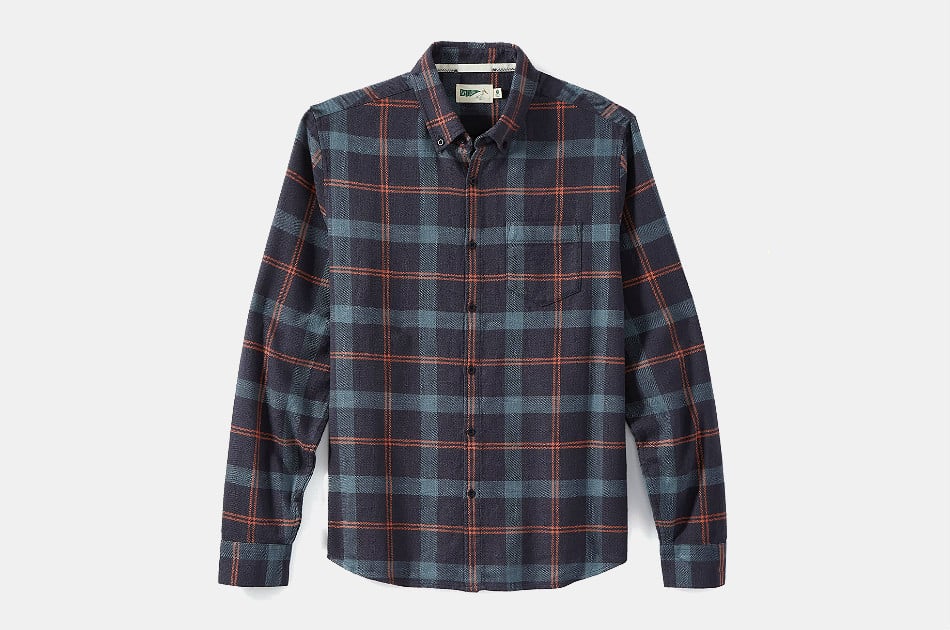 Wellen Slub Flannel
We're pretty sure you own a whole rotation of flannel shirts — at the ready when the temperature starts to drop later into fall. We've got one more flannel shirt that belongs in your closet, as soon as possible. Your new favorite flannel shirt comes to you via the new Wellen line at the lauded San Francisco-based retailer Huckberry. Wellen is focused on modern-yet-laidback men's style staples, all made with sustainability in mind. This classic flannel is affordably priced and richly crafted from organic cotton, and is as fitting to wear on its own untucked with chinos as it is to pair with a long sleeve henley and rugged work pants.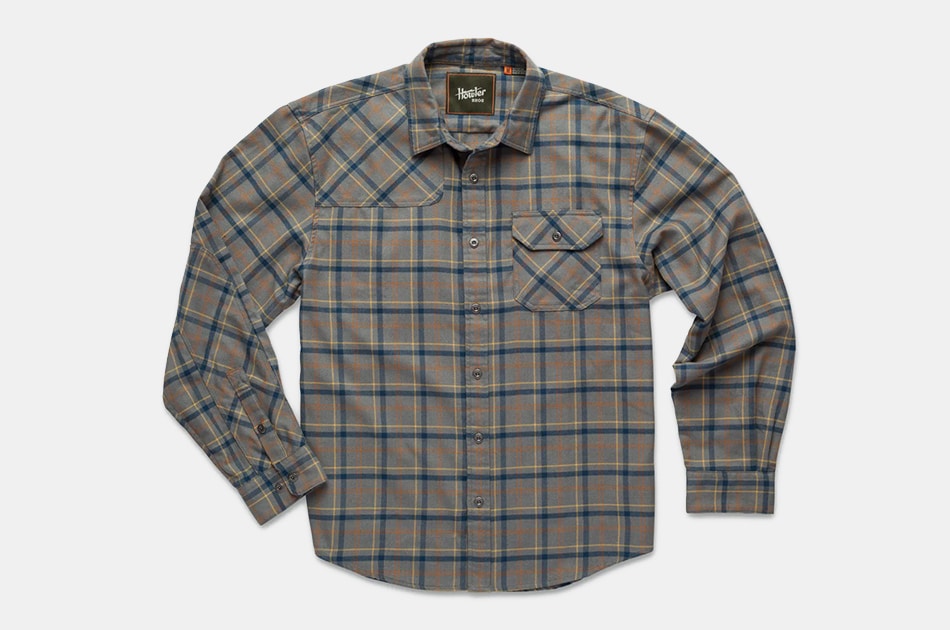 Howler Brothers Harker's Flannel
If you haven't yet gotten wind of the Huckberry x Howler Brothers North Coast Collection, an incredible array of rugged, tough goods here just in time for fall, we'd urge you to listen up and starting shopping. That's because the collection (exclusive to Huckberry, naturally), also includes stellar flannel shirting like the very fall-minded Harker's Flannel, in a perfect pattern and color for fall. It's the kind of flannel you're going to want to wear to your favorite brewery every fall weekend — it's just that great.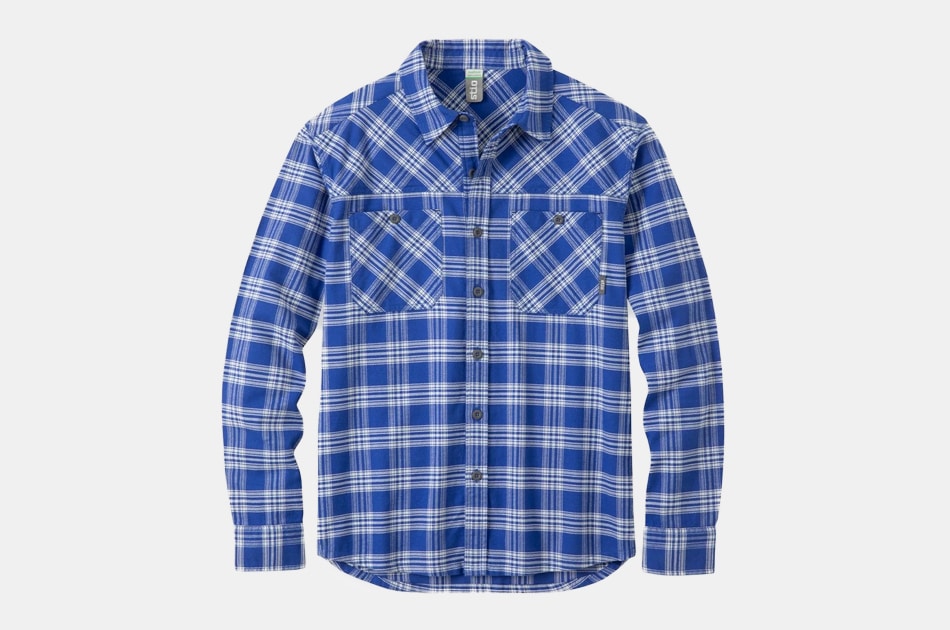 Stio Miter Flannel Shirt
A flannel shirt, what with its classic cut, its warm fabric and its air of functionality and toughness, is the ideal shirt to wear when adventure calls your name — and the Stio Miter Flannel Shirt was made with precisely those pursuits in mind. The Miter Flannel Shirt is the very definition of an outdoor-ready flannel shirt, made with brushed cotton flannel in fall-ready patterns for maximum durability and versatility. We'd say you should pick one up in each of the unique patterns on hand — it's an investment that's going to pay off in spades.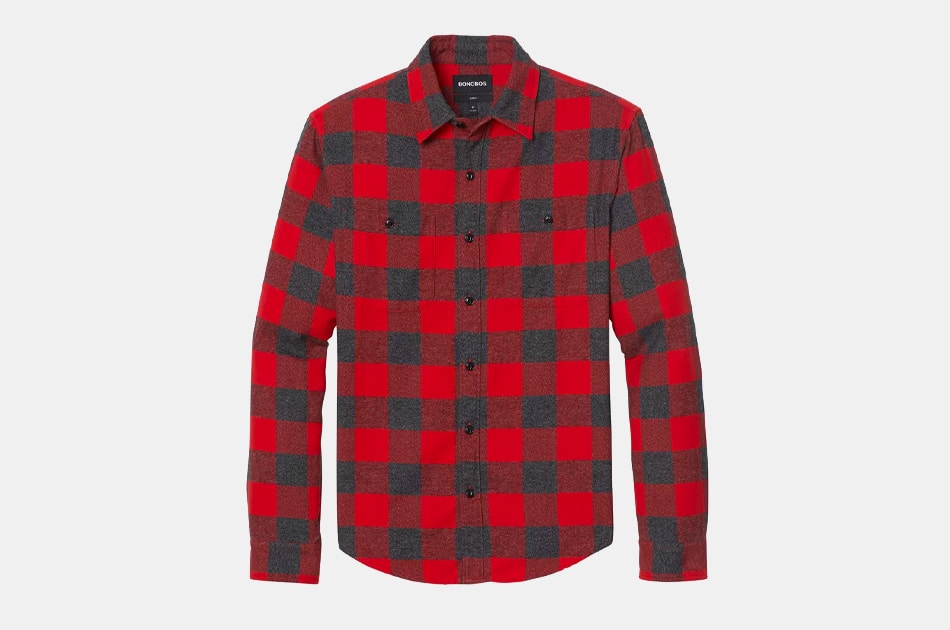 Bonobos Flannel Shirt
Bonobos excels at making office-friendly gear that's a cut above average — and they've also done quite the job when it comes to dipping their toes into the casual territory of off-duty style. Witness the Red Falls Plaid Flannel Shirt, a handsome number that makes fall weekend style quite easy. Simply pair it with the brand's slim denim or tan chinos and a crisp white pocket T-shirt for a weekend coffee date — simple style made easy, in a way that's premium and refined.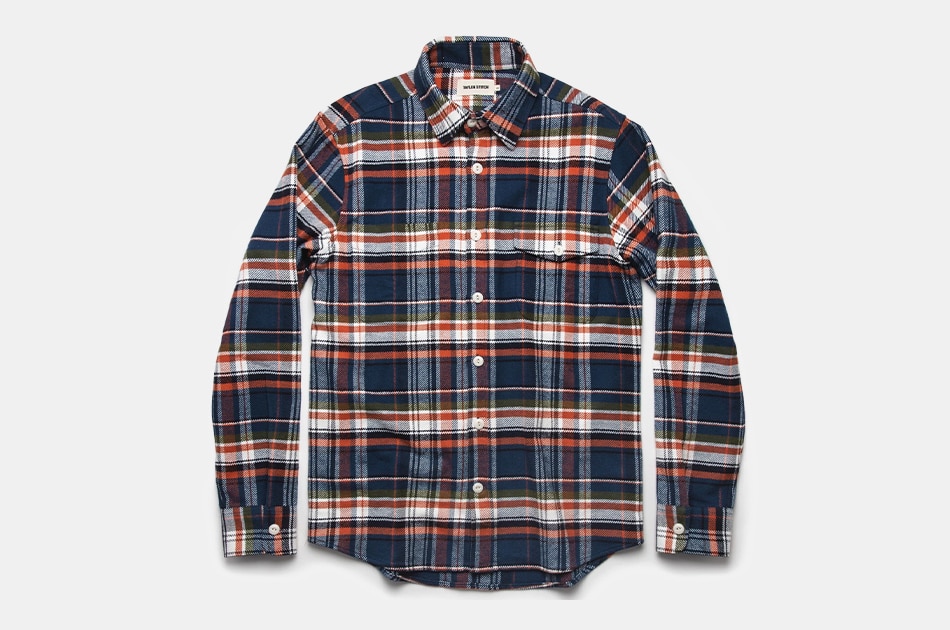 Taylor Stitch Crater Shirt
It's clear to us — and hopefully, to you — that Taylor Stitch can make a heck of a flannel shirt. The Crater Shirt is another much-loved style that would work handsomely with dark indigo denim and brown leather moc toe boots — it's got "outdoor weekend adventure" written all over it, to say the very least. Available in a handsome and essential Burgundy Plaid, it's fitting that the Crater Shirt would work exceptionally well with rugged chore pants or tan chinos in equal measure — both style staples at which Taylor Stitch excels, naturally. What's stopping you from picking up the Crater Shirt and wearing the heck out of it this fall? Only you.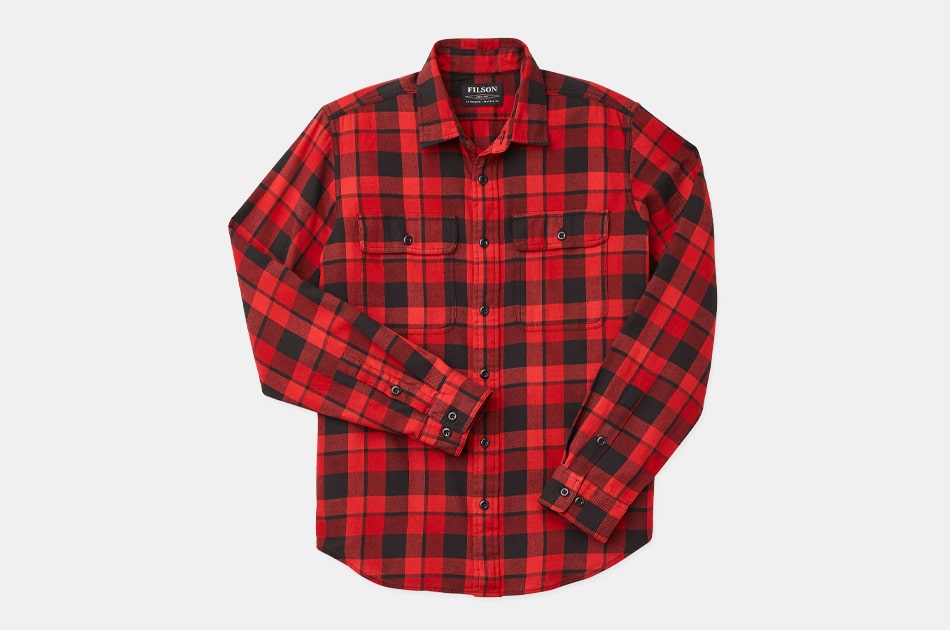 Filson Scout Shirt
Filson's Scout Shirt is worth every bit of the price tag — more than $100 can feel like a lot for a flannel shirt, but particularly when it comes to this piece, you won't regret it. With a neat multi-color plaid pattern and the type of classic, rugged durability one expects from Filson, you should put this piece in your bag every time you need a tough fall or winter outer layer. However, in more relaxed weekend outings, you could wear it on its own with a knit cap and trusty gloves. Not bad for one shirt — not bad at all.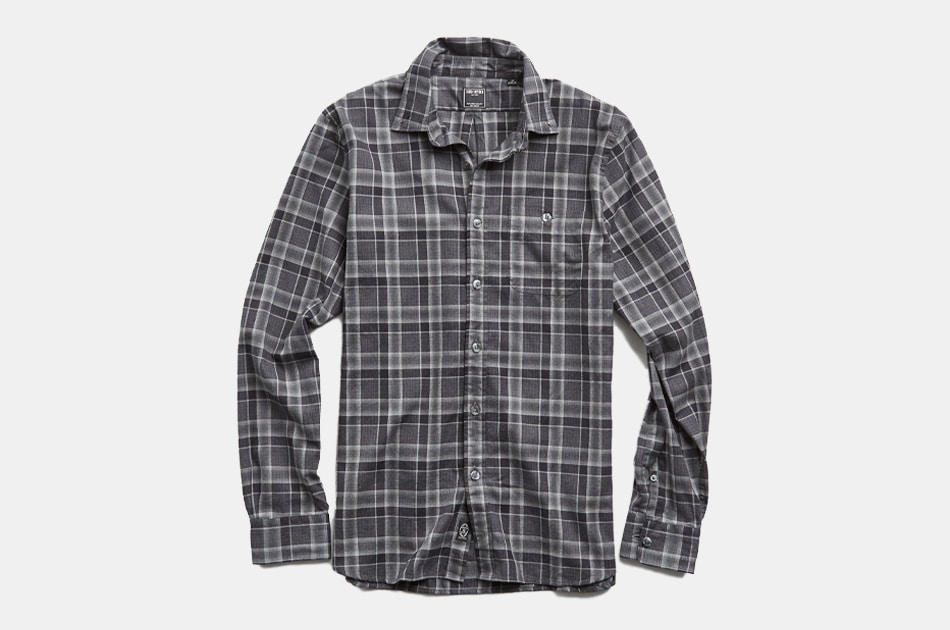 Thomas Mason Charcoal Plaid Flannel Shirt
For all of its rugged connotations (and rightfully so — the flannel shirt is the perfect fall shirt), the style can also be surprisingly refined. That's particularly the case when it's done up in the form of the Thomas Mason Charcoal Plaid Flannel Shirt, a tailored, 100 percent cotton flannel shirt that's going to wear well with everything from slim blue denim to black chinos for a sharp, office-ready look. It's an investment, but seeing as it's sold by Todd Snyder, you can be sure it's worth the money.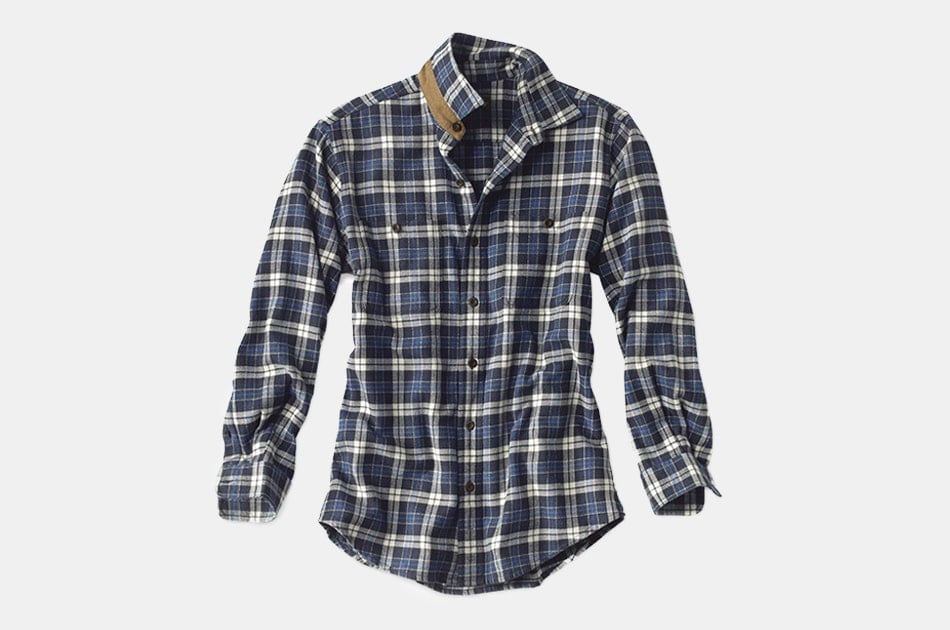 The Perfect Flannel Shirt
When we want uncompromising outdoor gear with strong heritage and extremely high quality, we look toward Orvis — and that's perhaps why we were so drawn to the Orvis Perfect Flannel Shirt (hey, we said flannel is the "perfect fall shirt," did we not?).The cotton flannel in question here is available in a stylish array of classic colors, all the better for mixing and matching with rugged chore pants or faded blue denim alike. And the double-brushed fabric treatment only makes this flannel shirt even more likely to be one of the best flannel shirts you'll own.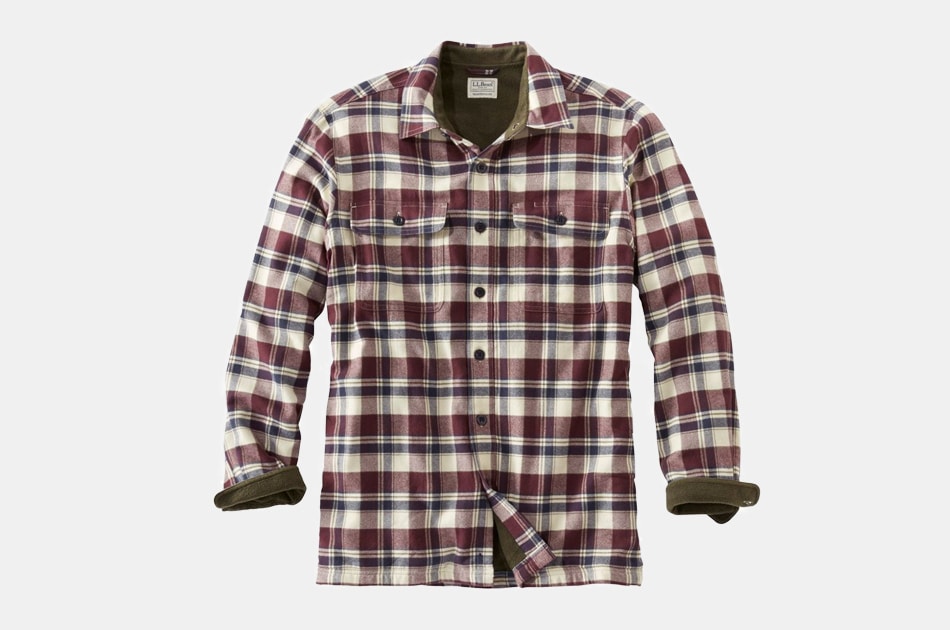 L.L. Bean Fleece-Lined Flannel Shirt
L.L. Bean is likely one of the first brands that pops to mind when you think of classic, New England-style pieces. That ethos starts with the brand's lauded "Duck Boots," and it carries just as much weight when it comes to warm, easily layered pieces like its Fleece-Lined Flannel Shirt. Made with garment-dyed and brushed flannel for extra comfort, this classic shirt is going to feel right at home this holiday season and into the cold winter, especially with a plethora of color options and a reliably affordable price point.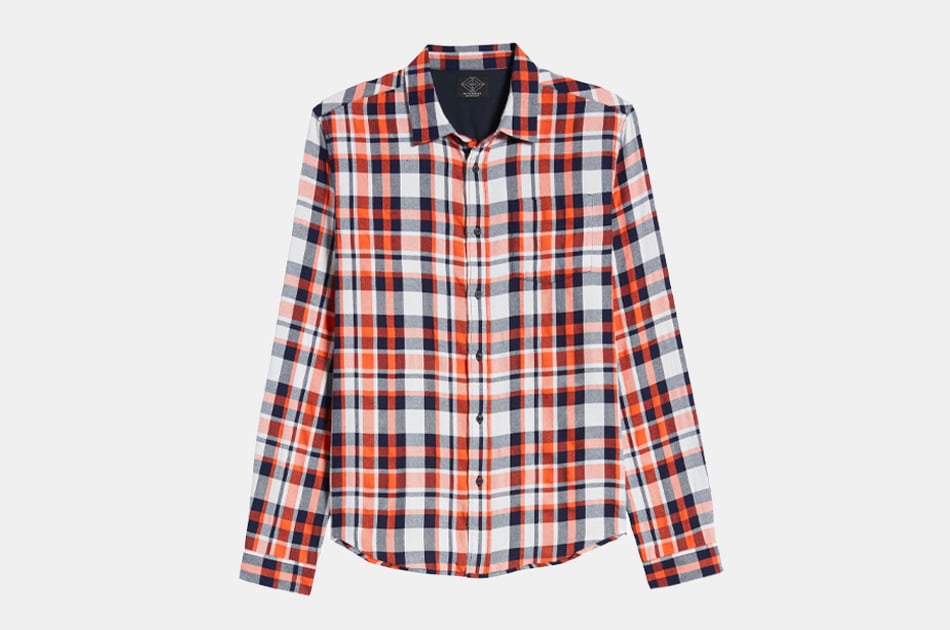 Scotch & Soda Plaid Button-Up Flannel Shirt
We're willing to bet that you know Scotch & Soda for the brand's excellent denim and a remarkable focus on quality and rich indigo fabrics across the board (from jackets to shirting). And it should come as no surprise that the brand also applies that same attention to detail to its other wares, specifically the well-suited-for-fall plaid flannel shirt shown here. And the best way to complement this stylish flannel shirt? With Scotch & Soda denim, naturally.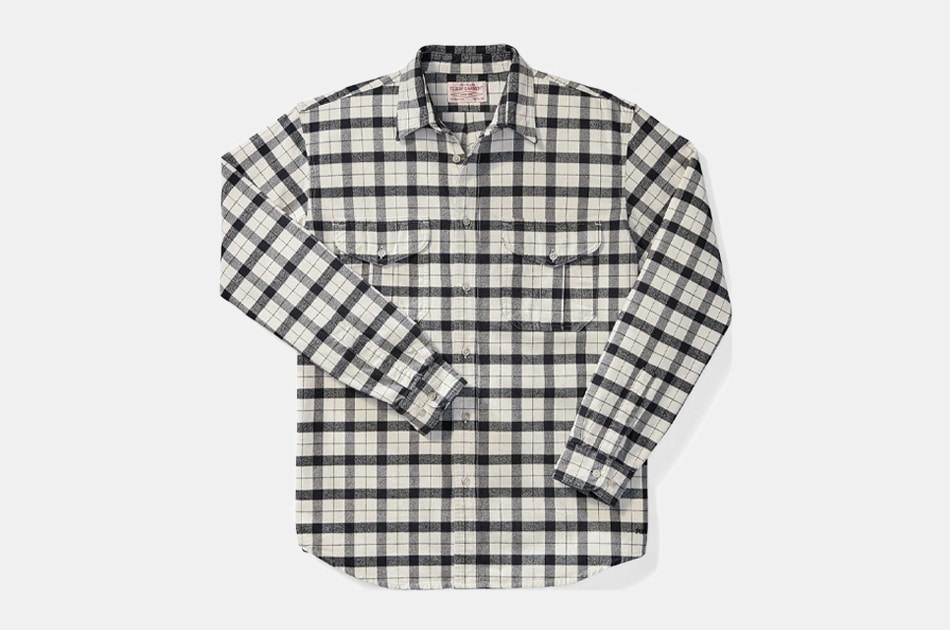 Filson Alaskan Guide Shirt
When only rugged, durable gear will do, why not reach for a flannel shirt from Filson? There are few brands who do tough outdoor shirting better, and the Alaskan Guide Shirt definitely exemplifies that. It's built from a medium-weight cotton flannel that features built-in wind resistance — definitely rare among flannel shirts. The pleated back offers ease of movement, while the fabric itself is also abrasion-resistant; again, this is definitely a flannel shirt that can stand up to your toughest test this season. Pair it with your toughest denim, and you'll be set for cold weather to come.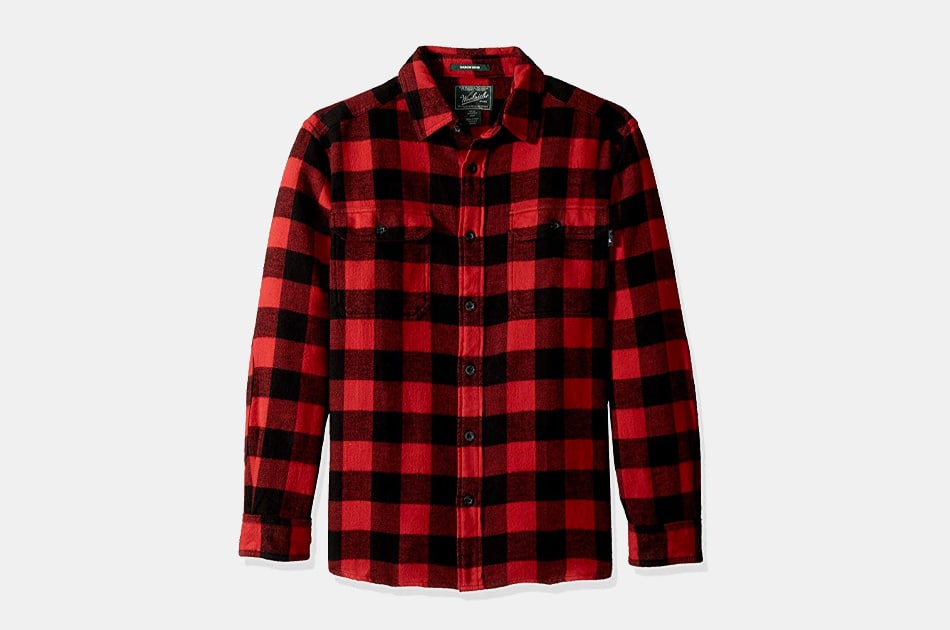 Woolrich Oxbow Bend Plaid Flannel
Sometimes, it pays to stick with classic fall shirting — particularly when it comes to flannel shirts. And in that regard, the Woolrich team knows what it's doing. Make no mistake, they stick to their guns with authority, and the Oxbow Bend Plaid Flannel Shirt, especially in a classic Old Red Buffalo color, gets the job done nicely. Made from a 7oz. boulder-washed cotton flannel, it features reinforced underarm gussets for greater range of movement — not to mention double flap chest pockets for extra storage space. Cold fall and winter mornings just met their match.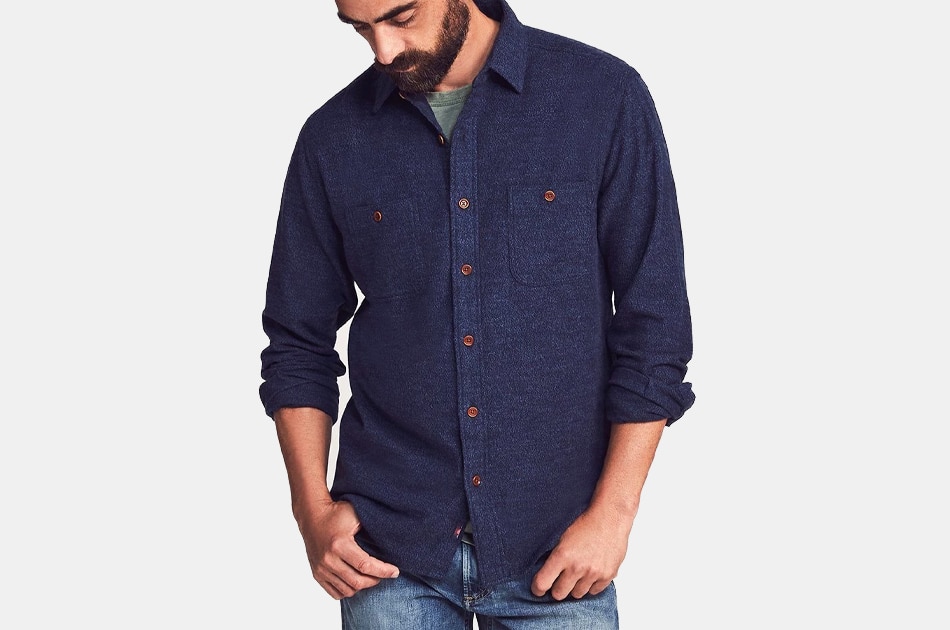 Faherty Brushed Alpine Flannel Shirt
The folks at Faherty Brand continue to add to their arsenal of stylish, rugged and laidback gear for each and every season — the Alpine Flannel Shirt features a midweight flannel that's ideal for layering. It only helps that the navy color teams nicely with other Faherty Brand staples, pieces like an indigo thermal shirt or a crisp natural pocket tee. Like other essentials from Faherty, you're investing your hard-earned dollars, but in a way that pays off weekend after weekend.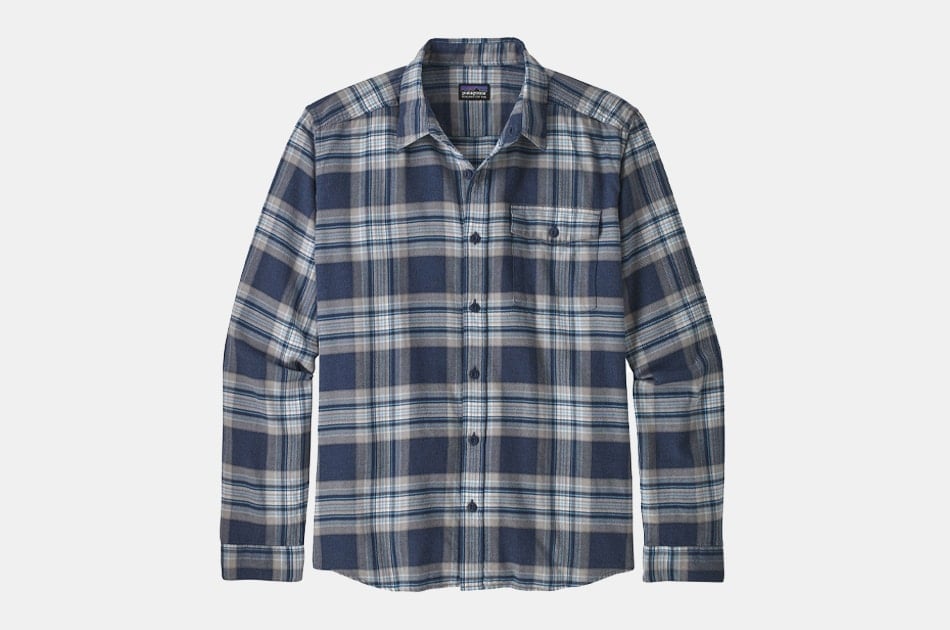 Patagonia Lightweight Fjord Flannel Shirt
When you need to get out and explore in precisely the right gear for the occasion, no questions asked, you need to turn toward a brand like Patagonia. And although they know how to make one heck of a durable outdoor vest or puffer jacket, that know-how also extends to products like its Lightweight Fjord Flannel Shirt, one of the best flannel shirts we've seen in some time. It'll pair perfectly with rugged Patagonia chore pants, too.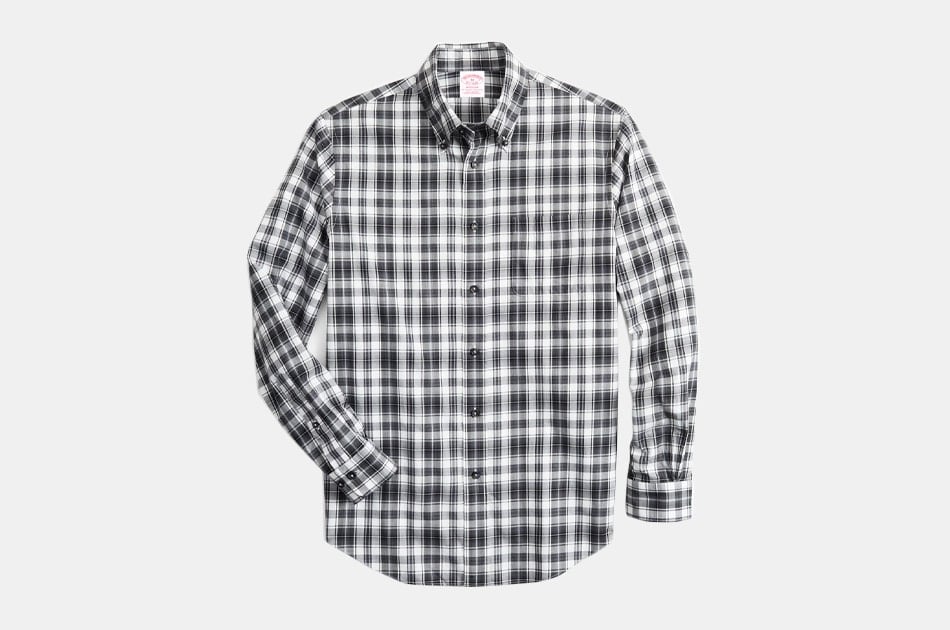 Brooks Brothers Regent Fit Plaid Flannel Sport Shirt
Surely, you know Brooks Brothers for the brand's classic, timeless Oxford shirts in shades like crisp white and blue — but did you know the brand makes quite a seasonally ready flannel shirt, too. The Regent Fit Plaid Flannel Sport Shirt is dependable & made from brushed cotton for an exceptionally easy-to-wear take on the flannel shirt, but this time cut in a way that makes it a bit more refined. To us, that means you can wear it with a cream cable cardigan and crisp blue denim to a formal dinner party just as readily as you can wear it atop a thermal henley for a relaxed Saturday night at home in front of the fire. Brooks Brothers just delivers.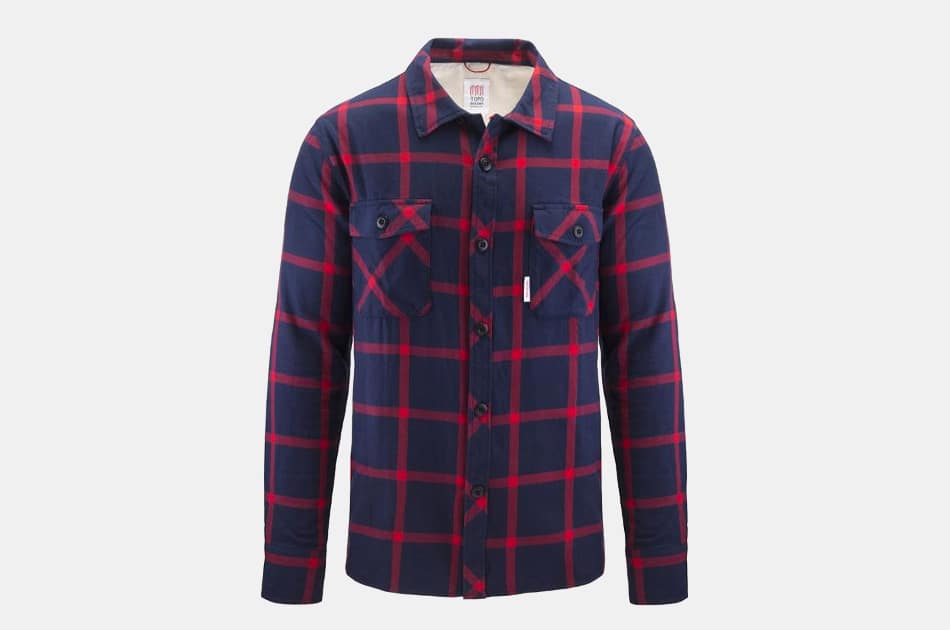 Topo Designs Plaid Field Shirt
So, you've got your rugged backpack, tough chore pants and durable hiking boots — what are you wearing up top? The Topo Designs Plaid Field Shirt, modeled off classic workwear and military shirting for extreme toughness and fall-ready style. Made from twill organic cotton and featuring oversized buttons for an easy-to-layer appeal, we appreciate the utility pockets (made large to hold your everyday carry essentials) and the option to also pick one up in Navy and Red Plaid. For under $100, it could be the best flannel shirt you buy for the season. What could be more perfect than that?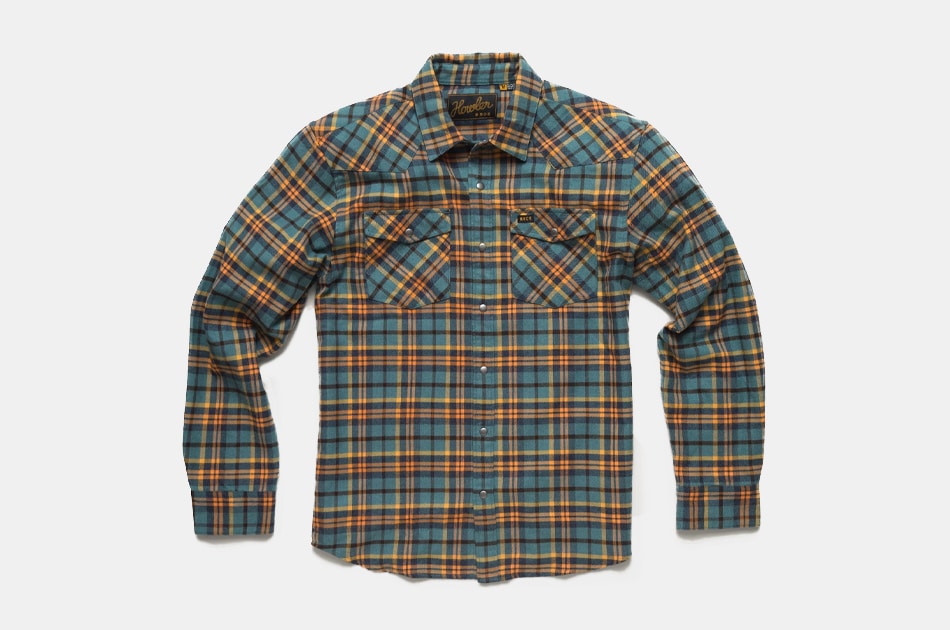 Howler Brothers Stockman Flannel Snapshirt
Howler Brothers has always taken an innovative and outdoor-ready slant on the classic flannel shirt, and the rugged and tough Stockman Flannel Snapshirt is no different. Made with a brushed cotton poly-flannel — ideal for wearing on a day hike, and then to your favorite brewery — the rich color and easy-going mobility of the Stockman Flannel Snapshirt. Complete with small touches like a sunglass-cleaning microfiber at the shirt hem, the Stockman teams up quite nicely with the adventure-ready gear you know and love (think tough chore pants and beat-up leather hikers).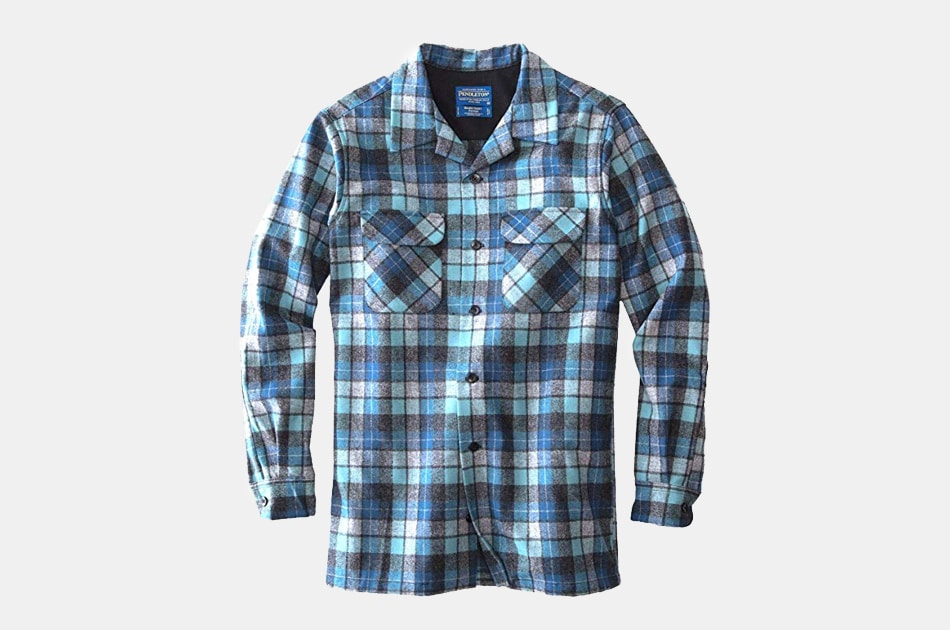 Pendleton fitted Board Shirt
Pendleton definitely delivers on yet another classic iteration of its Fitted Board Shirt — still the brand's top-selling shirt today. Made from the brand's one-of-a-kind machine-washable wool sourced near the Pendleton mill, it doesn't get much better for a modern-fitting, durable shirt. The midweight fabric is crafted to resist water and stains. It's also available in a range of colors, so if you like your flannel shirts well-crafted and easy to wear no matter the situation, you should definitely go right out and buy the Board Shirt. While you're at it, wear it as much as you can.
Disclosure: Clicking on these links and making a purchase may earn us a small referral fee, at no extra cost to you. Learn more here.