The 20 Best Hydration Packs
There's nothing quite like the thrill of boosting yourself over a summit, barreling down an unexplored, back-country trail by foot, or speeding along a steep descent on two wheels.  The adventure-driven among us know that nothing is quite as good as getting out in nature and pushing your body to its limits.
 
Unfortunately, you're going to lose a lot of hydration with these high-intensity activities, especially if you're the type that looks endurance in the face and laughs with hearty glee.  The good news is, there's gear for that.  Just as you go out of your way to find the perfect running shoes, biking shorts, and climbing harnesses to add comfort and convenience to your preferred outdoor activities, you'll definitely want to seek out a hydration pack that offers a balance of storage and lightweight carry.
 
The fluid reservoir is only the tip of the iceberg when it comes to specialized hydration packs, which feature breathable designs, optimal balance and load-bearing, and plenty of pockets small and large, in the front and back (and on the sides) to tote all your essential gear.  Here are the 20 best hydration packs according to us. Each one will offer you endless options for your favorite activities and different durations of outings.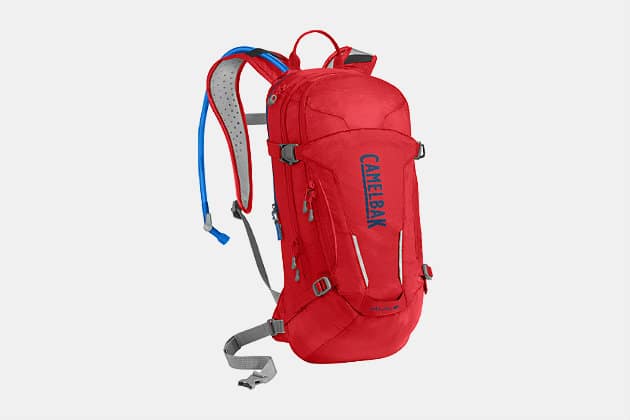 Camelbak M.U.L.E.
CamelBak is the undisputed champ when it comes to on-the-go hydration for your every camping excursion or marathon, so if you're looking to upgrade from your current hand-carry water bottle or running belt, you're sure to enjoy this little M.U.L.E.  It's lightweight and maneuverable, thanks to a narrow design, so you'll barely notice you're toting it. You'll also appreciate 20% more water per sip with the Crux reservoir, a self-sealing bite valve, and a magnetic tube trap that allows for hands-free drinking. – Shop Now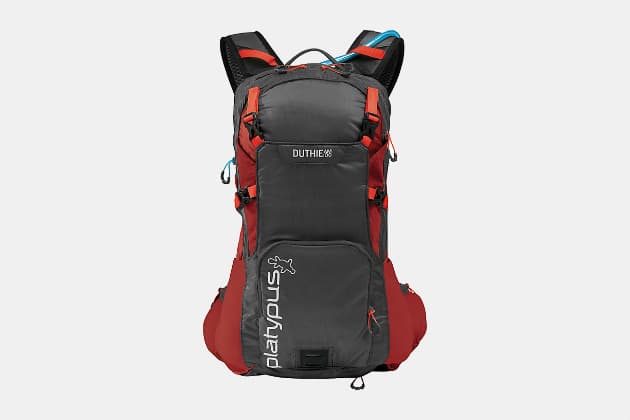 Platypus Duthie A.M. 10 Hydration Pack
Although this hefty hydration pack is ostensibly designed to tote agua, it can hold a lot more.  The 10-liter capacity devotes seven liters of space to gear, doubling the utility of your pack when you're hiking, biking, or climbing for the day.  Reservoir hang hooks and magnetic hose retention make for convenient sipping whether you're on a trail or a cliff face, but extras like two pump sleeves, a fleece-lined eyewear pocket, and numerous gear and tool compartments are a major bonus. – Shop Now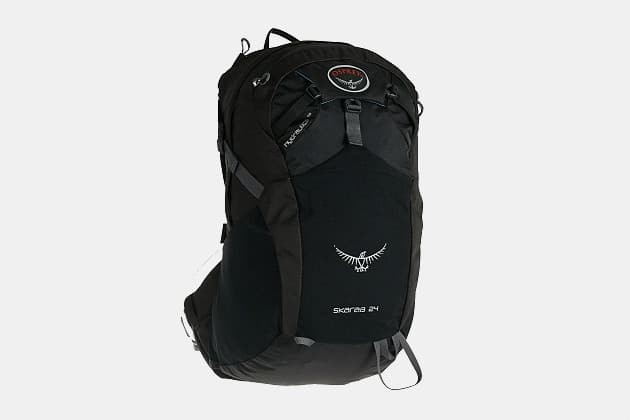 Osprey Skarab 24 Hydration Pack
At first glance, you might think this is a pretty standard backpack, and indeed, it's designed for day hikes and other 24-hour adventures where you might need a bit more than just your water.  In addition to the 2.5-liter reservoir and magnetic sternum bite valve attachment, you'll get tons of versatile storage space for gear, snacks, and whatever else you might want to tote.  Even better is the framesheet suspension designed to spread the load for all-day comfort. – Shop Now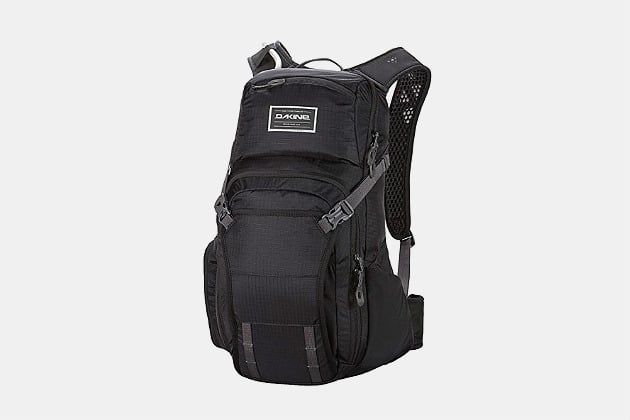 DAKINE Drafter 14L Hydration Backpack
Well-known for their skate packs, DAKINE also offers a variety of utility packs for other sports, as well, including hiking and biking.  Fit two liters of water in the hydrapak reservoir and use the rest of the 14-liter space for lunch and a jacket, as well as small gear.  There's even consideration for helmet carry (trail or full face).  The robust air suspension back panel is notable as it allows for ample air flow. – Shop Now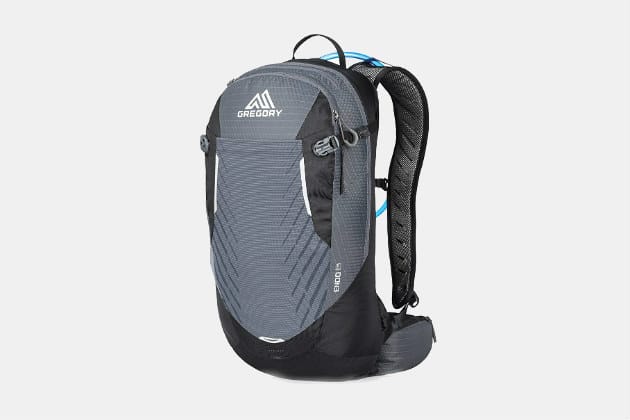 Gregory Endo 15 Hydration Pack
All-day hydration requires a big pack, and this one fits the bill with 15-liter volume and a weight capacity of up to 20 pounds.  Even so, the model is surprisingly compact and the addition of an adjustable suspension system means you get a perfect fit with nary a bounce or flapping strap.  Breathable shoulder straps and moisture-wicking, QuickDry fabric ensure long-lasting comfort, a hydration reservoir keeps water at the ready, and you can fit plenty of gear in this pack. – Shop Now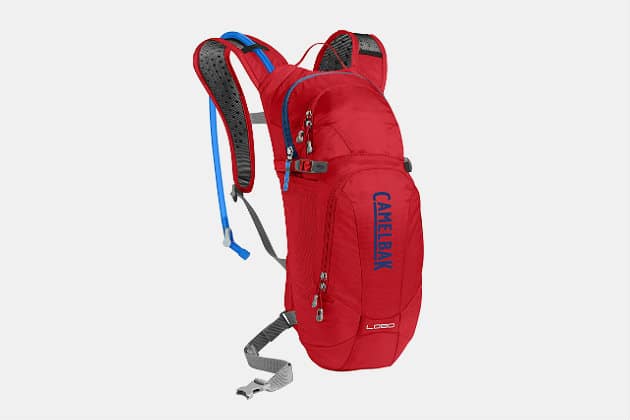 Camelbak Lobo Hydration Pack
You'll get all the typical CamelBak perks, from the self-sealing bite valve and Crux reservoir to the handy magnetic tube trap.  What sets Lobo apart from others in the hydration pack line is the lightweight, 3-liter capacity, just right for half-day outings, as well as the external fill that ensures you never have to unpack your reservoir to refill or top off.  Throw in a few protein bars and essential gear and you're ready to go. – Shop Now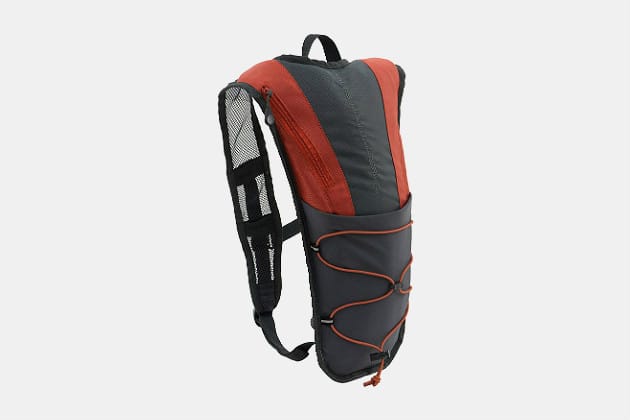 ALPS Mountaineering Hydro Trail 3 Hydration Pack
If you literally only want a pack for hauling water and nothing else, this is the single-purpose hydration pouch you're looking for.  This minimalist slip of a backpack holds three liters of water and boasts 3D mesh suspension and breathable mesh shoulder straps for optimal comfort.  A stretch pocket will accommodate a couple snack bars or your folded windbreaker, and a bungee system is designed to cradle a helmet when you take it off your head. – Shop Now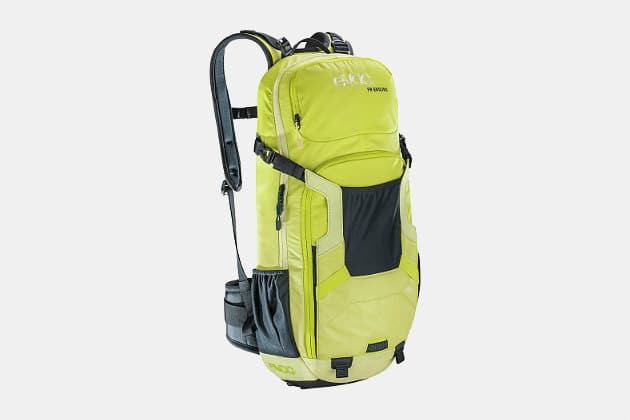 Evoc FR Enduro Protector Hydration Backpack
This long, narrow pack is a whopping 22 inches in height, which means it might not be the most comfortable for the short of torso, but the bulk-free design will hold three liters of water and a fair amount of gear without adding a lot of weight to your outings.  There are pockets galore to accommodate sunglasses, a helmet, and more, plus gear loops for extra stuff and waist and sternum straps to keep everything on lockdown. – Shop Now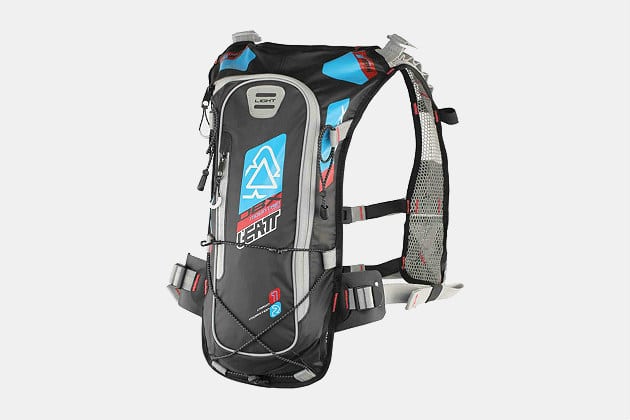 Leatt Mountain Lite 2.0 DBX Hydration Backpack
If you're looking for a lean, mean hyrdo pack designed to deliver H?O and minimize discomfort during your average daytime adventure, this is the slim water tote you want.  Three-liter capacity accommodates two liters of water and one liter of stuff (smartphone, wallet, keys, a snack bar, and not much else).  Comfort features include AirLine mesh for breathability, a lightweight chest harness, and plenty of adjustable straps for the perfect fit. – Shop Now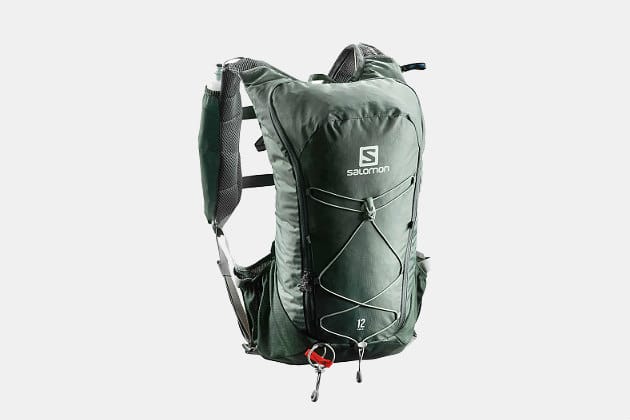 Salomon Agile 12L Set Backpack
Salomon running gear is top-notch, as any avid jogger knows.  In addition to apparel, shoes, and minor accoutrements (like hydro handsets), they offer up packs that are perfect for trail running or other high-impact, endurance sports.  Comfort and convenience are the name of the game, so you're sure to appreciate the 12-liter capacity, included soft flask, a lightweight and breathable harness in 3D mesh, TwinLink sternum straps, front storage for quick access, and room for plenty of targeted gear like a helmet and hiking poles. – Shop Now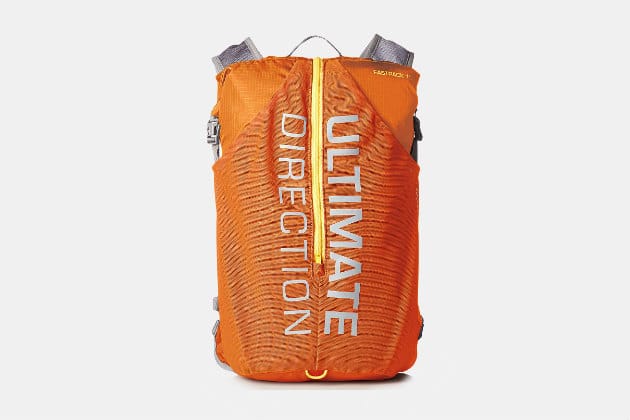 Ultimate Direction Fastpack 15
It looks like a simple, lightweight, nylon duffle, but there's more than meets the eye to this 21-liter pack in strong, breathable MonoRip mesh.  The harness features plenty of pockets on straps for quick-grab of water, snacks, or your phone while you're running or cycling.  The main compartment offers a designated laptop compartment and ample storage for other gear, as well as a roll-top closure for protection.  Outer stretch mesh pockets offer easy access to your most-needed items. – Shop Now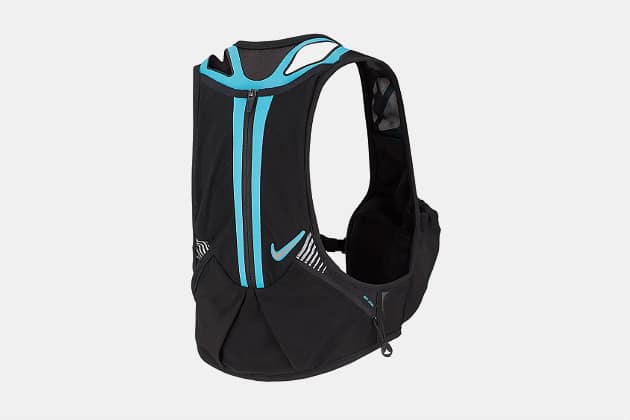 Nike Trail Kiger Running Vest
If you have yet to find a hydration backpack that sits comfortably and doesn't chafe, you might want to check out an alternative such as a running vest, and Nike delivers a real daisy.  Two 10-ounce flasks are included and they fit perfectly into front stretch mesh pockets for easy grab during long runs.  You can also toss a larger hydration bladder in the main compartment (at the small of the back) if you want extra H2O or put smaller bladders in front pockets to flatten the profile a bit. – Shop Now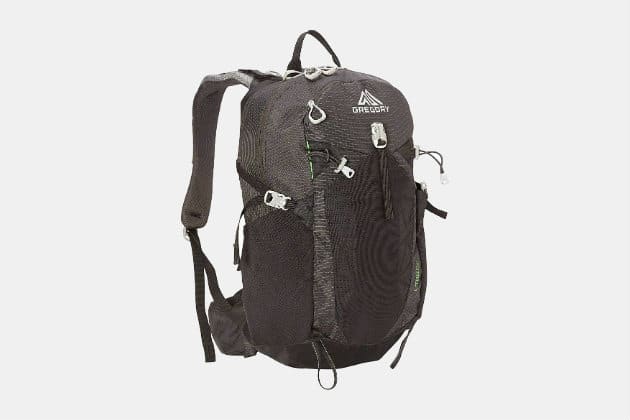 Gregory Citro 30L 3D Hydration Pack
This mega pack delivers 30 liters and 30 pounds of capacity, which is enough to stow a heck of a lot of gear in addition to the 3-liter fluid reservoir.  It has features built in to disperse extra weight and boost comfort, including the leaf-spring lower back lumbar design, top-tier EVA foam and ventilation, and a cushy shoulder harness.  Grab a pack in eye-searing yellow or blue and you'll never have trouble finding it in a crowded closet or garage. – Shop Now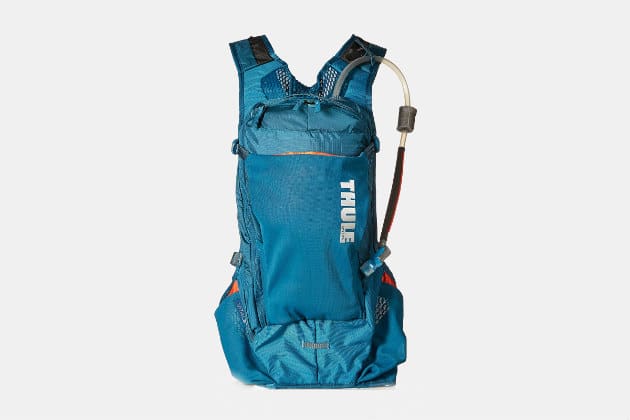 Thule Vital 3L Hydration Pack
This low-slung pack is perfectly suited to short outings, with a 1.75-liter Hydrapak reservoir and three liters of storage space outfitted with myriad pockets to compartmentalize cargo.  Lightweight and ventilated, this pack shouldn't cause you to overheat, and the low center of gravity ideally distributes weight to reduce muscle strain and improve bike handling.  Sternum and waist straps add stability and the ReTrakt hose system makes for hands-free sipping on the go. – Shop Now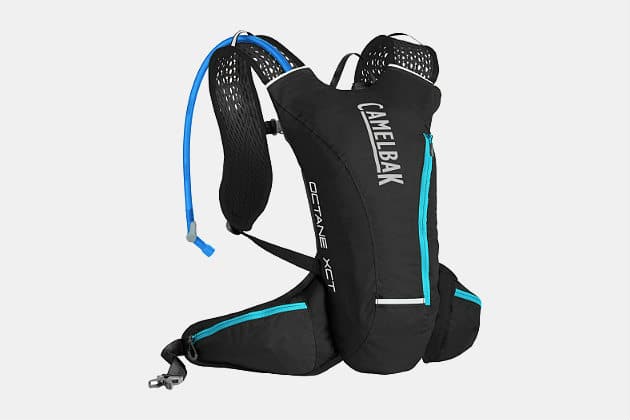 CamelBak Octane XCT 7L Backpack
Another offering from CamelBak, this streamlined, 7-liter tote with included 2-liter Crux reservoir offers a unique, body-hugging design that delivers ultimate comfort and resists slippage even during intensive movement.  A padded back panel and mesh straps increase cooling air circulation, while the hipbelt pockets offer easy access to snacks and other essentials while you bike or jog.  Whether you're running a marathon or climbing Devil's Tower, this small, lightweight pack is your friend. – Shop Now
Teton Trailrunner 2.0 Hydration Pack
The 2-liter, FDA-compliant food grade bladder is only the beginning of the benefits that come with this sleek, minimal hydration pack with a deep pocket for snacks and other essentials, a bungee for your jacket or helmet, and a low-profile design for an athletic fit.  The adjustable fit clears both chest pockets and helmets to help avoid bumping and chafing, as does the cushioned and ventilated back panel.  Shock absorbing materials eliminate bounce. – Shop Now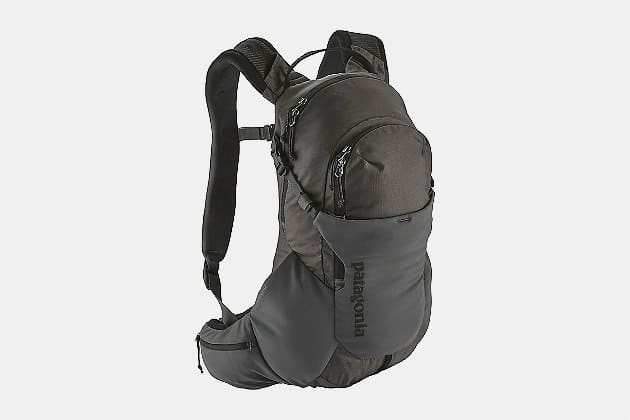 Patagonia Nine Trails 14L Pack
It's hard to deny the appeal of Patagonia products, since the company obviously goes out of their way to deliver products that feel like they were designed by those who use them, including every conceivable comfort and convenience.  This 14-liter pack (with 2-liter HydraPak reservoir) is lightweight, durable, and perfectly balanced to avoid chafing and muscle strain, even when you're cycling at top speed.  It packs a lot of gear in the main compartment, and hipbelt pockets allow easy access to small items like phones and snacks. – Shop Now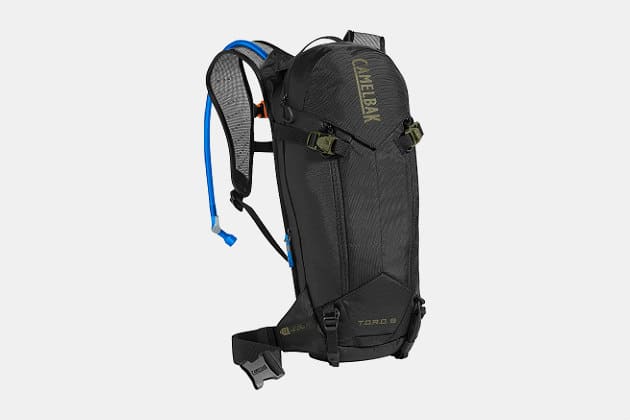 CamelBak T.O.R.O. Protector 8L Backpack
If the lightweight M.U.L.E. and Lobo aren't going to cut it, upsize to the T.O.R.O. with 3-liter Crux fluid capacity and five liters of storage for gear.  Will the added capacity and potential weight bother you?  Not with the CE Level II protector at center back to absorb impact, as well as a stability belt and two adjustable sternum straps to deliver a custom fit.  Hikers and bikers alike will love it. – Shop Now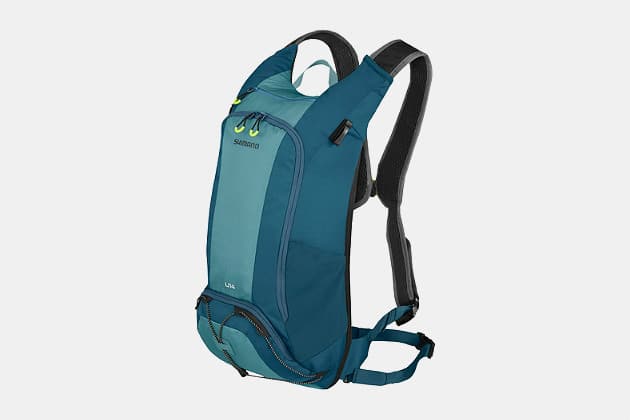 Shimano Unzen 14L Hydration Backpack
Hiking, biking, and climbing require a pack that not only totes your essentials, but does so without adding to your discomfort.  Shimano delivers with a 14-liter day pack that offers hydration-compatible construction.  What's sure to excite true aficionados, however, is the Rider Fit X-Harness that's designed to be easy to adjust on the go, whether you're cycling at high speeds or midway through a tough climb.  Relax the fit while ascending and lock it down tight during the descent. – Shop Now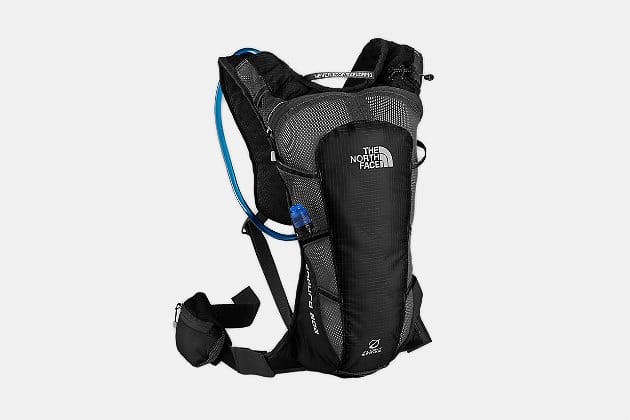 The North Face Enduro Boa Hydration Pack
This diminutive pack delivers a 1.5-liter reservoir with magnetic clip attachment system for easy sipping, but what runner, bikers, and climbers will love above all else are ergonomic considerations that make for a most comfortable exercise experience.  Weight distribution across the sternum and upper body is designed to reduce abrasion while form-fitting belts keep everything in place, even during intensive movement.  Soft mesh increases airflow and comfort, and you can't beat the lifetime warranty against defects in materials and workmanship. – Shop Now
Disclosure: Clicking on these links and making a purchase may earn us a small referral fee, at no extra cost to you. Learn more here.
freestar.config.enabled_slots.push({ placementName: "gearmoose_leaderboard_btf", slotId: "gearmoose_leaderboard_btf" });