The 16 Best Men's Lightweight Jackets For Fall
With the right fall jacket, there's no telling where you can go or how you can style it — we mean that sincerely. Our list of the best men's lightweight jackets for fall check all the right boxes, and ideally round out your fall outerwear collection with style and functionality. What does that entail, exactly? Well, a lightweight jacket is designed to move with you, not against (think easy layering potential).
They're also pleasingly rugged and classic in nature — not overly flashy or ostentatious. And you'll find that the best jackets for the best season in menswear are often made to be worn to the office, on your commute or on the weekend — that's that versatility we called out earlier. Wear it with a henley and tough chore pants, or pair up any one of these jackets with a chambray shirt and expertly faded denim — there's no wrong way to go, that much is true.
You'll also find that these jackets come from classic brands you know and love, from Filson to Flint and Tinder. With sustainability and style in mind, plus valuable layering potential and serious style points, you've just found at least one of your new favorite fall jackets.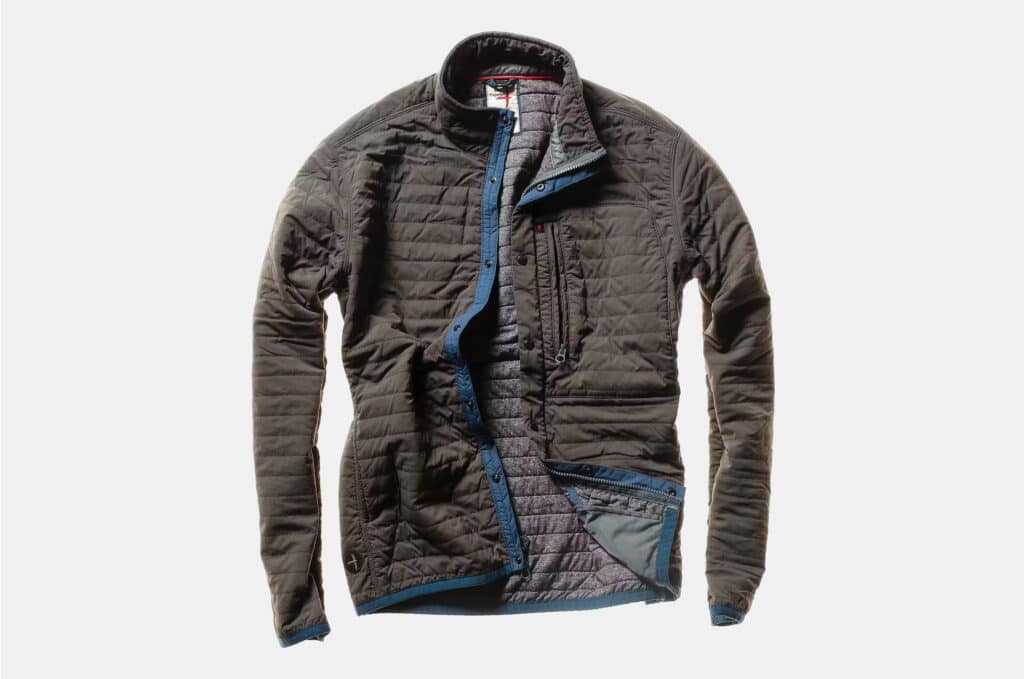 Relwen Windzip Jacket
When those autumn days turn gusty and blustery, the Relwen Windzip Jacket will be just the thing to keep out the chill. Crafted using a tough synthetic fabric that's both water- and wind-resistant, it'll keep you dry in those fall rain showers, and the sixty-gram down-alternative filling offers great insulation against the cold.
The addition of spandex into the fabric gives it plenty of flexibility so you can use it for sport, outdoor adventure, and casual use. The stand-up, double-layer quilted collar is the perfect added protection against the cold, and the hand pockets have a brushed tricot lining that's both soft on your skin and highly effective at warming chilly fingers. Thanks to the Lycra-finished cuffs and hem, the jacket will hug your wrists and waists to ward off the cold and wind even more effectively.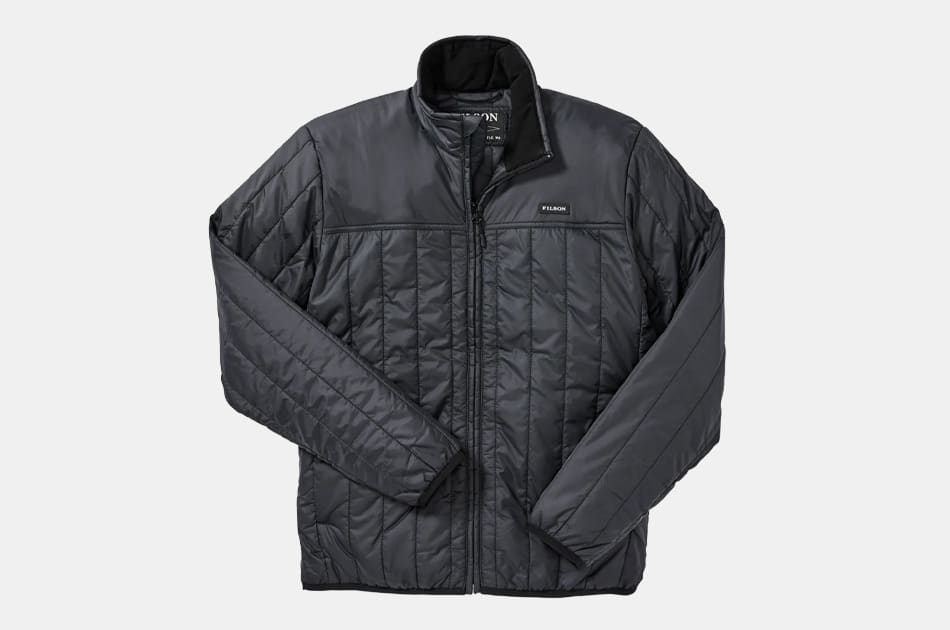 Filson Ultralight Jacket
We absolutely love Filson's tough, smartly designed, functionally minded shirt jackets and warm flannel shirts — but what about when you need something lighter and more transitional in nature? Enter the aptly named, well-crafted Filson Ultralight Jacket, a tough-as-nails insulated jacket made from Cordura ripstop nylon with Primaloft insulation to round things out for good measure. Wear the sleek black colorway out to the trail or through the city without missing a beat or needing a change of outerwear.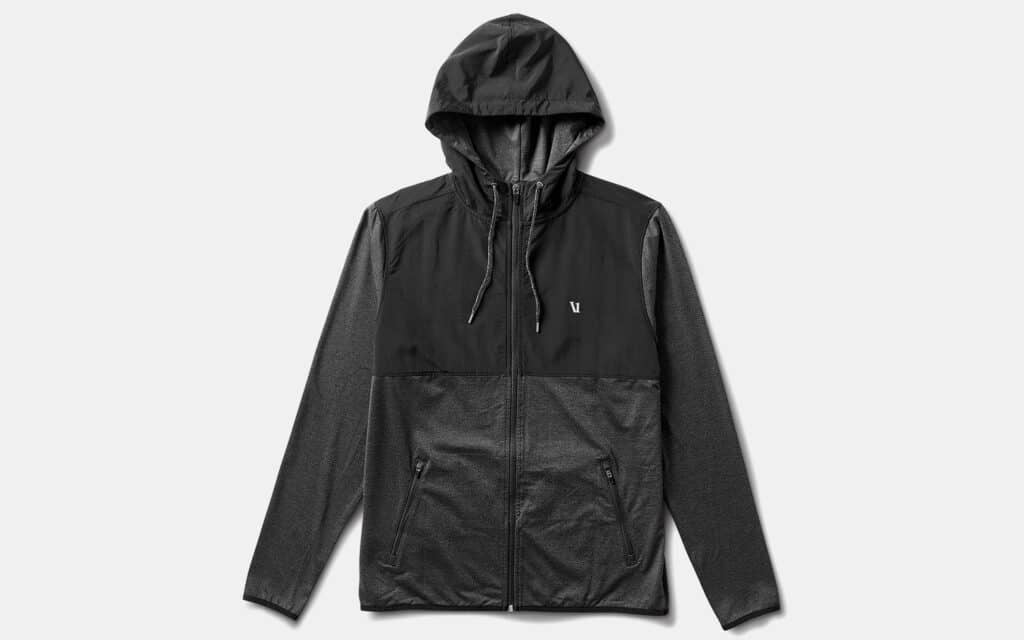 Vuori Sunday Element Jacket
For those rainy and wet fall days, you'll want this Vuori jacket close at hand. The Sunday Element Jacket is made using a performance-friendly stretch fabric that flexes and moves with you as you run and play, but the addition of a durable nylon shell gives it just enough water-resistance and warming that you'll never worry when stormclouds loom.
The fabric is moisture-wicking and breathable so it will keep you cool no matter how active you are. You'll love how roomy the zip pockets are; there's more than enough space for your phone, keys, wallet, and EDC items. Run and train with full confidence that you'll be shielded from the elements in this lightweight jacket.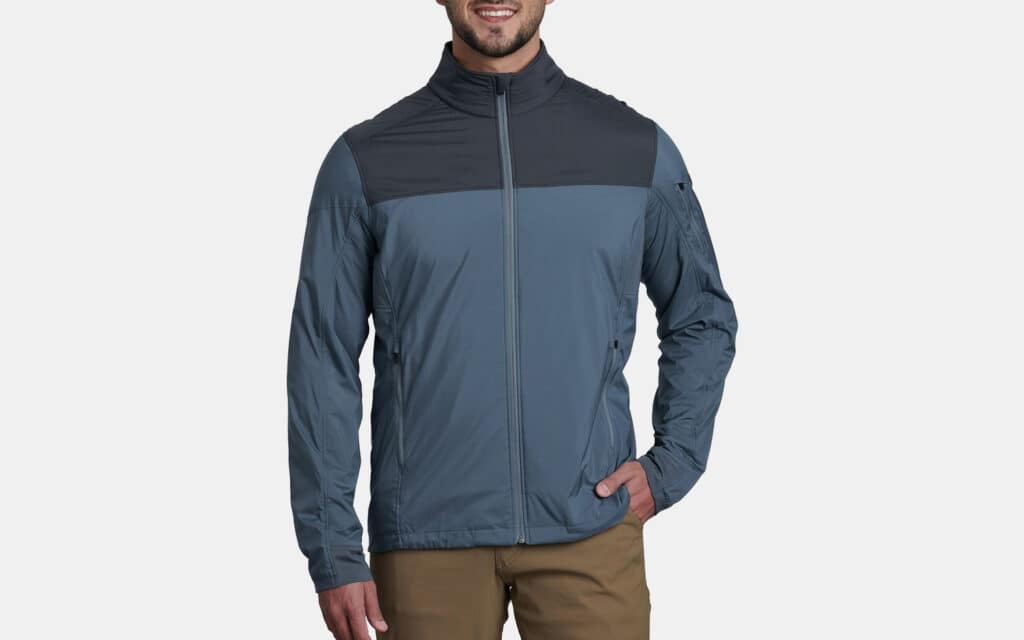 KUHL The One Jacket
This jacket is designed to be your "one and only" this autumn, and once you try it on, you'll agree that it's built for versatility and durability. The shell is windproof and warm, but breathable to prevent you from overheating on your next hike, run, or bike ride. It's beautifully lightweight, too, and you'll hardly notice you're wearing a jacket except when the wind is blowing chilly.
Thanks to its integrated AeroKnit technology and MIKRO AIR fabric, you'll stay cool when it's warm and warm when it's cool. Be warned, though: the size is "athletic" and slim, so anyone who needs a bit more room in the sleeves, chest, shoulders, or midsection would do well to size up.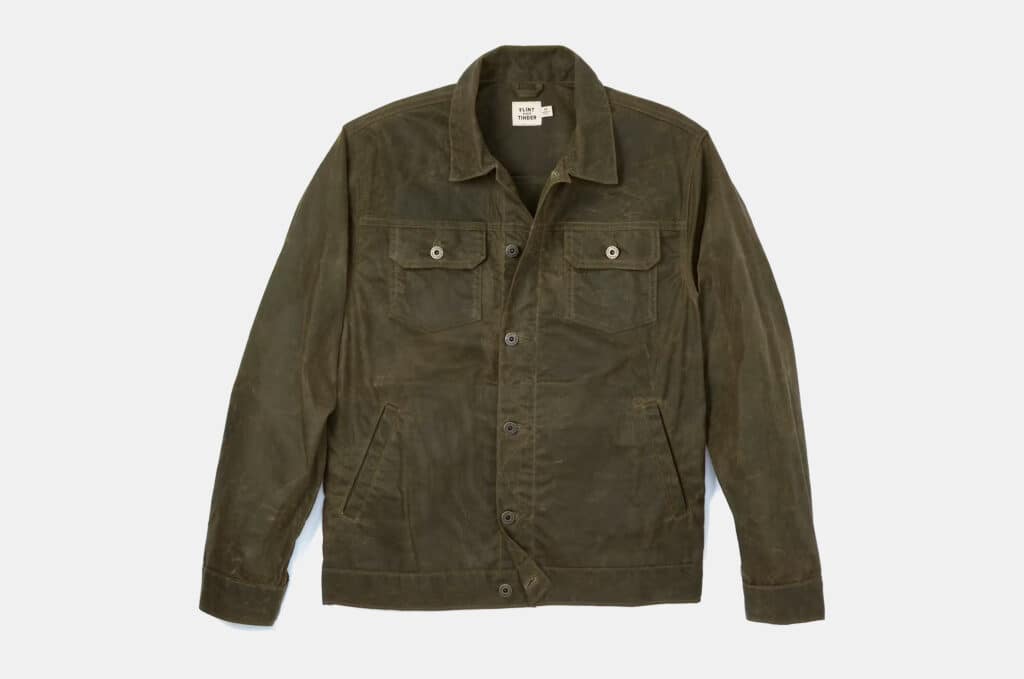 Flint and Tinder Unlined Waxed Trucker Jacket
The Flint and Tinder Unlined Waxed Trucker Jacket is the ideal companion to get you from those cooling summer days into chilly autumn nights. Made from seven-ounce New Jersey sailcloth waxed canvas, it's light and breathable enough you can wear it at the end of the warmer months, but still offers a tough outer layer to shrug off the autumn rains and chill.
The waxed exterior will develop a gorgeous and unique patina with use, and it can be easily re-waxed to smooth out any scuffs, scratches, or stains. The trucker jacket has been pre-washed to soften it up and give it a "lived-in" feel right out of the box. With plenty of pockets—including an interior pocket, two buttoned chest pockets, and side hand pockets—you've got all the storage space you need for your EDC loadout.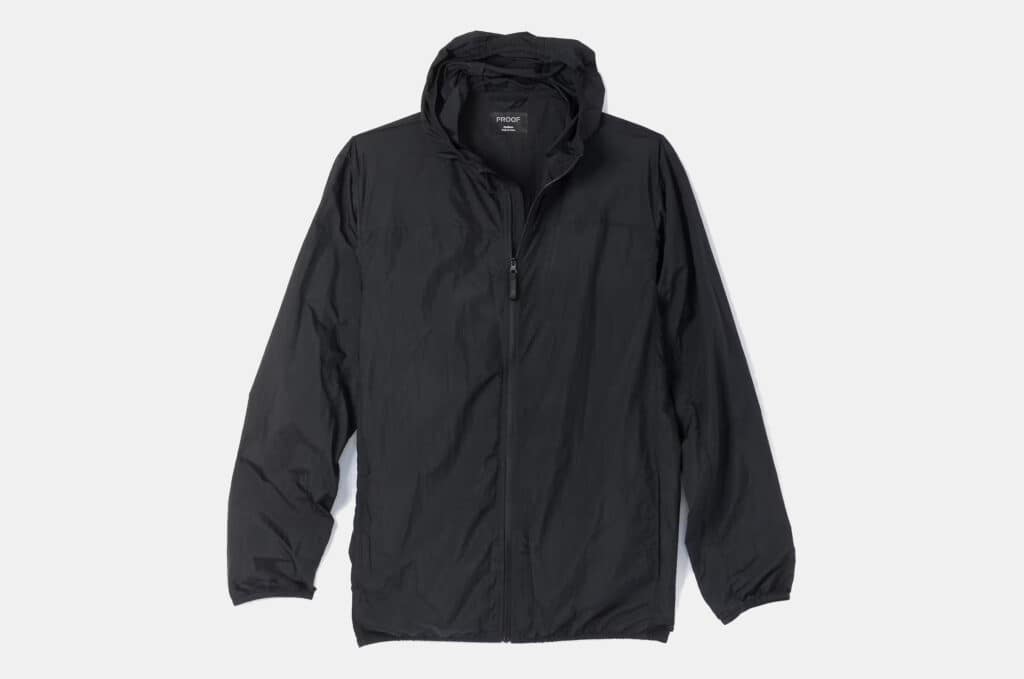 Proof Moonweight Packable Jacket
Taking a trip someplace it might be a bit colder and rainier but don't want to take up too much storage space in your luggage? The Proof Moonweight Packable Jacket is the ideal solution for you. The jacket is made using a lightweight nylon that packs down to roughly the size of a water bottle, and it can be stuffed into its own internal side pocket for easy packing. However, it's warm enough to keep out the chill, shrug off wind, and even has a water-resistant DWR coating to keep you dry if the sky starts pouring.
The elastic bands on the hood, cuffs, and bottom sweep let you cinch everything nice and tight to keep out the wind, and the side waist pockets give you plenty of space to keep your hands warm. You won't find many jackets as portable and reliable as this one.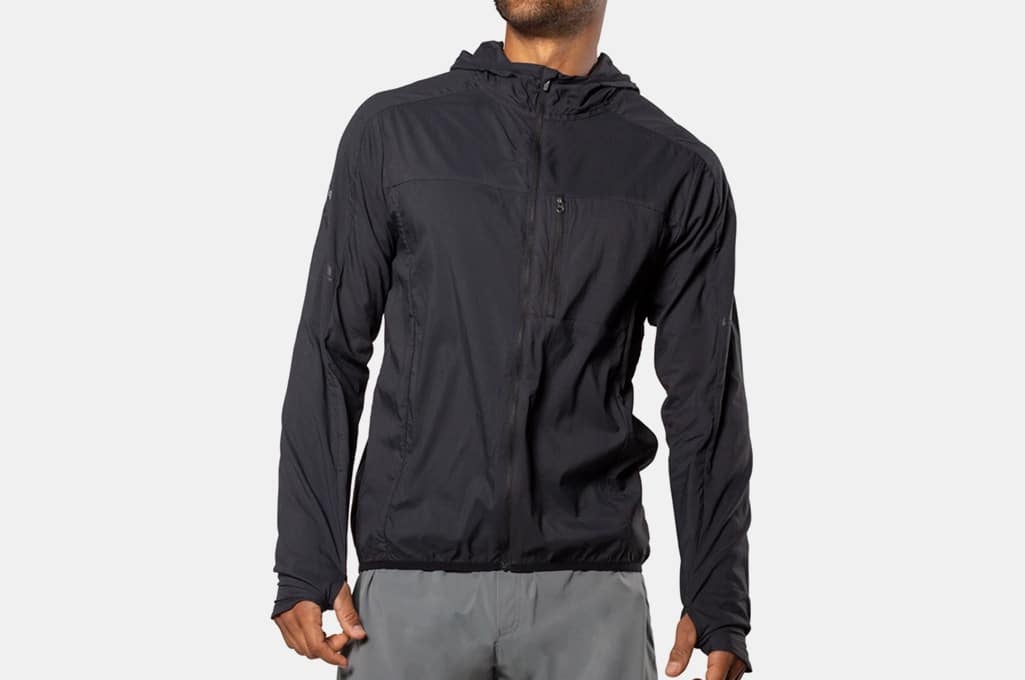 Nathan Stealth Jacket
What makes the Nathan Stealth Jacket such a great pick for me is that I never have to worry about that annoying "plastic" sound of synthetic fabric rubbing against itself. You know what I'm talking about: it's like crinkling plastic, and can get really annoying over a 5-mile daily run or 10K race.
But the Stealth Jacket is designed to be as silent as possible, none of that "swishing" getting in the way of enjoying the sounds of nature or irritating people in the gym around you. Add to that the fact that it's wonderfully lightweight, easily packable, and windproof and water-resistance, and it's a winner in my book.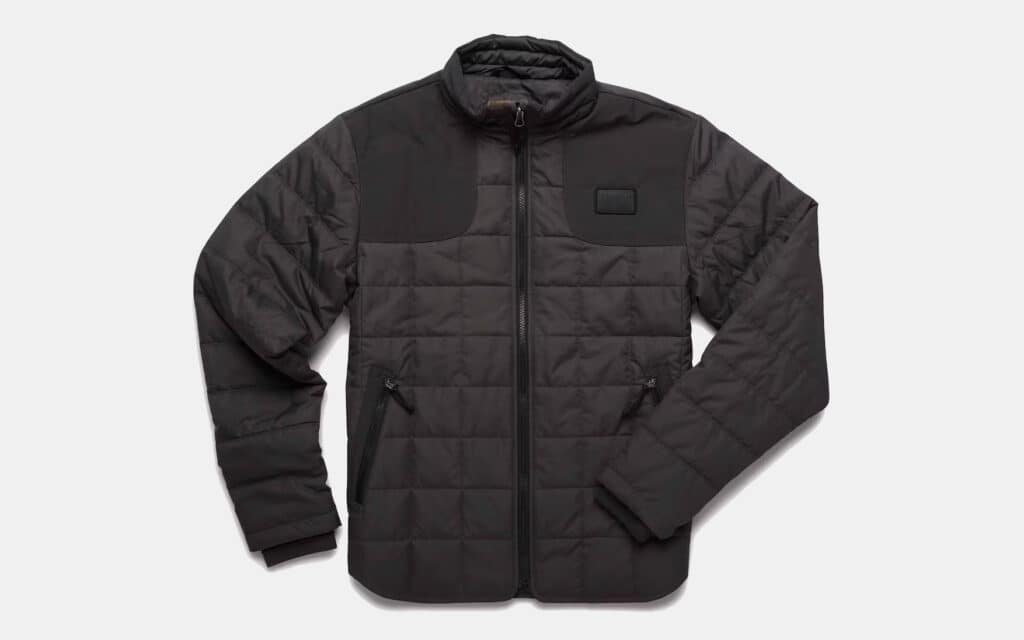 Howler Brothers Merlin Puffer Jacket
Where I (Andy) live in Western Canada, the cold starts to hit hard during the autumn months, but it's still just too warm to break out our winter coats. This is where the Howler Brothers Merlin Puffer Jacket is the ideal choice. It's a "light puffer" coat that has just enough PrimaLoft Gold insulation to keep me warm throughout the autumn and even through the first snows (which can be as early as November).
It's actually so well insulated I really only need to switch it out for a heavy-duty winter coat when the temperatures drop well below freezing. And because it's lightweight and water-resistant, I can take it late-season camping, hiking, to work, and around town without worrying about it getting wet or damaged. It's a coat I've been using for three years now and expect to wear for many more.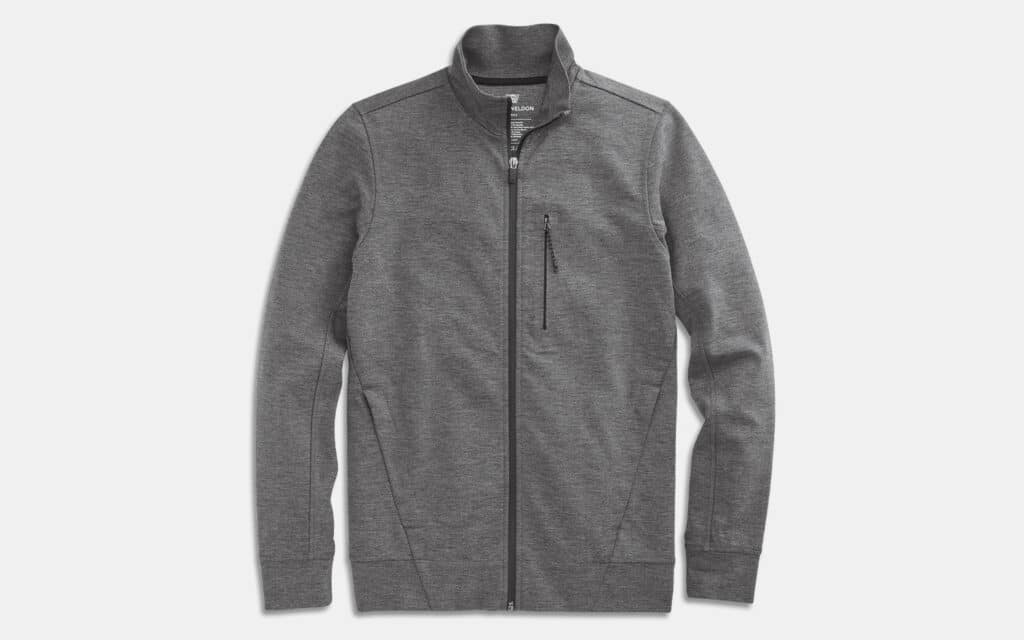 Mack Weldon Atlas Full-Zip Jacket
If it's not properly cold where you are, you'll find this is the perfect choice for you. Mack Weldon designed the Atlas Full-Zip Jacket using lightweight recycled materials that are as resistant to water as to wrinkles. Really, it tends to feel more like your favorite sweater than a proper jacket, and it serves as a top layer on chilly days and mid-layer when the weather really turns cold.
The interior pocket gives you additional storage space for your EDC essentials, and the front pockets are large enough for guys with extra-big hands. Best of all, the fabric is naturally soft and moisture-wicking, so it'll keep you cool, comfy, and dry all day long.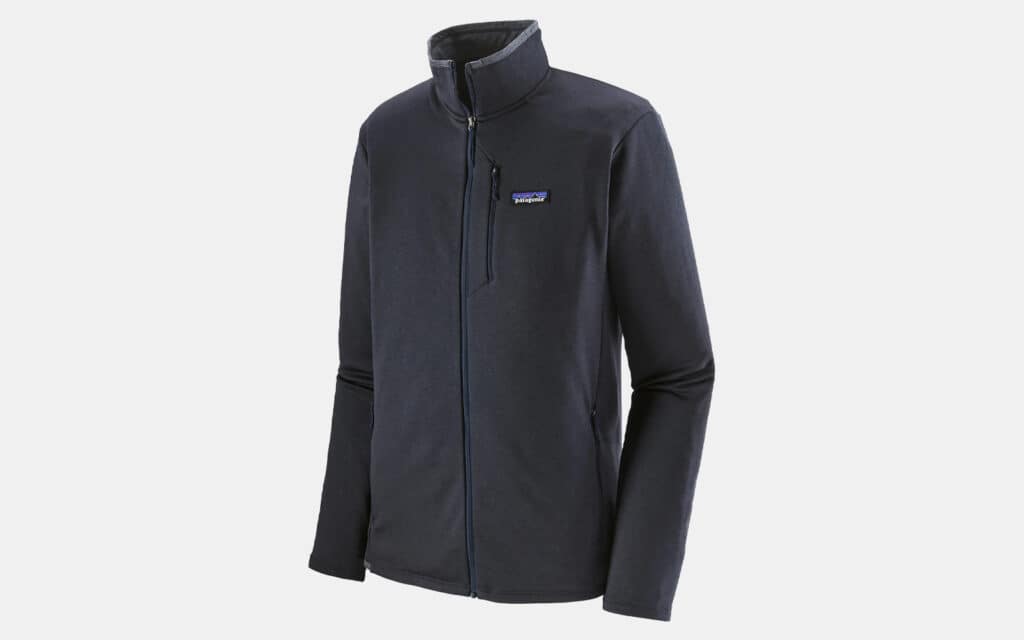 Patagonia Men's R1 Daily Jacket
Step your protection against the elements up a notch with the Patagonia R1 Daily Jacket. The technical fabric flexes and stretches with your movement, and the specialized Capilene Cool Lighweight fabric sewn into high-sweat spots will pull moisture away from your body so you never overheat. The shoulder seams are specifically offset so they sit comfortably beneath the straps of your backpack, hiking pack, or briefcase.
Thanks to the fleece backing, you'll be wonderfully warm even as the temperature plummets, and the HeiQ Pure odor control prevents the sweater from smelling bad after a day of heavy sweating. "Green" consumers will be glad to know it's made almost entirely from recycled materials and is Fair Trade Certified sewn.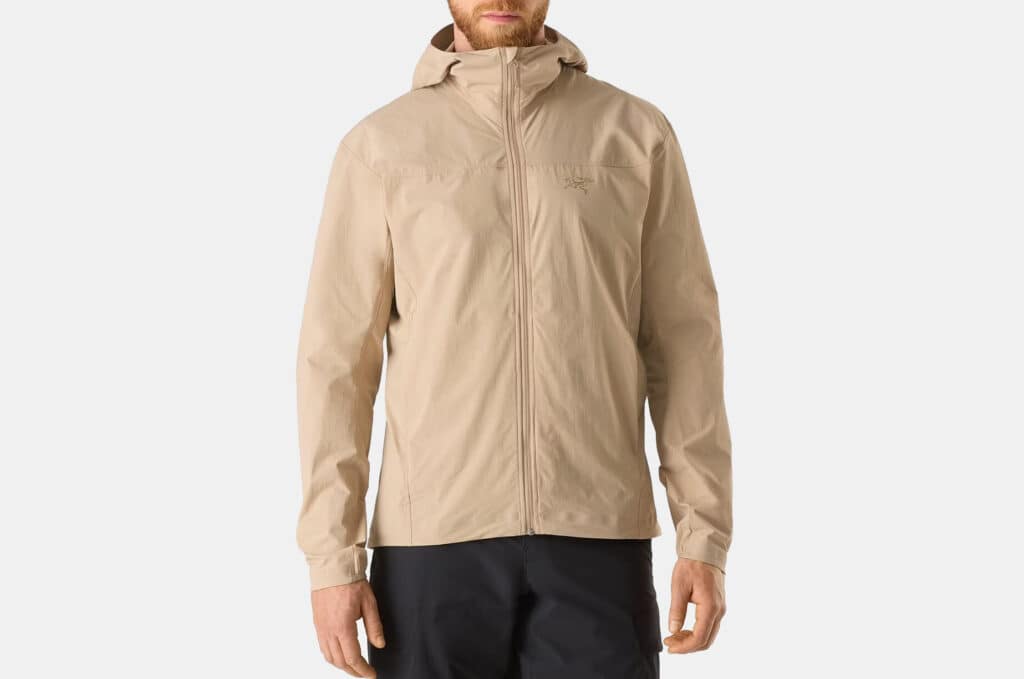 Arc'teryx Gamma Lightweight Hoody
Don't let the autumn rains and cold slow down your training. With Arc'teryx's Gamma Lightweight Hoody, you can run, cycle, or play sports all fall long. The hoody is made using the brand's proprietary Fortius DW 1.0 fabric, which combines tough recycled nylon and versatile elastane to give you just the right amount of stretch and flex for any training session.
The fabric is sturdy enough to hold up to mountain climbing and trail running, as well as late-season camping and hiking. Though water-resistant, it's still nicely breathable and lightweight enough you won't overheat if the day heats up. When the rain starts falling, you'll be glad for the adjustable StormHood, which keeps water off your face but doesn't impair your visibility. And, thanks to its articulated patterning, you'll have total freedom of movement while staying warm and dry.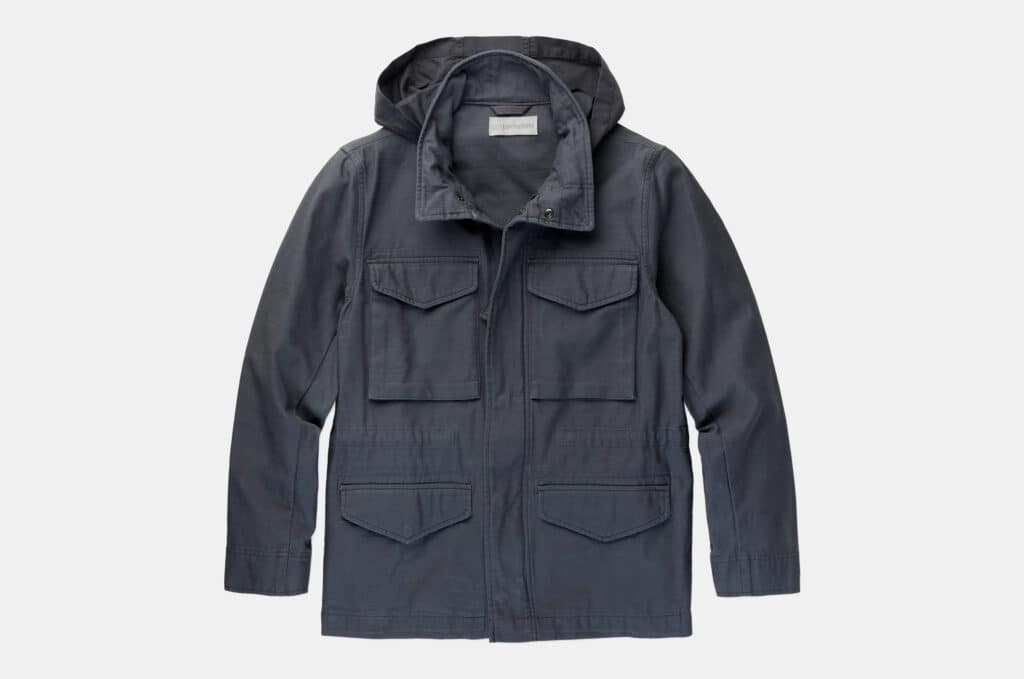 Outerknown Voyager Jacket
Designed in the "field jacket" style, the Outerknown Voyager Jacket will be just the thing to keep you warm and casual all autumn long. Constructed using an eye-catching organic cotton military slub twill, it'll complete your "laid back" outfit, but still keep you warm enough when those fall days begin to cool off in earnest.
The fabric looks crisp and the colors are sharp, but is wonderfully soft to the touch and will make you feel instantly relaxed and comfortable when you slide into it. Thanks to the four external pockets and hidden internal pocket, you'll be easily able to stash your daily essentials where they're most easily accessible. Best of all, when the rain starts to fall or the wind chills your ears and neck, just unzip the collar and pull out the packable hood.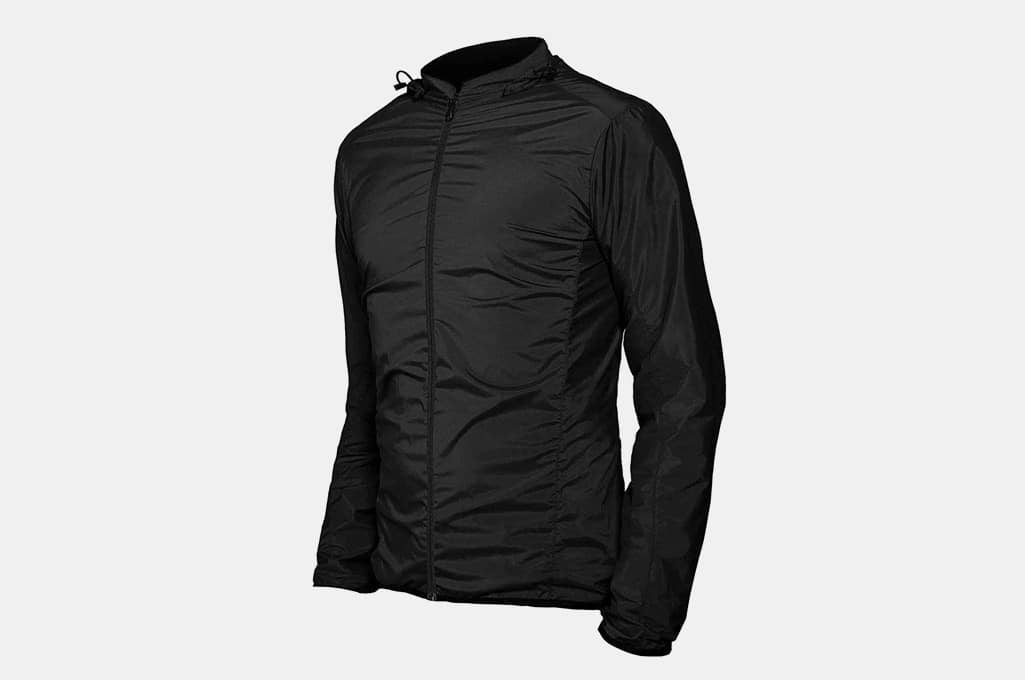 Mission Workshop Interval Microlight Windshell Jacket
The Mission Workshop Interval Microlight Windshell Jacket takes lightweight to a whole new level. Weighing in at just five ounces, it's slim and sleek enough I can pack it down and fit it into my backpack or even work briefcase, ready to pull out if the rain or wind picks up.
It's wind- and water-repellent, and the Japanese nylon is incredibly resilient so I can use it for my daily sprint training or kickboxing workouts. It's a great shell to wear over a thermal base layer through the chillier autumn weeks.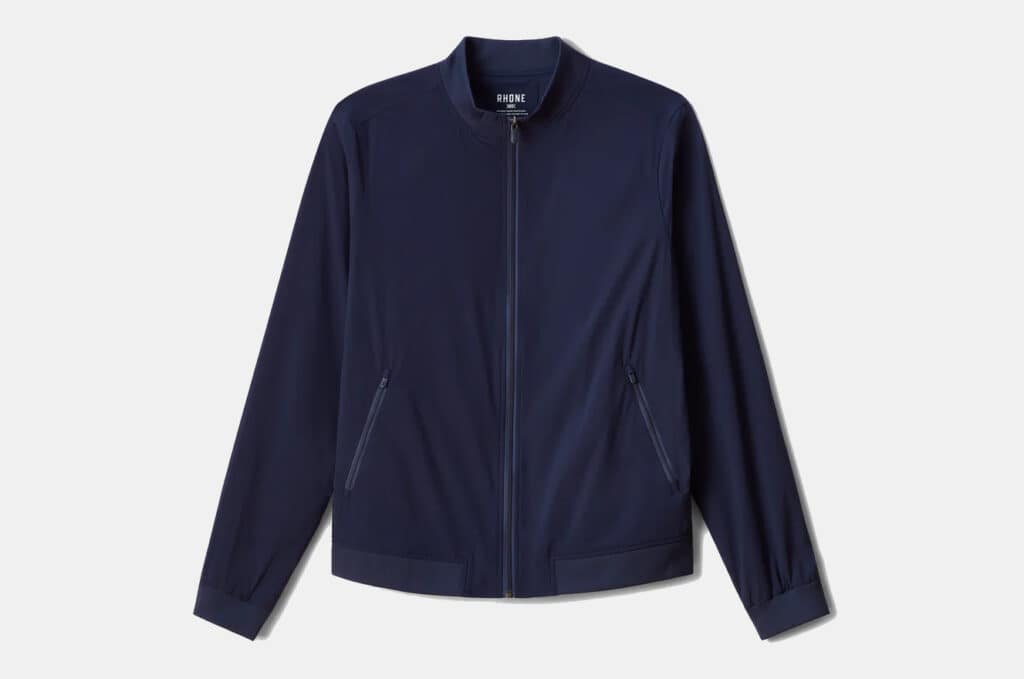 Rhone Summer Bomber Jacket
Stay warm and classy with the Rhone Summer Bomber Jacket. Though it's cut in the bomber jacket style, it's not bulky or heavy at all, but a nicely sleek jacket that serves as a great outer layer to pair with a collar shirt and your favorite jeans or khakis. It's got a DWR coating to shrug off water, is thick enough to keep out the wind, and offers just enough warmth that you'll be happy wearing it until the weather gets truly cold.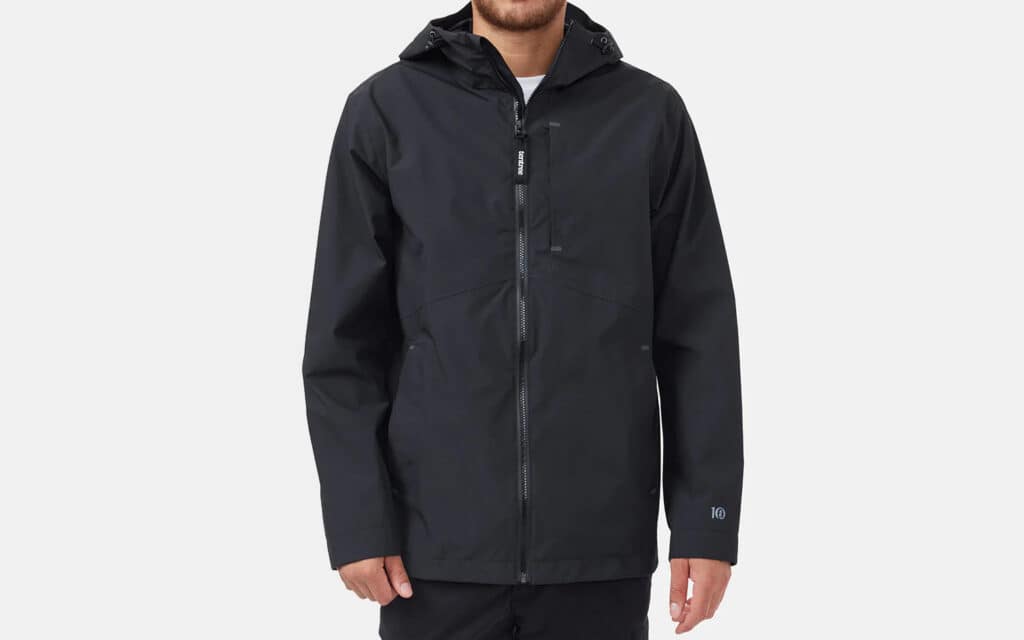 TenTree Nimbus Rain Jacket
No matter how stormy or rainy the fall gets, you can trust that you're bundled up safe and dry in this TenTree rain jacket. The Nimbus is fully water-repellent, thanks to its DWR coating, airtight pockets, and taped seams. Heck, even the YKK Aqua Guard zippers help to keep off the rain.
The exterior polyester shell will also block out the wind while the interior recycled yarn lining keeps you warm. But you'll love how breathable it is, preventing you from overheating while running errands or zipping around town. Lightweight, flexible, and designed for an active lifestyle, it's just what you need to stay warm all autumn long.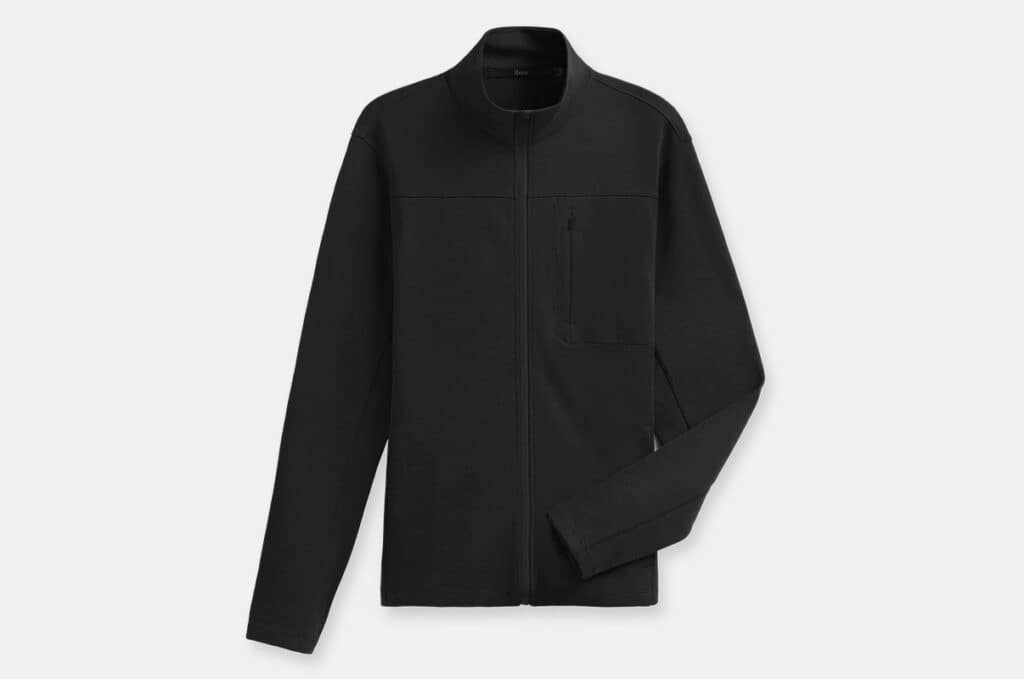 Ibex Shak Jacket
I have yet to find a lightweight fall jacket as soft, warm, and comfortable as the Ibex Shak Jacket. It's made using pure Merino wool which feels wonderful against my skin, but does an excellent job of providing insulation against the cold. The fabric has a natural resilience that makes it tough enough to stand up to hardcore daily use, and will stretch and flex with my movements as I hike, climb, cycle, or commute to and from work.
It's warm enough I can wear it even when the snow starts to fall but lightweight enough that it won't make me overheat on the warmer autumn nights. But my favorite feature? It's wrinkle-resistant, so I can pack, wash, and wear it without it ever looking crumpled or rumpled.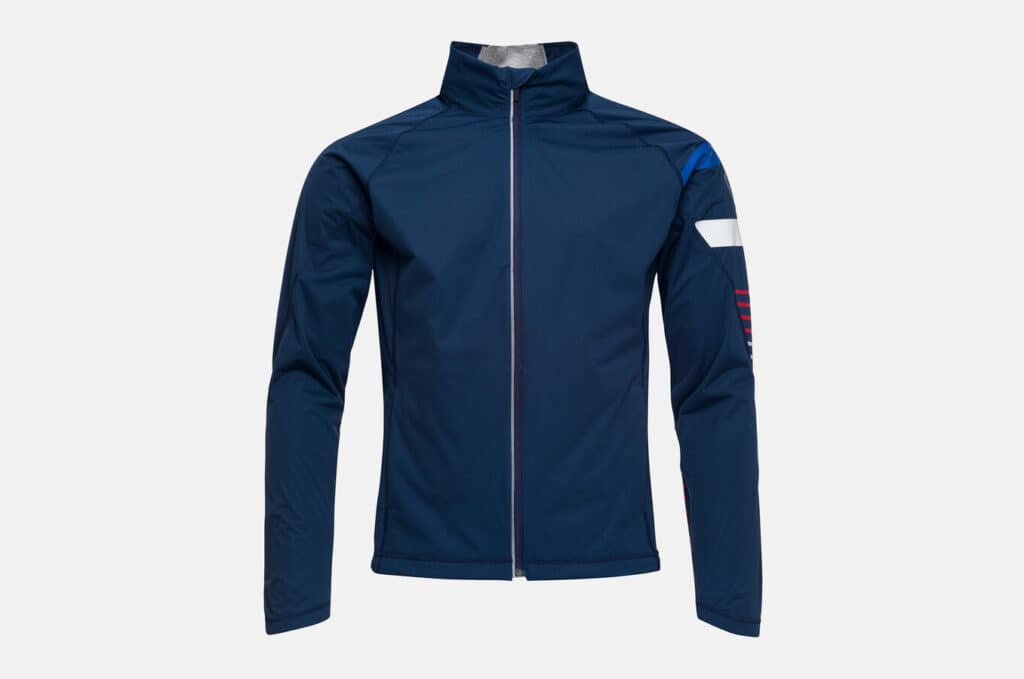 Rosignol Poursuite Nordic Ski Jacket
Rossignol offers something truly unique with the Poursuite Nordic Ski Jacket. It's a wonderfully lightweight jacket, crafted using pure polyester and finished with a DWR-coating that makes water-resistant as well as windproof. However, the addition of a breathable membrane stops you from overheating as you warm up from your Nordic skiing, trail run, or mountain bike ride.
The 37.5 technology incorporated into the jacket will not only improve fast-drying and moisture-wicking, but helps to maintain your body at the ideal temperature. For skiers in particular, you'll love the specific ergonomic design of the sleeves that allow you to wield your ski poles without feeling constricted or stifled. Best of all, it makes a great outer layer for autumn but transitions seamlessly into a middle layer when you're gearing up for winter.
Disclosure: Clicking on these links and making a purchase may earn us a small referral fee, at no extra cost to you. Learn more here.