15 Best Slip-On Shoes For Men
The term "slip-on shoes" might draw up negative connotations among even the most novice of the style-obsessed. Rest assured, the new breed of men's slip-on shoes are stylish, well-designed and supremely comfortable — a far cry from the clunky versions worn in your youth (or seen on the feet of so many weary travelers).
No sir, men's slip-on shoes come from all manner of brands and designers, in all sorts of silhouettes and materials — some more suited for the beach, some more suited for wearing with, well, a khaki suit at a casual summer happy hour. It's tough to narrow down any category to just 10, but we think we've done a more than suitable job narrowing down our list to just 10 of the best slip-on shoes for men. See for yourself below.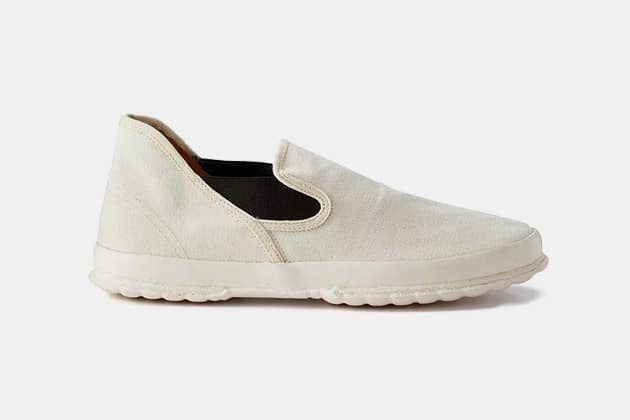 Vulcanizer Canvas Slip-On Shoes
Slip-ons needn't be flimsy or an afterthought that you throw on hurriedly as you rush out the door — no sir, the best men's slip-on shoes can even be something you look forward to wearing just as much as your favorite lace-up sneakers. Exhibit A: The Vulcanizer Canvas Slip-ons, which play off the heritage and durability of the brand's canvas work boots to create a surprisingly tough, rugged slip-on. Made with a water-resistant cotton canvas upper and available in versatile colors like Natural (our personal favorite), you should wear these all the time with faded indigo denim and a short-sleeve henley. – Shop Now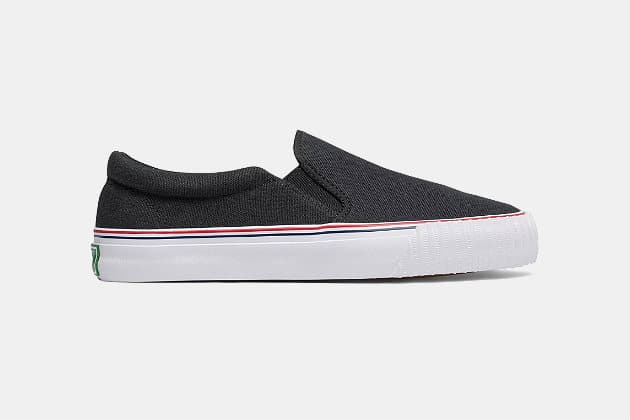 PF Flyers Center Lo Slip On
P.F. Flyers is yet another brand normally known for its tough high-top and low-top lace-up sneakers, yet their considerable attention to detail and design heritage shines through with the Center Lo Slip-On. They're simply the latest pair of slip-on sneakers for your consideration this season, crafted with a treaded outsole and a durable 10oz. Canvas upper for plenty of wear this summer … and next summer, and heck, the summer after that. Wear the black canvas pair with light wash jeans and a black T-shirt for a bit of casual style at your next outdoor concert. – Shop Now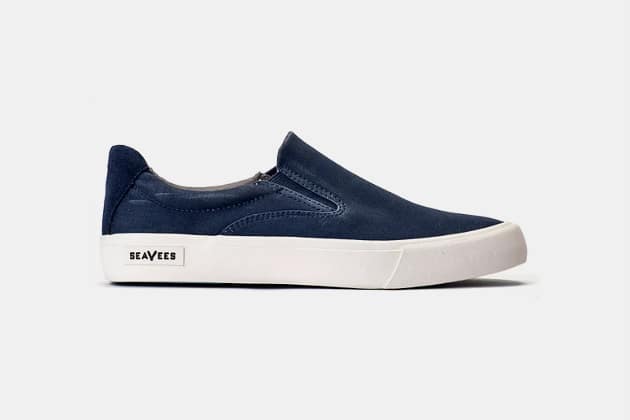 SeaVees Hawthorne Slip On Standard
Perhaps the gold standard among casual slip-on shoes, with the heritage to boot. SeaVees has always channeled a uniquely California brand of cool that's nearly unmatched when it comes to easygoing, yet versatile, footwear picks (especially of the variety meant to be worn near a beach or on the boardwalk). As the brand says, they're made to evoke a specific breed of mid-'60's cool, and we think they certainly fit the bill. Roll up your chinos and throw on a short-sleeve chambray shirt with this particular pair. – Shop Now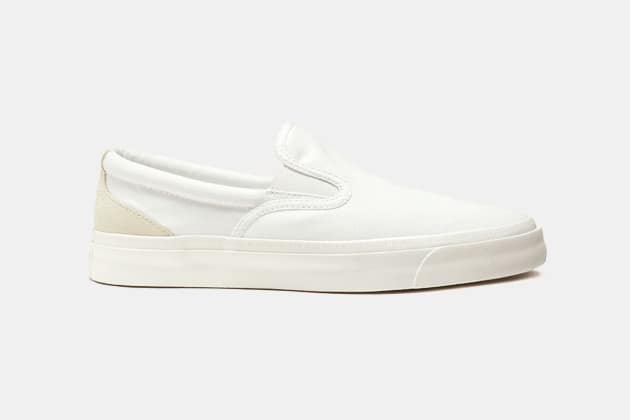 Converse One Star CC Slip
If you normally turn to Converse for the lauded brand's classic high-top sneakers and iconic silhouettes, well, we applaud that … and we'd also recommend you look toward them for a pair of the best men's slip-on shoes. Slip-on shoes don't have to be sloppy and they don't have to be an afterthought, because when they're made by a brand like Converse, they're downright stylish. The all-white color is perfectly spring- and summer-friendly, while the OrthoLite cushioning means you can wear these all weekend long. – Shop Now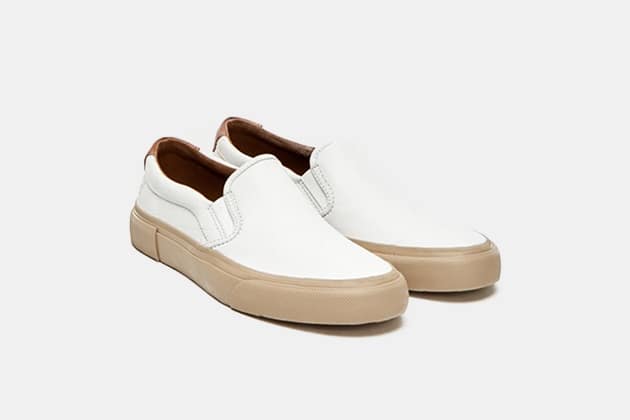 Frye Ludlow Slip On
What if we told you that one of the best men's boot brands is making stylish slip-on sneakers that compete with the best of them? Sounds too good to be true, right? Not so when it comes to the Frye Ludlow Slip-On, a pair of the best men's slip-ons that blend all the quality and construction you'd expect from a brand like Frye. The antiqued leather upper is sharp and akin to that of white derby dress shoes, while the rubber outsole should provide all-day comfort. Should you wear these with a khaki cotton suit and a chambray shirt? Yes. That's it. – Shop Now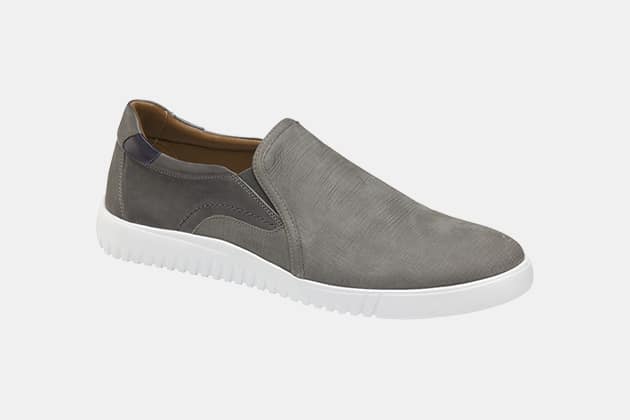 Johnston & Murphy McFarland Slip-On
For a brand that gives you serious bang for your buck, look toward Johnston & Murphy. There's nothing overly fussy about the McFarland Slip-Ons, and that's a good thing. They team nicely with the brand's laidback chinos and quarter-zip sweaters, and they work more than well for a casual Friday at the office (followed by drinks after, naturally). The Gray Nubuck color is versatile and highly utilitarian, as able to be worn with light wash jeans as with navy chinos and a crisp white polo. – Shop Now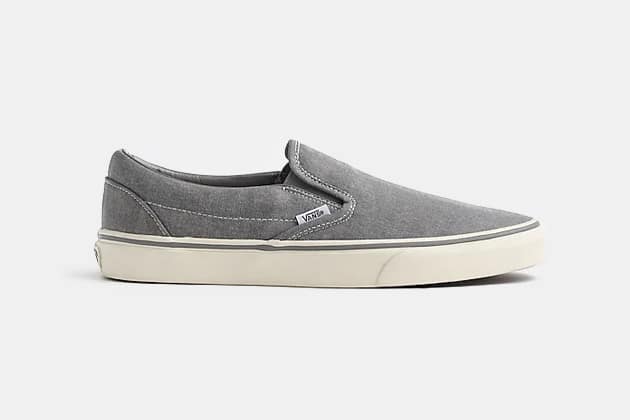 Vans for J.Crew Washed Canvas Classic Slip-On Sneakers
There are only a few brands who've defined the way men dressed quite like J. Crew — and Vans, for that matter. It makes sense, then, that the Vans for J. Crew partnership delivers stylish, essential slip-ons that you need on your feet as soon as possible. The Vans for J. Crew Washed Canvas Classic Slip-On Sneakers are available in bright colors like Blueberry and neutral colors like Nickel, either of which would ably with the brand's famous chinos and perfectly faded tees. – Shop Now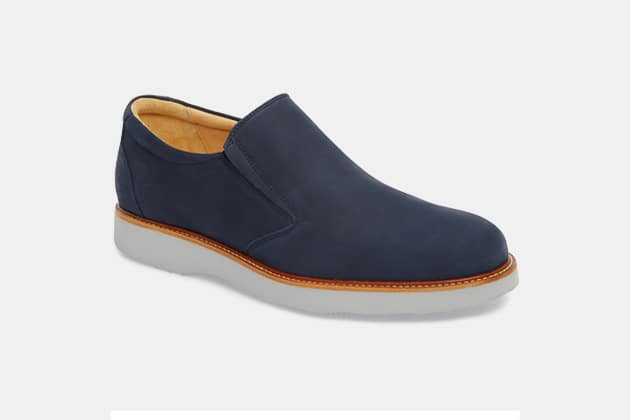 Samuel Hubbard 'Frequent Traveler' Slip-On
There are your run-of-the-mill sneakers, and then you've got the Samuel Hubbard Frequent Traveler Slip-Ons, a seriously high-quality pair of exceedingly durable, premium slip-ons fit for your next vacation — and then some. The Frequent Traveler Slip-Ons pair the comfort of a slip-on with the business-casual look of a classic leather dress shoe, complete with a Vibram Morlex sole — all the better to wear all day long, from travel to the office. – Shop Now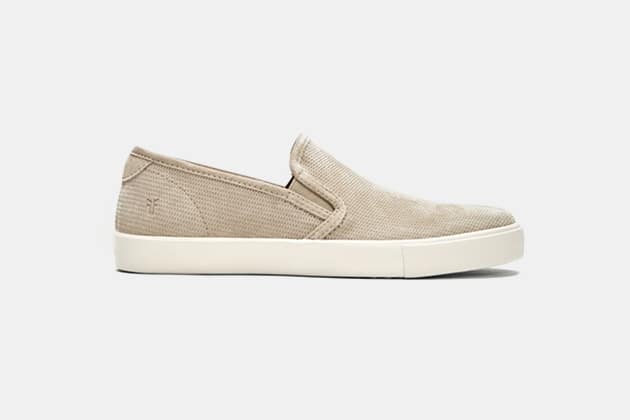 Frye Brett Perf Slip On
The Frye Company makes a return to this list with a more laidback, casual pair of spring slip-ons, all the better to change into when you want to step out of your Frye chukka boots when the weather heats up. The perforated suede upper is easy and breezy, while the light suede color itself teams perfectly with all manner of spring style essentials — think light wash denim and a slub short-sleeve henley, or a throwback-inspired camp collar shirt and chinos. – Shop Now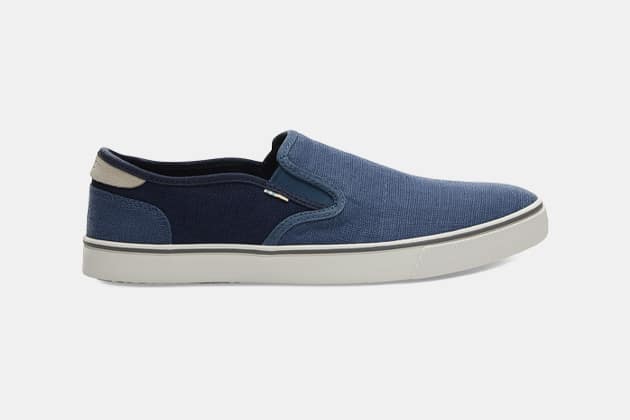 Toms Heritage Canvas Mens Baja Slip-On Shoes
Toms at first pioneered a different type of slip-on — the brand's signature espadrilles — to a wider audience, so it makes sense that they've turned their attention toward a newer style of slip-on that promises just as much style and comfort. That would be the Heritage Canvas Baja Slip-ons, a breezy and easygoing set of men's slip-ons engineered for all-day versatility. It comes down to the tough canvas upper, plus the comfortable OrthoLite insole. – Shop Now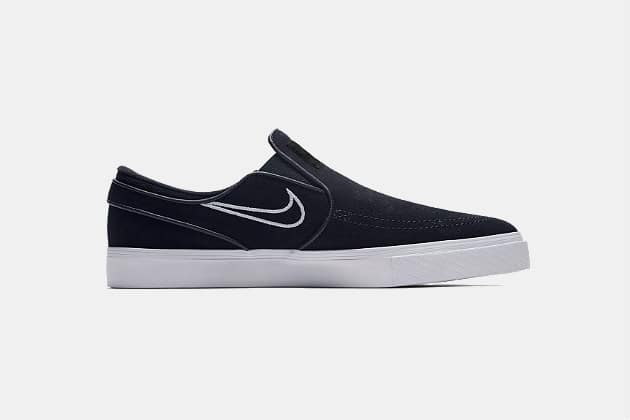 Nike SB Zoom Stefan Janoski Slip-On
Slip-on shoes perhaps most readily evoke the type of functionality that might work best with skateboarding — perhaps it's the laidback look or the slightly rebellious silhouette (no laces in sight). Whatever the case might be, the Stefan Janoski Slip-On functions extraordinarily well as a modern-day skating slip-on, from the Nike Zoom Air capability in the sock liner to the low profile, grippy exterior and low-key color. Oh, and they're only $75 — leaving you enough cash left over to stock up on skating gear (or just gear to wear to your next backyard BBQ). – Shop Now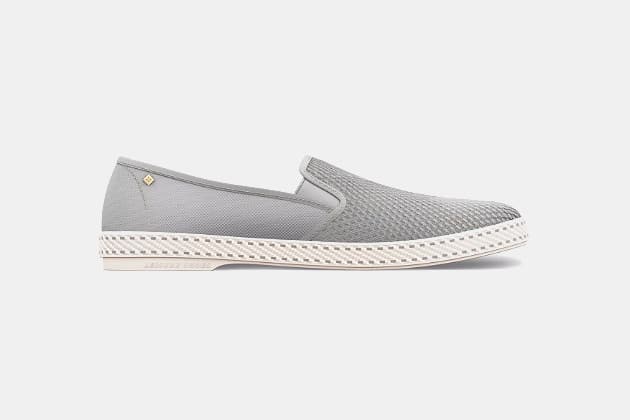 Rivieras Classic Slip-On
Sometimes, the best slip-on shoes for men take design cues from a few different eras, and that's where you end up with a seriously cool, stylish and comfortable shoe like the Classic Slip-On from Rivieras. Available via the fine purveyors at Huckberry, they're exactly the type of shoe you'd expect the rugged-meets-modern retailer to expect, featuring a canvas exterior, a natural gum rubber outsole and cotton piping, plus a soft terrycloth lining. These are the shoes to wear with a vintage camp shirt and tailored canvas shorts this summer. – Shop Now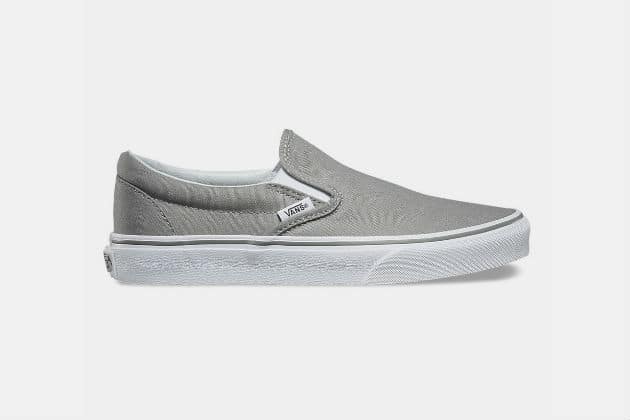 Vans Classic Slip-On
For just $50 right now, you can buy into the classic versatility, quality and timeless style that comes from a certifiably cool brand like VANS. They've experienced a resurgence in recent years as more consumers rediscover the irreverent sense of wearable style that a pair of VANS can provide, and that's as true with a canvas slip-on in a cool shade of grey as it is with the classic Checkerboard pattern slip-ons. We think these look best with khaki shorts and a tough navy henley. – Shop Now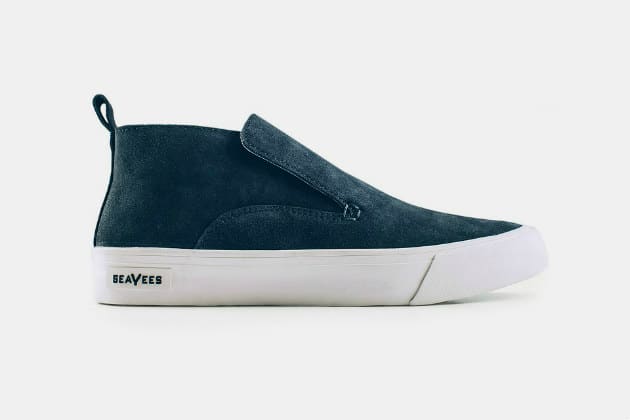 SeaVees Huntington Middie
Lest you think our list of the best men's slip-on shoes applies only to low-top sneakers, well, the SeaVees Huntington Middie is here to change your mind. Absolutely as laidback and easygoing as counterparts that are cut with a low profile, the Huntington Middie comes in a versatile range of colors and features soft suede. We'd pair this particular iteration with light grey chinos, a navy short-sleeve shirt and your best aviator sunglasses for a summer bar crawl and well beyond. – Shop Now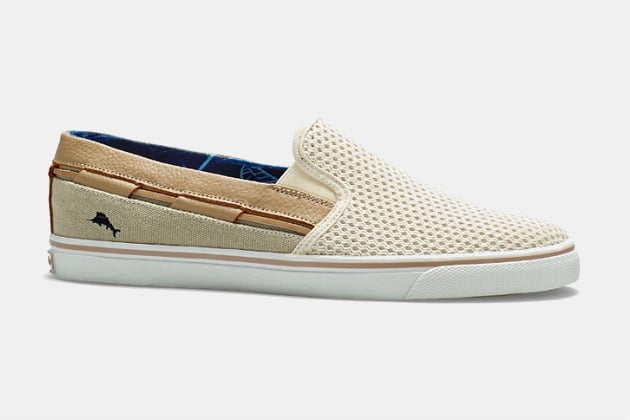 Tommy Bahama Exodus Slip-On Shoes
Tommy Bahama has you covered when it comes to soft T-shirts, stylish printed shirts and quality shorts — they've also got you covered on the footwear front. The Exodus Slip-on Shoes were simply made to fit in with all of your beach-going gear, from the mesh and canvas upper to the printed lining. They're going to be easy and breezy, ready to wear to dinner out on your next beach vacation, and to or from the airport, to boot. That's all the wearability you need this summer — you're not going to step out on the wrong foot with one of our picks for the best men's slip-on shoes. – Shop Now