The 18 Best Merino Wool T-Shirts For Men
Merino is the fabric that your next favorite T-shirt is going to be made of — that we can pretty much guarantee. It's why we're here after all, is it not? To tell you about the best merino wool T-shirts for men is to unlock an underappreciated secret in the menswear game. That secret? Well, it's that your T-shirt can be durable, stylish, rugged, easy to wear … and it'll last even longer than expected. Merino wool is what you might call a wonder fabric of sorts — it's a natural fiber sourced sustainably from Merino sheep, and it's got properties that put your regular cotton T-shirt to shame.
Not that you should forgo wearing a classic cotton T-shirt, but for our money's worth, these shirts can really do it all. Because it's lighter and thinner in terms of material, merino wool is moisture-wicking and antimicrobial, so you can wear your new favorite shirt for hours and hours (and days) on end. To get you through plenty of seasons and your next big outdoor adventure — or just a comfortable day hanging out at home — here are our picks for the best merino wool T-shirts for men. Try 'em out now, and thank us later.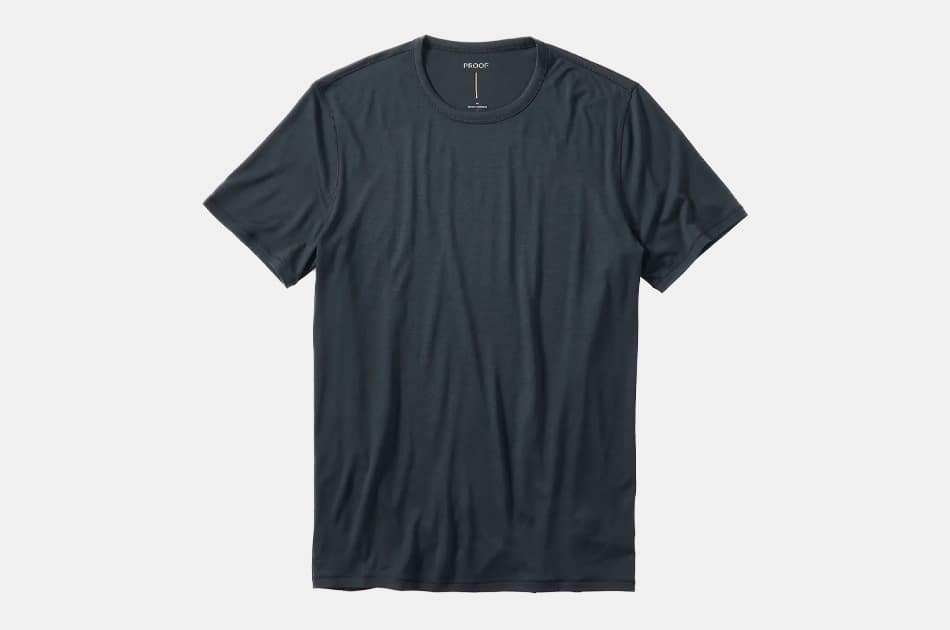 Proof 72-Hour Merino Tee
Best Overall
One of the best examples on the market of an absolutely essential merino T-shirt comes courtesy of Huckberry, and the Proof line of performance menswear. The 72-Hour Merino Tee really is guaranteed for 72 hours of wear (seriously, you should see how our buddies at Huckberry took it off-road and off-trail). Available in a wide array of colors, once you try one, you'll certainly want to pick up extras for the everyday and your next excursion.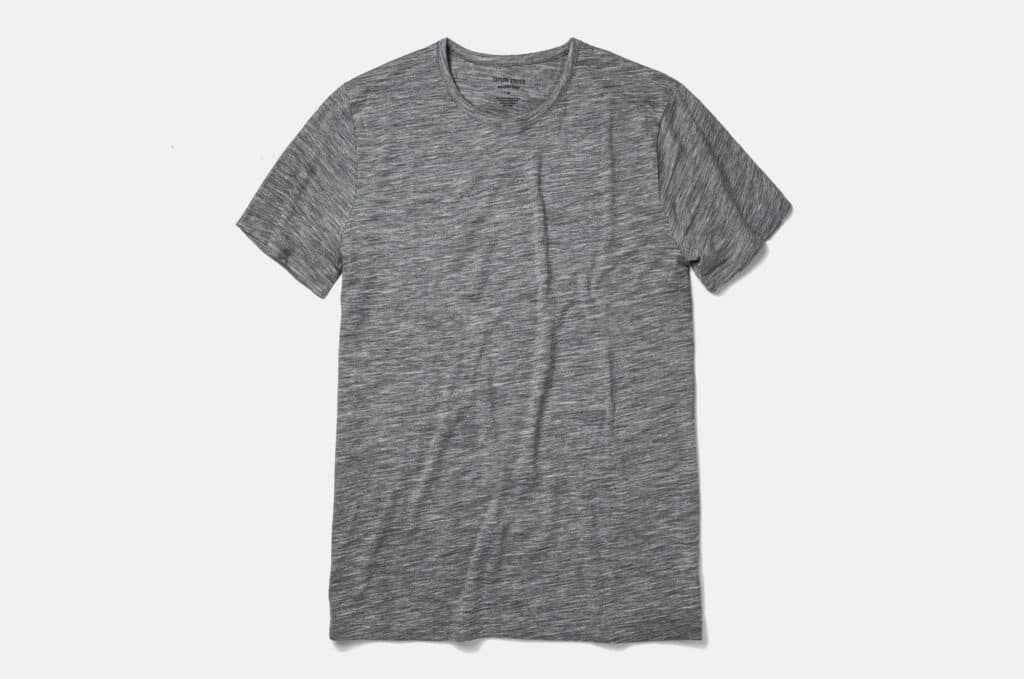 Taylor Stitch Merino Tee
Editor's Pick
You've never felt a T-shirt quite as soft as this one from Taylor Stitch. The all-purpose shirt combines 95% Merino wool for lightweight ultra-soft durability and 5% Lycra for just the right amount of versatility. Whether you need a warm base layer for the winter or a cool shirt for the hot summer, this casual tee delivers style and comfort.
Oh, and did we mention that it's fully biodegradable, water-repellent, moisture-wicking, and quick-drying? It even has an incorporated anti-microbial lining to keep smells at bay and UV protection so your skin is shielded during those long days at the beach or lake. You'll never want to wear another shirt once you've felt this beauty against your skin.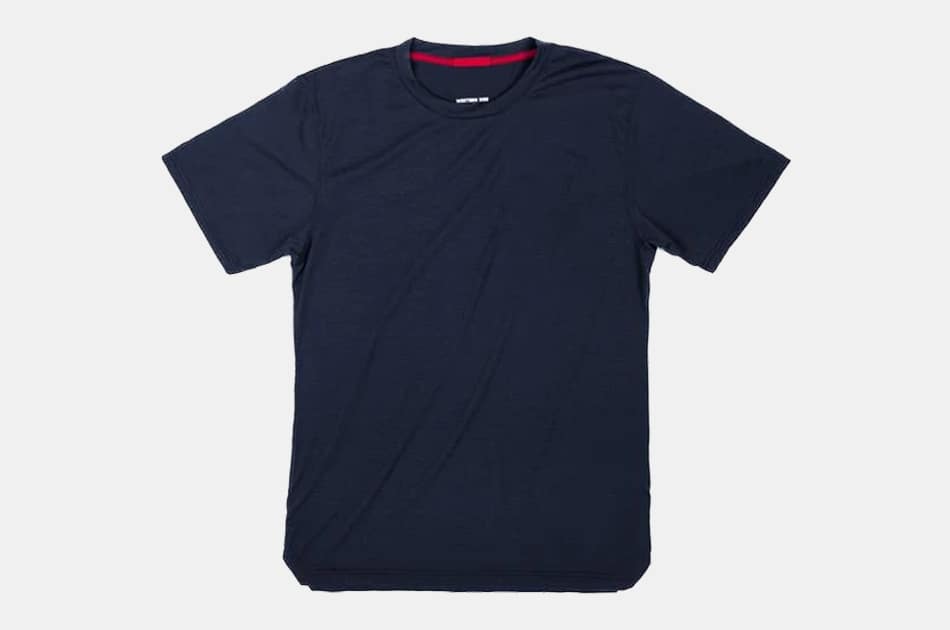 Western Rise StrongCore Merino Tee
Western Rise makes gear that's fit for adventure and fit for style at home — that's what all the best merino T-shirts do so well, after all. We love the fact that the StrongCore Merino Tee features a versatile fit and is built with plenty of mobility. It also teams quite nicely with the Western Rise line of durable, versatile pants made with loads of stretch and toughness. Talk about a winning formula.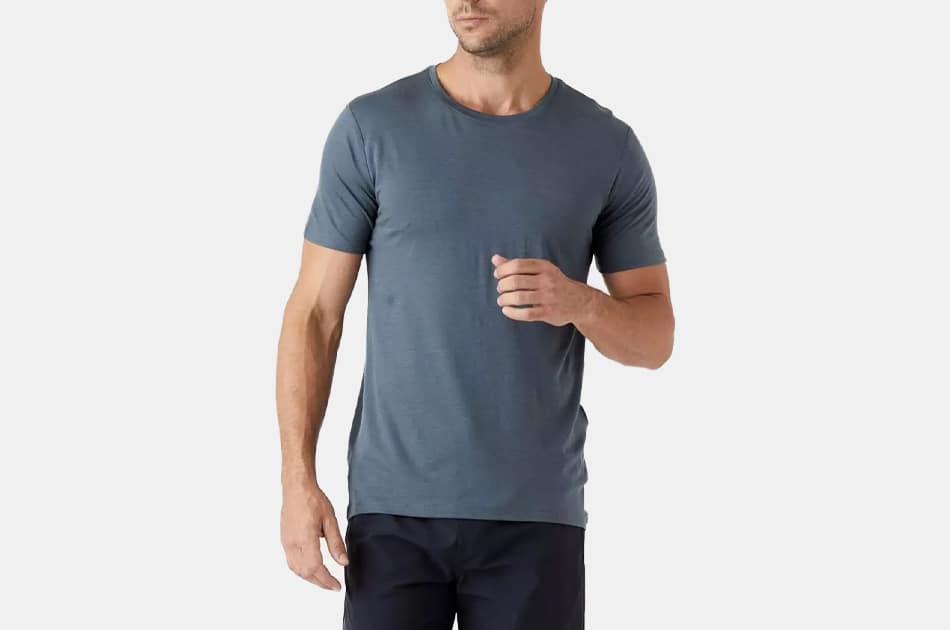 Olivers Convoy Tee
Olivers Apparel takes the fabric you know and love (at least, now anyways) and upgrades it with its own take on merino wool for one of the coolest, and most stylish, workout shirts out there. The Convoy Merino Tee is built simply but effectively, using Merino Active Jersey fabric. It's also available in a plethora of colors to pair with any workout gear or casual style staples once your training session wraps. Can't ask for much more than that from a merino T-shirt, right?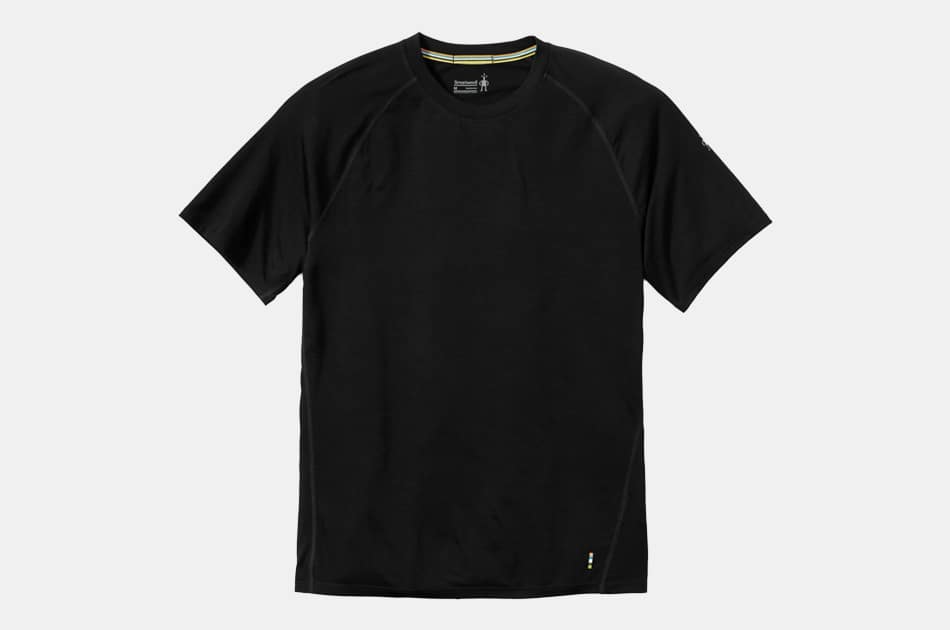 Smartwool Merino 150 Base Layer T-Shirt
It's impossible to talk about the best merino T-shirts for men without talking about Smartwool — they're a pioneer in the category, and they consistently find innovative ways to use merino wool beyond just T-shirts. But it always helps when you can flawlessly execute an excellent base layer like the Merino 150 Base Layer T-Shirt, done up in stylish black for minimalist layering and standout performance.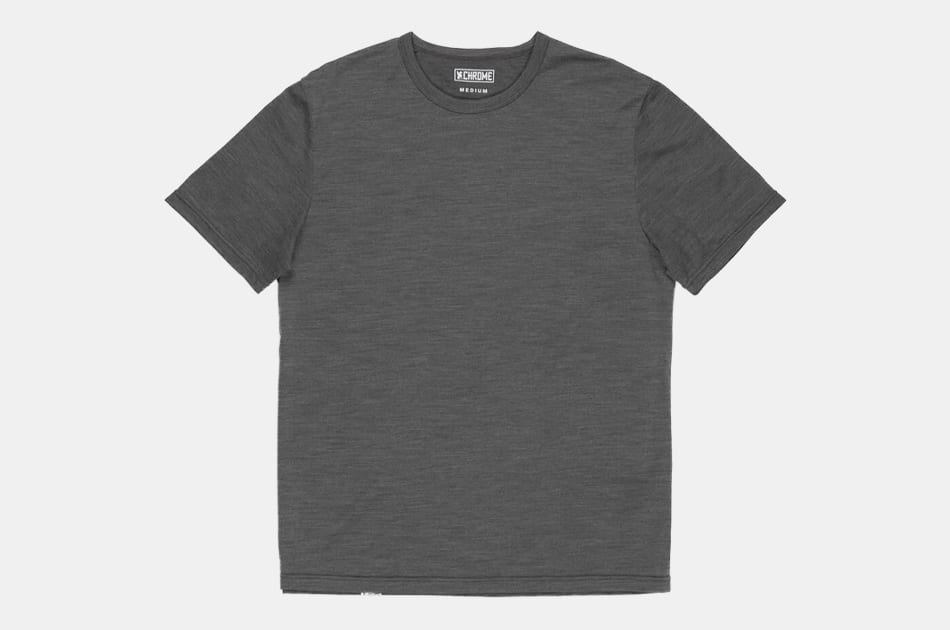 Chrome Industries Merino Short Sleeve Tee
Want a minimal, easy-to-layer tee that'll keep you cool through the heat of summer and layer stylishly under a rugged flannel shirt come fall and winter? Then you want this Chrome Industries Merino Short-Sleeve Tee, readily available in a neutral color to team with plenty of style combinations. Try it with tan chinos and white high-top sneakers, or else wear it underneath a denim jacket with brown leather chukka boots come fall and winter.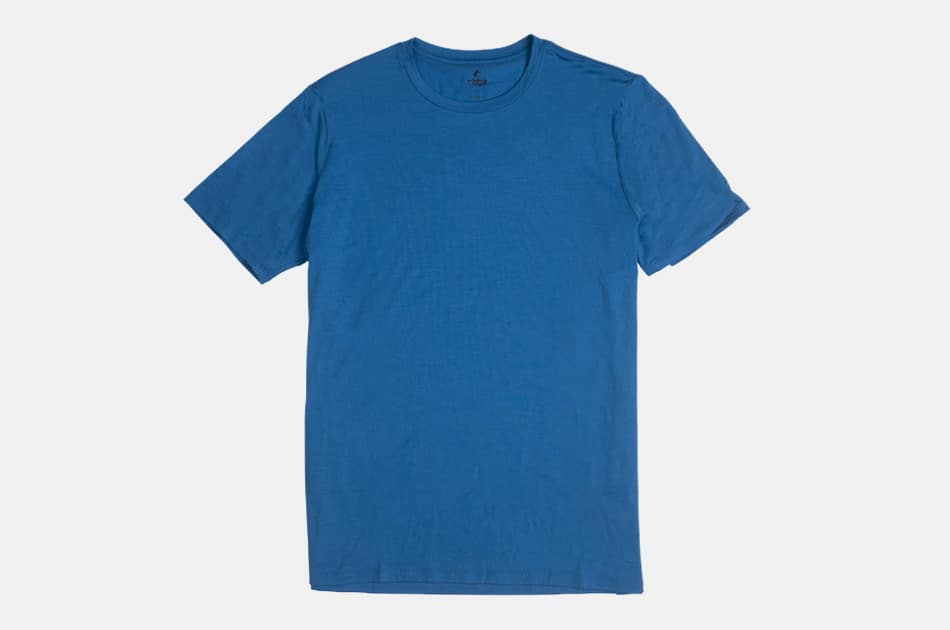 Ridge Merino Journey Merino Wool T-shirt
The aptly named Journey Merino Wool T-shirt is the right type of T-shirt for all your excursions and adventures, given that it uses proprietary technology and a special merino knit to separate itself from the other T-shirts in your wardrobe. Available for just under $50, it's one of the best merino T-shirts out there by a long shot.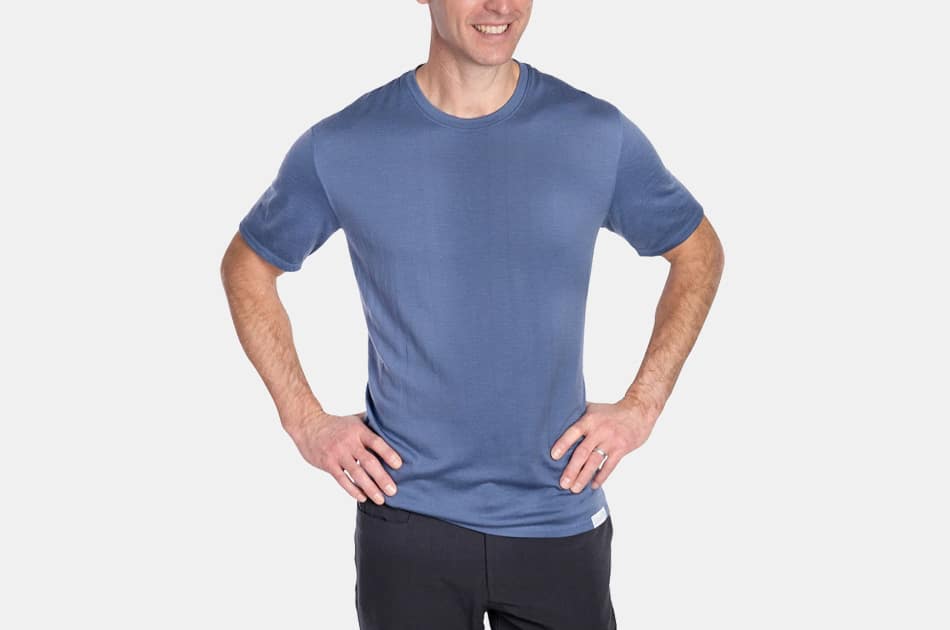 Woolly Ultralight Merino Tee
Woolly takes the cake with its merino tee — that is, if you want a T-shirt that easily outperforms any tee you've got in your wardrobe currently. Made from an ultralight fabric and available for an agreeable price, it's durable, dependable, easy to layer (thanks to the athletic fit), and able to be worn from season to season (when layered appropriately, that is).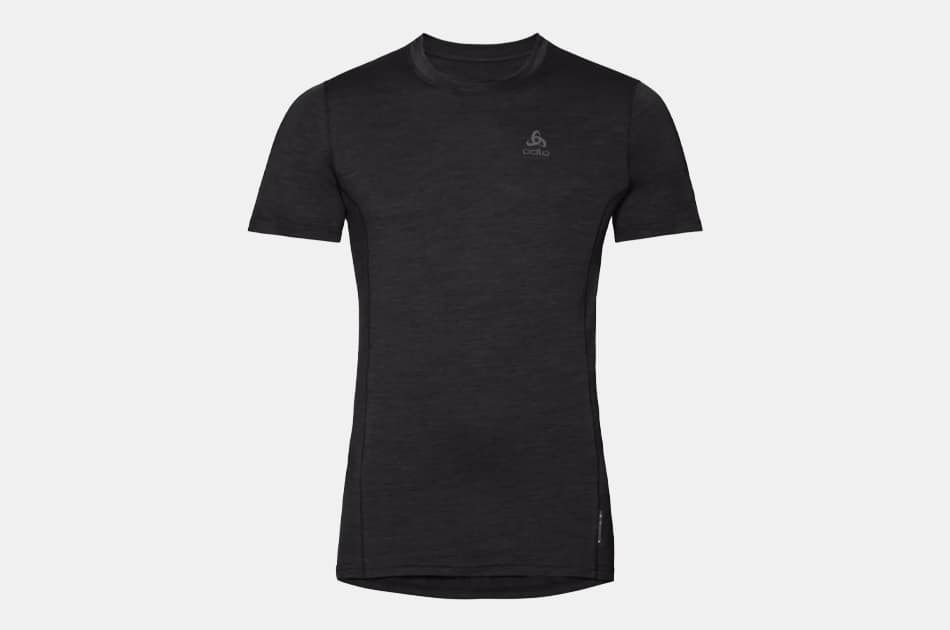 Odlo Men's Merino Wool Blend Crewneck T-Shirt
Sleek, stylish, and hyper-comfortable — those are the three words that best define Odlo's Merino Wool Blend T-Shirt. The shirt combines fifty percent Merino wool with super-stretchy tencel (cellulose fibers derived from wood pulp) that is both ultra flexible and sustainable. The crew neck gives it a chic look that will enhance the breadth of your shoulders, and the semi-fitted cut ensures that you have full range of motion for any workout or training session.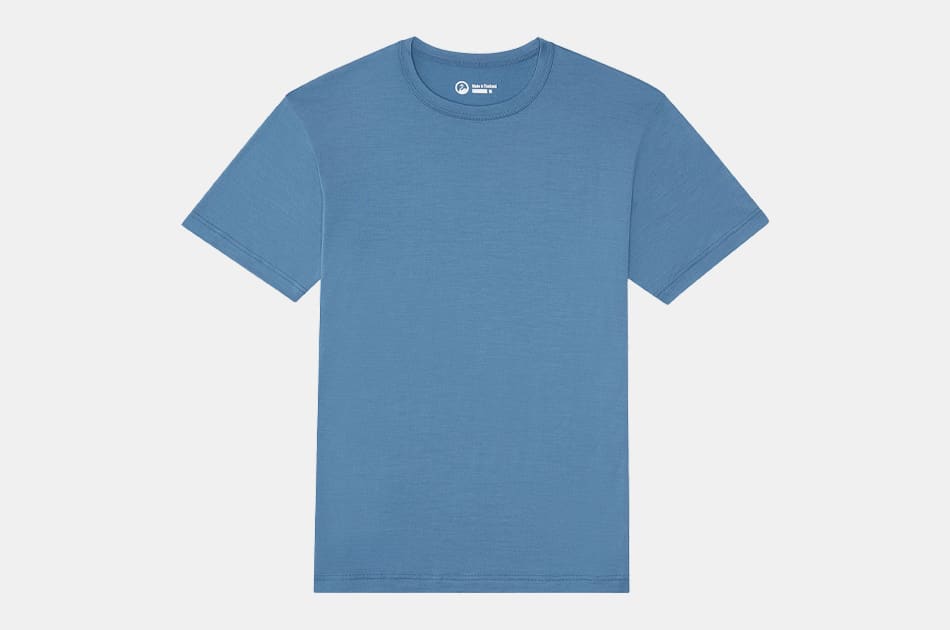 Outlier Ultrafine Merino Cut Two T-Shirt
Outlier brings the best-quality wool with its Ultrafine Merino Cut Two T-Shirt. The fabric is Mackenzie merino jersey with fibers just 17.5 microns thick, delivering an ultra-fine weave that is super soft against your skin while also being beautifully durable. The moisture-absorbing properties of the merino jersey will keep you fresh and cool in even the hottest weather, and you'll love the relaxed vibe of the squared-out, broad-shouldered cut. The perfect T-shirt for lounging in style and comfort all day long.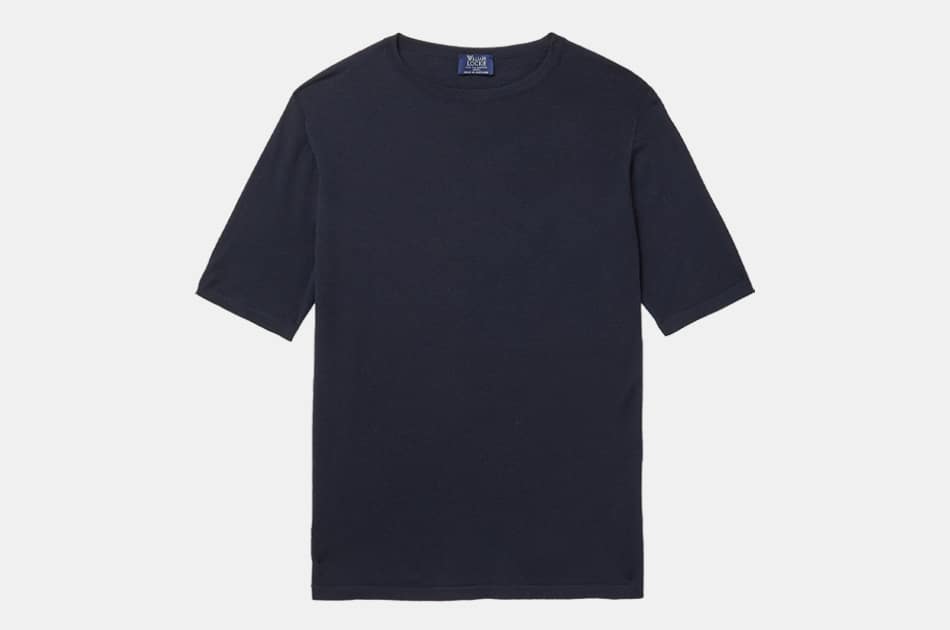 William Lockie Merino Wool T-Shirt
T-shirts have never looked so stylish as this William Lockie Merino Wool shirt. The brand is renowned for its high-quality, luxury merino wool goods, and you'll love how stylish this shirt looks while still being light-gauge and super-cool for even the hottest summer. The true-to-size fit is compatible with any body type, and the one hundred percent merino wool shirt will surprise you with both its durability and versatility. With rich colors that never run, it's the perfect addition to your super-stylish summer wardrobe.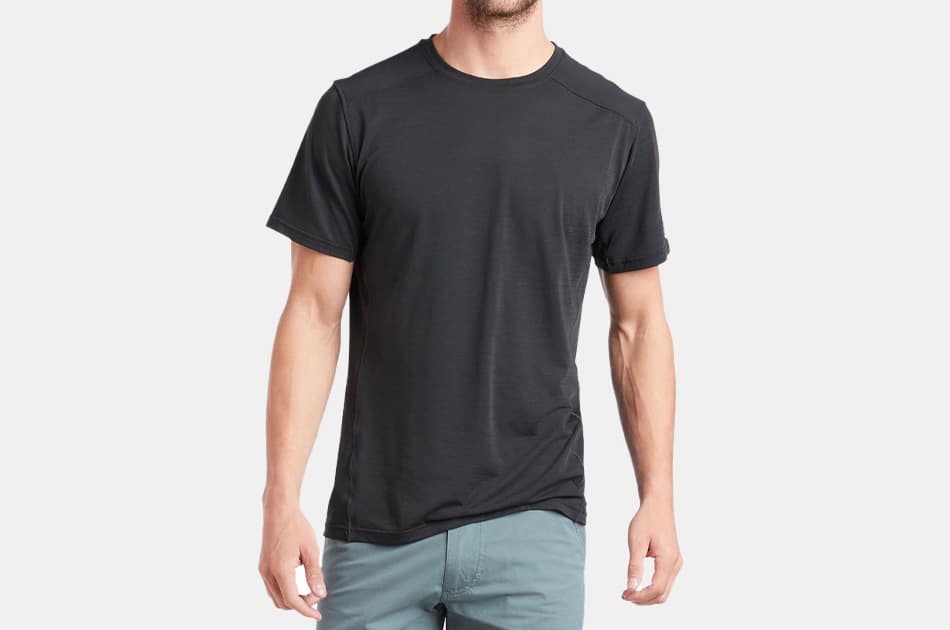 KUHL Virtuoso Short-Sleeve Merino Wool T-Shirt
Get ready for the ultra-durable outdoorsman's T-shirt, thanks to Kuhl! The Virtuoso Short-Sleeve T-shirt is designed for the great outdoors, your best companion on even the toughest hike or backpacking adventure. The four-way stretch fabric is adaptable to any activity, and you'll love how well the soft merino wool regulates your body temperature while keeping your body smelling fresh and clean even after a long day on the trail.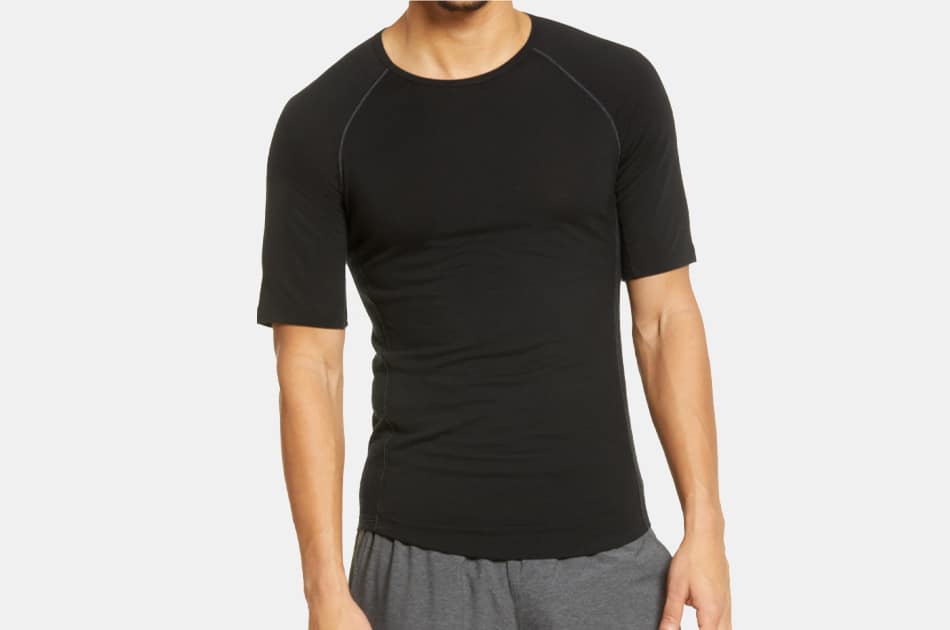 Icebreaker Men's 150 Zone Merino Wool Crewneck T-Shirt
Icebreaker delivers a truly chic shirt with the 150 Zone Merino Wool Crewneck T-Shirt, a garment made of mostly merino wool with just enough nylon and Lycra to give it versatility and elasticity for even the most active wearer. It's beautifully stylish — crew neck, short sleeves, flatlock seams, and a semi-fitted cut — but for those who care about the environment, you'll be glad to know it's also certified to the Responsible Wool Standard and meets the criteria for sustainable products.
Black Diamond Rhythm Merino T-Shirt
When you hit the mountain, trails, forests, or rivers, you want Black Diamond clothing every time. The Rhythm T-shirt makes the ultimate base layer for cold-weather hikes, climbs, or treks, but it's equally amazing for the summer heat. The soft merino wool is dynamic, highly mobile, odor-resistant, and both moisture-wicking and temperature-regulating. Now matter how aggressively you tackle the challenges of nature, this shirt has — literally — got your back.
Smartwool Merino Sport 150 Performance T-Shirt
Smartwool delivers sport-quality and next-level comfort with their Merino Sport 150 Performance T-shirt, a shirt that will keep up with any sport, workout, or run. With just enough polyester mixed into the Merino to provide versatility and moisture-wicking properties, this shirt is the athlete's choice for even the sweatiest training session. With built-in UPF 20+ sun protection, you can shield your skin from UV rays all day long.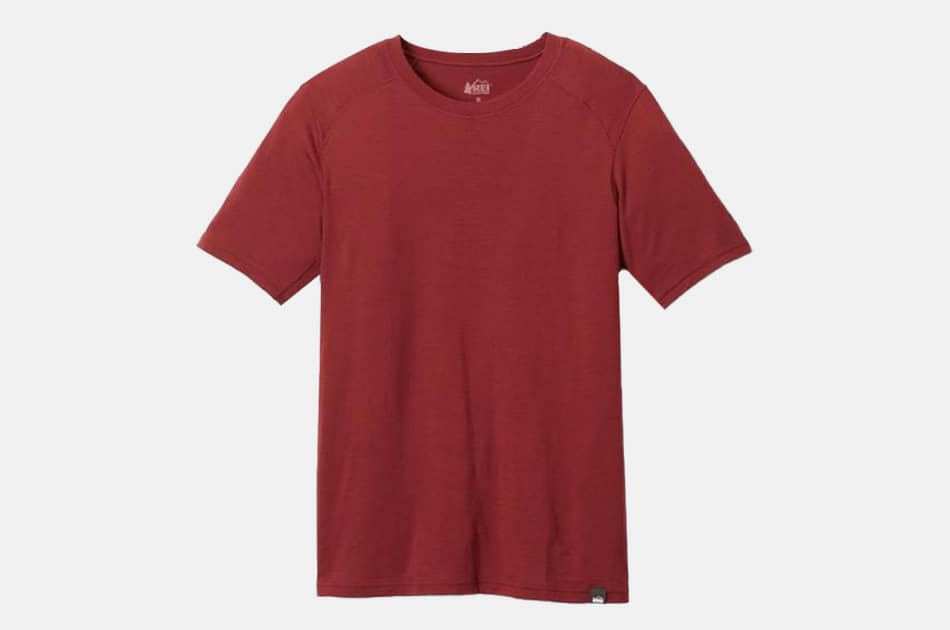 REI Co-op Merino Midweight Base Layer Crew Top
REI delivers a climber and mountaineer's shirt of choice with its Co-Op Merino Midweight Base Layer Crew Top. The shirt is the perfect garment to wear beneath your climbing and cold-weather gear, thanks to its super-soft, moisture-wicking, heat-controlling fabric (made from one hundred percent merino wool). The underarm gussets allow a full range of motion without ever having to worry about ripping the seams, and you'll love how comfortably the droptail hem stays tucked in and securely in place beneath your backpack's hip belt all day long.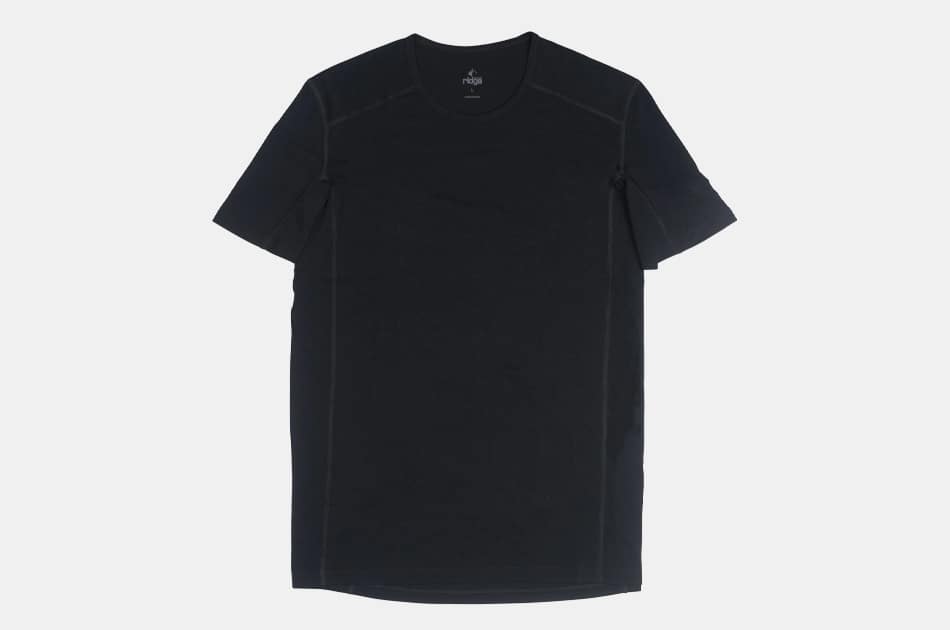 Ridge Merino Men's Ritual T-Shirt
Ridge isn't just about the hiking and climbing gear; with its Merino Ritual T-Shirt, it delivers an ultra-lightweight, high-performance tee perfect for long-distance trekking and marathon runners. The shirt weighs so little you'll almost forget you're wearing it, but the quick-wicking merino fabric pulls sweat (and chafing salt) away from your body to guarantee maximum all-day comfort.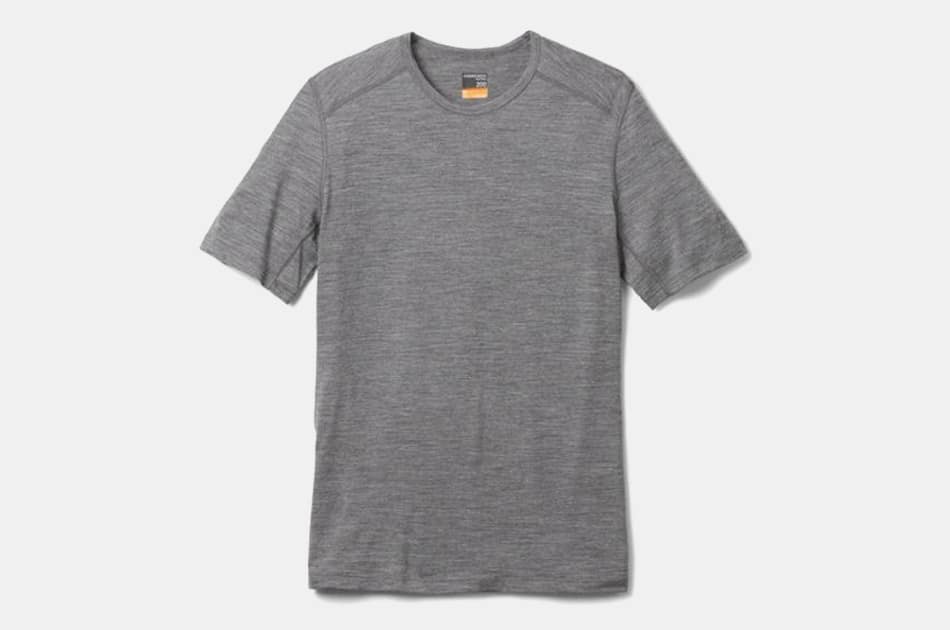 Icebreaker 200 Oasis Crewe Base Layer Merino T-Shirt
Icebreaker brings the style to your vacations with the 200 Oasis Crewe Base Layer Top. Whether you need a warm base layer for a weekend on the ski slopes or a sleek and heat-resistant shirt for your beach trip, this ultra-breathable, lightweight, super-soft shirt serves as the perfect choice for any setting. You even get UPF 30 sun protection to keep the sun's UV rays away from your skin all day long.
Disclosure: Clicking on these links and making a purchase may earn us a small referral fee, at no extra cost to you. Learn more here.
freestar.config.enabled_slots.push({ placementName: "gearmoose_leaderboard_btf", slotId: "gearmoose_leaderboard_btf" });