The 12 Best Merino Wool T-Shirts For Men
Merino is the fabric that your next favorite T-shirt is going to be made of — that we can pretty much guarantee. It's why we're here after all, is it not? To tell you about the best merino wool T-shirts for men is to unlock an underappreciated secret in the menswear game. That secret? Well, it's that your T-shirt can be durable, stylish, rugged, easy to wear … and it'll last even longer than expected. Merino wool is what you might call a wonder fabric of sorts — it's a natural fiber sourced sustainably from Merino sheep, and it's got properties that put your regular cotton T-shirt to shame.
Not that you should forgo wearing a classic cotton T-shirt, but for our money's worth, these shirts can really do it all. Because it's lighter and thinner in terms of material, merino wool is moisture-wicking and antimicrobial, so you can wear your new favorite shirt for hours and hours (and days) on end. To get you through plenty of seasons and your next big outdoor adventure — or just a comfortable day hanging out at home — here are our picks for the best merino wool T-shirts for men. Try 'em out now, and thank us later.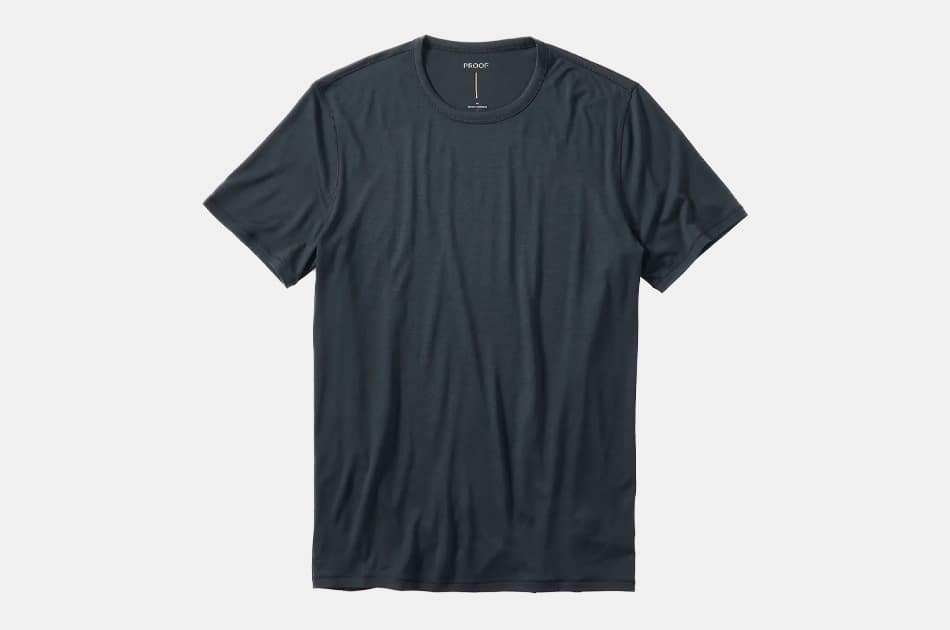 Proof 72-Hour Merino Tee
One of the best examples on the market of an absolutely essential merino T-shirt comes courtesy of Huckberry, and the Proof line of performance menswear. The 72-Hour Merino Tee really is guaranteed for 72 hours of wear (seriously, you should see how our buddies at Huckberry took it off-road and off-trail). Available in a wide array of colors, once you try one, you'll certainly want to pick up extras for the everyday and your next excursion.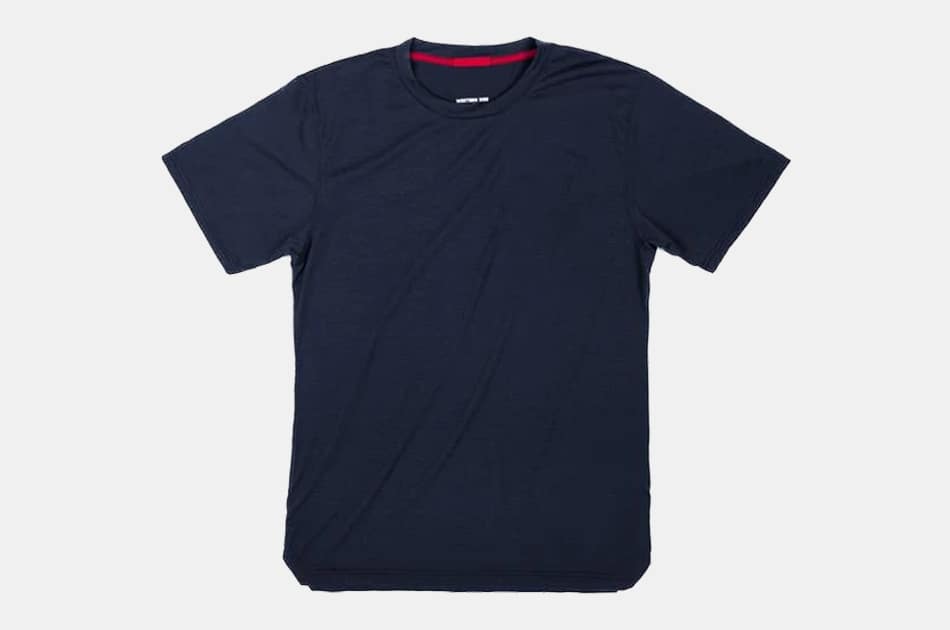 Western Rise StrongCore Merino Tee
Western Rise makes gear that's fit for adventure and fit for style at home — that's what all the best merino T-shirts do so well, after all. We love the fact that the StrongCore Merino Tee features a versatile fit and is built with plenty of mobility. It also teams quite nicely with the Western Rise line of durable, versatile pants made with loads of stretch and toughness. Talk about a winning formula.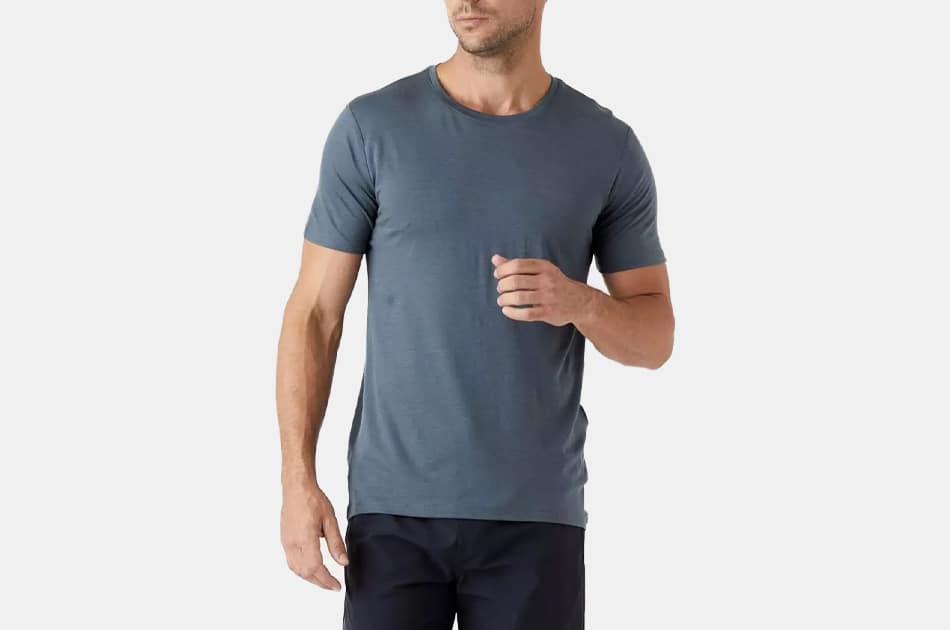 Olivers Convoy Tee
Olivers Apparel takes the fabric you know and love (at least, now anyways) and upgrades it with its own take on merino wool for one of the coolest, and most stylish, workout shirts out there. The Convoy Tee is built simply but effectively, using Merino Active Jersey fabric. It's also available in a plethora of colors to pair with any workout gear or casual style staples once your training session wraps. Can't ask for much more than that from a merino T-shirt, right?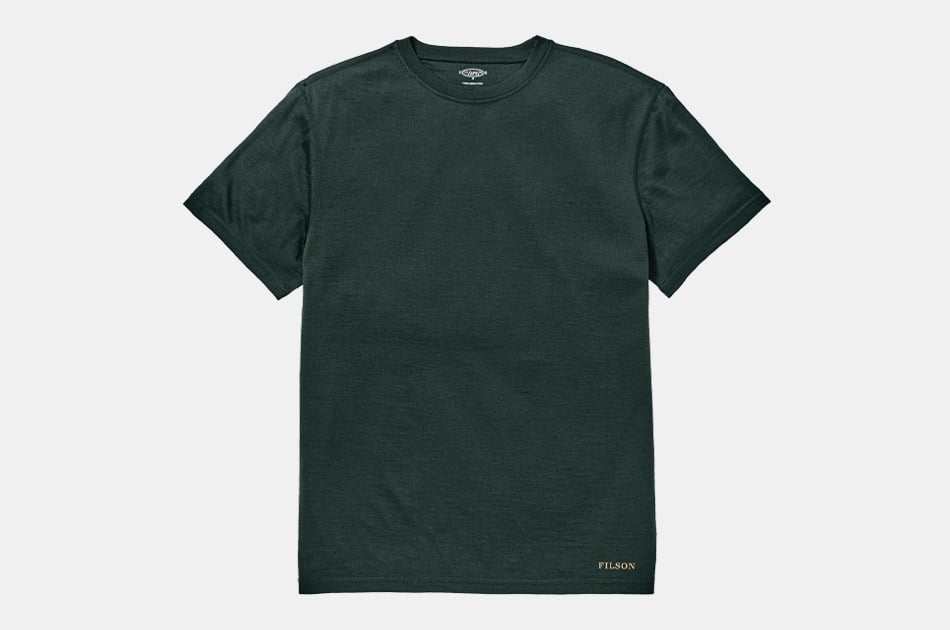 Filson 210g Merino Wool Short Sleeve Crew Shirt
As much as Filson is known for rugged, tough outerwear and burly, highly functional flannel shirts, the Pacific Northwest heritage retailer has a knack for coming up with technically sound staples that work quite well in their own right. Take the Merino Wool Short-Sleeve Crew Shirt, made from a 210-gram merino wool that wears well on its own (perhaps with jeans for off-duty style?) and in the field underneath a Filson Tin Cloth Jacket.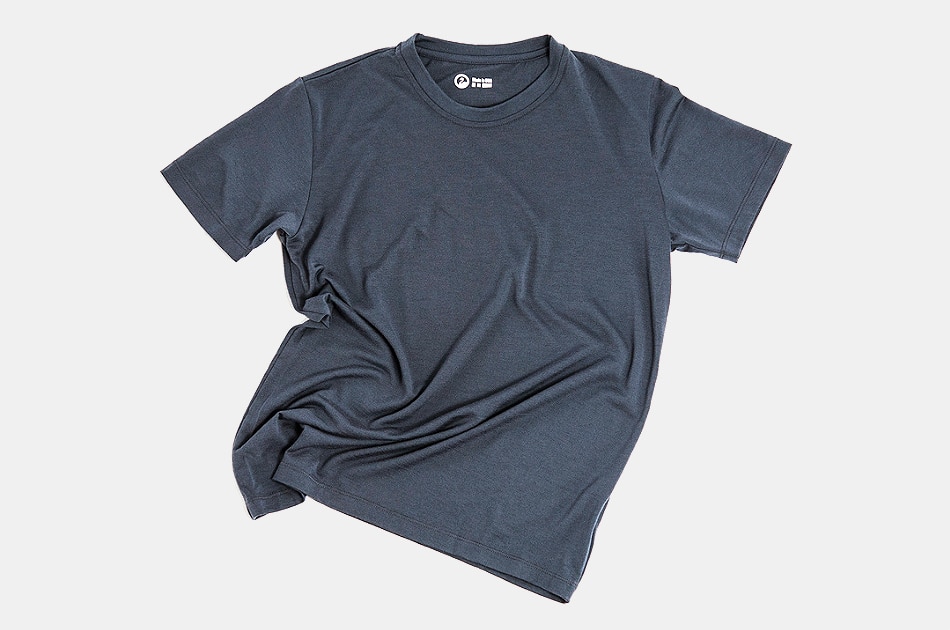 Outlier Ultrafine Merino T-Shirt
Outlier thinks merino wool is the fabric of the future, and we tend to agree with them. Check out the specs on the extremely well-designed Ultrafine Merino T-Shirt, for starters. Made with both fashion and function in mind, Outlier uses a slightly lighter weight when it comes to its merino fabric, leaving you with a shirt that drapes well and wears easily in the summer heat of the city or out on the trail.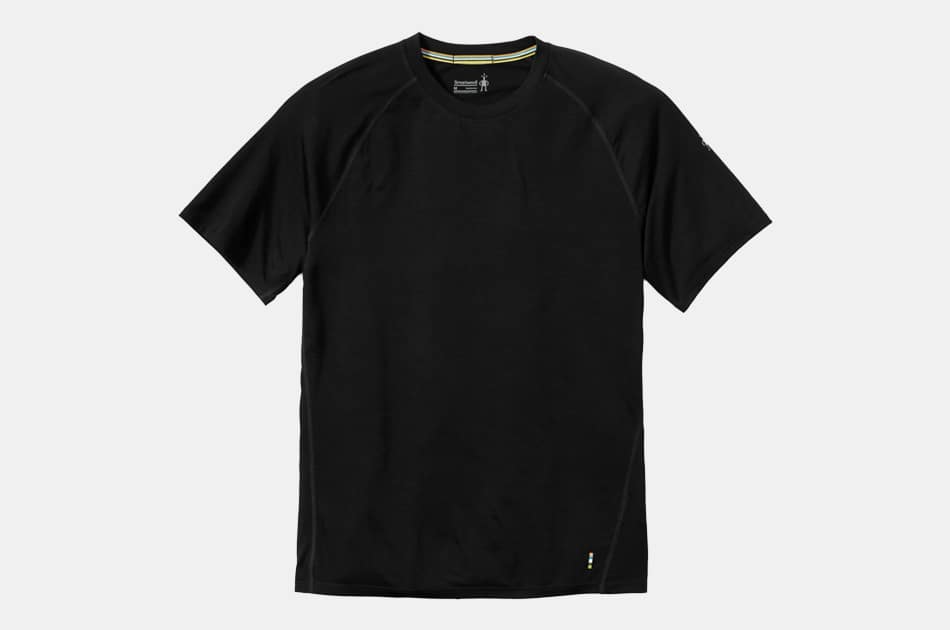 Smartwool Merino 150 Base Layer T-Shirt
It's impossible to talk about the best merino T-shirts for men without talking about Smartwool — they're a pioneer in the category, and they consistently find innovative ways to use merino wool beyond just T-shirts. But it always helps when you can flawlessly execute an excellent base layer like the Merino 150 Base Layer T-Shirt, done up in stylish black for minimalist layering and standout performance.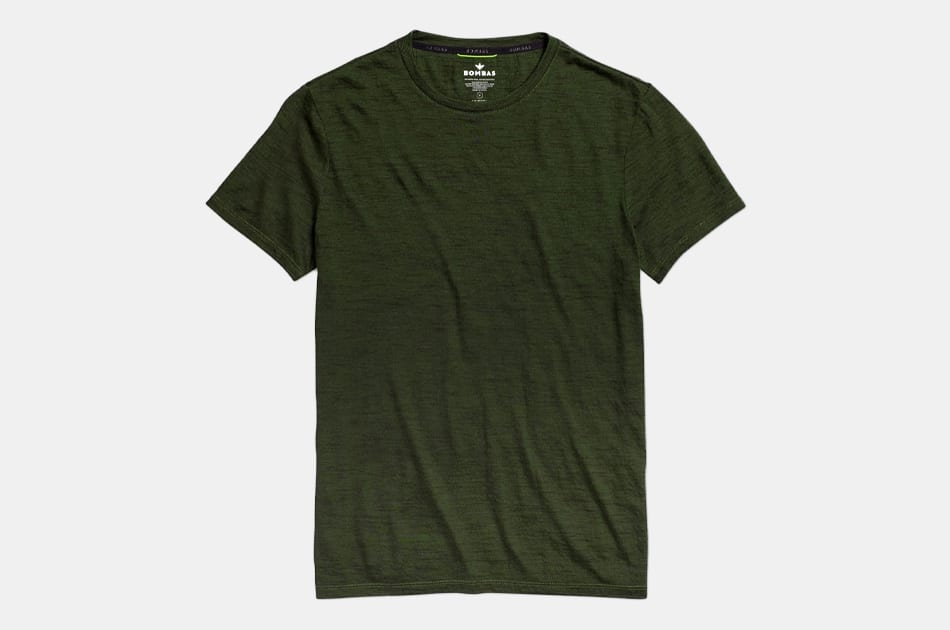 Bombas Men's Merino Wool Crew Neck T-Shirt
Bombas made its name making some of the best, most comfortable men's socks out there, so it's only fitting that the brand continues to expand into other, similarly comfortable and essential men's style staples. The right merino T-shirt can be worn on its own, paired up with a lightweight navy cotton blazer, or teamed with a denim shirt — or all three. Bombas has come through with a moisture-wicking merino T-shirt to solve all your style and performance needs.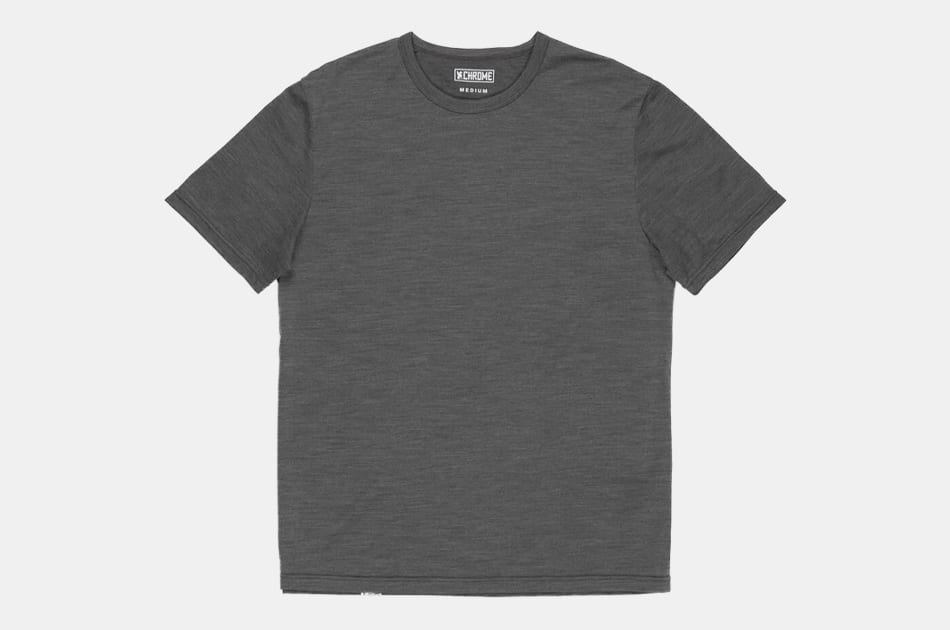 Chrome Industries Merino Short Sleeve Tee
Want a minimal, easy-to-layer tee that'll keep you cool through the heat of summer and layer stylishly under a rugged flannel shirt come fall and winter? Then you want this Chrome Industries Merino Short-Sleeve Tee, readily available in a neutral color to team with plenty of style combinations. Try it with tan chinos and white high-top sneakers, or else wear it underneath a denim jacket with brown leather chukka boots come fall and winter.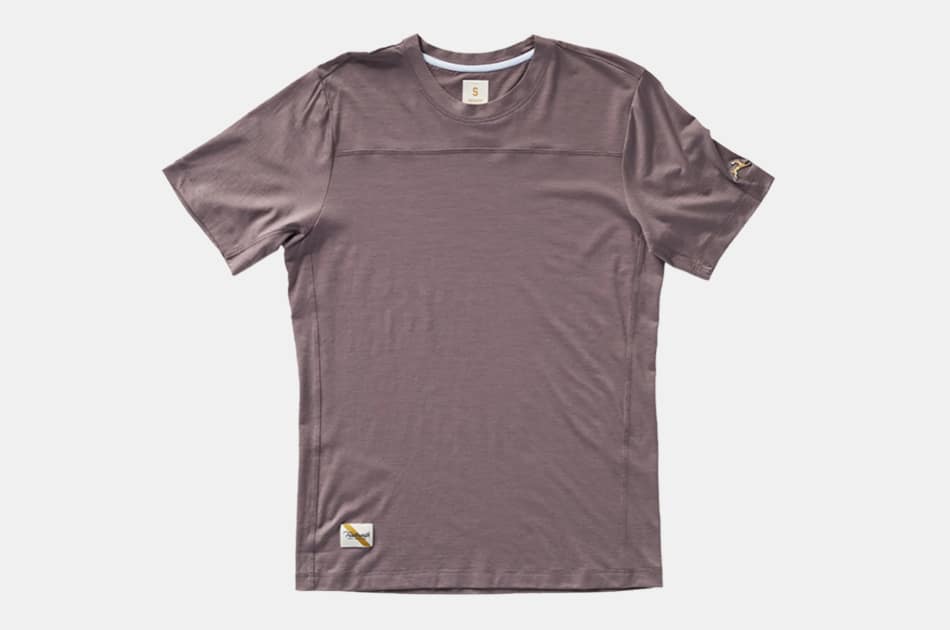 Tracksmith Harrier Tee
Tracksmith captures a distinctly retro vibe in terms of its classic running and training gear, yet they manage to do so while delivering remarkable performance via pieces like the Harrier Tee. With the training-ready cut and classic color options, Tracksmith says this tee has been a staple among fans of the brand and employees since its inception, and it's not hard to see why.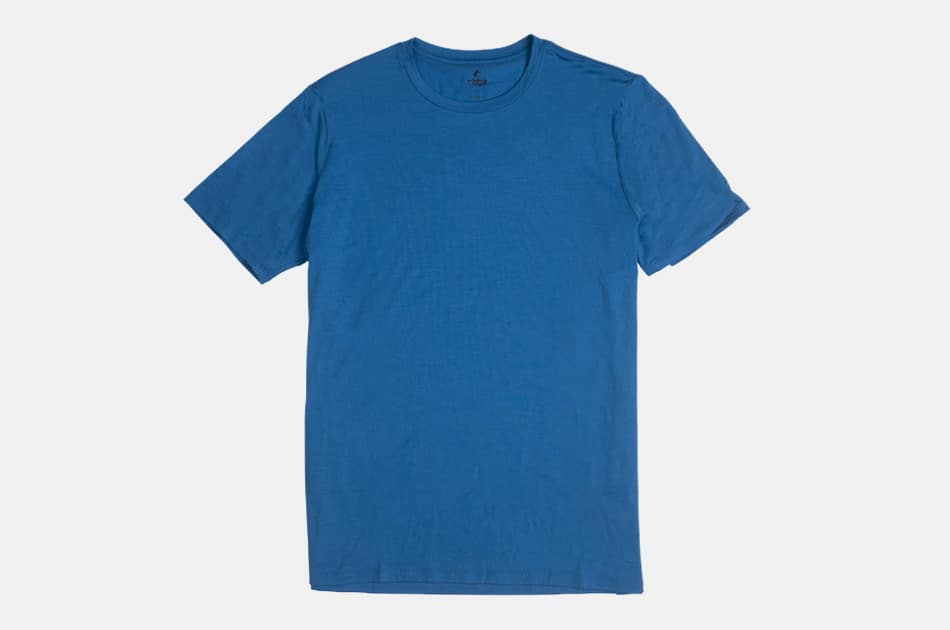 Ridge Merino Journey Merino Wool T-shirt
The aptly named Journey Merino Wool T-shirt is the right type of T-shirt for all your excursions and adventures, given that it uses proprietary technology and a special merino knit to separate itself from the other T-shirts in your wardrobe. Available for just under $50, it's one of the best merino T-shirts out there by a long shot.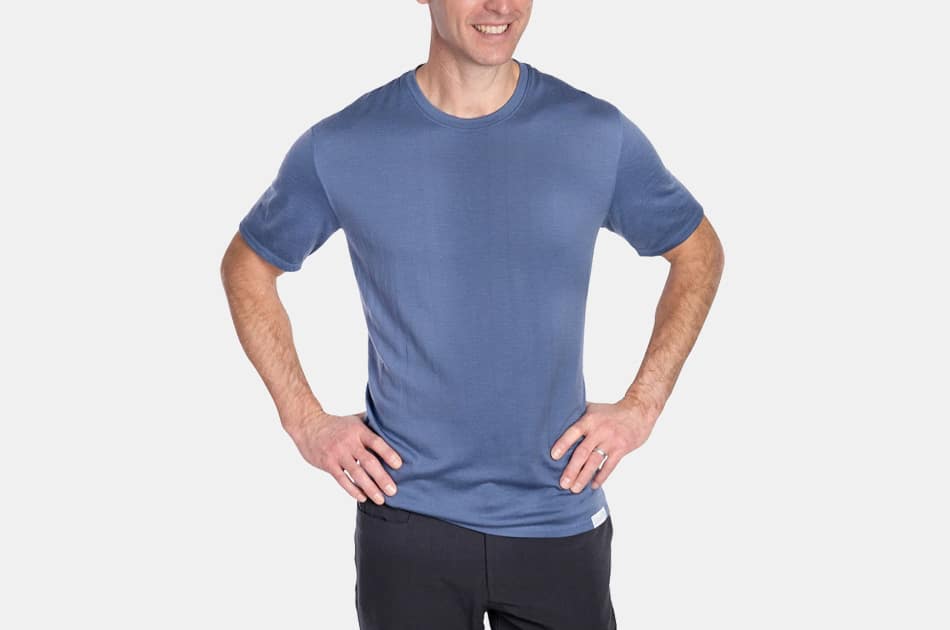 Woolly Ultralight Merino Tee
Woolly takes the cake with its merino tee — that is, if you want a T-shirt that easily outperforms any tee you've got in your wardrobe currently. Made from an ultralight fabric and available for an agreeable price, it's durable, dependable, easy to layer (thanks to the athletic fit), and able to be worn from season to season (when layered appropriately, that is).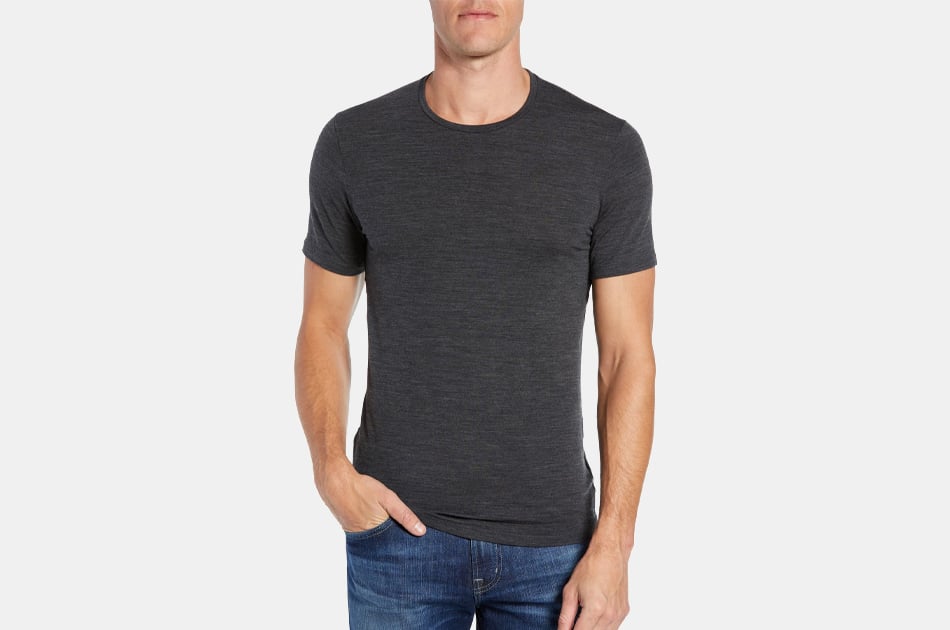 Icebreaker Anatomica Short Sleeve Crewneck T-Shirt
The right merino T-shirt works for adventures off-trail (with tough chore pants and hiking boots) or with the right type of casual style essentials (chino shorts or expertly faded denim). Merino wool is so essential precisely because it's so versatile, and that's why you'd do well to get this Icebreaker merino T-shirt in your wardrobe.
Disclosure: Clicking on these links and making a purchase may earn us a small referral fee, at no extra cost to you. Learn more here.