The 12 Best Ping Pong Tables
Dinner's over. Now what? You and your friends could sit there and shoot the breeze. Or you could get a little sweaty with a few matches on your ping pong table. Back in the day, they cleared the dining table and played a match. Then the game got official and the tables got specialized. Now, you can have it both ways. You can even have it with built-in karaoke.
We chose a little bit of everything for our list of the 12 best ping pong tables. Want a ping pong table that's a conversation centerpiece? We found one made from railroad parts. Want professional spin and bounce? Those ping pong tables are here too. (And most fold up and away when you're done.) Not feeling a living room that looks like a bar? There are no fewer than 4 ping pong tables on our list that convert into (very handsome) dining tables you'd be proud to serve a feast on.
What started as a parlour game in Victorian England might just be the game to replace playing Mario Kart (again) or whatever other sedentary/electronic entertainment you bring out when you have people over. True, table tennis is an Olympic sport. And professional players make ping pong look crazy. But remember, ladies in corsets and gentlemen with pocket watches used to play ping pong and so can (should) you.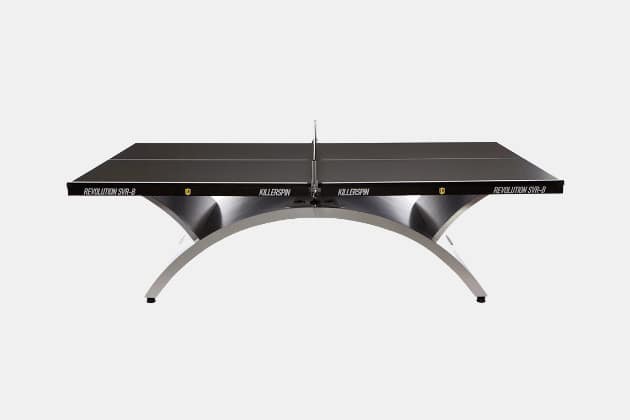 Killerspin Revolution SVR-B
Bridging the gap between attractive and athletic and arguably the best ping pong table on the market, the Revolution SVR-B Ping Pong Table is on point, regulation-wise but brings style to the game with an arched steel base and deep black surface. This one is a limited edition, getting special treatment in the finishing department. Killerspin layered their 25mm composite ping pong table with 16 coats of a black matte paint that resists marks and cuts down on glare. If a steel base sounds heavy to move, that's because it is. Special fold-away wheeled legs under the table help you split the table in half and move it to its new home. – Buy It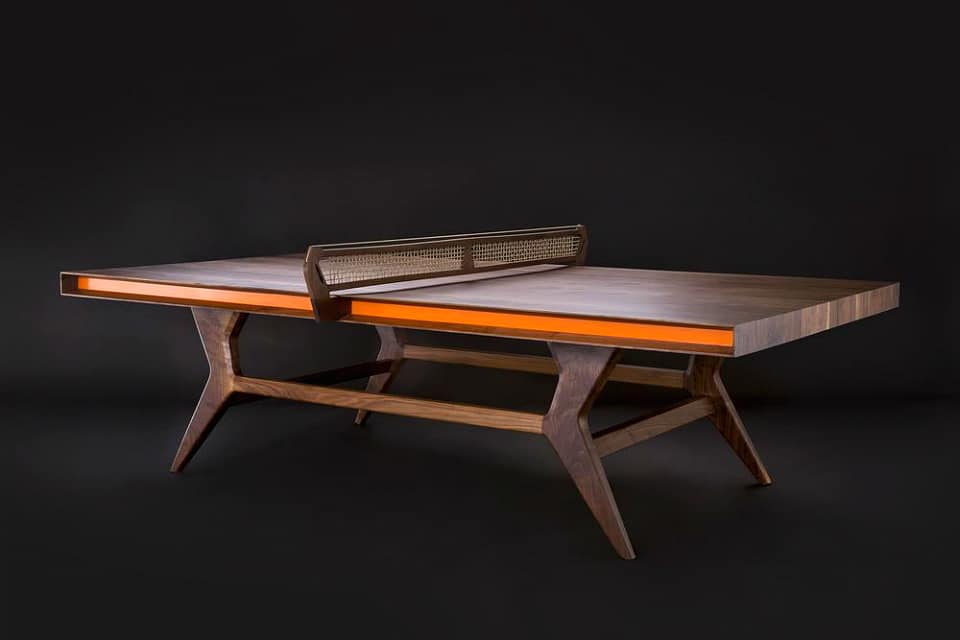 Mackenrow Ping Pong Table
This one, you look at. And look at some more. You run your hand down the solid walnut surface, stand back, admire the brass inlay, the Danish weave net. At some point you stop ogling and start playing, but you take your time getting there. Designed and crafted by hand-made furniture maker Jory Brigham, the Mackenrow Ping Pong Table brings a mid-century modern feel to a table that plays very nice with the rest of your furniture. The removable net means this investment is more than just a conversation starter, it's your new dining table too. – Buy It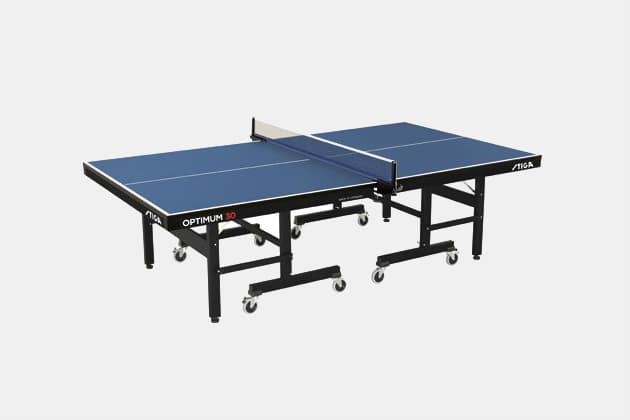 Stiga Optimum 30
Known for making bats (racquets) and blades (racquets without rubber) for table tennis, Swedish Stiga brings their 70 or so years of familiarity with the game to a line of competition-ready ping pong tables. The "30" in Optimum 30 is the thickness of the table surface. At a substantial 30 millimeters, the risk of dead spots and warping is gone, while spin is maintained with a special varnish that gives the table the "ideal frictional coefficient." That's just not a term we would make up. It means this table is ready to play. – Buy It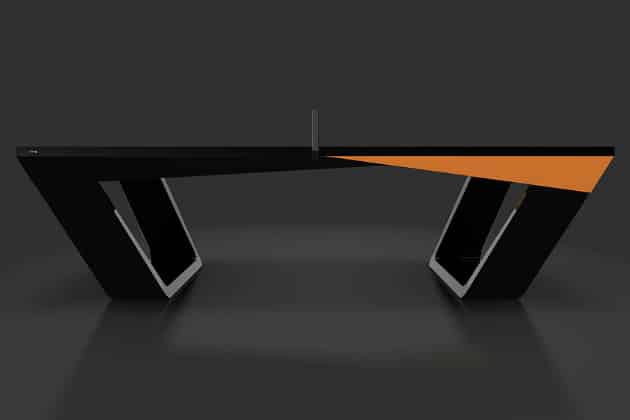 11 Ravens Avettore Table Tennis Table
In the event that you need to outfit your spaceship with a ping pong table, we'd point you to the Avettore. Featuring two-toned lucite and aerodynamic lines, this is one of those art-as-furniture pieces that you admire first, play with second. It's a limited edition from 11 Ravens and fully customizable to your specs. The table top's ability to convert from play surface to hyper swanky dining surface makes us think of scenarios where you tell your dinner guests there'll be ping pong later and let them guess just where that'll take place. – Buy It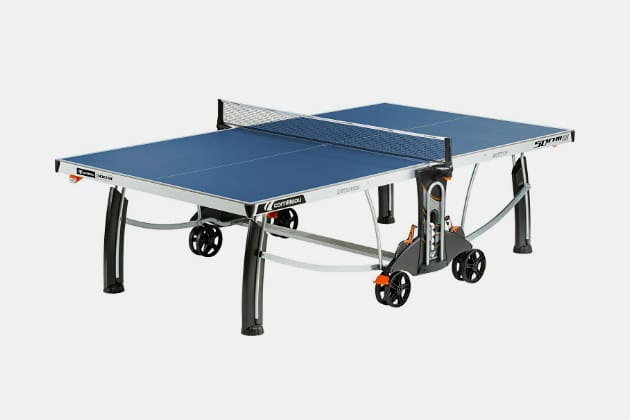 Cornilleau 500M Crossover
Don't have room for a ping pong table in the house? Let's take this party outdoors. The Cornilleau Crossovers are a series of outdoor tables built to withstand the elements. They're waterproof, shock-resistant and feature a non-reflective surface to cut down on sun glare. For some, the prospect of dedicating a huge chunk of outdoor real estate to a table just isn't doable, so these tables fold up and wheel away when you're not playing. They're made in France by Cornilleau, a company that has been making ping pong tables since the 1960s. So, yes, they know what they're doing. – Buy It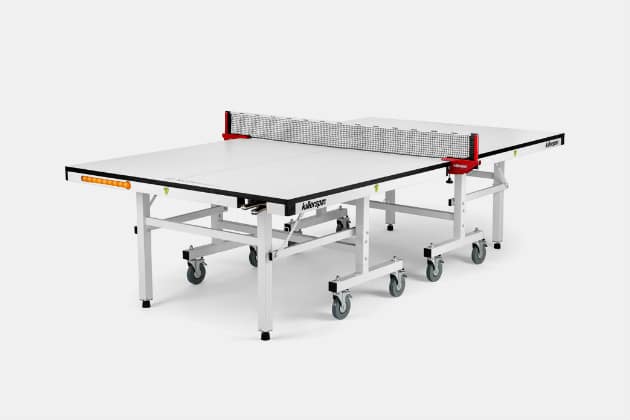 Killerspin MyT10 BiancoPure
A more budget-friendly version of a Killerspin table, the MyT series of tables are all regulation size with premium tops for fast play. Since having a ping-pong table permanently stationed in the living room just isn't for everyone, the MyT series fold up and roll away on good-sized wheels. The Bianco Pure is going for a modern, luxe feel with pure white table surface and legs, and accented with red net posts. There's storage on either end for 8 balls and two paddles. No more chasing fouls around the room and if you feel like switching up your paddle, do it. – Buy It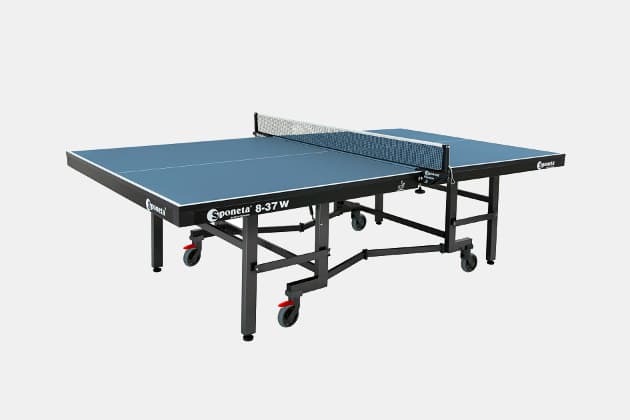 Sponeta 8-37 W Indoor Ping Pong Table
Just want to play? This Sponeta table is not trying to make statement art out of your tennis table equipment, it's just here to do a job. That job is to get you playing a good game of ping pong. Approved by the International Table Tennis Federation, this regulation table comes with a powder coated frame, adjustable legs and it's wheelchair accessible. Made by German manufacturer Sponeta, the 8-37 Ping Pong Table unfolds fast and packs away easily. Get your pen hold grip going and practice your chop and your loop then roll the table away till next time. – Buy It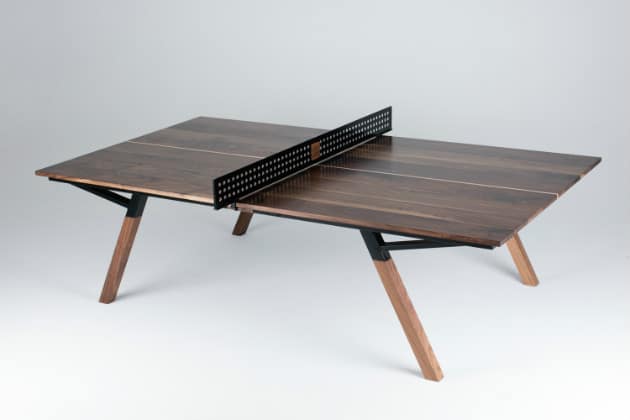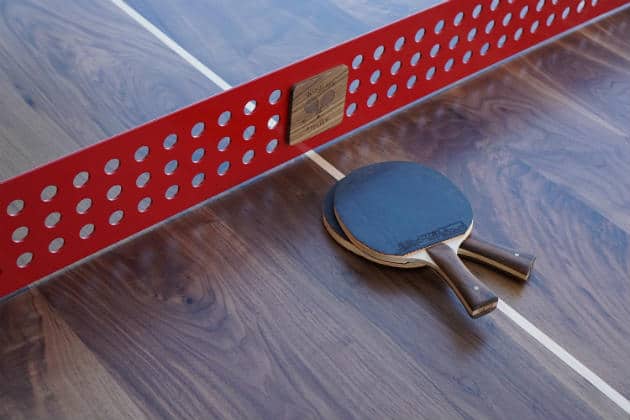 Woolsey Ping Pong Table
Another player in the equipment-as-art game, the Woolsey table is built to meet regulation specs and look fancy in your dining room. With a hand rubbed (food-safe) oil and wax finish, you can eat dinner on it then work off the calories with a friendly match. Crafted from black walnut with a sugar maple center line, the Woolsey also comes with custom paddles and balls, and a display rack to show them off. The net is powder-coated steel that removes easily for dining table conversion and the leg levelers make sure your eating/playing surface is good and flat. – Buy It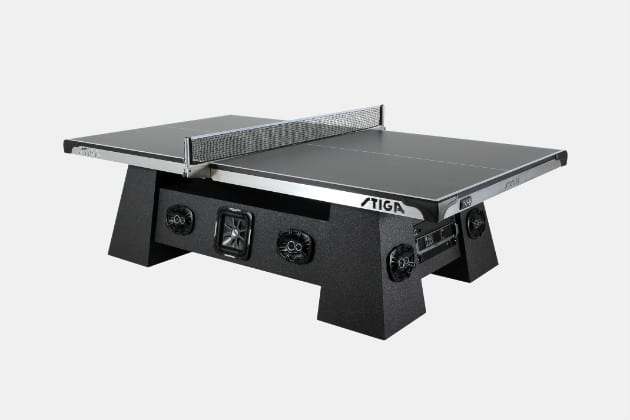 Stiga Studio
It's one thing to turn a room of your home into a game room. It's another thing entirely to turn it into a full on discotheque. Check out the table that can do both in one step. The handmade STIGA Studio Ping Pong Table boasts a 2800 watt sound system with two 12 inch subwoofers and 8 speakers. LED lighting beams from beneath the table, in time with the music, obviously. To round out the mind-boggle, the microphone input lets you and some friends get a karaoke thing going. Oh, right… You can also play ping pong on it. – Buy It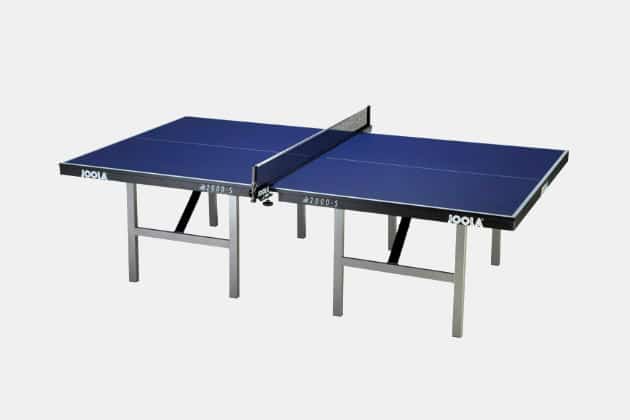 JOOLA 2000-S
Here's a ping pong table that's approved for competition by the ITTF but gets out of the way when you're done hosting a tournament in your living room. JOOLA (they're German, so say YOH-lah) made the official tennis tables for the 2000 and 2004 Olympic Games and is the official table sponsor for the USA Table Tennis Tournaments. We're pretty sure this means playing on their tables will instantly make you a professional ping pong player. Or perhaps not. In any event, this JOOLA model folds up and wheels away when the ping pong party ends (or the next morning, we don't judge). – Buy It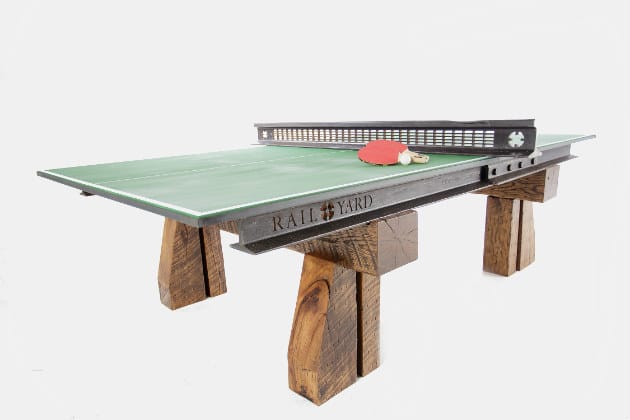 Railyard Studios Click-Clack Table Tennis Table
Railyard Studios was started by a railroad contractor who makes use of retired railroad parts by turning them into one-of-a-kind furniture. Now here's Click Clack. For ping pong. Table tennis players, railfans and onomatopoeia lovers unite. This is the table for you. Built on rails from Tennessee Coal & Iron Company dating back more than a hundred years and standing on cross ties that didn't make the cut (so didn't get treated with creosote), this single edition ping pong table has history burned right into it. Literally. The "net" is cut from another piece of rail that was removed from service due to a slipped wheel causing engine burn. – Buy It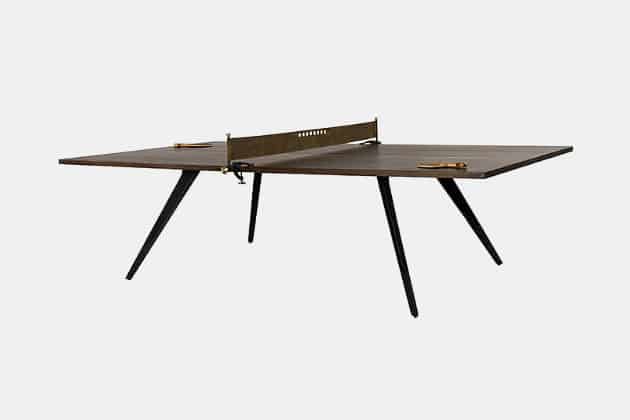 Nuevo Living Oak Ping Pong Table
South First Home makes upscale furniture — bookcases, desks, barstools, all that — out in Texas. And currently on offer are a handful of impressive looking gaming tables, from poker to foosball. Their entrant into the ping pong arena is sleek, dark and minimal with a reclaimed hardwood top finished in smoked oak, and steel and cast iron legs. The Living Oak table begs to be looked at as much as played upon (but not moved around, it weighs in at 400 pounds). But not to worry it can stay put, this beauty also doubles as a dining table. – Buy It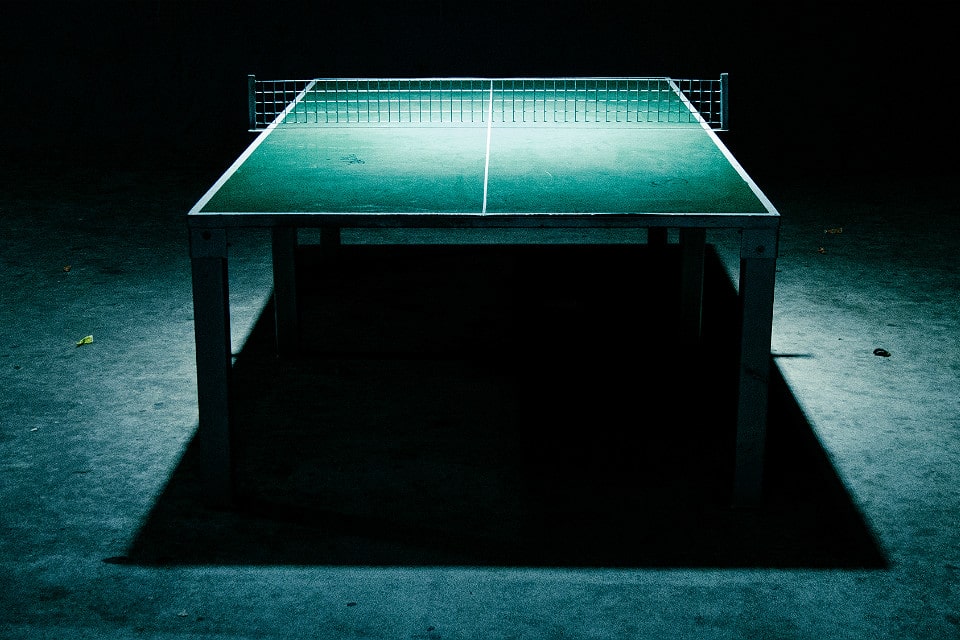 And remember, the best ping pong table is one that suits your individual needs. Whether you're looking to hone your table tennis skills to an olympic competition level or just play beer pong on the weekends with your friends, there's no better way to do so than with one of the above aforementioned ping pong tables. See you out there.
Disclosure: Clicking on these links and making a purchase may earn us a small referral fee, at no extra cost to you. Learn more here.
freestar.config.enabled_slots.push({ placementName: "gearmoose_leaderboard_btf", slotId: "gearmoose_leaderboard_btf" });