While roughing it old school with nothing more than a bedroll on the cold, hard ground will definitely earn you some bragging rights, most of us prefer at least a modicum of comfort and protection against pests, moisture, and hypothermia when we go camping.  Communion with nature is nice, but so is getting a full night's rest after hiking ten miles to your campsite.
 
This is why avid campers often choose lightweight tents, self-inflating sleeping pads, and sleeping bags rated for the temperatures they're most likely to find themselves in.  Of course, for those that love reaching remote destinations by vehicle, there is another option, and one that will save you from the potential perils of ground-level campsites (flooding, creepy crawlies, general discomfort, etc.).
 
With Rooftop tents designed to let you sleep on top of your car with comfort and protection from the elements, you can have the glamping experience you crave without sacrificing your minimalist ideals.  Sleeping on the ground has it's place in the great outdoors, but rooftop tents add another element to the tent camping experience by turning your coach into a rooftop hotel with a lofty perch that will give you an eagle-eye view of your surroundings each morning as you wake.  Here is our list of the 10 best rooftop tents for campers fed up with ground-level accommodations.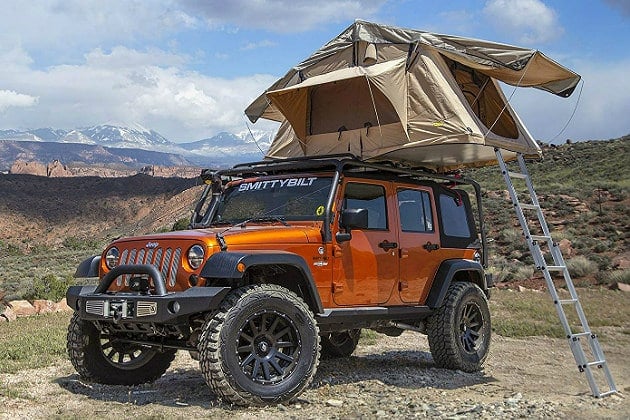 Smittybilt Overlander Tent
Unlike some rooftop tents that resemble a pop-up storage shell, this tent looks like it's straight out of a Boy Scout leaders handbook, from the sandy-brown khaki color (Coyote tan) to the lifted flaps over windows and doors.  It's going to look like you took your regular tent and plopped it on the roof of your car.  That said, it is much sturdier than your standard tent and is designed for rooftop use with easy, one-person fold-out; secure mounting brackets; a 60mm, high-density foam mattress; and a 600D heavy-duty waterproof top and rain fly.  The tent accommodates 2-3 adults and up to 661 pounds. – Shop Now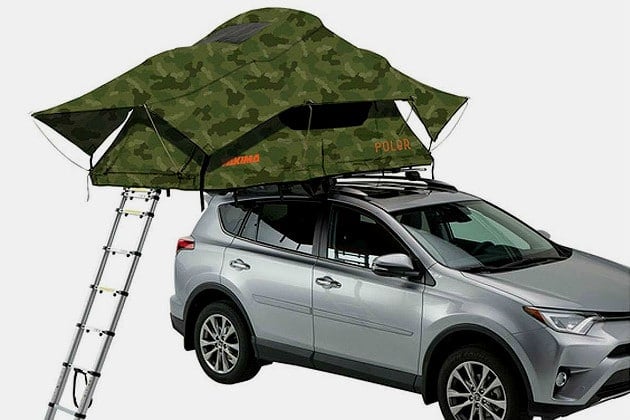 Yakima Skyrise Poler Rooftop Tent
It makes sense for a sky-high tent to feature furry woodland camo, but there's more to love than the outward appearance of this rooftop tent.  Breathable 210D nylon is paired with mesh panels to ensure optimal ventilation and deliver a view of the stars on clear nights when you don't need the rainfly.  When you do need it, you're sure to enjoy the PU coating that keeps moisture at bay.  It accommodates up to three adults, a 2.5-inch foam mattress provides comfortable sleeping arrangements, and strong, lightweight aluminum poles paired with tool-free vehicles mounts makes for easy setup and secure rooftop camping. – Shop Now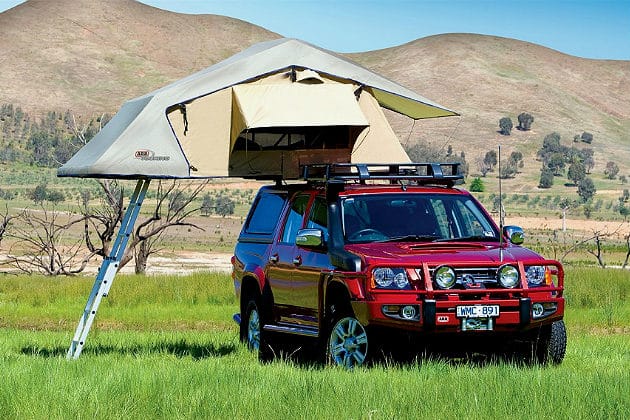 ARB Series III Simpson Rooftop Tent
Known for their premium 4×4 accessories, ARB does not disappoint with this strong, rigid, and water-resistant rooftop tent in high-quality poly/cotton fabric with an Oxford polyester flysheet.  It pairs perfectly with ARB's roof rack, but also works well with a variety of roof bars rated for the load.  A 2.5-inch, high-density foam mattress will help you get your zees, while insect screening keeps annoying bugs at bay.  You can add the annex combo kit for weather protection when hopping down the retractable aluminum ladder to get items in the car. – Shop Now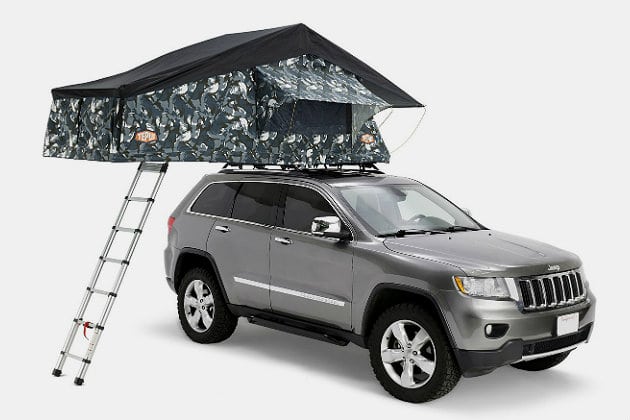 Tepui Explorer Series Autana 3
When closed, this tent looks a bit like a bed in a box.  When opened, you'll enjoy an astonishing rooftop experience.  It's no Tardis, but it's definitely big on the inside with a sleeping capacity of three adults, along with a removable drop-down annex with PVC floor so you don't have to step out in inclement weather to get to goodies stored in your car below.  Made to weather a storm, this tent features two operational sky panels with quick release clips on the rainfly, 260g ventilate coated canvas, and water resistant YKK zippers to keep out every drop of rain. – Shop Now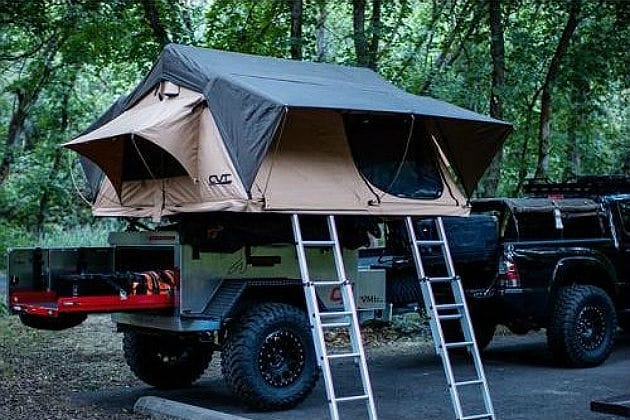 Cascade Mt. Denali Stargazer Pioneer
Fitting four full-size adults into a tent atop your vehicle may seem like a mathematical impossibility, but the Mt. Denali Standard Stargazer Pioneer defies expectations with a 2-mattress system that not only accommodates up to four, but comes with a handy divider for double-date camping couples or families with kids.  There are two entry doors with ladders for ease of use (especially when the privacy wall is up) and a stable base featuring an aluminum frame, joists, and sheets, along with insulated foam.  3-inch thick, high-density foam delivers comfort, while 280g poly/cotton rip-stop canvas with PU coating offers water resistance, UV protection, and breathability. – Shop Now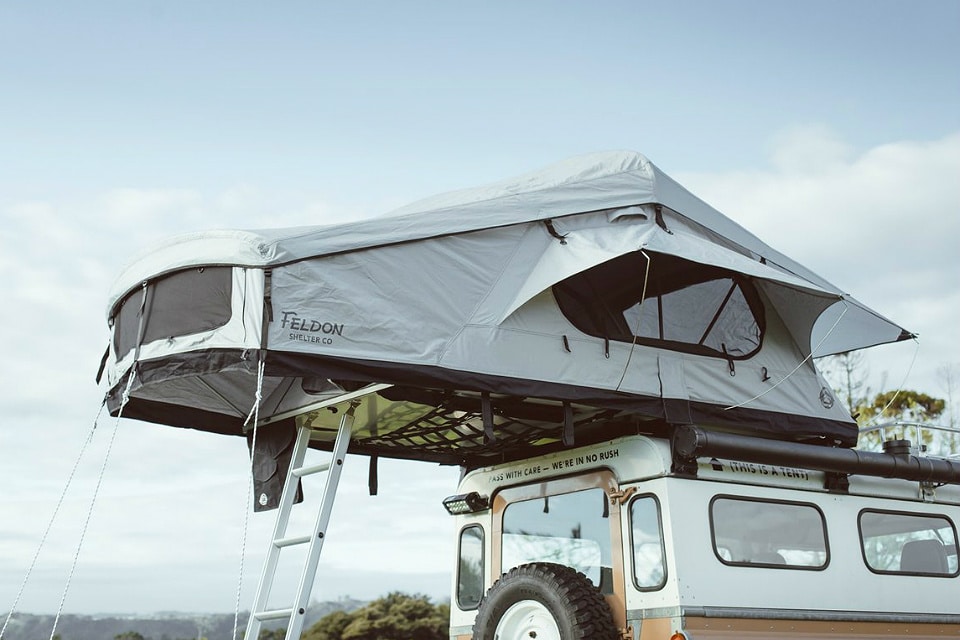 Crow's Nest Rooftop Tent
This extended, 2-person tent comes complete with a built-in queen mattress, but considering half of it hangs off the back or side of your car, it could work with an old-school Land Rover, a compact SUV, or a wagon.  Aluminum honeycomb-cell base construction ensures stability and is five times stronger than regular rooftop tent bases.  Aside from the roomy sleeping arrangements, you're sure to love the ample storage options this setup offers, including a heavy-duty cargo net under the base, along with six hanging storage loops and vented, base-mounted pockets for muddy hiking boots and more. – Shop Now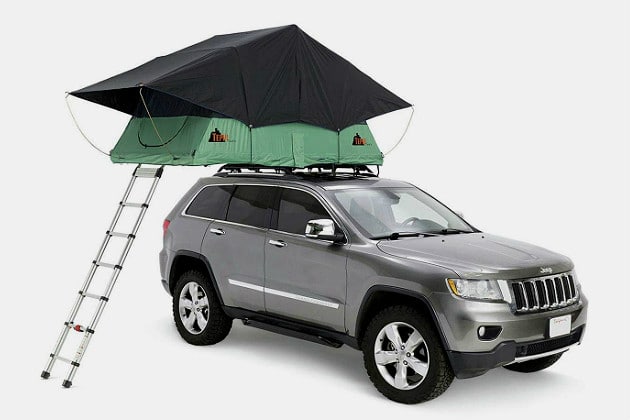 Tepui Baja Series Kukenam Mesh Tent
Call it your cabin in the sky.  This 2-person, 3-season tent will see you through months of summer camping trips with a simple, pop-up framework that makes assembly a snap, paired with an ultra-breathable, lightweight shell that keeps you comfortable whether you're sweating it out in humid climes or braving a downpour in the mountains.  The breathable mesh design is primarily for warmer climates, but the rainfly will ensure you're always prepared for inclement weather.  Even better, it works with a wide array of existing roof racks and aftermarket add-ons for your convenience. – Shop Now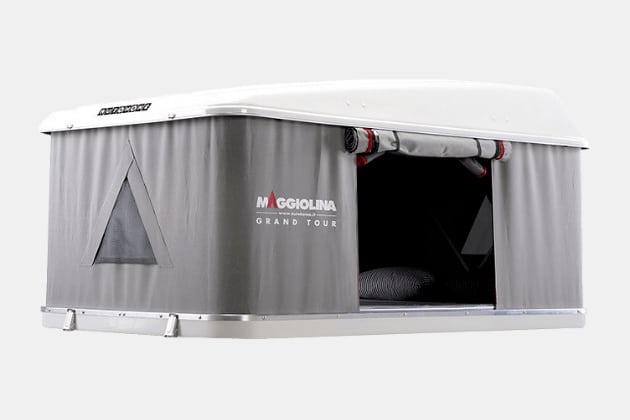 Maggiolina Grand Tour Rooftop Tent
A slick design in marine-quality fiberglass makes for a durable, rainproof, popup tent that protects you during sleep and stands the test of time.  The fiberglass bottom with foam sandwich insulation includes a 3.5-inch thick closed cell foam mattress for comfort and the interior is water and dust proof.  The added door-within-a-door feature means campers will enjoy ample air circulation without sacrificing privacy, and the top-of-the-line Grand Tour model features extra head space.  This model fits up to two adults and two children, and small and medium sizes are also available to suit every camper's needs. – Shop Now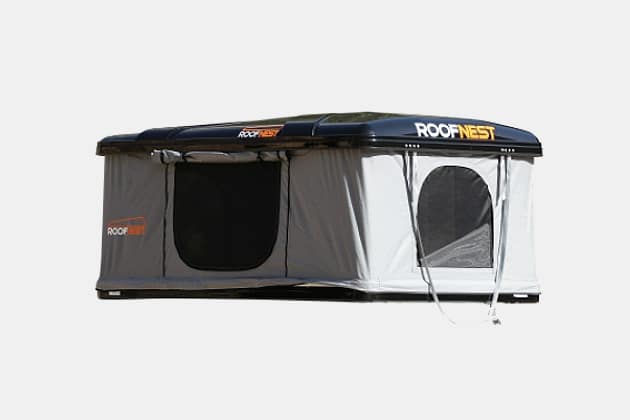 Roofnest Eagle
This hardtop shell design in fiber-reinforced ABS offers strong, durable, and lightweight sleeping accommodations for two adults (and reportedly, a couple of dogs, to boot).  The structure attaches securely via rooftop rack and crossbars, fabric lining makes for a warm interior, full zip closures prevent pest intrusion, and a 7cm thick HDF mattress makes for comfortable slumber.  There are also interior/exterior storage pockets and a telescoping ladder for your convenience.  The pop-up feature is easy to use and updated webbing straps and buckles offer flexible closing when storing bedding and more inside the tent. – Shop Now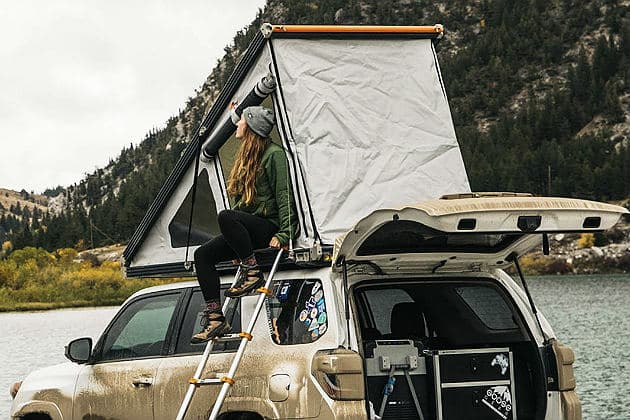 GFC Roof Top Tent
As rooftop tents go, it doesn't get much more basic than the triangle design that hinges at one end and opens to a tall interior space on the other.  This lightweight and diminutive rack weighs only 135 pounds and delivers the thinnest rooftop tent profile when closed at just six inches thickness, but opens to a 4-foot height.  Yet, the metal and composite construction is designed for strength and durability.  Even better, no rack is needed to mount it – the frame attaches directly to a wide variety of vehicles via factory mounting points. – Shop Now
Disclosure: Clicking on these links and making a purchase may earn us a small referral fee, at no extra cost to you. Learn more here.
freestar.config.enabled_slots.push({ placementName: "gearmoose_leaderboard_btf", slotId: "gearmoose_leaderboard_btf" });