Running takes consistency. If you're a dedicated runner, you know there really aren't any viable alternatives to training outdoors. Treadmills are boring, and don't work the same muscles. Besides, you might not even have the space for a treadmill.
But the weather is unpredictable and often uncooperative. Do you give in to excuses, or get those miles in despite getting drenched or chilled in the process?
With the proper running jacket, you won't have to do either. Running jackets remove the negatives of running in a drizzle, on a windy day, or even in an all-out storm. Plus, these jackets help you stick to a running routine. After all, no excuse for not running is good enough if you have durable protection that shields you wherever you run.
Key features set running jackets apart from traditional rain jackets or windbreakers.
Breathability: Rain jackets are water-repellent. Windbreakers hold back the wind. Running jackets do both—and more. They offer a breathable design that enables efficient airflow, rejuvenating your body and taking away sweat.
Ultra lightweight: It wouldn't be smart to weigh yourself down with gear when trying to break your personal best time. Running jackets are designed to be as light as possible, while giving you the ultimate weather protection.
Reflective details: Not all jackets have this feature, but it's a must on running jackets. They keep you safe on the road, or in low-light conditions.
Proper fit: Running jackets should offer more freedom of movement than rain jackets or windbreakers. Make sure that your jacket allows for full range of arm movement–you'll need it for those long runs.
Remember–there's no such thing as bad weather, just bad clothing. With these 12 best women's running jackets to choose from, you'd be ready to run anywhere, come wind or rain.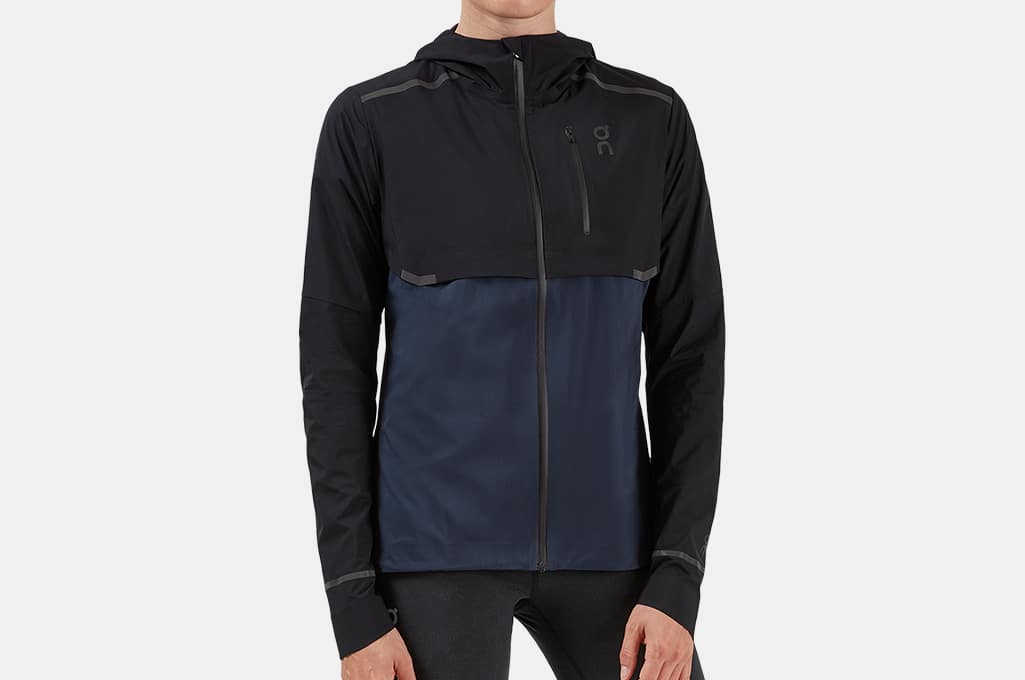 On Running Weather Jacket
Sleek. Warm. So light it feels like nothing. That's the On Running Weather Jacket, designed to shield from the wet and cold. This running jacket offers an athletic fit and a stretchy, breathable, yet waterproof shell. It's an ultralight jacket that won't stop protecting you even if you forgot about it. The capped hood hides your face from rain, even at speed. The entire jacket folds neatly into itself when the sun comes up for storage.
Price:$239.99
Size Range: XS – XL
Color Options: Surf/Sea, Black/Navy, Grey/White
Weatherproofing: Advanced DWR (durable water repellent)
Key Feature: Thanks to its detailed and durable design, the On Running Weather Jacket keeps you dry and warm even on unforgiving runs in bleak, gloomy weather.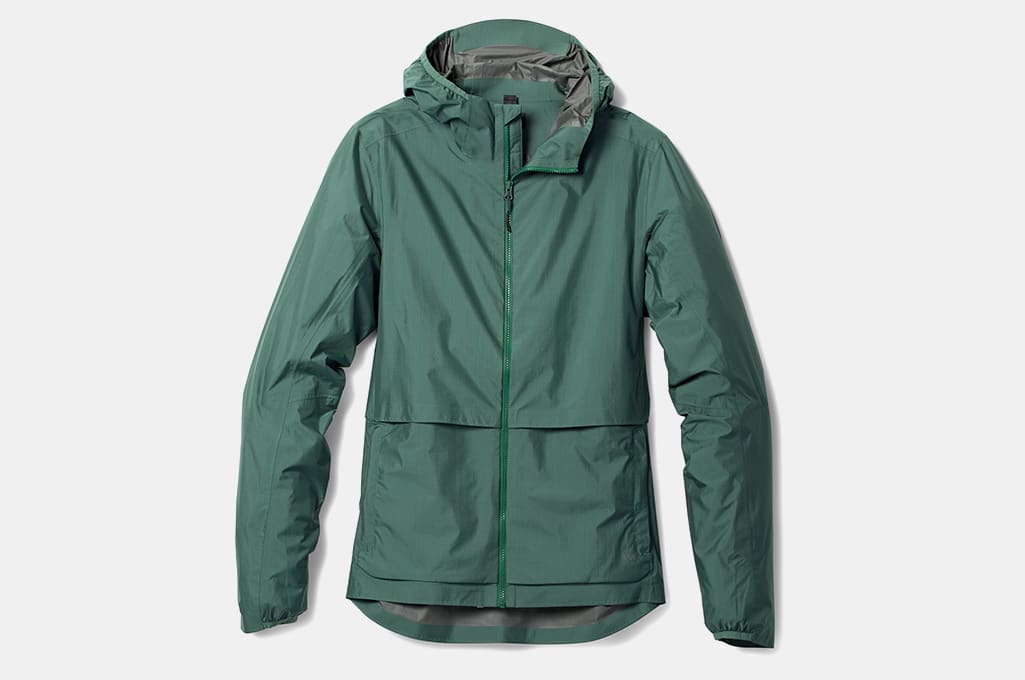 Janji Rainrunner Pack Jacket – Women's
Breathable? Check. Lightweight? Check. Packable? Check.
Be careful if you pick up the women's Janji Rainrunner Pack Jacket—no excuse for not running due to bad weather would ever be valid. Featuring fully-taped seams, a snug scuba-style hood, and a drop-back hem, this jacket keeps rain and sleet away all through your run. Semi-elastic cuffs and weather-proof ripstop fabric allow for mobility and comfort without sacrificing style and function.
Price:$198.00
Size Range: XS-XL
Color Options: Jasper, Deep Orchid, Obsidian, Cardinal
Weatherproofing: 2.5-layer waterproof breathable laminate
Key Feature: The Janji Rainrunner Pack Jacket comes with state-of-the-art weatherproofing technology, a sleek and elegant design, and an ultra lightweight, breathable shell.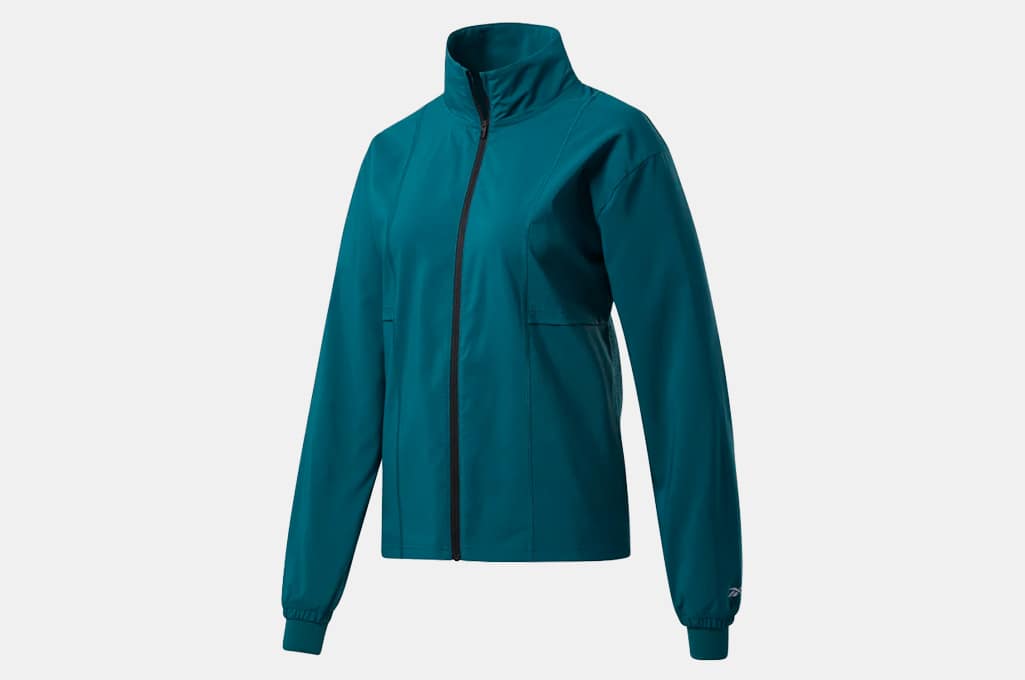 Reebok Running Wind Jacket
Affordable, minimalistic, and made with at least 30 percent recycled materials, Reebok's Running Wind Jacket has everything you'll ever need in a running jacket. It wicks away sweat, keeps rain at bay, all while ensuring full mobility and protection. Thumbholes in elastic cuffs and a stand-up collar deter wind and moisture from distracting you from your route. It's made for wild weather, speed, and movement. With the right gear—like this Running Wind jacket—the miles would seem to run themselves.
Price: $60
Size Range: 2XS-M
Color Options: Midnight Pine, Black
Weatherproofing: Speedwick 100% recycled polyester plain weave
Key Feature: This lightweight, fully-zipped running jacket has all you need for dependable and affordable protection on hikes and runs in any weather.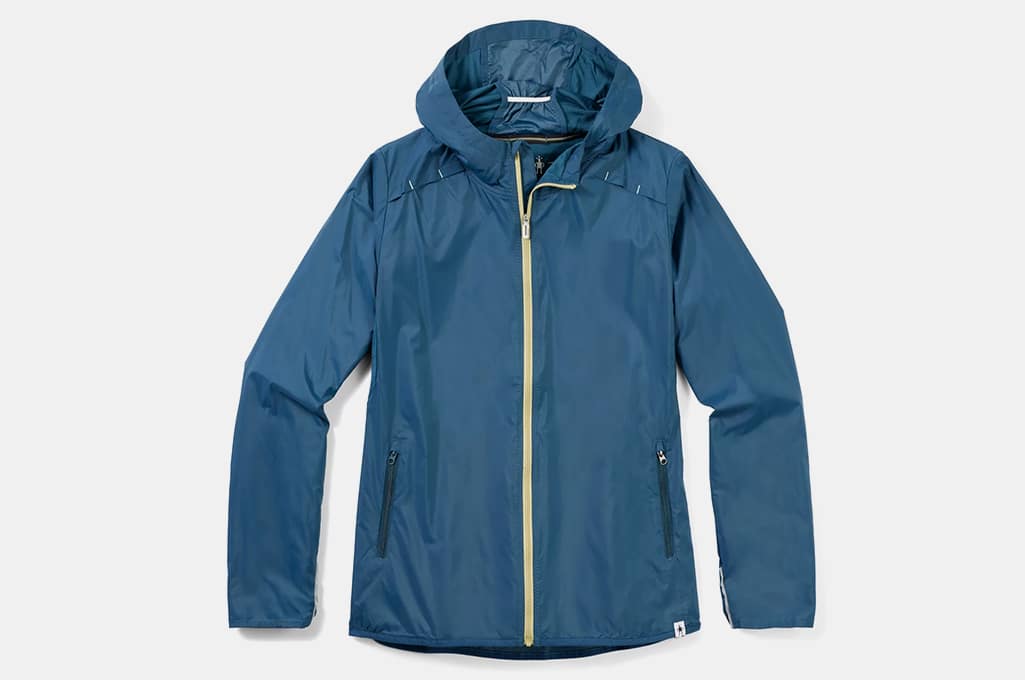 Smartwool Women's Merino Sport Ultralite Hoodie Jacket
Thoughtfully crafted for total comfort, functionality, and protection, the Women's Merino Sport Ultralite Hoodie Jacket is made with breathable Merino fabric on the inside, and a weatherproof shell of super-light, recycled nylon cloth on the outside. The whole jacket packs away into the right hand pocket for easy storage, while the regular fit allows you to jog or sprint without extra bulk. The capped hood makes sure your noggin stays dry for as long as your workout lasts.
Price:$130.00
Size Range: XS-XL
Color Options: Twilight Blue, Mango Sorbet, Peach Whip
Weatherproofing: Non-PFC DWR finish
Key Feature: Super-light and durable, the Merino Sport Ultralite Hoodie Jacket packs neatly into itself, ready to be worn on your next adventure.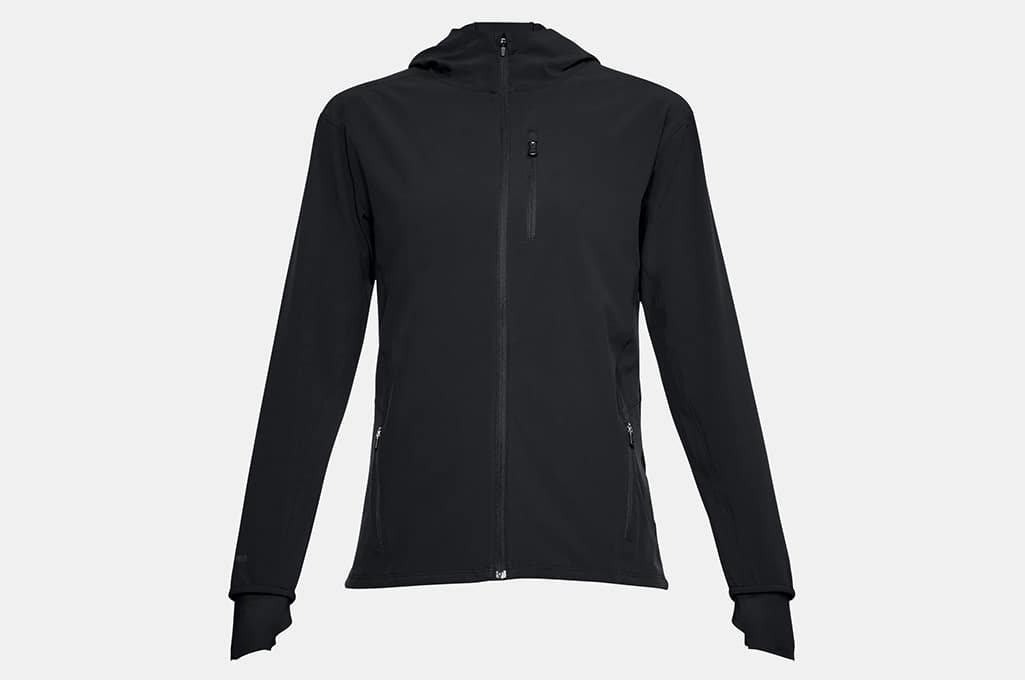 Under Armour Women's UA Outrun the Storm Jacket
The streamlined fit and ultra lightweight design of the UA Outrun the Storm Jacket sets it apart from the others. The integration of breathable, water-repellent technology with the drop-tail hem, smooth spacer cuffs, and reflective details ensure that you stay warm, dry, and safe whether you're jogging through a drizzle or dashing home under a thunderstorm. Stretchy comfort and zippered pockets keep your mind off distractions, freeing you to concentrate on your running form and speed. 
Price: $90.00
Size Range: XS- XL
Color Options: Black, Stardust Pink
Weatherproofing: UA Storm technology
Key Feature: Blocking wind and water, the Women's UA Outrun the Storm Jacket delivers on its promise. With this jacket on, you can outrun any storm (or at least survive them) while staying dry and comfortable.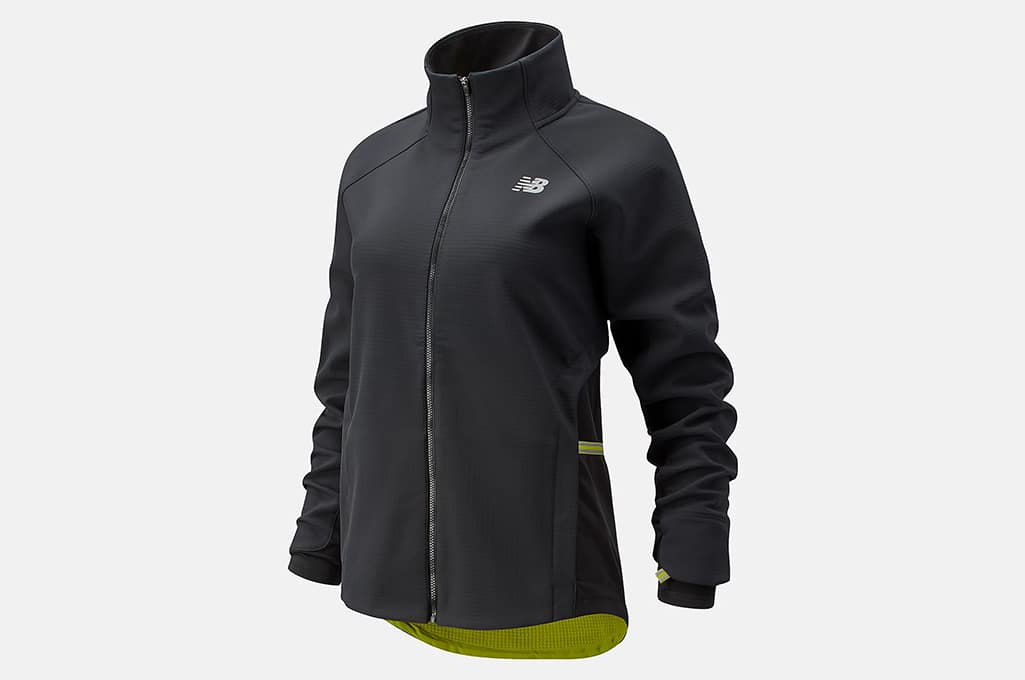 New Balance Impact Run Winter Jacket
Cold, wet weather need not stop you from hitting the sidewalk or trail. With the Impact Run Winter Jacket between you and the elements, no raindrop or wind gust could dampen your spirits or blow your dedication away. Zippered pockets and an athletic fit eliminate excess bulk, streamlining your movement and empowering your every stride. NB HEAT technology-enhanced fabric wicks away sweat while keeping you warm on those chilly wet mornings.
Price:$111.99
Size Range: XS – 2XL
Color Options: Black
Weatherproofing: Wind-resistant polywoven construction with bonded heat grid fabric
Key Feature: Stay dry and focused with the streamlined Impact Run Winter Jacket, designed for keeping you comfortable and active on cold, wet days.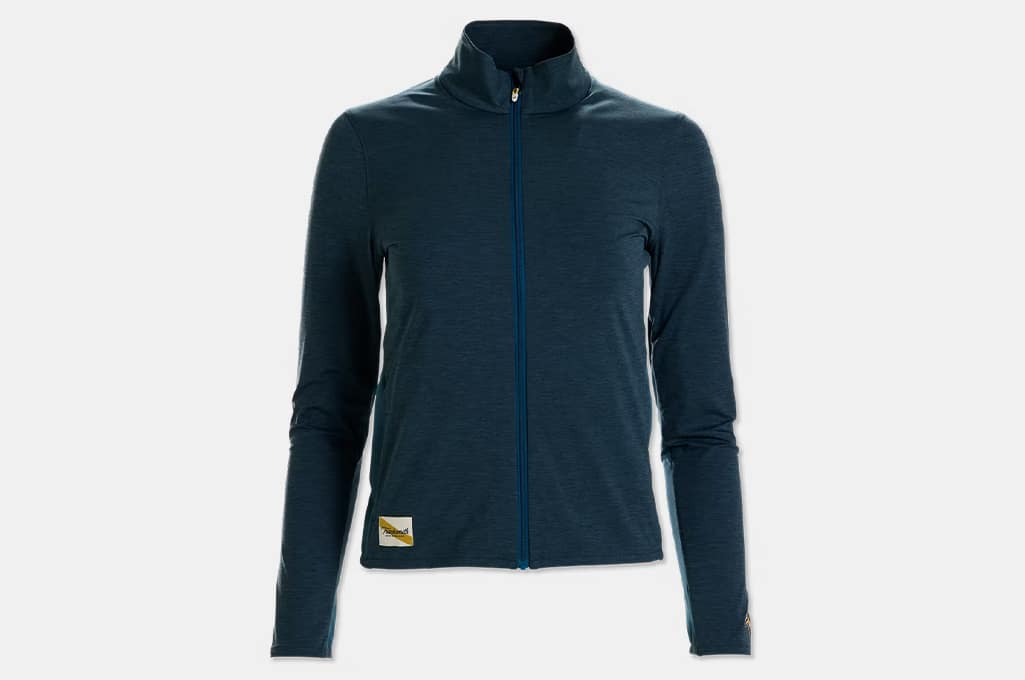 Tracksmith Women's Session Jacket
Consistency in training is crucial. But what about bad weather? The Tracksmith Women's Session Jacket has you covered—literally.
Performing just as well under drizzles or downpours, from warm-ups to all-out sprints, this versatile and durable jacket would be your new favorite jacket. Micro-mesh side panels and Veloce fabric enable this jacket to breathe well, dry quickly, and insulate without overheating. It's ideal for long runs that start cool and end toasty, or stretches that need efficient range of motion.
Price: $128
Size Range: XS-L
Color Options: Denim, Charcoal, Wine, Navy, Dark Emerald
Weatherproofing: OEKO-TEX 100 Certified Fabric
Key Feature: Versatile, stretchy, and weather-proof, the sleek-looking and soft-feeling Tracksmith Women's Session Jacket keeps you cool and dry on the move.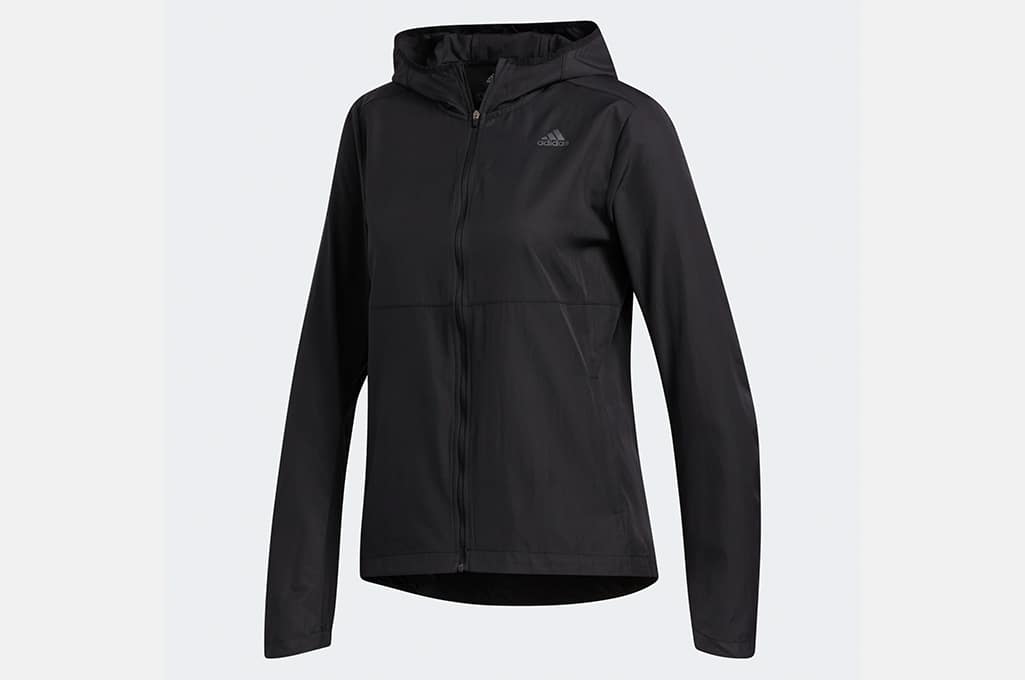 Adidas Own the Run Hooded Wind Jacket
There are days when it's hard to run, even when you'd love to. That's when you most need to "own the run" and give it all you've got. Adidas' Own the Run Hooded Wind Jacket is proof that the right jacket would send you out the door, ready to face the wind or rain. The water-repellent and wind-proof finish protects you from strong wind and relentless rain. The reflective details and full zip front with drawcord hood ensures your safety and comfort.
Price: $70
Size Range: 2XS-XL
Color Options: Black
Weatherproofing: PFC-free water-repellent finish
Key Feature: Elegant and functional, the Own the Run Hooded Wind Jacket stands up to the elements, allowing you to forget about the weather and run your best.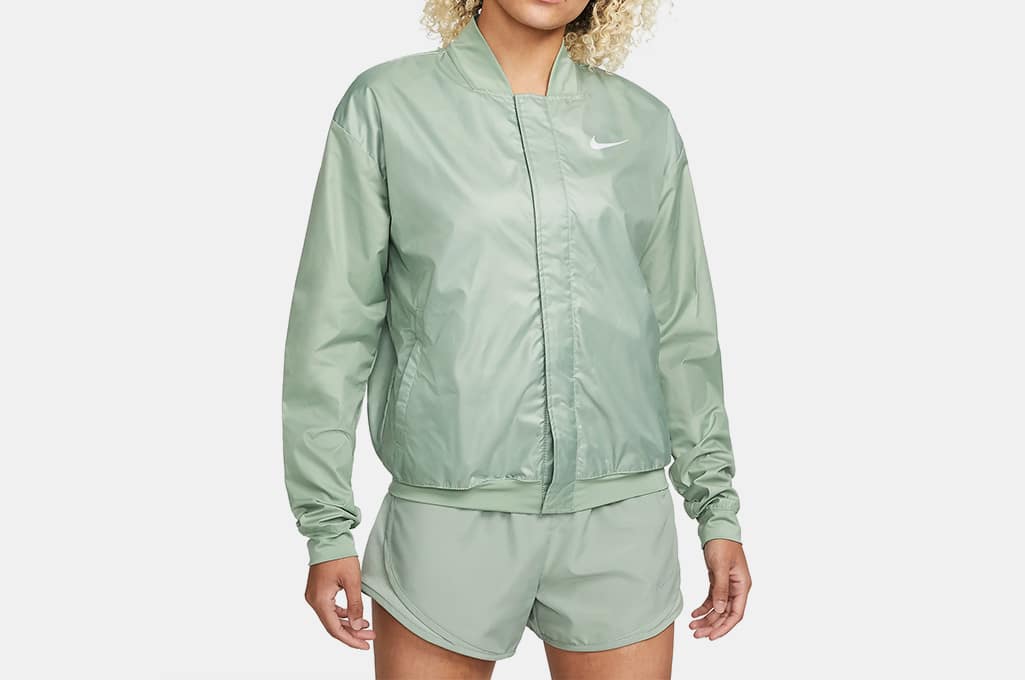 Nike Swoosh Run
"Swoosh" your way through every drizzle, rain, or downpour with Nike's Swoosh Run jacket. The soft feel, slip pockets, and recycled nylon shell make this one of the most comfortable, lightweight, and top-performing running jackets for women. The center front packet has a secret snap closure that allows you to adjust your airflow as you run. Stylish, iconic, and functional, this jacket will soon be your go-to layer for those not-so-sunny days.
Price: $80
Size Range: XS-XL
Color Options: Archaeo Pink/White, Jade Smoke/White, Black/White
Weatherproofing: Unspecified
Key Feature: Nike's Swoosh Run jacket for women is lightweight, soft, and breathable, empowering you to "swoosh" down the street or trail in style, in any weather.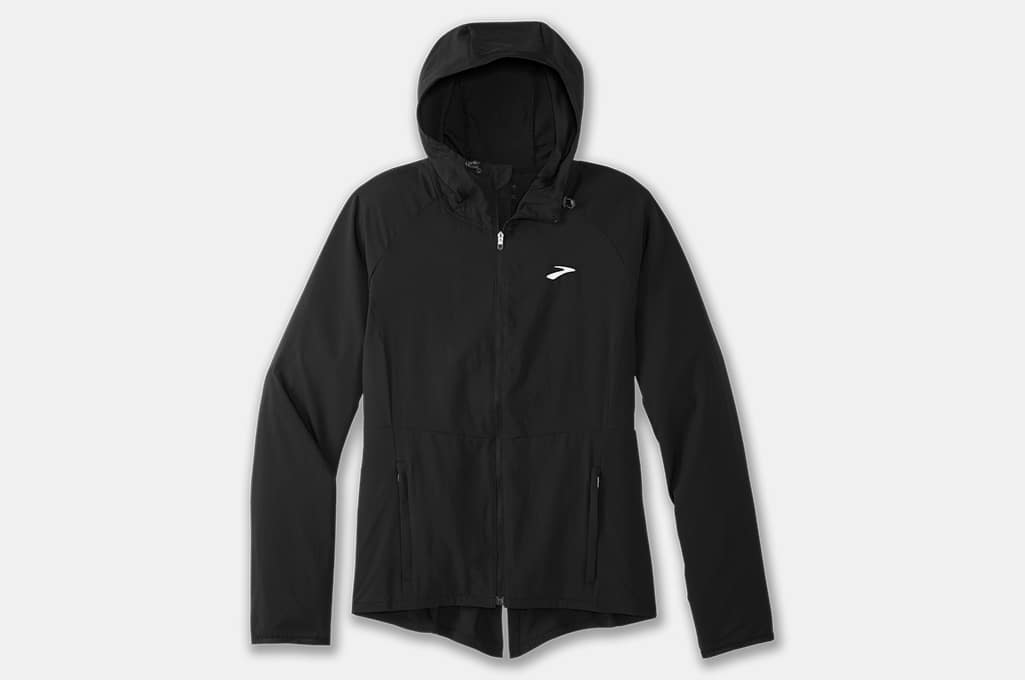 Brooks Canopy Jacket
Crafted for dependable, breathable protection, the women's Canopy Jacket is a lightweight, easy-to-pack, and weatherproof layer perfect for runs in wet weather. Draft flap snaps keep the jacket in place even when unzipped for ventilation. This jacket lets out excessive heat while keeping the cold and wet far away. The waterproof, adjustable hood packs neatly into the collar, while the whole jacket folds up into its own pocket. The perfect buddy for your next run.
Price: $130
Size Range: XS-XXL
Color Options: Black, Violet Dash, Golden Hour/Violet Dash
Weatherproofing: Breathable woven DriLayer Seal fabric
Key Feature: The thoughtfully designed and sustainably crafted Brooks Canopy Jacket offers full protection and breathability for the dedicated runner.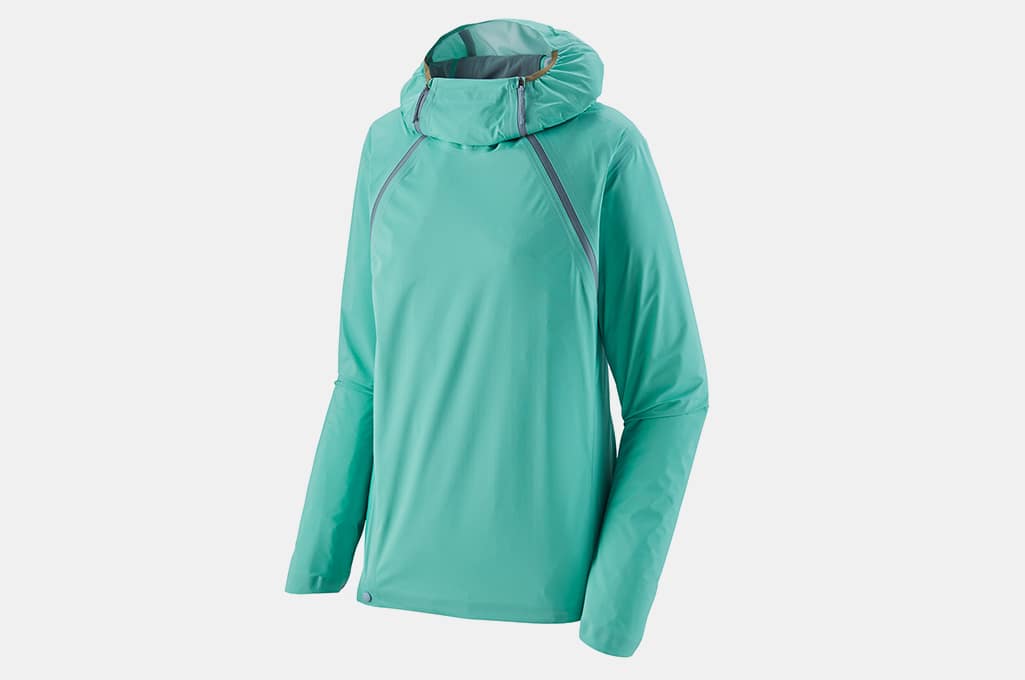 Patagonia Women's Storm Racer Jacket
Can you race a storm in the jacket—and win? Maybe, just maybe. At any rate, you'd be dry and comfortable battling the weather in Patagonia's Storm Racer Jacket. This ultralight jacket features an emergency waterproof shell with its own innovative double zipper that ensures ease of access and straightforward layering. It's made with recycled nylon ripstop face fabric that keeps moisture at bay. Adjustable cuffs and waterproof hood repel errant drops from seeping in as you focus on your best running form.
Price: $249
Size Range: XXS-XL
Color Options: Fresh teal, Joya Blue
Weatherproofing: Featherweight H2No® Performance Standard shell
Key Feature: You'll feel like you'd conquered the elements when you stay dry and comfortable in the Storm Racer Jacket—even in a downpour.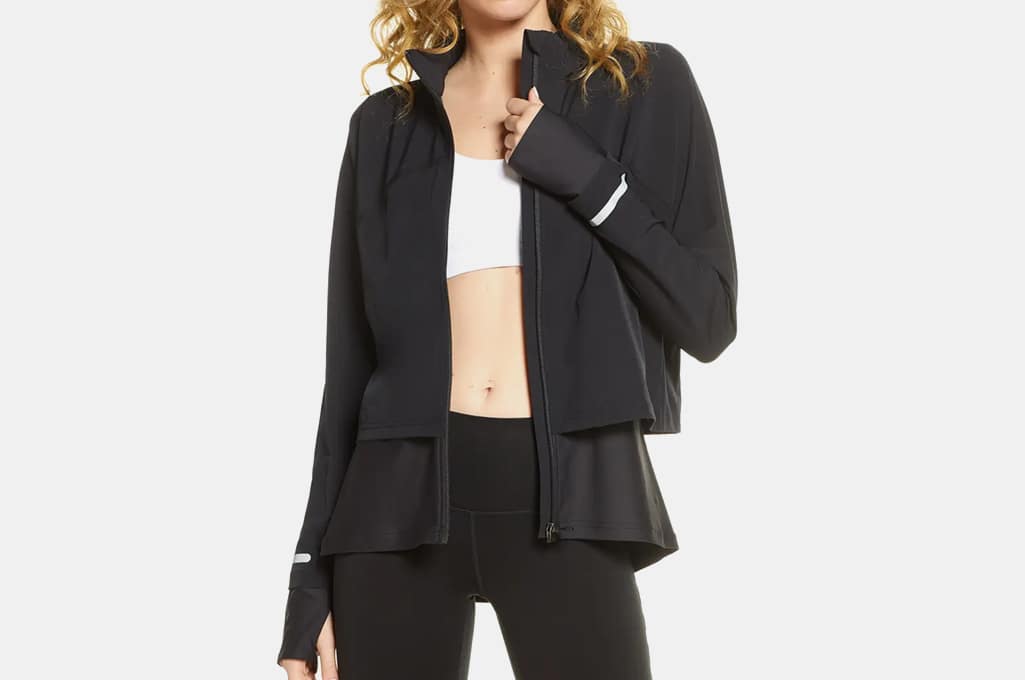 Sweaty Betty Fast Track Jacket
Lightweight and breathable with a stowaway, drawcord hood and long back hem, the Sweaty Betty Fast Track Jacket from Nordstrom has you covered on every run in less-than-optimal weather—or when you have to deal with puddles and tire spray. The catchy brand name spells out why it's a great addition to your workout gear arsenal—it keeps you cool and comfortable no matter how hard you run, no matter what the weather's like. 
Price:$148.00
Size Range: XXS – XXL
Color Options: Black
Weatherproofing: Unspecified
Key Feature: Made for performance, the Nordstrom's Fast Track Jacket comes with a moisture-repellent shell, drawstring hood, and reflective details.
Disclosure: Clicking on these links and making a purchase may earn us a small referral fee, at no extra cost to you. Learn more here.
freestar.config.enabled_slots.push({ placementName: "gearmoose_leaderboard_btf", slotId: "gearmoose_leaderboard_btf" });