Our 12 Favorite Solid Colognes
Take it from us — the underrated accessory you didn't know you needed just might be one of the best men's solid colognes. That's right — the smallest of finishing touches, the scent that accompanies your outfit, could be crucial to helping you feel your best.
The days of the AXE spray bottle are long gone — even that lauded brand is stepping up its game in terms of packaging and aesthetic, and other lauded men's perfumers are following suit.
There's something crisp and refined, yet at once rugged, about a nicely made, nice-smelling solid cologne — and that's what we're aiming to introduce to you today with our rundown of the best solid colognes for men. You'll be surprised at what you'll find — and the solid cologne you once thought you could live without might soon become a daily essential for looking good and smelling great. One thing is clear — you won't have to go far to find the best solid cologne for your daily grooming arsenal. We've done the heavy lifting for you with this list of the 12 best on the market.
Duke Cannon Solid Cologne
Duke Cannon takes a pleasingly no-frills, no-fuss, no-nonsense approach to men's grooming — just the way it should. The brand recognizes that smelling great is a matter of taste and rugged appeal, and Duke Cannon Solid Cologne reflects that ethos quite nicely.
With scents like "Sea" and "Land," the brand says that "hard-working men don't have time to mess around with messy sprays." Such is the case with a small container that might become your new favorite when you want to smell great — with an added pep in your step, too. Combine it with their hard-working soap to round out your morning grooming routine. – Buy It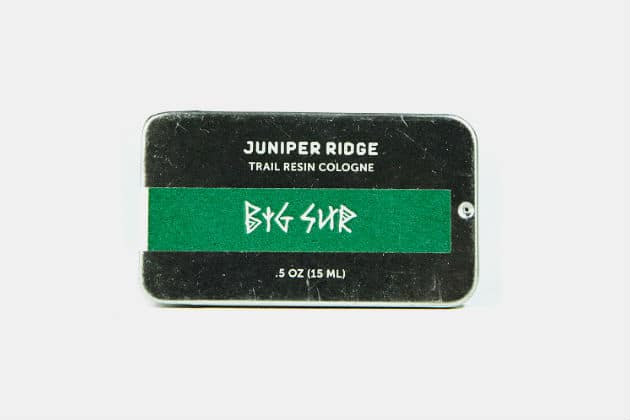 Juniper Ridge Big Sur Trail Resin Cologne
With a distinct vibe that captures the power and simple, rugged beauty of the outdoors, Juniper Ridge gets plenty of things right in terms of a reliable solid cologne for the outdoor-minded guy. Featuring a beeswax base and crafted using real plans, the Big Sur Trail Resin Cologne readily calls to mind hiking the central coast ("the wild heart of California," as the brand calls it). Either way, you're sure to be satisfied and smelling great with this solid cologne — just add a few of your favorite men's style essentials for a complete ensemble. – Buy It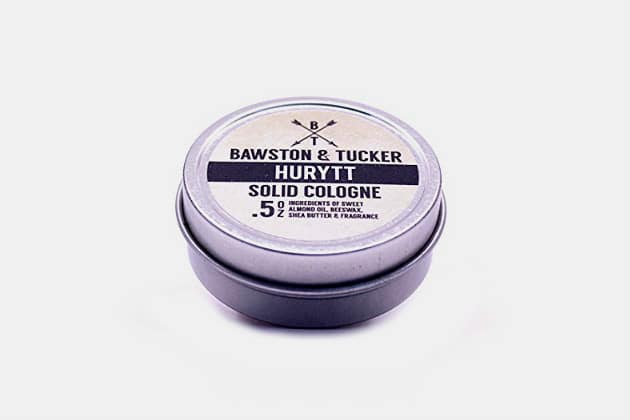 Bawston & Tucker Hurytt
Bawston & Tucker appears to be firing on all cylinders when it comes to chasing down the tough-to-perfect art of men's grooming. The brand's Hurytt Solid Cologne is as simple and well-made as it is effective. Bawston & Tucker crafts its products without parabens, and it does so in the U.S.A — that's an admirable approach. It also helps that the Hurytt Solid Cologne blends the fresh and the citrus-y with a neat name — Hurtytt happens to be the Native American word for "handsome." What's not to love about that? – Buy It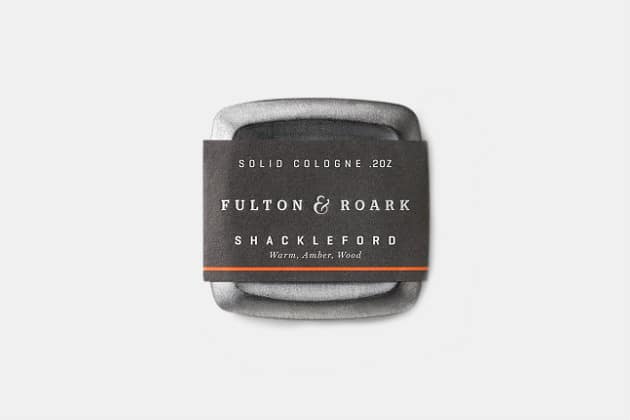 Fulton & Roark Shackleford
Fulton and Roark absolutely gets straight to the point in terms of an effective solid cologne that channels handsome, classic style. After all, the scent is simply called "Wood," and calls to mind sandalwood and warm amber. When taken together when the brand's crisp-yet-rugged packaging and design detailing, it's a welcome effect that every guy who appreciates quality should recognize and enjoy. The best part? You can subscribe to have this solid cologne delivered as often as you like. Feeling great and smelling better is just a few clicks away — it doesn't get easier than that. – Buy It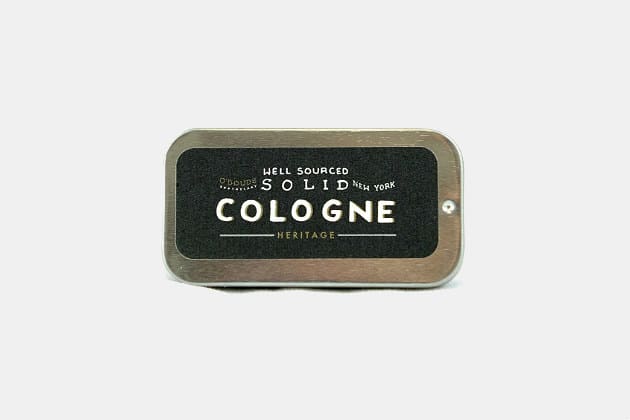 O'Douds Heritage Solid Cologne
O'Douds already knows how to make a nice, crisp and all-around excellent cologne, and it's translated that idea right down into an easy-to-use solid cologne for the guy who needs to grab and go when getting ready in the morning. Citrus meets sandalwood in the Heritage scent, resulting in what the brand calls a "musky and masculine" scent. That sounds like everything one might need in a solid cologne, no? As it were, the brand offers a handy subscription plan with a great value if you find yourself frequently using its solid cologne — and how could you not? – Buy It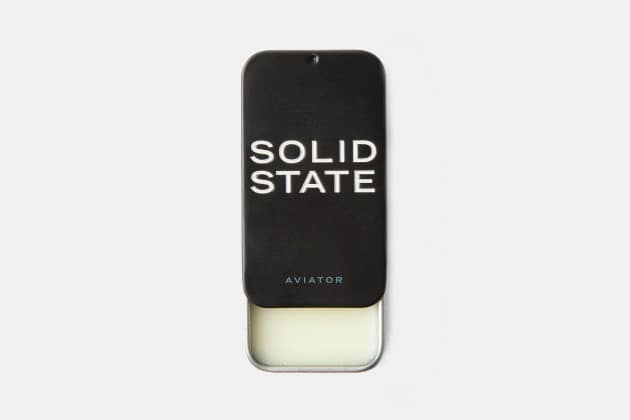 Solid State Aviator
With product names that call to mind a rugged spirit of adventure and the sort of bygone golden age of men, well, being men, Solid State certainly belongs on any list of the best men's solid colognes. The Aviator in particular checks a lot of boxes when it comes to what men should reach for in a solid cologne. It's got a unique scent and sharp, tailored and clean packaging, to boot. It's a bit of an investment at just north of $30 for a tin, but it's certainly worth it. – Buy It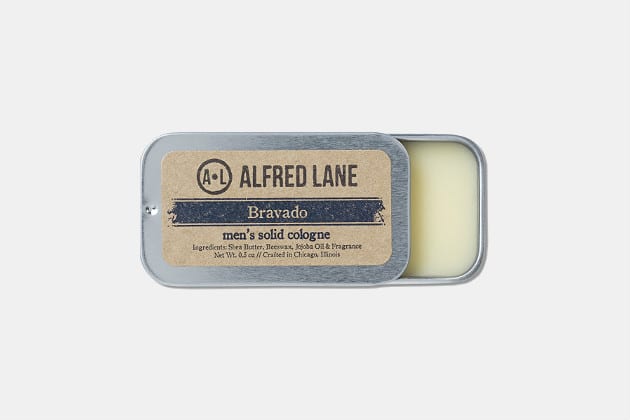 Alfred Lane Bravado
Alfred Lane says that its solid cologne is "an embodiment of the modern man." and with a name like Bravado, it'd be hard to argue with that notion. The brand's solid colognes use natural ingredients and oils for a clean finish that you can also feel good about reaching for on the daily. And with a crisp, woodsy scent that incorporates notes of leather and tobacco, it'd be pretty tough to find another scent that hits so effectively on the type of quality and masculine appeal that today's modern man demands. It's the total package in one tin, and for under $20. – Buy It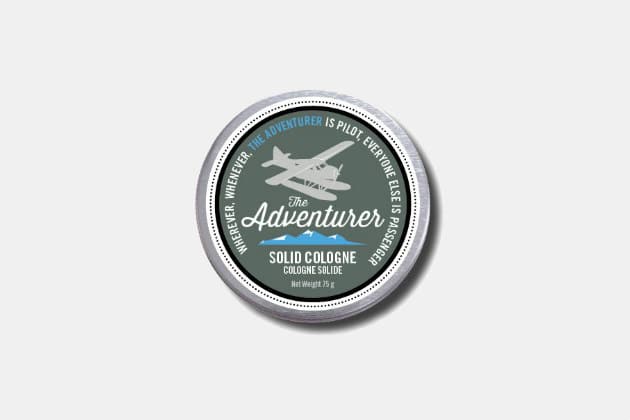 Walton Wood Farm Adventurer
Walton Wood is yet another brand that harnesses the spirit of adventure, unique style and a rugged, adventure-ready scent for today's guy on the go. Right down to the bright, old time-inspired packaging, the Adventurer Solid Cologne is about as rousing of a call to action as it gets when it comes to men's grooming essentials. The brand notes the scent is "sporty and aquatic," finished off with both cedar and rosemary. Essential, great-smelling and well-made — that's what you get with Walton Wood, time after time. That makes for one purchase-worthy solid cologne. – Buy It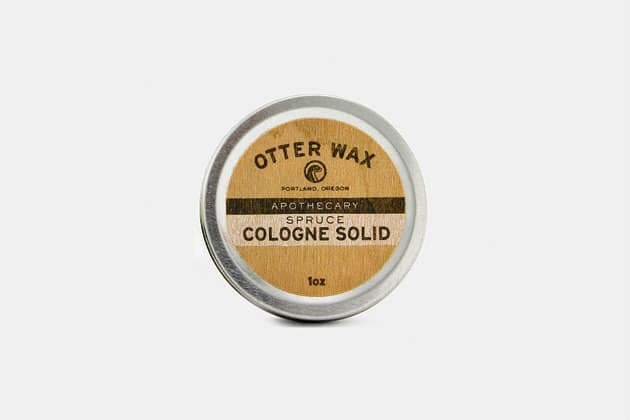 Otter Wax Spruce Cologne Solid
From the rugged packaging — any fan of tough leather boots or classic menswear should appreciate it — to the agreeable pricing and mix of unique ingredients, Otter Wax simply knows how to get the job done. It's not easy to produce a solid cologne that appeals to anyone looking for an upgrade scent, and yet … the Spruce Solid Cologne, with its mix of sandalwood and Douglas fir, could be that product. Get one tin or a two-pack for both quality and value in spades. It's nothing short of the ideal way to finish off a daily ensemble. – Buy It
ulio & jack Drifter Solid Cologne
The Drifter Solid Cologne from ulio & jack certainly has a lot going for it — in the best way possible, that is. With a travel-friendly size and the ability to be applied on the go, the Drifter Solid Cologne lives up to its name. It provides ease of use and a blend of cardamom and mandarin that the brand calls "lightly sweet," — the Drifter Cologne should definitely provide a welcome change of pace from overpowering, overly sharp colognes. Ultimately, it's an admirable aim — and one that pays dividends for stylish consumers like yourself. – Buy It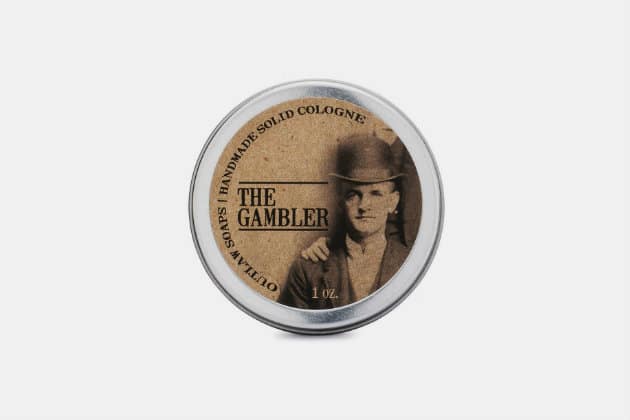 The Gambler Solid Cologne
Is there a more fitting or cooler name for an effective, masculine solid cologne than The Gambler? From Outlaw Soaps (an even more fitting brand name) comes a cologne that'll prove more than ready for the rigors of daily use — no matter if you want to add a refined edge to an office-ready look or mix in your favorite scent with a stylish short-sleeve henley. With essential touches like beeswax for a smooth application and Vitamin A and Vitamin E as an added bonus, the Gambler gets plenty right for the guy looking for an upgraded solid cologne. – Buy It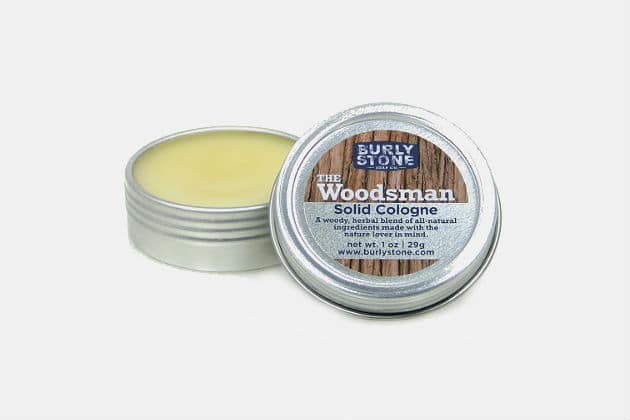 Burly Stone Woodsman Cologne
If you want a solid cologne that's the real deal in terms of effective performance, a masculine name and a no-frills design, you want the Burly Stone Woodsman Cologne, with a scent that's herbal and woodsy. Designed for everyday use, the Burly Stone Woodsman Cologne could quickly become a signature scent, made with both rugged appeal and a crisp, distinctive scent in mind. It's the type of solid cologne to try out as you ease your way into the waters of men's grooming and cologne — as good an introduction as any. – Buy It