12 Best Titanium EDC Pens
Hemingway and Elmore Leonard wrote their novels longhand. A hand-transcribed page from Darwin's On the Origin of the Species went to auction in 2017 with a starting bid of half a million. And the "collected handwritten letters of…" sounds far superior to "the collected text messages of…" Yet, those aren't even the best reasons for including an EDC pen in your everyday carry.
An important part of your EDC, a quality pen (and titanium is sort of the reigning metal of quality) becomes part of your ability to function efficiently — signing for your card, writing a list, working out an idea with plenty of arrows and doodles. In the case of a few of these pens, they may also come to the rescue in a tight spot, be it with the power of a glass breaking tip, or a tactical pen's built-in capabilities.
Bolt action, click, and good old capped versions make our list of the best titanium EDC pens, with most taking a variety of ink refills so you can focus on things more important than hunting down the right cartridges.
Even if you never write down anything with the longevity of The Sun Also Rises, or even Rum Punch, sifting through this list and finding your new favorite pen will be well worth the effort.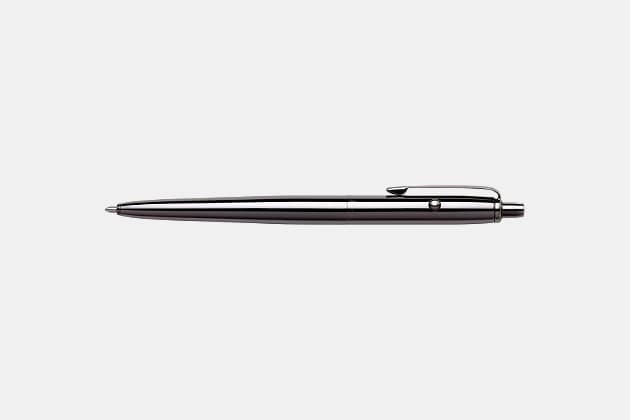 Fisher Astronaut Space Pen
The future brings new considerations for EDC. When you're heading to Mars on a SpaceX rocket, what pen should you bring? This one. The Fisher Astronaut Space Pen has been NASA's go-to pen due to the pressurized ink cartridge and specialized ink that'll write in zero gravity, in extreme temperatures, and over greasy surfaces. The brass barrel is coated in black titanium nitride to resist scratches and keep your space pen looking good wherever you take it — even if you're not leaving the planet. – Shop Now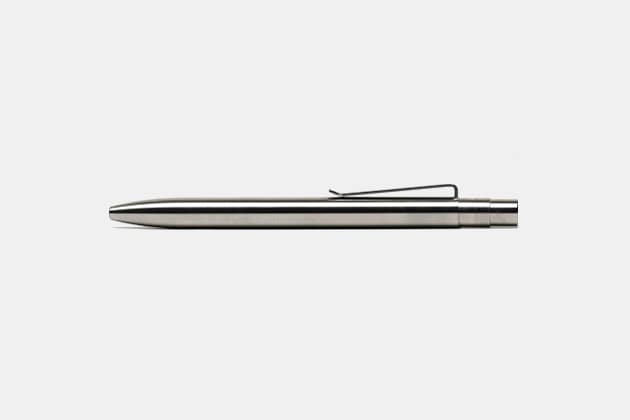 Tactile Turn Titanium Shaker Pen
Want a satisfying click-action pen? The Titanium Shaker from Tactile Turn meets that requirement, while adding a few features some pens overlook. The click mechanism is all titanium, built to keep clicking long after you've passed the pen on to your grandkids. When closed, the point retracts a good eighth of an inch into the barrel, eliminating errant ink marks on your pocket. And the machined barrel is weighted for proper handling and has a subtle groove pattern running the length of the pen, adding comfortable grip while hiding surface scratches. – Shop Now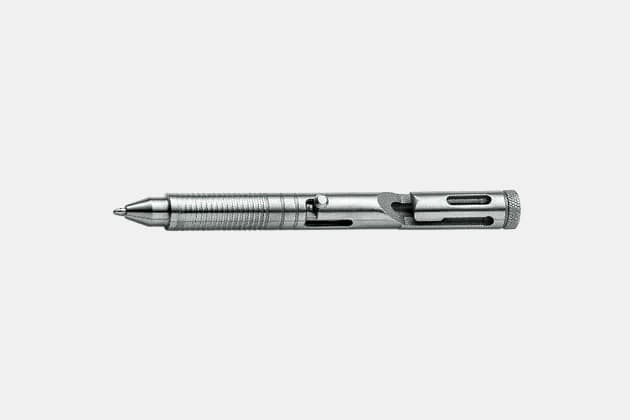 Boker Plus Bolt Action Titanium Pen
Every part of Boker Plus Tactical pens mean business. First, it's titanium, which needs no introduction. Then there's the flat back end that allows for proper thumb placement, plus the integrated clip that won't dig into your hand should the time come to switch from writing to tactical. The bolt action open/close gives your hands something satisfying to do while you're preparing to sign on the dotted line or waiting for inspiration to strike from the ether. – Shop Now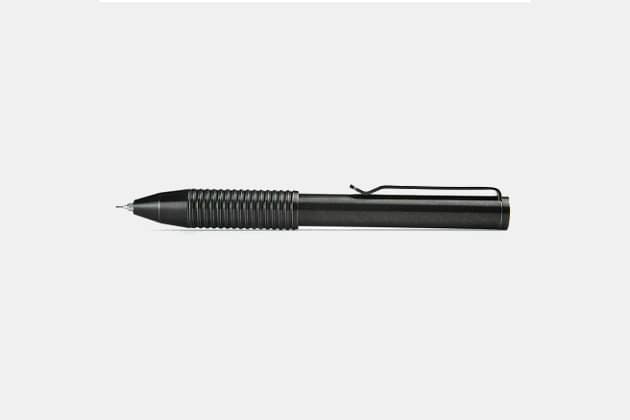 BigiDesign Titanium Pocket Pro Pen
Here's a pen with a twist. As in, you twist to open it. With a smooth action mechanism that employs industrial-grade silicone rings and grade 5 titanium throughout (including the clip) this pen will be with you through an eternal parade of notes and novels, lists and letters. Even better, the auto adjusting feature lets the Big Idea Design Pocket Pro accept 80 different refills — long, short, Parker ballpoints, standard rollerballs — all without gaps or the dreaded tip wiggle. – Shop Now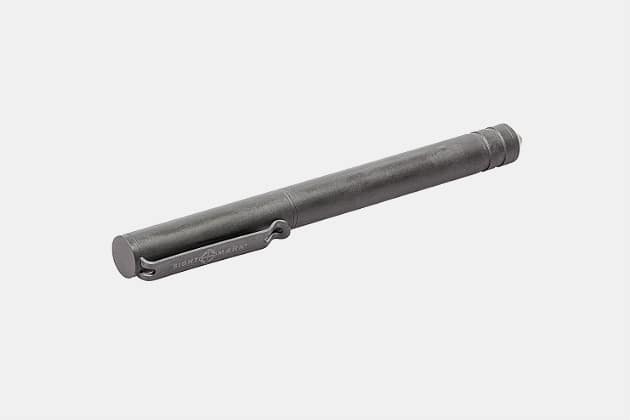 Sightmark Titanium Tactical Pen
Optics and accessories maker Sightmark isn't interested in offering you an ordinary pen. At one end you get your requisite writing implement, complete with adjustable tube that accepts multiple sizes of ink refills. At the other end, there's an integrated glass breaking tip. Rescue everyone from a sinking bus, then turn around and write about it later. The all-titanium body and clip are strong and durable, and if you prefer the action of removing a cap before writing that rescue story, this one's a good pick. – Shop Now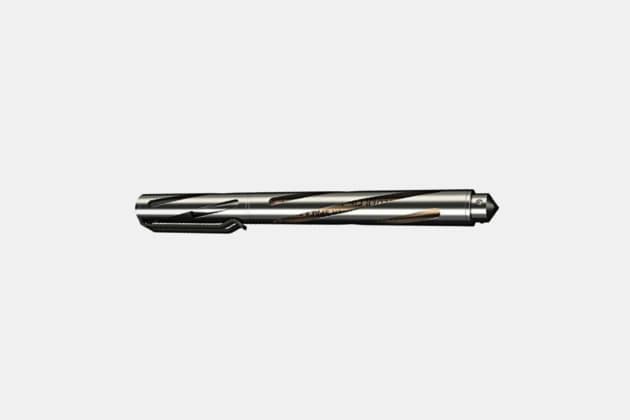 NiteCore NTP10 Titanium Tactical Pen
Looking a little like a futuristic drill bit, this tactical number from NiteCore takes Parker's pressurized space pen refill for that weightless, write-anywhere capability, while the tungsten-steel glass breaker at the back end features three stop pins for securing the cap while you write your words. Like all things NiteCore sells (flashlights, bike lights, tactical gear) this is another thing no clandestine maneuver is complete without. – Shop Now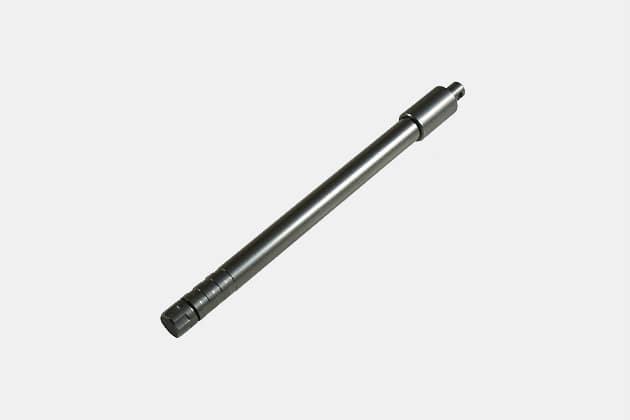 PicoPen Ti
If you object to the idea of an EDC pen on the grounds that you lose nearly everything you touch, let this be the pen for you (also kudos for reading this far down in an article solely devoted to pens). The PicoPen attaches to your keychain or pack at the cap, keeping the pen in place with a neodymium magnet and facilitating pen deployment with machined grooves on the barrel. It's similar to their standard PicoPen but the Ti version is a little longer and, obviously, made from titanium. – Shop Now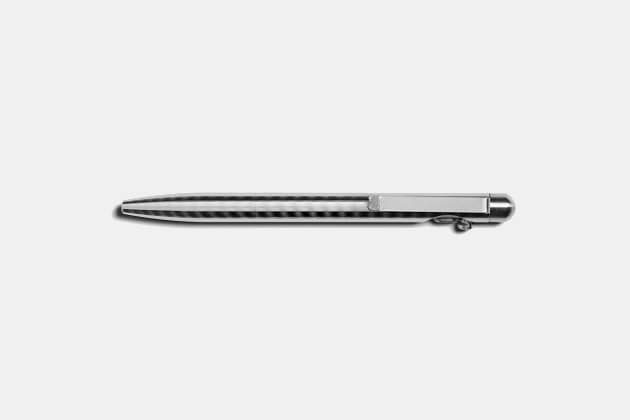 Tactile Turn Titanium Glider Pen
Like everything EDC manufacturer Tactile Turn makes, this is one sleek and handsome titanium pen. Why is it named Tactile Turn? The bolt action mechanism produces a butter smooth open and close while the pen itself has an equally smooth titanium finish. Pair it with a quality pocket notebook or journal, add a notebook cover, and your writing setup will be about as impressive as you can get it. – Shop Now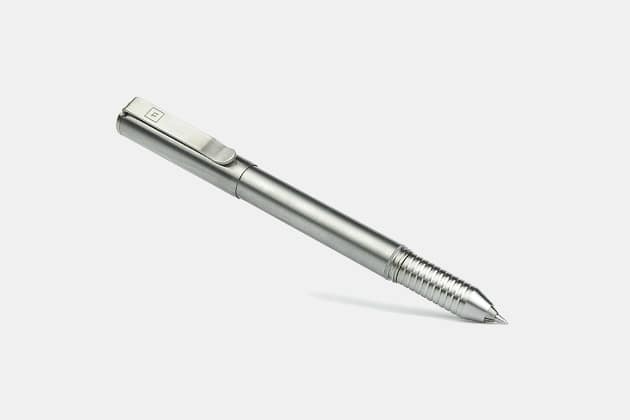 BigiDesign Ti Arto Titanium Pen
Like the other pen from Big Idea Design on our list, the Ti Arto also refuses to give you grief when it comes to finding a compatible pen refill and accepts over 200 pen cartridges. Unlike the Pocket Pro, this titanium option has a screw-on lid and comes in about a quarter inch longer. The raw machined finish resists scratches while the specially designed grip pattern grants confident yet comfortable pen glide while blending the gap that appears when using a larger ink refill. – Shop Now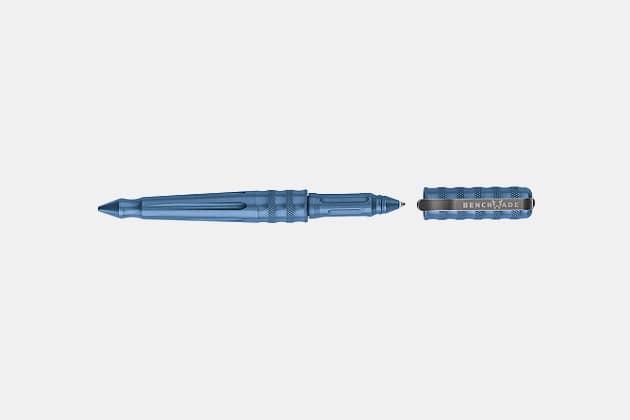 Benchmade 1100 Titanium Series Pen
A Benchmade knife serves at the EDC knife of choice for so many people, adding one of their pens to the mix is basically a no-brainer. By far the most unique looking pen on our list, this machined titanium tactical pen uses Fisher space refills and keeps the cap in place with a pressure fit o-ring. If you've already got one of their knives, why not complete the set for a full Benchmade EDC? – Shop Now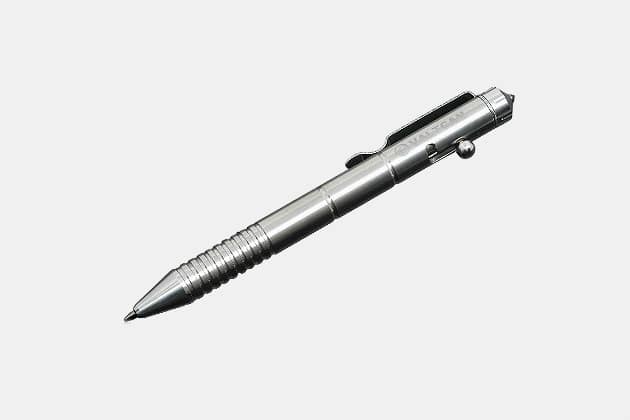 Valtcan Titanium Bolt Pen
Of all the reasons a quality pen beats out a cheap plastic jobby, the best reason might be maintenance. When you pick up a disposable pen and it (not surprisingly) doesn't write, you simply dispose of it, as intended. A good EDC pen not only lets you replace the ink, you can generally disassemble them and get at any non-functioning parts to replace or fix them. That's very much the case with this pen from Valtcan. Wish the clip was a little looser or tighter in its grip? Take it apart and bend to adjust. Something you just can't do with a disposable. – Shop Now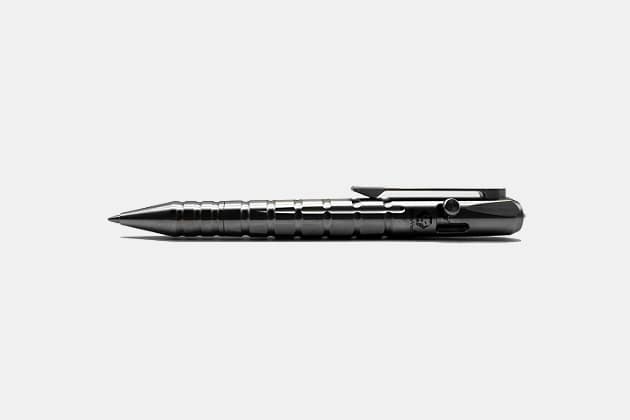 Commander C10 Titanium Pen
The glass-breaker tip on the Commander C10 is a ceramic ball, a harder option than stainless steel. The tactical pen employs a satisfying bolt action opening mechanism and takes Schmidt pen refills. Grooved notches run the length of the barrel for grip and it comes in a very cool looking tactical style gift box that you'll be tempted to display. – Shop Now
Disclosure: Clicking on these links and making a purchase may earn us a small referral fee, at no extra cost to you. Learn more here.