The 16 Best Travel Wallets
Whether you travel for business, pleasure, or a bit of both, you're probably locked in an ongoing struggle with luggage that just doesn't seem to accommodate all your stuff (at least not if you want it to fit in the overhead bin instead of being confiscated for gate check).  Paring down is the name of the game when it comes to travel these days, and it doesn't just apply to your baggage.
You probably also want to diminish the bulk in your pockets.  Naturally, you can leave car fobs and keys at home when you travel.  You can also reduce what's in your wallet.  Do you really need to haul your receipts and club cards with you overseas?  Do you want to have all of your credit cards on you should you be the victim of theft while touring parts unknown?
There are several items from your everyday wallet you can easily leave at home to downsize for travel, although you may also want a slim wallet that holds extras like your passport and boarding passes.  Which travel wallet is going to best serve your needs when you travel?  If you're looking for a quality travel wallet that offers resilience and smart features, here are the best options to consider.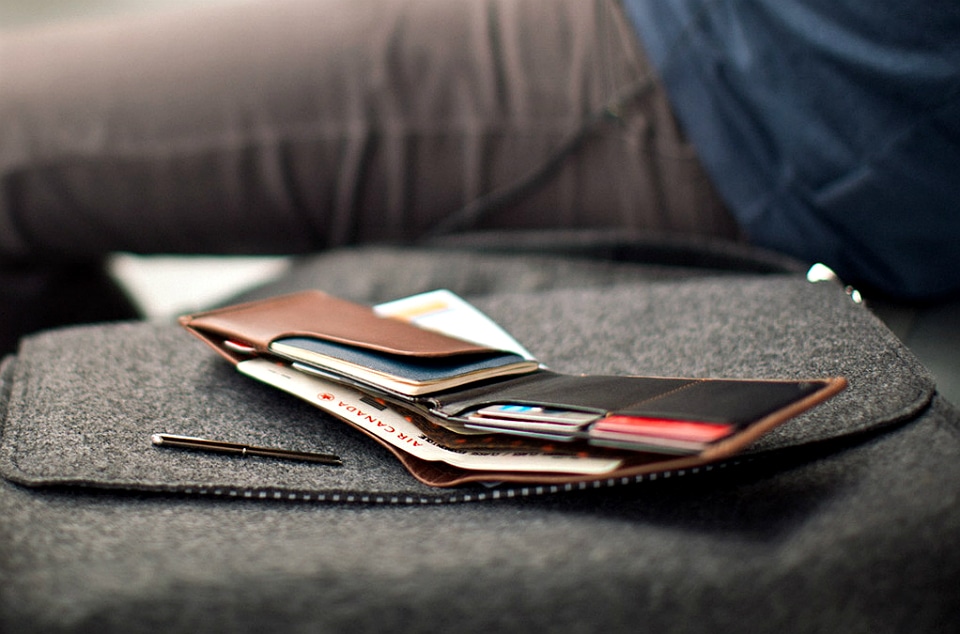 Bellroy Travel Wallet
This travel-friendly bifold wallet is a bit bigger than the average competitor, providing you with the opportunity for slim carry even when you pack in a lot of cards and cash.  The larger back pocket fits varying sizes of money, including European bills, while pockets on either side stow up to 11 cards, or alternately, four cards and a passport.  There's also a channel running down the fold designed to accommodate a tiny pen, and RFID technology keeps personal data safe. – Shop Now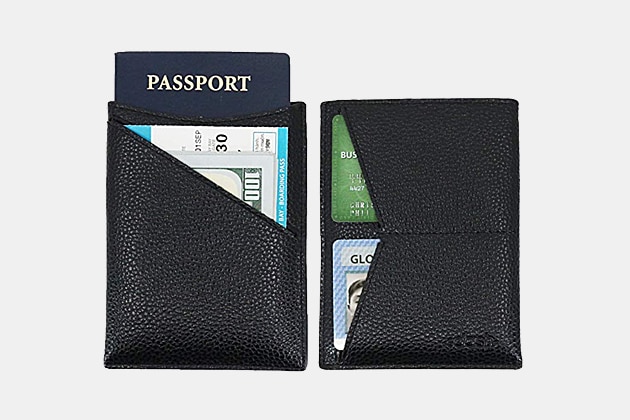 Dash Travel Wallet
What's better than a slim bifold when you travel?  How about a no-fold wallet?  This one comes in eco-synthetic canvas leather for those seeking a decidedly animal-friendly product that's still incredibly durable.  If it looks and feels like leather, why not?  It's also ultra-slim, weather-resistant, and equipped with RFID technology.  Plus, in addition to pockets for cards and cash, the central slip is large enough to hold your passport, which makes it ideal for carrying all of your travel must-haves. – Shop Now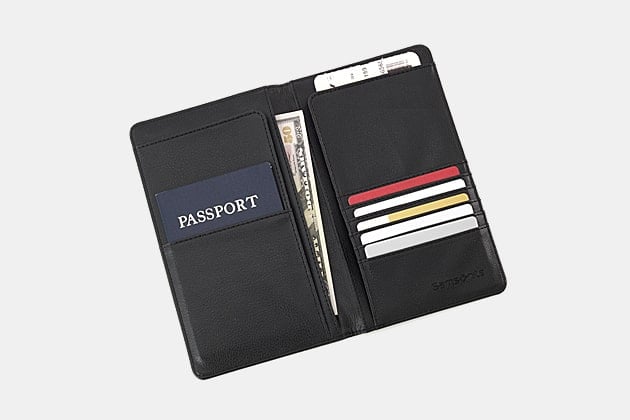 Samsonite Travel Wallet
If you simply can't give up your many cards when you travel, this slim billfold offers an easy carry option that includes plenty of space for myriad must-haves.  There are dedicated pockets for flat cash and your passport on one side, as well as large pockets on both sides for boarding passes or other needed travel documents.  Six card slots will accommodate plenty of plastic and the leather-grain texture makes for an attractive and sophisticated addition to your travel toolkit. – Shop Now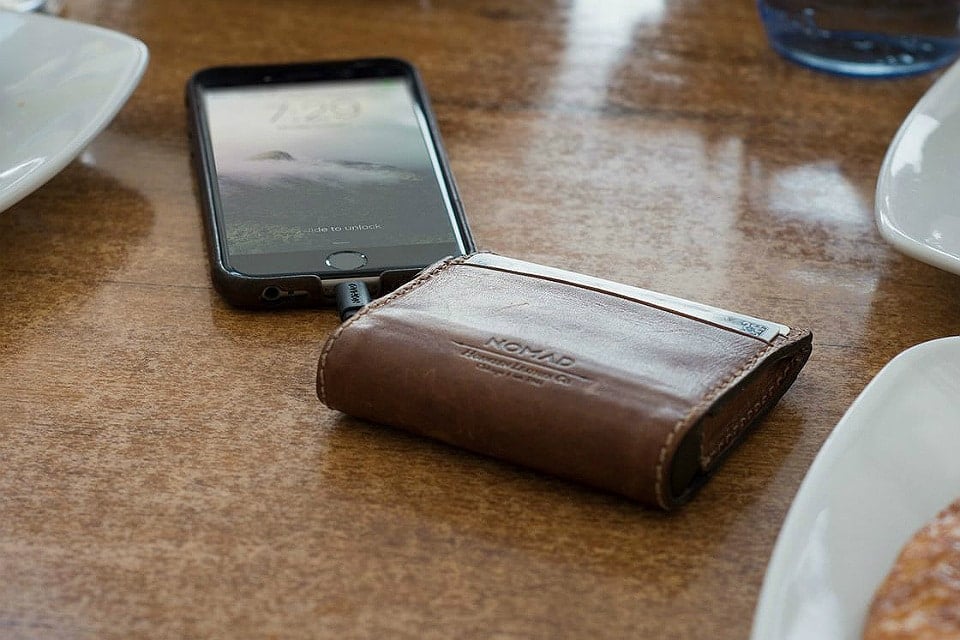 Nomad Charging Wallet
A wallet and phone charger in one?  Is this the magical unicorn of wallets?  Perhaps it just came from the hide of one.  This durable, Horween leather wallet won't fit much in the way of cards and cash, with just four outer card slots and a central cash pocket for folded bills, but the included 24 mAh battery with included lightning cable purports to fully charge an iPhone 6.  That's a pretty big selling point when you're playing Gems of War in the airport for half the day, waiting for your flight. – Shop Now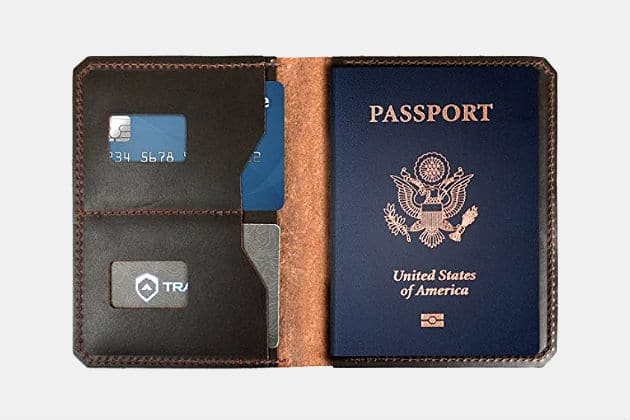 Trayvax Explorer Passport Wallet
This bifold passport wallet in oiled Latigo leather has classic appeal thanks to simple styling and luxurious finishing touches.  Just four pockets grace the interior – one for your passport, two for plastic, and an extra for cash, boarding passes, or other travel documents.  Incredibly, the supple material has enough give to accommodate up to 12 cards while still maintaining slim appeal.  Heavy-duty nylon stitching ensures integrity and longevity, which may be why this made-in-the-USA product comes with a 65-year heirloom warranty. – Shop Now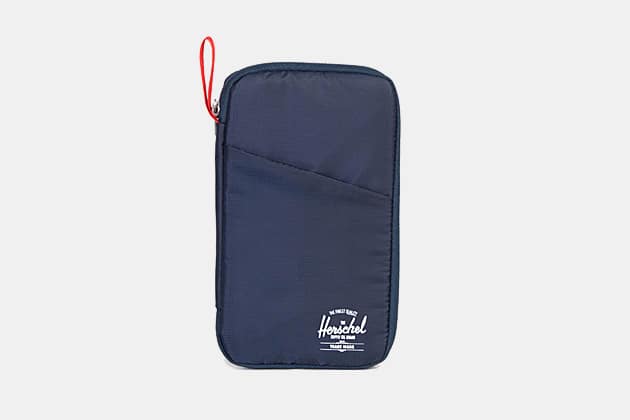 Herschel Supply Co. Travel Wallet
This zippered wallet in polyester is surprisingly durable and it offers a level of flexibility that makes for truly comfortable carry.  An exterior slip pocket is a handy place to stash items like boarding passes that you might need to grab in a hurry, while the interior boasts room for a passport, cash, and a slew of cards thanks to six card slots.  An interior zippered pocket can hold coins, a charging cable, or other loose items.  This is a truly functional travel accessory. – Shop Now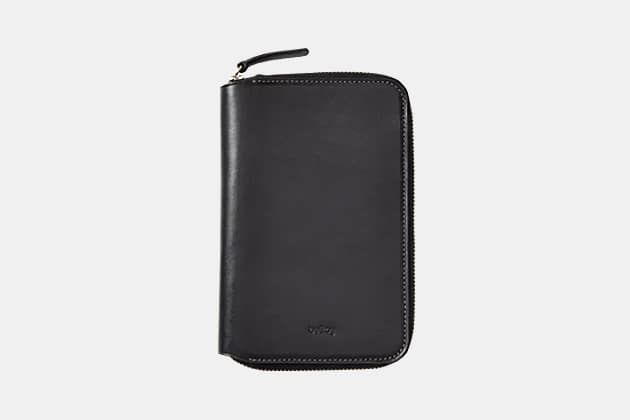 Bellroy Travel Folio
In addition to tiny travel wallets, there are also options that deliver multi-functional appeal, and this product in black, top-grain leather is a great option if you want more than a mere receptacle for cards and cash.  Naturally, it will store currency (flat), as well as 4-8 cards in three quick-grab pockets.  You can also stash needed items like your passport, boarding passes, and even your smartphone in this secure, zippered case that includes a micro pen for your convenience. – Shop Now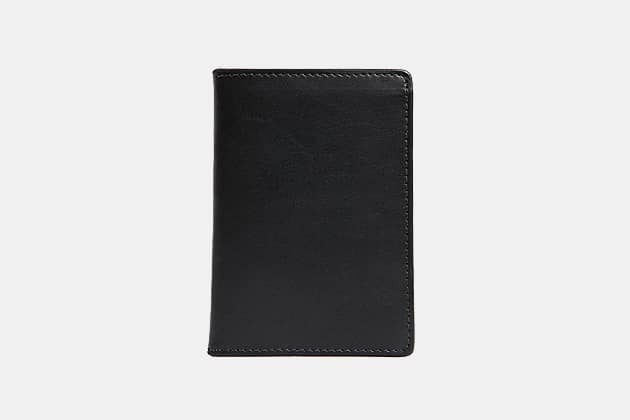 Tanner Goods Travel Wallet
This basic bifold wallet in black or natural leather exemplifies the minimalist spirit, making it the perfect choice for pared down travel carry.  Four card slots and two pockets in both horizontal and vertical configurations allow you options to organize just a few cards and a bit of cash as you see fit, giving you the opportunity to put the most used cards up front and stash others in the back.  Both strong and long-lasting, this American-made wallet is ideal for your travel needs. – Shop Now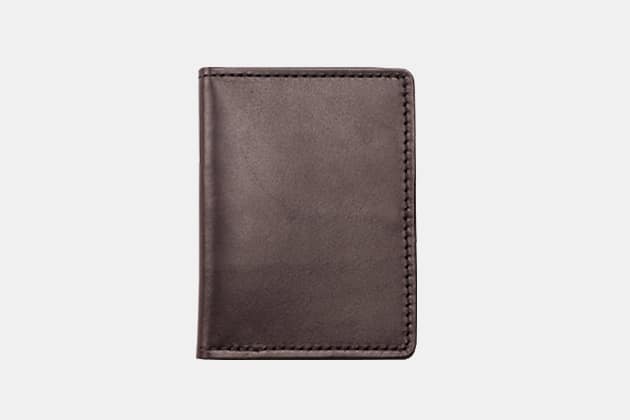 Filson Passport & Card Case
One look and you'll fall in love with the rich, luxuriant vegetable-tanned Bridle leather of this gorgeous travel wallet that is sourced in North America and tanned in the USA.  If you're a devout minimalist, you'll also appreciate the simple design of this bifold wallet, which features a passport slot on one side and just two card slots and a cash pocket on the other.  With heavy-duty, bonded nylon thread, you'll get a beautiful, durable product that sees you through a ton of travel. – Shop Now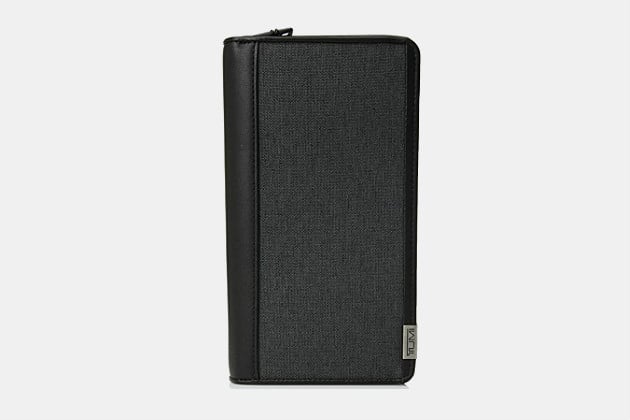 TUMI ID Lock Zip-Around Travel Wallet
The company known for superior quality luggage does not disappoint with this smaller-scale travel accessory.  It's hardly for the minimalists, with one exterior pocket and three interior pockets (plus one zippered pocket) that include space for cash and travel documents, as well as 12 card slots.  Still, when zipped closed, this ballistic nylon billfold is slim enough to slip in a back or jacket pocket, although it might prove a little too bulky to sit comfortably if you put it in your jeans pocket. – Shop Now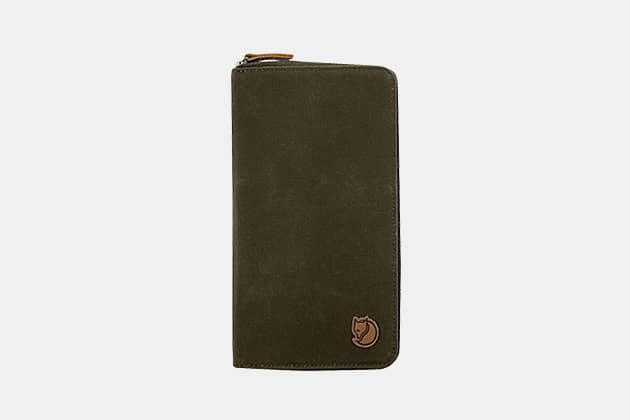 Fjallraven Travel Wallet
The first thing you'll notice about this travel wallet is the robust, G-1000 fabric, a tightly-woven textile (available in navy, green, olive, or gray) that is water and wind resistant, breathable, and quick to dry.  It's well-suited to outdoor excursions, but it's also designed to hold all the paper and plastic you might need on a trip, with eight card slots, two large pockets for flat cash, passports, and so on, and a zippered pocket for change.  It even has a pen loop in the fold. – Shop Now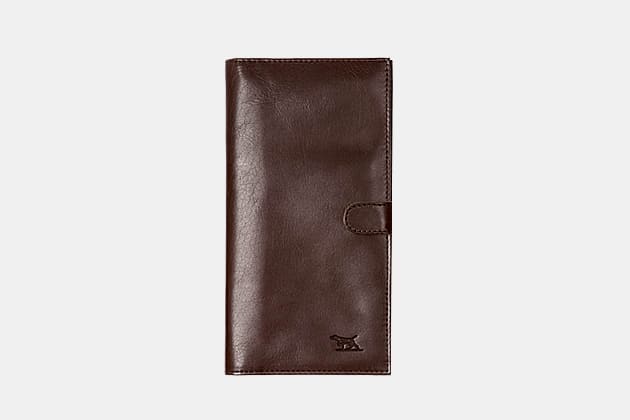 Tom Pearce Travel Wallet
Soft, buttery, textured Italian buffalo leather punctuates this stunning travel wallet in just a single color: mud.  Rich, chocolatey leather aside, you'll enjoy three slip pockets for flat cash or travel documents, a flap pocket to contain cards or other needed papers, and an interior ID window, as well as a pen loop and an exterior fastener to keep it all closed.  As billfolds go, this one doesn't have a lot of bells and whistles, but it's a beautiful and functional piece of work. – Shop Now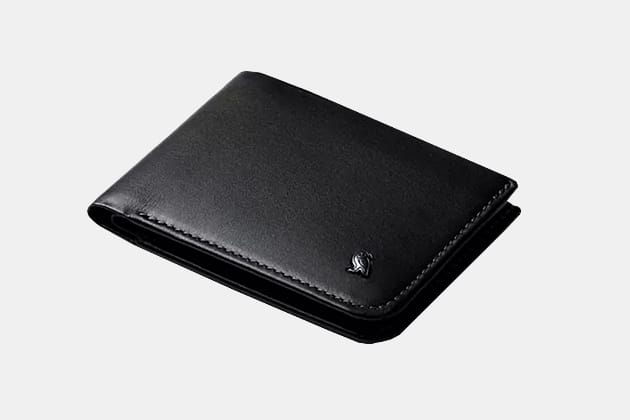 Bellroy Hide & Seek RFID-Blocking Wallet
As you may have guessed from the name, this bifold wallet in black, vegetable-tanned leather features hidden compartments, which is great if you don't want to flash your stash of cash or reveal your black card.  Four quick access card slots make it easy to get at your most-used credit cards or hotel room keys, while cash and other cards can go into the hidden bill section and secret card slots in the inner pocket.  The inclusion of RFID technology makes this wallet super secure for travel. – Shop Now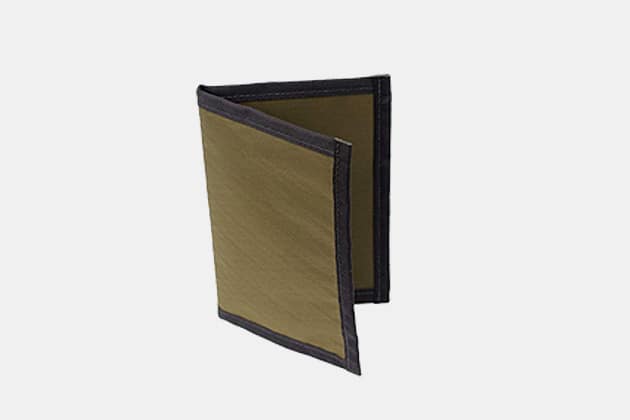 Flowfold RFID Blocking Navigator Passport Holder
Pairing security with lightweight, slim, and flexible features is a science, one that Flowfold has mastered in their utilitarian passport holder.  A layer of high-density, pure copper fabric has been sewn right into the strong, lightweight X-PAC material, a water-resistant textile designed for outdoor performance, and the wallet is actually so light that it floats.  In addition, this no-frills wallet features just three card slots, a pocket for cash, and a slot to slip your passport into.  Simple and straightforward. – Shop Now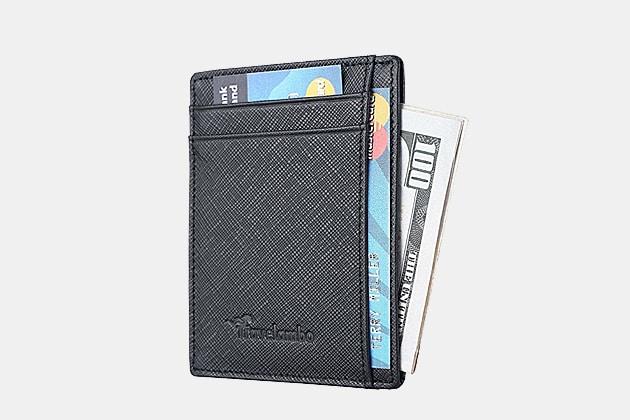 Travelambo RFID Minimalist Wallet
This slight wallet won't fit all your needed travel docs, but you can definitely use it to carry the most important items from your everyday wallet.  With a central cash slip for folded bills and six card slots (three on each side), this no-fold wallet is slim, to be sure, but it features RFID blocking technology that works for your ID, license, and debit and credit cards.  Throw in a price tag under $20 and this one's a win for EDC, as well. – Shop Now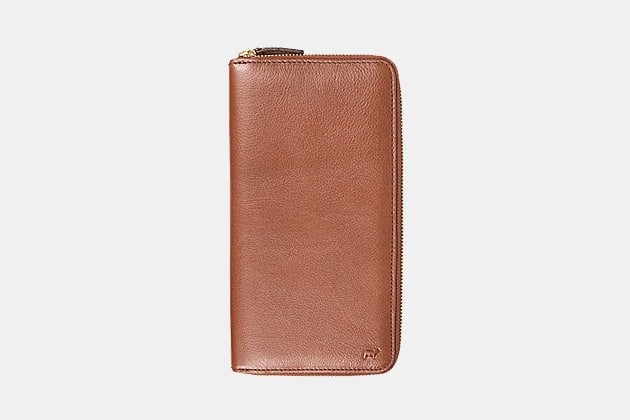 Will Leather Goods Classic Travel Wallet
A bevy of pockets makes this wallet the perfect choice for work travel since there's plenty of room not only for plastic, but also business cards, cash, travel documents, and more.  There are 11 card slots (including one with an ID window), plus three larger interior pockets (and one exterior) for flat cash, a passport, boarding passes, and so on.  There's also a pen slot in the fold and a zipper for security.  With options in black or tan top-grain, vegetable-tanned leather, it's great for work or play. – Shop Now
Disclosure: Clicking on these links and making a purchase may earn us a small referral fee, at no extra cost to you. Learn more here.