Pairing beer is extremely important to us. We pair a nice, refreshing pilsner with an afternoon spent mowing the lawn on a steamy summer day. We enjoy the complementary flavor of a rich dessert-like stout after a heavy meal. We pair a bold, robust porter with a roaring fireplace on a frigid winter night. We also pair a hoppy, slightly bitter, floral IPA with a day spent at the beach on a late summer afternoon. In addition to pairing beer with events, meals, and various times of the year, we also enjoy pairing beer with our favorite whisk(e)y. There is even a name for it.
Pairing beer with a shot of liquor (usually whisk(e)y) is commonly referred to as a boilermaker. If you visit a bar and order one, chances are you'll get a shot of whiskey alongside a pint of beer. Some bartenders and drinkers actually drop the shot into the beer to give it a boozy kick so you can enjoy both flavors over time. Since we're more likely to enjoy a glass or dram of whisk(e)y with a beer than a shot, we'll forego the boilermaker for now.
Since we're all about slowly sipping a glass of single malt Scotch, rye whiskey, bourbon, or other whiskeys with a beer, we realize picking the right combination is important. You wouldn't want to pair a beer and whiskey that don't compliment each other in terms of flavor, would you?
Robust and rich porters pair well with bold and smoky single malt Scotch whisky. Lagers and pilsners go perfectly with sweet corn-centric bourbons. And dry stouts and Irish whiskey are perfect companions. Below, you'll find five of our favorite beer and whiskey pairings.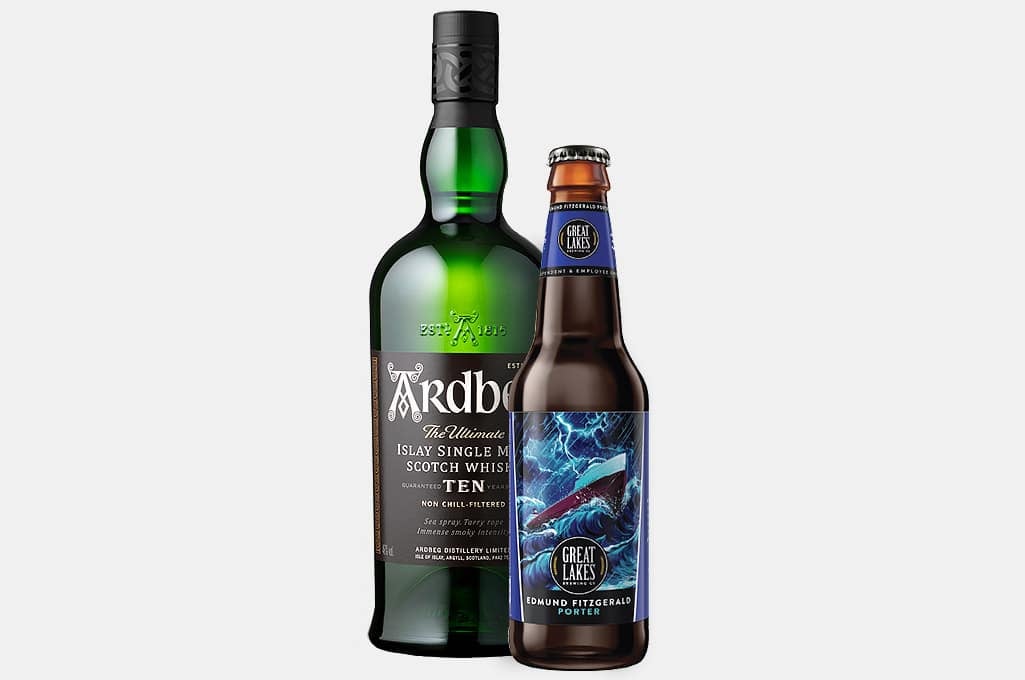 Great Lakes Edmund Fitzgerald Porter + Ardbeg 10 Single Malt Scotch Whisky
Great Lakes Edmund Fitzgerald is one of the best examples of the porter style in the US. This five percent ABV beer was brewed with roasted barley as well as 2-row, Crystal 77, and chocolate malts as well as Willamette, Northern Brewer, and Cascade hops. It's filled with notes of caramel malts, bitter chocolate, and freshly brewed coffee notes that pair perfectly with a smoky single malt Scotch. To pair this bold porter with a smoky Scotch, we suggest one from the Inner Hebrides Island of Islay. Well known for its peat-smoked whiskies, we prefer Ardbeg 10. Its flavors of salted caramel, vanilla, chocolate, and gentle campfire smoke pair well with toasted barley and dark chocolate flavors prevalent in Edmund Fitzgerald.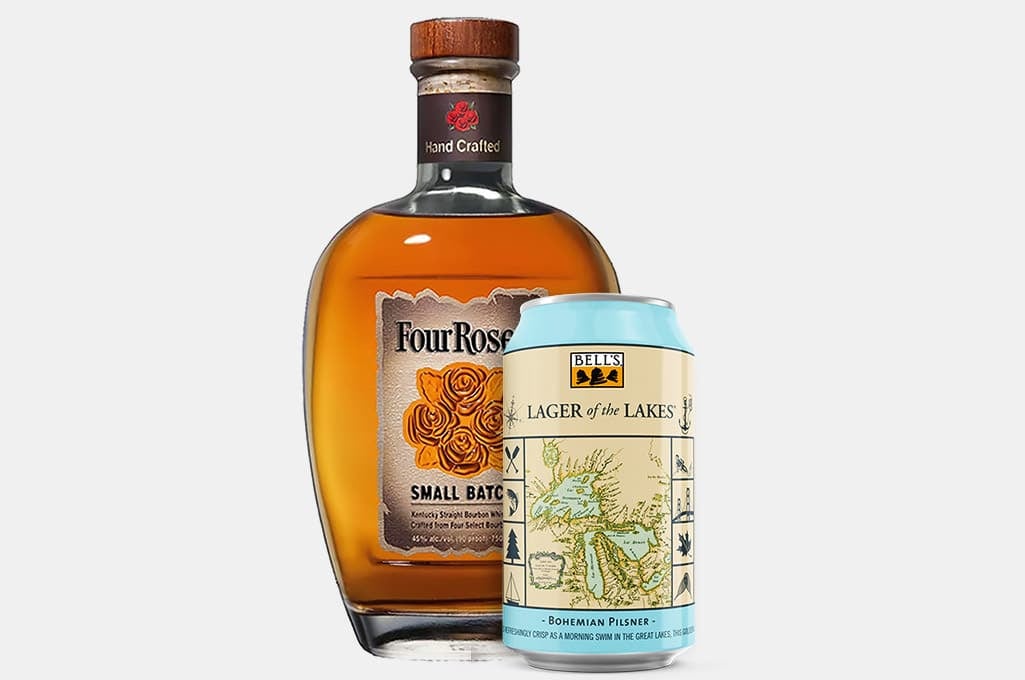 Bell's Lager Of The Lakes + Four Roses Small Batch Bourbon Whiskey
Crisp refreshing lagers and sweet corn bourbon whiskeys are perfectly matched. We prefer to start out pairing with Bell's Lager of the Lakes. This five percent ABV Bohemian-style pilsner is known for its refreshing, crisp, crushable flavor. While it's a great summer beer, we drink it all year long. Especially if it's paired with a well-made bourbon like Four Roses Small Batch. This 90-proof, small-batch bourbon was aged in charred, American oak barrels between six and seven years. The result is an extremely mellow whiskey with hints of caramel corn, dried cherries, vanilla, and gentle spice that pairs well with crisp, light lagers and pilsners.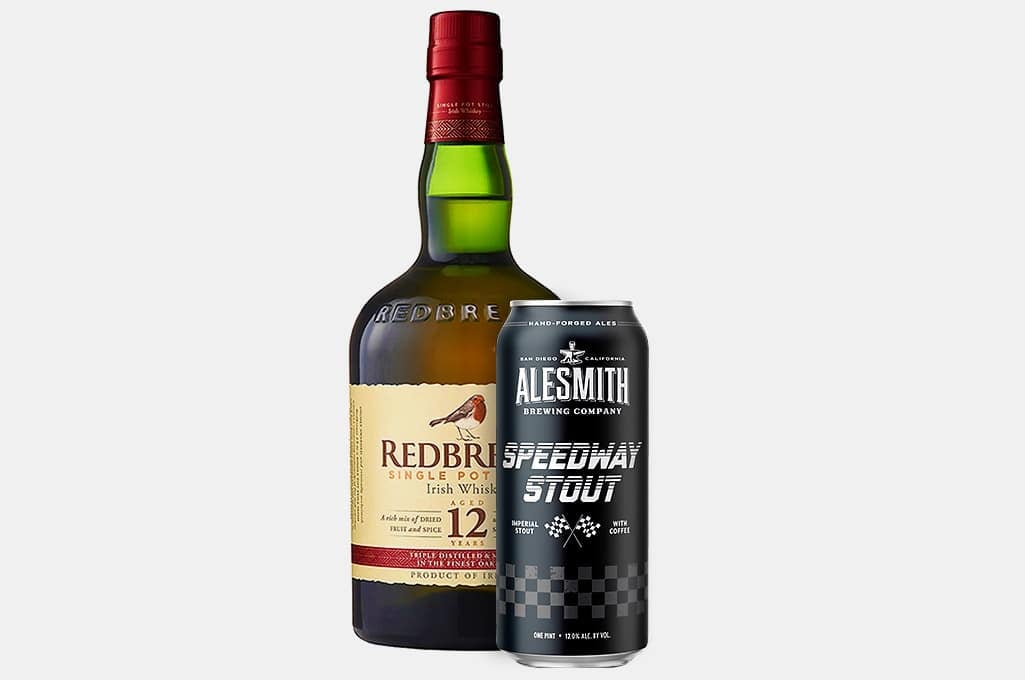 Alesmith Speedway Stout + Redbreast 12 Year Old Irish Whiskey
Pairing dry, coffee-centric stouts with sweet, flavorful Irish whiskeys is a great choice. We prefer to start with Alesmith Speedway Stout with its complex flavor profile consisting of roasted malts, dark chocolate, butterscotch, toasted vanilla beans, and a ton of freshly brewed coffee flavor. These bold flavors pair well with Redbreast 12 Irish Whiskey. This classic pot still distilled whiskey is matured in both ex-bourbon and former sherry casks. This results in a smooth, slightly spicy whiskey whose hints of dried fruits, baking spices, vanilla, and oak pair well with the robust, chocolate flavors of the stout.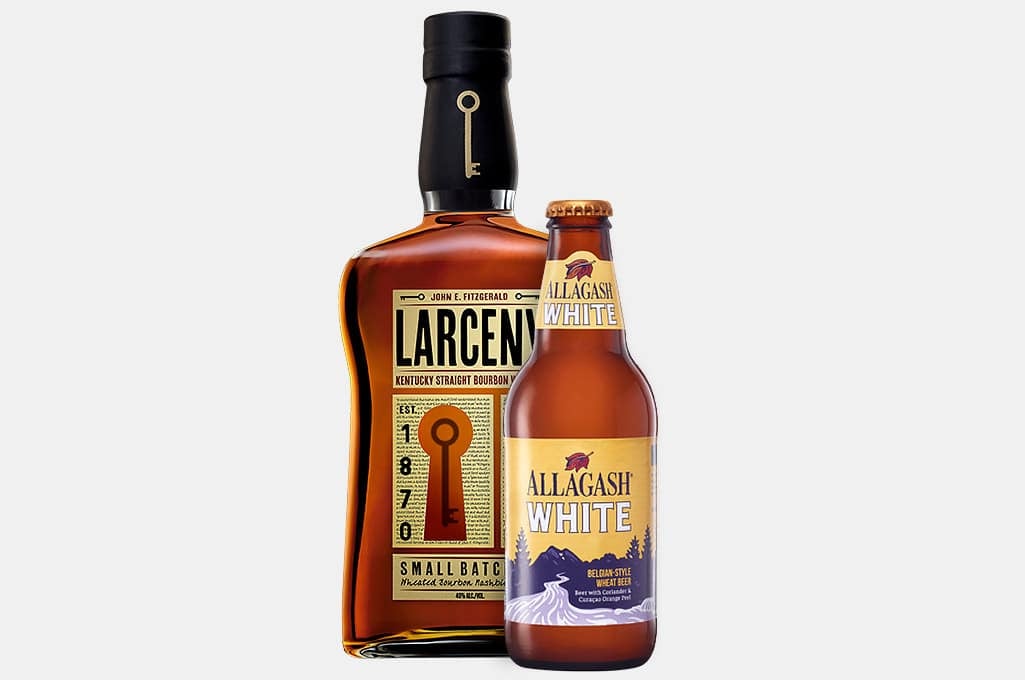 Allagash White Wheat Beer + Larceny Small Batch Bourbon Whiskey
While pilsner and lagers pair well with bourbons with high corn content and healthy rye backbone, wheat beers pair perfectly with wheated bourbons. When pairing the duo, we start with one of the most awarded wheat beers in the US craft beer world: Allagash White. This Belgian-style wheat beer is brewed with oats, red and white wheat, and gets its spicy flavor from the addition of orange peel and coriander. These flavors work well as an accompaniment to a wheated bourbon. We suggest drinking a glass of Larceny Small Batch beside this beer. This award-winning wheated bourbon is known for its flavor profile of sweet honey, butterscotch, vanilla, and oak. It's soft, sweet, and mellow and works in unison with the flavors in the Allagash White.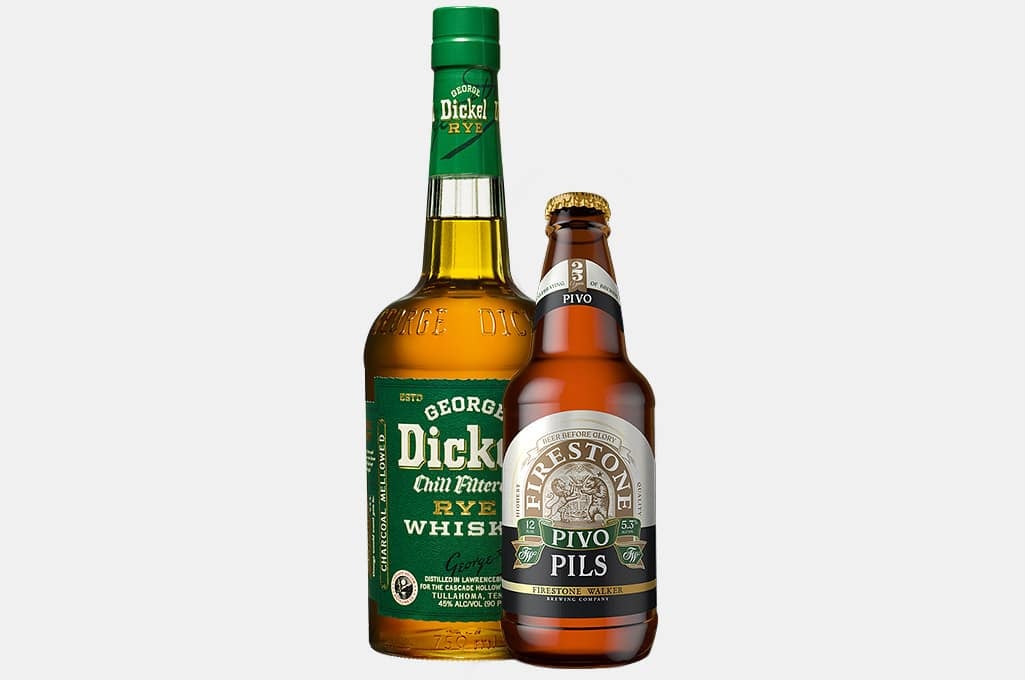 Firestone Walker Pivo Pils + George Dickel Rye Whiskey
There's a reason Firestone Walker Pivo Pils consistently ranks highly on "best of" lists and has won numerous awards. It's a great, balanced, crisp beer. This 5.3 percent ABV dry-hopped pilsner is known for its complex flavor profile featuring notes of vibrant, dank pine, ripe tropical fruits, citrus peels, wet grass, and slight spice. It pairs perfectly with a classic, spicy rye whiskey like George Dickel's rye-heavy expression. This award-winning 90-proof whiskey was chill-filtered and mellowed in charcoal. Its mash bill of 95 percent rye and 5 percent malted barley creates a spicy, bold whiskey with hints of vanilla, toffee, caramel, and a nice hit of peppery rye that pairs well dank, piney hops.
Disclosure: Clicking on these links and making a purchase may earn us a small referral fee, at no extra cost to you. Learn more here.
freestar.config.enabled_slots.push({ placementName: "gearmoose_leaderboard_btf", slotId: "gearmoose_leaderboard_btf" });