The 18 Best Zip Up Hoodies for Men
The zip up hoodie, with its effortless good looks and versatile styling options, might just be the perfect piece of loungewear. It can keep you cozy on a chilly morning, add a touch of relaxed style to simple jeans-and-a-t-shirt outfits, and double as a mid layer under a full-size jacket in the depths of winter.
Perhaps best of all, you can always throw on a zip up hoodie without messing up your hair. We're big fans of this modern classic, so we've put together a carefully curated list of the 18 best zip up hoodies for men. They run a wide gamut of style and budget options, sure to satisfy every guy's urge to rock a casual cool look.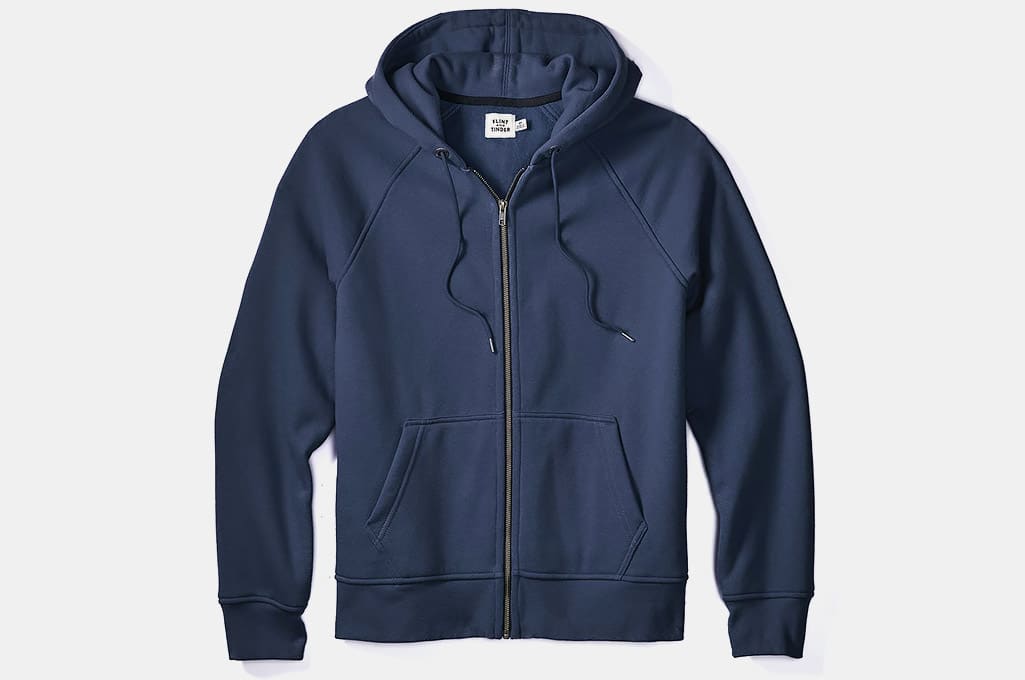 Best Investment: Flint and Tinder 10-Year Hoodie
When was the last time that you had a piece of cotton clothing last for a full decade? That's exactly what Flint and Tinder is offering with their aptly-named 10 Year Hoodie: A full decade-long guarantee, where they promise that "if your hoodie rips, tears, or otherwise comes apart at the seams, let us know and we'll repair it."
The whole thing is sourced from and made in the United States, and designed with a relaxed (but not baggy) fit that will wear in perfectly over the next 10 years.
Material: Cotton/polyester blend fleece
Color Options: Black, forest, medium heather gray, navy, oatmeal, gray, rust
Fit: Standard
COO: United States
Price: $128
The ultra-durable Flint and Tinder 10-Year Hoodie is American-made clothing at its finest, and a heritage piece you'll be happy to wear for a decade or more.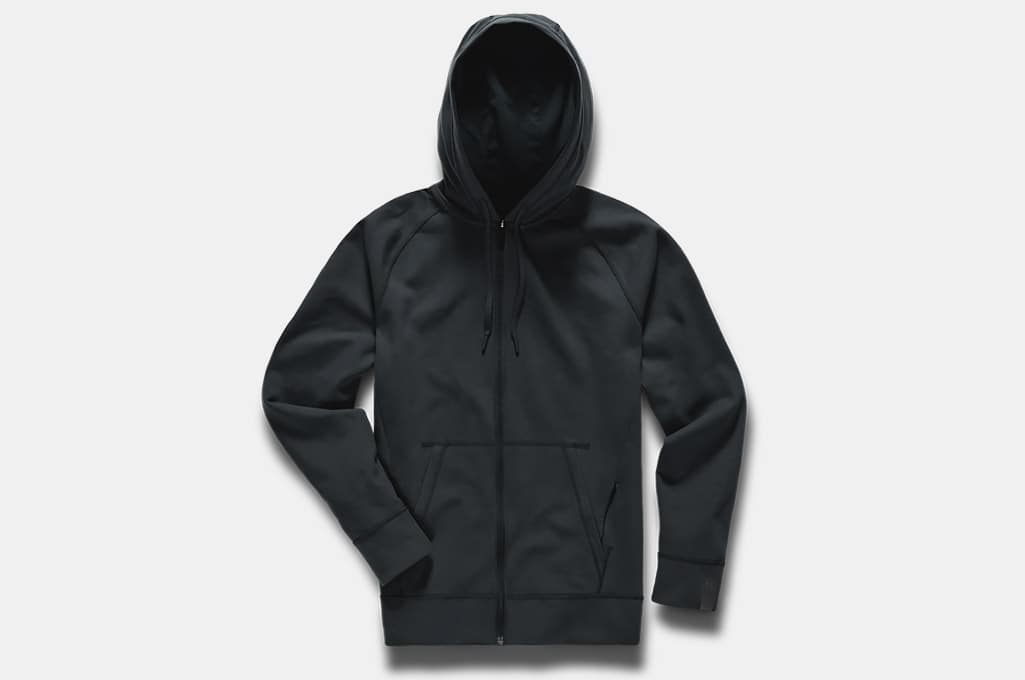 Best for Workouts: Ten Thousand Midweight Tech Hoodie
The Midweight Tech Hoodie from Ten Thousand is about as close as you can get to a tactical hoodie. It's extremely well outfitted for intense exercise, with a four-way stretch fabric and adjustable drawcords to customize your exact fit. That's paired with flatlock seams that fully prevent chafing while you're on the move, and a silver ion anti-odor treatment to keep stink to a minimum no matter how hard you're working out.
It's an everyday workhorse of a hoodie that's comfortable enough to wear all day long, and tough enough to get you through your most strenuous days.
Material: Polyester/cotton/spandex blend
Color Options: Black, light gray
Fit: Athletic
COO: Imported
Price: $128
Four-way stretch fabric and a permanent silver ion anti-odor treatment make this the perfect go-to hoodie for working out.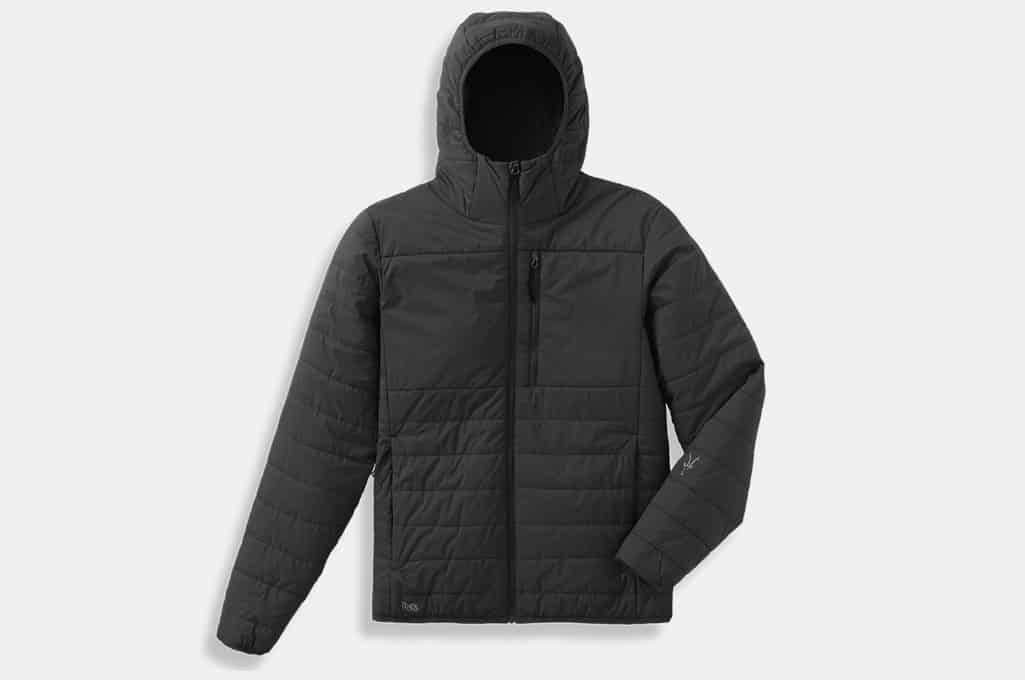 Best for Hiking and Outdoors: Ibex Wool Aire Hoodie
Merino wool is nature's most incredible performance fiber, offering unbeatable temperature regulation and naturally antimicrobial and moisture wicking properties. Taken together, those qualities make it the premier choice for outdoor gear that can keep up with any weather you face.
Ibex's Wool Aire Hoodie puts merino wool to great use, with a super lightweight merino wool fill inside of an equally lightweight nylon outer shell. This lets the Wool Aire Hoodie pack down extra tiny, all while providing the performance that wool is known for. An absolute must for any regular campers and hikers out there.
Material: Nylon shell, wool and polyester insulation
Color Options: Black, deep ocean, dark green, oxy fire
Fit: Athletic
COO: "Imported"
Price: $285
Packing serious warmth in an incredibly lightweight package, Ibex's Wool Aire Hoodie is the perfect companion for outdoor adventures.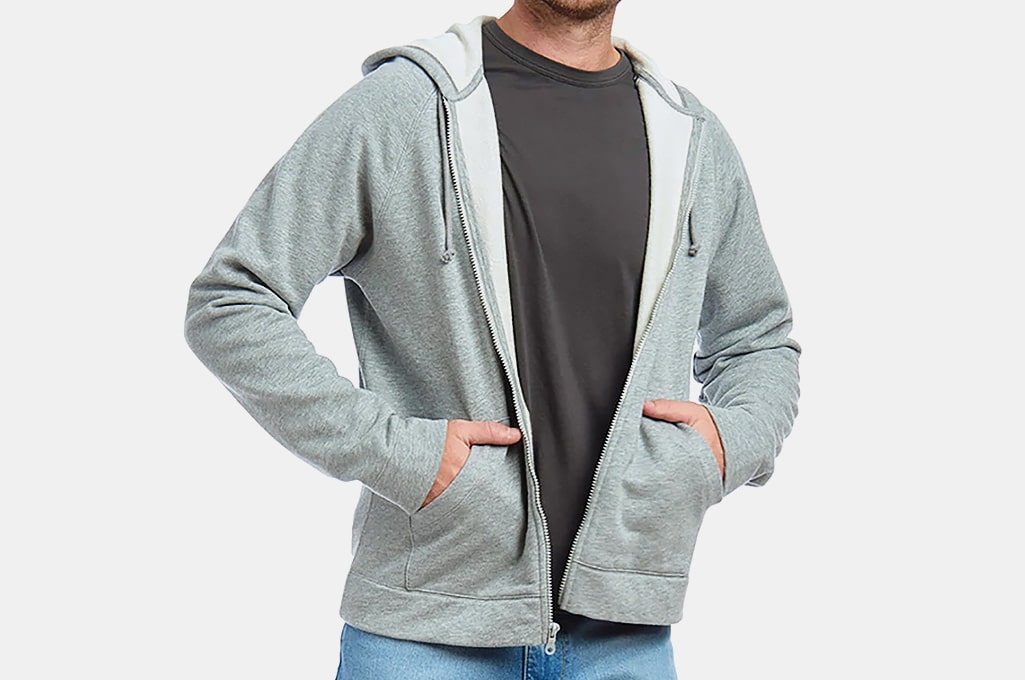 Mott & Bow's French Terry Hoodie
Casual but elevated: That's the laid-back style that Mott & Bow specializes in, and their French Terry Hoodie is a perfect example of it. The 100 percent Peruvian cotton—the real high-grade stuff that's extra soft—is given a loopback terry treatment for an even more supple look and feel.
That makes this classically-styled hoodie a perfect fit for wearing around the house, taking to the gym, or dressing up with a nice pair of jeans, a button-down shirt, and all-white leather sneakers. Overall, it's an awesome addition to any guy's closet thanks to its goes-with-anything good looks.
Material: French terry cotton
Color Options: Heather gray
Fit: Slightly relaxed
COO: China
Price: $99
An elevated everyday staple that's comfortable enough to live in, but just the right weight for wearing to the gym.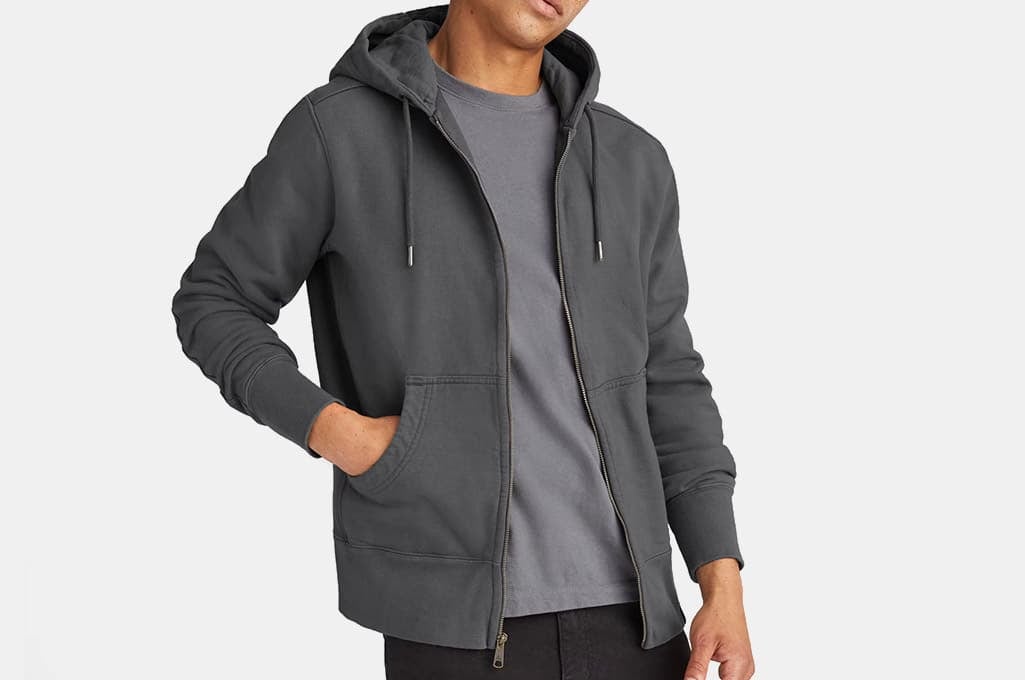 American Giant Classic Full Zip Hoodie
American Giant's particular brand of detail-oriented essentials deserves a second look from any guy who wants to upgrade his daily wardrobe. Check out their Classic Full Zip Hoodie, which some owners have gone so far as to call "The Greatest Hoodie Ever Made": It's equipped with a double-lined hood and reinforced elbow patches, further emphasizing the durability that starts with a heavyweight 13 ounce cotton fleece.
Want even more? Each of these hoodies is made by hand right here in the United States, with fabric knit in South Carolina and the hoodies stitched together in North Carolina.
Material: Combed ringspun cotton
Color Options: Black, iron, Oxford blue, agave green, forest camo, twilight, currant, deep olive, black amber
Fit: Relaxed
COO: United States
Price: $138
An American-made hoodie that's available in a wide range of colors, with a laid-back fit and reinforcement at the elbows for long-lasting durability.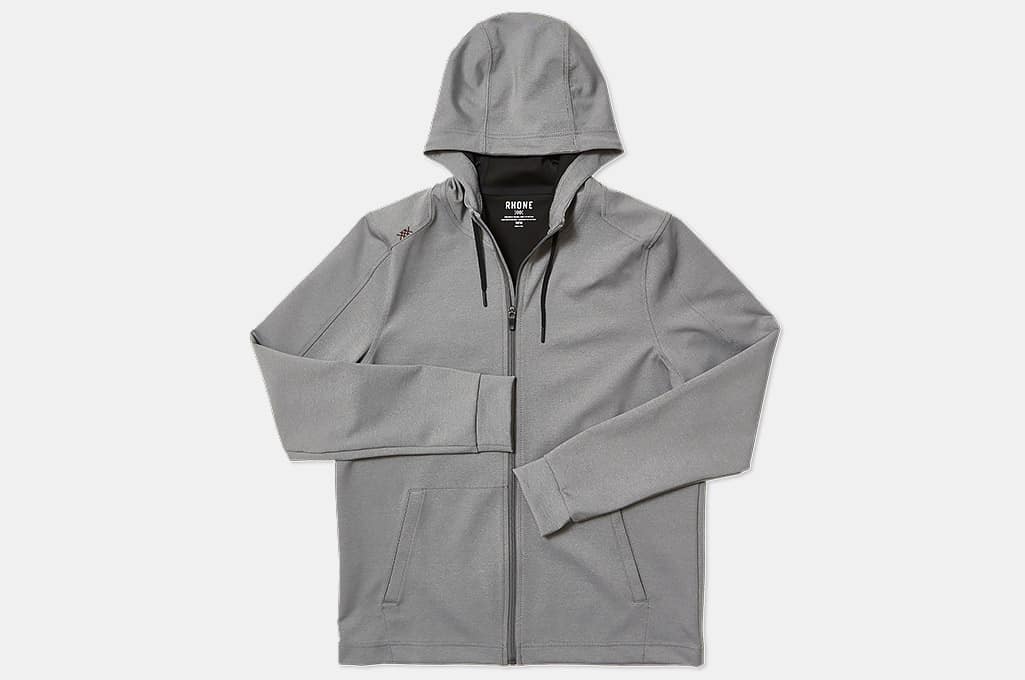 Rhone Spar Full Zip Hoodie
Offering a fine blend of everyday comfort and sport performance, Rhone's Spar Full Zip Hoodie is destined to become your new favorite throw-it-on-and-go jacket. It's made from a moisture wicking material with plenty of stretch, making it extra comfortable for daily wear and fully capable of taking you through your warmups and into your workouts.
The fit here is slim and athletic (but not overly so), and the material is thick enough to hold its shape well and provide plenty of warmth whether used as a top or mid layer.
Material: Polyester/nylon/spandex blend
Color Options: Smoked pearl, black, navy
Fit: Athletic
COO: United States
Price: $138
The right blend of stretchy and soft, Rhone's Spar hoodie has significant moisture wicking properties too.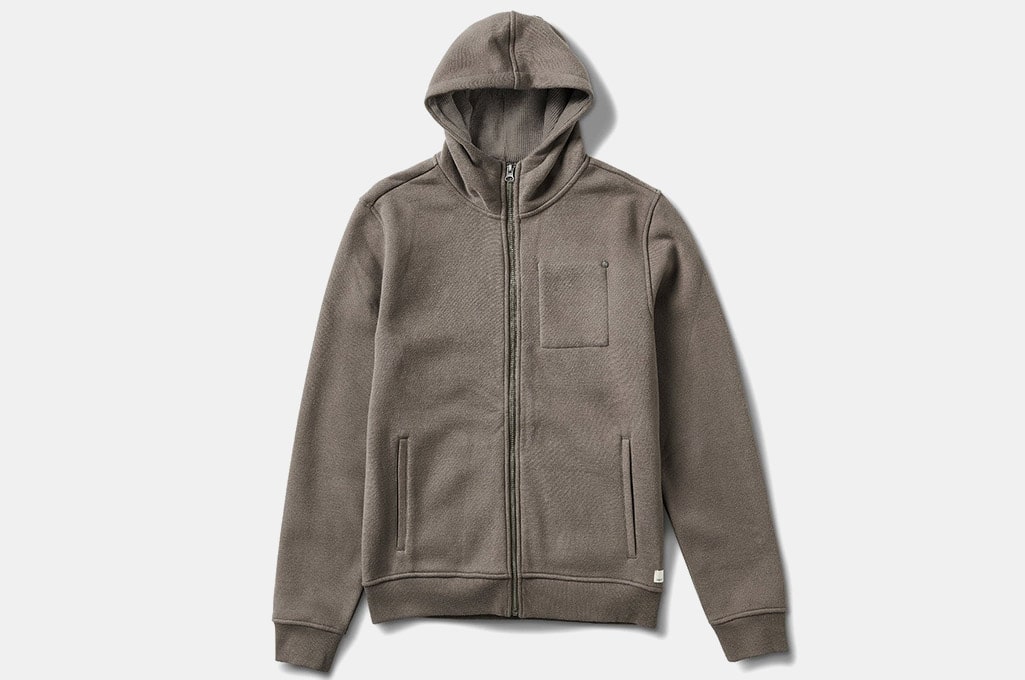 Vuori Seaside Hoodie
Made from sustainably-sourced organic cotton and polyester, the midweight Vuori Seaside Hoodie is made for cozy comfort on chilly beach days. It uses a brushed-back fleece to double down on warmth and comfort, then pairs that with a double kangaroo pocket and interior chest pocket for your smartphone.
Four-way stretch makes it flexible enough that you'll want to live in it day in and day out, and the slightly oversized fit makes it perfect for chilling out and relaxing.
Material: Brushed back heavy weight fleece (66% organic cotton, 34% polyester)
Color Options: Black, cocoa, salt, azure
Fit: Relaxed
COO: Imported
Price: $148
A cozy hoodie for when beach days turn chilly, this offering from Vuori also has a handy interior chest pocket for your phone.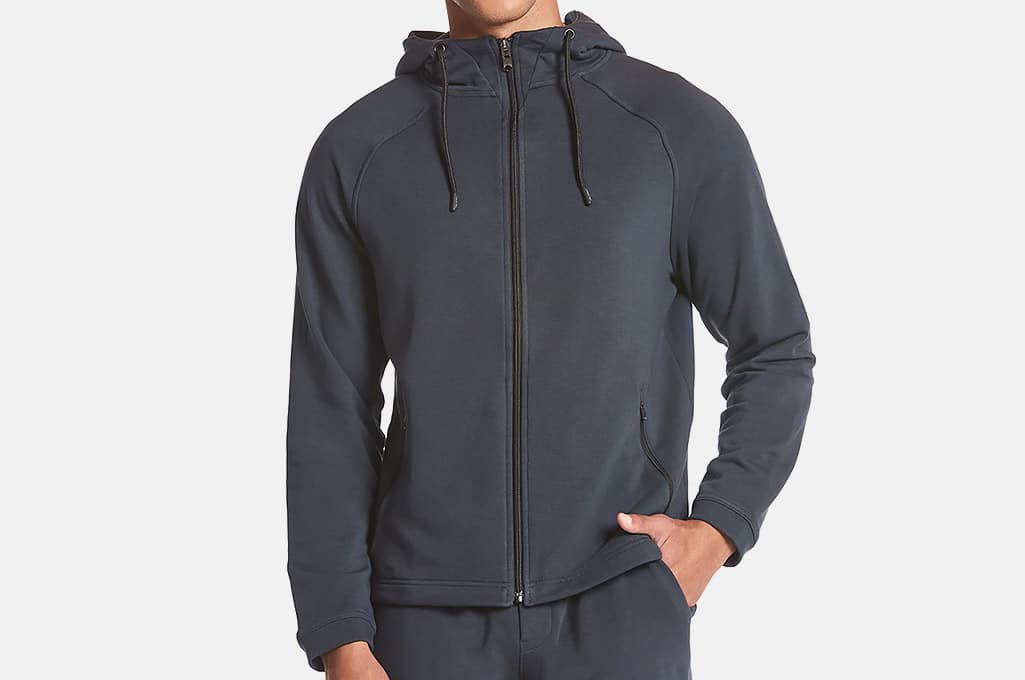 Public Rec Weekend Full Zip Hoodie
With Public Rec's Weekend Full Zip Hoodie, what really makes it stand out is the contrasting details. Take a quick look at it in comparison to most of the hoodies in this review:
Instead of opting for a single-color scheme or using white accents, the bold black accenting helps each color of this hoodie to pop that much more. It's made with a modern athletic fit that makes it great for wearing to the gym, but equally suitable for throwing on over a dressier work outfit.
Material: French terry cotton/poly/spandex blend
Color Options: Heather silver spoon, heather navy, heather charcoal, stone navy, heather maroon, black
Fit: Standard
COO: Vietnam, Indonesia, Peru, and/or Thailand
Price: $108
Little details like a scuba hood and no-bounce zippers that lock in place make Public Rec's Weekend hoodie a favorite for guys looking to get active.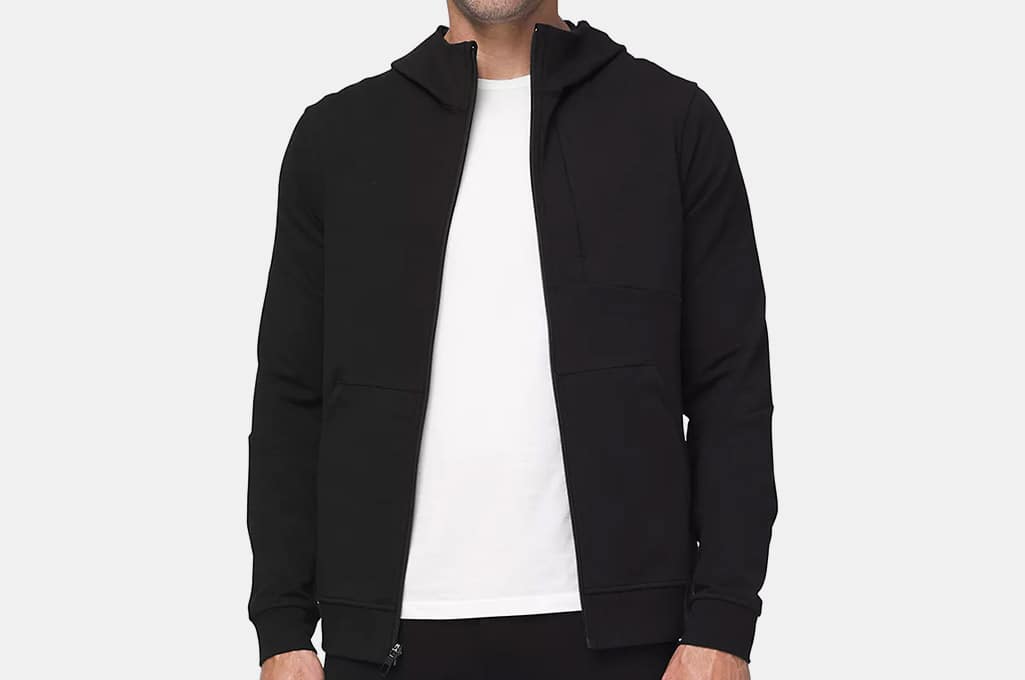 Lululemon City Sweat Full-Zip Hoodie
The clean lines and vibrant colors of Lululemon's City Sweat Full-Zip Hoodie put it almost in a category of its own, having more in common with high fashion than casual around-the-house wear. Even so, the stretchy French terry material that these hoodies are built from makes them as comfortable as any you'll ever wear.
They're designed with a classic hoodie fit in mind—looser at the chest and waist—so order to size if you want a looser fit, or down a size for a more slim and athletic look and feel.
Material: Cotton, polyester, lycra, and elastane
Color Options: Raw linen, heathered ultra light grey/sea salt, blue linen, black
Fit: Athletic
COO: Any of these 26 countries
Price: $128
Soft and breathable with a minimalist style, Lululemon's City Sweat hoodie is as good for running errands as it is for your next long-distance run.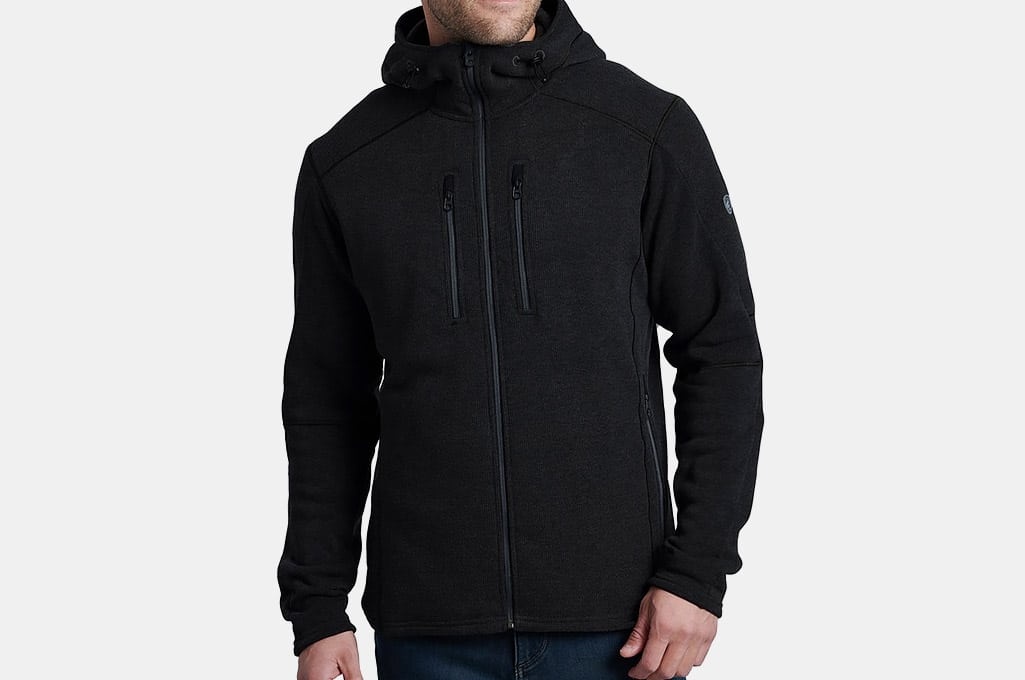 KÜHL Interceptr Hoody
In the natural vs synthetic fiber debate for outdoor gear, KÜHL falls firmly on the side of making the absolute most out of synthetics. Their finely-tuned fiber combinations have a lot going for them, with enhanced durability complemented by breathability and warmth that rival even the finest natural fibers.
This is on full display in their Interceptr Hoody, which uses a heavy duty three-layer system of proprietary synthetic fibers to make it as warm as a full-size coat. Add a brushed interior for close-to-the-skin comfort, and you get a hoodie that's ready for any outdoor adventure.
Material: älfpaca™ GOLD fleece and KASHMIRA polyester
Color Options: Black, mutiny blue, steel
Fit: Athletic
COO: China
Price: $139
Articulated sleeves and breathable side panels set KÜHL's Interceptr Hoody a step ahead of the competition when it comes to long days out on the trail.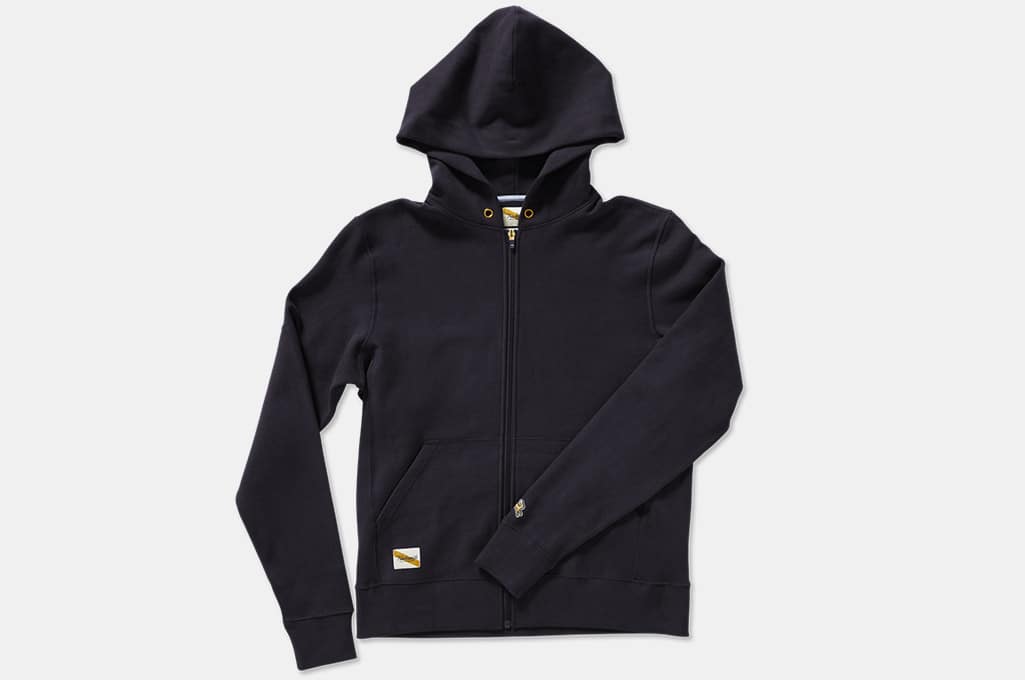 Tracksmith Trackhouse Zip Sweatshirt
What's the bane of workout sweatshirts and sweatpants everywhere? Pilling. It can take a perfectly presentable piece of clothing and make it look old and ratty in a heartbeat. That's why Tracksmith's new Trackhouse Zip Sweatshirt is especially awesome: Its reverse-weave cotton blend material is completely impervious to pilling, and will look good as new even after years of use.
Thoughtful details like ribbed cuffs, a hidden stash pocket, and a secure headphone port make it a top tier choice for workout wear.
Material: Cotton/poly blend fleece
Color Options: Maple, black, gray, navy
Fit: Athletic
COO: Poland, Portugal, China, Taiwan, Malaysia, Vietnam, Canada, and/or United States
Price: $30
With a double-layered hood and heavy 410 gsm fabric, Tracksmith's Trackhouse hoodie is great for cold morning runs.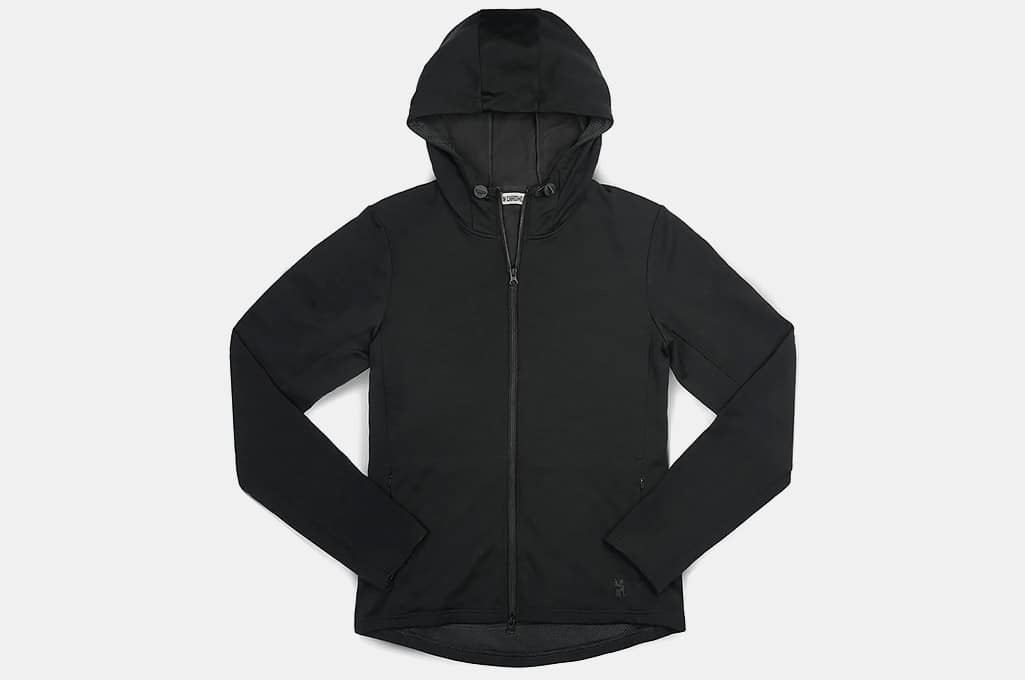 Chrome Industries Merino Wool Cobra 3.0 Hoodie
The Cobra 3.0 Hoodie from Chrome Industries is pure outdoor performance wear at its best. Made from a merino wool, polyester, and spandex blend, it combines the best of temperature regulating and moisture wicking qualities with shape retention, durability, and flexibility.
The extra high collar and three-panel hood design gear it towards high-speed sports, especially bicycling; a two-way zipper further emphasizes this sport performance aspect. Overall, it's probably the best hoodie around for high-intensity outdoor activities.
Material: Merino wool/polyester/spandex blend
Color Options: Black, olive branch
Fit: Athletic
COO: United States and/or China
Price: $185
Merino wool as the main component of this hoodie's fabric gives it exceptional temperature regulating and moisture wicking qualities.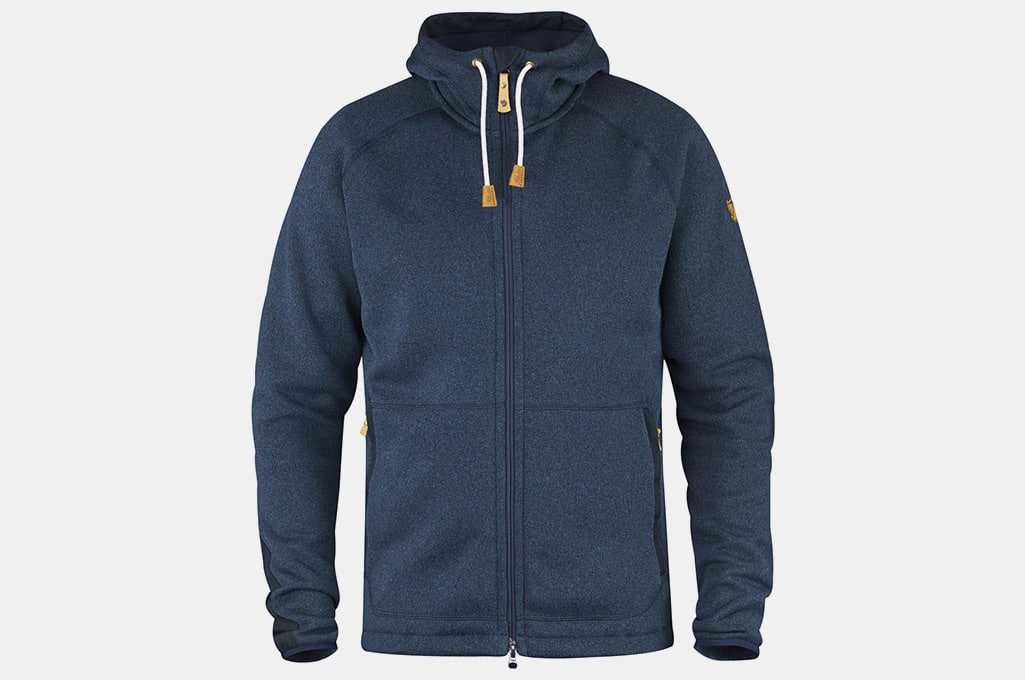 Fjallraven Ovik Fleece Hoodie
The magic behind the Swedish-designed Ovik Fleece Hoodie from Fjallraven comes from its proprietary G-1000 fabric, a unique cotton/polyester blend that's been thoroughly infused with Greenland wax.
This gives it exceptional weatherproofing while maintaining a comfortable and pliable fit, making it excellent as an outer layer in moderate weather or an insulating mid layer when it turns especially cold. All of that together makes the Ovik Fleece Hoodie a top choice for people who live in colder climes, where you'll be able to get year-round use out of it.
Material: Water-resistant G-1000 polyester
Color Options: Dark grey, deep forest, navy
Fit: Athletic
COO: China and/or South Korea
Price: $165
The quick drying and water-resistant fabric used for the Ovik Fleece Hoodie makes it an excellent top layer for outdoor adventures.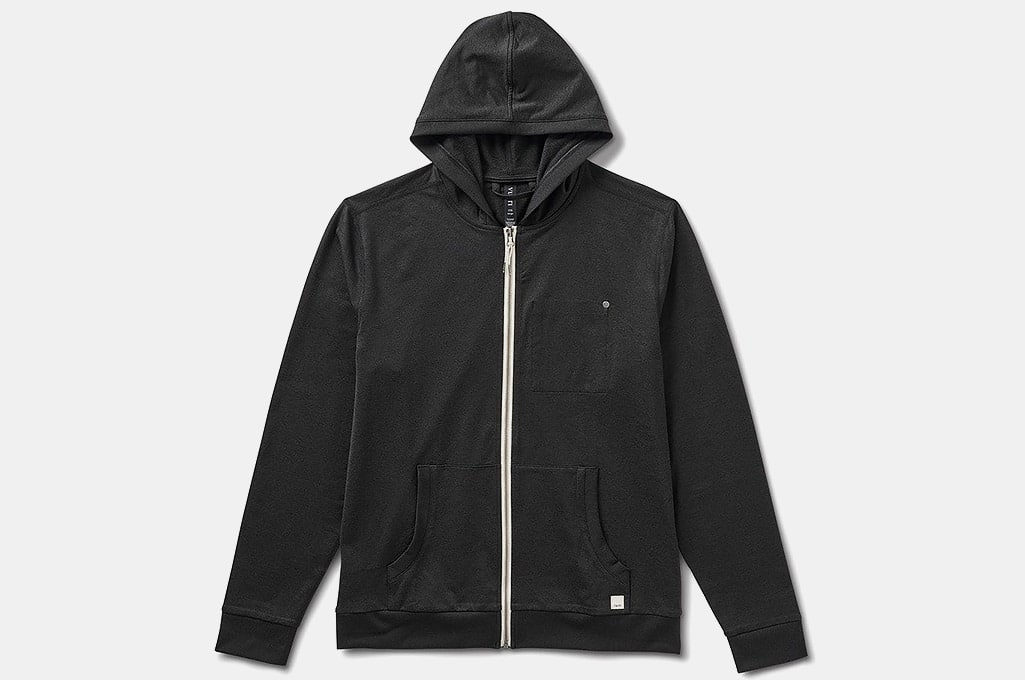 Vuori Coronado Hoodie
Everything that Vuori makes does a great job of bridging the gap between presentable, stylish clothing and workout-ready performance gear. But this is especially true of their Coronado Hoodie—which has the added benefit of being comfy as heck while looking great and offering excellent flexibility and moisture wicking.
Its knit construction is equipped with four-way stretch for freedom of movement, and then given a brushed back for softness right next to the skin. Pair that with a heathered texture and contrasting zipper details, and you get a zip up hoodie that's ready for wear anywhere you go.
Material: Polyester/elastane blend
Color Options: Light heather gray, black heather, oregano heather
Fit: Relaxed
COO: Imported
Price: $138
Just the right blend of soft and stretch make Vuori's Coronado Hoodie a great post-workout or all day lounging choice.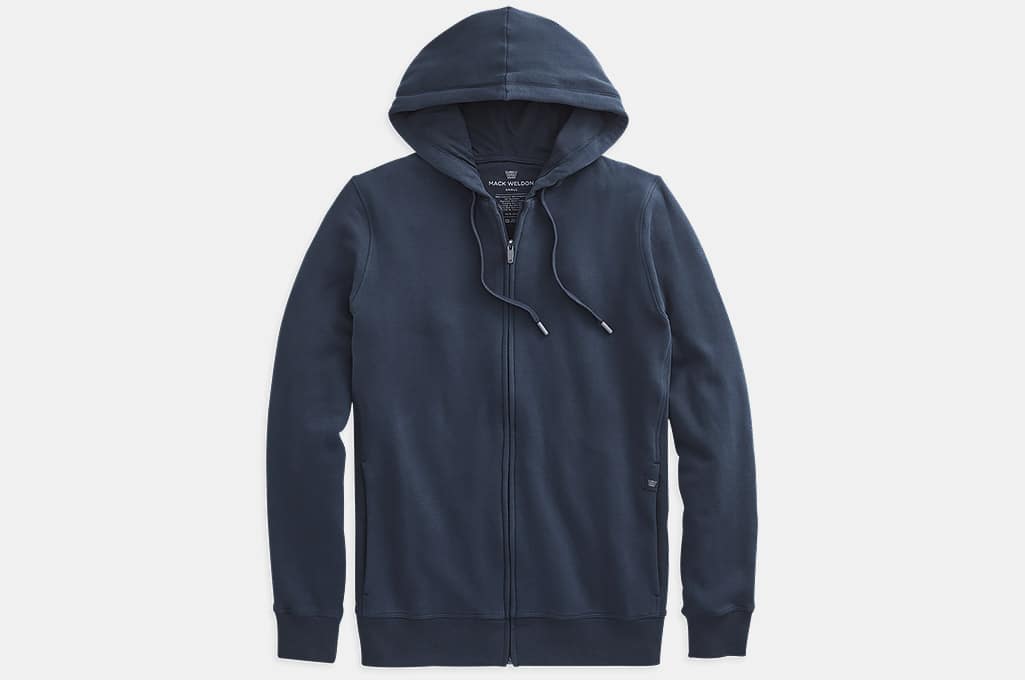 Mack Weldon Ace Full-Zip Hooded Sweatshirt
Available in eight colors of heavy duty French terry cloth, Mack Weldon's Ace Full-Zip Hooded Sweatshirt is destined to match with any guy's closet.
The hoodie's taught material holds its shape better than a standard cotton hoodie, giving a crisp and finished look that pairs beautifully with the rich color options. Oh, and it's got a secret interior stash pocket too—making this a near-perfect hoodie for everyday errands and long-term travel alike. Once you try one of these on for size, you'll end up wanting to get a few more to round out all the color options in your wardrobe.
Material: Micro-brushed French terry cotton
Color Options: Comet blue, true black, infantry, charcoal heather, total eclipse, grey heather, commando, winestain
Fit: Relaxed
COO: Thailand, Peru, China, Egypt, and/or Vietnam
Price: $98
Stretch rib side panels and super soft micro-brushed fabric make this hoodie a definite go-to for weekend wear.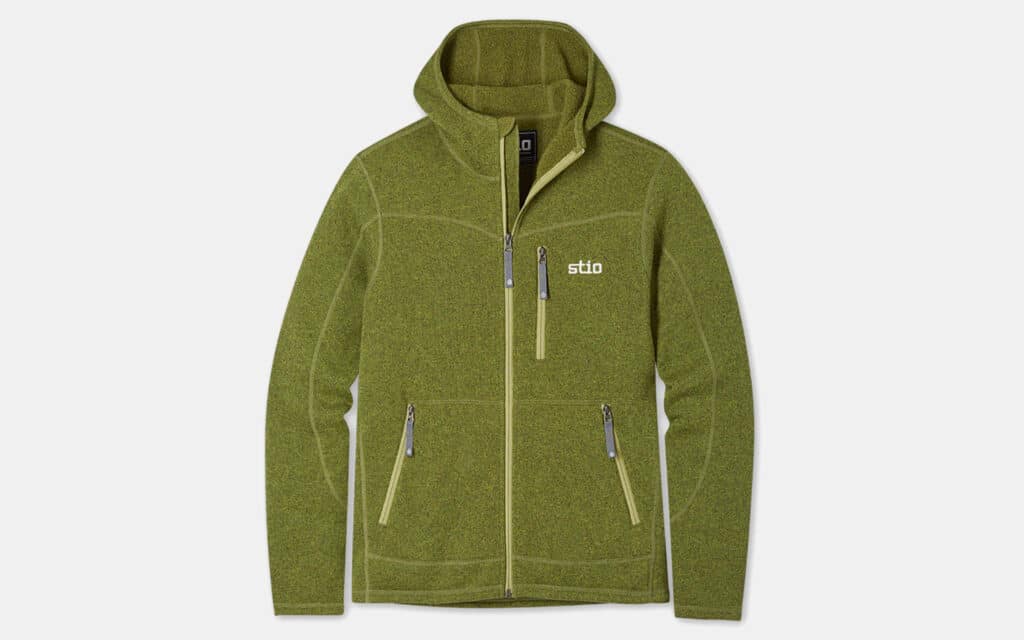 Stio Men's Wilcox Fleece Hoodie
For those truly cold days, you need a hoodie that offers maximum insulation to keep the chill out and your warmth in. That's exactly what the Stio Men's Wilcox Fleece Hoodie does, thanks to its use of pure recycled Lofton (synthetic) fleece.
It feels like wool to the touch and offers similar insulation, but the fact that it's synthetic means you get better technical performance with less weight and bulkiness than wool. Between the relaxed fixed hood, the kangaroo-style front pockets, and the full zip closure, you've got a sweater that will be wonderfully warm even when the snow is falling and the wind is biting.
Material: 100% recycled Lofton fabric
Color Options: Vintage Ivy Heather, Beehive Heather, Mountain Shadow Heather, Larkspur Blue Heather, Abyss Heather, and Faded Oak Heather
Fit: Regular
COO: Imported
Price: $175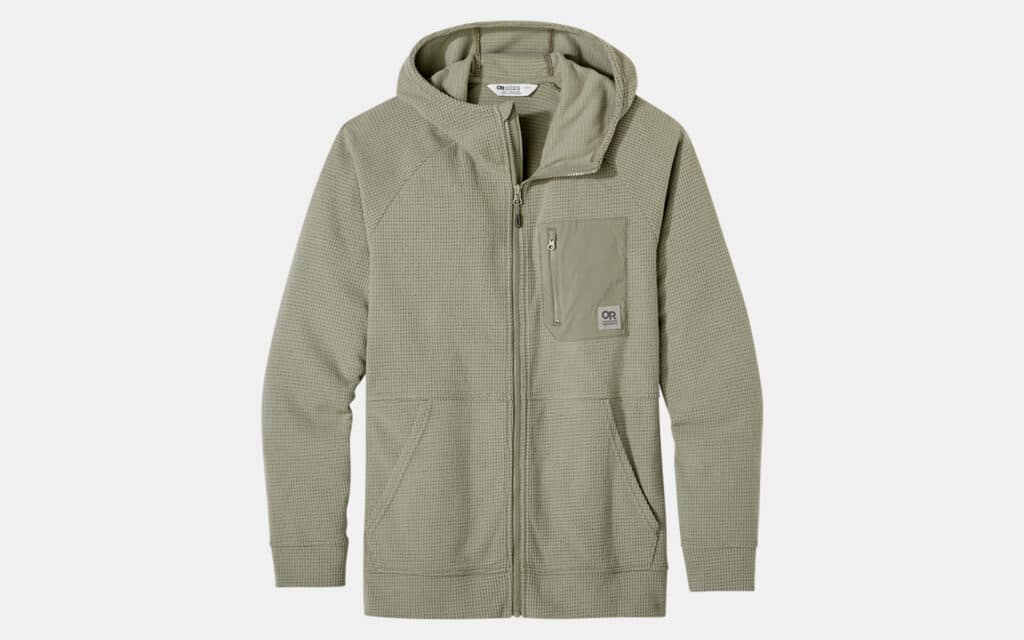 Outdoor Research Men's Trail Mix Hoodie
Stay active and warm with the Outdoor Research Men's Trail Mix Hoodie. Made with a waffle grid synthetic fleece, it's beautifully cozy for lounging on your couch but can handle the rigors of any snowshoeing trek or snowboarding trip. The thermo-regulating ActiveTemp technology traps body heat close to your skin so you'll stay warm all day long, but offers enough breathability to keep you from overheating when you work up a sweat. It also has moisture-wicking properties to pull sweat away from your base layer and keep you dry and cool.
Material: Bluesign approved 100% Polyester. Pocket: bluesign approved 94% Recycled Nylon, 6% Spandex
Color Options: Black, Kalamata/Naval Blue, Naval Blue, Flint, Tapenade/Black
Fit: Regular
COO: Bangladesh
Price: $110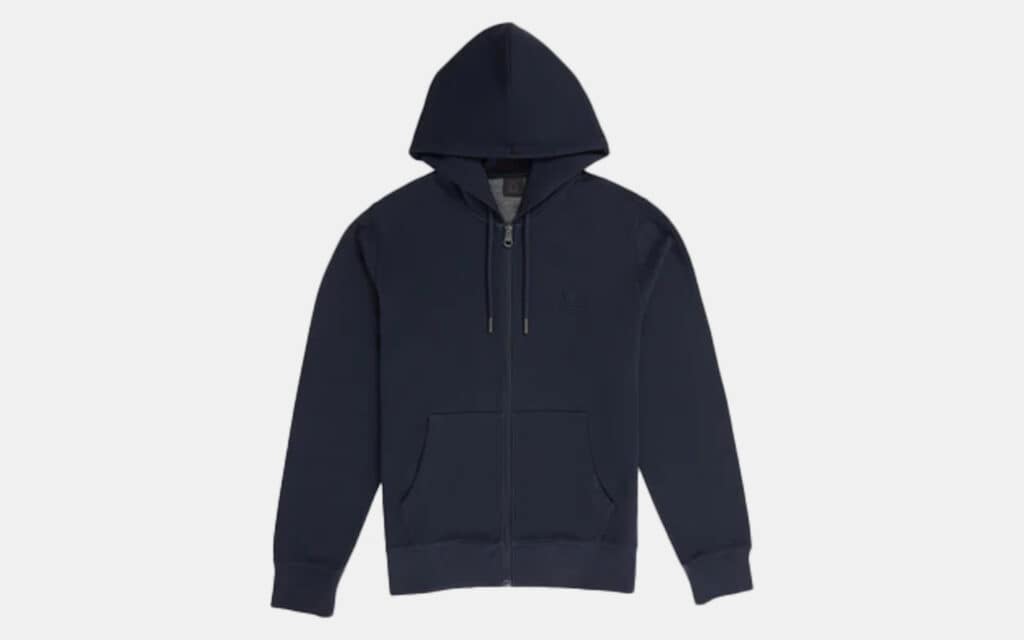 Psycho Bunny Mens Outline Hoodie
Crisp colors and stylish design come together in the Psycho Bunny Mens Outline Hoodie. The smooth double-faced interlock jersey fabric is wonderfully soft to the touch, and the addition of nylon into the cotton blend fabric makes it far more versatile and durable.
The tailoring and fit are eye-catching, with sharp colors that will stand out from the pack. But minimalists will find it's exactly what they need, too, with the subtle details and simplistic styling. For those worried about wearing out the sweater with regular use, you'll be glad to know the seams are all reinforced with three-needle-cover stitching to ensure maximum durability. Take one look at the price tag and the style, and you'll fall in love.
Material: 93% cotton, 7% nylon
Color Options: Navy, Heather Storm, and Black
Fit: Regular
COO: China
Price: $250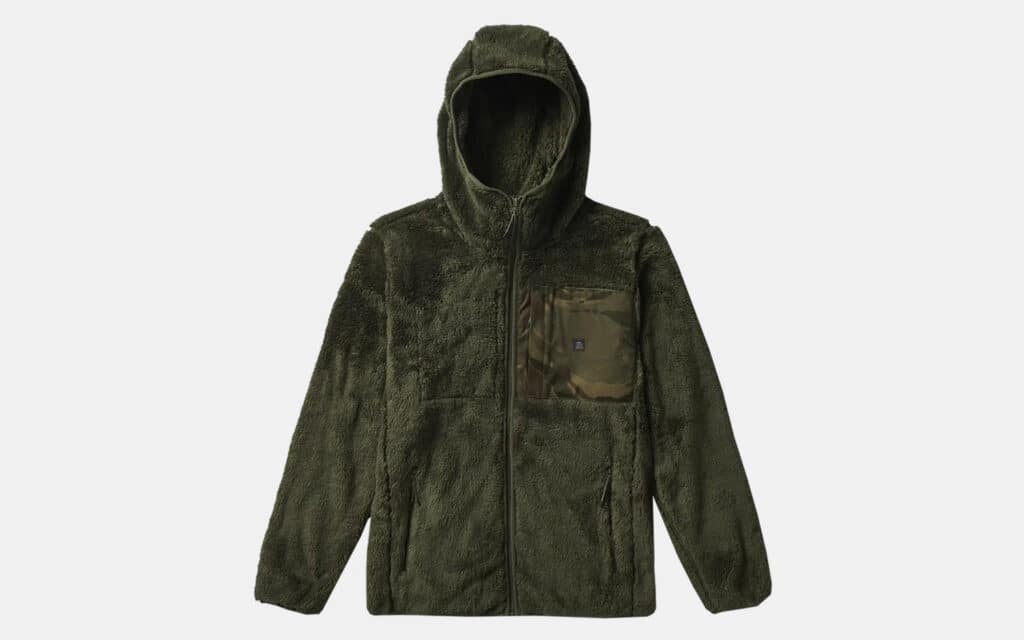 Roark Rambler Fleece
Whether you're hunting, hiking, ice fishing, or snowboarding, you'll be glad you've got the Roark Rambler Fleece packed in your bag. This fleece hoodie is insanely warm when zipped up, with hand warmer pockets placed just right for carrying your EDC essentials or tucking your hands in your pockets for a casual look while keeping warm.
The high-loft shearling fleece will feel like your favorite blanket, and you'll feel just as toasty as you were snuggled up in bed or sitting in front of a roaring fire. It's your new best friend to beat back the winter chill.
Material: 100% Polyester
Color Options: Dark Military, Dark Navy, Black, and Blue
Fit: Regular
COO: Not specified
Price: $125-$129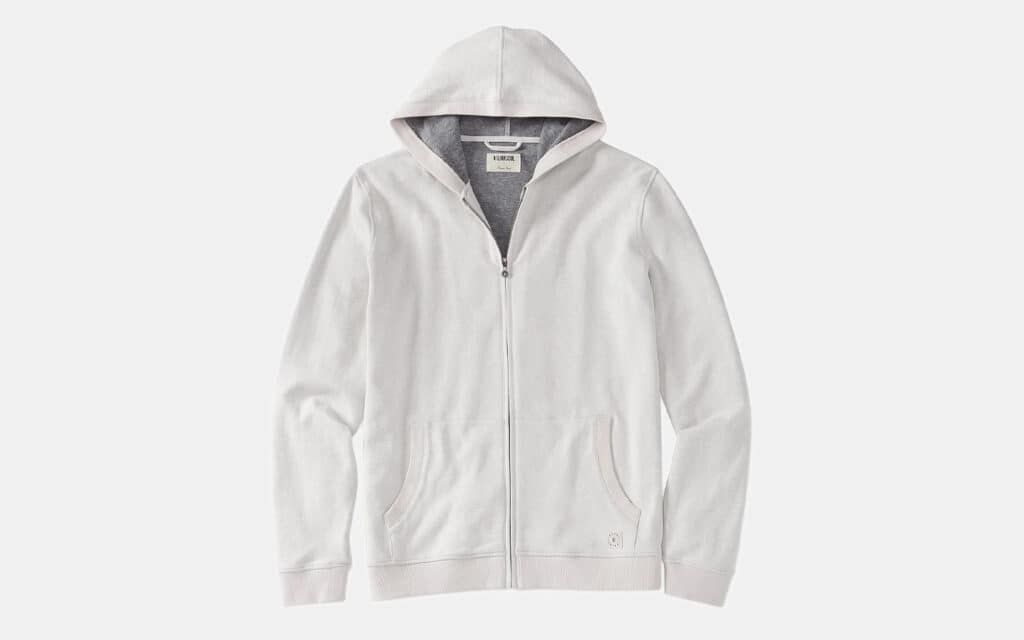 Linksoul Double-Knit Full-Zip Hoodie
Say goodbye to thick, bulky sweaters, and instead keep it lightweight with the Linksoul Double-Knit Full-Zip Hoodie. The double-knit fabric combines just enough polyester into the cotton to give it flexibility and utility, not to mention making it incredibly soft to the touch.
It's the perfect middle layer to wear beneath a parka or heavy winter coat, because it's slim enough that you will still be comfortable even when fully bundled up. Wear it over a moisture-wicking base layer to ensure that you stay dry and cool all day long.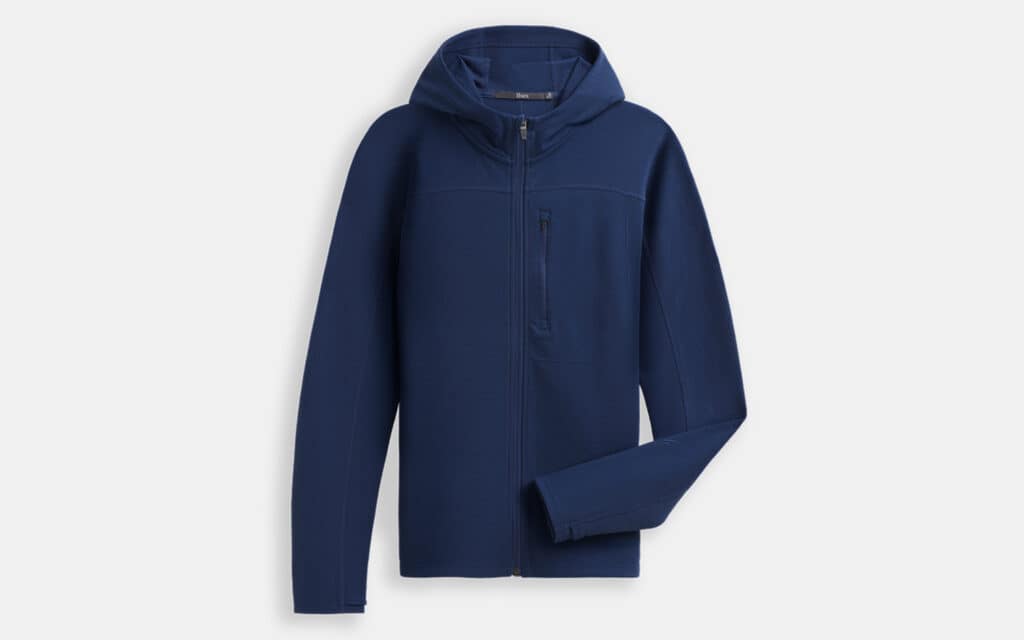 Ibex Shak Hoodoo Hoodie
If you're hitting the slopes for a day of skiing or snowboarding, you'll be glad you're wearing the Ibex Shak Hoodoo Hoodie. Made from Ibex's signature dense Merino wool, it's thick enough that it will keep you warm but lightweight enough that you can move easily when slicing down those slopes at full speed.
The sweater offers moisture-wicking properties to keep you cool, allows body heat to escape if you start to overheat, and is both wrinkle-resistant and easy to keep clean with fewer washes. Thanks to its flatlock seams, you'll never have to worry about chafing even after long hours of high-intensity activity. 
Disclosure: Clicking on these links and making a purchase may earn us a small referral fee, at no extra cost to you. Learn more here.
freestar.config.enabled_slots.push({ placementName: "gearmoose_leaderboard_btf", slotId: "gearmoose_leaderboard_btf" });