As you already know, the Porsche Taycan Turbo S is an incredible machine on its own. So what happens when world-renowned supercar tuner Brabus takes a crack at it? The Brabus Porsche Taycan Turbo S takes it to the next level with a touch of perfection.
In their own words, Brabus calls their Taycan Turbo S an "electrified luxury masterpiece". Who could argue with that statement? Speaking of statements, the 22-inch Brabus Monoblock Z Platinum Edition forged wheels leave a lasting impression. They stand tall with an aggressive attitude. Just nasty.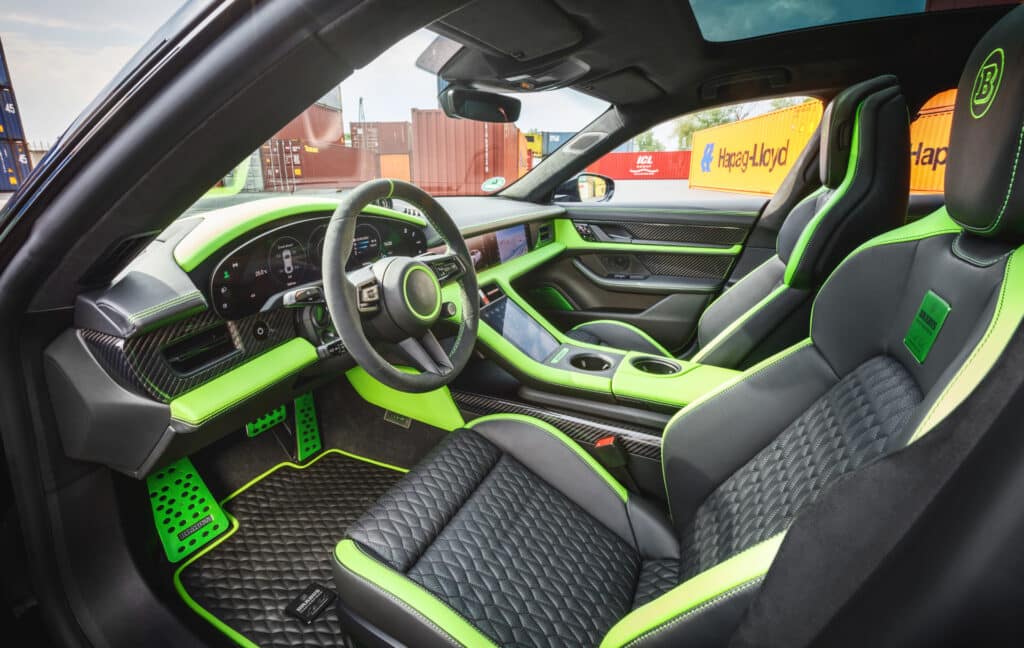 Inside the Brabus Taycan Turbo S a completely bespoke interior experience awaits you. The two-tone Brabus green and black interior is crafted from the finest leather and materials with an impeccable finish. 
As for performance, the Brabus Taycan Turbo S can go from 0 to 60 miles per hour in only 2.8 seconds. Keep going and you can reach the top speed of 161 mph. The Brabus Taycan produces 761 horsepower and approximately 774 pound-feet of torque. Brabus did not really tune more power out of the EV but they did improve aerodynamics and the suspension system.
Brabus really dresses the exterior of the Taycan Turbo S for success using custom carbon fiber parts. They added a front spoiler and a front skirt. Both the side skirts are from Brabus as well. Finally, they added a rear spoiler, rear skirt, and a rear diffuser along with an exclusive Brabus exterior badging package.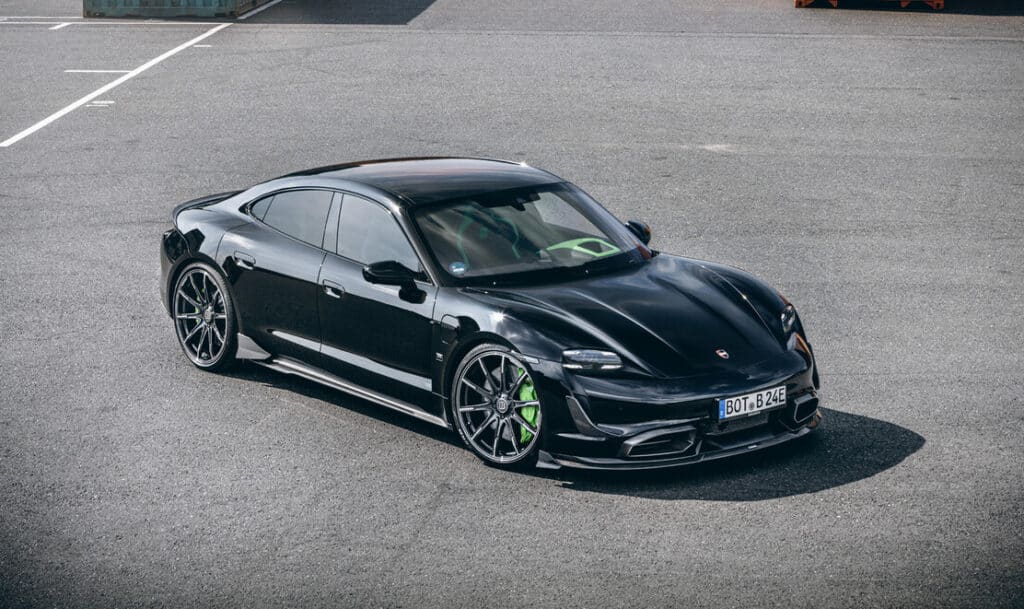 Performance upgrades include exclusive green brake calipers to dress up the Brabus braking system. Brabus also installed a custom suspension system called the Sport Xtra in the Taycan Turbo S. This system lowers the overall ride height of the Taycan Turbo S by 20 millimeters.
The Brabus Porsche Taycan Turbo S looks great. If you want the Brabus Porsche Taycan Turbo S in your collection, they are already accepting requests. The rest is up to you.
Disclosure: Clicking on these links and making a purchase may earn us a small referral fee, at no extra cost to you. Learn more here.