Deus Ex Machina x Young Jerks MT07 Bolt-On Kit
Building custom bikes is not for everyone, but modifying them is a lot easier thanks to Deus Ex Machina. Introducing the Deus Ex Machina x Young Jerks MT07 Bolt-On Kit, an amateur bike builder's dream come true.
The blueprint for this kit began with a vision, as most custom motorcycles often do. However, a typical client requesting a custom bike is usually not as well-known as Yamaha Australia. They contacted Jeremy at Deus Ex Machina to kick the idea of building a custom MT07 around. Not only did Deus Ex Machina deliver the goods, they did one better.
Most riders bond with their bikes in a way that's difficult for non-riders to understand. Over time, many bike owners customize their bikes to sprinkle a personal touch on them or to squeeze more performance out of them.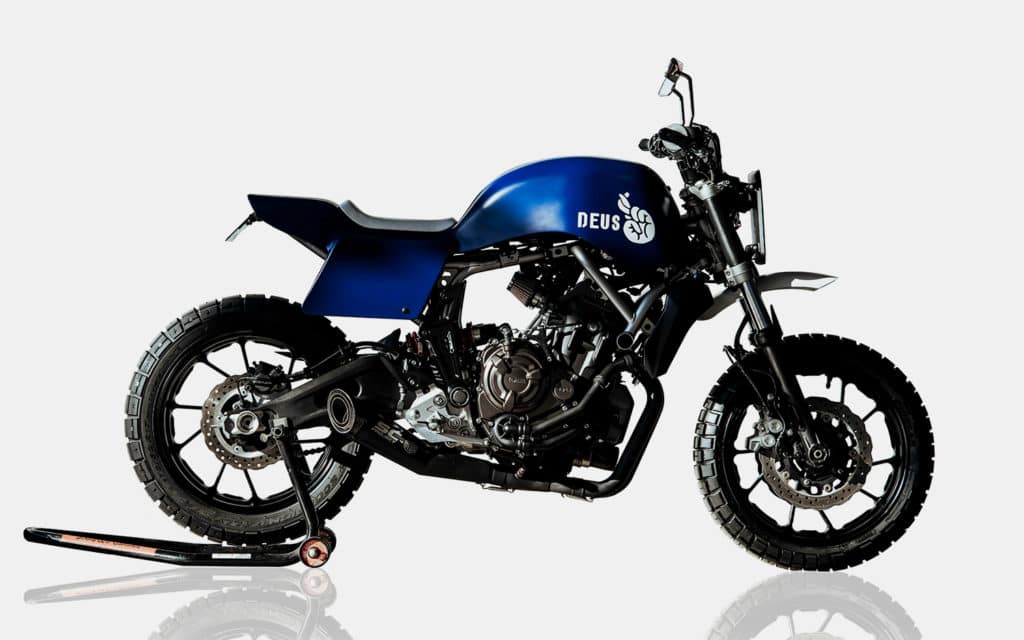 The Deus Ex Machina x Young Jerks MT07 Bolt-On Kit features a fresh look combined with functional design and overall performance improvement. Several big players in the custom motorcycle scene provided their stroke of genius to create this masterpiece.
Young Jerks out of New York collaborated with the Deus design team to draw up the original styling of the bike. Dutchy's Motorcycle Spray Painting deserves a shout out for the beautiful blue and white satin exterior finish. The Bad Arse Trim Co caps it all off with a carbon fiber seat pan supporting a clean white leather cushion.
This DIY bolt-on kit is stylish and pretty easy to install. It's a great way to personalize the look and performance of your Yamaha MT-07. Check out everything this kit includes to see what your MT07 is missing.
Disclosure: Clicking on these links and making a purchase may earn us a small referral fee, at no extra cost to you. Learn more here.