The inside scoop on Ekster's "smart wallet", hand tested by us. GearMoose and it's staff were in no way compensated by Ekster for this hands-on review, however clicking on these links and making a purchase may earn us a small referral fee, at no extra cost to you.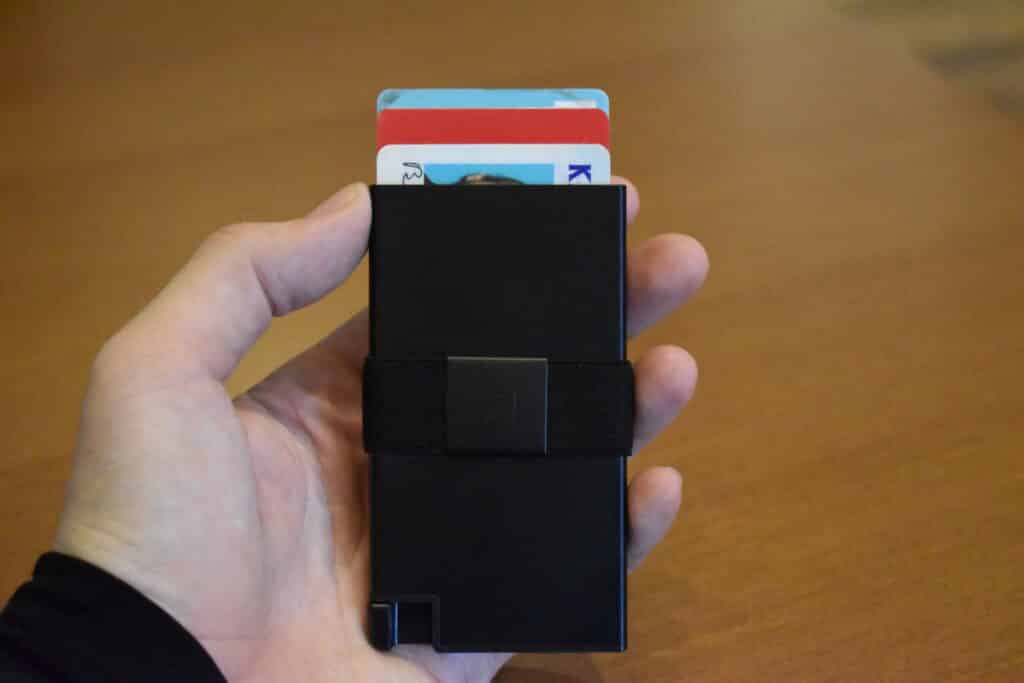 Old wallets? Big, bulky, low tech—no thanks. New wallets? Small, slim, high tech—yes please.
So why not pare down your old video rental cards, CVS receipts, and spare change and trade up to a smarter wallet?

That's the basic idea behind the new wave of wallets that started coming out in the 2010s. Properly handled, a slim wallet like this one from Ekster can make your life smoother, classier, and just overall more enjoyable.
But does Ekster's slim cardholder wallet live up to the hype? We decided to go hands-on to find out, testing and comparing it to a traditional leather wallet as well as other popular minimalist wallets.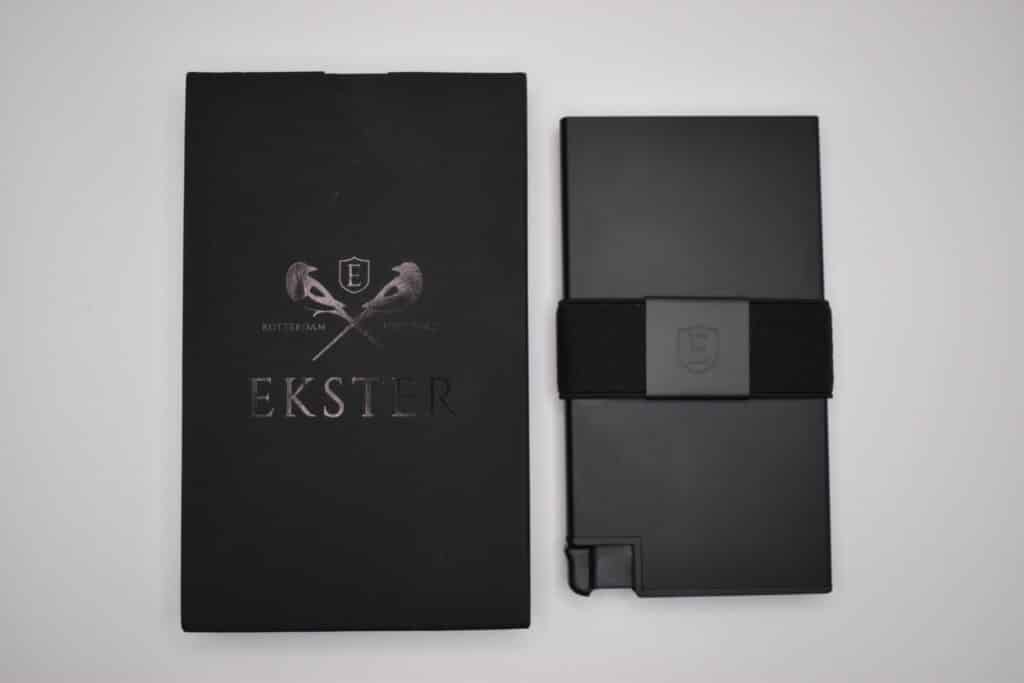 About Ekster
Ekster was founded in 2015 following a hugely successful crowdfunding campaign for their original cardholder—the same wallet we're reviewing here. And while their wallets are definitely the main feature of the brand, it's worth checking out some of their newly-minted bags, cases, and accessories, too.
What We Tested For
Our ideal wallet combines four things: A slick design that makes us want to use it, excellent longevity, functional utility, and a good price for what you get. Let's take a closer look at how Ekster's wallet stacks up in each category.
Design
There's no other wallet out there quite like Ekster's. At a glance, it's a fairly simple cardholder with an elastic band for your cash. But inside of the aluminum casing, there's a clever mechanism that fans out your cards at the push of a button.
If you're a fan of clicking pens and flicking your assisted knife open and shut while you think, the Ekster wallet provides much of that same feel.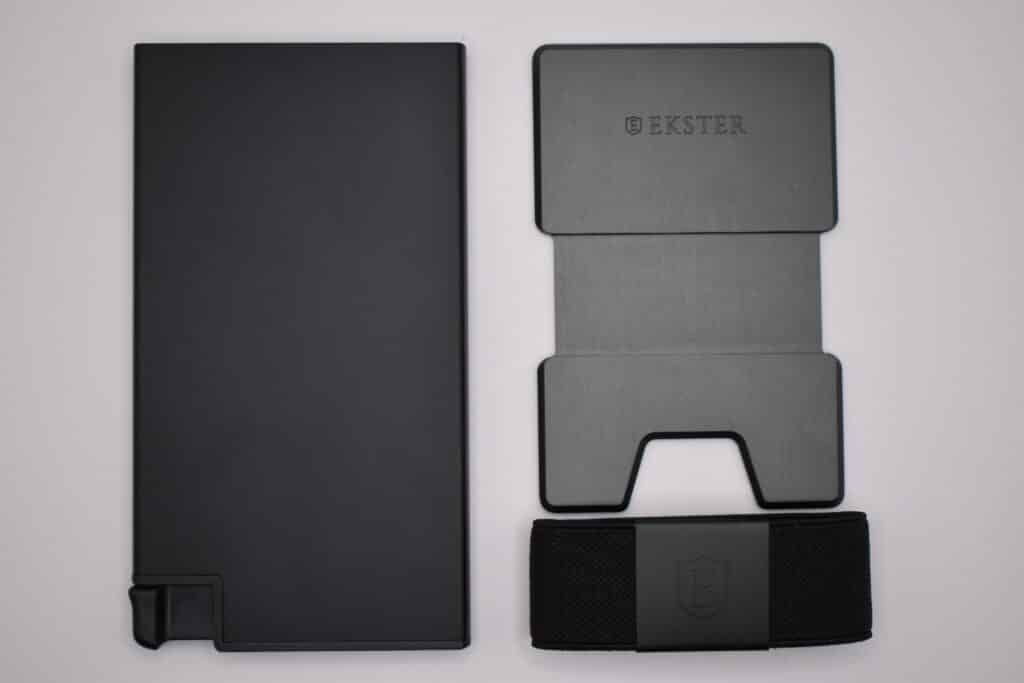 Compared to a standard wallet, the Ekster wallet will feel like a space age marvel. It really does make it extremely quick and easy to access the exact card you're looking for, and its eye-catching design has already netted me a few compliments at my local cafe.
But even compared to other slim wallets on the market today, the Ekster wallet feels very well-designed. We haven't yet found another wallet or cardholder that makes it quite as easy to grab the cards you need, when you need them.
Durability
That clever design does come with a slight tradeoff in the Ekster wallet's overall durability factor, though. The case itself is made of a durable aluminum that you'll never need to worry about—it's the elastic band and plastic mechanism that we're not as impressed with.
Any elastic band will wear out eventually just through the natural course of life. The same goes for any moving plastic parts—they're just not made to last forever in the same way that metal or leather wallet parts are.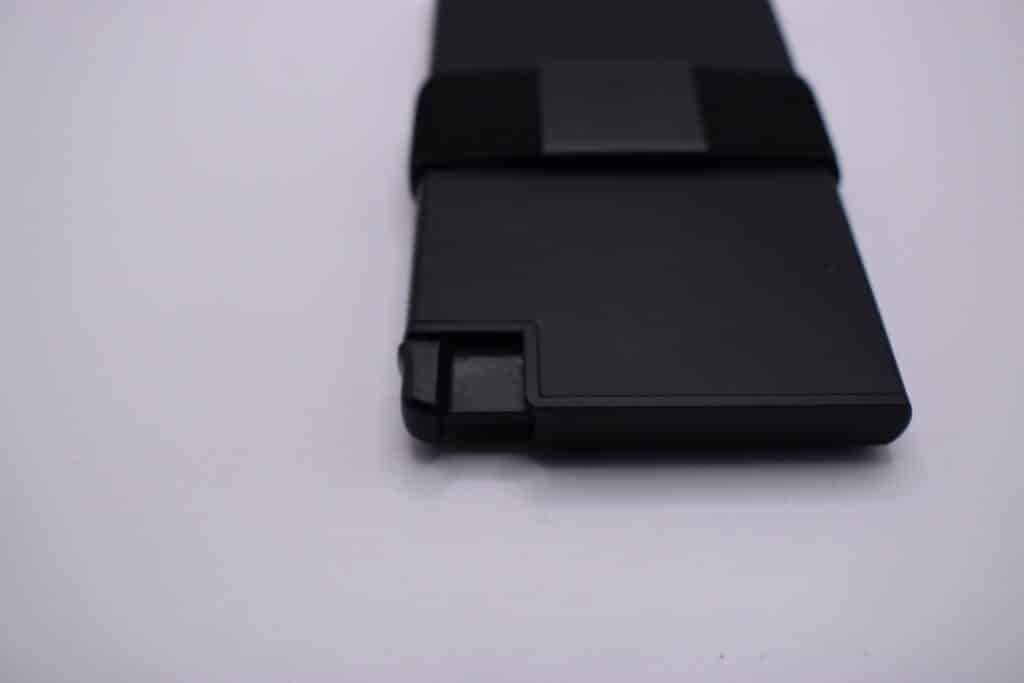 Thankfully Ekster does have a standard one year warranty on all their products, covering any defects in craftsmanship that might pop up. But if your wallet band breaks or the mechanism stops working after that, as far as we can tell you'll have to just buy a new one.
What does this mean for the wallet overall? Only that it's meant more for low-intensity urban activity, and maybe isn't as good of a fit for a guy that's outdoors or in the field more often than they're at the office.
Ease of Use
But for all its potential lack of longevity, the Ekster wallet is far and away the easiest slim wallet we've used.
That fan-out mechanism works beautifully whether you're carrying two cards or twelve. And the band nestles nicely into an RFID blocking plate to do double duty, protecting the security of your cards while tucking your cash away.
So overall, the slick design and exceptional ease of use are the Ekster wallet's biggest strong suits.
Value
At a list price of $79 (and a discounted price of $67 at the time of writing), Ekster's smart wallet is one of the more affordable of the new wave of slim wallets. Even their larger leather-wrapped Parliament wallet comes in under $90.
So at a glance, the price-to-value ratio is pretty good. I have my reservations about that because of the durability issues mentioned above, but overall I'd give it a solid B minus for value.
Other Wallets from Ekster
If the look and feel of the aluminum cardholder featured here isn't really your style, Ekster has a few other offerings that are worth mentioning.
Their leather-wrapped Parliament wallet is a really nice touch for professionals, and it's available in six colors.
The Senate cardholder uses the exact same design as the aluminum cardholder featured here, but wraps it in leather for a different look and feel.
There's also a Carbon fiber cardholder that's super lightweight and basically indestructible.
And lastly, a clever Modular Bifold with a removable magnetic cardholder, just in case you're not ready to give up your old wallet style just yet.
Final Verdict
Taking everything into account, how does the Ekster wallet fare in our estimation?
Overall it's a unique wallet with a design and functionality that we love. It's only hampered by the potential lack of durability that comes with having elastic and plastic components. But it's also one of the most affordable of the new generation of slim smart wallets—so in the end it gets the GearMoose seal of approval.
You May Also Like: Hands-On: The Ridge Wallet vs Ekster Wallet
Disclosure: Clicking on these links and making a purchase may earn us a small referral fee, at no extra cost to you. Learn more here.
freestar.config.enabled_slots.push({ placementName: "gearmoose_leaderboard_btf", slotId: "gearmoose_leaderboard_btf" });