What you need to know about this one-of-a-kind, artistic, and sustainable travel pack.
Let's face it: There's no shortage of gear to choose from in any category, but backpacks are especially abundant. Hundreds if not thousands of brands, styles, sizes, and materials are vying for your attention and your dollars—so how do you choose the right one for your carrying needs, your lifestyle, and your moral compass?
That's what the folks over at Ethnotek have been thinking about for years, after being dissatisfied with the current state of responsible manufacturing for outdoor gear. So to contribute to their mission of supporting traditional artisans, we decided to go hands-on with testing their most popular bag: The Raja 30 liter backpack.
Disclaimer: We were sent the Raja 30 Liter Backpack by Ethnotek in exchange for an honest review.
About Ethnotek
To really get a feel for why this backpack is special, you'll need to know a little bit about the company that's making it. Because while it's easy to think of our gear in terms of cost, materials, and availability, there's a whole network of people and places that support every manufactured item—and those networks range from downright harmful to socially, morally, and environmentally responsible.
Ethnotek is on the far end of being responsible, with the entire mission of their brand supporting ethical manufacturing. The materials from every bag they make can be traced to their sources, which are all vegan, sourced in a socially responsible manner, and made without the use of harmful chemicals or additives.
On top of all that, Ethnotek is actively making new opportunities for skilled artisans in underprivileged areas—all by including a beautifully handcrafted, interchangeable front panel on their backpacks. For the pack we tested, a black-and-white Kente weave from Ghana was handmade by George Ameyaw, a fifth generation weaver in a style with its origins in the 17th century.
Which is all to say: This brand is truly unique in its dedication to making gear that's good for everybody involved.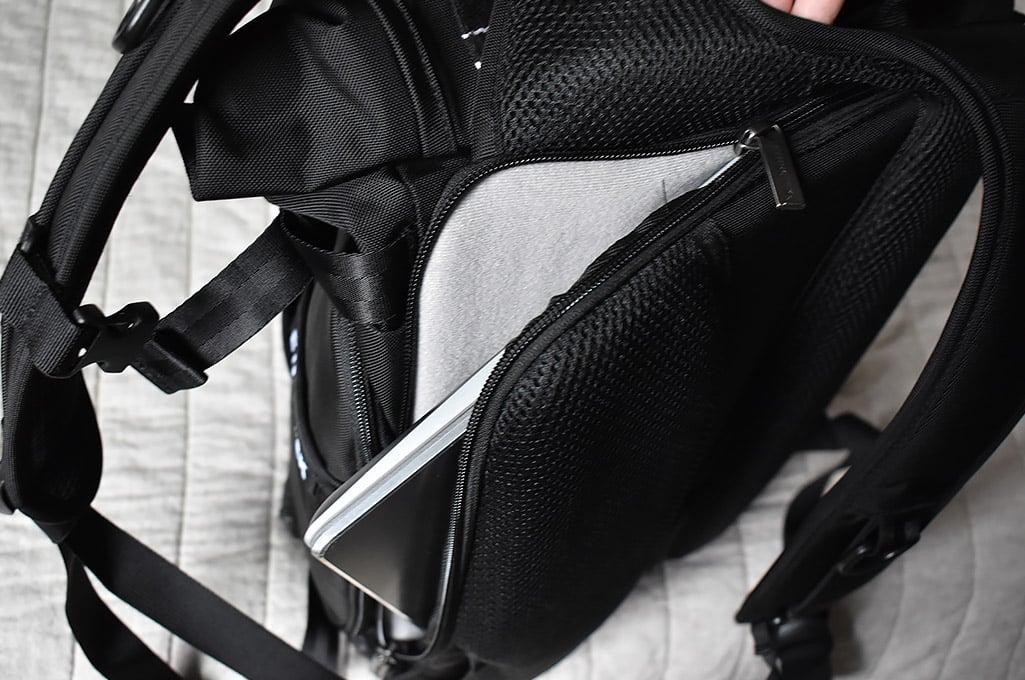 Raja 30 Liter Key Features
We tested the Raja 30 Liter Backpack in the Ghana Kente style; all the following features reflect that.
Laptop compatible up to 17 inches
Waterproof exterior
YKK Zippers
Padded back panel
TSA compatible carry on size
Interchangeable front panel
840D ballistic nylon construction
Dimensions: 12.2" W x 19.7″ H x 6.3″ D
Weight: 2 lbs
Volume: 30 liters
How We Used It
The Raja 30 Liter Backpack is designed as a generous daily commuter that can turn into a darned fine travel pack for short trips, too. Our testing reflects those intended uses as well as a few more, including:
Daily use for commuting with a laptop
Two four mile hikes with a moderate load
Two four mile hikes with a 30 pound load
Packing for a 3-day weekend trip
Cut test on straps
Burn test on corner of bag material
The following sections will explore each of those in more detail, but the gist of it is this: The Raja is a great little travel pack for everyday use, but it will struggle with the upper ends of weight and durability testing. That makes it ideal for people who want a great looking bag, but don't need one that can withstand the rigors of emergency or survival situations.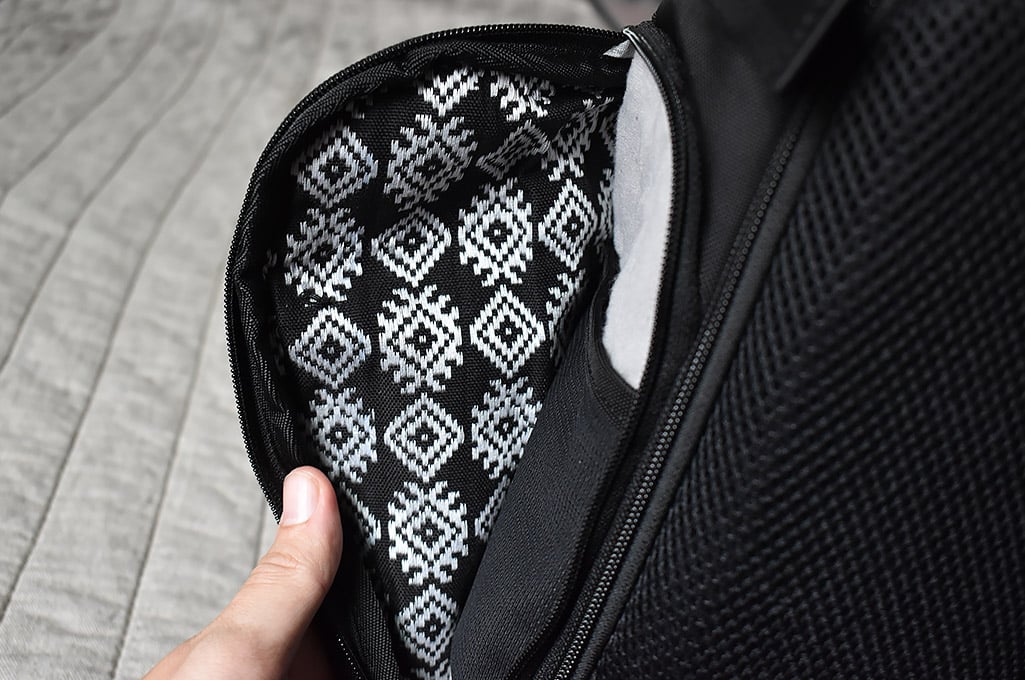 Design and Construction
The majority of the Raja pack is made of 840 denier ballistic nylon. This puts it smack in the middle of the nylon weights used for backpacks: Tougher and more durable than a standard pack, but not as indestructible as tactical backpacks.
To put it in perspective: That weight of nylon makes it quite abrasion resistant, so you can carry and toss it around without worrying about seams ripping or the bag getting a hole in it. But when I ran my daily carry pocket knife against the edge of the strap to simulate what can happen in a "cut-and-run" robbery, the material gave way very quickly.
Plus side though: That weight and style of nylon melts rather than burns, so it's moderately flame retardant, i.e. running a lighter under it (to simulate accidentally backing the bag up against a flame) was enough to melt it a little, but not enough to put a hole in the bag.
That midweight construction will make the Raja a Goldilocks bag for some travelers: Lightweight enough for easy carrying, but sturdy enough for when you need to pack everything up and move on.
YKK zippers are exactly what you want, as they're the standard in durability and smooth functioning for backpack zippers. Note though: They're not completely waterproof, so even though the bag is highly water resistant it can still let some moisture through if you get caught in a heavy downpour.
Pockets abound with the Raja, including: A roll top closure, hidden laptop compartment, external water bottle pocket, external-to-internal grab pocket, and internal mesh pocket. The interchangeable threads we tested were also equipped with a small stash pocket. And plenty of adjustable straps ensure that you can tie any load down securely and carry it comfortably.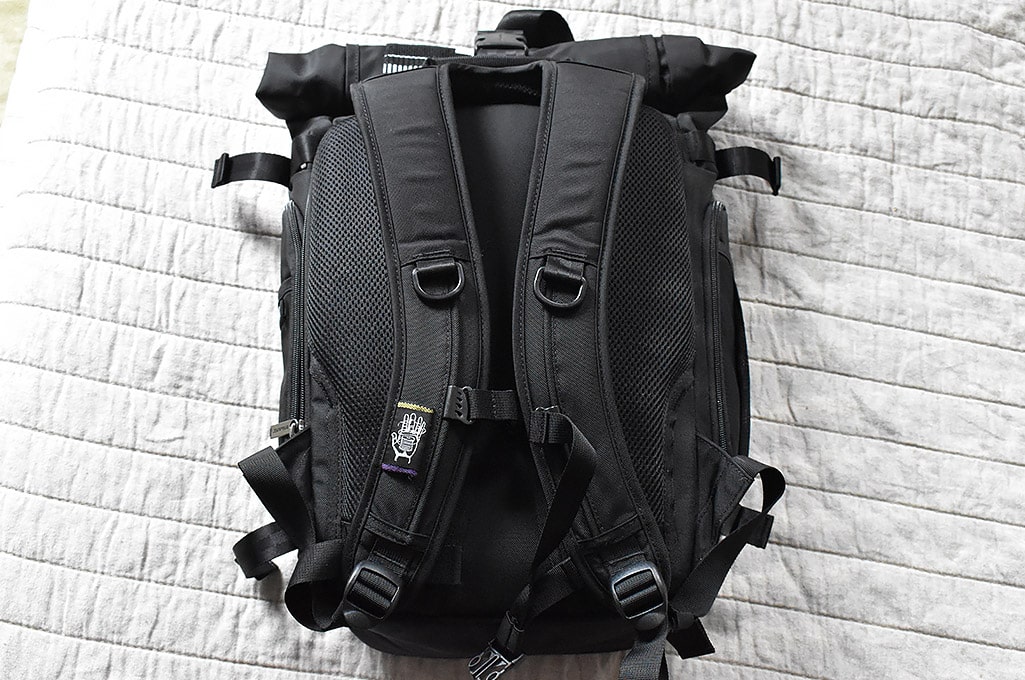 What It's Best At
It seems pretty clear to me that the biggest draw for Ethnotek's backpacks is how they look—and the Raja really is one of the coolest looking packs I've worn. It's awesome that you can choose from 15 different faces (aka "Interchangeable Threads") for your bag (each lovingly made by hand) to personalize it to your style and personality.
It's worth checking out the whole story on the Ethnotek website (click on each of the colors, then read about who made it), but the basic gist is this: The brand's founders have sought out skilled craftspeople across the world, and source decorative coverings for their packs directly from the artisans. That's a win-win for everyone involved, as it leads to beautiful backpacks for us and meaningful work and wages for skilled craftspeople who might otherwise have a hard time finding a market for their work.
When I was carrying the Raja with a moderate load of a camera, water bottle, laptop, keys, etc. on a four mile hike, it was comfortable and easygoing. The medium-weight construction and abundant pocket options make the Raja pretty perfect for casual everyday use. It's versatile enough to pack in many different ways; just focus on stuffing it with your lightweight clothes and gear rather than really adding a lot of weight.
What It's Not Great At
The Raja's biggest strength—its medium-weight versatility—can also be its biggest weakness.
In short, this bag is quite good at many mid-range things, but it doesn't excel in any one category. For a similar price, you can find bags that are lighter weight as well as bags that are made of tougher materials.
There's also one area where I had to get a second opinion on the bag: Whether its straps are comfortable or not, especially at different carrying weights.
For reference, I'm a fairly big guy (6'3", 200+ pounds); and when loaded with about 30 pounds, the geometry and placement of the straps was quite uncomfortable on my neck and shoulders. But when I had a friend (5'7", 120 pounds) test it, she found the placement of the straps and back padding comfortable both unloaded and with a heavy weight.
Which is all to say: Your mileage may vary with this backpack, and it doesn't seem like a one-size-fits-all solution for every body type.
Value
At the time of writing, the Ethnotek Raja 30 Liter Backpack sold for $209; interchangeable Threads covers sold for around $60 each.
Once again, the Raja is right in the middle: Not as affordable as many other backpacks of this size, but not as expensive as top-end 30 liter packs. Given the extra attention that Ethnotek puts into making their backpacks socially and environmentally responsible though, I'd say the bag represents a great overall value, morals and standards included.
Final Verdict: Who Is This Backpack For?
At the end of the day, I'm left with this impression of the Ethnotek Raja: It's a really, really darned cool bag from a company I'd like to support. It's not my perfect bag when it comes to durability or weight, but it's one that I'd be glad to carry with me as an everyday carry option that I can match with my outfits. And if you're looking for gear that's as good for people and the planet as it is for you, Ethnotek should be one of the first brands you look at.
Price: $209
Disclosure: Clicking on these links and making a purchase may earn us a small referral fee, at no extra cost to you. Learn more here.
freestar.config.enabled_slots.push({ placementName: "gearmoose_leaderboard_btf", slotId: "gearmoose_leaderboard_btf" });