Hennessey already built an incredible hypercar with their Venom F5 Coupe but that did not stop them from digging deeper into the well of potential. By retooling the aerodynamics, suspension system, and engine cooling system, the Hennessey Venom F5 Revolution takes it to the next level.
Make no mistake about it, the Venom F5 Revolution is a track-focused, precision-engineered, racing machine. It even weighs less than the original Venom F5 Coupe. In fact, the F5 Revolution tips the scales just under 3,000 pounds. That's an incredible feat for a hypercar with this much power.
Think about it this way, this isn't the kind of hypercar trying to squeeze as much power as it can out of a six-cylinder engine. No way. This baby is making the most out of its V8 engine with an astonishing 1,817 brake-horsepower. That's the hp rating from the crank. As unbelievable as that sounds, it is the truth.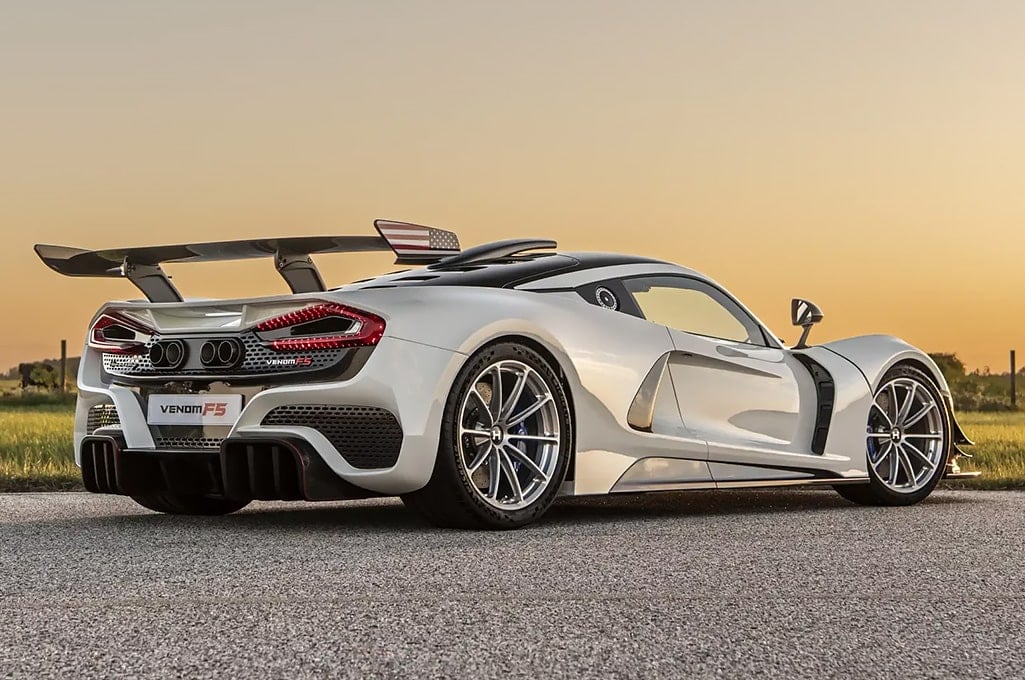 It is a twin-turbocharged 6.6L V8 engine. This is not a small block V8 by any means yet the Venom F5 Revolution still manages to weigh less than 3,000 pounds. As for torque, this twin-turbo V8 produces 1,192 pound-feet for your driving pleasure. With a redline of 8,200 rpm, this high-revving, boosted V8 will bring the speed demon out of any driver.
It gets better. The Venom Revolution has an F5 mode which raises the redline to 8,500 rpm. You will want to drop the pedal to the metal every chance you get. After all, the Venom F5 Revolution features a power-to-weight ratio of 1,298 hp per ton or 1.34 hp per kilogram if you prefer the metric system.
The engine itself creates 277 hp per liter of displacement. This hypercar is sticky on the track with an outstanding drag coefficient rating of 0.39 Cd. That is excellent aerodynamic tuning for a race car, let alone a hypercar you can actually add to your collection.
You'll have plenty of stopping power thanks to the carbon-ceramic brake pads. Since this car can fly, the cockpit is decked out while maintaining a race car theme. You can even opt to use the aluminum paddle shifters in manual or automatic transmission modes.
Although official times have not been released, you can expect the Hennessey Venom F5 Revolution to go from 0 to 62 miles per hour even faster than the 2.6-second time of the regular F5 Coupe. Hennessey claims a top speed of over 250 mph with the Revolution but industry insiders expect this hypercar is capable of breaking the 300 mph barrier with the right tweaks.
Perhaps the best thing about the Venom F5 Revolution is the fact it remains street-legal despite its pure racing DNA. That's right, you can take this ultimate track car out to Starbucks if you wake up feeling dangerous. Why not? With a hypercar like this, the world will look like your playground whenever you are behind the wheel.
Disclosure: Clicking on these links and making a purchase may earn us a small referral fee, at no extra cost to you. Learn more here.
freestar.config.enabled_slots.push({ placementName: "gearmoose_leaderboard_btf", slotId: "gearmoose_leaderboard_btf" });