Shoukei Matsumoto, the monk who wrote about cleaning your house and mind, once said, "when ironing, visualize yourself ironing the wrinkles in your heart." Now I'm no friar, but I firmly believe that the modern casualization of fashion doesn't include superfluous creases on clothes. Few pieces of clothing take as poorly to wrinkles as blazers and suit jackets do. Even more, few storages can create unwanted folds on suit jackets like a suitcase can.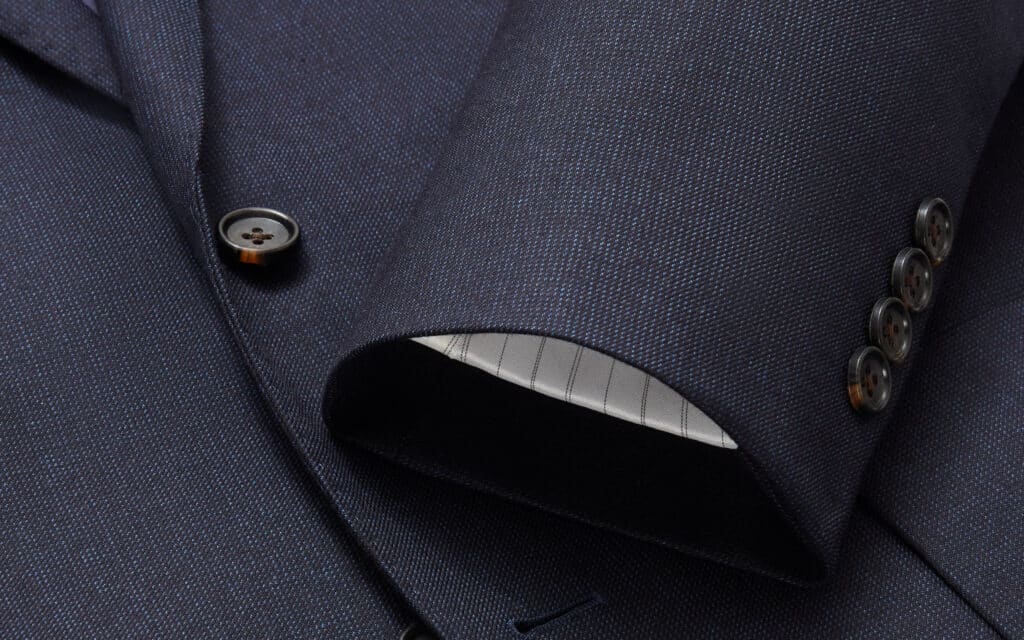 We're going to show you how to pack a blazer in a suitcase so that it comes out intact, and you come out looking like you have your life together. Each of these four techniques corresponds to different suitcase sizes, in order from biggest to smallest.
The dry cleaned, one-to-no fold
If your suitcase is big enough and if you don't care about efficient packing, this method requires one inconsequential fold at most.
First, get your blazer dry cleaned right before your trip. The last step in the dry cleaning process is a professional steam, which refreshes the fibers on your blazer and fortifies its structure. Basically, your jacket gets in fighting form, a state in which it's least receptive to creases, no different than how stretching before a workout prevents cramps.
All you need to do is keep the jacket on its hanger and in its plastic covering so that nothing rubs against it, including parts of itself. Then you can throw it on top of a very loosely packed suitcase.
If you need to, you can softly fold it across the middle, taking the bottom of the jacket up to the top. If your suitcase isn't cramped, and if there's nothing heavy in there, the plastic acts as a barrier, helping prevent the soft fold from sticking in any real way.
The tucked shoulder fold
For those of us who'd rather not check our bags in while flying, the tucked shoulder fold is your best bet, since it works for most mid-sized suitcases.
Find a flat, clean surface, and place your blazer on it, unbuttoned and spread, so that the interior is on the surface, and the exterior is facing you.
Then, from the exterior, pop one shoulder into itself, as if you're starting to turn the sleeve inside out, but stopping short, so that the sleeve is still hanging from the exterior. We'll call the side with the popped shoulder, Side A, and the other side, Side B. What you're doing with Side A's shoulder is creating a recess that Side B's shoulder can fit into.
Shoulder popping, by the way, is common in most blazer folds, since it helps maintain the shoulders' integrity, which is a key quality in ensuring the entire jacket looks neat and structured.
So, take Side B's shoulder, again the unpopped shoulder, and tuck it into the popped shoulder of Side A.
At this point, Side B is already starting to fold into Side A, so complete that fold by tucking Side B's exterior into Side A's exterior. You've now created a longways fold in which you can see Side A's interior on top of Side B's exterior.
The sleeves are lying on top of each other, and the jacket's entire exterior is fully covered.
Finally, you'll fold your piece of blazer origami, by taking the top where the lapels are, and bringing it down to the bottom of the jacket. And again, make sure it's at the top of your suitcase.
The envelope fold
This envelope fold is so compact, you can actually put it in a duffel. It takes some practice though, since you have to pay close attention to reducing folds that aren't on the jacket's seams.
This time, you're going to pop both shoulders. Just like with the tucked shoulder fold, you'll do this from the exterior. Pop the exterior shoulders into themselves, again, as if you're starting to turn the sleeves inside out.
With the interior on the outside, fold the blazer in half, longways, by bringing the lapels to each other.
The result should be a longways, inside-out, halved jacket, with the lining fully exposed and the sleeves and exterior fully hidden. If your blazer were a taco, the lining would be the folded tortilla, and the exterior and sleeves would be the al pastor inside of it.
On a flat surface, take the bottom edge of the blazer, and fold it by bringing that edge to the center. Then fold the top, where the shoulders and lapels are, over that. It's a three-portion fold, just like the way a letter is folded for an envelope.
The burrito roll
From taco to burrito metaphors, this method requires no folds at all. Rolling your clothes instead of folding them is often considered a space-saver since it presses air out from between folds.
This starts 100% exactly like the tucked shoulder fold. Meaning, you'll pop one of the shoulders into itself, then take the other shoulder and tuck it into that shoulder hole. Then, you'll fold it in half so that the tucked shoulder side's interior is on top of the other side's exterior, and both sides of the exterior are touching.
From there, instead of folding it in half, you'll place some pairs of socks or underwear on the top portion of the blazer, then roll it up like a burrito—or a sushi.
In fact, if you find yourself in a situation in which you absolutely can't avoid having a full, tight suitcase, try any of the above techniques, but with socks and underwear in between each fold.
It's not a guarantee, but this can prevent folds from sticking and turning into creases. At the very least, any potential lines would be less deep-seated, and could potentially be tempered by hanging the blazer in the bathroom while you take a long, steamy shower.
Our Picks: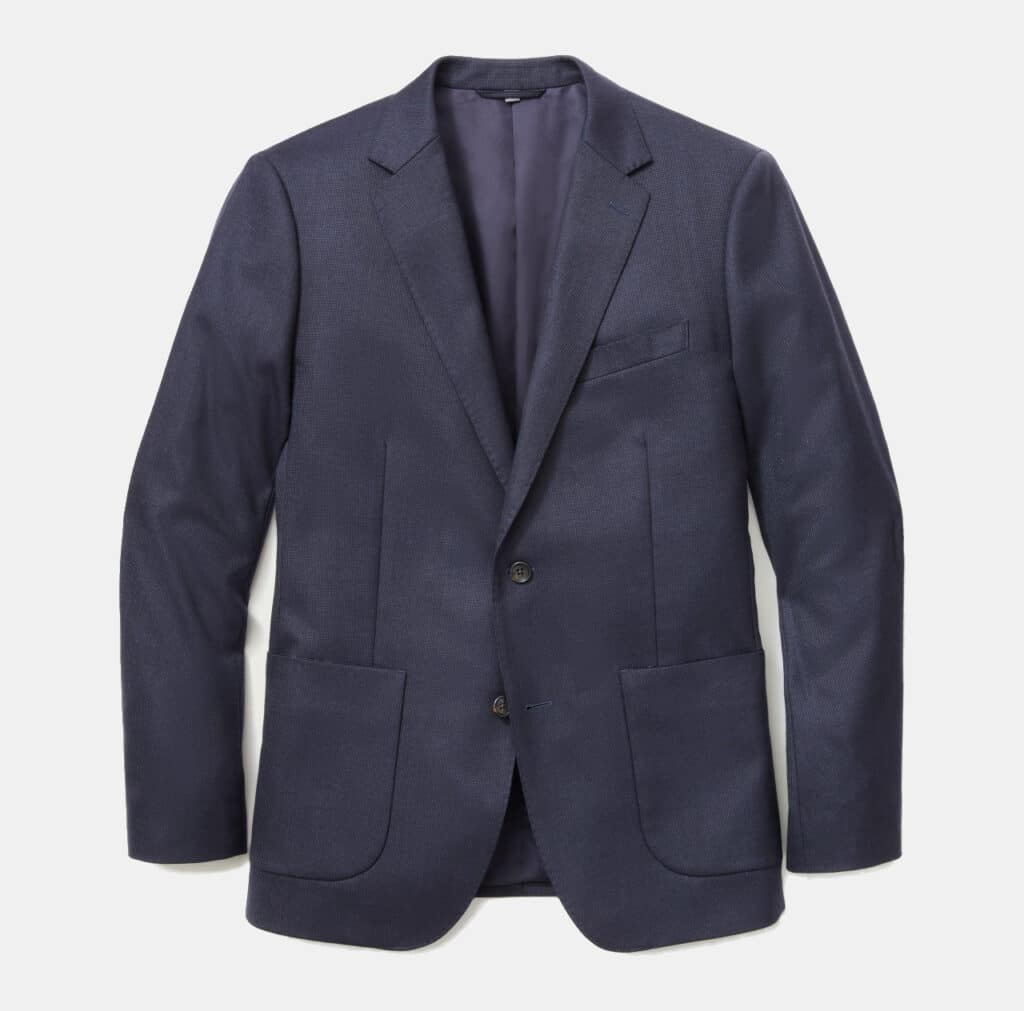 Bonobos Jetsetter Stretch Italian Wool Blazer
Stretch fabric for better range of motion. – $400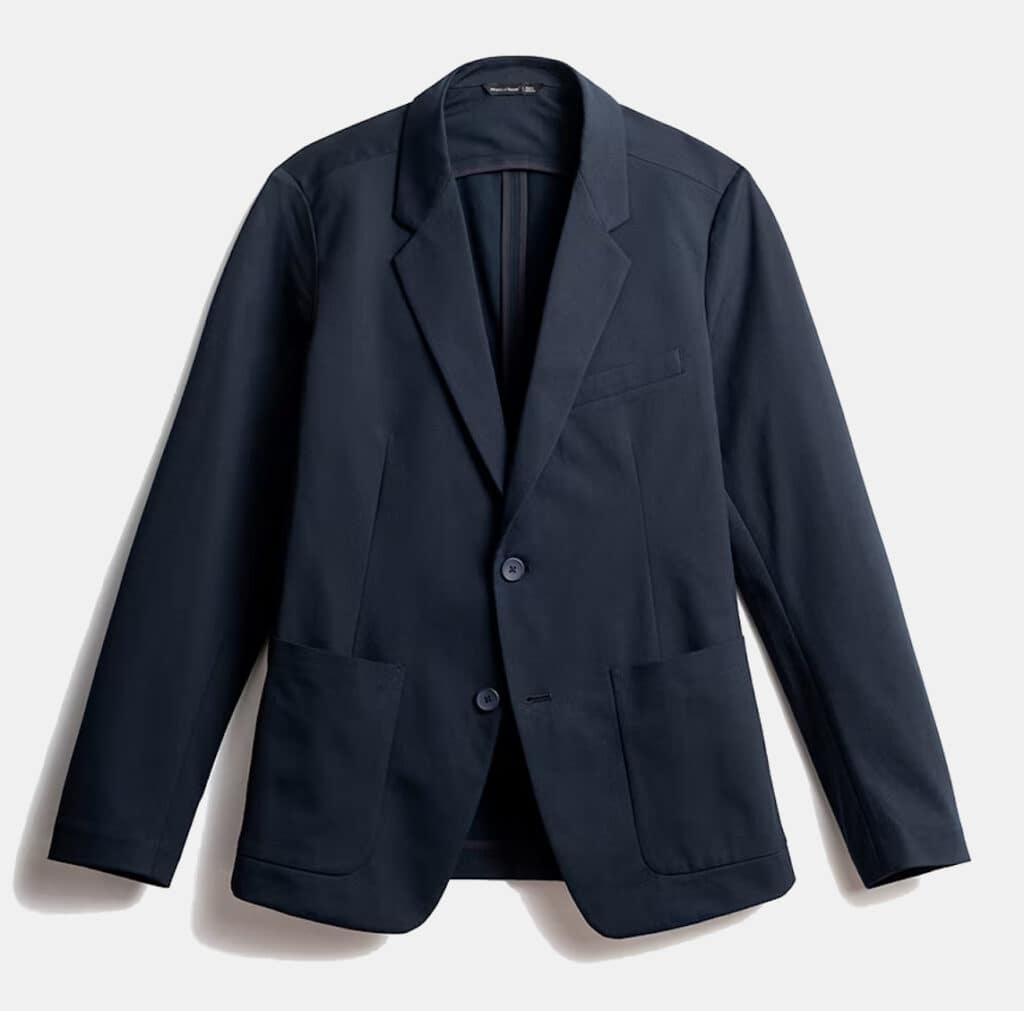 Ministry Of Supply Kinetic Blazer
Unlined for mobility and an updated fit. – $348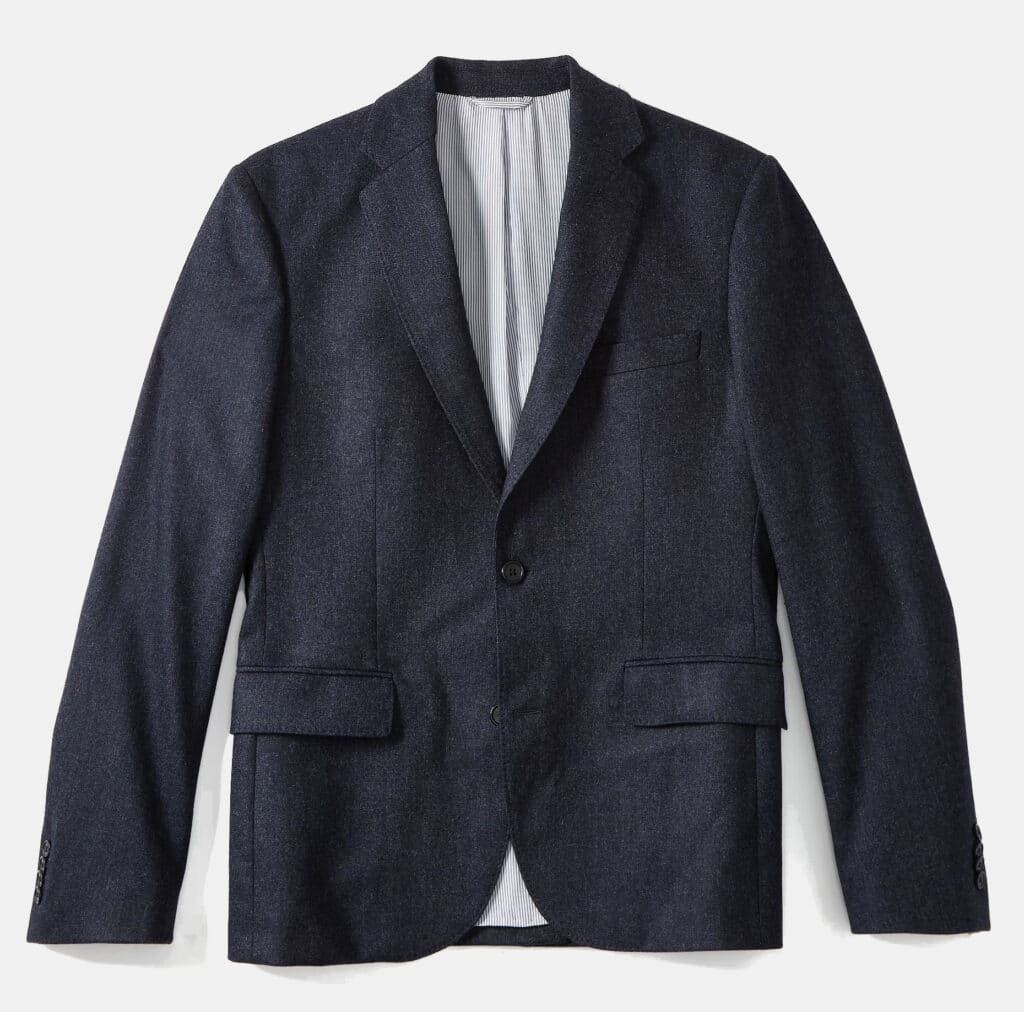 Wills All Seasons Stretch Wool Blazer
A structured blazer that's both modern and breathable. – $328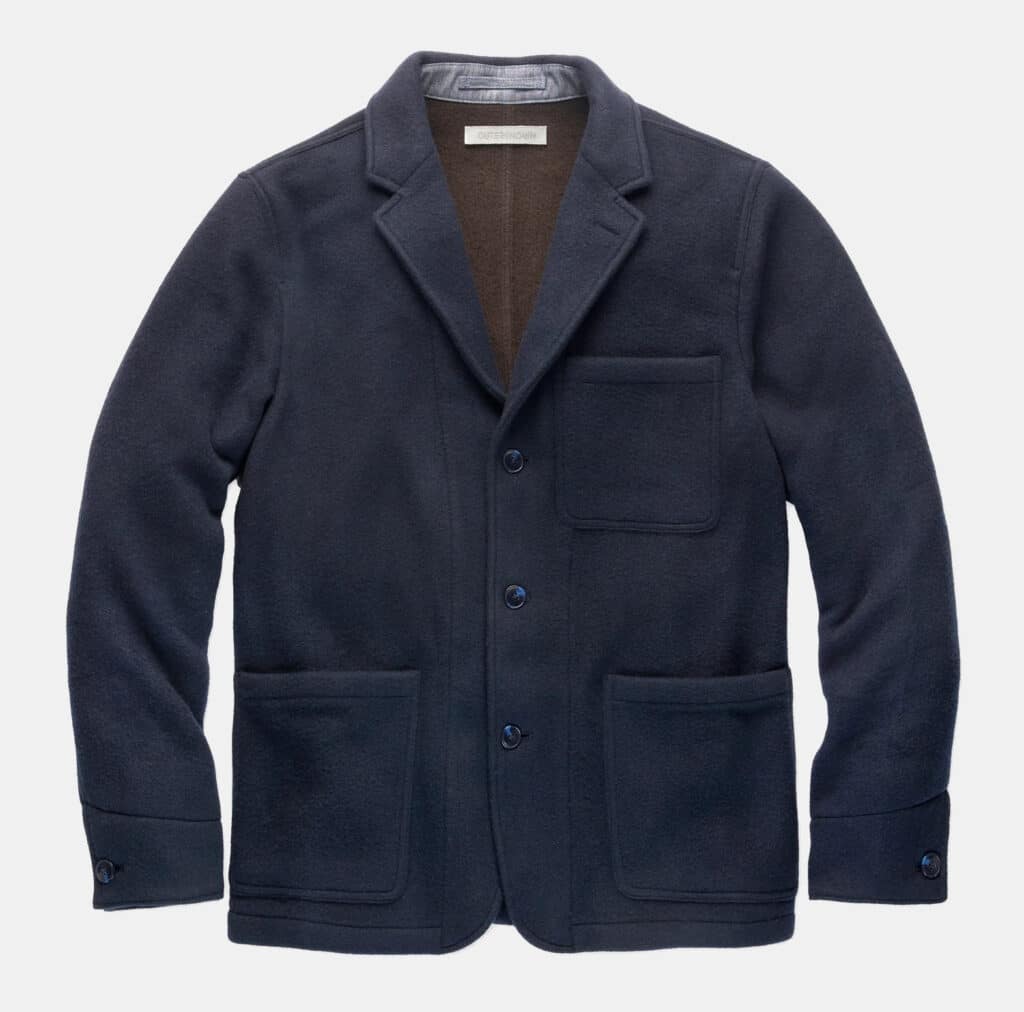 Outerknown Wayfarer Wool Blazer
Heavyweight yet soft. – $398
Disclosure: Clicking on these links and making a purchase may earn us a small referral fee, at no extra cost to you. Learn more here.
freestar.config.enabled_slots.push({ placementName: "gearmoose_leaderboard_btf", slotId: "gearmoose_leaderboard_btf" });