What happens when you combine retro sports car styling with a hydrogen fuel cell EV hybrid powertrain? You get the Hyundai N Vision 74 Concept which is turning a lot of heads in the automotive industry. If Hyundai was not on your map before seeing the N Vision 74 Concept, they will be from now on.
This car deserves all the respect it is getting and for good reason. Not only does it look incredible, it brings a lot of performance to the table. The N division is Hyundai's high-performance division and it's safe to say they've been busy lately. In fact, for the past seven years now, they have been trying to master the hybrid combination of EV battery systems with fuel cell power.
The N Vision 74 Concept is the culmination of their growing expertise. The body design pays homage to the 1974 Hyundai Pony Coupe concept car. That car was designed by none other than Giorgetto Giugiaro himself. That Pony Coupe concept car was never able to make it to production so Giorgetto made a few changes to the design which eventually became the legendary DeLorean DMC-12.
As for the N Vision 74 powertrain, this hydrogen hybrid is quite innovative. Obviously solving the issue of limited range which is associated with battery-powered vehicles is where the hydrogen fuel cell factors into the equation. The two combine to power the electric motors of the N Vision 74 to provide a total range of 373 miles.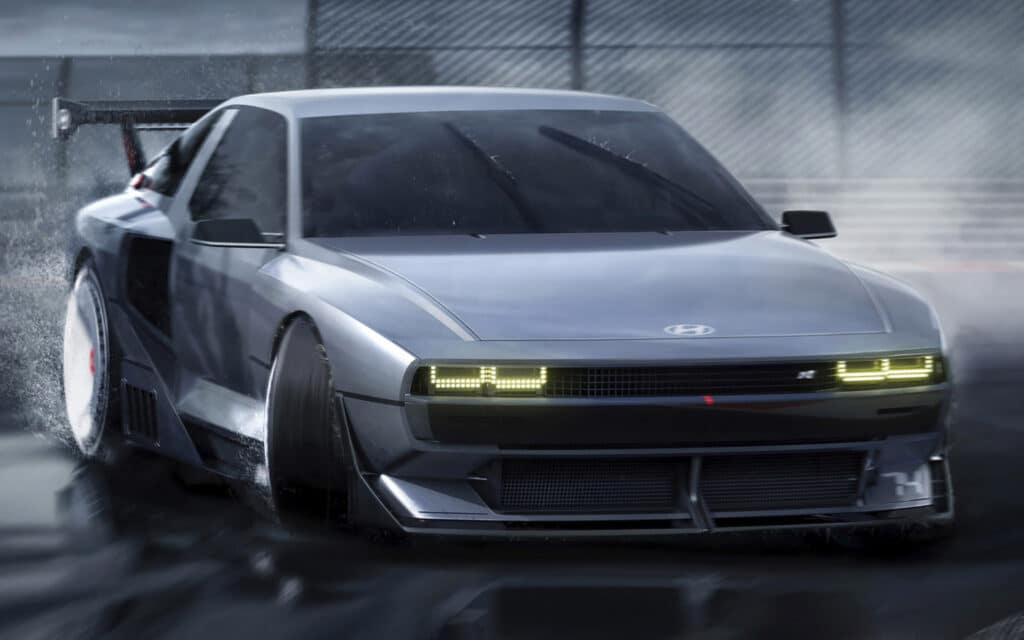 Of course, you don't hop into a car like this without the intention of driving it as hard as you can. That is obviously going to decrease that range significantly. However, you have access to 580 horsepower along with 664 pound-feet of torque at your disposal. That means it's time to put the pedal to the metal.
Hyundai says the N Vision 74 can reach a top speed of over 155 miles per hour and it can go from zero to 60 mph in only four seconds. They even plan on adding a front motor to the N Vision 74 in the future which will only make this car faster.
If you pop the hood on the Hyundai N Vision 74 Concept, you will not see a motor. Instead, you will see the hydrogen fuel cell. In the trunk you will find a pair of hydrogen storage tanks. The battery rests between the seats providing optimal weight distribution for high-performance driving.
As of right now, the N Vision 74 is a rear-wheel-drive car with two electric motors powering the rear wheels. Unfortunately, there is a good chance Hyundai will never bring the N Vision 74 Concept into production. That is a real shame because buyers would happily line up to get their hands on this gorgeous car.
Disclosure: Clicking on these links and making a purchase may earn us a small referral fee, at no extra cost to you. Learn more here.