Kahn Land Rover Defender 90 Flying Huntsman Long Nose
Flying Huntsman, a Kahn Design brand, specializes in redefining the coachbuilt vehicle standard by raising the bar. Refined for those with a taste for the obscure, the Land Rover Defender received a makeover of its own through the Flying Huntsman brand.

Despite the stealthy Volcanic Rock Satin exterior paint finish, the most visibly noticeable modification is the longer nose of the Kahn Long Nose Land Rover Defender 90 Flying Huntsman. In fact, the nose has been extended by 400 mm, that's a little over 15 inches if you're keeping count.

A black leather interior keeps the driver and passengers comfortable while riding in luxury. Hand crafted by former architect, Afzal Kahn, the Flying Huntsman Long Nose Land Rover Defender 90 continues his reputation as a coachbuilding extraordinaire.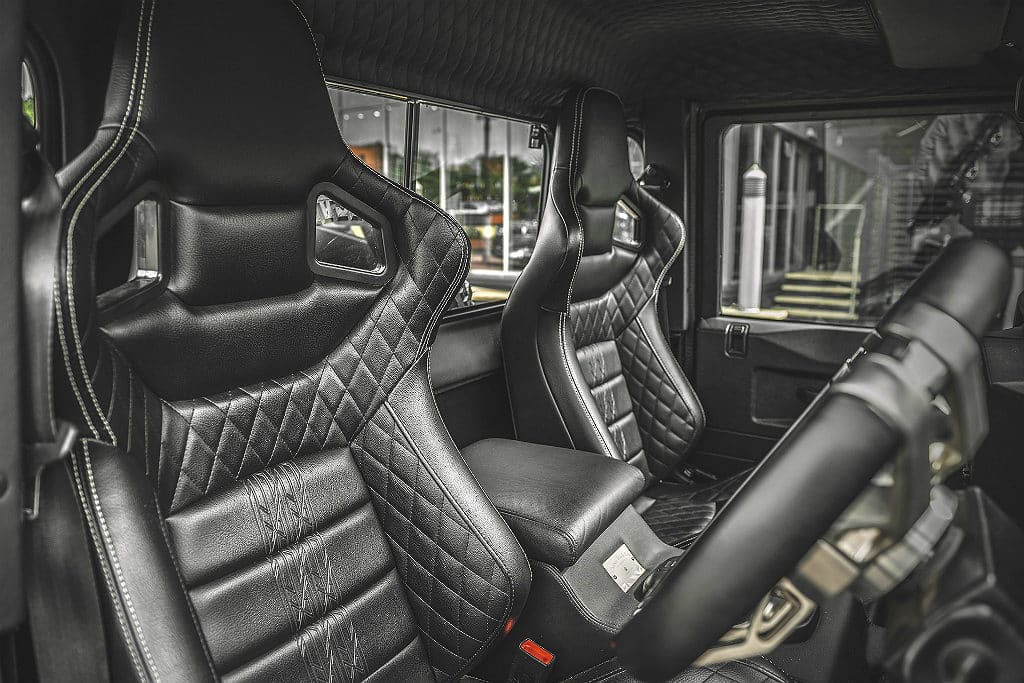 The Land Rover Defender 90 got its name from its 90 inch wheelbase. Flying Huntsman has extended the wheelbase to 105 inches. This is why the Flying Huntsman version of the Defender 90 is also called the Flying Huntsman 105 Long Nose.

Known as one of the best four wheel drive vehicles ever built, the Defender brings a lot of toughness to the wilderness. At the end of the day, this Flying Huntsman Defender still has every bit the 4×4 heart and soul of Land Rover's legendary Defender. However, the Land Rover Defender 90 Flying Huntsman 105 Long Nose sports the kind of improved aesthetics and performance Kahn has become known for.

With limited chances to get your hands behind the wheel of these hand built custom vehicles, the opportunity seldom knocks twice.
Disclosure: Clicking on these links and making a purchase may earn us a small referral fee, at no extra cost to you. Learn more here.