Lucid needs no introduction to EV enthusiasts. The company has been working very hard to deliver high-performance electric vehicles in a luxurious package. As is usually the case, hard work pays off. The Lucid Air Sapphire Electric Vehicle is described by the company as being "the world's first fully electric luxury super-sports sedan".
There are many fans of luxurious super-sports sedans all around the world. From the BMW M5 to the Porsche Panamera, the luxury sports sedan found its niche within the automotive market. However, taking it to the next level is really what Lucid set out to do and the early returns look very promising.
For example, a 2023 BMW M5 produces 600 to 617 horsepower out of a twin-turbo 4.4L V8 engine. In order to see how impressive the Lucid Sapphire is, consider the fact that it delivers over 1,200 hp pumping out of three different electric motors. That is more than double the hp of a stock 2023 M5.
In fact, that makes the Lucid Sapphire the most powerful production sedan in the entire world. It can go from 0 to 60 miles per hour in under two seconds.The Sapphire can also go from 0 to 100 mph in under four seconds and it can go from 0 to 200 mph in about nine seconds, which also happens to be its quarter-mile time.
However, this electric sedan is not only about extreme high-performance. The interior experience is posh and elegant, providing features such as limo-like rear legroom and a very spacious trunk and frunk for your convenience. You are surrounded by quality materials with impeccable craftsmanship throughout the interior and exterior of the Sapphire Electric Vehicle.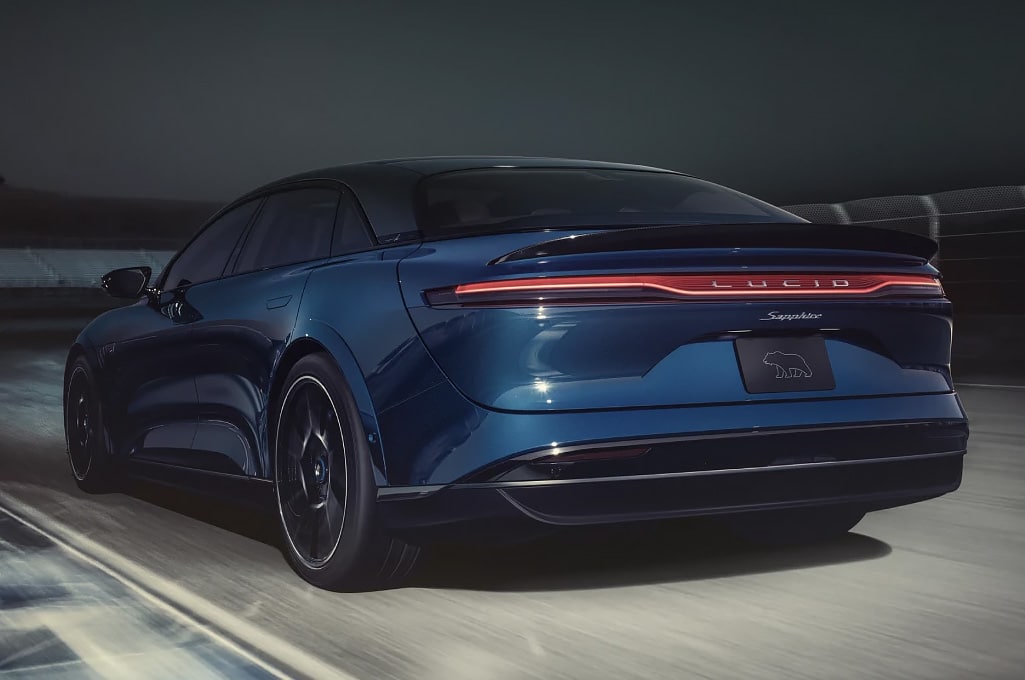 Here is where most driving enthusiasts lose their mind over the Sapphire though, it actually features track-capable handling and braking capabilities right out of the box. You seriously can take the Sapphire EV to the track on day one and run laps around most anything else out there.
Now, don't let its race car-like track performance fool you. The ride is still smooth sporting exceptional quality rather than a jolting sports car-like experience.
Lucid decided to use carbon-ceramic brakes to meet the demanding stopping power needs of any high-performance EV. This is important when factoring high-performance braking, you do not want your pads to glaze over because they get too hot. Electric vehicles are still pretty heavy which can be very tough on your brake pads and rotors. Lucid kept that in mind and made sure to provide you with the right braking system for this vehicle.
The Lucid Air Sapphire Electric Vehicle even features advanced torque vectoring technology managing the rear wheels. Keep in mind, this is still an all-wheel-drive EV but the torque vectoring can send different amounts of torque to each of the rear wheels depending on your driving demands. This improves handling immensely.
You will even notice how much aerodynamic tuning Lucid Air put into the Sapphire. Lucid really did not leave a single stone unturned when engineering the Sapphire to be the best super-sports EV sedan that it could be.
There is a small catch, the Lucid Sapphire is a limited-production model. Slated for release in 2023, you will need to drop about $249,000 to get your hands on this incredible machine. Lucid is already accepting reservations so don't miss your chance to be one of the first to experience the most powerful sedan in the world.
Disclosure: Clicking on these links and making a purchase may earn us a small referral fee, at no extra cost to you. Learn more here.