Before its wider release, Nike's Killshot 2 has been a sort-of Halley's Comet in the sneaker world. Okay, so the comet only emerges every 75-ish years, while the Killshot 2 has appeared in limited runs almost annually since 2009. But for the sneaker's devoted patrons, it's been easy to miss these windows of purchase opportunities. 
Despite its sub-100 price point, fakes exist on secondary markets. Ironically, it's possible that a knock-off out there might even be made with nicer leather. That's not the point though. This shoe isn't necessarily built to last, likely why fans constantly make appeals to Nike to never stop making it.
So why such a legacy? Is it just its easy-to-style vintage charm? Do sneakerheads simply love the associated hunt? To find out why and how these menswear favorites garnered so much esteem, I got my hands on a pair of Killshot 2s.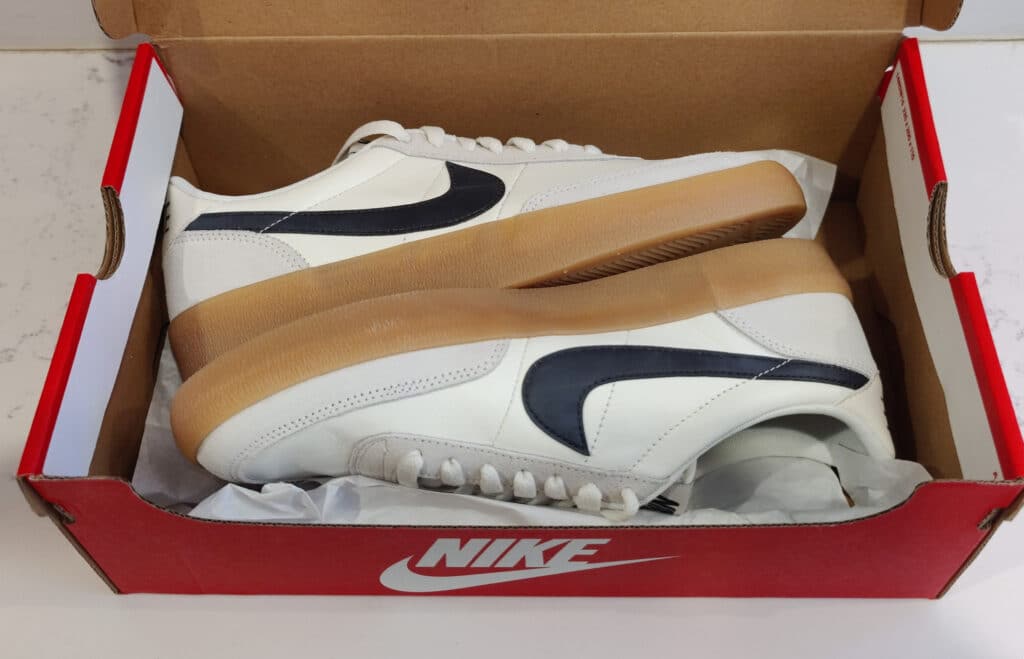 Iconic design
Born of a partnership between J.Crew and Nike, the Killshot 2, as its name suggests is based on a predecessor design. The original Killshot was more of a performance shoe, made with a mesh upper and suede accents.
The sequel model replaces the mesh with leather and is advertised as more of a "lifestyle" shoe versus an athletic one, which is likely why Nike decided J.Crew was the better vehicle to sell them between the two.
Right out of the box, I can tell why it's such a versatile shoe. It's slim and streamlined, instantly recognizable, and it has a delightful '70s vibe about it. When it comes to the silhouette, there's more of a descent from the top of the tongue to the tip of the toe compared to the first Killshot, which makes it less bulbous, more tapered, but still flat.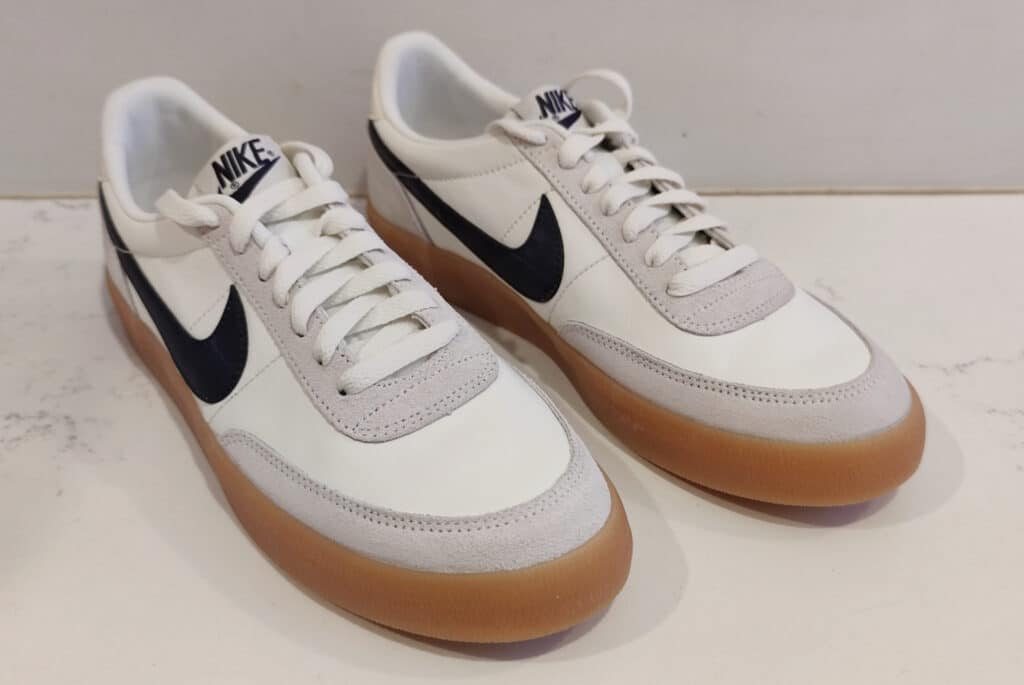 It combines the retro look, with its GAT-like gum sole and old school Nike logo on the back, with the preppy J.Crew aesthetic. Part of the latter comes from its elegant, understated approach to color. I have the version with the black swooshes, though all of the colorways are equally as adaptable. Even the variants with the blue, red, or green swooshes are still pretty neutral. The added color serves more as an accent, largely unaffecting the overall look.
In general, the Killshot 2 is a little bit of everything, without leaning too hard into anything—just a bit preppy, just a tad streetwear, and only a skosh sporty. It can fit into basically any personal style, pairing beautifully with jeans, khakis, cargo pants, shorts, t-shirts, button-ups, heck, even Hawaiin shirts if that's your thing.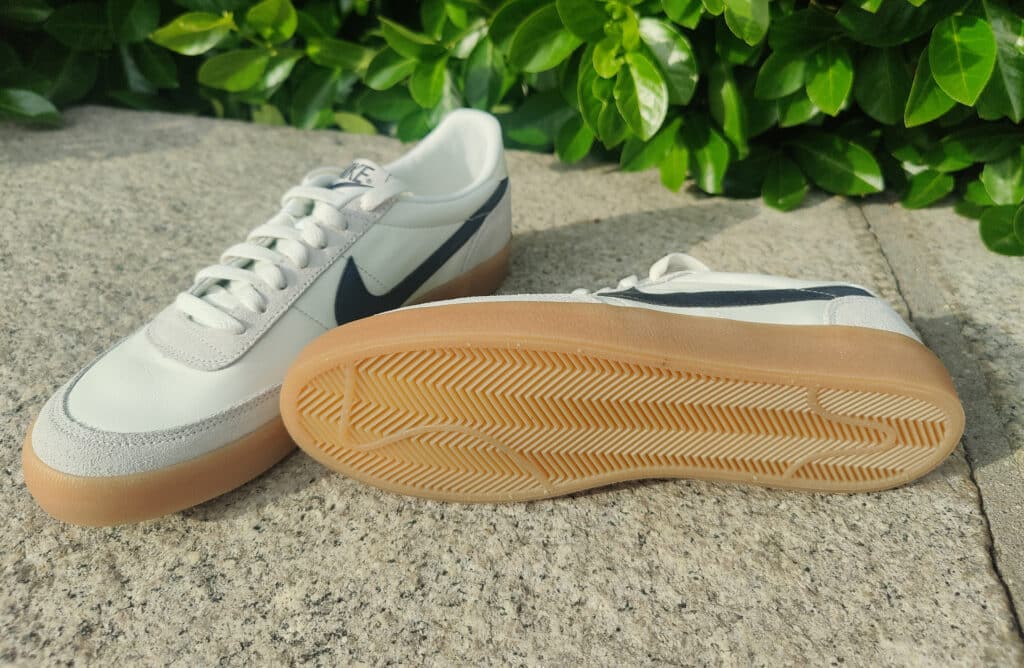 Unchanging construction
Let me start this off by reiterating that this shoe is easily found for under $100. That being the case, no, you don't get that wow-factor leather aroma from opening the box the way you would with, say, a Common Projects Achilles.
In fact, the leather on the Nike swoosh is probably, very likely, faux leather and the tongue is definitely synthetic. Meanwhile, the overall quality of the upper has a textured but paper-like feel to it, which is what gives it that signature marshmallowy surface—you just don't get that with thicker leathers.
And speaking of marshmallows, I liken the Killshot 2 to a fun original version of a comfort food that's maybe not the healthiest rendition. Compare that to the newer, far more expensive, full-grain leather sneakers inspired by vintage low-profilers (the Achilles or even Koio sneakers, for example). They're like the new fancified, organic versions of said dish. Both serve a purpose, but the original is irreplaceable.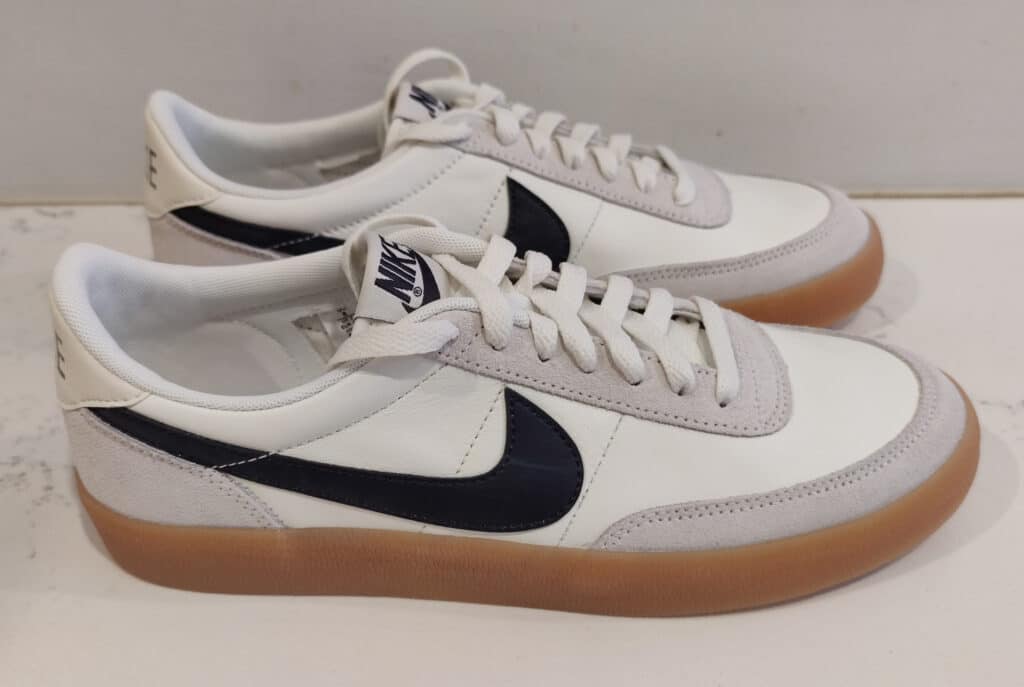 The Killshot 2 is essentially a beater meant to be beat, and always has been. It was, and technically still is, a low-stress casual shoe, at least construction wise. Besides, the crease it gets right below the eyelet stay gives it loads of character.
If you want, you can prolong your Killshot 2's life by cleaning it with a solution of water and a touch of detergent, or even go big with actual leather cleaner. I did this after a particularly muddy post-rain walk in the park, and they came out of the other side better than new. Before cleaning them, don't forget to take the laces out and bang the shoes together to get any loose dirt off.
Some might say that putting leather conditioner on such a budget item is a waste of time, but others who've missed several opportunities to purchase or repurchase these shoes might disagree. Again though, the Killshot 2s have experienced a wider release, which I'll get into a little later.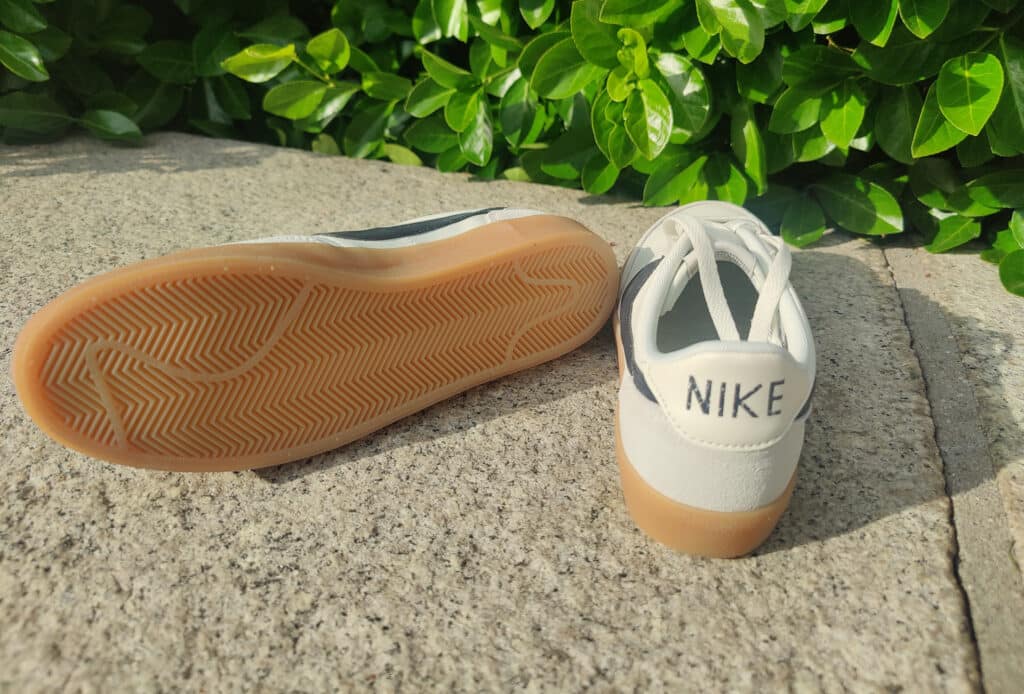 Moving on to the inside of the shoe, the insole is pretty flimsy. It isn't offensive at this price point, and you can always replace it if you want. The midsole is pretty flat and solid, which provides enough comfort for everyday wear, but it definitely isn't the athletic shoe the original Killshot was.
And of course, the gum outsole has a decently grippy bottom, and that old school tennis shoe look. For a shoe known to be streamlined and simple, it definitely has loads of signature design elements.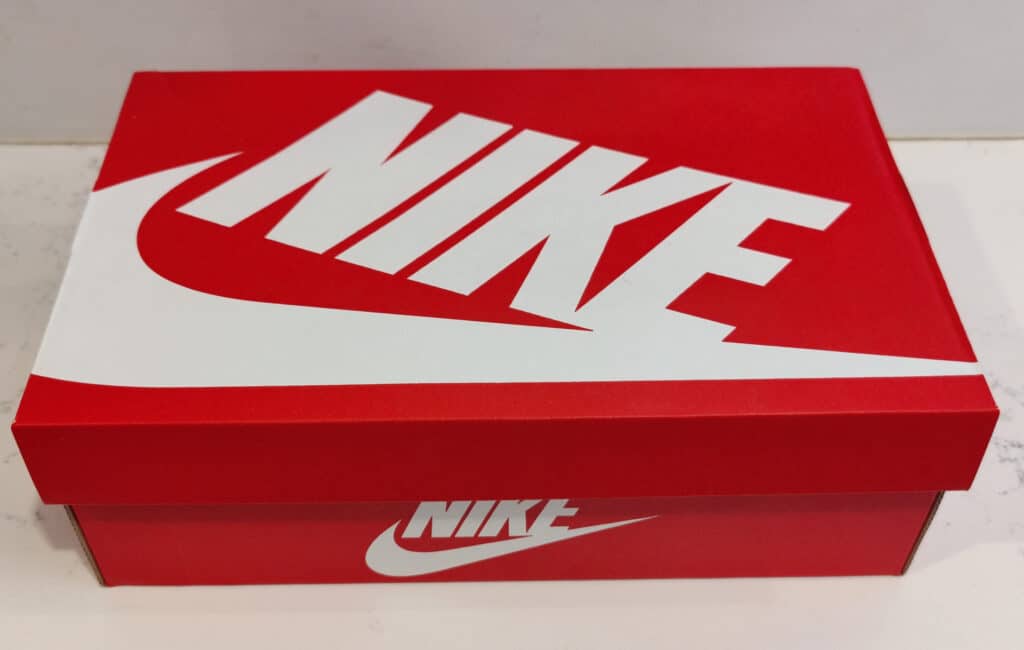 A history of the Nike Killshot 2
The original Killshot came out in 1979 as a court shoe, though its casual versatility made it popular in and outside of the racquetball and squash courts. As mentioned, instead of leather, it was made with breathable mesh.
It had one successful run. However, its legendary status and the world's love affair with vintage meant that even much later, in the internet age, Killshots were selling on eBay for sometimes up to $300. They often still are, by the way.
Then in 2009, J.Crew and Nike joined forces to release the Killshot 2. Frank Muytjens was the head designer for J.Crew at the time. A man of contrasts, Muytjens often mixed visuals associated with cosmopolitan and rustic, old and new, high and low. He decided the second coming of the Killshot should be less of a performance shoe, with a sleeker silhouette.
J.Crew being a preppy staple, the Killshot's classy low-key, tried-and-true aesthetic introduced the Ivy set, the normcore crowd, and the anti-fashion folk to the world of sneakerheads and hypebeasts. Figuring out which demographic the Killshot 2 has captivated the most is as difficult as defining what "cool" is. At this point in time though, most would agree that the Killshot 2 is cool factor manifested.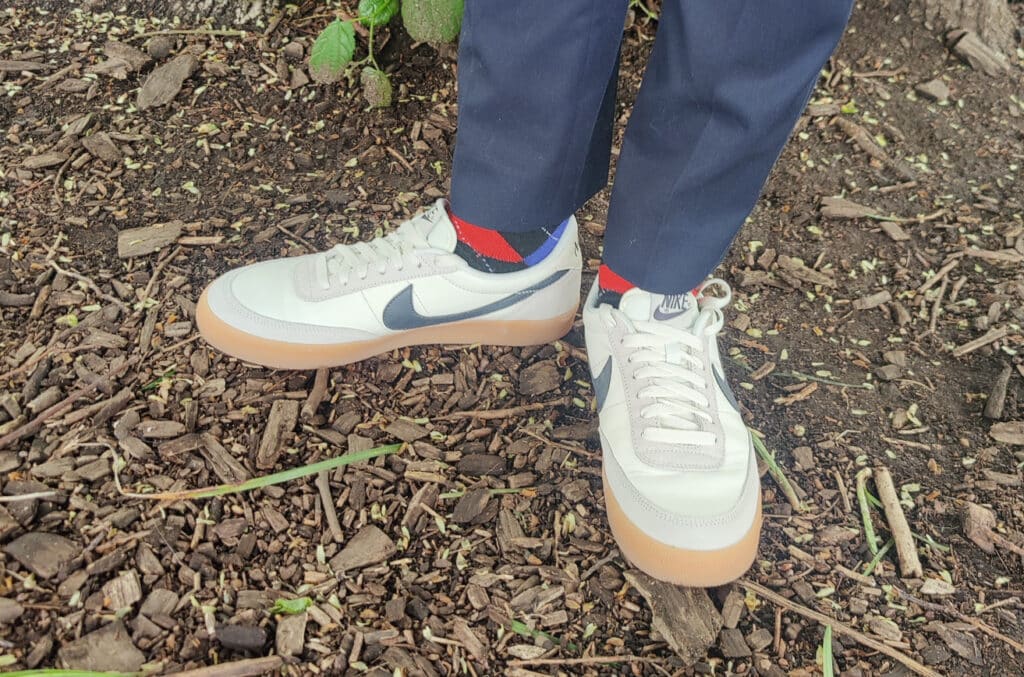 The Killshot 2 was sold exclusively through J.Crew. Customers were limited to one purchase each. You can call this the beginning of its infamous "attainable elusiveness." Everytime a new batch was released, it would cause an uproar in the sneaker community. I'm talking Jingle All the Way madness at physical stores and lightspeed clicks online.
This was definitely a big part of the Killshot 2's journey into icon territory. After all, for most sneakerheads, the pursuit is a big part of the experience.
When J.Crew filed for bankruptcy in 2020, Nike fully took over the sale of the now beloved sneaker, starting with blue-swoosh versions stocking the shelves of several brick-and-mortars. Still, even prior to that, in August 2019, ten years after the original exclusive release, the Killshot 2 received a wider inclusive release.
The way the adidas Stan Smith or the Converse Chuck Taylor are affordable, yet iconically associated with their own unique histories, the Killshot 2 will always be associated with the hunt, the high-pressure, high-stakes shopping experience that helped characterize its cool status.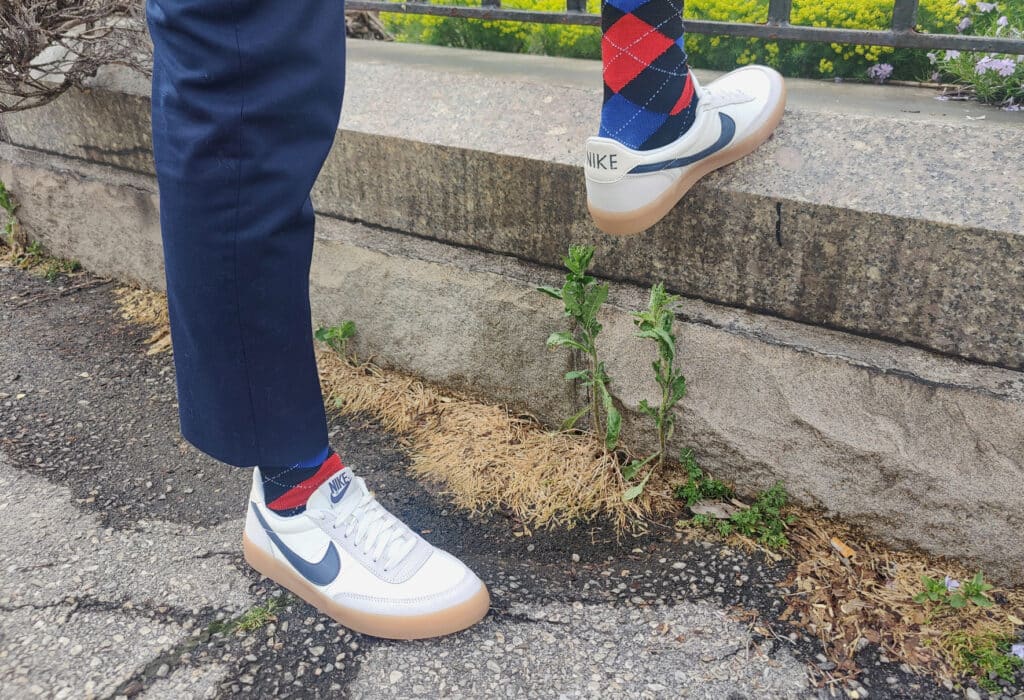 The Nike Killshot 2 in action
I've only had these shoes for a few days at the time of this writing, but I definitely put them through their paces.
I'll start with the fact that despite it being a bit narrow, it's a perfectly comfortable casual shoe. There's a lot of extra toe space, to the point where I've known people to go down half a size.
They're also really easy to get in and out of. Once you put them on for the first time, you can tie the laces pretty tightly and basically treat them like slip-on shoes from then on. Or, if you're me, you can just tuck the laces into the sneakers themselves. I prefer the no-knot look. I think it better matches the unified, clean design.
Other than some pinkie toe rubbing, I didn't experience any real break-in period. The first time I wore them, I spent a good four hours on foot, stomping cement, grass, and dirt during a picnic in Central Park. And since I only drank half of the contents in my flask, my judgment and pain sensitivity were largely unaffected. If pinkie rubbing bothers you more than it does me, bandaging them up will keep them nice and protected.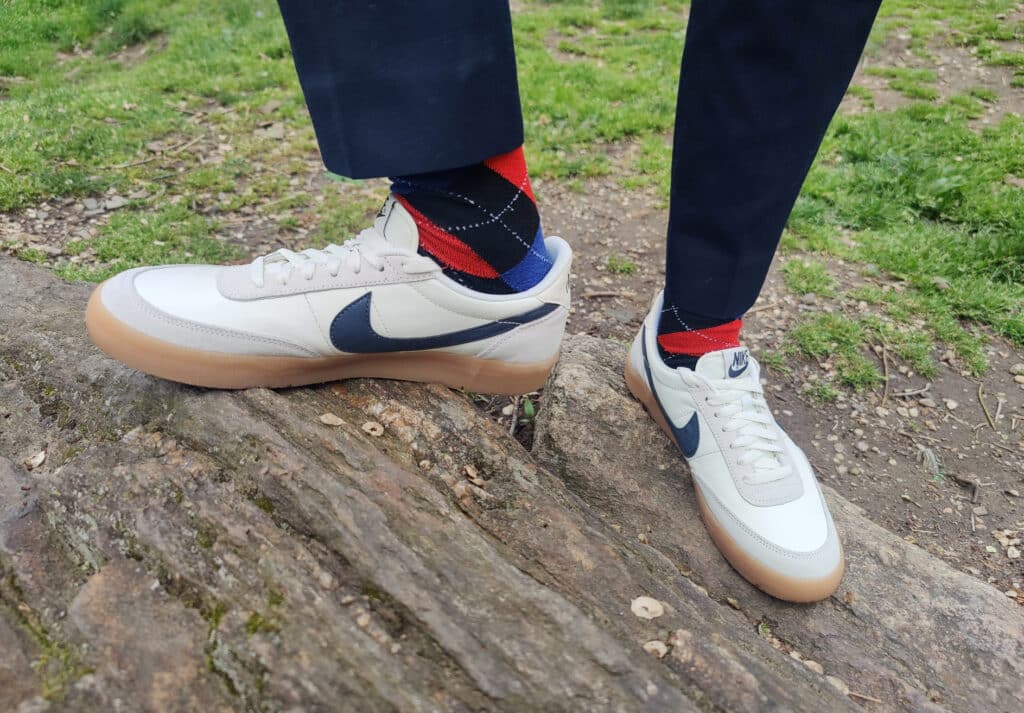 The grip of the outsole is pretty good too, as I was able to climb a tree with zero slippage. I did some digging through online reviews and found out skaters love this shoe for that very reason.
Other reviewers mention that "these are the best shoes Nike sells" and "I'll keep buying them as long as Nike keeps making them" and even "I've walked hundreds of miles in these… they look just as good as the day I got them."
That last guy must've not walked through mud in them the way I have, which is wise, since that's not what they're made for.
I do agree that they look better with some wear on the leather. After you've done some walking in these shoes, you'll start to see that trademark texturing on the surface. It levels up its vintage charm by about 100 points.
So survey says? History and cultural significance aside, the Killshot 2 is iconic partly because it's easy on several levels. It's easy to wear, easy to style, affordable, and, we're fortunate enough to live in a time of its wider release. This means it's finally easy to buy as well.
Price: $90
Disclosure: Clicking on these links and making a purchase may earn us a small referral fee, at no extra cost to you. Learn more here.
freestar.config.enabled_slots.push({ placementName: "gearmoose_leaderboard_btf", slotId: "gearmoose_leaderboard_btf" });