As I'm sitting and writing this from a cafe in Cincinnati, it's pouring rain outside. That's on the tail of a string of 90 degree days, with building humidity finally culminating in a downpour that has most people running for cover.
But me? I'm warm, dry, and comfortable—and it's thanks to Proof's new Lightweight Lightning Jacket. Our friends at Huckberry sent me one to test in exchange for a fair and balanced review, and it arrived just in time for me to put it to the full summer rain test.
Before we get into my experience with the jacket though, I'd like to take just a minute to clear up some confusion about rain jackets and waterproofing. That will set the foundation for you to understand how I'm evaluating the Lightning Jacket, and hopefully confirm for you whether it's the right jacket for your wardrobe as well.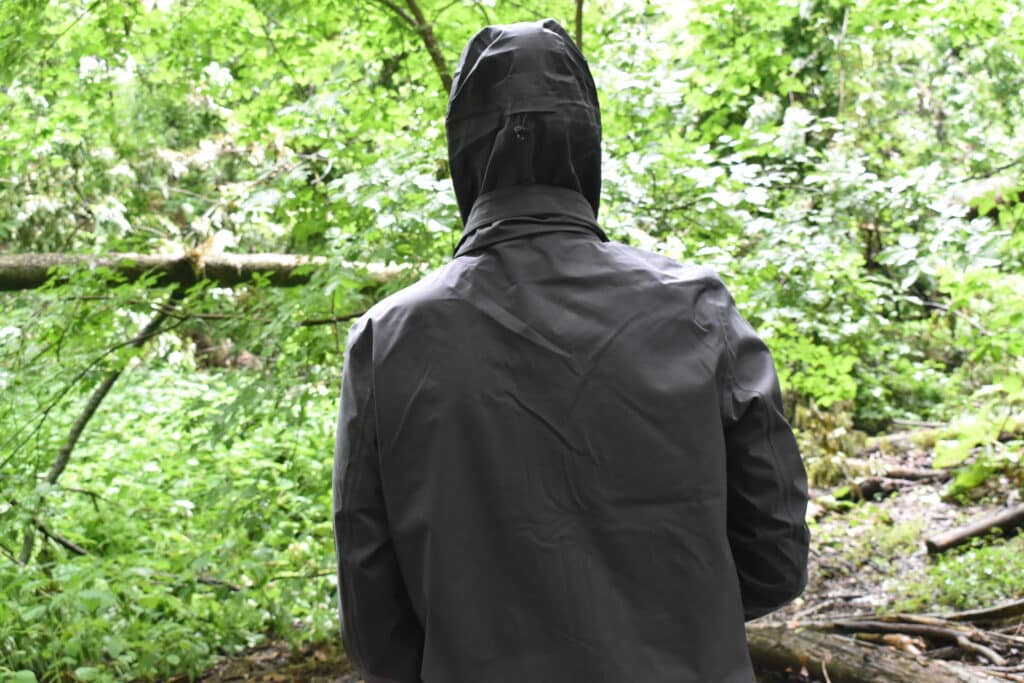 How to Choose the Right Jacket for the Weather
To really understand the place any jacket should have in your wardrobe, you'll need to make a distinction between hardshell and softshell jackets.
Hardshell jackets are the tougher and more water resistant of the two jacket styles. They're usually made with a 3-layer design, and true to their name they are quite stiff. These are the premier choice for harsh weather and heavy duty outdoor adventure—think mountaineering in a downpour.
Softshell jackets (of which the Lightning Jacket is a great example) prioritize comfort, mobility, and breathability. They're not as rugged and durable as hardshells, but their durable water repellent (DWR) coatings can give them an enhanced degree of rain proofing.
So as a rule of thumb, choose a softshell jacket for your everyday adventures—and save your hardshell jackets for the worst weather and most demanding activities.
With that covered, let's move on to an explanation of water resistance.
Water Resistance Ratings
While this is neither the time nor the place for an in-depth discussion of the science behind waterproofing, it will help you to know just enough to determine how much water resistance you actually need out of a jacket.
In the outdoor gear industry, you'll find waterproofing measured in thousands of millimeters (3,000 to 5,000 to 10,000 and etc.). That's then abbreviated, with a 5,000 mm water resistance being noted as 5K.
The bare minimum required for a degree of waterproofing is 3K, but that won't do much more than keep a light drizzle off of you. At 10K, you're getting to the point where the jacket will keep off a light spring rain (but not save you from a heavy downpour).
15K—the rating for the Lightning Jacket, by the way—has become the performance benchmark for use in just about any weather. Reach into 20K and above, and you're looking at fully waterproofed materials like Gore-Tex.
Now, onto the Lightning Jacket.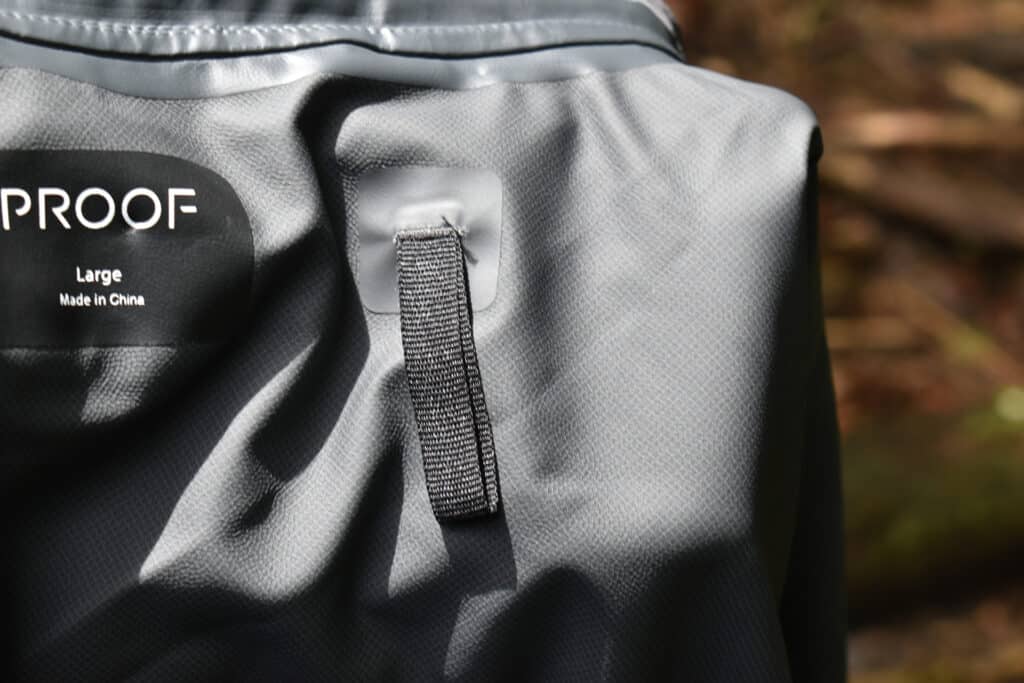 The Specs
Fabric: 100% polyester with a DWR coating
Weight: 16 oz (size Medium)
Price: $218
Materials and Construction
The main draw for the Lightning Jacket is the aforementioned 15K waterproofing rating—giving it excellent resistance to seriously bad weather.
That's especially nice considering its lightweight polyester construction, which also gives the jacket a great degree of breathability. Adding a DWR coating gives it an added boost of long-term water resistance, so you'll stay dry even if you're out hiking in the rain.
Last but certainly not least, the Lightning Jacket is constructed with sealed seams all over the body and hood. That has the double bonus of making it more comfortable (read: not scratchy at all) and sealed away from leaks. The main zipper is also sealed like this, though curiously the side access pocket is not; it's covered by a small flap of fabric instead, and can still let a tiny bit of moisture in if it's really raining hard.
Design and Features
Though it's roomy enough to fit over a coat or vest, the Lightning Jacket can still pack down quite small thanks to its lightweight construction. That makes it an attractive option for stowing away in your pack or EDC bag in case of an unexpected rainstorm.
The design is quite crisp and professional looking, especially because the jacket's hood can stow into its collar. Colors and detailing are very muted, which makes the Lightning Jacket blend in smoothly with urban surroundings.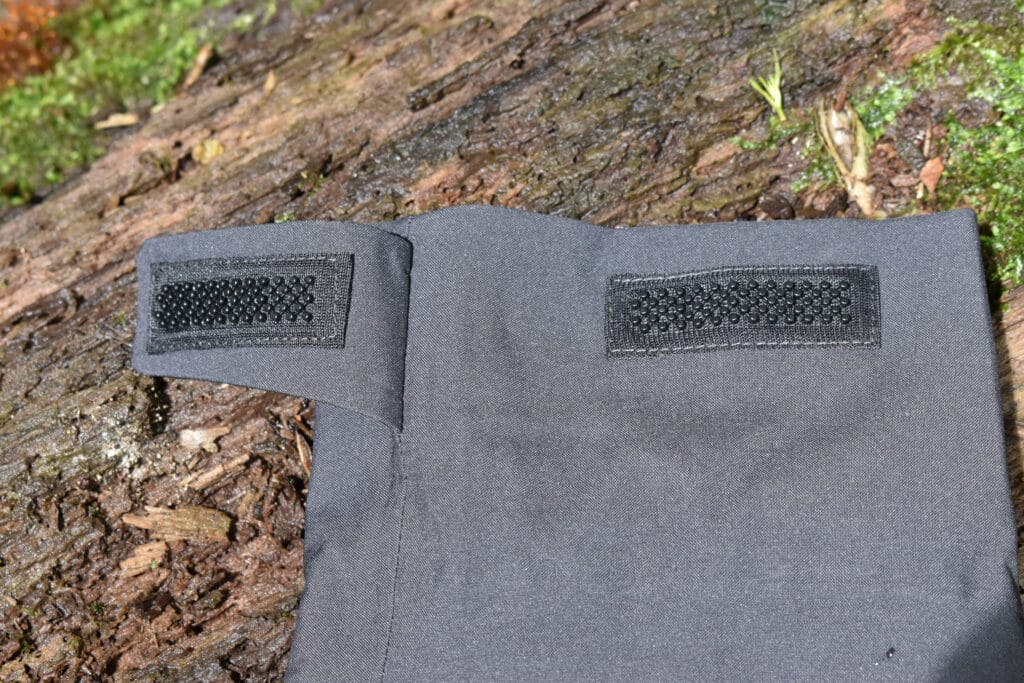 An area that I'm particularly impressed with is the design of the sleeve cuffs. Their adjustable outside layer uses a unique hard plastic closure system—which means that it performs just as well wet as it does dry, which Velcro closures do not. An additional layer inside the cuffs conforms nicely around the wrist, avoiding the scratchy unpleasantness that often comes with looser rain jacket sleeves.
As far as pockets go, the layout is pretty standard. Two side entry pockets also have button closure top entries, so you can stow your everyday carry goods however is most comfortable. Then a hidden single zip closure chest pocket adds an additional bit of covert storage.
A final detail that I really enjoy: The interior hanger loop is offset from the center of the collar, meaning that it doesn't deform the jacket's shape while you hang it up to dry.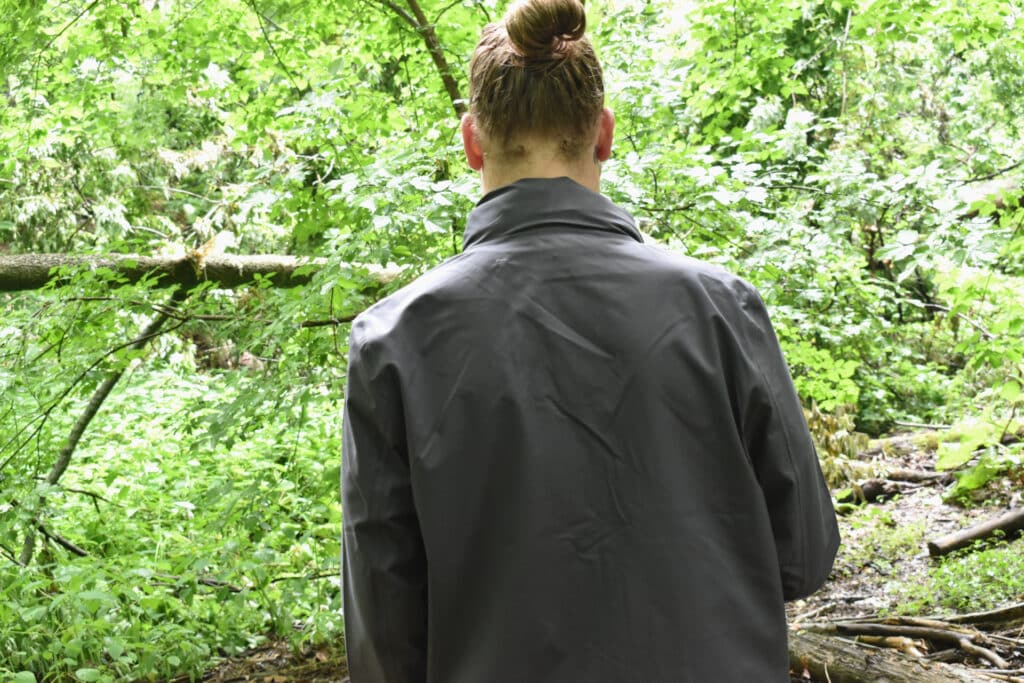 My Experience
Overall, I'm quite happy to have added the Lightning Jacket to my rotation. After taking it out for plenty of walks in the rain—even on hot days—I can say without a doubt that it's the right combination of water resistant and breathable. I'll still be wearing it going into fall, and looking forward to breaking it out for next spring's round of rainstorms too.
In summary, the Proof Lightweight Lightning Jacket is aiming to be the best of both worlds for a shell jacket: Highly water resistant while also being comfortable, lightweight, and breathable. It's on the pricey side for a soft shell jacket, but in my mind the extra degree of waterproofing entirely justifies the extra investment. So from my experience with it, the jacket hits all of its marks.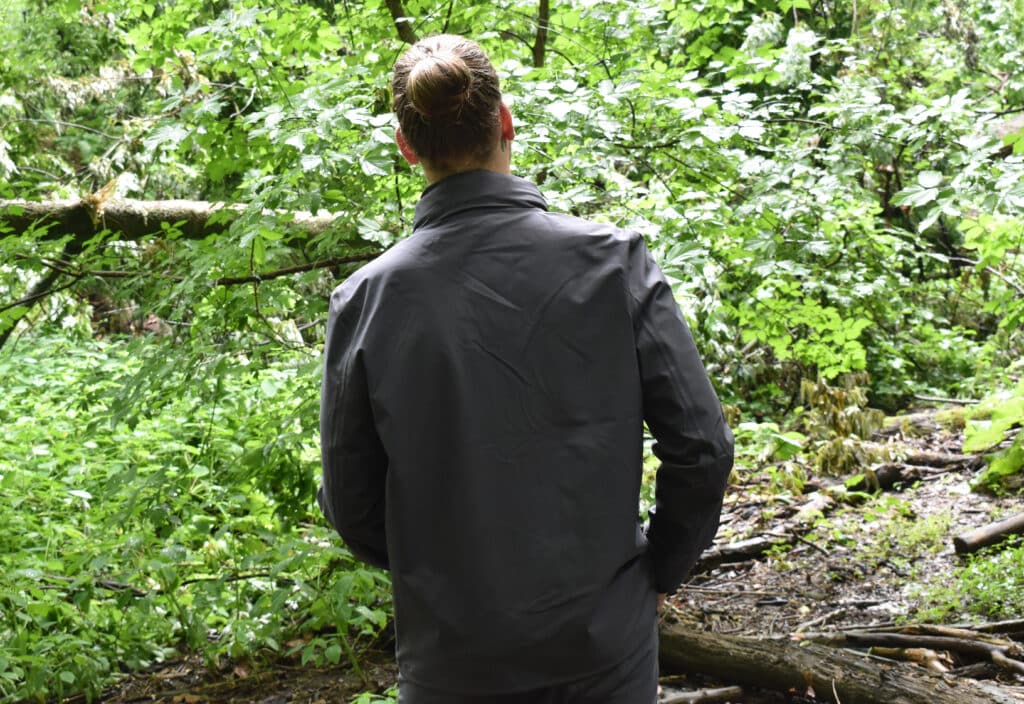 Disclosure: Clicking on these links and making a purchase may earn us a small referral fee, at no extra cost to you. Learn more here.
freestar.config.enabled_slots.push({ placementName: "gearmoose_leaderboard_btf", slotId: "gearmoose_leaderboard_btf" });