Review: Nobis Layton Hybrid Sweater
The perfect layer for shoulder seasons? Quite possibly so.
In the middle of winter, you pretty much know what you're in for: Punishingly cold temperatures, with the chance of rain or snow. Ditto that for the middle of summer, with its scorching heat and endless sunshine.
But in the kinder, gentler seasons of spring and fall, what starts as a cold and rainy morning could quickly turn to a warm and pleasant afternoon—then right back into chilling winds and rain in the evening.
And sure, layering up is a tried and true method for handling variable temps. But what if you could rely on one perfect jacket to keep you warm or cool, comfortable or cozy, all through spring and fall?
That's what Nobis's new Layton Tactical Hybrid Sweater lays claim to, so we knew we had to give it a shot. In this review, we'll share our observations from hands-on testing, and give you the inside scoop on whether it's worth adding to your wardrobe.
Disclaimer: This Layton Hybrid Sweater was provided to us by Nobis in exchange for an honest review.
How We Tested
All of Nobis's outerwear is designed with a keen eye towards combining unbeatable performance and versatility with high class good looks. So to get a feel for how that looks in real life, we decided it would be best to test every possible use over one weekend trip.
Against my usual habit of over-preparing my pack for every possible eventuality, I trimmed my wardrobe for a trip to Charleston, West Virginia down to the basics: A pair of active pants and a nice pair of jeans, a classy pair of trainers, a nice cotton t-shirt, the usual socks and underwear, and the Layton Hybrid Sweater.
That might not sound very groundbreaking. But given that those two days had temperatures ranging from 38 to 78 degrees, with three periods of rain and two of intense sunshine, I thought it was a fair trial of whether the Layton could truly keep me covered the whole time through.
So I put on my Nobis sweater on Friday afternoon, and basically only took it off to sleep and change clothes. And through eight hours of round-trip driving, a six-mile hike in a national forest in the rain, dinner at a fine casual Italian restaurant, and a day of walking around the state capitol building and the market, the Layton and I got to know each other very well, indeed.
I'll expand on the details in the following sections, but my overall impression is this: Just when you think you've seen everything the Layton Tactical Hybrid Sweater has to offer, it proffers up one more little detail that will make you grow to love it even more.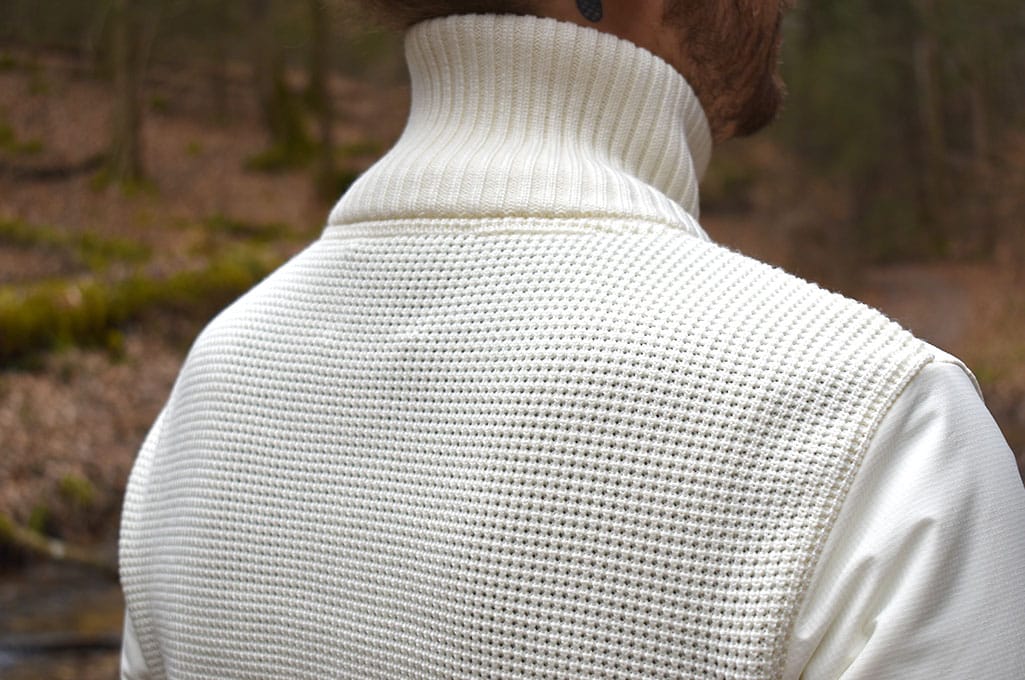 Materials
Standard jackets are most often made of one material or fiber (cotton or polyester). Sportier jackets might use a technical fabric with a bit of stretch, and old school coats favor wool for its range of desirable natural qualities.
But once you get into the highest ranges of performance clothing—of which Nobis's Layton Sweater most definitely is—the exact selection of materials, and how and where they are used, determines whether a jacket succeeds or fails.
And of all the outer layers I've owned, I've never seen one quite like this sweater. Here's why:
The front side of the jacket (and most of the sleeves) is made with a durable and water resistant ripstop nylon, adding durability and moisture-shucking performance.
But on the back side, collar, cuffs, and area from the armpit to the elbow on the inside of your arm, the Layton Sweater uses a soft merino wool knit. That gives it maximum comfort and coziness across a wide range of weather, thanks to merino wool's natural temperature regulating and moisture wicking qualities.
To really cap things off though, the front and sleeves of the jacket are also stuffed with just enough Primaloft—widely regarded as the best synthetic insulation available today—to keep you cozy when the weather turns cold.
Taken as a whole, that means that while the jacket looks unlike anything you've seen, it's specifically designed to work in all types of weather and temperature conditions.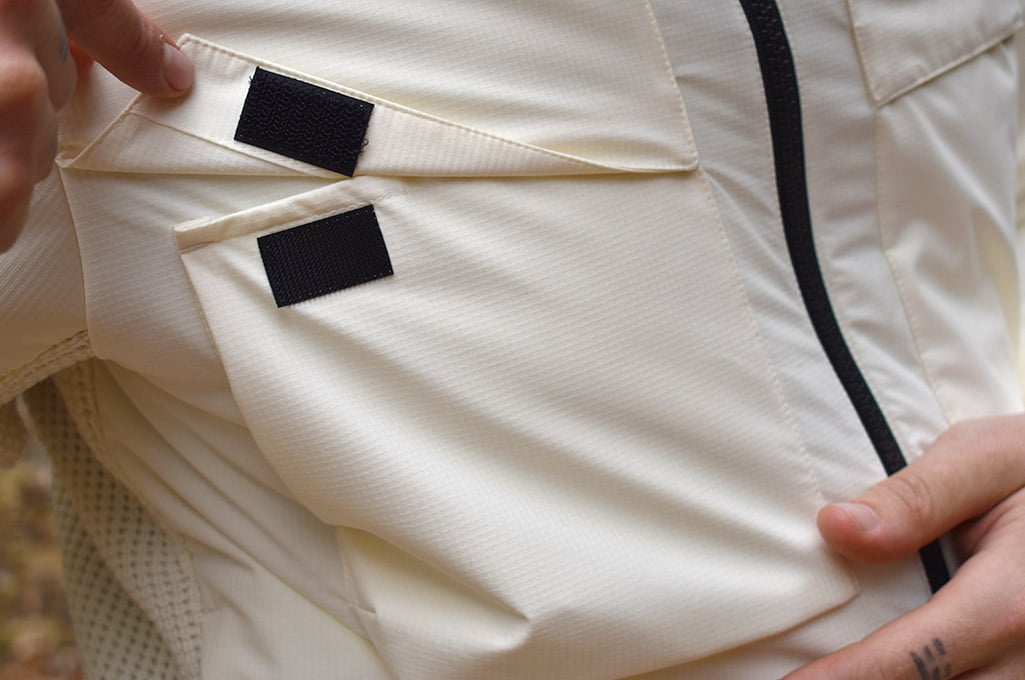 Design
The exact placement and proportion of the materials mentioned above is what really gives the Layton Hybrid Tactical Sweater its mojo. But it's not where the attention to detail ends, either.
To maintain a sleek silhouette that looks great anywhere, the Layton Sweater uses velcro-closure chest pockets and hidden zippered waist pockets. The contrast center zipper looks great too, either fully zipped up for warmth or with the collar left open and rolled down.
Lastly, thumb loops in the wool knit sleeve cuffs complete the selection of hidden hiking-ready details. It's the little things here that make this jacket ready to go from a long car ride, to a hiking day trip, to dinner at an upscale restaurant in the same evening.
Value
Make no mistake: All that attention to detail and versatile function, wrapped up in a super stylish jacket, comes at a premium. At the time of writing, the Layton Tactical Hybrid Sweater was offered at $595—making it a substantial investment to add to your wardrobe.
Is it worth that price? For a jacket that's literally unlike any other on the market today, probably so. This is a jacket that I'll be wanting to wear for years, and the durable construction and high quality materials make sure it'll be around for me to do so.
Final Verdict
If you don't need a jacket that can replace a lot of your other layers, the price for Nobis's Layton Hybrid Tactical Sweater might be a little bit steep. But if you're looking for a do-it-all solution to layering for spring and fall, you'll be hard pressed to find a better option than this versatile sweater.
Price: $595
Disclosure: Clicking on these links and making a purchase may earn us a small referral fee, at no extra cost to you. Learn more here.
freestar.config.enabled_slots.push({ placementName: "gearmoose_leaderboard_btf", slotId: "gearmoose_leaderboard_btf" });