Samsung Terrace 4K Smart Outdoor TV
There are exactly three reasons for watching TV outside: Grilling without missing the game. Outdoor horror movie night. And because you want to. The Samsung Terrace is a thin QLED 4K screen, equipped with Samsung's Smart TV interface. With an IP55 rating, the Terrace will stand up to dust without compromising function and can handle sustained water jet contact (read: rain, sprinklers) without harm. (No, it's not submersible. Your underwater screening of The Abyss is going to have to wait.)
Thanks to the super bright 2,000 nits the screen puts out, you can watch in bright daylight,  and with the anti-reflection display, even a shaft of light across your screen won't mess with your image. The display itself measures the ambient light, bringing forth the full force of its brightness capacity during the day but scaling it back for night time viewing. Capabilities like motion blur minimization and a billion shades of color from the quantum dot display give you accurate colors and deep contrasts.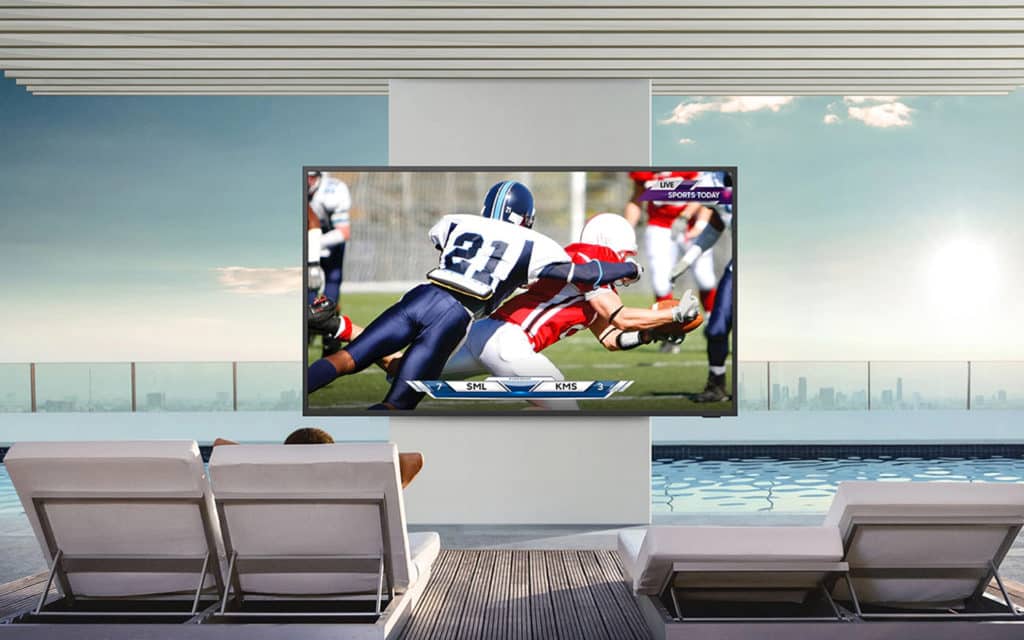 As for controls, the Terrace Smart TV runs on the Linux-based Tizen operating system and includes your choice of voice assistant: Alexa, Google Assistant, or Samsung's own Bixby. The weather-resistant remote is an intuitive all-in-one controller that's just as sleek as the TV. With just a single cable running from the Terrace, it'll look uncluttered wherever you mount it — the balcony, the veranda, the deck, or, most fittingly, the terrace.
Disclosure: Clicking on these links and making a purchase may earn us a small referral fee, at no extra cost to you. Learn more here.