If there's one brand you know you can turn to time and again, it's got to be Taylor Stitch. We don't say that lightly, either. From tailoring, including the brand's Telegraph line, to essential, rugged basics like henleys and crewneck tees, the brand has something for everyone — and in every season. That's a rarity among menswear brands, but Taylor Stitch always seems to manage to look to the past and bring classic silhouettes into the future. That goes for the Albion Jacket, which takes everything you thought you knew about the shirt jacket and flips it on its head (in style, of course).
It's a jacket that straddles the line between technical and stylish, and it does so quite handsomely. It starts, of course, with the basics — the kind that Taylor Stitch does so well. As one would expect, that means plenty of attention to detail, from the windshell outer to the hardware on this fine jacket. The fabric itself is a DWR-coated, 2-way stretch nylon spandex — adept at, as the brand says, "keeping the elements at bay." When you start with fabrication that's top-notch, the rest of the details tend to fall into place. We're talking tough, hard-wearing Duraflex bear metal snaps to keep you warm and toasty, for starters. That's also true when it comes to the Polartec high-loft fleece lining, designed to keep you cozy all season — whether you layer with a crisp thermal, a chambray shirt or a henley. Heck, the Albion Jacket could certainly replace other jackets in your arsenal, we think. If you've already got something as durable and stylish as the Taylor Stitch Maritime Submariner Jacket — another favorite of ours — then you know all too well what the brand brings to the table.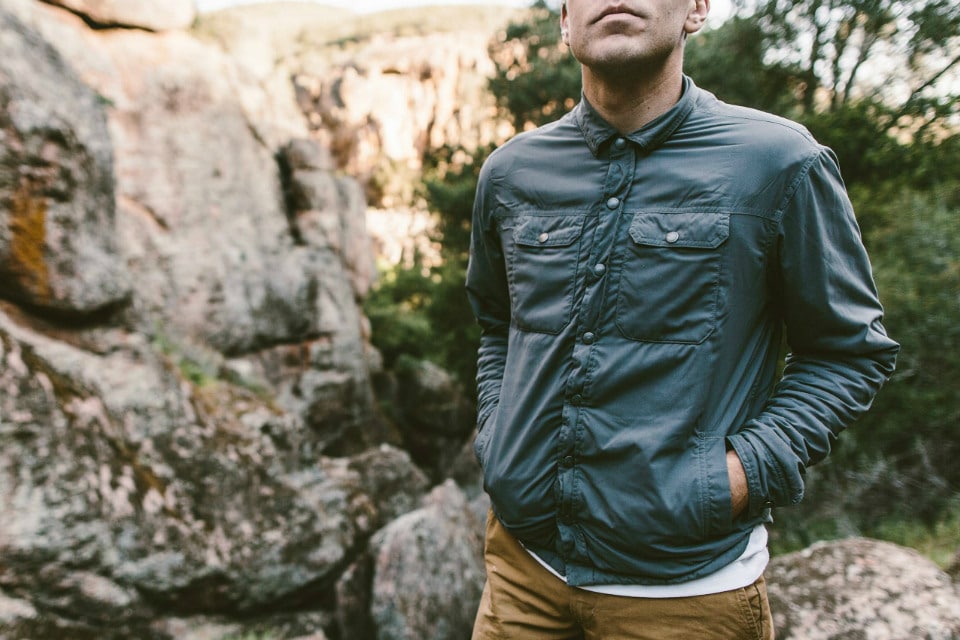 Flap chest pockets and hand warmer pockets add functionality and a touch of essential storage for your everyday carry in the Albion Jacket. Did we mention Taylor Stitch has a line of wallets that would be the perfect accessory? At any rate, the extra storage is certainly a good thing, because you'll want to layer up with all sorts of your favorite men's style essentials for the season, including … a Taylor Stitch chambray shirt? But of course.
And the even better news? There's a jacket for everyone when it comes to the Albion — it's available in a crisp Charcoal, a fall (and winter) Burgundy and the seriously cool, retro-inspired Army color. We think that any color is wearable with other Taylor Stitch essentials, including crisp blue denim, the brand's tough Moto Boots and yes, a classic Taylor Stitch chambray shirt. Our true favorite might be the Burgundy, if we're keeping score. Any color is tough to go wrong with, however. Now, at $265, this jacket will cost you more than a flimsy shirt-jacket from another brand might cost — but you know exactly what you'll get when you unwrap that long-awaited Taylor Stitch package. Buy now, and reap the benefits all season long. – Shop Now