With the start of a new season in menswear comes the start of the rollout of some seriously stylish, durable goods by San Francisco's own Taylor Stitch. The brand is a veritable tour de force for guys looking to upgrade their gear in all sorts of situations, from the everyday to the adventurous. And the Winslow Parka, luckily for us, can do a bit of both — or a lot of both, depending on how you style it. Available for the downright steal of $248 via pre-sale on the brand's site, the Winslow Parka's rough-and-ready style starts with the use of custom Halley Stevensons Beeswaxed Cotton — a blend custom-developed for the brand that happens to be both weatherproof and resilient.
Throw in the fact that the interior of this jacket features a nylon-wool blend liner in a cool blanket stripe, and you've got perfect construction inside and out. It's a rare combo that, as Taylor Stitch says, helps put this jacket "over the top." Certainly, working hand-in-hand with a company like Halley Stevenson lends itself to some stellar results — that's no joke. This is a fall-ready jacket that would perform quite suitably on a breezy, chilly night or a blustery day down by the bay — Taylor Stitch means that literally, too. After all, the crisp, versatile silhouette calls to mind the brand's San Francisco roots and their focus on garb that's made for a variety of situations. That means this jacket can go from the boardwalk to a bar and back to your well-appointed den or a friend's patio without missing a beat (or getting a drop of water on your chambray shirt, we should add). It's the perfect complement to easygoing fall style situations, particularly with other pieces from the brand, be it a slim pocket tee, a rugged chambray shirt or the brand's famed Yosemite Shirt — talk about style and comfort in spades.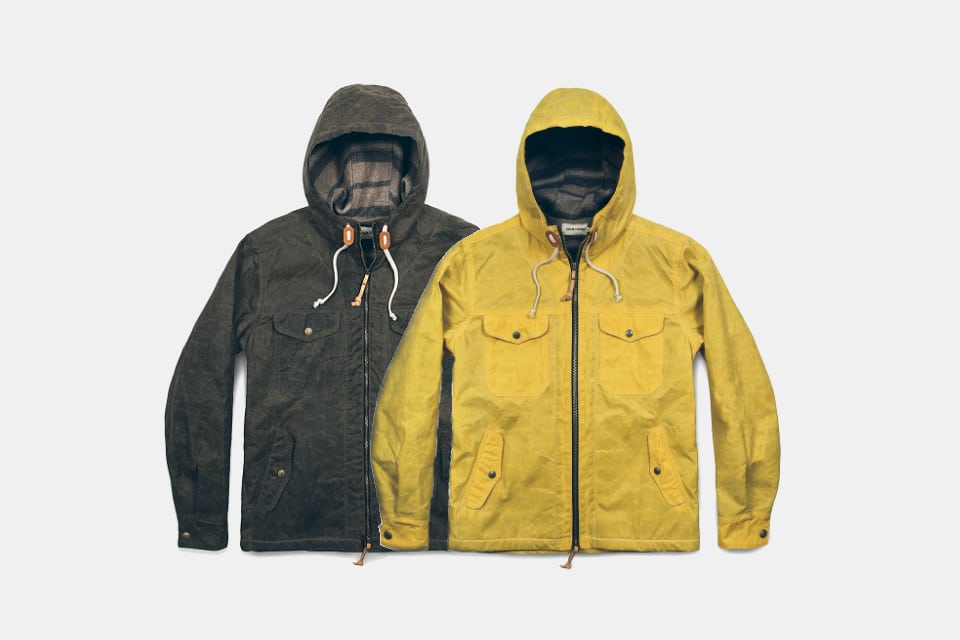 So, it's got functionality aplenty — you can be sure of that. And in terms of style points? The Taylor Stitch Winslow Parka puts up a whole bunch of 'em — that much is true. Available in a unique olive color or a striking and nautical-friendly shade known as Mustard, this jacket should team readily with all manner of tough gear. Take dark denim, faded black jeans or grey chinos, add leather boots and a chambray shirt, and get ready to hit the trail — or the tailgate. As you would hope with Taylor Stitch, the details are absolutely taken care of. The brand outfits the drawstring hood with natural leather zipper pulls for a bit of handsome refinement. And as it were, the brass two-way zipper offers up even more standout functionality, in addition to killer style. Ever considerate of the last detail, the brand finishes off the jacket with antique brass hardware throughout to add to the premium durability of this piece — as if you'd expect anything less, right? The Winslow Parka, like the brand Taylor Stitch itself, just gets the job done. – Buy It
Disclosure: Clicking on these links and making a purchase may earn us a small referral fee, at no extra cost to you. Learn more here.