The 10 Best Mustache Waxes
The mustache is making a comeback. Whether its the crumb-dusting centerpiece of an epic beard or a standalone masterpiece, the handlebar mustache has a bright future both in and outside of hipster havens like Portland, Oregon. And a great way to tame said mustache is with a strong hold mustache wax.
Mustache wax — most people have heard of it but many don't know what it's for, what it's made of, or how it even works. Mustache wax is typically made from beeswax and some other ingredients such as petroleum jelly, lanolin, or other carrier oils to style and hold the mustache hairs in place. If you're just starting out and you're on the hunt for a medium hold wax to tame your budding mustache, then look elsewhere.
We believe the best mustache wax should be firm, tacky enough to hold the mustache hairs together, and long-lasting. There's nothing worse than slapping on a healthy dose of mustache wax only to have your handlebars drooping an hour later. The best mustache waxes provide a firm hold that need very little maintenance throughout the day once applied. True firm hold mustache waxes are few and far between, but luckily we've rounded up the ten best. Each one — from the best strong hold mustache wax to the extra tacky — are truly the best on the market.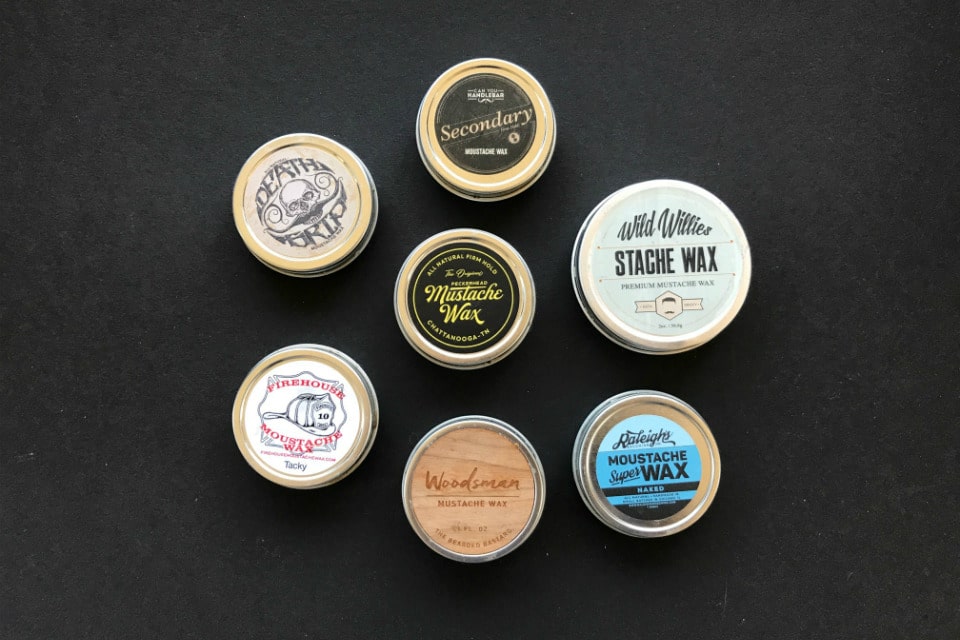 What Is Mustache Wax
If you're reading this article, then you probably already have some idea of what mustache wax is, and you're on the hunt for the best one. If so, then read on. For those with a curious mind, mustache wax is, depending on the brand, a mixture of waxes, resins, carrier oils such as coconut oil or jajoba oil, and essential oils designed to hold the hairs of the mustache in place and away from the mouth.
The wax provides the needed hold, the carrier oils render the mustache wax pliable enough to remove from the tin and spread evenly across the mustache, and the essential oils provide scented mustache waxes with their scent. Additional ingredients may include butters such as shea nut butter or cocoa butter, and/or lanolin — all of which make the mustache wax more spreadable while keeping the hairs healthy.

Types Of Mustache Waxes
There are strong hold waxes, medium hold waxes, all-natural waxes, and petroleum based waxes flooding the market. The type of mustache wax your mustache requires very much depends on the length of your mustache and how you plan to style it. After all, the best mustache wax for someone looking to style a six-inch handlebar probably isn't the best mustache wax for someone who has only a month of mustache growth and is looking to keep stray hairs out of their mouth. For the latter, a medium hold wax should do the trick.

The Best Mustache Wax
There is more to the best mustache wax than the amount of reviews of said mustache wax on Amazon. Amazon is a great place to learn from actual users of a particular mustache wax, but marketing dollars definitely play a role in the visibility of a men's grooming product. Some of the best products in America can sometimes be hidden between the fluff and drivel of modern media. And this includes mustache wax. Read on for our list of the ten best mustache wax products on the market today.
Mustache Wax, Beard Wax, Beard Balm: Know The Differences
There are many key differences between mustache wax and other beard products such as beard balm and beard wax. The primary reason, however, is that mustache wax is really the only product meant for your mustache. We don't consider the opposite true. This author has used mustache wax on his beard on numerous occasions for shaping and maintaining stray hairs when beard wax just couldn't do the trick. Sure, you could slather beard balm or beard oil onto your mustache on any given day that it begins to feel dried out, but the best mustache waxes should be able to take care of that problem on their own via lanolin or other carrier oil.
Without the fluff and drivel, here is a breakdown of each:
Mustache Wax: Mustache Wax is a firm, wax-based grooming product meant to hold the hairs of the mustache in place, out of the mouth, and in the wearer's preferred style. Typically, the easier it is to remove from the container, the less hold it will have on your mustache.
Beard Wax: Beard Wax is softer than mustache wax, but firmer than beard balm (at least it should be.) It is also wax-based and is typically used to style the beard and to help it keep its shape. If you're like me, you would use a strong hold mustache wax sparingly on your beard and skip the beard wax altogether.
Beard Balm: Beard Balm is the softest beard product of the three and, although it is typically also wax-based, balm contains more carrier oils such as coconut oil, jajoba oil, olive oil, etc for nourishing a longer beard. Once your beard grows out quite a bit, it may begin to feel dried out and coarse. Beard balm helps in this capacity, and may help with styling the beard to some degree.
We've updated our list. Click to the next page below to see our previous picks.