Here's a word you don't want to hear in reference to your beard: scraggly. The scraggly beard is the cardboard-sign-on-an-off-ramp beard. The mugshot beard. Coiffed, controlled, contoured, even, these are better words. And to help you get to that place of style we've put together a short and sweet list of the ten best beard waxes you need to introduce to your face.
Coming from brands who care about what goes on your beard, these beard waxes feature ingredients that will condition and nourish, while keeping every errant hair in check and in place. The guy who's just starting out, making it through week four of grow out will benefit from a smidgen of beard wax. The man with the face mane that incurs the envy of Zeus needs a good beard wax even more. Pick your style, your hold, your scent, then warm up that wax and apply for zero chance of scraggle.
But first you might want to know: What's a beard wax anyway? Is it different from a balm? We're so glad you asked.
Beard Wax vs Beard Balm
Balms are focused on conditioning, using ingredients like shea and cocoa butter to soften and protect your beard hairs. They generally also contain a bit of wax, usually beeswax or sometimes a plant wax like jojoba or candelilla. A balm gives you a bit of hold for shaping, but not a ton. For more hold, you want a wax.
Beard wax uses many of the same ingredients as beard balm, but with a heavier dose of beeswax, or even pine/tree resin. It feels thicker than beard balm and will give you a denser looking beard thanks to the thicker consistency. Wax lets you shape your beard, and keeps every hair where you want it. You can use wax every day if you like more control, or just use it on "bad beard days" when the whiskers are doing what they want instead of what you want.
And now, for your perusal, our picks for the best beard wax products to tame every single beard out there.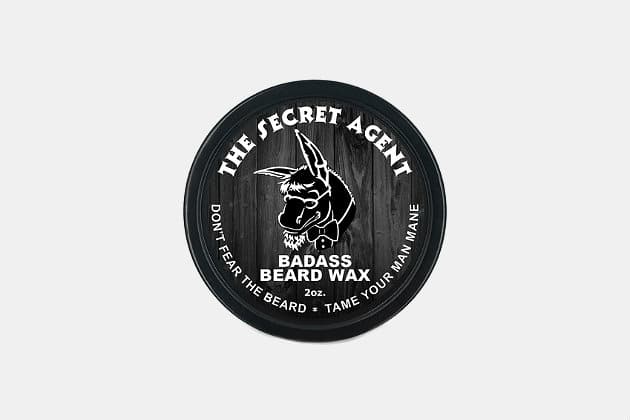 Badass Beard Care Beard Wax
Best Overall Beard Wax: After ten years in the service, a vet was ready to grow his beard. When no available beard products satisfied, he started Badass Beard Care. Only natural oils, butters, and beeswax go into their balms, beard oils, and for our purposes today, their effective beard waxes. In thirteen scents like El Burrista (coffee), The Viking (citrus and spice) and Ladies Man (lemon vanilla), Badass Beard Waxes use stuff like argan oil, shea butter, lanolin and a good dose of beeswax to soften, tame, and thicken beards while smelling quite nice. – Shop Now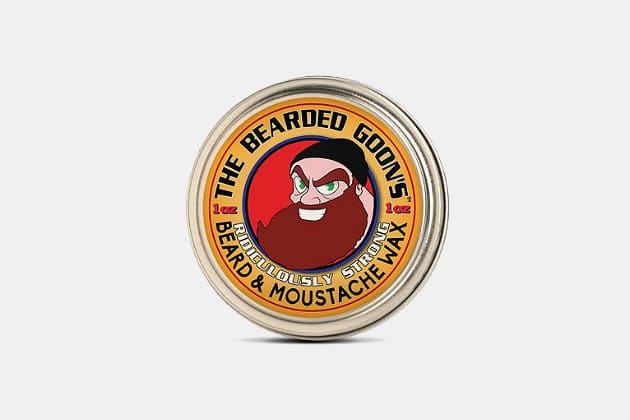 The Bearded Goon's Ridiculously Strong Beard and Mustache Wax
Best Strong Hold Beard Wax: That beard that goes where it pleases, no matter how much you try and sweet talk it each morning? That beard would benefit from a bit of this. Featuring the usual suspects found in most beard waxes — oil of coconut, wax of bee, and butter of shea — The Bearded Goon's Wax also features tree resin for an all-day strong hold. Plus it smells of bergamot and vanilla, making your face fuzz smell delicious. – Shop Now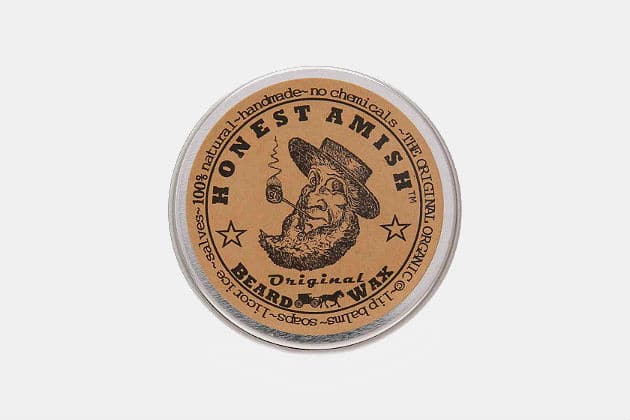 Honest Amish Beard Wax
Editor's Pick: While beard popularity ebbs and flows among the "English," beards have been a permanent fixture in the Amish community for a good three hundred years. And the natural, sustainable ingredients you'd expect to find in an Amish man's beard care arsenal can also be found in the products of this western Pennsylvania company that named itself after the simple-living church. Honest Amish Original Beard Wax is made by hand and from scratch, from local beeswax and organic oils and butters. – Shop Now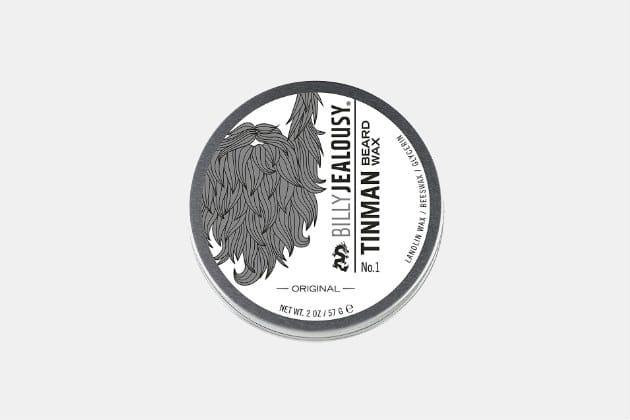 Billy Jealousy Tin Man No.1 Beard Wax
Best Beard Styling Wax: If you simultaneously get Billie Jean and Hey Jealousy playing in your head when you see their products, that simply means you haven't used them yet. Once you do, you'll start associating the name Billy Jealousy with a sculpted beard with nary a loose whisker. This Tin Man Beard Wax has lanolin for conditioning, beeswax for hold, and glycerin for strengthening. Hum a few bars of either the 80s or the 90s hit as you apply your new wax. – Shop Now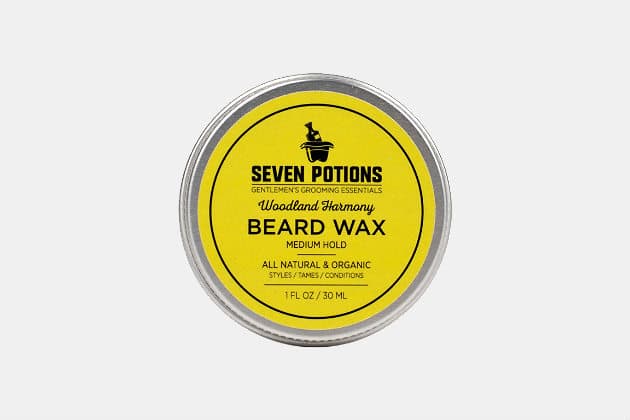 Seven Potions Beard Wax
Best Scented Beard Wax: Hailing from London, Seven Potions prides itself on NOT being a made-by-hand producer of men's grooming products. Instead they rely on the quality and safety management that comes of using ISO-certified third party companies. Their Beard Wax is a curated blend of organic ingredients that hold without stickiness, add smoothness and shape, and have a sweetly musky scent from cedar and sandalwood. Definitely not made in someone's kitchen. – Shop Now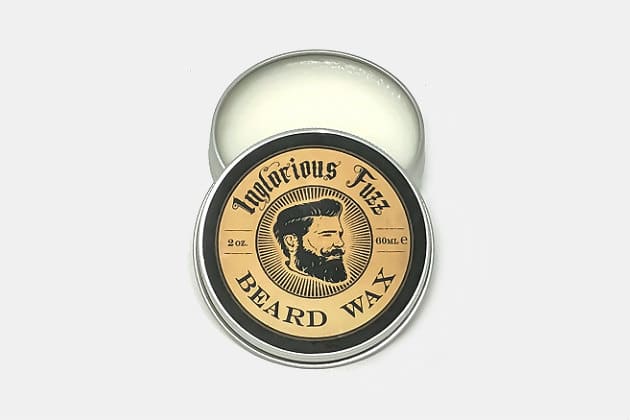 Inglorious Fuzz Beard Wax
Wish that beard would grow a bit faster? Put some emu oil on there. What's that now? Emu oil is exactly what you think it is. An oil taken from the fat of the giant land bird, it's been shown to stimulate skin cell regeneration and promote hair growth — and it's an ingredient in the beard wax made by Inglorious Fuzz. You also get yellow beeswax for hold, plus shea butter, almond, and jojoba oils. – Shop Now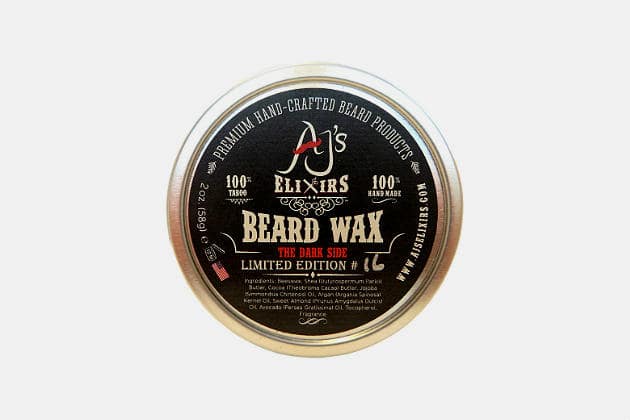 AJ Elixer's Beard Wax
The name, the logo, the packaging, all combine to give off a nineteenth-century snake oil salesman kind of vibe. But AJ's Elixirs isn't pedalling dubious miracle cures. The stuff they make is very much grounded in the effective. Proud to be one of the first men's grooming outfits to offer a beard wax, their four all-natural, organic waxes give beards volume, keep strays from straying, and leave behind a matte finish. So step right up, gents, everyone's a winner. – Shop Now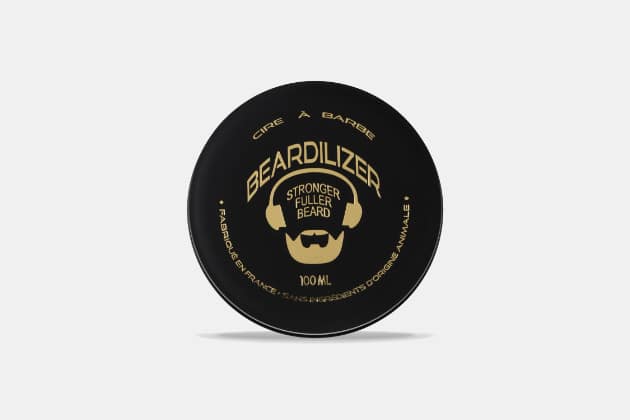 Beardilizer Signature Beard Wax
Who's most qualified to produce your beard care goods? How about professional beard and mustache competitors? With many who work at Beardilizer entering their face topiary into beard contests, one can trust this company knows what should show up in a beard wax. Their Signature wax has a pleasant musk scent and leaves a soft shine. It's made in France and features ingredients from the US (beeswax), Mexico (candelilla wax), Jamaica (castor oil), Greece (olive oil) and Morocco (argan oil). – Shop Now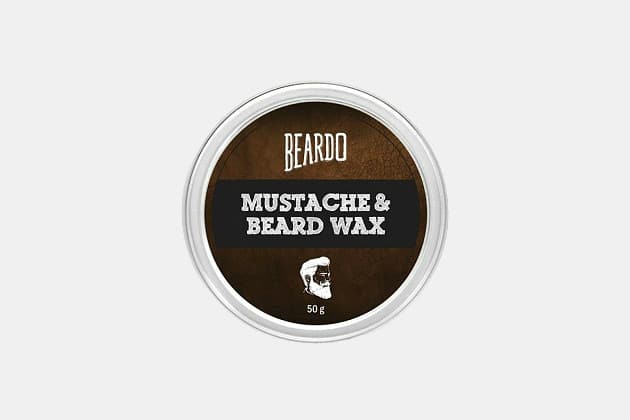 Beardo Beard & Mustache Wax
For those looking for something to help with underlying skin problems beneath the beard, you might want to check out a wax with sweet orange oil in it, such as this one from Beardo. Orange oil is known to be naturally antibacterial and improve complexions — as a side bonus, it also calms anxiety so you can fully enjoy the zen-like feeling that is a properly groomed beard. – Shop Now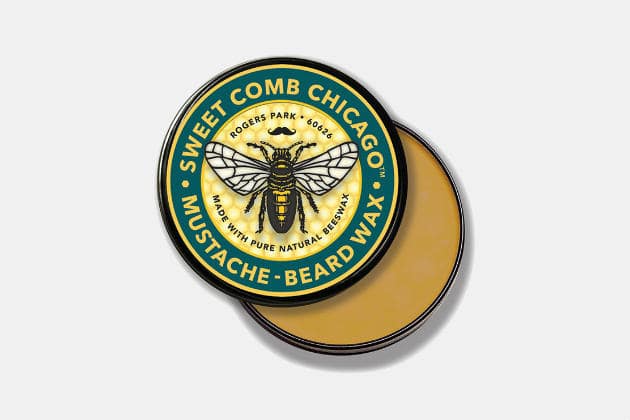 Sweet Comb Chicago Mustache and Beard Styling Wax
You notice beeswax in most natural beard waxes. So here's a company that has zeroed in on the makers of that wax, honeybees. With all products made in small batches directly from their Chicago apiary, Sweet Comb Chicago is hard at work ensuring a rising and healthy bee population. Their Beard Styling Wax has, jojoba, hemp, and coconut oils, along with tea tree and mint for a fresh scent, and of course, beeswax. – Shop Now