The 30 Best Beard Products For Men
For the many men who ultimately make the wise decision to grow a beard, simply not shaving for an extended period of time until said beard has appeared on their face is only the first half of the battle. The second half, unfortunately, is maintaining the beard. That's where the endless market of beard products comes into the picture.
The rise in popularity of the beard has caused a significant saturation in beard care products — from beard oils, beard balms, beard waxes, and even beard washes — with new products hitting the market every week. Navigating this ever-changing landscape can prove difficult even for the bearded veterans out there.
Luckily, we've had a lot of beards in our tenure, and a plethora of beard products have earned their spot on our bathroom sinks. Below you'll find our picks for the best beard products available today, broken down by each specific category.

Best Beard Oil
When most newbies hear the term 'beard products,' the first thing that typically comes to mind first is beard oil. Beard oil is actually a great place to start for those who have begun to grow their own face rug. Best for shorter beards that are not long enough to style, beard oil is crafted from natural oils — think olive oil, jajoba oil, and coconut oil — meant to soften the beard, moisturize the beard, and penetrate the beard down to the underlying skin to prevent itching and beard dandruff. Below is a list of our six favorite beard oil products.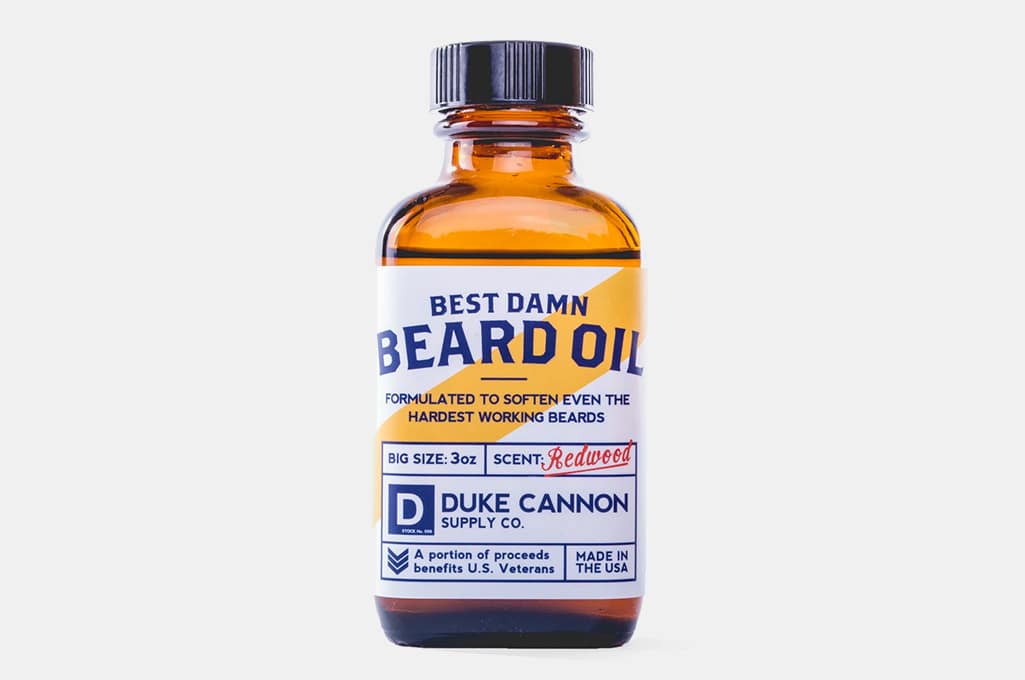 Duke Cannon Best Damn Beard Oil
Duke Cannon says their beard oil is "formulated to soften even the hardest-working beards," and we'd tend to agree with that assessment. From the rich Redwood scent to the larger-than-average, cool amber apothecary bottle, there's plenty to love about this (damn) fine beard oil.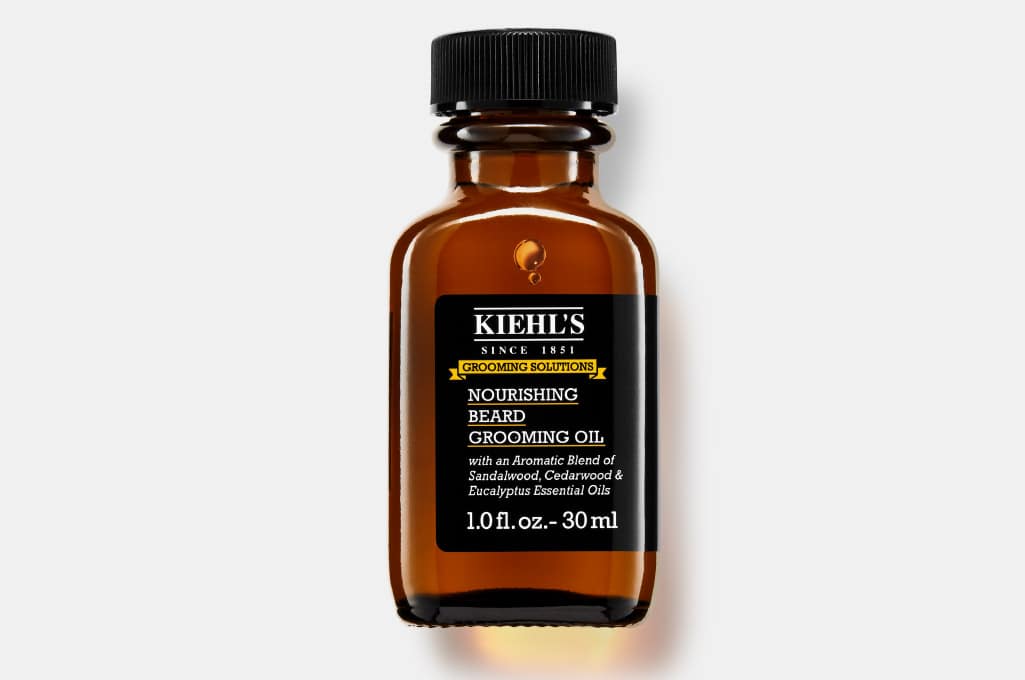 Kiehl's Nourishing Beard Grooming Oil
Kiehl's is a grooming category heavyweight for good reason. They've thought of everything, including a nice solution for guys who don't have a ton of time to dedicate to their beard — the easy-to-use, all-in-one effectiveness of the brand's Beard Grooming Oil, packed with a neat mixture of rugged, refined scents.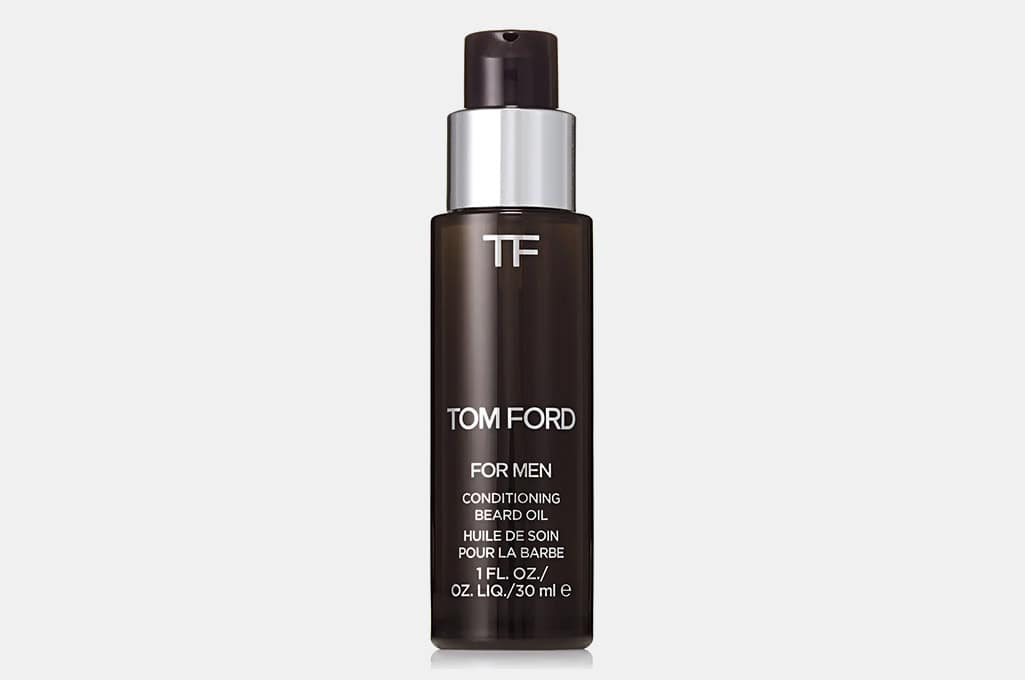 Tom Ford Conditioning Beard Oil
If there's one thing we've learned over the years when it comes to all things style and grooming, it's that Tom Ford can do …. well, just about anything. It shouldn't come as a shock, then, that his Beard Oil is beautifully packaged, a worthy complement to a Tom Ford suit for the best night out of your life — seriously.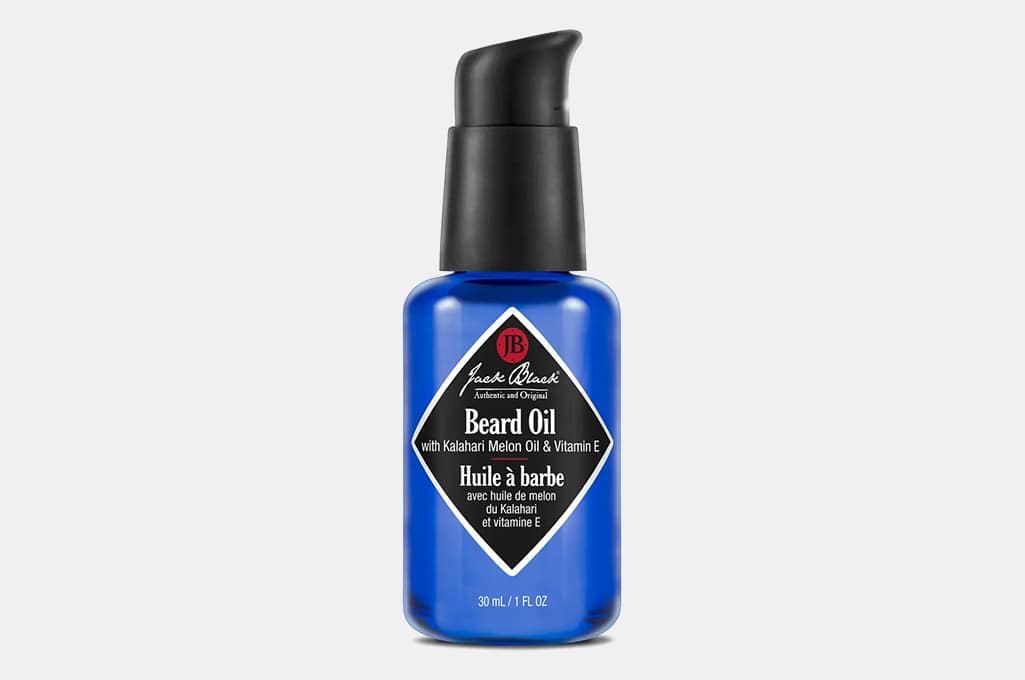 Jack Black Beard Oil
With nourishing ingredients like kalahari melon oil and Vitamin E, Jack Black continues to distinguish itself from other grooming brands on the market — the approach is no-nonsense, the packaging is seriously cool, and the brand's Auto-Replenishment program makes things easy for you.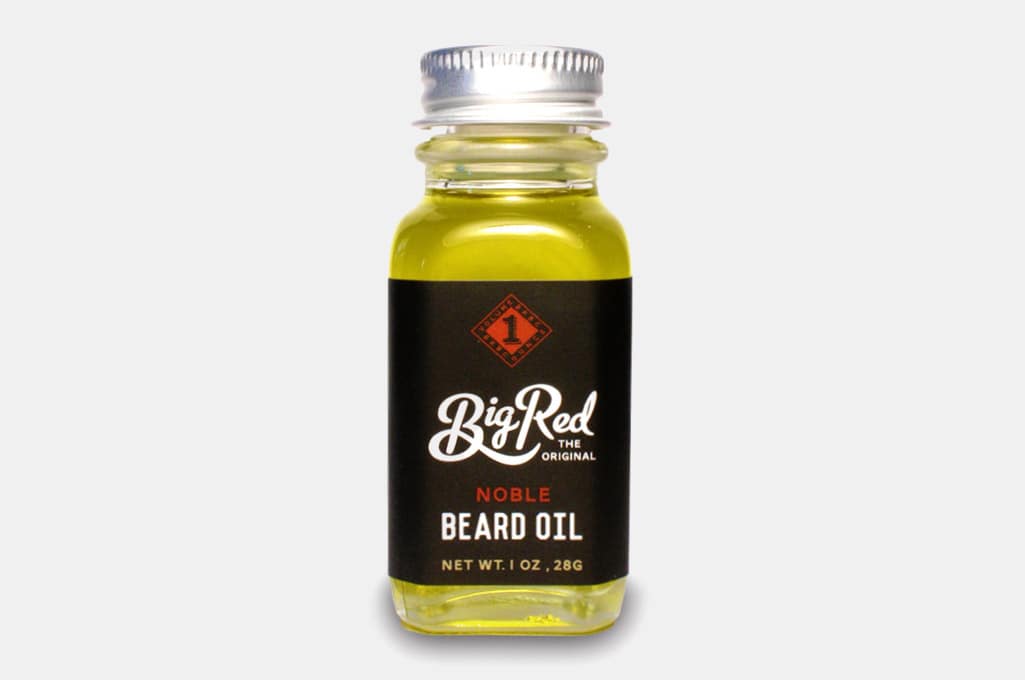 Big Red Noble Beard Oil
Big Red has taken the beard oil to a new level, one that's at once refined, well-considered and well-crafted — principles that should surely apply to your beard, too. With unique ingredients like argan and coconut oils, plus an easy-to-pack size (1 oz.), you're looking at a great value for the price.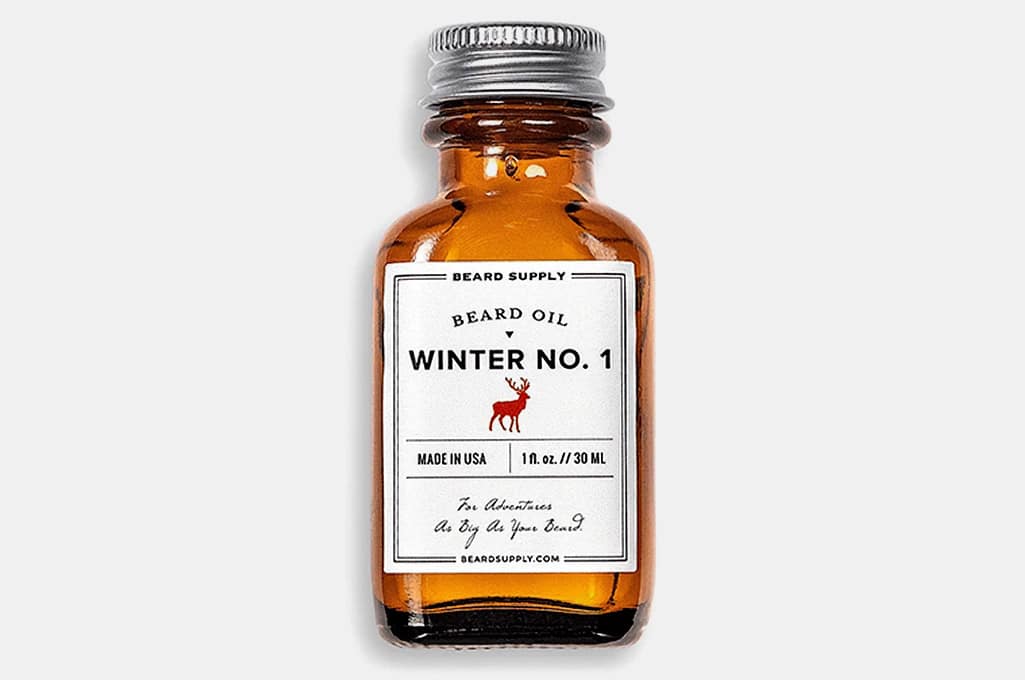 Beard Supply Winter No. 1 Beard Oil
A company owned and operated by two Texan men sharing their passion for beautifully maintained and well-cared-for facial hair, Beard Supply is THE brand for men who love their beards. Their Winter No. 1 Beard Oil is a lovingly crafted product that blends delightfully masculine scents with excellent skin and hair care ingredients—resulting in beard magic. It's a heavy oil ideal for men with very dry skin and coarse beard hair, and its wintry scents of peppermint, vanilla, cedarwood, coffee, and tobacco are rich and deep. With just a few drops, you'll find your beard is thicker and feels more luxurious than ever.

Best Beard Balm
Add another grooming essential to your rotation with a fine beard balm. Able to add both texture and some light styling potential to your beard, beard balm is ideal for controlling stray hairs or frizzy beards — all the better to look your best for a day at the office or a night on the town.
Beard balms have a more rugged feel to them, and tend to work best in difficult weather — a beard balm can condition and protect your beard from the elements at the same time. We think any one of the beard balms below can add a little something extra to your daily grooming routine.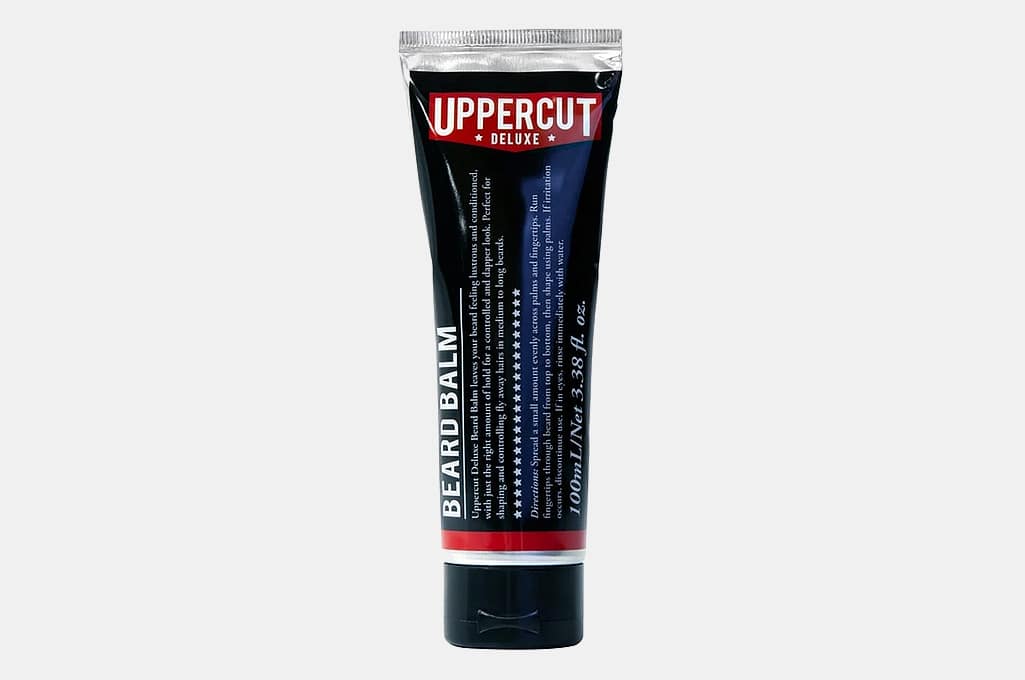 Uppercut Deluxe Beard Balm
Growing out your beard a bit? The Uppercut Deluxe Beard Balm is just the product for you. This water-based, non-oily moisturizer offers a slight hold, making it easy to tame your mane. The fact that it comes in bold, striking packaging? A nice added bonus.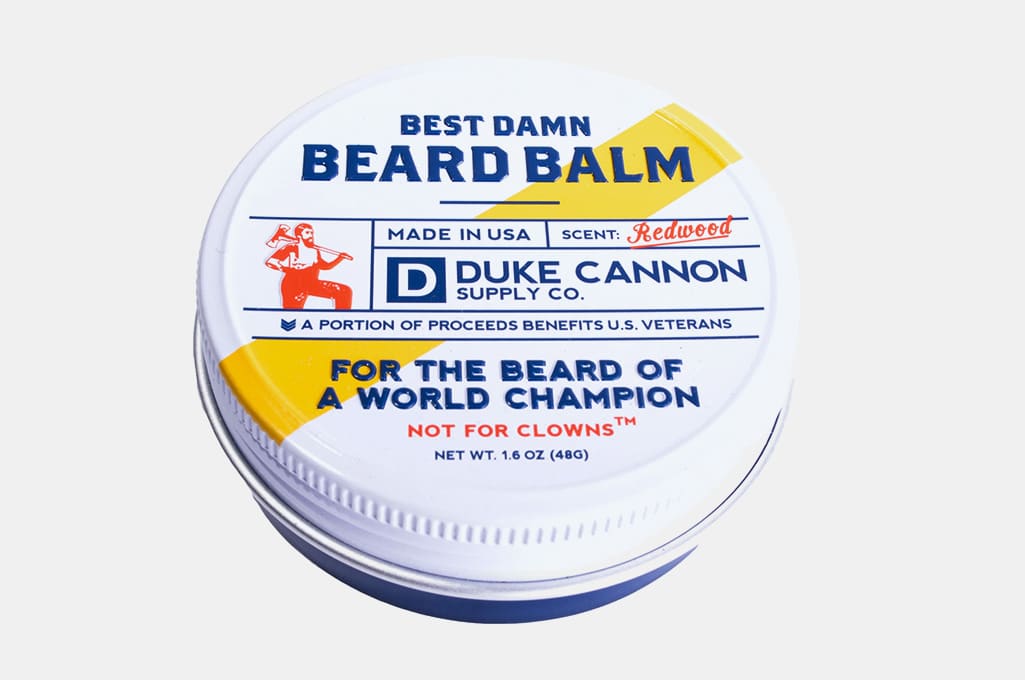 Duke Cannon Best Damn Beard Balm
Duke Cannon brings a rugged flair to its line of men's grooming essentials, including a mighty fine beard balm made with cocoa butter for a soft and smooth finish. From the pleasing scent to the very agreeable price, we think the Best Damn Beard Balm absolutely lives up to its name.
Big Red Beard Balm
Want a beard balm that packs a serious punch in terms of a distinct scent, to go along with maximum styling potential? That's where the Dillinger Beard Balm from Big Red comes into play. Made with all-natural ingredients, this beard balm nourishes, styles and conditions your beard — a heck of a package deal.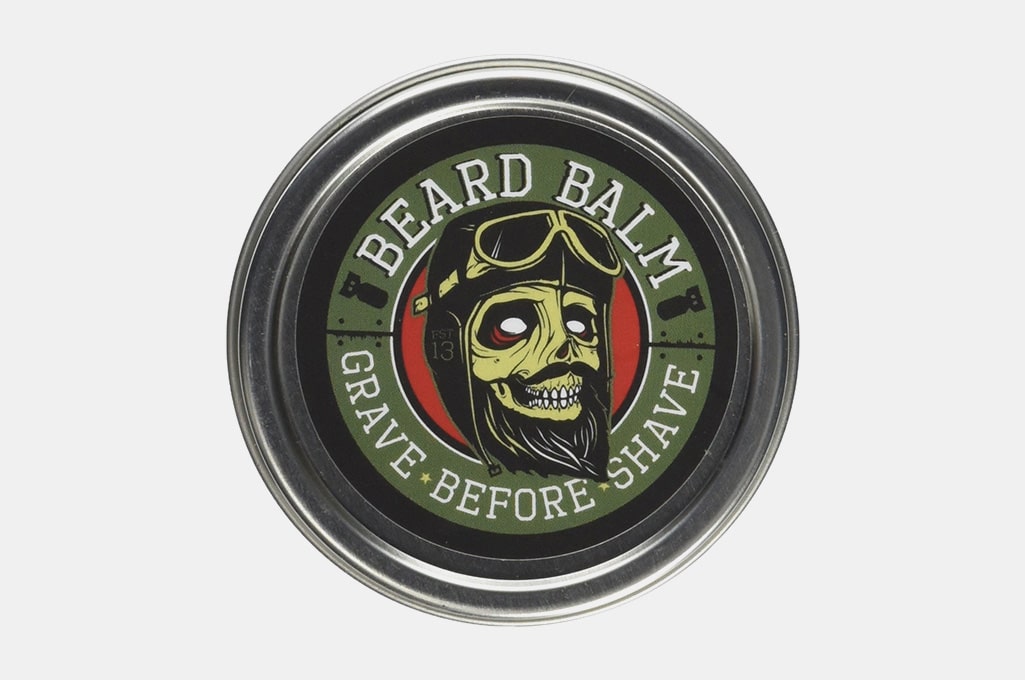 Grave Before Shave Beard Balm
With a name like Grave Before Shave, you best believe you'd better have the product arsenal to back it up. That's just what the Beard Bomb does, featuring the soothing scent of citrus, eucalyptus and rosemary to provide nourishment and styling potential.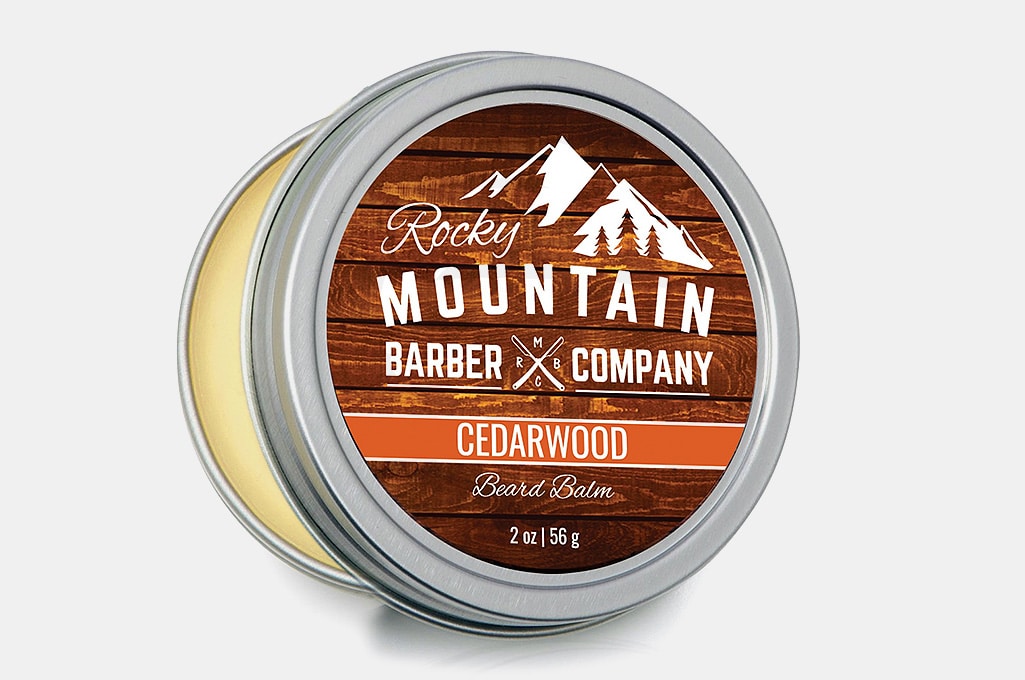 Rocky Mountain Barber Beard Balm
Beard balms offer the potential to incorporate some new scents into your grooming routine (even if that scent happens to be in your beard), and that's what we love about the range offered by Rocky Mountain Barber. Go with Cedarwood to nourish & style your beard while shaking things up.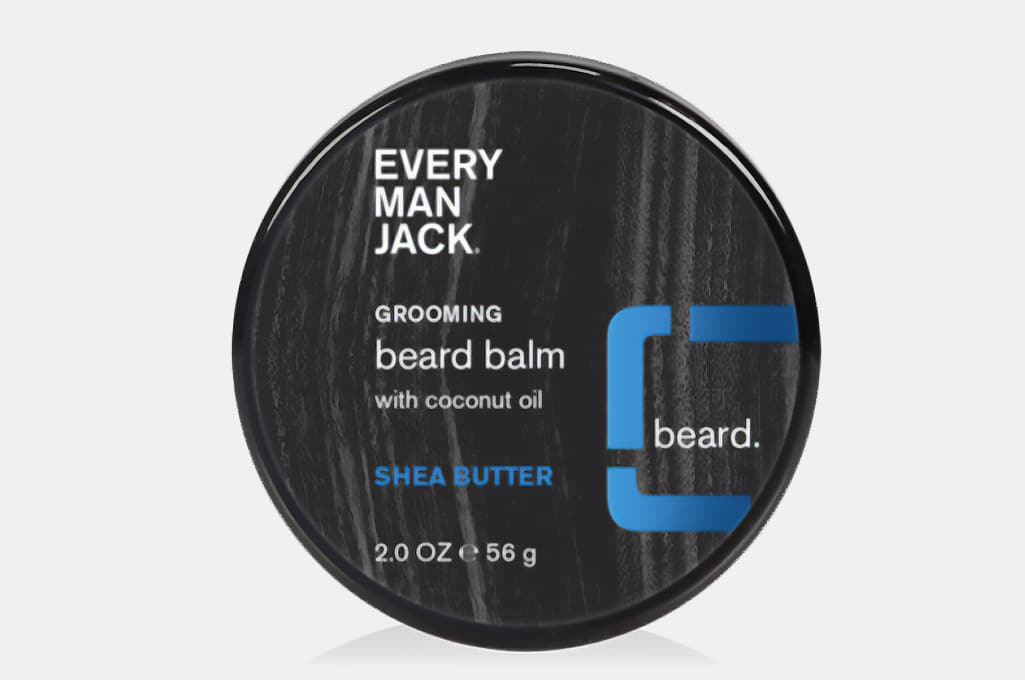 Every Man Jack Shea Butter Beard Balm
On a mission to responsibly make high-quality products using clean ingredients, San Francisco-based Every Man Jack delivers a truly amazing grooming product in the Shea Butter Beard Balm. The combination of shea butter, coconut oil, beeswax, and Vitamin E guarantees a richer, thicker, stronger beard and healthier skin, and the coconut scent is light and tropically refreshing. It's a cruelty-free, naturally derived product that your beard is guaranteed to love.

Best Beard Wash
Beard wash is the underrated addition to your beard care routine that you might not have even known you needed. That's right — a special wash just for your beard. It's another way to tackle the troubles that might plague you if you've got a surplus of facial hair — the best beard washes for men soothe your skin, soften your beard and nourish it, all at once.
It can feel like an indulgence to use a beard wash, but especially if you've got a long mane to tame, a great beard wash is going to make all the difference. It can be tough to know where to start when it comes to an extra grooming accessory, and it can take a little while to get into the habit of using it, but again, the difference will clearly shine through.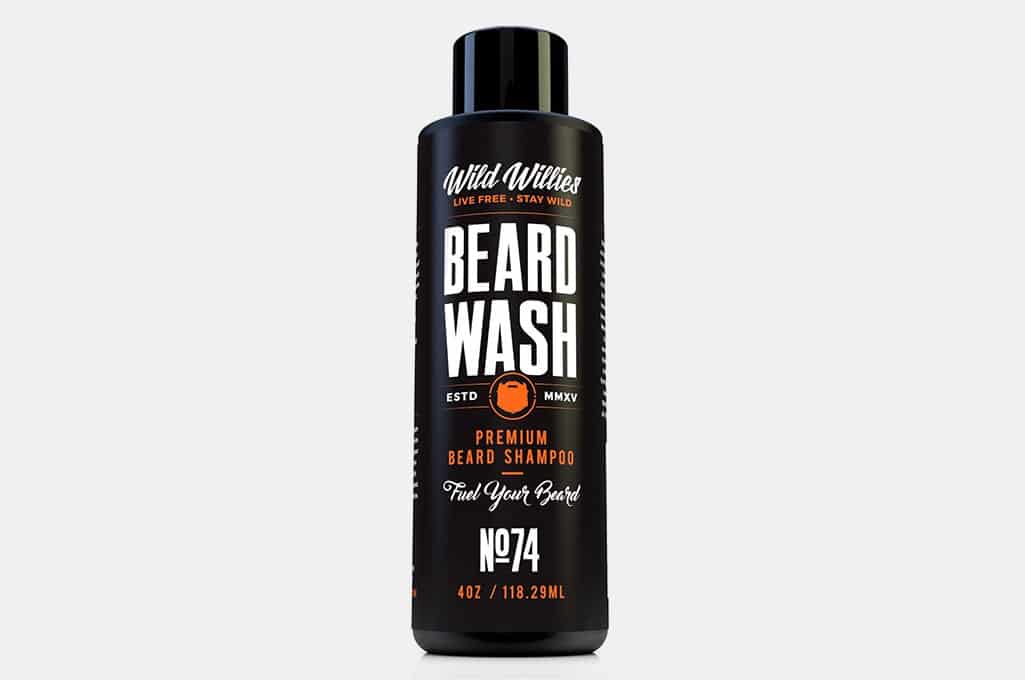 Wild Willie's Beard Wash Shampoo
The best beard washes bring a little something extra to the table, and it's helpful when that little something extra comes in the form of a little swagger — from using a great beard wash like this one from Wild Willie's, that is. Designed to clean, invigorate and refresh your beard, you can't go wrong here.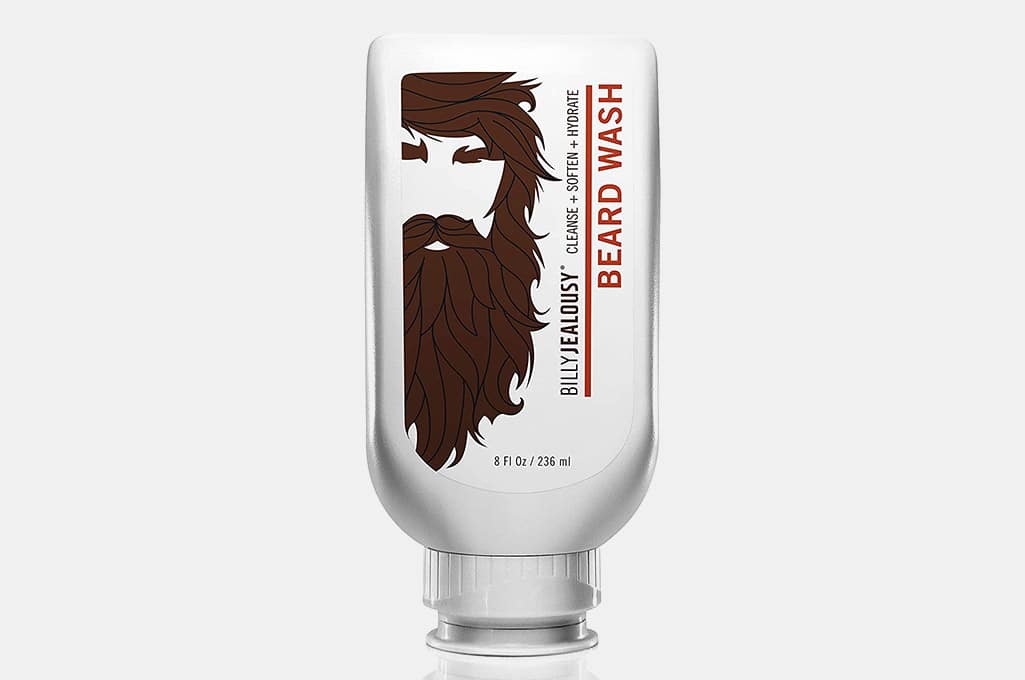 Billy Jealousy Beard Wash
One of the best things about a beard wash is the added benefit you get from using it — like the amped-up hydration that this Billy Jealousy beard wash brings to the table (and to your beard). It's also made using cruelty-free processes — not bad at all, right?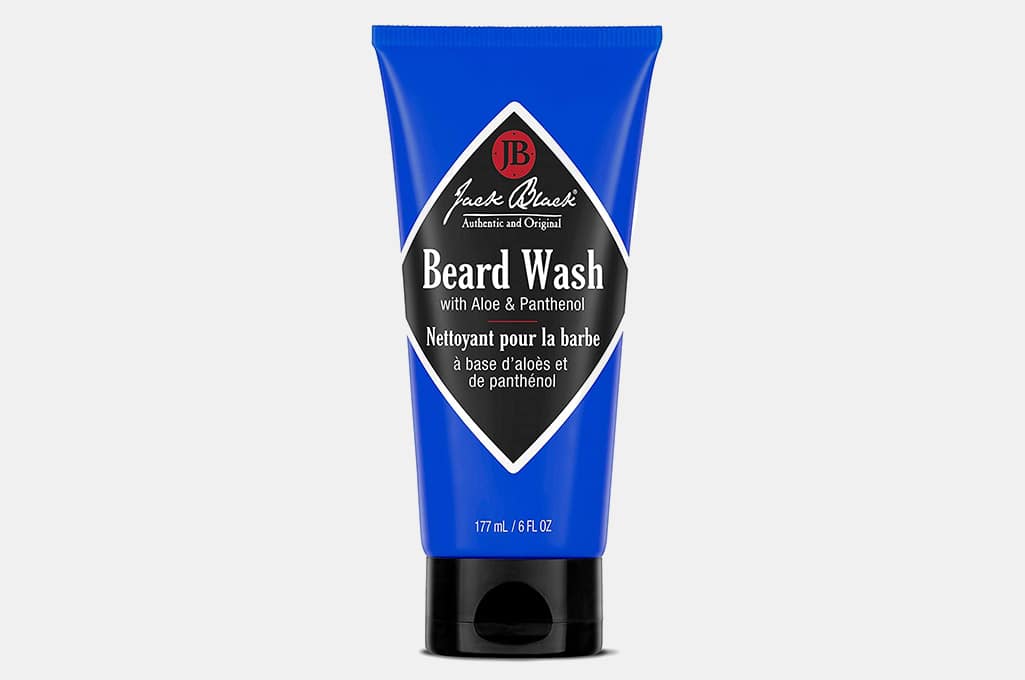 Jack Black Beard Wash
If you don't yet have any grooming gear from Jack Black in your rotation, consider this your calling to start getting stocked up. With highly beneficial touches like soothing aloe, this beard wash is certainly premium and ready to upgrade your grooming game.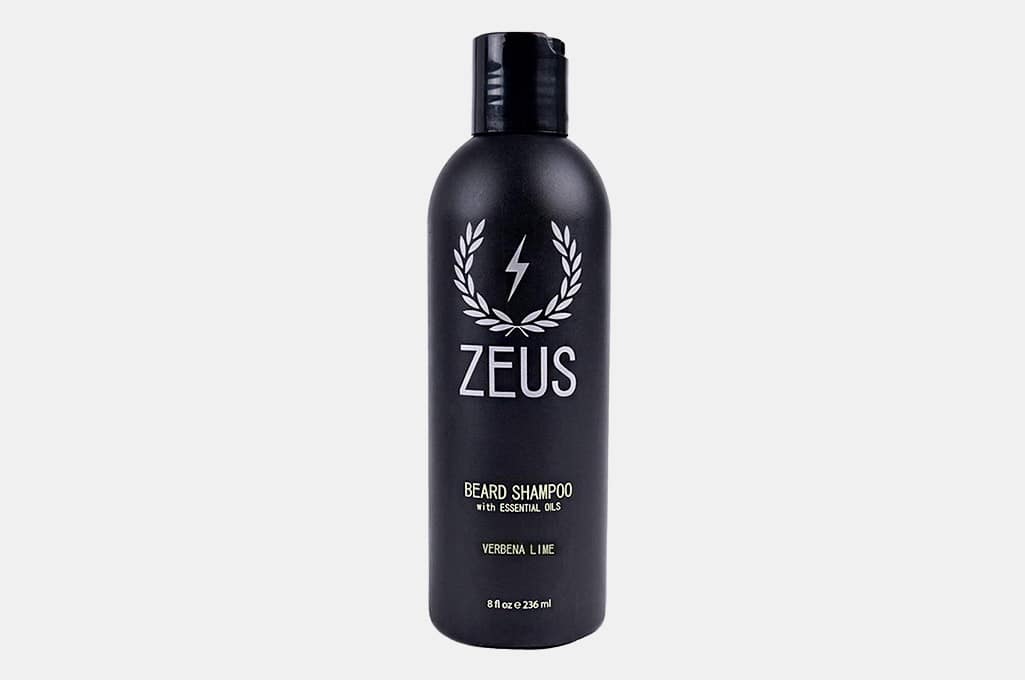 Zeus Beard Shampoo
With invigorating, manly scents like Verbena Lime and Vanilla Rum, Zeus Beard Shampoo certainly lives up to its lofty name, delivering bold packaging, excellent performance and a superior product (alongside our other picks for the best beard washes, that is).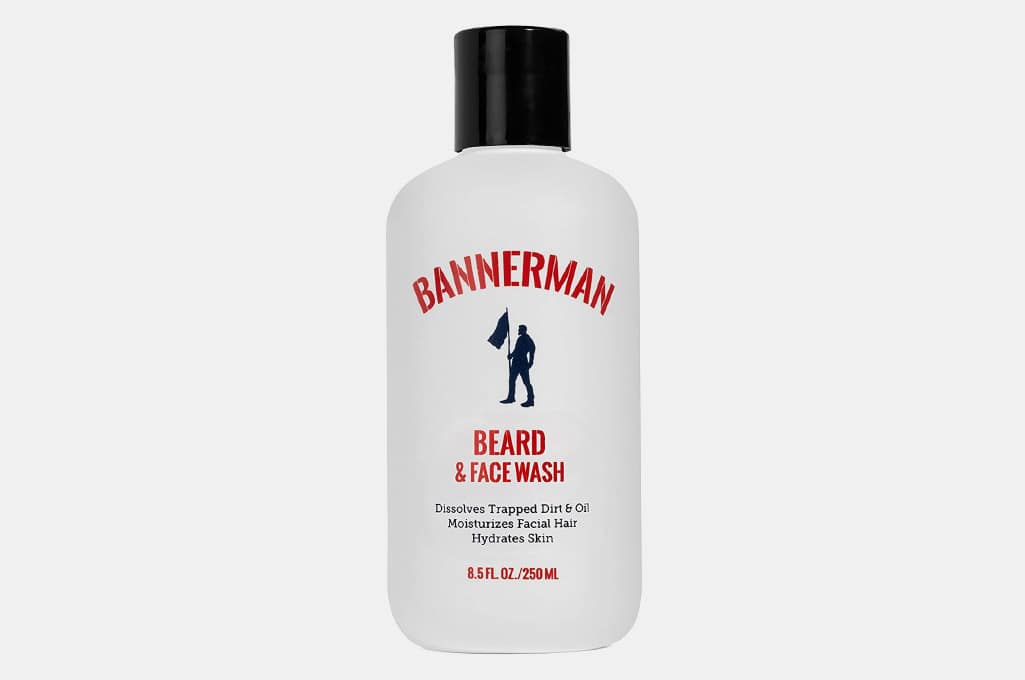 Bannerman Beard & Face Wash
With the kind of two-for-one utility not found in a typical beard wash, Bannerman brings quite a lot to the table (complete with an impressively affordable price, to boot). This beard and face wash is but one way to speed up your morning routine.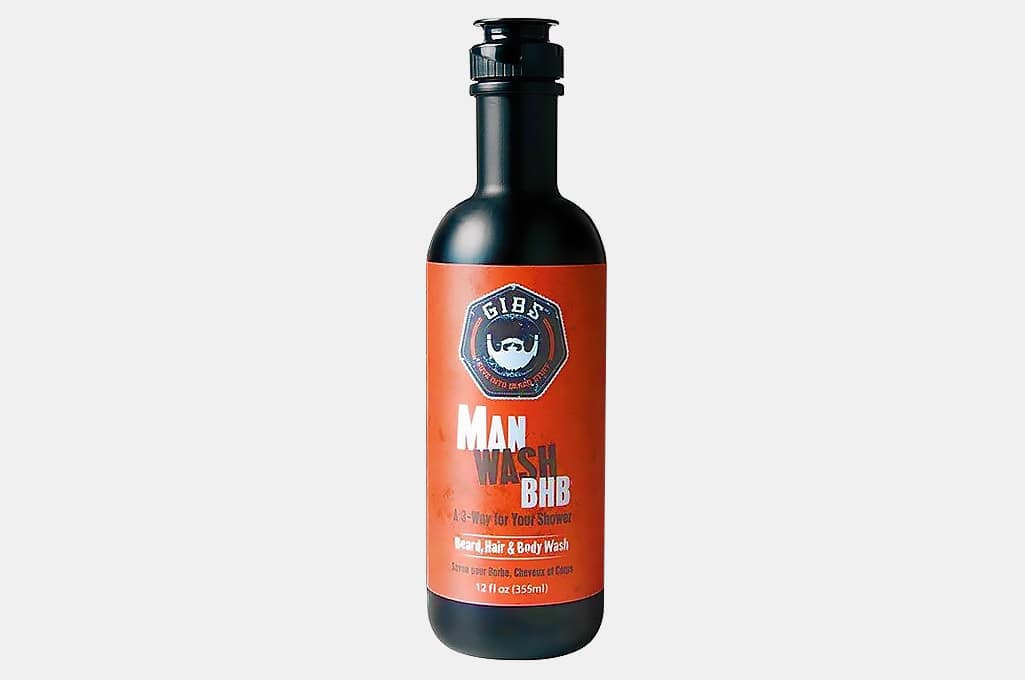 Gib's Man Wash BHB
Speaking of beard wash that offers great utility, talk about the power punch packed by Gib's Man Wash BH. It's made to treat your hair, face and body, and it does it all while remaining sulfate and paraben-free — talk about a winning triple threat, right?

Best Beard Wax
Want even more control over your beard? It's time you reached for some beard wax, a unique way to style and shape your beard while giving it an extra layer of protection from the elements (sense a theme here?). In short, your beard goes through a lot — especially if you enjoying camping trips, long day hikes or just a long bar crawl.
Beard wax can shape and style it while giving it a dash of rugged refinement. It's that extra finishing touch you didn't know you needed, but once you've tried it … you might never go back to treating your beard the same. Don't believe you can achieve all of this through just one beard wax? Allow us to present to you some mighty essential choices for your consideration.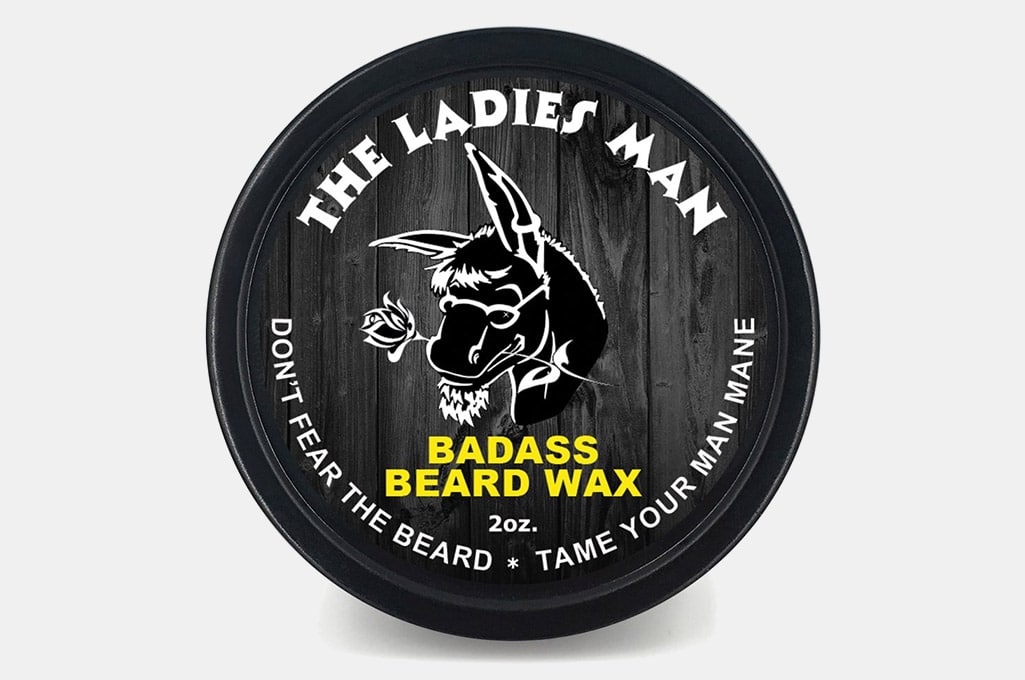 Badass Beard Care Beard Wax
The great thing about Badass Beard Care is that the brand can back its up name with a quality product — the brand's Beard Wax leads off this portion of our list of the best beard products for men for good reason. It provides a medium, natural hold while deep conditioning your mane — that's just excellent.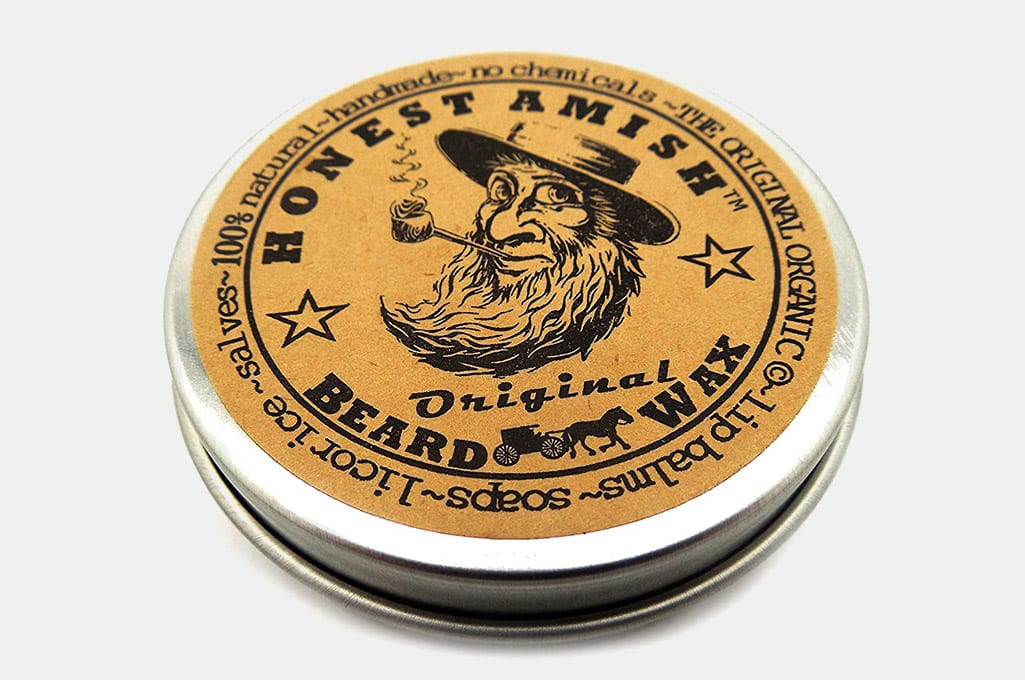 Honest Amish Beard Wax
Made using what we like to call the good stuff — natural and organic oils, and no man-made preservatives — the Honest Amish Beard Wax also features locally harvested beeswax for plenty of natural quality. Use as much as you please, because we think you're going to love it.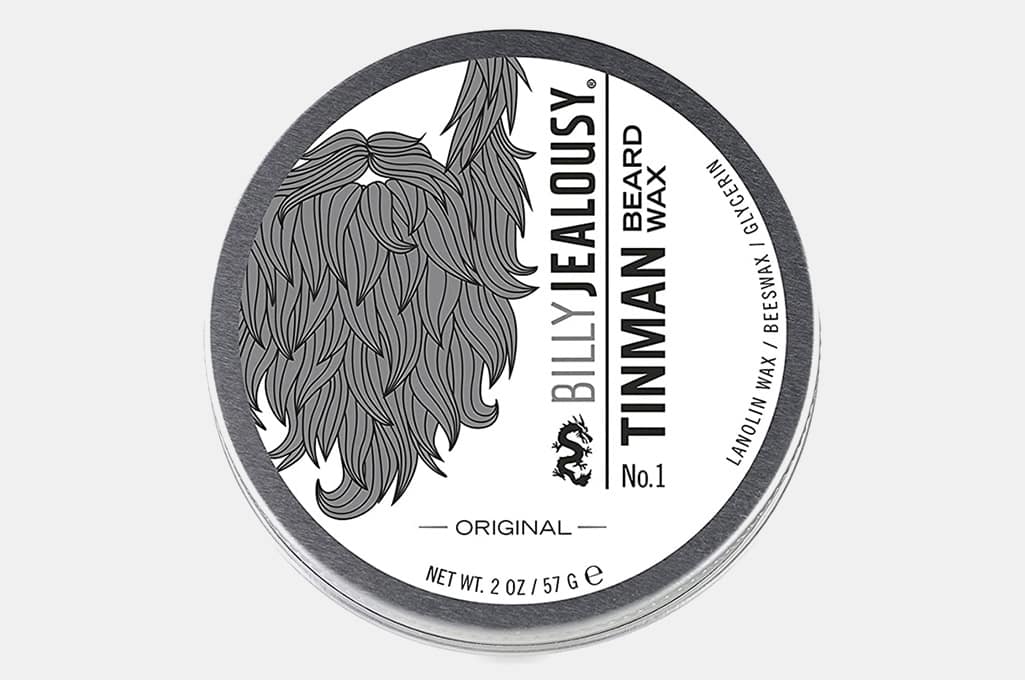 Billy Jealousy Tin Man No.1 Beard Wax
When starting your search for one of the best beard products for men, it's best to keep your eyes peeled for one that won't weigh your beard down or ensnare it further — the Tin Man No. 1 Beard Wax from Billy Jealousy is just what you need, in that case.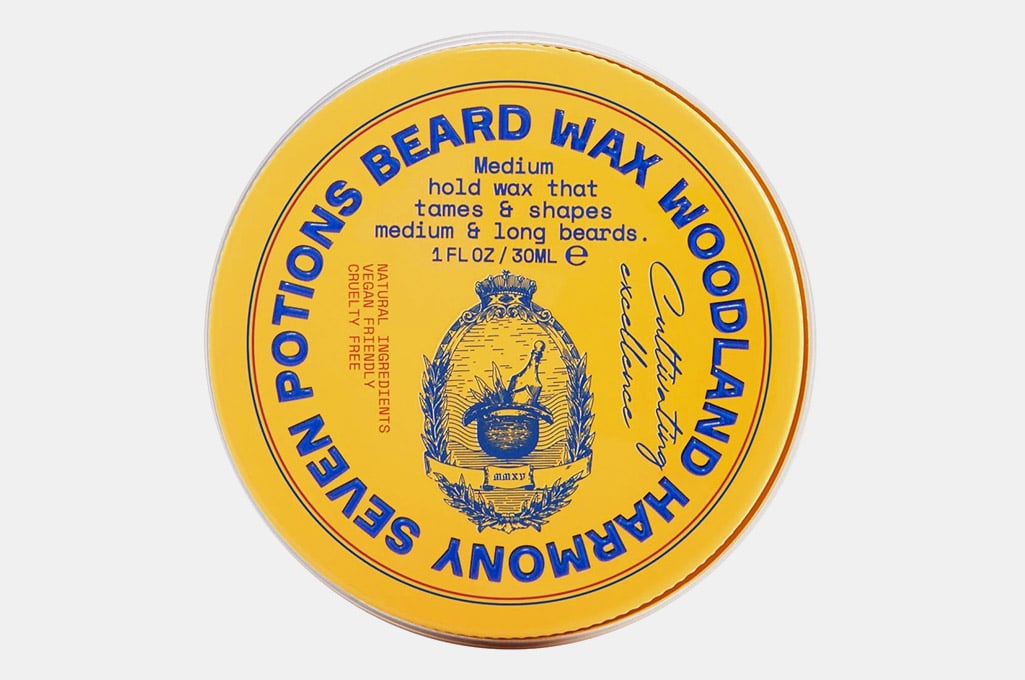 Seven Potions Beard Wax
The tricky part about finding a great beard wax is finding one that works with your facial hair, not against it. Offering a medium hold and featuring organic & all-natural ingredients, the Woodland Harmony Beard Wax from Seven Potions does the job admirably.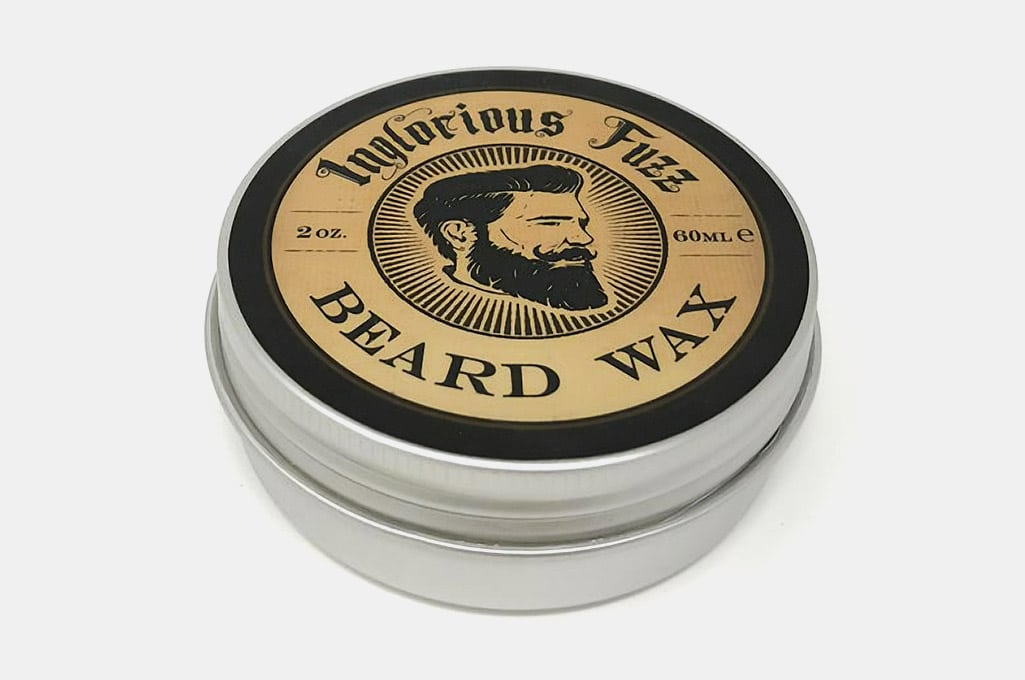 Inglorious Fuzz Beard Wax
Beard wax that shapes and soothes your beard at the same time — like the option seen here from Inglorious Fuzz — is a must-have for the well-groomed guy (that'd be you). Make sure you're not without this stuff, no matter the day.

Best Mustache Wax
Have a little less facial hair than your bearded brethren? No matter — a mustache is infinitely harder to pull off than a beard, and thus deserves that much more applause … and that much more nuanced care. Less a facial hair trend than something that's classic and to be admired when done right, your mustache can be made all the better with right products, once again designed to style and soothe your facial hair (trust us, it's a thing).
There are plenty of companies out there doing right by excellent mustache care, so if that's the hole you're looking to fill in your grooming routine, then you best get smart and read on as we close out our list of the beard beard products for men.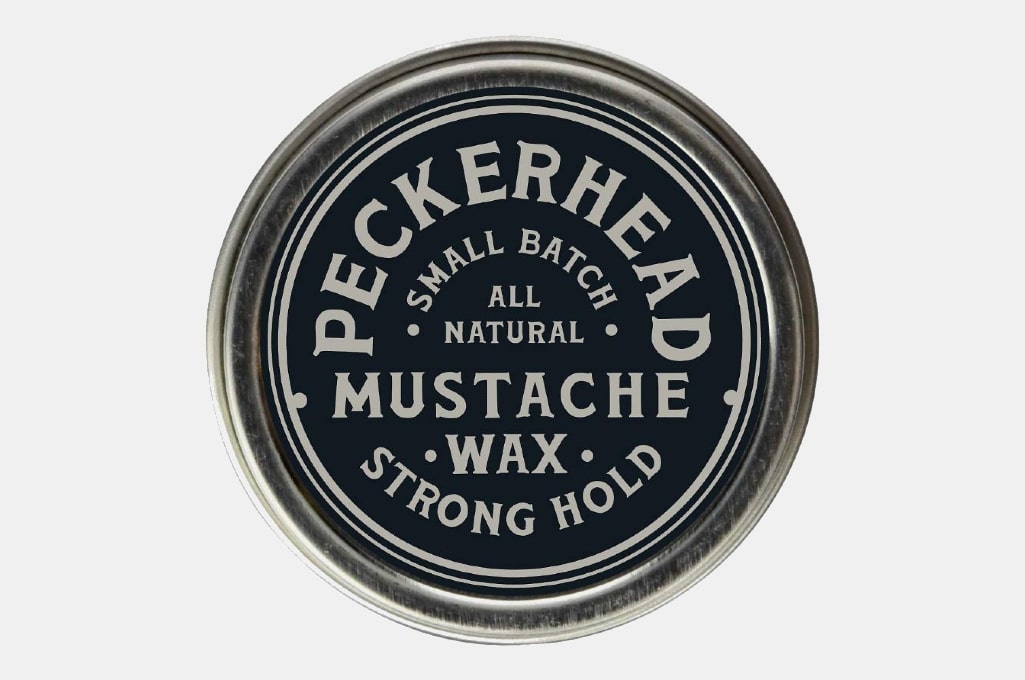 Peckerhead Moustache Wax
If you're looking for a strong—and we mean strong—hold for your 'stache, pick up a tin of Peckerhead Moustache Wax. Then go ahead and stick that tin in your pocket for a bit. That'll soften it up so you can more easily apply it to your whiskers. Style however you want, then forget about it. The hold lasts all day and into the night thanks to the all-natural lineup of pine resin and beeswax. Plus it doesn't feel greasy and smells like you just chopped down a pine tree.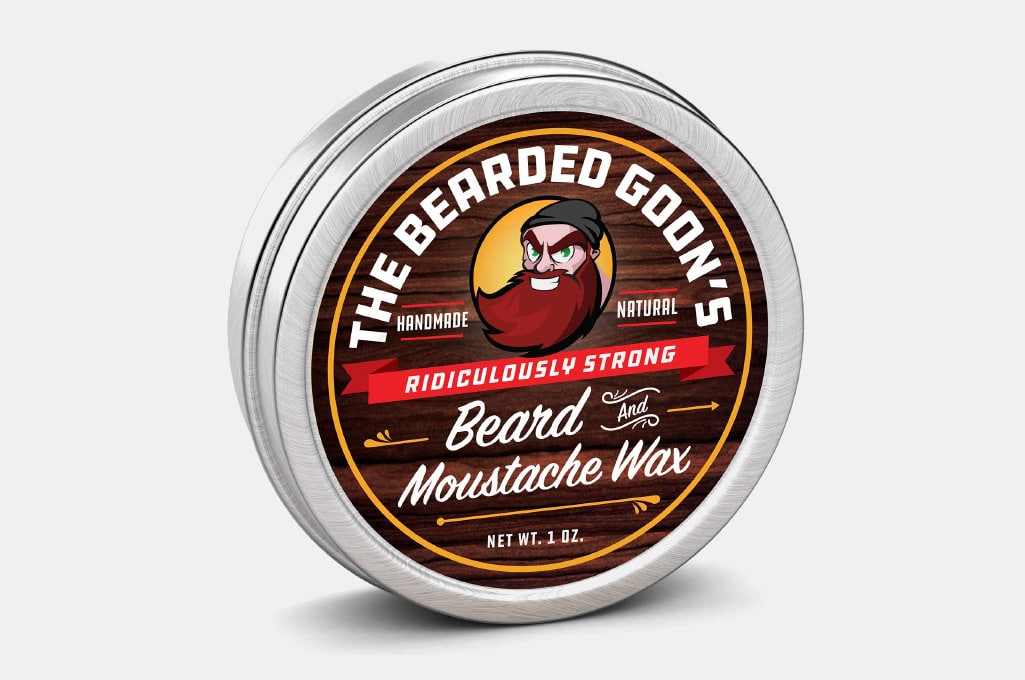 The Bearded Goon's Ridiculously Strong Beard and Mustache Wax
With a name like the Ridiculously Strong Beard and Moustache Wax, you'd best believe there are a lot of great things to be said about the next product on our list. The Bearded Goon backs it all up with a money-back guarantee, finished off with all-natural ingredients and a pleasant scent.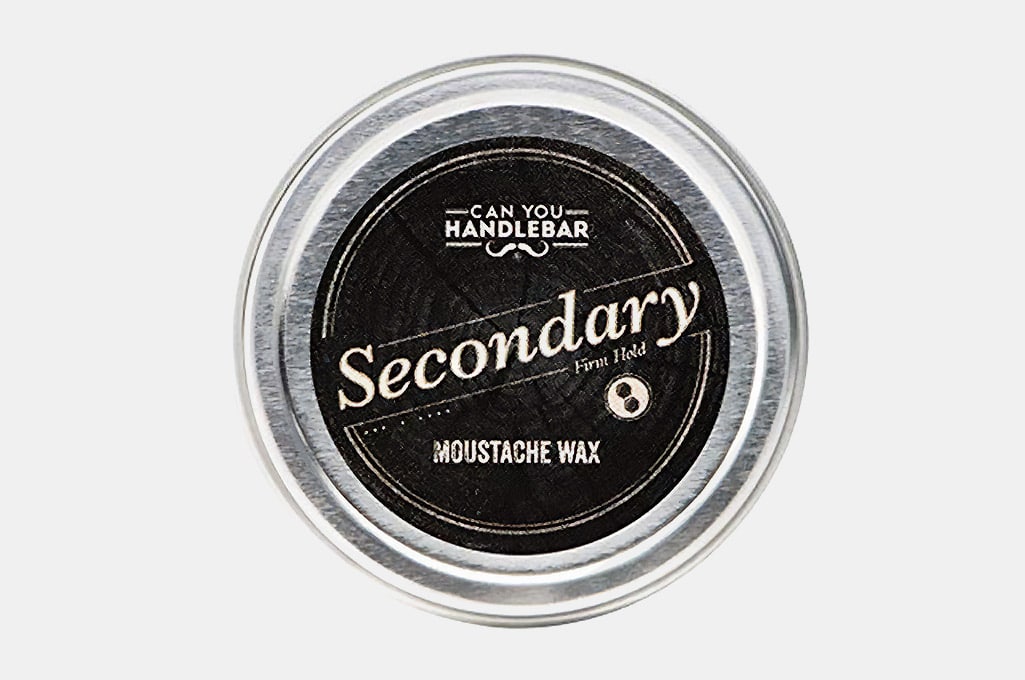 Can You Handlebar Secondary Mustache Wax
Surely, it's best to go straight to the source in terms of a brand that can help you hone in on your mustache — like the aptly named folks at Can You Handlebar. Made with local Michigan beeswax and other quality touches like vitamin E, this professional-grade mustache wax is just what you need to get your facial hair in shape.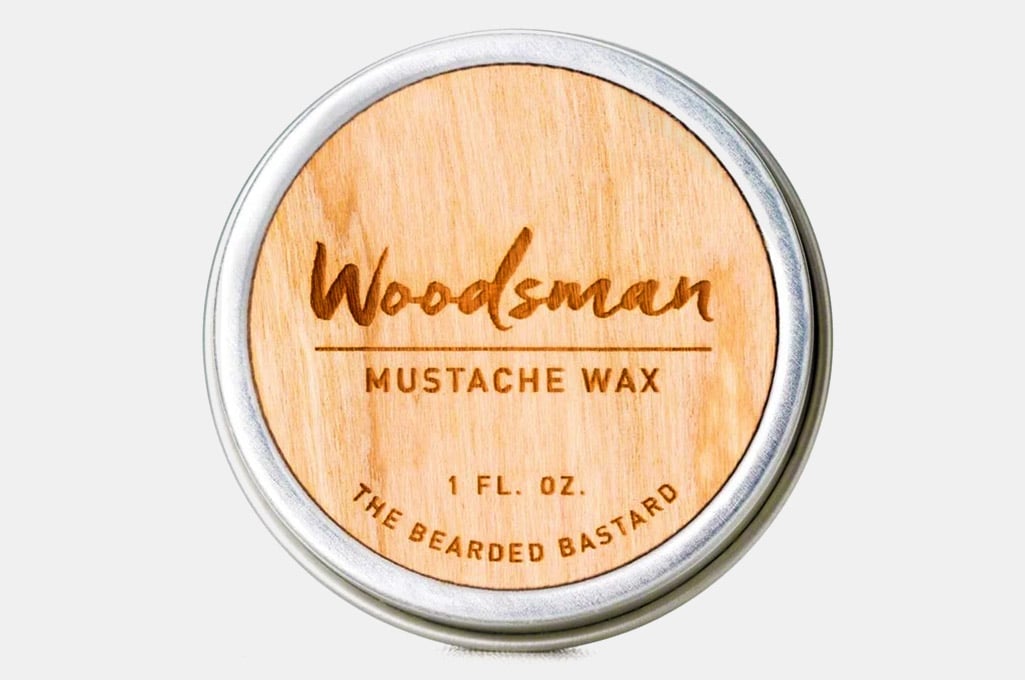 Woodsman Mustache Wax
Mustache wax that conditions and serves to style your beard at the same time is what you should be looking for in terms of filling out the rest of your medicine cabinet — look no further than the Woodsman Mustache Wax. Exotic essential oils add an extra kick — and the price for the quality isn't bad at all ($14 a pop).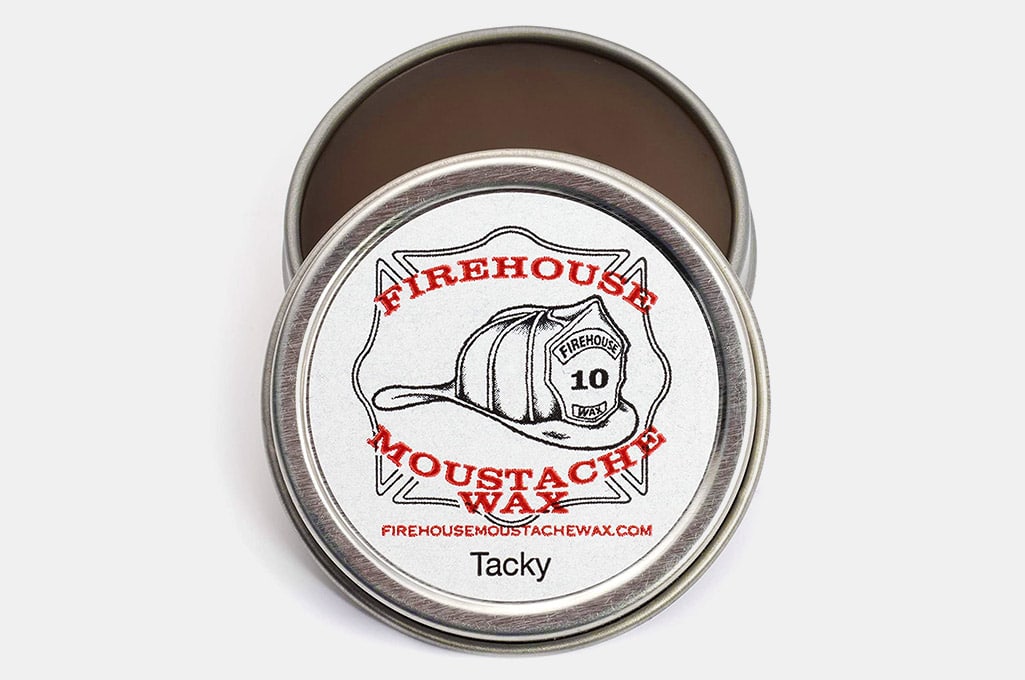 Firehouse Wacky Tacky Moustache Wax
If you thought all mustache wax was created equal, think again. Firehouse enters the grooming arena with a unique take on this grooming essential — namely, the brand's Wacky Tacky Moustache Wax comes out of its tin dark, making it best for dark-colored mustaches. If that happens to be you? This is the one mustache wax you want — it's also noteworthy for the firm hold that sets and lasts for hours.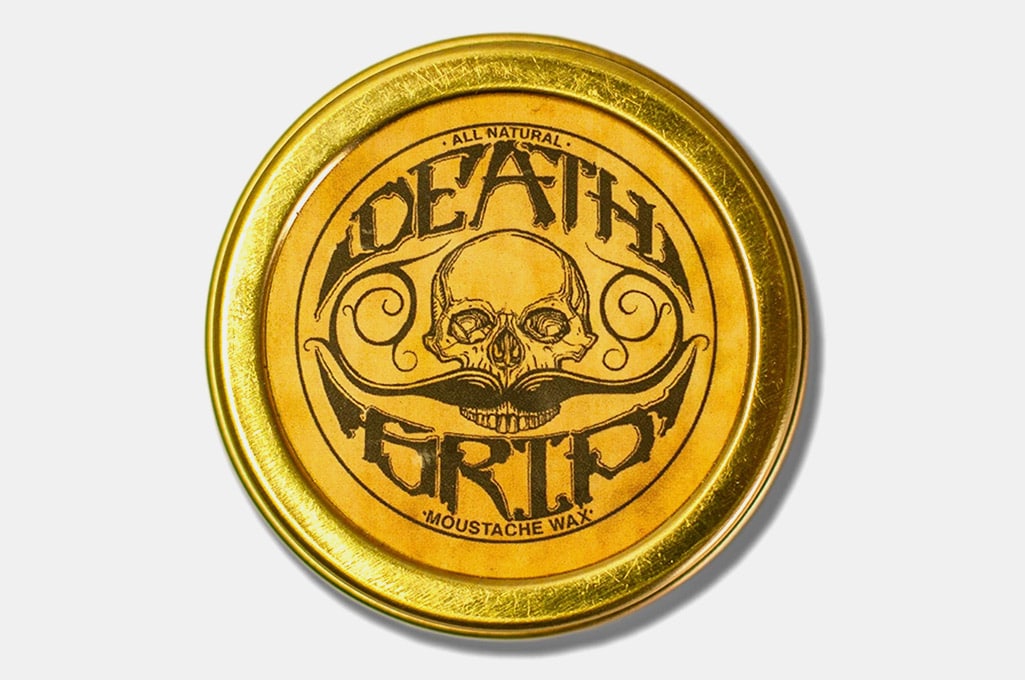 Death Grip Moustache Wax
The utility of the mustache wax shown here from Vintage Grooming is right in the title — Death Grip Mustache Wax can certainly be used to dial in the styling and look of your mustache. The hold here is extra strong, while the scent is natural and piney, all the better to take your mustache to the next level.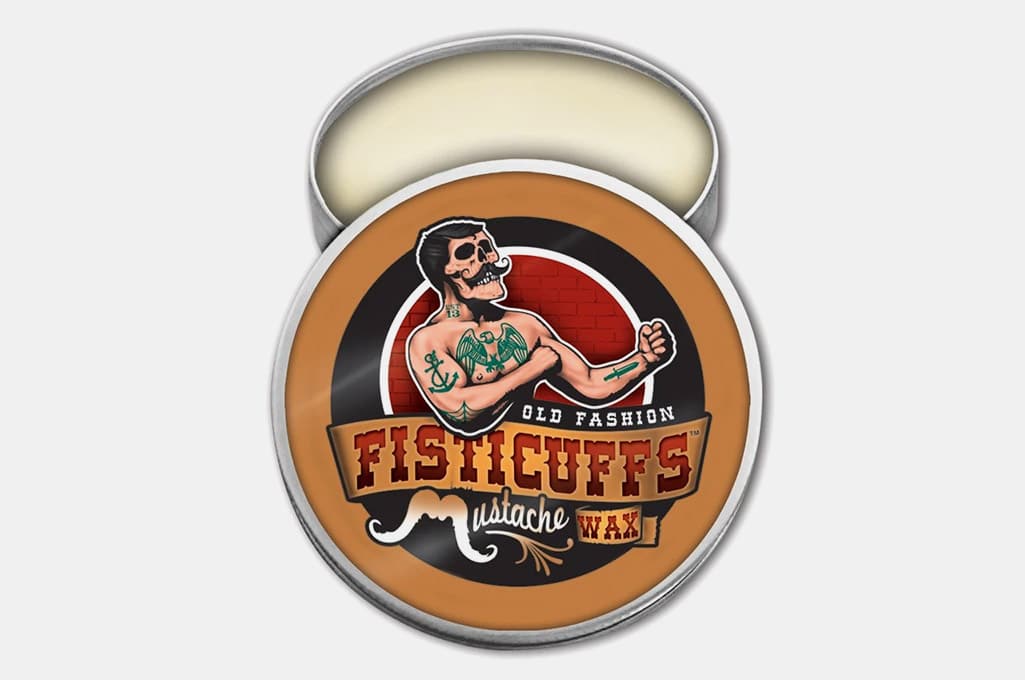 Fisticuffs Strong Hold Mustache Wax
Want maximum styling potential and a great hold? Then you want the Fisticuffs Strong Hold Mustache Wax, a fine mustache wax made with tea tree oil and beeswax for both conditioning and strengthening qualities. That sounds like the right way to finish off your mustache to us.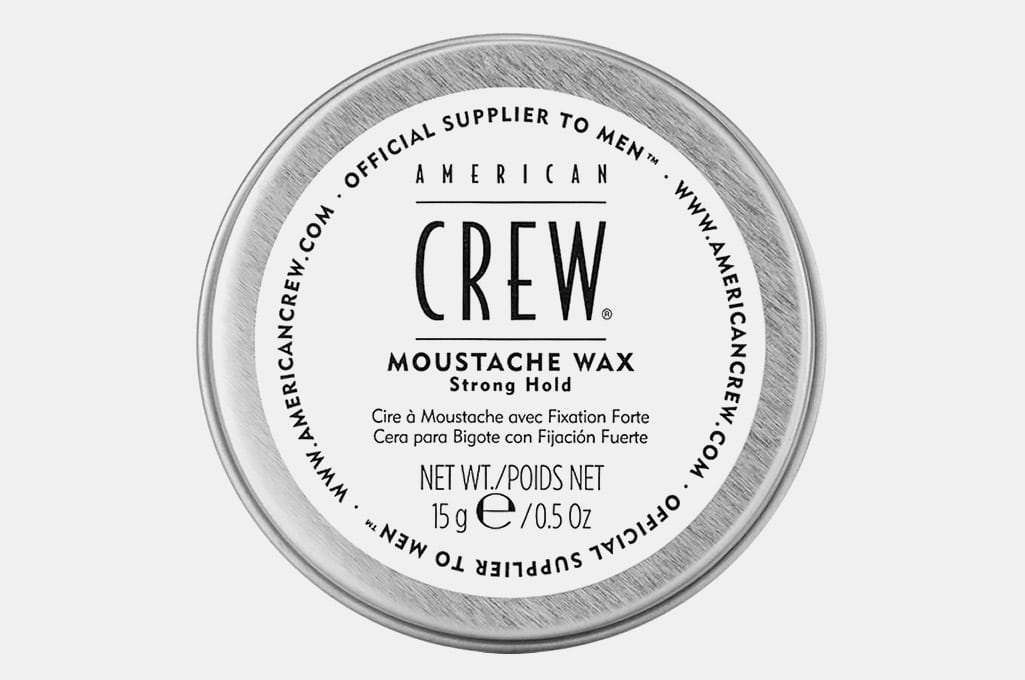 American Crew Moustache Wax
American Crew, the "official supplier to men," has exactly what you need to keep your moustache sculpted and neat all day, every day. The Moustache Wax delivers a beautifully strong hold for any moustache, no matter how long. The combination of beeswax, castor oil, lanolin wax, coconut oil, and sweet almond oil enrich your hair and moisturize your skin to reduce the dryness and irritation that could cause beardruff. Best of all, you only need a small amount to get the job done, so this tin of moustache wax will last a long, long time.
Disclosure: Clicking on these links and making a purchase may earn us a small referral fee, at no extra cost to you. Learn more here.
freestar.config.enabled_slots.push({ placementName: "gearmoose_leaderboard_btf", slotId: "gearmoose_leaderboard_btf" });