The 5 Strongest Mustache Waxes
Long live the mustache. After disappearing in the late 80's and early 90's, the mustache has made somewhat of a resurgence as of late, either worn with, or independent of an established beard. We're not talking pencil-thin iterations, either, although those can be found in and around the Portland area. No, we're talking about thick, curly, and longer mustaches grown to make a bold statement.
Those who know me know that I sport a thick beard and an even thicker mustache. I've tried almost every wax on the market and i've come to one undeniable conclusion. A thick mustache requires a strong mustache wax, period. Trust me. A mustache wax can't be both strong and easy to remove from it's tin, either. You can't have both, so stop looking. Soft mustache waxes won't hold, and strong mustache waxes are a real bear to remove from their container.
The thicker and longer the mustache, the stronger the mustache wax needs to be. And while softer, medium hold varieties are both easy to concoct and adequate for nourishing and sculpting shorter mustaches thanks to their heavy use of oils, strong hold mustache waxes offer a better hold thanks to the generous use of beeswax and resins, with minimal oils and butters.
I've narrowed down the list to the 5 best, each one capable of holding your hard-earned mustache in place for at least most of the day. I've tried every one of these on my crumb duster and thoroughly approve their performance. And remember, don't expect all of these to to be simple to remove from the tin and apply. Otherwise, they would be beard balm and wouldn't offer the hold you're searching for.
Peckerhead Mustache Wax
– The Strongest mustache wax. –
Peckerhead Mustache Wax is fairly new to the mustache wax market, filling a small hole in that market as a strong hold mustache wax that actually works. How? No coconut oil, castor oil, shea butter, or any other oil or butter goes into making it, which cuts down on the grease (greasy mustache waxes don't hold hairs very well). Also, its heavy on beeswax and pine resin, which makes it tacky enough to hold the hairs in place, and strong enough to last several days on its own.
It doesn't remove from the tin very easily, but carrying it around in our pocket for 20 minutes prior to application seemed to do the trick. You won't be disappointed. Still on the fence? Watch an in-depth video review here.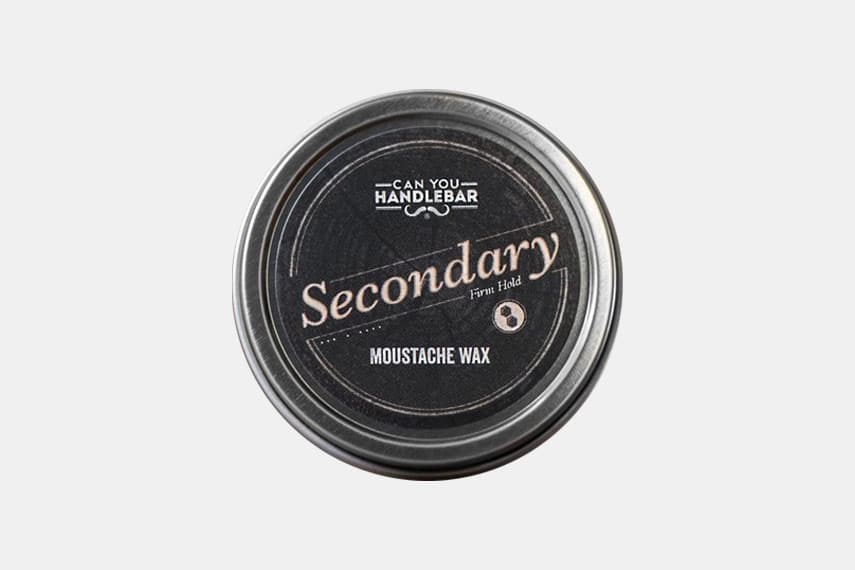 Can You Handlebar Secondary Mustache Wax
– A natural wax that defies the laws of physics. –
An old favorite that never disappoints, Can You Handlebar's Secondary Mustache Wax is all-natural and surprisingly offers an exceptionally strong hold despite the use of any pine resin whatsoever. With an ingredients list that includes beeswax, lanolin, castor oil, and shea butter, among others, there's no viable reason for it to hold a mustache in place the way it does. But alas, it somehow does, remarkably. And it has one of the most pleasing scents you'll find on a mustache wax that isn't scented via essential oils.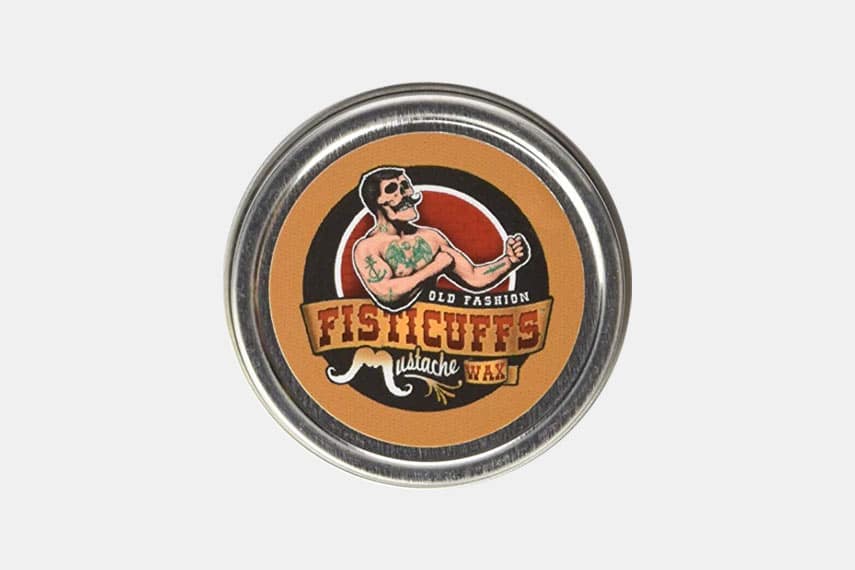 Fisticuffs Strong Hold Mustache Wax
– Firm but fair. –
Strong hold is the name, and a firm hold is it's game. Although not offering quite the hold as it's Peckerhead Mustache Wax counterpart, it does provide an alternative for those who prefer a wax that is easier to remove from the tin. The wax's pliability renders it also suitable as a beard wax, while a variety of oils such as tea tree oil, coconut oil, jajoba oil, and a select few essential oils will be sure to keep the hairs nourished. This wax does contain petroleum jelly, so, if you're looking to go all-natural, this may not be a suitable option for you.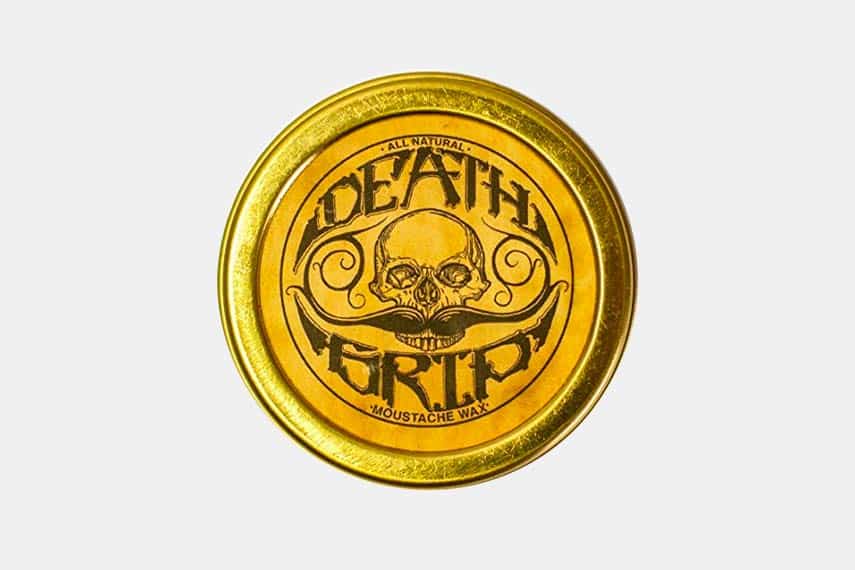 Death Grip Mustache Wax
– A tacky, competition-grade mustache wax. –
Touted as a competition-grade mustache wax, Death Grip is often described as a blend of Peckerhead Mustache Wax and Can You Handlebar's Secondary Mustache Wax, especially on Instagram. Its heavy on the pine resin, and coupled with beeswax and just a bit of lanolin, it promises to be one of the strongest mustache waxes on this list — offering an extremely tacky yet superb hold on your mustache. Good luck removing it from the tin, however. A pocket blow torch may be in order.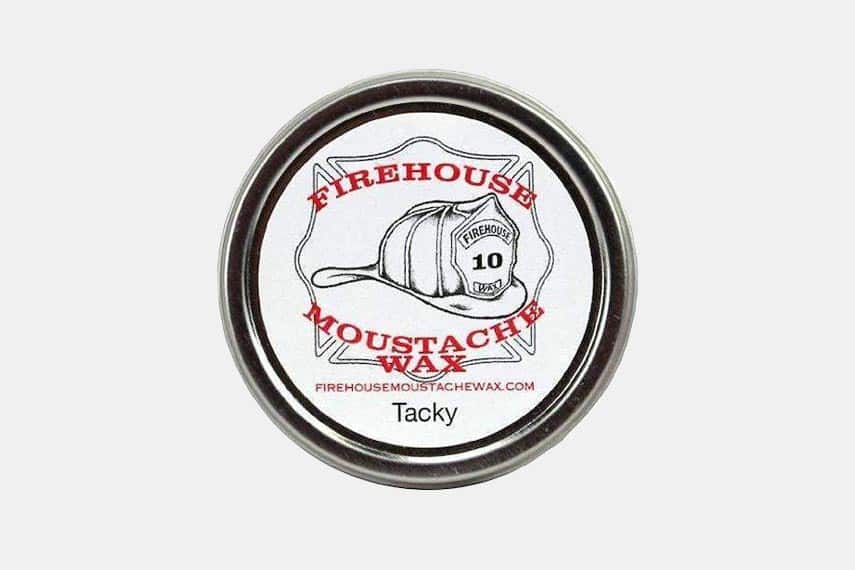 Firehouse Wacky Tacky Mustache Wax
– Best for fire chief-level lip hair. –
Wacky Tacky is a favorite among amateur mustache wearers, and for good reason. It provides a great hold yet is likely the easiest wax on this list to remove from it's tin. I didn't need a blow dryer, didn't need to carry it around in my pocket for half an hour, and didn't need a guitar pick to scoop it out.
Beeswax and petroleum jelly make up the ingredients list, which seems odd given the wax's dark color. An official ingredients list is nowhere to be found on the container itself, however, you won't care all that much when your handlebar mustache stays in place as you zip through traffic on your motorcycle this summer. Still not convinced? Read through the hundreds of positive reviews of this mustache wax on Amazon. People love this stuff. And you probably will too.
Disclosure: Clicking on these links and making a purchase may earn us a small referral fee, at no extra cost to you. Learn more here.
freestar.config.enabled_slots.push({ placementName: "gearmoose_leaderboard_btf", slotId: "gearmoose_leaderboard_btf" });