If you use beard oil, you probably need a beard wash. Dull beards, itchy beards, beards beset by flakes — these are beards asking for beard wash. And beardsmen who eat food, walk around outside, or breathe regularly? Beard wash. The short version is: if you have a beard, consider making it the best thing on your face, which starts by getting it clean.
We've tracked down the 15 best beard washes currently available on the (increasingly crowded) beard market. Each one of these washes will give you a soft beard and moisturized skin, clean follicles and a blank slate so you can groom it up with the addition of your favorite oil, tonic, balm or butter.
While you could just move the suds from your hair a few inches south, you're well aware that the hair on your head is different from the hair on your face. And your scalp skin is not the same as that expressive facial dermis. So go with a wash specifically designed to soften coarse facial hair and protect sensitive face skin and we swear, if your beard could talk, it would say thank you. But since it can't, it'll just emanate a thankful glow, and you'll know what it means.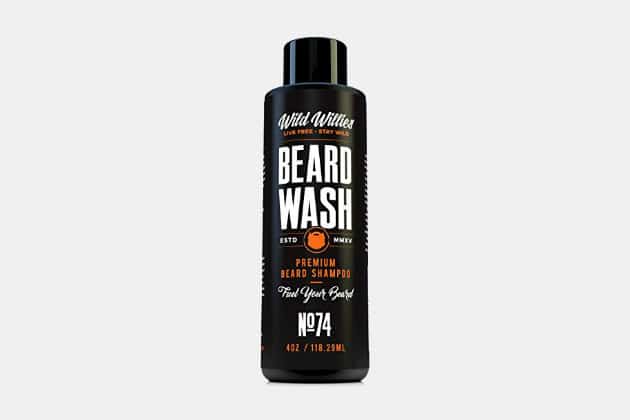 Wild Willie's Beard Wash Shampoo
If you've ever worried or wondered whether wee beasties were growing in your whisker wonderland, this beard wash is aiming straight at you. With peppermint and eucalyptus essential oils, you'll get a clean that comes with an extra bit of zip while the Vitamin E and lemongrass oil keep everything moisturized and hydrated. Wild Willies also offers a beard conditioner called Beard Soft if you want to treat your face to the full arsenal. – Buy It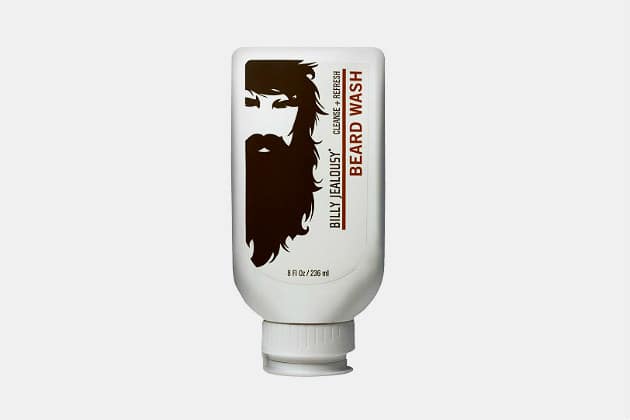 Billy Jealousy Beard Wash
Like a health shake for your face, Billy Jealousy's beard wash combines green tea extract to stimulate growth, aloe leaf juice for hydration, and soy protein for a conditioning shine. It promises to detangle the most recalcitrant of beards, relieve itching and flaking, and de-frizz. And it promises to do so without sulfates, alcohol or parabens. As a bonus, the bottle cap sits at the base, to make sure you get every last ounce of lathery goodness without needless negotiation. – Buy It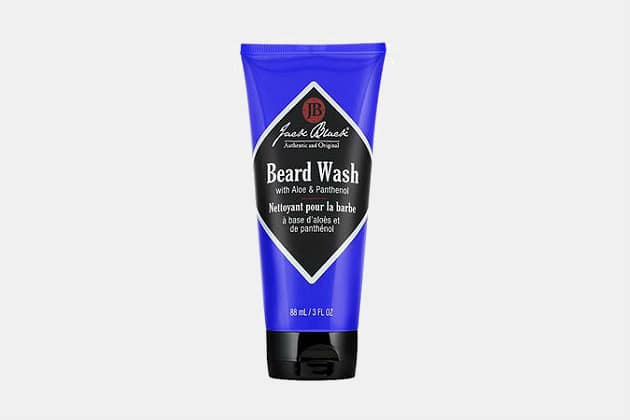 Jack Black Beard Wash
If you're wondering where Nacho Libre finds the time to make skin care products, let's be clear: this Texas-based brand has been making grooming essentials for men for seventeen years now and has little to do with the actor of the same name. Though we wouldn't be surprised if he was a customer, as any beard would benefit from this beard wash formula. With jojoba protein to maintain moisture, and panthenol to strengthen beard hair, this is a whole different kind of star power. – Buy It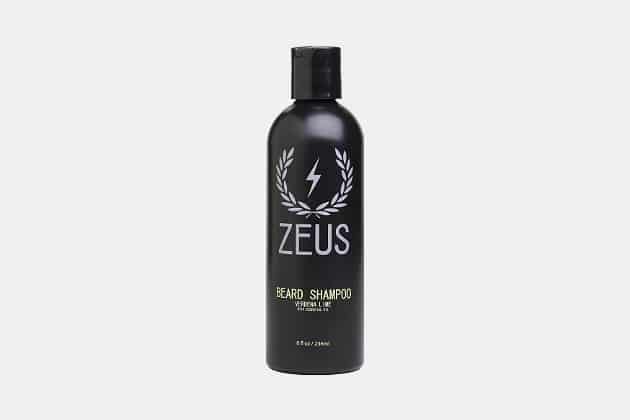 Zeus Beard Shampoo
Name your beard brand after the king of the gods and people are going to expect something mythic. So how about dragon's blood? While we wish there were slaying involved, it's actually a plant resin known for its antioxidant benefits. Along with green tea, the dragon's blood works to reduce inflammation and calm the skin while chamomile cleans your beard. The verbena lime scent is refreshing and bright — a product we could see Zeus himself lathering up in. – Buy It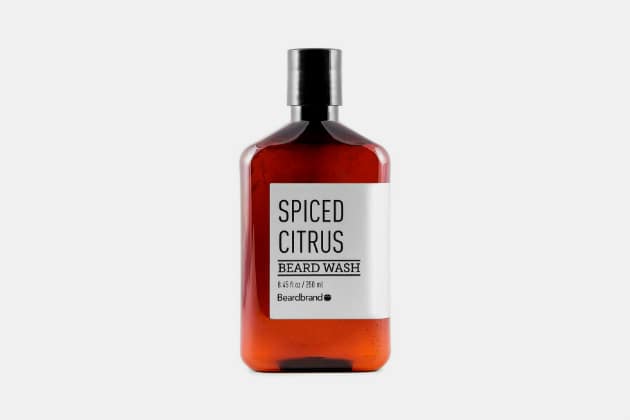 Beardbrand Spiced Citrus Beard Wash
Groomed beards and a changed society. That's the aim of Beardbrand. Committed to high-quality beard products for beardsmen, these guys are also interested in changing the way society looks at beards, challenging beard stereotypes and questioning organizations that require men to shave. But along the way they'd also like to help you get your beard in order. This gentle lather beard wash will be gentle on your face while cleansing everything from your meard to your yeard, leaving behind a pleasant citrus spice scent. – Buy It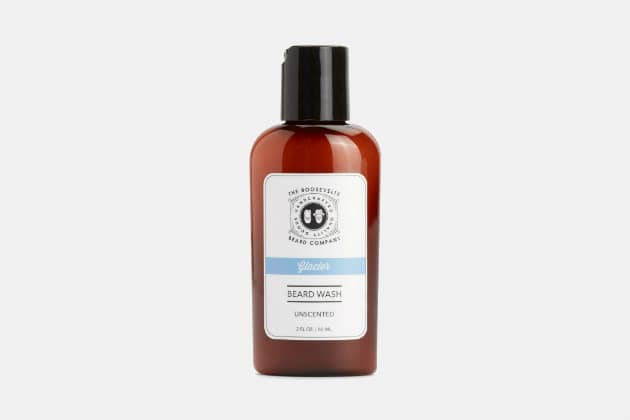 The Roosevelts Glacier Beard Wash
Does being in a rock band qualify you to make beard products? The guys who invented the airplane fixed bicycles, so we'll say yes. Roosevelt's Beard company was founded by one of the guys from the Americana band, the Roosevelts — we assume it's the guy sporting a beard. This Glacier Beard Wash is unscented and has no parabens, sulfates or petroleum products. Each product is named after a National Park and a portion of the proceeds go to the National Parks Foundation. – Buy It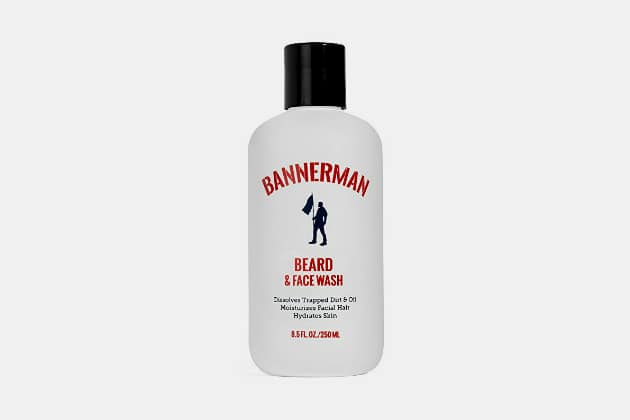 Bannerman Beard & Face Wash
Here's a brand that believes the path to a great beard starts with the skin underneath. The products they offer conspire to improve your skin, putting a stop to ingrown hairs, itchiness, and the dreaded beardruff. This wash contains chamomile and aloe to soothe your face, plus a white oak bark extract that works as an effective astringent. The goal here is a clean face and beard, ready to receive your beard adjunct of choice — such as their beard oil alternative, Beard Aide. – Buy It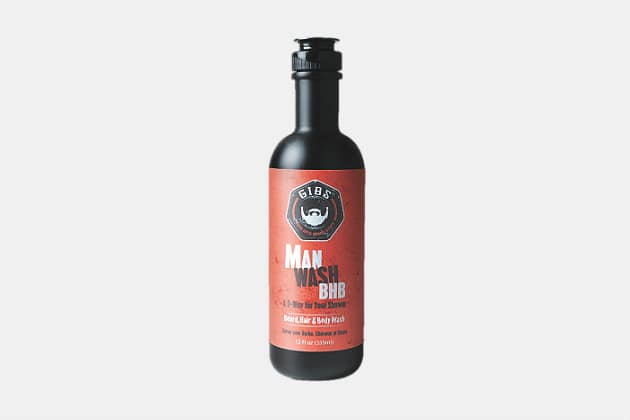 Gib's Man Wash BHB
So adding the extra bottle of beard wash to your shower isn't your thing (and yet you've read this far down…). Fear not, the good people at Gibs are offering a three in one. Clean the hair on your face, your head, and down in your bathing suit area with one bottle of suds. It's got tea tree oil and copaiba balsam — a resin from a South American tree used for its skin healing properties — and the lingering scent of citrus oak and basil. – Buy It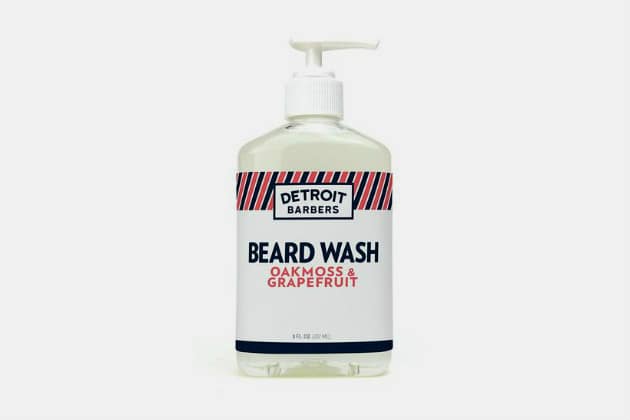 Detroit Barbers Beard Wash
This Detroit born brand is both a barbershop (actually two: Ferndale and Corktown) and a line of hair, beard and shaving supplies. Infused with an old-school cool and a dedication to classic barbering, their shops are a community hub. Their products are small-batch, barber-developed, and designed to keep their faithful customers happy. This wash keeps your skin and beard soft and moisturized while leaving behind the classic woodsy citrus scent of oakmoss and grapefruit. – Buy It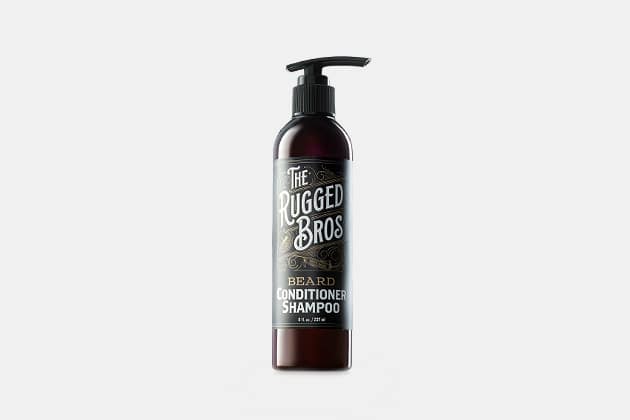 Rugged Bros Beard Conditioner Shampoo
Actually created by a pair of brothers, the Rugged Bros brand is an NYC company that sources top-grade, handmade, unique products for men. Their conditioning beard shampoo contains the beneficial oils of Moroccan argan and prickly pear seed — both flush with antioxidants and fatty acids. They get extra points for a classy bottle design and since this wash will also serve the hair on your head, you can both condense your shower collection and ornament it with good design. – Buy It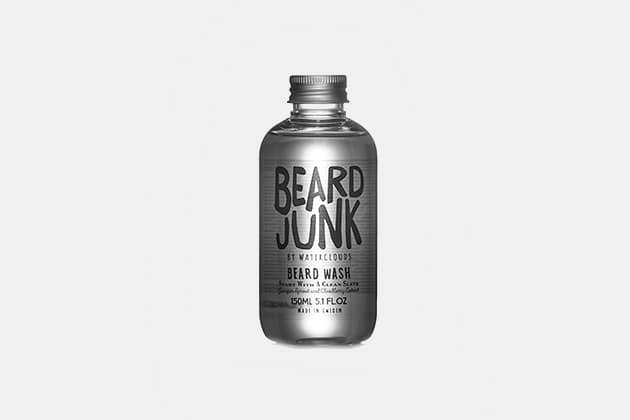 Beard Junk Beard Wash
Do you wish you had more cloudberry in your life? Sure. We all do. Beard Junk is a line of beard care developed by the Swedish hair brand Waterclouds, and their beard wash includes juniper sprout extract along with Vitamins A, C and E and, of course, cloudberry seed extract. It's like a raspberry but grows really well in cold northern European places like Norway and Sweden, the seed extract contains fatty acids that are good for skin, as well as the beard atop it. – Buy It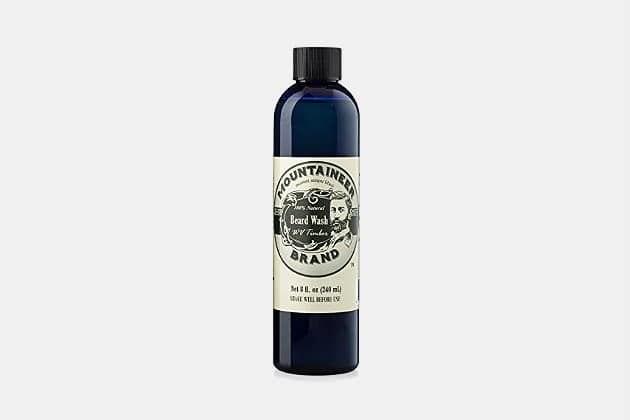 Mountaineer Brand Beard Wash
It began with a West Virginia dude dissatisfied with the beard care options out there, so he figured out how to make his own. His stuff eventually caught the eye of friends and neighbors and now Mountaineer Brand has now grown into a thrumming line of beard, body and shaving products, made with only natural stuff. Their beard wash is a mild liquid-castile with aloe and shea butter for moisture. You get your choice of four scents (or the no-scent Barefoot option). – Buy It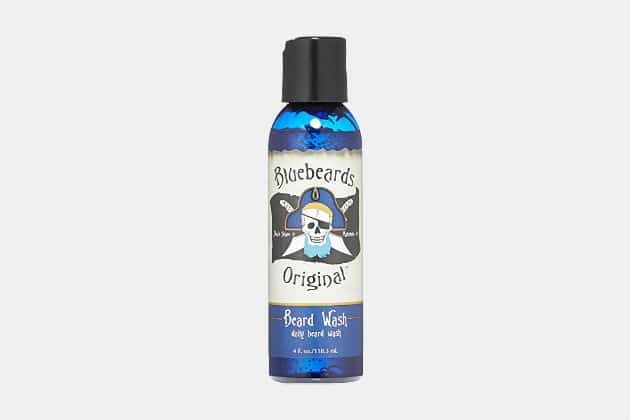 Bluebeards Original Beard Wash
When it seems every brand out there is jumping on the beard bandwagon, go with an original and you'll rarely go wrong. These guys lay claim to making the first beard-specific, not-a-soap, not-a-shampoo, beard wash for beards. Treating your face and your face progeny right, Bluebeards Original mixes aloe to soften both beard and skin, and the added lime essential oils clean up hair shafts and pores by breaking down dirt, oil and accumulated beard products. Small-batch produced and beard-tested they're serious about being an original. – Buy It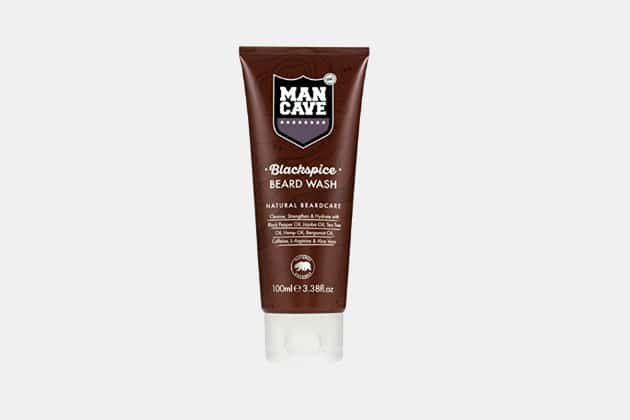 ManCave Black Spice Beard Wash
The moisturizing agents on duty here are hemp and jojoba oils. Tea tree oil is on the clean up crew, and amino acid L-arginine brings the soothe. Developed and made in the UK, ManCave's BlackSpice beard wash features their spicy, masculine BlackSpice scent. It takes two years of development before something can become a ManCave product. They take the extra time to figure out how to replace man-made chemicals with natural ingredients. The result is a product without parabens, sulfates and petrochemicals that actually does its job. – Buy It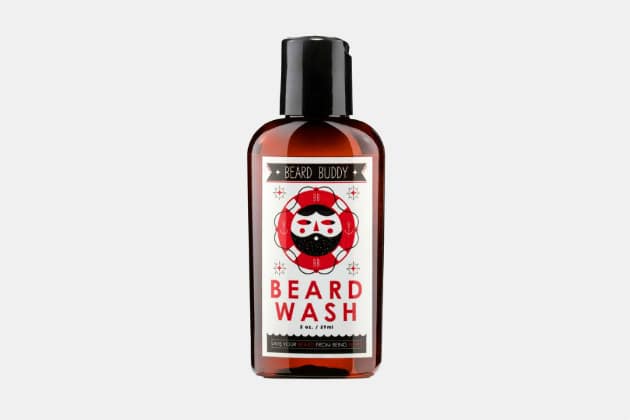 Beard Buddy Beard Wash
Los Angeles, 2011. Two bearded bros who happened to be buddies wanted to make a well-designed brand for well-deserving beards. Beard Buddy was born. Their stuff is still hand-crafted in small batches in LA and their beard wash is heavy on the organic ingredients and essential oils, with a warm woodsy scent. The fact that they call beard grooming "face farming" makes us smile, and we're confident this beard-approved wash will make your beard smile too. – Buy It